KAESER-Sustainable compressed air – this is how it's done

28/07/23-FR-English-NL-footer
KAESER-Air comprimé durable – c'est comme ça que ça se passe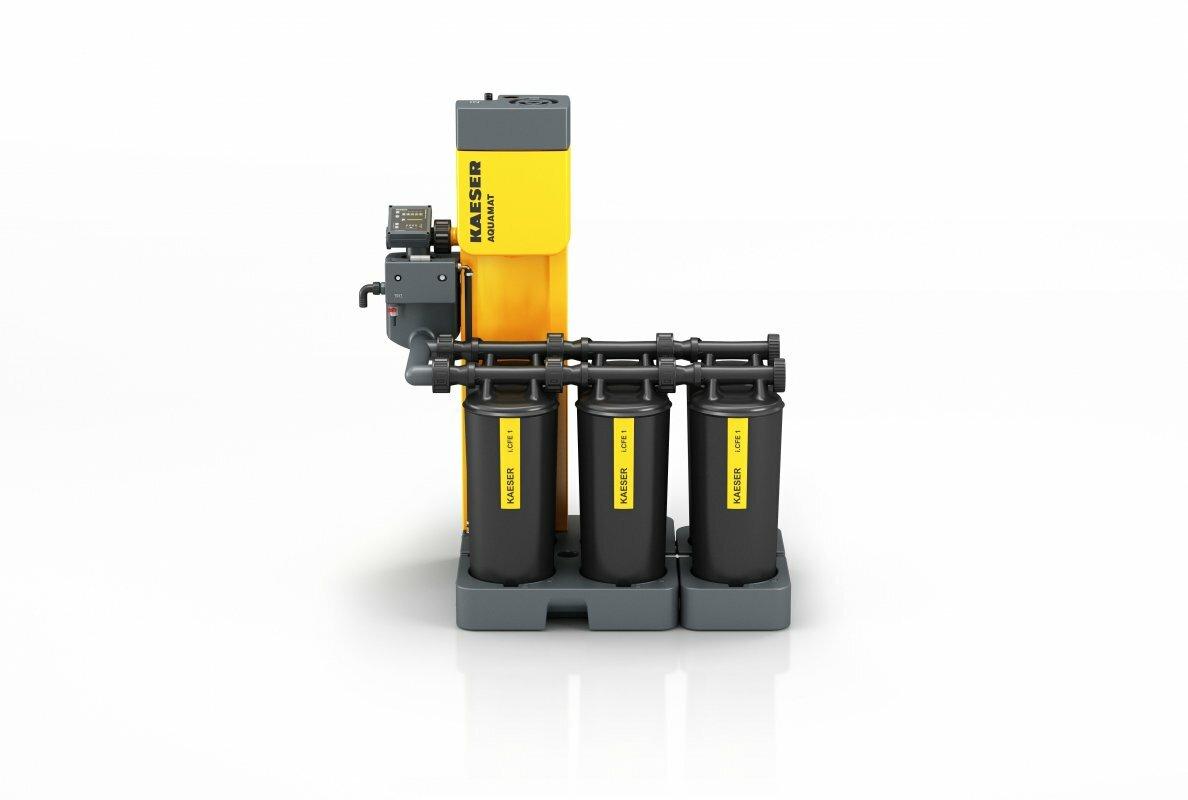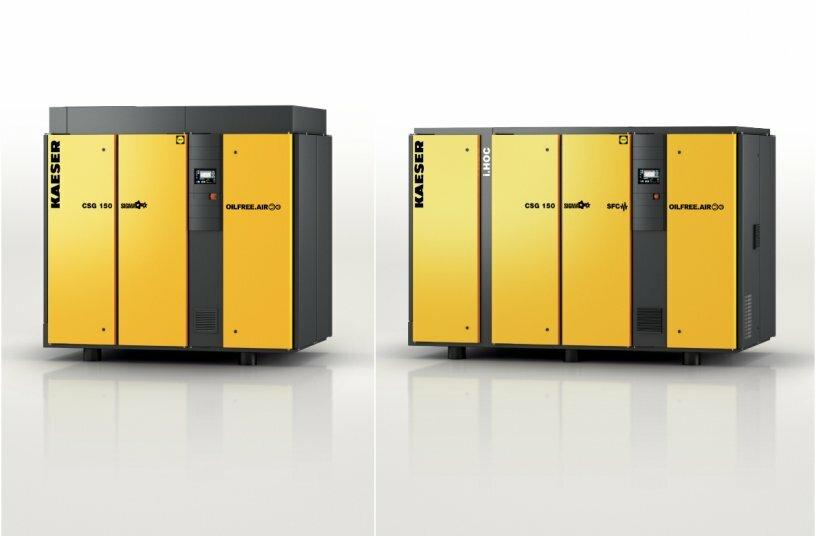 The CSG series, on the right with integrated i.HOC (Heat of Compression) rotation dryer, delivers oil-free compressed air safely, dependably, economically and efficiently.
IMAGE SOURCE: KAESER KOMPRESSOREN SE
Qu'il s'agisse d'une compression sans huile ou lubrifiée à l'huile, Kaeser Kompressoren fournit la solution parfaite pour tous les besoins industriels en matière de production d'air comprimé. Les nouveaux compresseurs des séries CSD/CSDX et CSG présentés à l'EMO montrent comment c'est fait.
Cette année, un accent particulier est mis sur les compresseurs rotatifs à vis de la gamme CSD/CSDX, les compresseurs à compression sans huile de la série CSG et le dispositif de traitement des condensats Aquamat i.CF. Le point fort des compresseurs est leur faible consommation d'énergie, qui est le résultat d'une variété de solutions sophistiquées. Les deux séries de modèles impressionnent par des entraînements de la meilleure classe d'efficacité possible, grâce à des moteurs à réluctance synchrones de pointe et à une disposition optimale des composants, ce qui se traduit par des pertes de pression particulièrement faibles tout en réduisant les coûts énergétiques et en améliorant l'empreinte CO² du client.
La série CSG fournit une génération d'air comprimé très efficace, tout en nécessitant 19 % d'espace au sol en moins que la gamme précédente. Les modèles sont disponibles avec refroidissement par air ou par eau, avec sécheur frigorifique intégré ou i.HOC (sécheur à chaleur de compression), et pour des débits allant de 4 à 15 m³/min. Pour les applications avec une demande d'air comprimé fluctuante, des versions "SFC" à vitesse contrôlée sont disponibles.
La série CSG est équipée de blocs compresseurs durables de haute qualité dotés du profil Sigma écoénergétique pour lequel Kaeser est mondialement connu. Les rotors sont désormais dotés d'un nouveau revêtement PEEK innovant et sans usure, qui est également particulièrement résistant à la température. Biocompatible, certifié FDA et conforme aux exigences européennes pour les matériaux au contact des aliments, ce revêtement est parfaitement adapté aux industries pharmaceutiques et agro-alimentaires.
La série CSG, à droite avec sécheur rotatif i.HOC (Heat of Compression) intégré, fournit de l'air comprimé sans huile de manière sûre, fiable, économique et efficace.
Avec l'Aquamat i.CF intelligent, Kaeser Kompressoren a redéfini le traitement des condensats. Disponible pour des volumes de livraison allant jusqu'à 90 m³/min, ce nouveau séparateur huile-eau est désormais équipé pour la première fois du contrôleur interne Aquamat Control, qui assure une gestion active du processus tout en simplifiant la planification de la maintenance et en rendant le travail d'entretien sûr et respectueux de l'environnement .
Tous les compresseurs rotatifs à vis de Kaeser séduisent par leur durabilité. Non seulement ils fonctionnent de manière extrêmement économique, mais ils sont fabriqués en Allemagne selon les normes et exigences de qualité les plus strictes. Leur durabilité exceptionnelle signifie qu'ils peuvent servir une entreprise pendant de nombreuses décennies. S'il s'avérait nécessaire de les remplacer, de nombreux composants utilisés dans leur fabrication sont recyclables. En ce qui concerne votre alimentation en air comprimé, Kaeser représente également un atout pour la nature et l'environnement.
Tous les produits mentionnés ici peuvent être vus à l'EMO dans le Hall 12, Stand A20.
NJC.© Info KAESER COMPRESSEURS SE
--------------------------------------------------------------------------------------------------------------------

28/07/23-English
KAESER-Sustainable compressed air – this is how it's done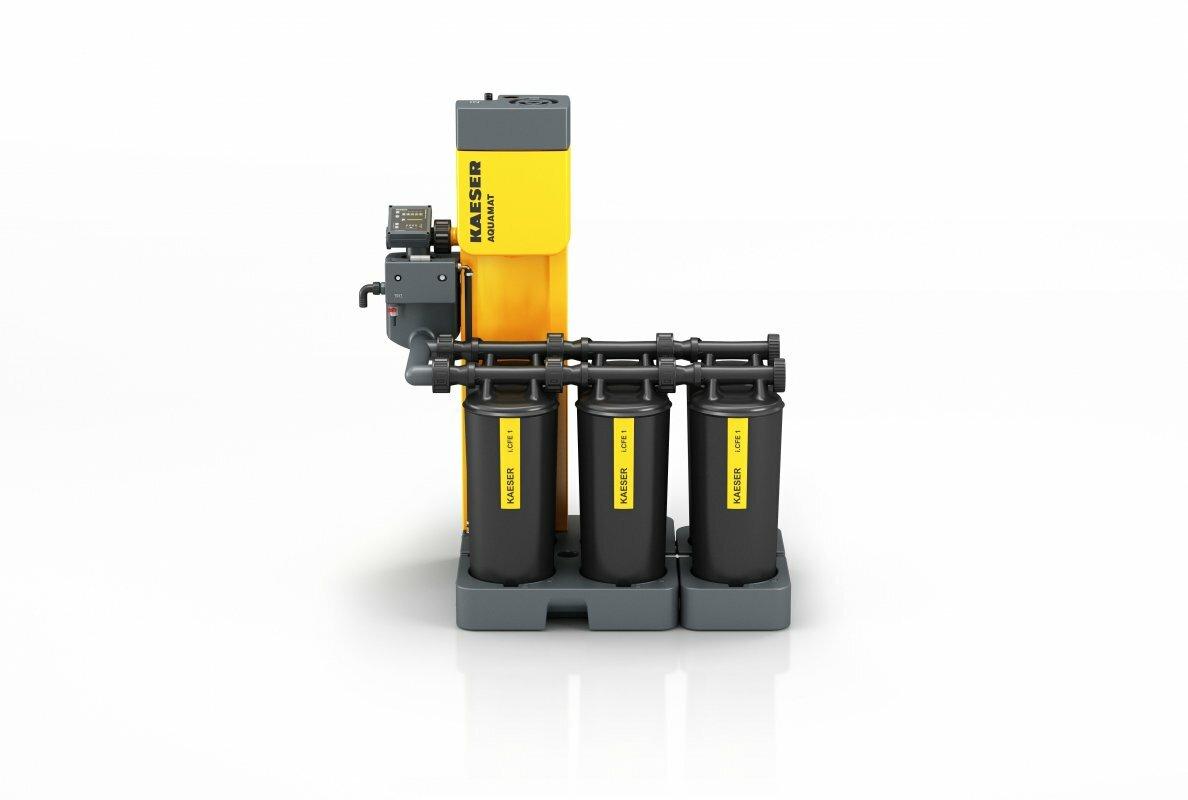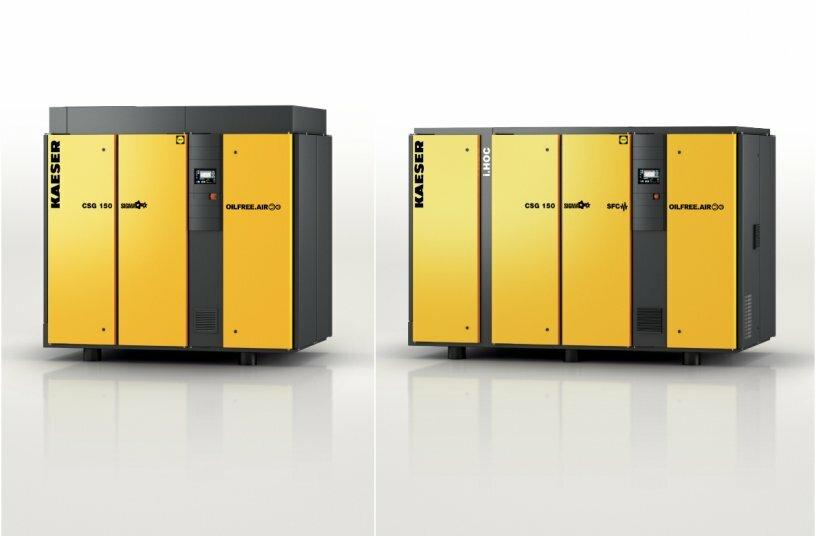 The CSG series, on the right with integrated i.HOC (Heat of Compression) rotation dryer, delivers oil-free compressed air safely, dependably, economically and efficiently.
IMAGE SOURCE: KAESER KOMPRESSOREN SE
Whether through oil-free or oil-lubricated compression, Kaeser Kompressoren provides the perfect solution for all industrial compressed air generation needs. The new CSD/CSDX and CSG series compressors on show at the EMO demonstrate how it's done.
This year, particular focus is being laid on rotary screw compressors from the CSD/CSDX range, oil-free compression CSG-series compressors and the Aquamat i.CF condensate treatment device. The most important highlight of the compressors is their low energy consumption, which is the result of a variety of sophisticated solutions. Both model series impress with drives of the best possible efficiency class, thanks to state-of-the-art synchronous reluctance motors and optimal component layout, which results in particularly low pressure losses whilst reducing energy costs and improving the customer's CO² footprint.
The CSG series provides highly efficient compressed air generation, yet requires 19 percent less floor space than its predecessor range. Models are available with air- or water-cooling, with integrated refrigeration dryer or i.HOC (Heat of Compression dryer), and for flow rates ranging from 4 to 15 m³/min. For applications with fluctuating compressed air demand, speed-controlled "SFC" versions are available.
The CSG series is equipped with high-quality, durable airends featuring the energy-efficient Sigma Profile for which Kaeser is world-renowned. The rotors now feature an innovative new wear-free PEEK coating, which is also particularly temperature-resistant. Biocompatible, FDA-certified and in compliance with European requirements for food contact materials, this coating is perfectly adapted for the pharmaceuticals and foodstuff industries.
The CSG series, on the right with integrated i.HOC (Heat of Compression) rotation dryer, delivers oil-free compressed air safely, dependably, economically and efficiently.
With the intelligent Aquamat i.CF, Kaeser Kompressoren has redefined condensate treatment. Available for delivery volumes up to 90 m³/min, this new oil-water separator now comes equipped for the first time with the Aquamat Control internal controller, which undertakes active management of the process whilst simplifying maintenance planning and making service work safe and environmentally friendly.
All Kaeser rotary screw compressors impress when it comes to the question of sustainability. Not only do they operate extremely economically, but they are produced in Germany to the strictest quality standards and requirements. Exceptional durability means they can serve a company for many decades to come. Should it ever become necessary to replace them, many of the components used in their manufacture are recyclable. When it comes to your compressed air supply, Kaeser also represents a plus point with regard to nature and the environment.
All product mentioned here can be viewed at EMO in Hall 12, Stand A20.
NJC.© Info KAESER KOMPRESSOREN SE
----------------------------------------------------------------------------------------------------------------

28/07/23-NL
KAESER-duurzame perslucht – zo werkt het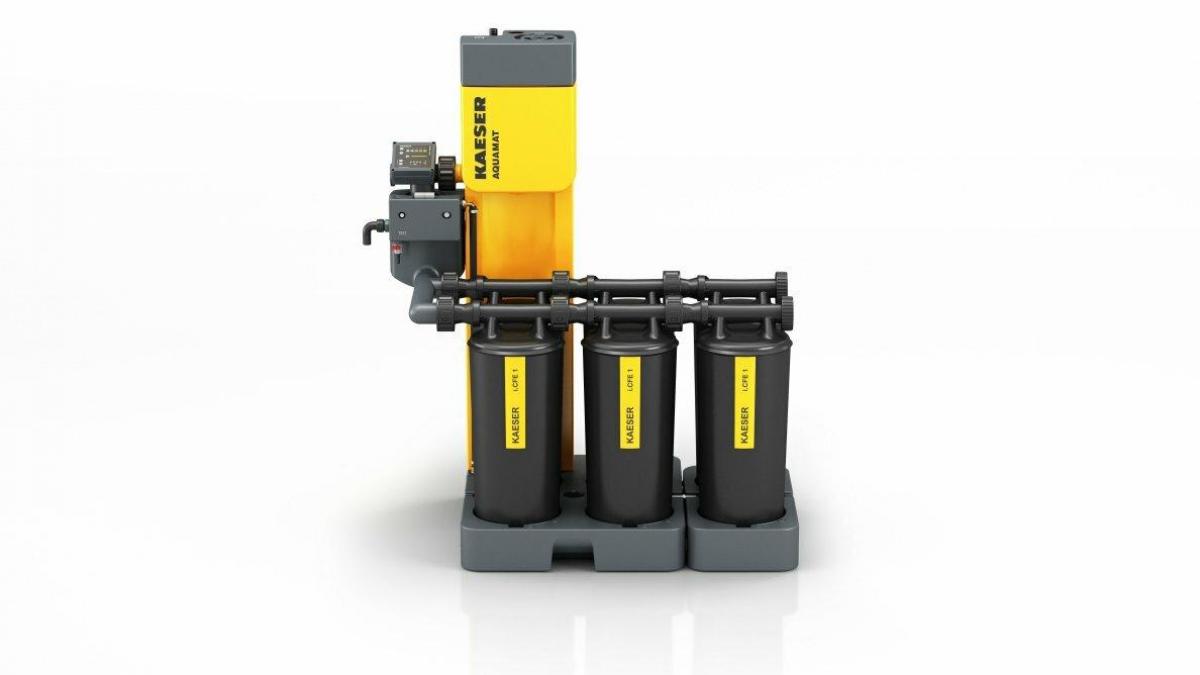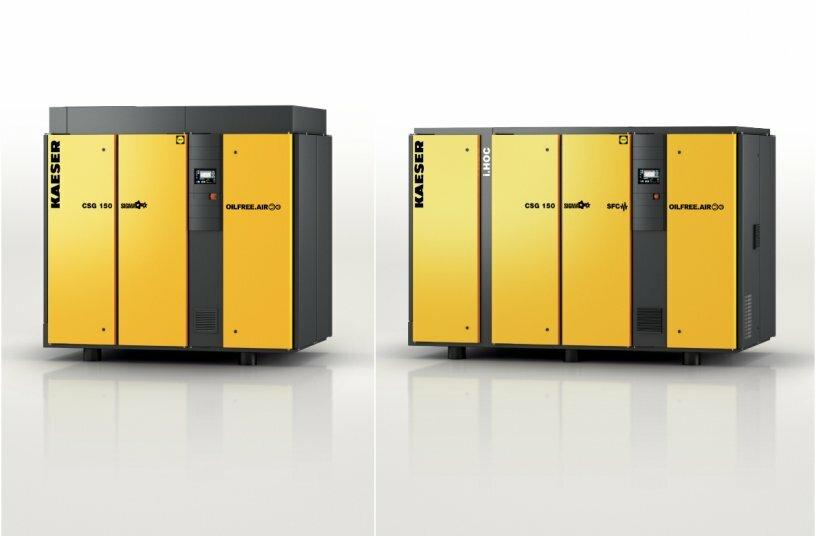 The CSG series, on the right with integrated i.HOC (Heat of Compression) rotation dryer, delivers oil-free compressed air safely, dependably, economically and efficiently.
IMAGE SOURCE: KAESER KOMPRESSOREN SE
Of het nu gaat om olievrije of oliegesmeerde compressie, Kaeser Kompressoren biedt de perfecte oplossing voor alle behoeften op het gebied van industriële persluchtproductie. De nieuwe compressoren van de CSD/CSDX- en CSG-serie die op de EMO te zien zijn, laten zien hoe het moet.
Dit jaar wordt bijzondere aandacht besteed aan schroefcompressoren uit de CSD/CSDX-reeks, olievrije compressiecompressoren uit de CSG-reeks en het Aquamat i.CF-condensaatbehandelingsapparaat. Het belangrijkste kenmerk van de compressoren is hun lage energieverbruik, dat het resultaat is van een groot aantal geavanceerde oplossingen. Beide modelseries maken indruk met aandrijvingen van de best mogelijke efficiëntieklasse, dankzij de modernste synchrone reluctantiemotoren en een optimale indeling van de componenten, wat resulteert in bijzonder lage drukverliezen, terwijl de energiekosten worden verlaagd en de CO²-voetafdruk van de klant wordt verbeterd.
De CSG-serie levert zeer efficiënte persluchtopwekking, maar heeft toch 19 procent minder vloeroppervlak nodig dan zijn voorganger. Er zijn modellen verkrijgbaar met lucht- of waterkoeling, met geïntegreerde koeldroger of i.HOC (Heat of Compression-droger) en voor debieten van 4 tot 15 m³/min. Voor toepassingen met een fluctuerende persluchtbehoefte zijn toerengeregelde "SFC"-versies beschikbaar.
De CSG-serie is uitgerust met hoogwaardige, duurzame compressorblokken met het energiezuinige Sigma-profiel waar Kaeser wereldberoemd om is. De rotoren zijn nu voorzien van een innovatieve nieuwe slijtvaste PEEK-coating, die bovendien bijzonder temperatuurbestendig is. Biocompatibel, FDA-gecertificeerd en in overeenstemming met de Europese eisen voor materialen die in contact komen met levensmiddelen, is deze coating perfect aangepast voor de farmaceutische en voedingsmiddelenindustrie.
De CSG-serie, rechts met geïntegreerde i.HOC (Heat of Compression) rotatiedroger, levert veilig, betrouwbaar, economisch en efficiënt olievrije perslucht.
Met de intelligente Aquamat i.CF heeft Kaeser Kompressoren de condensaatbehandeling opnieuw gedefinieerd. Deze nieuwe olie-waterafscheider is beschikbaar voor leveringsvolumes tot 90 m³/min en is nu voor het eerst uitgerust met de Aquamat Control interne controller, die het proces actief beheert en tegelijkertijd de onderhoudsplanning vereenvoudigt en het servicewerk veilig en milieuvriendelijk maakt .
Alle Kaeser schroefcompressoren overtuigen op het gebied van duurzaamheid. Ze werken niet alleen uiterst zuinig, maar worden in Duitsland geproduceerd volgens de strengste kwaliteitsnormen en -eisen. Uitzonderlijke duurzaamheid betekent dat ze een bedrijf tientallen jaren van dienst kunnen zijn. Mocht het ooit nodig zijn om ze te vervangen, dan zijn veel van de componenten die bij de vervaardiging ervan zijn gebruikt, recyclebaar. Ook op het gebied van uw persluchtvoorziening is Kaeser een pluspunt op het gebied van natuur en milieu.
Alle hier genoemde producten zijn te bezichtigen bij EMO in hal 12, stand A20.
NJC.© Info KAESER KOMPRESSOREN SE
----------------------------------------------------------------------------------------------------------------
Date de dernière mise à jour : 27/07/2023