A Danish world premiere: HG E2000 – 100% electric 2 ton dumper

15/05/23-FR-English-NL-footer
Une première mondiale danoise : HG E2000 – Dumper 2 tonnes 100 % électrique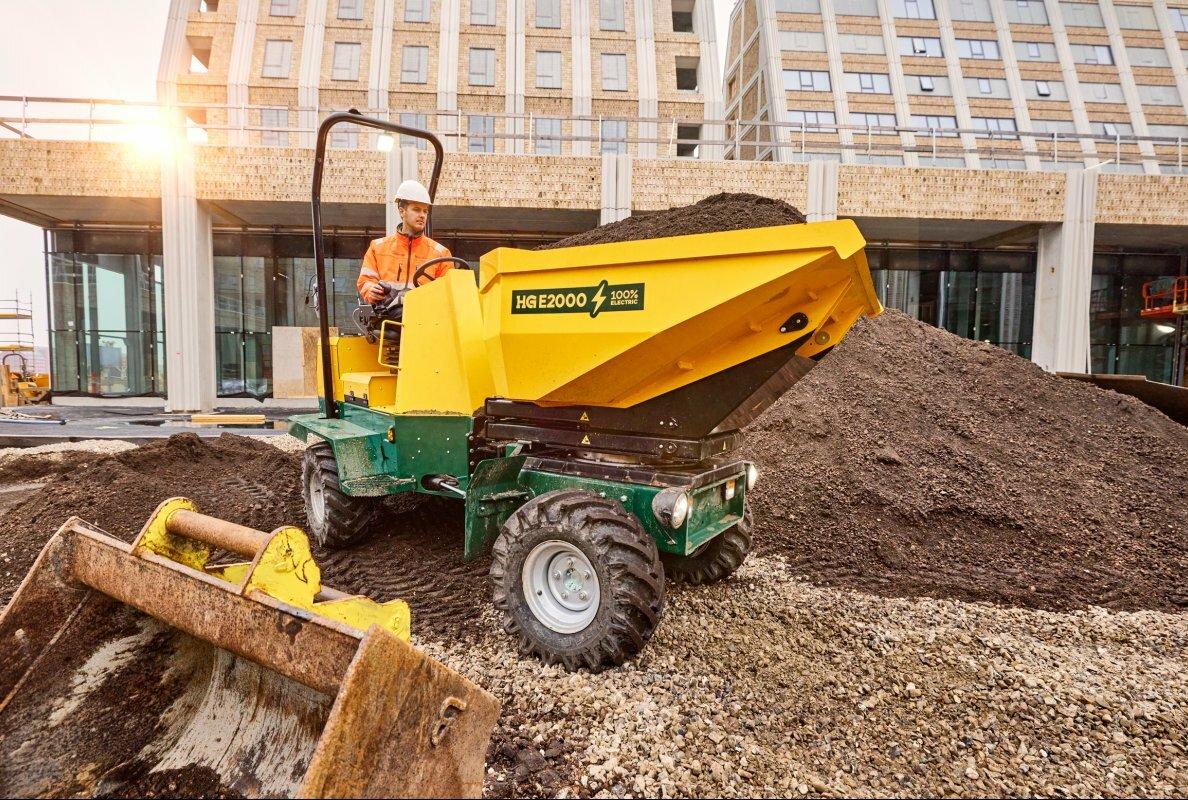 HG E2000 electric dumper IMAGE SOURCE: HG Machines
Conduit +12 heures et recharge en 3 heures.
Un dumper de 2 tonnes 100 % électrique qui correspond parfaitement aux performances des alternatives actuelles à moteur à combustion - une innovation danoise de HG.
Il est enfin possible de commander un dumper 2 tonnes 100% électrique sans se soucier des performances de la batterie, des temps de charge ou de la durée de vie de la machine. Le E2000 a été testé et optimisé au cours de l'année dernière, 25 machines sont vendues pour des clients au Danemark. Les tests ont été réalisés en collaboration avec des entrepreneurs sélectionnés.
Performances électriques sans compromettre l'efficacité
HG vient d'ouvrir les commandes des concessionnaires HG pour le nouveau dumper HG E2000 entièrement électrique, dont la première livraison est prévue au deuxième trimestre 2023. Avec une autonomie effective allant jusqu'à 12 heures, il peut facilement fonctionner toute une journée de travail. De plus, il gère tous les types de charge avec un chargeur interne qui peut se connecter à un chargeur de voiture ordinaire, à un courant de 16 A ou à une prise UE de 220 V. La machine se charge rapidement et prend environ 3,5 heures de 0 à 100 % – 2 heures de 20 à 80 %.
"Nous sommes ravis et fiers d'avoir pu lancer une machine aussi innovante. Nous avons plus de cinq ans d'expérience avec les dumpers 1 tonne 100 % électriques, nous considérons donc que notre objectif est d'aider à conduire les tombereaux électriques, sans émissions Nous y parvenons en développant davantage d'innovations électriques qui permettent aux entreprises de construction de réduire les émissions, en particulier dans les grandes villes du monde », déclare Nikolaj Birkerod, directeur général de HG
Des machines durables et conviviales
HG doit rendre le travail simple et insouciant avec des machines 100 % électriques.
Le nouveau dumper HG E2000 a été testé sur des chantiers de construction et peut encaisser les coups que les machines finiront par subir sur le chantier. Il a une transmission intégrale totale, y compris un couple individuel sur toutes les roues, ce qui le rend entièrement capable de tout-terrain.
"Notre ambition est de garantir à nos clients le coût de possession le plus bas lorsqu'ils utilisent une machine HG. C'est notre objectif avec les milliers de tombereaux 'Super Skub' d'une tonne qui sillonnent l'Europe. Bien sûr, cela doit être C'est le cas de notre dumper 2 tonnes 100 % électrique. Nous l'avons donc testé et nous nous sommes assurés qu'il répondait à nos plus hauts standards de qualité », explique Nikolaj Birkerod.
En plus d'assurer un meilleur environnement de travail avec beaucoup moins d'émissions, le HG E2000 contribue également à un chantier plus social, car il fonctionne en silence. Cela signifie également que vous pouvez commencer plus tôt et finir plus tard.
NJC.© Info HG
------------------------------------------------------------------------------------------------------------------

15/05/23-English
A Danish world premiere: HG E2000 – 100% electric 2 ton dumper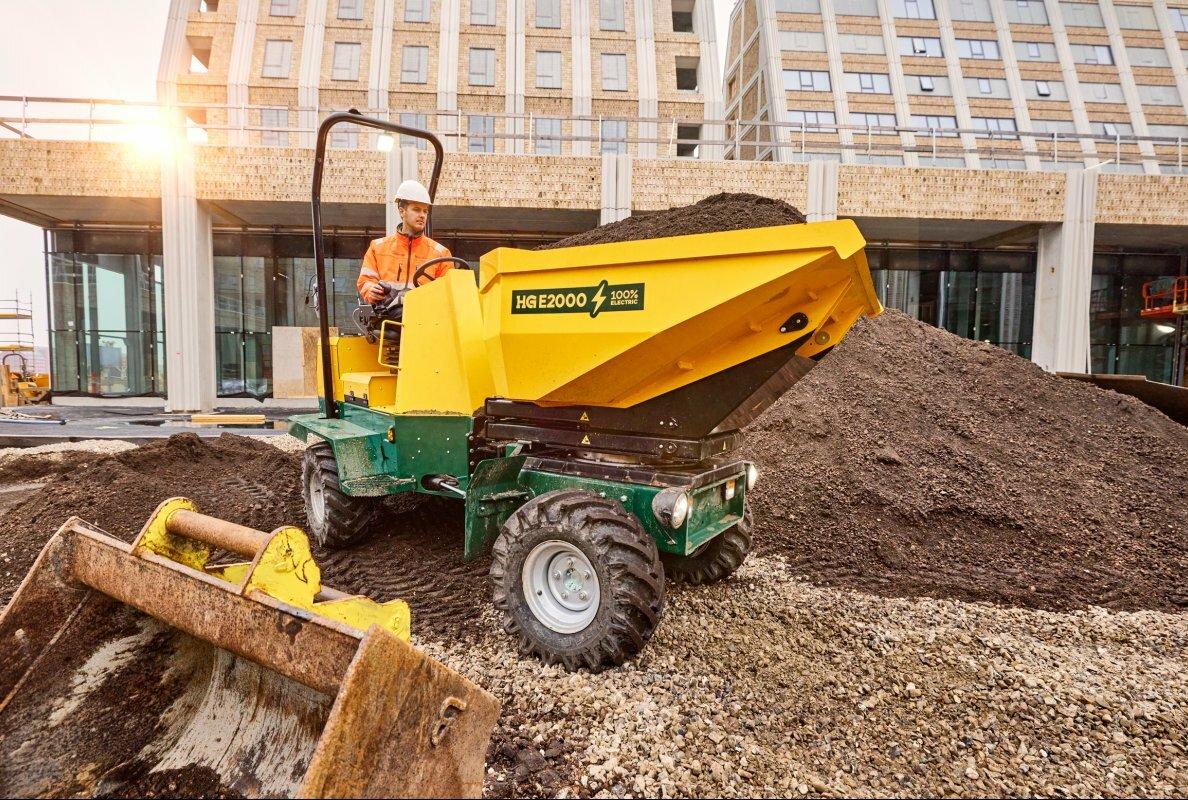 HG E2000 electric dumper IMAGE SOURCE: HG Machines
Drives +12 hours and charges in 3 hours.
A 100% electric 2-tonne dumper that fully matches the performance of current combustion engine alternatives - a Danish innovation by HG.
It is finally possible to order a 100% electric 2-tonne dumper without worrying about battery performance, charge timings, or machine durability. The E2000 has been tested and optimized over the last year, 25 machines are sold for customers in Denmark. The tests have been made in collaboration with selected contractors.
Electrical performance without compromising efficiency
HG has just opened orders from HG dealers for the new, all-electric HG E2000 dumper, scheduled for first delivery in Q2 2023. With an effective driving range of up to 12 hours, it can easily run a full working day. In addition, it handles all types of charging with an internal charger that can connect to a regular car charger, 16A current, or a 220V EU plug. The machine charges quickly and takes around 3.5 hours from 0 to 100% – 2 hours from 20 to 80%.
"We are delighted and proud that we have been able to launch such an innovative machine. We have over five years of experience with 100% electric 1-tonne dumpers, so we see it as our objective to help drive the electric, emission-free transition. We do this by developing more electrical innovations that enable the construction companies to reduce emissions, especially in bigger cities around the world," says Nikolaj Birkerod, Managing Director of HG
Durable and user-friendly machinery
HG needs to make it carefree and simple to work with 100% electrical machines.
The new HG E2000 dumper has been tested on construction sites and can take the beatings that machinery will ultimately get on site. It has total four-wheel drive, including individual torque on all wheels, making it entirely off-road capable.
"Our ambition is to ensure that our customers have the lowest cost of ownership when they use an HG machine. This has been our goal with the thousands of 1-tonne 'Super Skub' dumpers that drive around Europe. Of course, this must be the case with our 100% electric 2-tonne dumper. As such, we have tested it and ensured that it lives up to our highest quality standards," explains Nikolaj Birkerod.
In addition to ensuring a better working environment with significantly fewer emissions, the HG E2000 also contributes to a more social worksite, as it operates in silence. This also means that you can start earlier and finish later.
NJC.© Info HG
---------------------------------------------------------------------------------------------------------------

15/05/23-NL
Een Deense wereldpremière: HG E2000 – 100% elektrische 2-tons dumper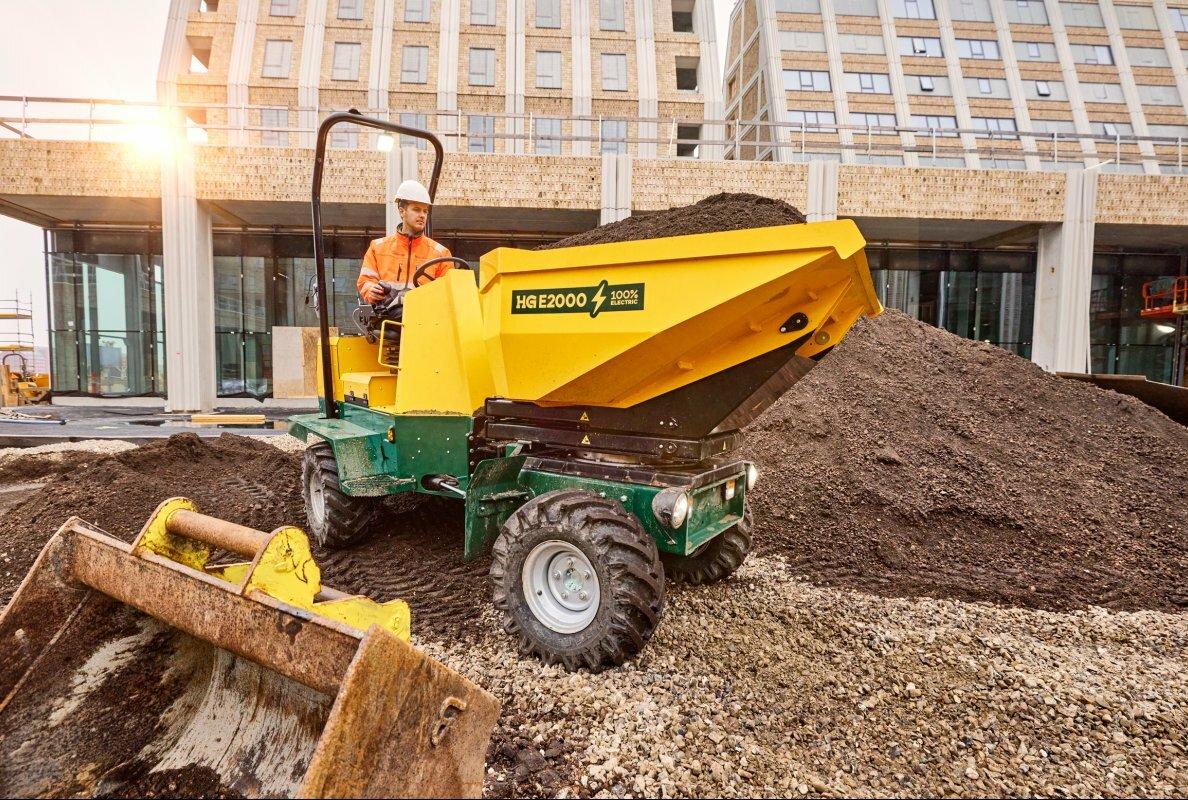 HG E2000 electric dumper IMAGE SOURCE: HG Machines
Rijdt +12 uur en laadt op in 3 uur.
Een 100% elektrische 2-tons dumper die volledig overeenkomt met de prestaties van de huidige alternatieven met verbrandingsmotor - een Deense innovatie van HG.
Het is eindelijk mogelijk om een 100% elektrische 2-tons dumper te bestellen zonder dat u zich zorgen hoeft te maken over de batterijprestaties, oplaadtijden of de duurzaamheid van de machine. De E2000 is het afgelopen jaar getest en geoptimaliseerd, er zijn 25 machines verkocht voor klanten in Denemarken. De testen zijn uitgevoerd in samenwerking met geselecteerde aannemers.
Elektrische prestaties zonder aan efficiëntie in te boeten
HG heeft zojuist bestellingen geplaatst bij HG-dealers voor de nieuwe, volledig elektrische HG E2000-dumper, waarvan de eerste levering gepland staat in het tweede kwartaal van 2023. Met een effectief rijbereik van maximaal 12 uur kan hij gemakkelijk een volledige werkdag draaien. Bovendien kan hij alle soorten opladen aan met een interne oplader die kan worden aangesloten op een gewone autolader, 16A stroom of een 220V EU-stekker. De machine laadt snel op en duurt ongeveer 3,5 uur van 0 tot 100% – 2 uur van 20 tot 80%.
"We zijn verheugd en trots dat we zo'n innovatieve machine op de markt hebben kunnen brengen. We hebben meer dan vijf jaar ervaring met 100% elektrische 1-tons dumpers, dus we zien het als ons doel om de elektrische, emissievrije We doen dit door meer elektrische innovaties te ontwikkelen waarmee bouwbedrijven de uitstoot kunnen verminderen, vooral in grotere steden over de hele wereld", zegt Nikolaj Birkerod, algemeen directeur van HG
Duurzame en gebruiksvriendelijke machines
HG moet het werken met 100% elektrische machines zorgeloos en eenvoudig maken.
De nieuwe HG E2000 dumper is getest op bouwplaatsen en kan tegen een stootje dat machines uiteindelijk op de bouwplaats zullen krijgen. Hij heeft totale vierwielaandrijving, inclusief individueel koppel op alle wielen, waardoor hij volledig geschikt is voor offroad.
"Onze ambitie is om ervoor te zorgen dat onze klanten de laagste eigendomskosten hebben wanneer ze een HG-machine gebruiken. Dit is ons doel geweest met de duizenden 1-tons 'Super Skub'-dumpers die door Europa rijden. Dit moet natuurlijk zo zijn het geval met onze 100% elektrische 2-tons dumper. Daarom hebben we hem getest en ervoor gezorgd dat hij aan onze hoogste kwaliteitsnormen voldoet", legt Nikolaj Birkerod uit.
Naast een betere werkomgeving met aanzienlijk minder uitstoot, draagt de HG E2000 ook bij aan een socialere werkplek, omdat hij in stilte werkt. Dit betekent ook dat je eerder kunt beginnen en later kunt eindigen.
NJC.© Info HG
------------------------------------------------------------------------------------------------------------------