Alp Lift joins forces in distribution deal

20/09/23-FR-English-NL-footer
Alp Lift s'associe dans un accord de distribution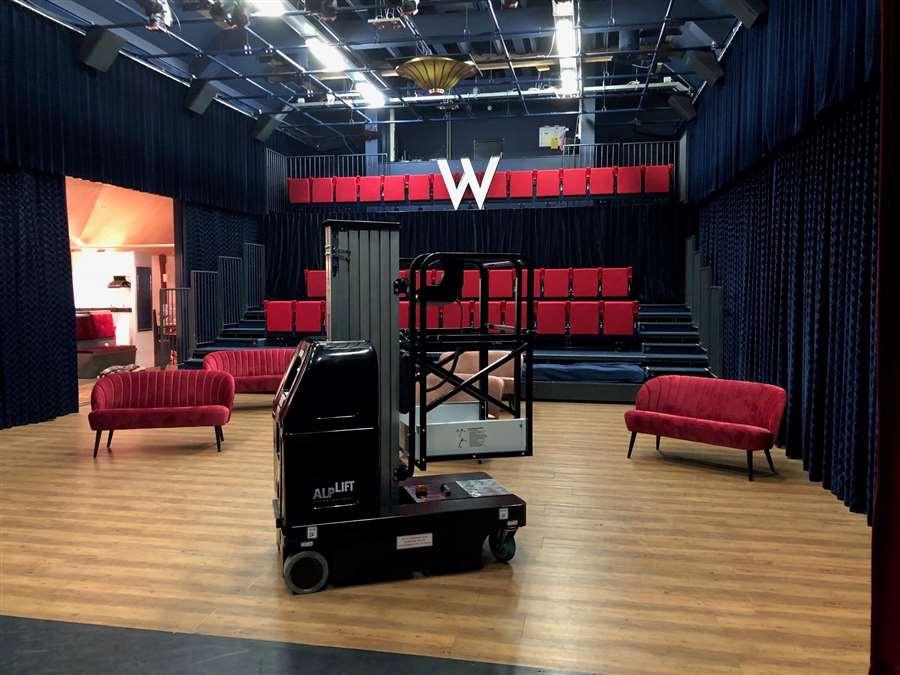 Image- ALP Lift mast lifts used for theatre set up and as part of the production.
Metal and Modular acquiert la concession des monte-charges Alp Lift au Royaume-Uni.
Le mât vertical d'ALP Lift sur scène Les mâts ALP Lift sont utilisés pour l'aménagement du théâtre et dans le cadre de la production.
Après une collaboration fructueuse au salon Apex en juin, où Alp Lift a présenté la nouvelle gamme de machines Navigator de Metal et Modular, les deux sociétés ont décidé d'unir leurs forces. Cela a abouti à la création de deux concessions, Metal and Modular devenant distributeur des monte-charges Alp Lift au Royaume-Uni et Alp Lift devenant distributeur du Navigator aux Pays-Bas.
L'histoire de Metal and Modular et d'Alp Lift est assez similaire. Toutes deux sont des entreprises familiales de taille moyenne qui se concentrent sur l'innovation en matière de conception et sur la fiabilité, la sécurité et la durabilité des produits. L'ensemble du processus de développement, d'approvisionnement, de production, de vente et de service est entre les mains des deux sociétés.
Metal and Modular a récemment ajouté une gamme de machines Navigator à accès bas à sa gamme historique d'unités de stockage et de manutention manuelle. Le Navigator 6.0 est la première plate-forme élévatrice à ciseaux auto-alimentée atteignant une hauteur de travail de 6 mètres, a déclaré l'entreprise, et est conçue pour une utilisation intérieure et extérieure. Un ajout précieux à la gamme de produits Alp Lift avec des nacelles à ciseaux électriques, a ajouté la société.
Alp Lift développe et produit en interne des élévateurs de matériaux manuels et électriques et des palans pneumatiques depuis plus de 30 ans. Alp Lift a ajouté avoir trouvé un bon partenaire en Métal et Modulaire, « en raison de leur présence sur le marché anglais et de leur connaissance des parties prenantes importantes. Pour les produits Métalliques et Modulaires, l'ajout de la gamme Alp Lift est cohérent avec l'introduction du travail en hauteur sans énergie et en toute sécurité.
NJC.© Info ALP LIFT
---------------------------------------------------------------------------------------------------------------

20/09/23-English
Alp Lift joins forces in distribution deal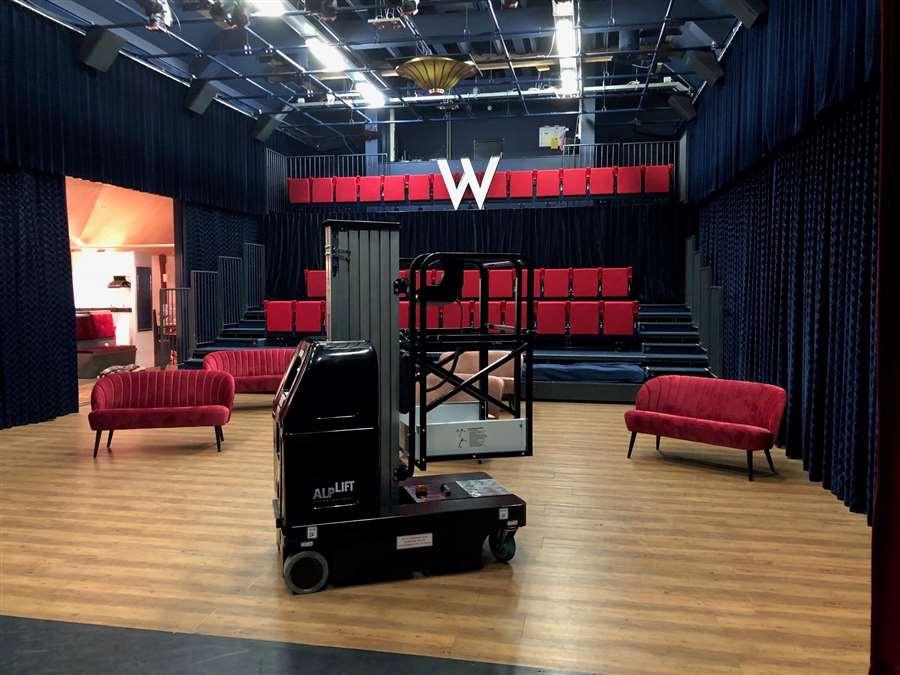 Image- ALP Lift mast lifts used for theatre set up and as part of the production.
Metal and Modular acquires dealership for Alp Lift material lifts in the UK.
ALP Lift's vertical mast on stage ALP Lift mast lifts used for theatre set up and as part of the production.
After a successful collaboration at the Apex exhibition in June, where Alp Lift showcased Metal and Modular's new range of Navigator machines, both companies decided to join forces. This has resulted in two dealerships, with Metal and Modular becoming dealer of Alp Lift material lifts in the UK and Alp Lift becoming dealer of the Navigator in the Netherlands.
The story of Metal and Modular and Alp Lift are quite similar. Both are family owned, medium sized companies focusing on design innovation and product relialibilty, safety and sustainability. The entire process of development, procurement, production, sales and service is the hands of both companies.
Metal and Modular recently added a low level access range of Navigator machines to its longstanding range of storage and manual handling units. The Navigator 6.0 is the first self-powered pusharound scissor lift achieving a working height of 6 metres, said the company, and is rated for both indoor and outdoor use. A valuable addition to the product range of Alp Lift with electrically powered scissor lifts, the company added.
Alp Lift has been developing and producing manual and electric material lifts and air hoists in-house for over 30 years. Alp Lift added that it had found a good partner in Metal and Modular, "because of their presence on the English market and their knowledge of important stakeholders. For Metal and Modular the addition of the Alp Lift range is consistent with the introduction of power-free safe working at height."
NJC.© Info ALP LIFT
--------------------------------------------------------------------------------------------------------------

20/09/23-NL
Alp Lift bundelt krachten in distributiedeal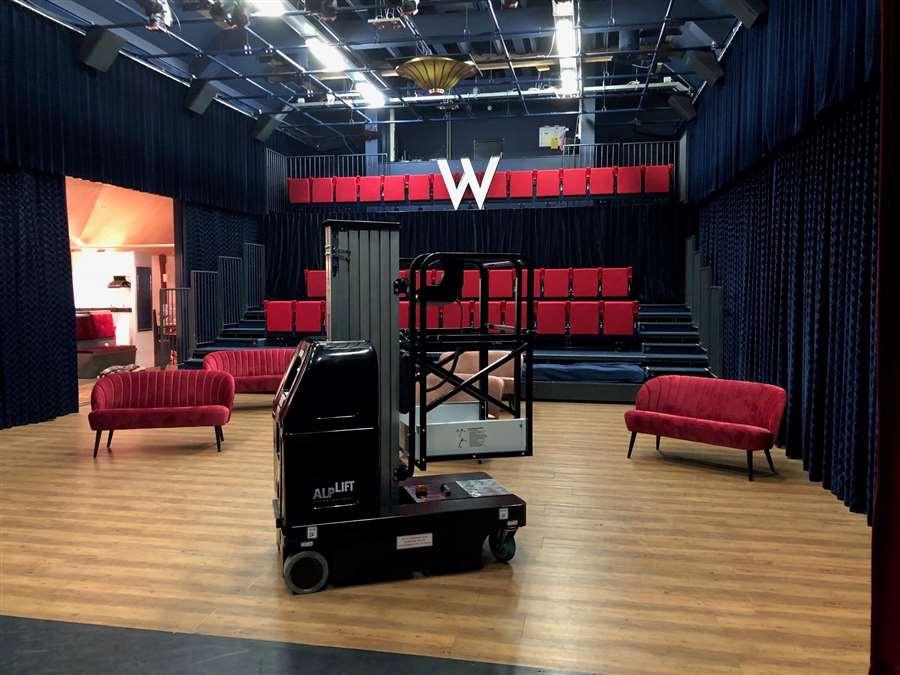 Image- ALP Lift mast lifts used for theatre set up and as part of the production.
Metal and Modular verwerft dealerschap voor Alp Lift materiaalliften in Groot-Brittannië.
Verticale mast van ALP Lift op podium ALP Lift masthoogwerkers gebruikt voor theateropstelling en als onderdeel van de productie.
Na een succesvolle samenwerking op de Apex-beurs in juni, waar Alp Lift de nieuwe reeks Navigator-machines van Metal en Modular presenteerde, besloten beide bedrijven hun krachten te bundelen. Dit heeft geresulteerd in twee dealerschappen, waarbij Metal en Modular dealer zijn geworden van Alp Lift materiaalliften in Groot-Brittannië en Alp Lift dealer is geworden van de Navigator in Nederland.
Het verhaal van Metal en Modular en Alp Lift lijken behoorlijk op elkaar. Beide zijn middelgrote familiebedrijven die zich richten op ontwerpinnovatie en productbetrouwbaarheid, veiligheid en duurzaamheid. Het gehele proces van ontwikkeling, inkoop, productie, verkoop en service is in handen van beide bedrijven.
Metal en Modular hebben onlangs een reeks Navigator-machines met lage toegang toegevoegd aan hun al lang bestaande assortiment opslag- en handmatige handlingunits. De Navigator 6.0 is de eerste zelfaangedreven schaarhoogwerker met een werkhoogte van 6 meter, aldus het bedrijf, en is geschikt voor gebruik zowel binnen als buiten. Een waardevolle aanvulling op het productaanbod van Alp Lift met elektrisch aangedreven schaarhoogwerkers, aldus het bedrijf.
Alp Lift ontwikkelt en produceert al ruim 30 jaar handmatige en elektrische materiaalliften en pneumatische takels in eigen huis. Alp Lift vult aan dat zij in Metal en Modular een goede partner hebben gevonden, "vanwege hun aanwezigheid op de Engelse markt en hun kennis van belangrijke stakeholders. Voor Metaal en Modulair sluit de toevoeging van het Alp Lift-assortiment aan bij de introductie van krachtvrij veilig werken op hoogte."
NJC.© Info ALP LIFT
-----------------------------------------------------------------------------------------------------------------
Date de dernière mise à jour : 19/09/2023