Aquajet hydrodemolition robot completes 'challenging' cement plant project

28/04/23-FR-English-NL-footer
Le robot d'hydrodémolition Aquajet achève un projet de cimenterie "difficile"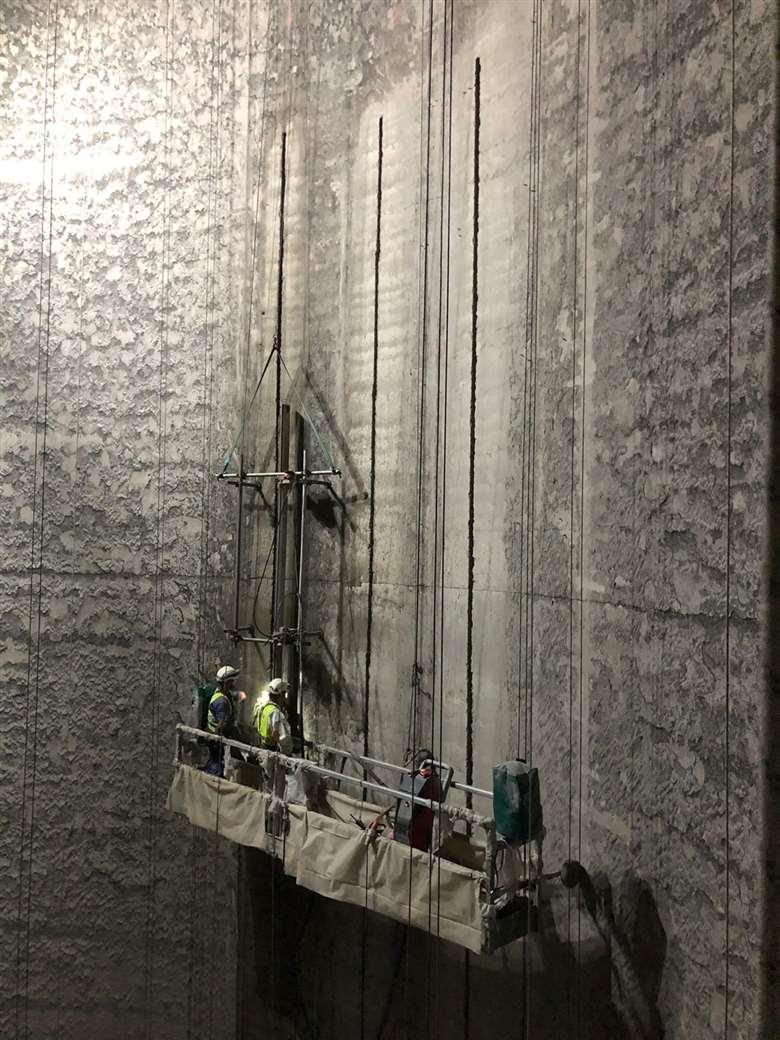 The Fixen team decided to opt for a much safer motorized hanging platform (Photo: Aquajet)
Une cimenterie à La Robla, en Espagne, avait besoin de réparer un silo en béton de 100 mètres de haut et de 16 mètres de diamètre lors d'un arrêt annuel pour maintenance. Les murs du silo étaient maintenus ensemble avec des barres d'armature sur les couches extérieures et intérieures de son béton, mais rien ne reliait les deux, provoquant la détérioration et la chute du béton.
L'équipe Fixen a décidé d'opter pour une suspension motorisée beaucoup plus sûre
Une entreprise spécialisée dans la réparation de béton et de structure a été embauchée pour réparer le silo en 2019, mais seule la partie inférieure du silo a été réparée en raison du temps limité. Deux ans plus tard, Jose Rodriguez et sa nouvelle société, Fixen Structural Services, ont remporté le contrat pour effectuer la réparation à l'aide du robot Ergo Hydrodemolition d'Aquajet.
L'Ergo est un robot d'hydrodémolition compact, avec un grimpeur qui se fixe à n'importe quel tuyau d'échafaudage standard et se déplace robotiquement le long de celui-ci, fournissant quatre fois la puissance d'une lance à main. Exerçant 1 000 newtons de force de réaction, l'Ergo enlève le béton ou d'autres matériaux à une profondeur prédéfinie constante.
L'arrêt pour maintenance de la cimenterie avait un délai de quatre semaines, et Fixen a proposé qu'une méthode robotique d'hydrodémolition ainsi que l'utilisation de plates-formes suspendues termineraient les travaux dans les délais.
Mais avec n'importe quel travail, il y a des défis. Avec la hauteur du silo de 100 mètres, plutôt que d'utiliser un système d'échafaudage traditionnel, l'équipe Fixen a décidé d'opter pour une plate-forme suspendue motorisée beaucoup plus sûre pour se tenir debout confortablement et apporter des équipements supplémentaires avec eux pendant qu'ils travaillaient sur la structure.
De plus, l'équipe de Fixen avait besoin d'environ 100 mètres de pression d'eau constante pour assurer une réparation réussie de l'hydrodémolition. Pour ce faire, Fixen a utilisé une pompe Hammelman de 2 500 bars avec un débit de 24 litres par minute. La pompe, située au sol pendant toute la durée du projet, comportait un flexible de 120 mètres de long et 3 000 bars de pression remontant la structure jusqu'à l'Ergo. Le contrôleur Ergo a été placé sur une plate-forme suspendue, suivant le grimpeur Ergo sur chaque section verticale de 4 mètres. La cimenterie a fourni l'eau et rejeté l'eau de dynamitage dans une citerne sur place.
La dernière étape de la réparation consistait à remplir les espaces ouverts avec du mortier fluide pour terminer la section. L'équipe a atteint une cadence de production d'un mètre par minute, enlevant chaque jour deux sections verticales de béton de 45 mètres.
Fixen affirme que l'utilisation de technologies telles que le robot Ergo Hydrodemolition leur a permis d'effectuer des réparations difficiles rapidement, en toute sécurité et efficacement.
NJC.© Info FIXEN AQUAJET
---------------------------------------------------------------------------------------------------------------

28/04/23-English
Aquajet hydrodemolition robot completes 'challenging' cement plant project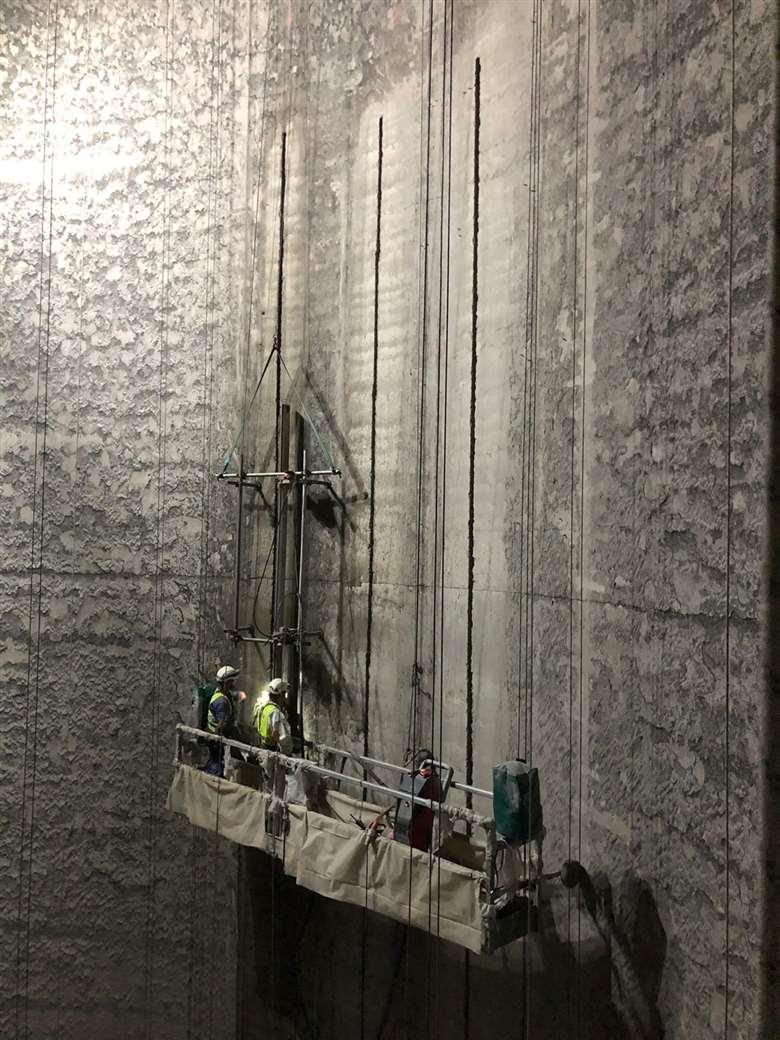 The Fixen team decided to opt for a much safer motorized hanging platform (Photo: Aquajet)
A cement plant in La Robla, Spain needed to repair a 100-metre-tall, 16-metre-diametre concrete silo during an annual maintenance shutdown. The walls of the silo were held together with rebar on the outer and inner layers of its concrete, but nothing connected the two, causing the concrete to deteriorate and fall.
The Fixen team decided to opt for a much safer motorized hanging
A company specializing in concrete and structure repair was hired to fix the silo in 2019, but only the lower portion of the silo was repaired due to limited time. Two years later, Jose Rodriguez and his new company, Fixen Structural Services, won the contract to complete the repair using Aquajet's Ergo Hydrodemolition robot.
The Ergo is a compact Hydrodemolition robot, with a climber that attaches to any standard scaffolding pipes and robotically moves along it, providing four times the power of a hand lance. Exerting 1,000 newtons of reaction force, the Ergo removes concrete or other material to a consistent preset depth.
The cement plant's maintenance shutdown had a four-week deadline, and Fixen proposed that a robotic Hydrodemolition method along with the use of hanging platforms would complete the work by the deadline.
But with any job, there are challenges. With the silo's height of 100 metres, rather than using a traditional scaffolding system, the Fixen team decided to opt for a much safer motorized hanging platform to comfortably stand on and bring additional equipment up with them as they worked on the structure.
Additionally, the Fixen crew needed approximately 100 metres of constant water pressure to ensure a successful Hydrodemolition repair. To achieve this, Fixen used a 2,500 bar Hammelman pump with a flow rate of 24 litres per minute. The pump, situated on the ground for the duration of the project, incorporated a 120 metre long, 3,000 bar pressure, hose extending up the structure to the Ergo. The Ergo controller was placed on a hanging platform, following the Ergo climber on each 4 metre vertical section. The cement plant provided the water and discarded the blast water into a cistern on-site.
The final step of the repair was to fill the open spaces with fluid mortar to complete the section. The team achieved a production rate of one metre per minute, removing two 45-metre vertical sections of concrete each day.
Fixen says that the use of technology such as the Ergo Hydrodemolition robot allowed them to complete challenging repairs quickly, safely, and effectively.
NJC.© Info FIXEN AQUAJET
--------------------------------------------------------------------------------------------------------------

28/04/23-NL
Aquajet hydrodemolition robot voltooit 'uitdagend' cementfabriekproject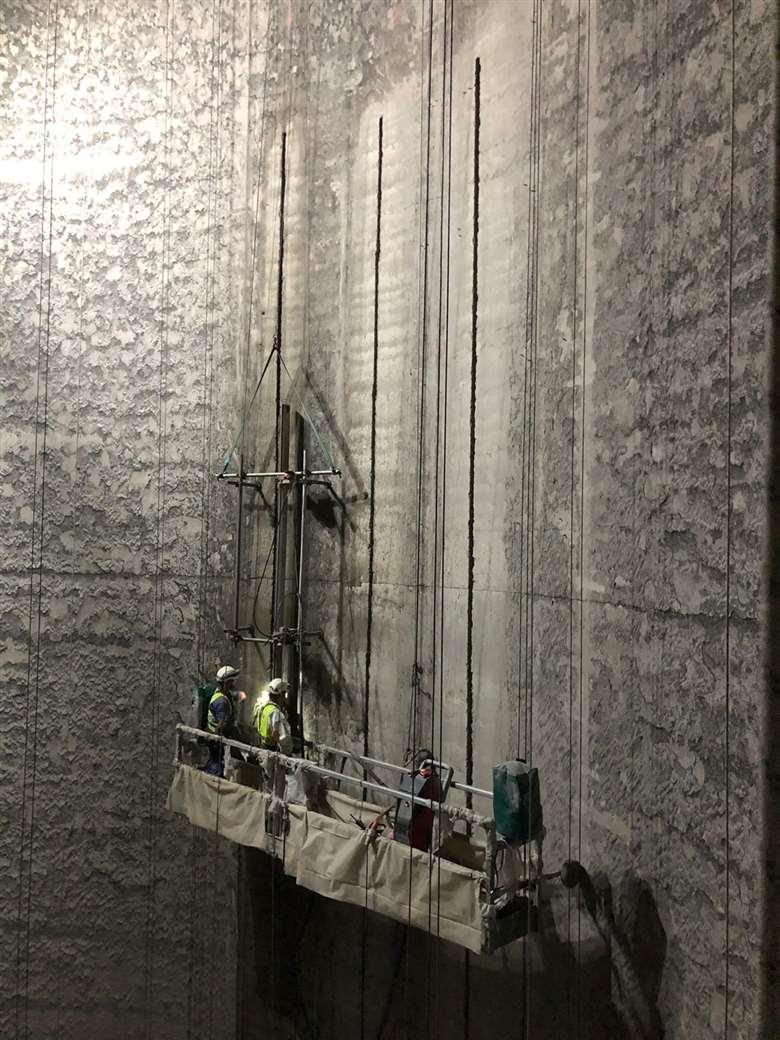 The Fixen team decided to opt for a much safer motorized hanging platform (Photo: Aquajet)
Een cementfabriek in La Robla, Spanje, moest tijdens een jaarlijkse onderhoudsstop een 100 meter hoge betonnen silo met een diameter van 16 meter repareren. De wanden van de silo werden bij elkaar gehouden met betonijzer op de buitenste en binnenste lagen van het beton, maar niets verbond de twee, waardoor het beton achteruitging en viel.
Het Fixen-team besliste om te kiezen voor een veel veiliger gemotoriseerde ophanging
Een bedrijf dat gespecialiseerd is in het repareren van beton en constructies werd ingehuurd om de silo te repareren in 2019, maar vanwege beperkte tijd werd alleen het onderste deel van de silo gerepareerd. Twee jaar later wonnen Jose Rodriguez en zijn nieuwe bedrijf, Fixen Structural Services, het contract om de reparatie uit te voeren met de Ergo Hydrodemolition-robot van Aquajet.
De Ergo is een compacte Hydrodemolition-robot, met een klimmer die aan elke standaard steigerpijp kan worden bevestigd en er robotachtig langs beweegt, met vier keer de kracht van een handlans. Met een reactiekracht van 1.000 Newton verwijdert de Ergo beton of ander materiaal tot een consistente vooraf ingestelde diepte.
De onderhoudsstop van de cementfabriek had een deadline van vier weken, en Fixen stelde voor dat een gerobotiseerde Hydrodemolition-methode samen met het gebruik van hangende platforms het werk voor de deadline zou voltooien.
Maar bij elke baan zijn er uitdagingen. Omdat de silo 100 meter hoog was, besloot het Fixen-team in plaats van een traditioneel steigersysteem te kiezen voor een veel veiliger gemotoriseerd hangend platform om comfortabel op te staan en extra uitrusting mee te nemen terwijl ze aan de constructie werkten.
Bovendien had de Fixen-bemanning ongeveer 100 meter constante waterdruk nodig om een succesvolle Hydrodemolition-reparatie te garanderen. Hiervoor gebruikte Fixen een 2.500 bar Hammelman pomp met een debiet van 24 liter per minuut. De pomp, die voor de duur van het project op de grond stond, bevatte een 120 meter lange slang met een druk van 3.000 bar die zich uitstrekte tot aan de constructie naar de Ergo. De Ergo-controller werd op een hangend platform geplaatst en volgde de Ergo-klimmer op elke verticale sectie van 4 meter. De cementfabriek zorgde voor het water en loosde het explosiewater in een ter plaatse aanwezige stortbak.
De laatste stap van de reparatie was het vullen van de open ruimtes met vloeibare mortel om de sectie te voltooien. Het team haalde een productiesnelheid van één meter per minuut en verwijderde elke dag twee verticale stukken beton van 45 meter lang.
Fixen zegt dat het gebruik van technologie zoals de Ergo Hydrodemolition-robot hen in staat stelde om uitdagende reparaties snel, veilig en effectief uit te voeren.
NJC.© Info FIXEN AQUAJET
------------------------------------------------------------------------------------------------------------------