As AUSA Debuts e-Model, Other Dumpers Continue Thriving

30/12/22-FR-English-NL-footer
Alors qu'AUSA lance son modèle électronique, d'autres dumpers continuent de prospérer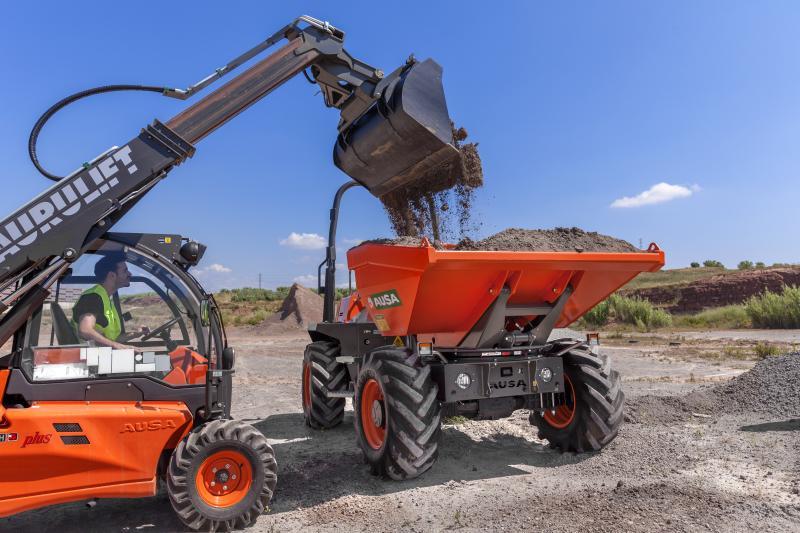 Image-AUSA's dumpers work well in applications like landscaping, smaller earthmoving jobs and projects involving concrete. (Photo courtesy of AUSA.)
Au cours des 61 dernières années, AUSA, basée à Barcelone, en Espagne, s'est révélée être un fabricant d'équipements de construction uniques et inventifs - d'abord en Europe et, depuis 2015, aux États-Unis.
AUSA fabrique des véhicules industriels compacts réputés pour leur maniabilité, leur polyvalence et leur gamme d'utilisations. Ses trois gammes de produits comprennent des chariots élévateurs tout-terrain, des chariots télescopiques et des tombereaux, ce dernier étant l'offre la plus populaire de l'entreprise.
Lorsque AUSA a apporté son équipement aux États-Unis il y a sept ans, les tombereaux étaient un produit peu connu des entrepreneurs américains. Ce qui les distingue des camions à benne beaucoup plus gros, ce sont leurs constructions compactes et leur conception unique, caractérisées par une benne placée devant l'opérateur, contrairement aux cabines de camions à benne montées devant la charge.
La gamme de 17 dumpers différents d'AUSA - tous des véhicules ouverts à quatre roues - comprend le nouveau modèle électrique D151AEG, dévoilé par le fabricant en octobre lors du salon bauma des machines de construction et d'exploitation minière à Munich, en Allemagne.
Le nouveau D151AEG a un poids de 3 300 lb. charge utile et est conçu pour travailler dans de petits espaces où une bonne maniabilité est la plus nécessaire. De plus, la machine arbore une capacité de batterie allant jusqu'à 12 kilowattheures, ce qui lui confère une autonomie d'au moins une journée de travail typique pour un véhicule de sa catégorie. La batterie du modèle se charge de 20 à 80 % en seulement deux heures lorsqu'elle est alimentée en 230 volts.
Bien qu'une date exacte pour le déploiement des machines électriques n'ait pas encore été décidée, Ignasi Moner, le PDG d'AUSA US Corp., dont le siège est situé près de Charleston, S.C., a déclaré que le constructeur automobile espère avoir les nouveaux tombereaux électriques chez un concessionnaire américain. showrooms en 2024.
AUSA Dumpers connaît une croissance régulière
Entre-temps, la gamme actuelle de produits AUSA continue d'être plus populaire aux États-Unis, avec les tombereaux polyvalents et simples à utiliser en tête.
Moner a déclaré que les tombereaux d'AUSA peuvent être vus travailler sur une variété de chantiers différents, principalement des chantiers de construction où ils déplacent de la terre, de la roche et du béton, mais ils sont également utilisés sur des projets d'aménagement paysager et de démolition. Souvent, les entrepreneurs les font tourner autour d'un seul projet où ils s'avèrent être à portée de main pour effectuer toutes ces tâches.
Les constructeurs de terrains de golf et les paysagistes apprécient également les dumpers d'AUSA, a-t-il déclaré.
"Ce marché a toujours été ouvert à de nouvelles machines et à une nouvelle façon de faire les choses plus facilement", a déclaré Moner. "Mais parce que les entrepreneurs utilisaient traditionnellement des camions à benne basculante, il n'y a pas eu de présence de tombereaux dans ce pays pendant longtemps. La plupart des clients ne savaient même pas qu'ils existaient et s'ils le savaient, ils devaient les importer d'Europe."
Cependant, après l'entrée d'AUSA sur le marché américain de l'équipement, les représentants de l'entreprise ont pris le temps de parler avec des clients potentiels de leurs gammes de tombereaux, a-t-il ajouté. Cela comprenait l'éducation des professionnels de la construction, de l'aménagement paysager des terrains de golf et du béton sur ce que les dumpers d'AUSA pouvaient faire, avec pour résultat que davantage de projets à travers le pays utilisent les machines.
"Maintenant, nous avons la plus large gamme de tailles de tombereaux sur le marché, ce qui signifie qu'AUSA a une solution pour chaque taille de travail", a-t-il déclaré.
Les dumpers combinent de grandes fonctionnalités avec de la valeur
Outre la taille et l'ingénierie, une autre différence entre les tombereaux d'AUSA et les produits comparables, a déclaré Moner, "est que nous proposons une large gamme de modèles, de notre tombereau hydrostatique D100AHA de 2 220 lb, avec moins d'un mètre cube de capacité, jusqu'au tombereau d'AUSA. DR1001AHG, une machine de 22 000 lb pouvant transporter 5,25 mètres cubes de matériau. »
En prime, le DR1001AHG et le DR601AHG, dont le dernier a un poids de 13 200 lb. capacité de charge, sont non seulement polyvalents, mais également réversibles.
"Ils ont tous deux la fonction de position de conduite pivotante à 180 degrés où la position du conducteur pivote, ce qui leur permet de faire face à l'arrière et donc de toujours avancer", a-t-il déclaré. "Cette caractéristique fait gagner du temps à l'opérateur et augmente sa visibilité et sa sécurité."
Lorsque le siège tourne sur le plus grand DR1001AHG, par exemple, tous les composants de la machine (volant, joystick, pédales, caméras de sécurité) s'ajustent instantanément pour s'adapter à la nouvelle position du conducteur. Le conducteur peut également monter et descendre confortablement et en toute sécurité de chaque côté du tombereau, augmentant ainsi la vitesse et la flexibilité d'utilisation du modèle.
"Nous sommes un acteur clé en Europe sur le marché des dumpers, et nous avons apporté des idées et des concepts de pointe sur ce marché, mais je pense également qu'AUSA propose les bons produits au prix que le client souhaite payer", a déclaré Moner. "Pour eux, nos produits offrent une excellente valeur, et cela inclut le service dédié qu'ils reçoivent de l'équipe AUSA et de notre réseau de revendeurs."
NJC.© Info AUSA
--------------------------------------------------------------------------------------------------------------------

30/12/22-English
As AUSA Debuts e-Model, Other Dumpers Continue Thriving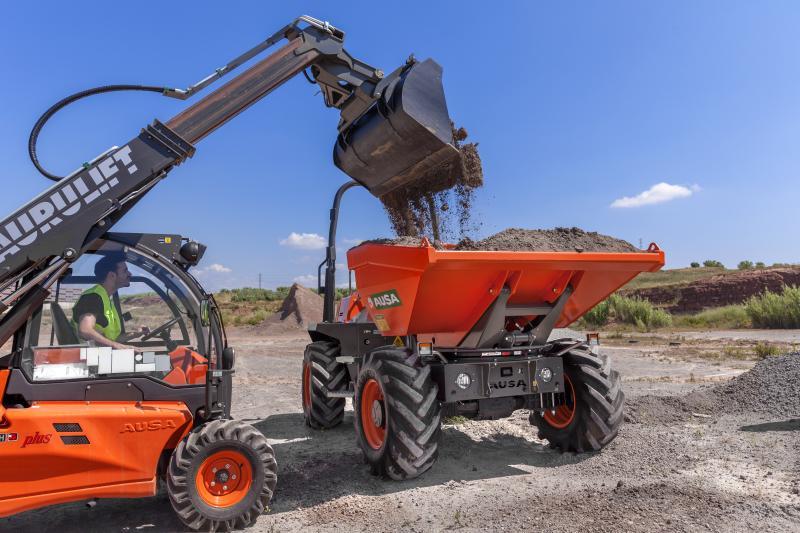 Image-AUSA's dumpers work well in applications like landscaping, smaller earthmoving jobs and projects involving concrete. (Photo courtesy of AUSA.)
Over the past 61 years, Barcelona, Spain-based AUSA has proven itself to be a manufacturer of unique and inventive construction equipment — first in Europe and, since 2015, in the United States.
AUSA makes compact industrial vehicles noted for their maneuverability, versatility and range of uses. Its three product lines include rough-terrain forklifts, telehandlers and dumpers, the latter of which is the company's most popular offering.
When AUSA brought its equipment to the United States seven years ago, dumpers were a little-known commodity among American contractors. What distinguishes them from much larger dump trucks are their compact builds and unique design, characterized by a load skip placed in front of the operator — in contrast to dump truck cabs mounted in front of the load.
AUSA's line of 17 different dumpers — all open, four-wheeled vehicles — includes the newly launched D151AEG electric model, unveiled by the manufacturer in October at the bauma construction and mining machinery trade show in Munich, Germany.
The new D151AEG has a 3,300-lb. payload and is designed for working in small spaces where good maneuverability is most needed. In addition, the machine sports a battery capacity of up to 12 kilowatt hours, giving it an operating range of at least one typical working day for a vehicle in its category. The model's battery charges from 20 to 80 percent in just two hours when doing so at 230 volts.
Although an exact date for the rollout of the electric machines has yet to be decided, Ignasi Moner, the chief executive officer of AUSA US Corp., headquartered near Charleston, S.C., said the vehicle maker hopes to have the new electric dumpers in American dealership showrooms in 2024.
AUSA Dumpers Enjoy Steady Growth
In the meantime, AUSA's current lineup of products continues to be more popular in the United States, with the versatile and simple to use dumpers leading the way.
Moner said that AUSA's dumpers can be seen working at a variety of different job sites, primarily construction sites where they move dirt, rock and concrete, but they are used on landscaping and demolition projects, too. Often, contractors have them zipping around a single project where they prove to be handy performing all these tasks.
Golf course builders and landscapers also like AUSA's dumpers, he said.
"This market has always been open to seeing new machines and a new way of doing things more easily," Moner said. "But because contractors traditionally used dump trucks, there was not a dumper presence in this country for a long time. Most customers did not even know they existed and if they did, they had to import them from Europe."
Following AUSA's entrance in the U.S. equipment marketplace, though, company representatives took the time to speak with potential customers about their dumper lines, he added. That included educating construction, golf course landscaping and concrete professionals about what AUSA's dumpers could do, with the result being more projects around the country are utilizing the machines.
"Now, we have the widest range of dumper sizes in the market, meaning AUSA has a solution for every size job," he said.
Dumpers Combine Great Features With Value
Besides size and engineering, another difference between AUSA's dumpers and comparable products, Moner said, "is that we offer a broad range of models, from our 2,220-lb. D100AHA hydrostatic dumper, with less than a cubic yard of capacity, up to AUSA's DR1001AHG, a 22,000-lb. machine that can carry 5.25 cubic yards of material."
As a bonus, the DR1001AHG and the DR601AHG, the latter of which has a 13,200-lb. load capacity, are not only versatile, but reversible as well.
"They both have the 180-degree swing driving position feature where the driver position swivels, allowing them to face the back end, and thus always drive forwards," he said. "That feature saves time for the operator and increases his visibility and safety."
When the seat rotates on the larger DR1001AHG, for example, all components on the machine — steering wheel, joystick, pedals, safety cameras — instantly adjust to suit the driver's new position. The driver also can comfortably and safely get on and off either side of the dumper, increasing the speed and flexibility of the model's use.
"We are a key player in Europe within the dumper market, and we brought leading-edge ideas and concepts to this market, but I also believe AUSA offers the right products at the price the customer wants to pay," Moner said. "For them, our products offer excellent value, and that includes the dedicated service they receive from the AUSA team and our network of dealers."
NJC.© Info AUSA
--------------------------------------------------------------------------------------------------------------------

30/12/22-NL
Terwijl AUSA het e-model introduceert, blijven andere dumpers het goed doen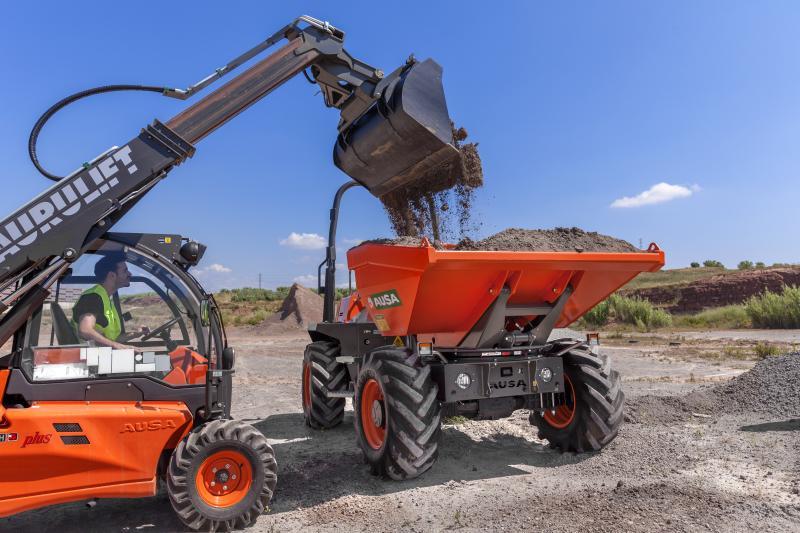 Image-AUSA's dumpers work well in applications like landscaping, smaller earthmoving jobs and projects involving concrete. (Photo courtesy of AUSA.)
In de afgelopen 61 jaar heeft het in Barcelona, Spanje gevestigde AUSA bewezen een fabrikant te zijn van unieke en inventieve bouwmachines - eerst in Europa en sinds 2015 in de Verenigde Staten.
AUSA maakt compacte industriële voertuigen die bekend staan om hun wendbaarheid, veelzijdigheid en gebruiksmogelijkheden. De drie productlijnen omvatten vorkheftrucks voor ruw terrein, verreikers en dumpers, waarvan de laatste het meest populaire aanbod van het bedrijf is.
Toen AUSA zeven jaar geleden zijn materieel naar de Verenigde Staten bracht, waren dumpers een weinig bekend handelsartikel onder Amerikaanse aannemers. Wat hen onderscheidt van veel grotere dumptrucks, is hun compacte constructie en uniek ontwerp, gekenmerkt door een laadbak die vóór de bestuurder is geplaatst - in tegenstelling tot de cabines van dumptrucks die vóór de lading zijn gemonteerd.
AUSA's lijn van 17 verschillende dumpers - allemaal open voertuigen met vier wielen - omvat het onlangs gelanceerde elektrische model D151AEG, onthuld door de fabrikant in oktober op de bauma-beurs voor bouw- en mijnbouwmachines in München, Duitsland.
De nieuwe D151AEG heeft een gewicht van 3.300 lb. laadvermogen en is ontworpen voor het werken in kleine ruimtes waar goede wendbaarheid het meest nodig is. Bovendien heeft de machine een batterijcapaciteit van maximaal 12 kilowattuur, waardoor hij een actieradius heeft van ten minste één typische werkdag voor een voertuig in zijn categorie. De batterij van het model laadt op 230 volt in slechts twee uur op van 20 tot 80 procent.
Hoewel een exacte datum voor de uitrol van de elektrische machines nog moet worden vastgesteld, zei Ignasi Moner, de chief executive officer van AUSA US Corp., met het hoofdkantoor in de buurt van Charleston, SC, dat de voertuigfabrikant hoopt de nieuwe elektrische dumpers bij de Amerikaanse dealer te hebben. toonzalen anno 2024.
AUSA-dumpers genieten van een gestage groei
In de tussentijd blijft het huidige productassortiment van AUSA populairder in de Verenigde Staten, met de veelzijdige en eenvoudig te gebruiken dumpers voorop.
Moner zei dat de dumpers van AUSA op verschillende werkterreinen kunnen worden gebruikt, voornamelijk bouwplaatsen waar ze vuil, stenen en beton verplaatsen, maar ze worden ook gebruikt bij landschapsarchitectuur en sloopprojecten. Vaak laten aannemers ze rond een enkel project zigzaggen waar ze handig blijken te zijn bij het uitvoeren van al deze taken.
Golfbaanbouwers en landschapsarchitecten houden ook van de dumpers van AUSA, zei hij.
"Deze markt heeft altijd open gestaan voor nieuwe machines en een nieuwe manier om dingen gemakkelijker te doen", aldus Moner. "Maar omdat aannemers van oudsher kiepwagens gebruikten, was er in dit land lange tijd geen kiepwagen aanwezig. De meeste klanten wisten niet eens van het bestaan en als ze dat wel wisten, moesten ze ze uit Europa importeren."
Na de intrede van AUSA op de Amerikaanse apparatuurmarkt namen bedrijfsvertegenwoordigers echter de tijd om met potentiële klanten te praten over hun dumperlijnen, voegde hij eraan toe. Dat omvatte onder meer het opleiden van bouw-, landschapsarchitectuur- en betonprofessionals over wat de dumpers van AUSA konden doen, met als resultaat dat meer projecten in het hele land de machines gebruiken.
"Nu hebben we het breedste scala aan dumperafmetingen op de markt, wat betekent dat AUSA een oplossing heeft voor elke klus", zei hij.
Dumpers combineren geweldige functies met waarde
Naast grootte en techniek is een ander verschil tussen AUSA's dumpers en vergelijkbare producten, zei Moner, "dat we een breed scala aan modellen aanbieden, van onze 2.220-lb. D100AHA hydrostatische dumper, met een capaciteit van minder dan een kubieke meter, tot AUSA's DR1001AHG, een machine van 22.000 pond die 5,25 kubieke meter materiaal kan vervoeren."
Als bonus, de DR1001AHG en de DR601AHG, waarvan de laatste een gewicht van 13.200 lb heeft. laadvermogen, zijn niet alleen veelzijdig, maar ook omkeerbaar.
"Ze hebben allebei de 180 graden draaibare rijpositiefunctie waarbij de bestuurderspositie draait, waardoor ze naar de achterkant kunnen kijken en dus altijd vooruit kunnen rijden", zei hij. "Die functie bespaart de machinist tijd en verhoogt zijn zicht en veiligheid."
Wanneer de stoel bijvoorbeeld draait op de grotere DR1001AHG, passen alle onderdelen van de machine - stuurwiel, joystick, pedalen, veiligheidscamera's - zich onmiddellijk aan de nieuwe positie van de bestuurder aan. De bestuurder kan ook comfortabel en veilig aan weerszijden van de dumper in- en uitstappen, waardoor de snelheid en flexibiliteit van het gebruik van het model toenemen.
"We zijn een belangrijke speler in Europa op de dumpermarkt en we hebben toonaangevende ideeën en concepten naar deze markt gebracht, maar ik geloof ook dat AUSA de juiste producten biedt voor de prijs die de klant wil betalen", aldus Moner. "Voor hen bieden onze producten uitstekende waarde, inclusief de toegewijde service die ze krijgen van het AUSA-team en ons netwerk van dealers."
NJC.© Info AUSA
----------------------------------------------------------------------------------------------------------------