At the bauma 2022 trade show Mercedes-Benz Trucks
27/06/22-FR-English-NL-footer
Au salon bauma 2022 Mercedes-Benz Trucks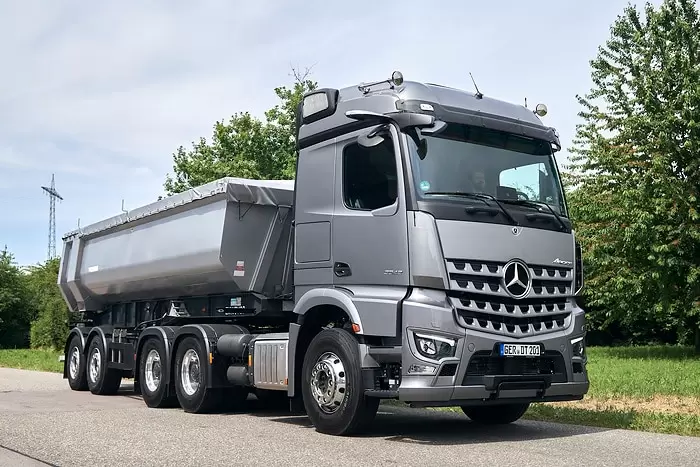 Présenter des solutions personnalisées et intégrées pour le transport de construction, y compris
la satisfaction des besoins clients très variés en matière de transport de construction sur l'ensemble de sa gamme de véhicules
poursuite de l'électrification de son portefeuille pour les applications spécifiques à la construction
eActros et solutions de bennes électrifiées de MEILLER et PALFINGER
MirrorCam de deuxième génération avec des bras de caméra plus courts et des paramètres d'imagerie optimisés
moteur de véhicule utilitaire lourd OM 471 de troisième génération, qui offre plus de puissance, de dynamique de véhicule et d'efficacité énergétique
entraînement auxiliaire hydraulique et embrayage ralentisseur turbo pour faciliter les activités de travail
nouvel essieu avant avec une charge à l'essieu de 10 tonnes pour l'Arocs
nouveaux phares principaux pour Arocs et Actros en distribution, également en version full LED
Stuttgart/Munich - Terrain accidenté, routes d'accès étroites, marge de manœuvre limitée, transport d'équipements et de matériaux lourds : la logistique des chantiers de construction est un défi pour les véhicules utilitaires. Mercedes-Benz Trucks propose un vaste portefeuille pour desservir presque tous les segments, comme en témoigne la présence de l'entreprise au salon bauma de cette année à Munich, le principal salon mondial de l'industrie de la construction. Du 24 au 30 octobre 2022, Daimler Truck donnera aux décideurs, acheteurs et utilisateurs du monde entier un aperçu détaillé de sa gamme de véhicules et de ses concepts de mobilité orientés client sur son stand, ainsi que dans l'espace extérieur. La gamme exposée s'étend des Atego et Unimog aux Arocs, Actros et eActros.
Véhicules Mercedes-Benz Trucks susceptibles d'être présentés à bauma 2022 (sélection) :
eActros 6x2 avec benne basculante de Meiller.
Arocs 4151 K 8x4/4 avec essieu avant de 10 tonnes et grande grue de Palfinger
Arocs 4163 LS 8x4 pour le transport lourd
Arocs 2651 K 6x4 avec benne basculante sur 3 côtés de Meiller
Arocs 1851 LS HAD 4x2 avec semi-remorque benne de Meiller
Arocs 3240 B 8x4 avec camion malaxeur de Liebherr
Arocs 1846 K 4x2 avec benne basculante de Hiab
Arocs 3242 8+4 avec pompe à béton de Putzmeister
Atego 1530 K 4x2 avec benne basculante sur 3 côtés de Meiller
Unimog
NJC.© Info MB Trucks
---------------------------------------------------------------------------------------------------------------------
27/06/22-English
At the bauma 2022 trade show Mercedes-Benz Trucks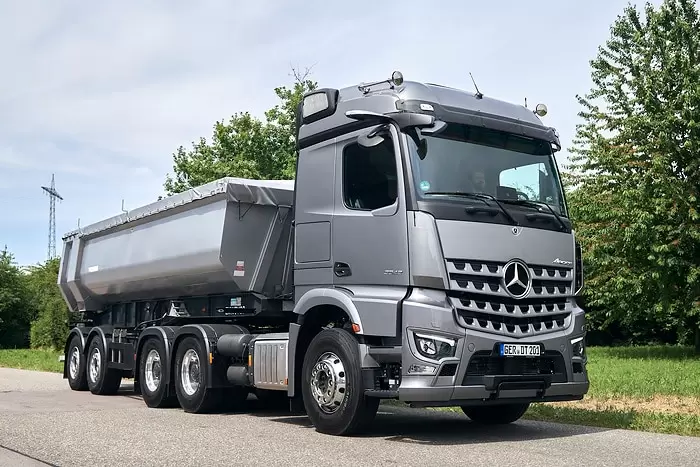 To showcase customized, integrated solutions for construction transport, including
fulfillment of highly varied customer needs relating to construction transport across its entire vehicle range
further electrification of its portfolio for construction-specific applications
eActros and electrified tipper solutions from MEILLER and PALFINGER
second generation MirrorCam with shorter camera arms and optimized imaging parameters
third generation OM 471 heavy commercial vehicle engine, which delivers more power, vehicle dynamics and fuel efficiency
hydraulic auxiliary drive and a turbo retarder clutch to facilitate work activities
new front axle with a 10-ton axle load for the Arocs
new main headlights for the Arocs and Actros in distribution haulage, also in full LED version
Stuttgart/Munich - Uneven terrain, narrow access roads, limited room for maneuvering, transportation of heavy equipment and materials: Construction sites logistics are challenging for commercial vehicles. Mercedes-Benz Trucks offers an ample portfolio to serve almost every segment, as the company's attendance at this year's bauma in Munich, the world's leading trade show for the construction industry, will demonstrate. From October 24 to 30, 2022, Daimler Truck will give global decision-makers, procurers and users detailed insights into its vehicle range and customer-oriented mobility concepts at its trade show stand, as well as in the outdoor area. The exhibited range extends from the Atego and Unimog to the Arocs, Actros and eActros.
Mercedes-Benz Trucks vehicles likely to be shown at bauma 2022 (selection):
eActros 6x2 with roll-off tipper from Meiller.
Arocs 4151 K 8x4/4 with 10-tonne front axle and large crane from Palfinger
Arocs 4163 LS 8x4 for heavy-duty transportation
Arocs 2651 K 6x4 with 3-side tipper from Meiller
Arocs 1851 LS HAD 4x2 with tipper semitrailer from Meiller
Arocs 3240 B 8x4 with truck mixer from Liebherr
Arocs 1846 K 4x2 with crane tipper from Hiab
Arocs 3242 8+4 with concrete pump from Putzmeister
Atego 1530 K 4x2 with 3-side tipper from Meiller
Unimog
NJC.© Info MB Trucks
-----------------------------------------------------------------------------------------------------------------
27/06/22-NL
Op de Bauma 2022-beurs Mercedes-Benz Trucks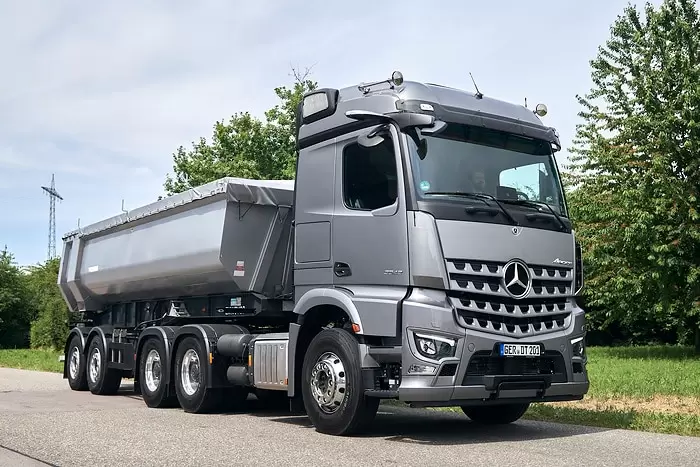 Om op maat gemaakte, geïntegreerde oplossingen voor bouwtransport te demonstreren, waaronder:
vervulling van zeer uiteenlopende klantbehoeften met betrekking tot bouwtransport over het gehele voertuigaanbod
verdere elektrificatie van haar portfolio voor bouwspecifieke toepassingen
eActros en elektrische kipperoplossingen van MEILLER en PALFINGER
tweede generatie MirrorCam met kortere camera-armen en geoptimaliseerde beeldparameters
derde generatie OM 471 motor voor zware bedrijfsvoertuigen, die meer vermogen, voertuigdynamiek en brandstofefficiëntie levert
hydraulische hulpaandrijving en een turbo-retarderkoppeling om werkzaamheden te vergemakkelijken
nieuwe vooras met een aslast van 10 ton voor de Arocs
nieuwe koplampen voor de Arocs en Actros in het distributievervoer, ook in full-led-uitvoering
Stuttgart/München - Oneffen terrein, smalle toegangswegen, beperkte manoeuvreerruimte, transport van zwaar materieel en materialen: logistiek op bouwplaatsen is een uitdaging voor bedrijfsvoertuigen. Mercedes-Benz Trucks biedt een ruim aanbod om bijna elk segment te bedienen, zoals blijkt uit de aanwezigheid van het bedrijf op de Bauma van dit jaar in München, 's werelds toonaangevende vakbeurs voor de bouwsector. Van 24 tot 30 oktober 2022 zal Daimler Truck zowel op de beursstand als in de buitenruimte de wereldwijde besluitvormers, inkopers en gebruikers gedetailleerd inzicht geven in zijn voertuigaanbod en klantgerichte mobiliteitsconcepten. Het tentoongestelde aanbod strekt zich uit van de Atego en Unimog tot de Arocs, Actros en eActros.
Voertuigen van Mercedes-Benz Trucks die waarschijnlijk te zien zullen zijn op Bauma 2022 (selectie):
eActros 6x2 met afrolkipper van Meiller.
Arocs 4151 K 8x4/4 met 10 tons vooras en grote kraan van Palfinger
Arocs 4163 LS 8x4 voor zwaar transport
Arocs 2651 K 6x4 met 3-zijdige kipper van Meiller
Arocs 1851 LS HAD 4x2 met kipper oplegger van Meiller
Arocs 3240 B 8x4 met vrachtwagenmixer van Liebherr
Arocs 1846 K 4x2 met kraankipper van Hiab
Arocs 3242 8+4 met betonpomp van Putzmeister
Atego 1530 K 4x2 met 3-zijdige kipper van Meiller
Unimog
NJC.© Info MB Trucks
----------------------------------------------------------------------------------------------------------------