Atlas Copco Lauches E-Pump Electric Self-Priming Dewater Pump Range

27/02/23-FR-English-NL-footer
Atlas Copco lance la gamme de pompes d'assèchement électriques auto-amorçantes E-Pump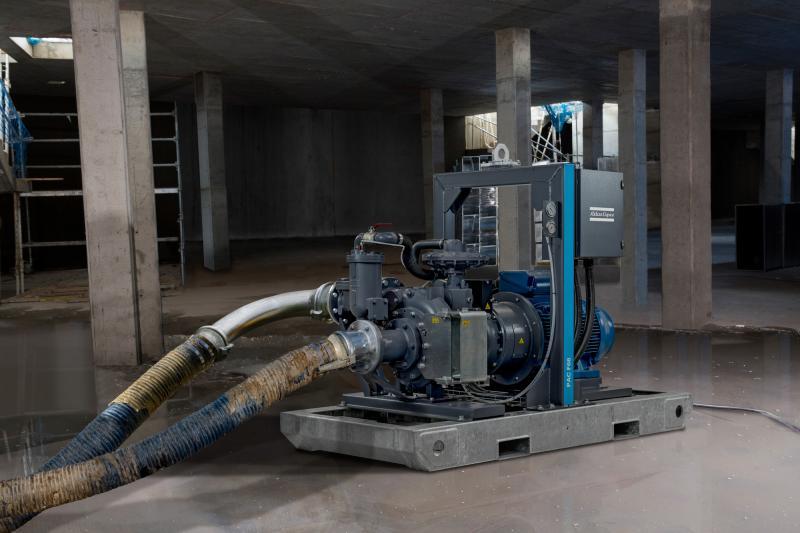 Image- The E-Pump range, which comprises the PAC high head and high flow models, offers an electric alternative to diesel-powered dewatering pumps.
Atlas Copco a développé une nouvelle gamme polyvalente de pompes d'assèchement électriques auto-amorçantes pour une grande variété d'applications. Cette solution flexible est parfaitement adaptée à de nombreuses applications telles que le contournement des eaux usées, l'assèchement dans les projets de construction minière et urbaine avec accès à une source d'alimentation.
Les pompes électroniques gèrent avec succès les flux exigeants et les solides volumineux avec une empreinte CO2 réduite et un coût total de possession (TCO) inférieur.
La gamme E-Pump, qui comprend les modèles PAC haute hauteur et haut débit, offre une alternative électrique aux pompes d'assèchement à moteur diesel. Cela permet aux clients de réduire leur empreinte carbone et d'opérer dans des zones à émissions limitées sans consommation de carburant.
Les pompes électriques PAC sont rapides et faciles à installer, ce qui en fait une solution Plug-and-Pump. La transition vers les moteurs électriques a un impact considérable sur la productivité globale des unités, réduisant le coût total de possession par rapport à leurs homologues diesel et garantissant des performances élevées pendant de plus longues périodes, selon le constructeur.
En raison des réglementations environnementales récentes, le besoin de pompes d'assèchement pouvant fonctionner dans des zones sensibles au bruit et à faibles émissions est croissant. Les pompes électroniques ont été conçues pour permettre aux opérateurs de réduire la consommation d'énergie et la génération de bruit dans des conditions de fonctionnement normales.
Avec une durée de vie prolongée de la pompe, ces pompes auto-amorçantes fiables et efficaces offrent des économies d'énergie durables, a déclaré le fabricant. De plus, les coûts de maintenance et d'entretien des moteurs électriques sont nettement inférieurs à ceux des moteurs diesel.
La qualité de service est élevée, avec une facilité d'accès assurée aux éléments clés de la pompe avec la porte à charnière d'accès à l'intérieur de la pompe. De plus, le moteur électrique n'a pas besoin de vidanges d'huile ni d'arrêts pour l'entretien du moteur.
Cependant, l'un des avantages les plus importants de la gamme E-Pump est sa taille compacte pour le stockage. Avec un encombrement réduit, les modèles électriques PAC offrent une efficacité de transport et de stockage accrue. Jusqu'à 12 unités à ensemble ouvert peuvent tenir dans un 48 pieds. camion à plateau, ce qui améliore l'efficacité du transport pour les opérateurs. De plus, il est essentiel d'avoir des unités plus compactes dans certains travaux, comme les applications minières et industrielles, où les opérateurs bénéficient en prenant moins d'espace sur le chantier.
« La gamme PAC de pompes d'assèchement auto-amorçantes automatiques est un ajout passionnant à la gamme de produits électriques d'Atlas Copco », a déclaré Hunter Powell, responsable des produits et des applications des pompes chez Atlas Copco. "Avec un coût d'investissement et des coûts d'exploitation réduits, ils constituent un excellent choix pour les projets d'assèchement à long et à court terme."
NJC.© Info www.atlascopco.com/e-pump
----------------------------------------------------------------------------------------------------------------

27/02/23-English
Atlas Copco Lauches E-Pump Electric Self-Priming Dewater Pump Range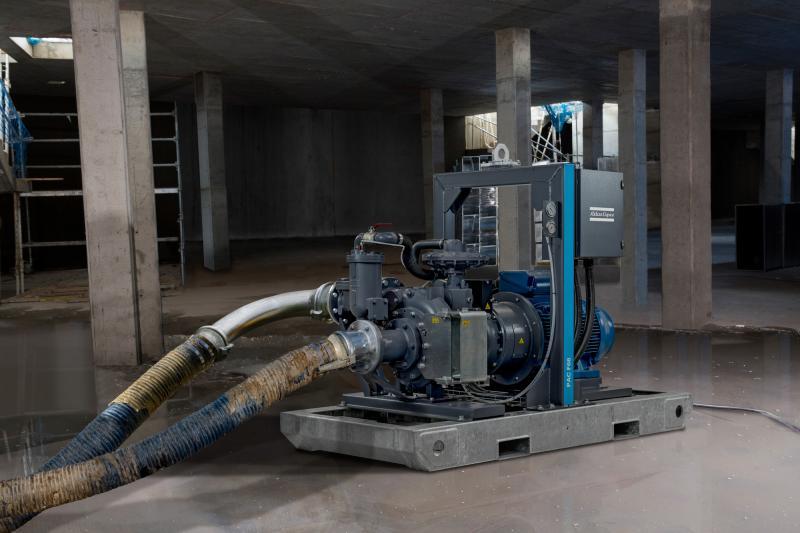 Image- The E-Pump range, which comprises the PAC high head and high flow models, offers an electric alternative to diesel-powered dewatering pumps.
Atlas Copco has developed a new versatile range of electric self-priming dewatering pumps for a wide variety of applications. This flexible solution is ideally suited for many applications like sewage bypass, dewatering in mining and urban construction projects with access to a power source.
E-Pumps successfully manage demanding flows and large solids with a reduced CO2 footprint and lower total cost of ownership (TCO).
The E-Pump range, which comprises the PAC high head and high flow models, offers an electric alternative to diesel-powered dewatering pumps. This allows customers to reduce their CO2 footprint and operate in emission-restrictive areas with no fuel consumption.
The PAC electric pumps are quick and easy to install, making them a Plug-and-Pump solution. The transition to electric motors has a tremendous impact on the overall productivity of the units, lowering the total cost of ownership compared to their diesel counterparts and ensuring high performance for longer periods of time, according to the manufacturer.
Due to recent environmental regulations, the need for dewatering pumps which can operate in noise-sensitive and low-emission zones is growing. The E-Pumps have been designed to enable operators to reduce energy consumption and noise generation under normal operating conditions.
With an extended pump life, these reliable and efficient self-priming pumps offer sustainable energy savings, the manufacturer said. Also, the maintenance and servicing costs of electric motors are substantially lower than diesel engines.
Service quality is high, with ensured ease of access to the key elements of the pump with the hinge door access to the pump internals. In addition, the electric motor does not need oil changes or shutdowns for engine services.
However, one of the most significant cost benefits of the E-Pump range is its compact size for storage. With a reduced footprint, PAC electric models offer increased transport and storage efficiency. As many as 12 open set units can fit into a 48-ft. flatbed truck, resulting in improved transportation efficiency for operators. Additionally, having more compact units is critical in certain jobs, like mining and industrial applications, where operators benefit by taking up less space in the work site.
"The PAC line of automatic self-priming dewatering pumps is an exciting addition to the electric-powered range of products from Atlas Copco," said Hunter Powell, product and applications manager of pumps at Atlas Copco. "With a lower investment cost and low operational costs, they are a great choice for both long and short-term dewatering projects."
NJC.© Info www.atlascopco.com/e-pump
-------------------------------------------------------------------------------------------------------------

27/02/23-NL
Atlas Copco lanceert de reeks elektrische zelfaanzuigende ontwateringspompen met elektrische pomp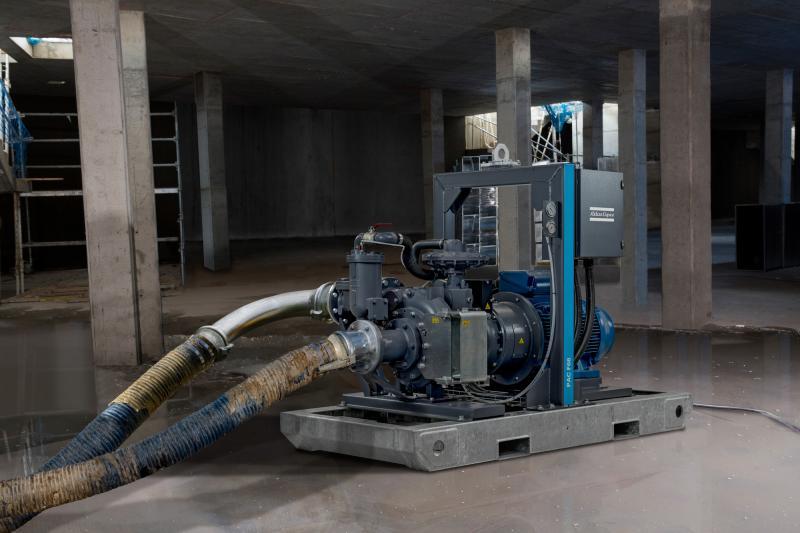 Image- The E-Pump range, which comprises the PAC high head and high flow models, offers an electric alternative to diesel-powered dewatering pumps.
Atlas Copco heeft een nieuwe, veelzijdige reeks elektrische zelfaanzuigende ontwateringspompen ontwikkeld voor een breed scala aan toepassingen. Deze flexibele oplossing is bij uitstek geschikt voor vele toepassingen, zoals rioleringsbypass, ontwatering in mijnbouw en stedelijke bouwprojecten met toegang tot een stroombron.
E-Pumps beheren met succes veeleisende stromen en grote vaste stoffen met een kleinere CO2-voetafdruk en lagere totale eigendomskosten (TCO).
Het E-Pump-assortiment, dat bestaat uit de PAC-modellen met hoge opvoerhoogte en modellen met hoog debiet, biedt een elektrisch alternatief voor door diesel aangedreven ontwateringspompen. Hierdoor kunnen klanten hun CO2-voetafdruk verkleinen en in emissiebeperkende gebieden werken zonder brandstof te verbruiken.
De PAC elektrische pompen zijn snel en eenvoudig te installeren, waardoor ze een Plug-and-Pump-oplossing zijn. De overstap naar elektromotoren heeft volgens de fabrikant een enorme impact op de algehele productiviteit van de units, waardoor de totale eigendomskosten worden verlaagd in vergelijking met hun tegenhangers op diesel en hoge prestaties gedurende langere tijd worden gegarandeerd.
Door de recente milieuregelgeving groeit de behoefte aan bemalingspompen die kunnen werken in geluidsgevoelige en lage-emissiezones. De E-Pumps zijn ontworpen om operators in staat te stellen het energieverbruik en de geluidsproductie onder normale bedrijfsomstandigheden te verminderen.
Met een langere levensduur van de pomp bieden deze betrouwbare en efficiënte zelfaanzuigende pompen duurzame energiebesparingen, aldus de fabrikant. Ook zijn de onderhouds- en servicekosten van elektromotoren aanzienlijk lager dan die van dieselmotoren.
De servicekwaliteit is hoog, met gegarandeerde gemakkelijke toegang tot de belangrijkste elementen van de pomp met de scharnierdeur die toegang geeft tot de interne onderdelen van de pomp. Bovendien heeft de elektromotor geen olieverversingen of uitschakelingen nodig voor motorservices.
Een van de belangrijkste kostenvoordelen van het E-Pump-assortiment is echter het compacte formaat voor opslag. Met een kleinere voetafdruk bieden PAC elektrische modellen meer transport- en opslagefficiëntie. Maar liefst 12 open set units passen in een 48-ft. dieplader, wat resulteert in verbeterde transportefficiëntie voor operators. Bovendien is het hebben van compactere units van cruciaal belang bij bepaalde taken, zoals mijnbouw en industriële toepassingen, waarbij operators profiteren doordat ze minder ruimte innemen op de werklocatie.
"De PAC-lijn van automatische zelfaanzuigende ontwateringspompen is een opwindende toevoeging aan het elektrisch aangedreven productassortiment van Atlas Copco", aldus Hunter Powell, product- en applicatiemanager pompen bij Atlas Copco. "Met lagere investeringskosten en lage operationele kosten zijn ze een uitstekende keuze voor zowel lange als korte termijn ontwateringsprojecten."
NJC.© Info www.atlascopco.com/e-pump
------------------------------------------------------------------------------------------------------------------