Atlas Copco launches new QAS+ ESS gen sets
11/04/22-FR-English-NL-footer
Atlas Copco lance de nouveaux groupes électrogènes QAS+ ESS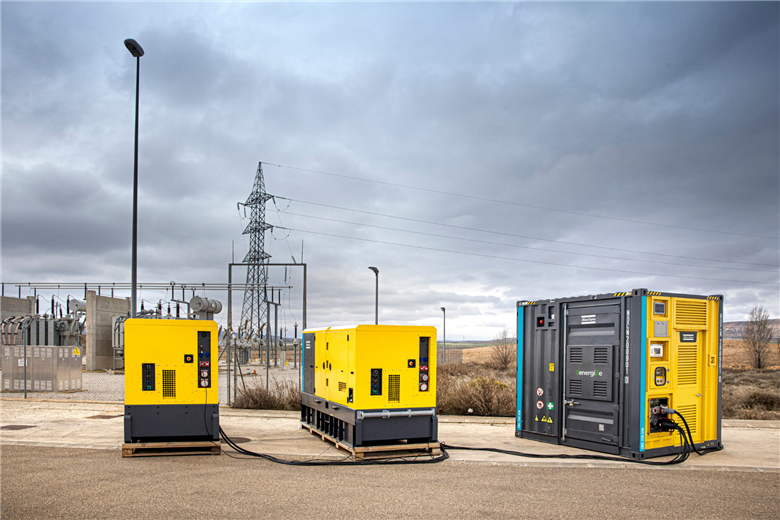 Image-Atlas Copco hybrid power solutions: Two QAS+ generators and a ZBC 250-500
Atlas Copco a introduit une nouvelle gamme de systèmes hybrides de stockage d'énergie (ESS) destinés à maximiser le fonctionnement durable tout en offrant une puissance de sortie flexible.
Les ESS QAS+ rejoignent les modèles ZBP et ZBC existants dans la gamme Zenergize.
Dotées à la fois de générateurs diesel et de batteries Li-ion, les nouvelles unités QAS+ ESS peuvent couvrir les pics de puissance et les faibles charges. On dit que cela prolonge la durée de vie de 15 % et réduit les besoins de maintenance de 50 %. On dit également que les unités offrent un retour sur investissement rapide.
Environ 70 % plus légères et plus compactes que les alternatives, les unités QAS+ ESS offrent aux utilisateurs 40 000 heures de fonctionnement ininterrompu, avec une capacité de surcharge de 150 %. Ils peuvent fonctionner de manière autonome jusqu'à 12 heures, tandis que la recharge peut être effectuée en 1,5 heure. Les batteries Li-ion peuvent fonctionner à des températures comprises entre -20ᵒC et 50ᵒC.
Fonctionnant en mode îloté, les unités ne produisent ni CO2 ni bruit. En mode hybride, ils optimisent le niveau sonore et la consommation de carburant. De ce fait, les unités sont particulièrement adaptées aux applications dans les environnements urbains avec des restrictions de niveau sonore, les événements, les télécommunications et les applications de location.
Ces variantes sont conformes à la phase 5 et constituent les générateurs les plus efficaces de l'entreprise. Par rapport à une unité de 650 kVA, une ZBC250-57 avec QAS+ 325 en mode hybride peut réduire la consommation de carburant jusqu'à 80 %. Cela équivaut à environ 200 tonnes de CO2 sur une durée de vie.
Tony Calippe, Product Marketing Manager, Generators Stage V et Tier4f, au sein de la division Power and Flow d'Atlas Copco, a ajouté : « Nos générateurs QAS+ sont entièrement compatibles avec le HVO, qui atteint presque un fonctionnement neutre en carbone. C'est le choix idéal pour travailler en mode hybride avec l'ESS lithium-ion d'Atlas Copco, ce qui renforce ses opérations silencieuses et à faibles émissions de CO2.
Le système QAS+ crée six fois moins de bruit que des générateurs comparables, en fonction de l'application et du profil de charge. Avec un encombrement réduit de 25 %, ils sont plus faciles à transporter, tout en offrant une connectivité plug-and-play prise en charge par un écran tactile convivial.
Un ventilateur entraîné par un moteur à vitesse variable ajuste le débit de refroidissement selon les besoins, minimisant la perte de puissance liée au refroidissement tout en améliorant le rendement énergétique.
Les unités ESS peuvent fonctionner avec n'importe quel générateur et peuvent être utilisées avec plusieurs unités alimentées par batterie. Ils peuvent également stocker et fournir de l'énergie à partir de sources renouvelables, notamment solaire et éolienne.
NJC.© Infos ATLAS-COPCO
---------------------------------------------------------------------------------------------------------------------------
11/04/22-English
Atlas Copco launches new QAS+ ESS gen sets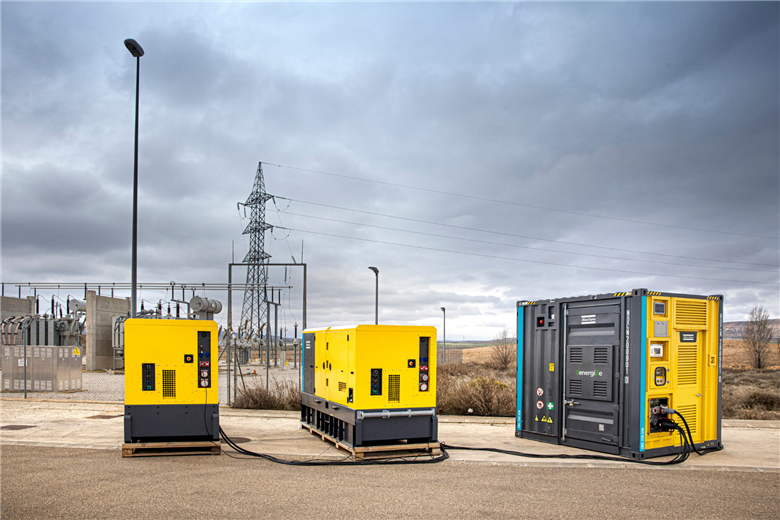 Image-Atlas Copco hybrid power solutions: Two QAS+ generators and a ZBC 250-500
Atlas Copco has introduced a new range of hybrid energy storage systems (ESS) intended to maximize sustainable operation while offering flexible power output.
The QAS+ ESSs join the existing ZBP and ZBC models in the Zenergize range.
Featuring both diesel generators and li-ion battery packs, the new QAS+ ESS units can cover peak power and low loads. This is said to extend the working lifetime by 15% and reducing maintenance requirements by 50%. The units are also said to offer a rapid ROI.
About 70% lighter and more compact than alternatives, the QAS+ ESS units offer users 40,000 hours of uninterrupted operation, with an overload capacity of 150%. They can run autonomously for up to 12 hours, while recharge can be completed in 1.5 hours. Li-ion batteries can operate at temperatures between -20ᵒC and 50ᵒC.
Operating in island mode, the units produce no CO2 or noise. In hybrid mode, they optimize noise levels and fuel consumption. Due to this, the units are particularly suited to applications in urban environments with noise level restrictions, events, telecoms and rental applications.
These variants are Stage 5 compliant and the company's most efficient generators. Compared to a 650 kVA unit, a ZBC250-57 with QAS+ 325 in hybrid mode can reduce fuel consumption by up to 80%. This equates to about 200 tons of CO2 over a working lifetime.
Tony Calippe, product marketing manager, Generators Stage V and Tier4f, at Atlas Copco's Power and Flow division, added: "Our QAS+ generators are fully-compatible with HVO, which almost reaches carbon neutral operation. It is the perfect choice to work in hybrid mode with Atlas Copco's lithium-ion ESS, empowering its quiet and low CO2 emission operations."
The QAS+ system creates six times less noise than comparable generators, dependent on application and load profile. With a 25% smaller footprint these are easier to transport, while offering plug-and-play connectivity supported by a user-friendly touchscreen.
A variable speed drive motor-driven fan adjusts cooling flow as required, minimizing power loss related to cooling while improving fuel efficiency.
The ESS units can run with any generator and can be used with multiple battery-driven units. They can also store and deliver energy from renewable sources, including solar and wind.
NJC.© Info ATLAS-COPCO
-----------------------------------------------------------------------------------------------------------------
11/04/22-NL
Atlas Copco lanceert nieuwe QAS+ ESS generatorsets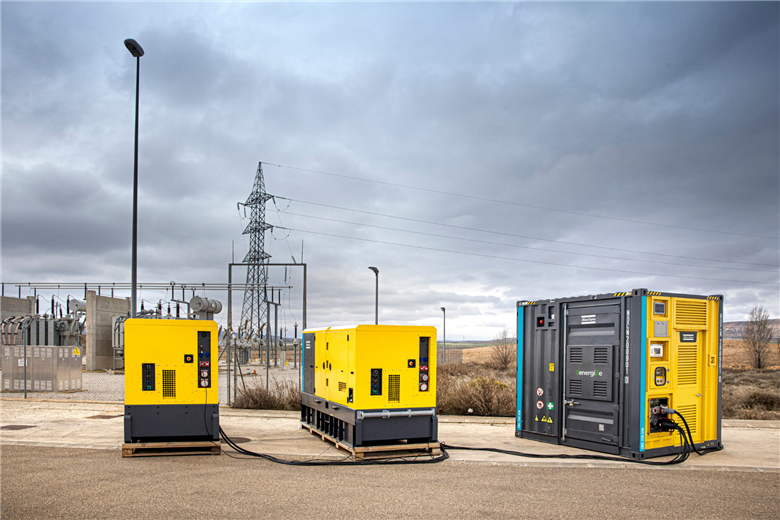 Image-Atlas Copco hybrid power solutions: Two QAS+ generators and a ZBC 250-500
Atlas Copco heeft een nieuwe reeks hybride energieopslagsystemen (ESS) geïntroduceerd die bedoeld zijn om een ​​duurzame bedrijfsvoering te maximaliseren en tegelijkertijd een flexibel vermogen te bieden.
De QAS+ ESS's sluiten aan bij de bestaande ZBP- en ZBC-modellen in het ZEnergy-assortiment.
Met zowel dieselgeneratoren als li-ionbatterijpakketten, kunnen de nieuwe QAS+ ESS-units piekvermogen en lage belastingen dekken. Dit zou de levensduur met 15% verlengen en de onderhoudsvereisten met 50% verminderen. Van de units wordt ook gezegd dat ze een snelle ROI bieden.
De QAS+ ESS-units zijn ongeveer 70% lichter en compacter dan alternatieven en bieden gebruikers 40.000 uur ononderbroken werking, met een overbelastingscapaciteit van 150%. Ze kunnen tot 12 uur autonoom werken, terwijl het opladen in 1,5 uur kan worden voltooid. Li-ion batterijen kunnen werken bij temperaturen tussen -20ᵒC en 50ᵒC.
De units werken in eilandmodus en produceren geen CO2 of geluid. In hybride modus optimaliseren ze het geluidsniveau en het brandstofverbruik. Hierdoor zijn de units bijzonder geschikt voor toepassingen in stedelijke omgevingen met geluidsbeperkingen, evenementen, telecom en verhuurtoepassingen.
Deze varianten voldoen aan Stage 5 en zijn de meest efficiënte generatoren van het bedrijf. Vergeleken met een unit van 650 kVA kan een ZBC250-57 met QAS+ 325 in hybride modus het brandstofverbruik tot 80% verminderen. Dit komt overeen met ongeveer 200 ton CO2 gedurende een werkzame levensduur.
Tony Calippe, productmarketingmanager, Generators Stage V en Tier4f, bij Atlas Copco's Power and Flow-divisie, voegde toe: "Onze QAS+-generatoren zijn volledig compatibel met HVO, dat bijna CO2-neutrale werking bereikt. Het is de perfecte keuze om in hybride modus te werken met Atlas Copco's lithium-ion ESS, wat zijn stille en lage CO2-uitstoot mogelijk maakt."
Het QAS+ systeem maakt zes keer minder geluid dan vergelijkbare generatoren, afhankelijk van toepassing en belastingsprofiel. Met een 25% kleinere voetafdruk zijn deze gemakkelijker te vervoeren, terwijl ze plug-and-play-connectiviteit bieden, ondersteund door een gebruiksvriendelijk touchscreen.
Een motoraangedreven ventilator met variabel toerental past de koelstroom naar behoefte aan, waardoor het vermogensverlies door koeling tot een minimum wordt beperkt en het brandstofverbruik wordt verbeterd.
De ESS-units kunnen met elke generator werken en kunnen worden gebruikt met meerdere batterijaangedreven units. Ze kunnen ook energie opslaan en leveren uit hernieuwbare bronnen, waaronder zon en wind.
NJC.© Info ATLAS-COPCO
-----------------------------------------------------------------------------------------------------------------