Ausa launches electric range and new look
10/11/22-FR-English-NL-footer
Ausa lance une gamme électrique et un nouveau look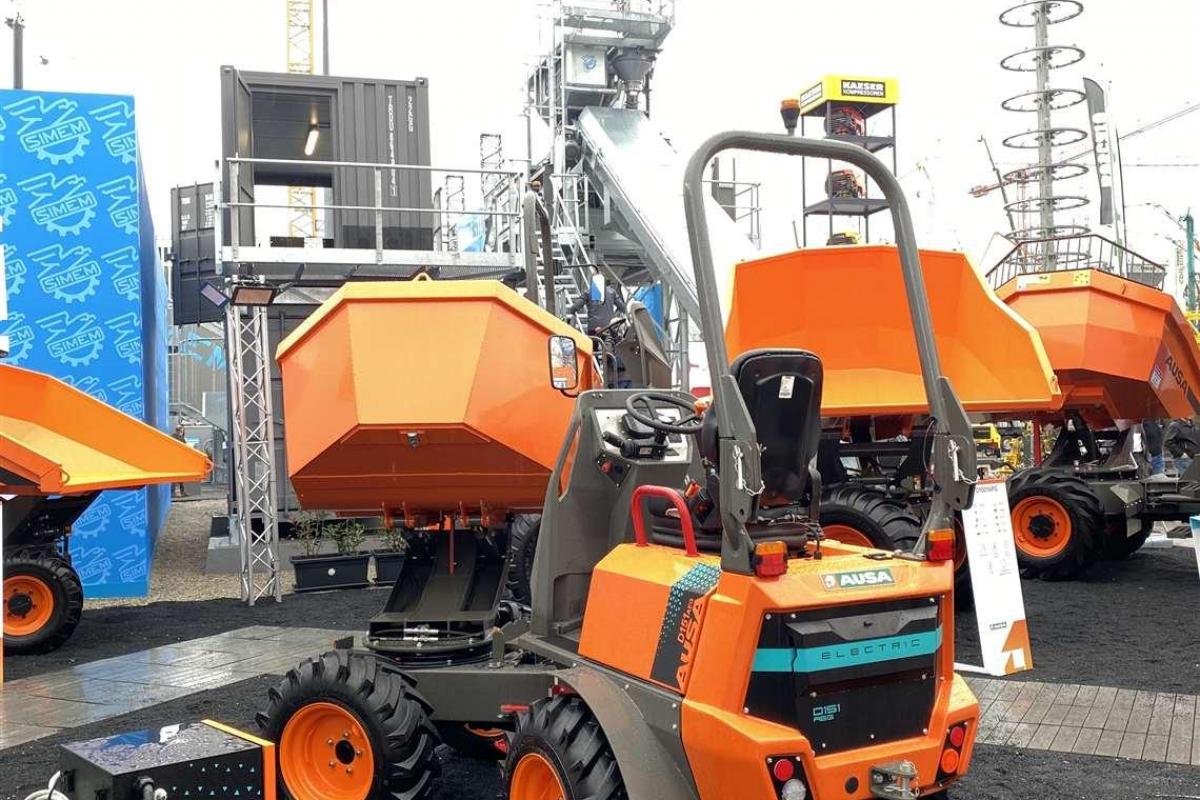 Image- Ausa's new look.
Ausa a lancé une nouvelle gamme de véhicules électriques, intégrant le tombereau D151AEG et le chariot télescopique T164E. La paire a été lancée au bauma, en Allemagne, le mois dernier.
Le dumper D151AEG est le premier dumper électrique d'Ausa avec une charge utile de 1 500 kg. Avec des dimensions compactes, l'unité est conçue pour travailler dans de petits espaces offrant une bonne maniabilité.
Le T164E est également le premier chariot télescopique électrique de la société avec une charge utile de 1 600 kg sur le marché. Avec ses capacités tout-terrain et une hauteur de levage maximale de 4 m, il est idéal pour travailler dans des espaces sans émissions tels que les serres, les espaces clos et le travail de nuit, en raison de ses émissions sonores minimales.
Les deux modèles ont été conçus avec une plage de fonctionnement d'au moins une journée de travail complète. La batterie Li-ion est gérée électroniquement pour offrir une puissance maximale dans des conditions tout-terrain qui correspondent aux véhicules diesel. De plus, lorsque l'accélérateur est relâché, le moteur électrique réduit instantanément la vitesse pendant que l'énergie se régénère, étendant ainsi son autonomie.
En plus des nouveaux produits, Ausa a présenté son nouveau look à Bauma. La nouvelle image de marque utilise le noir pour compléter l'orange de l'entreprise, réduisant ainsi la charge visuelle globale de l'image, explique l'entreprise et améliorant les lignes angulaires de ses tombereaux, chariots élévateurs tout-terrain et chariots télescopiques.
NJC.© info AUSA
-----------------------------------------------------------------------------------------------------------------------
10/11/22-English
Ausa launches electric range and new look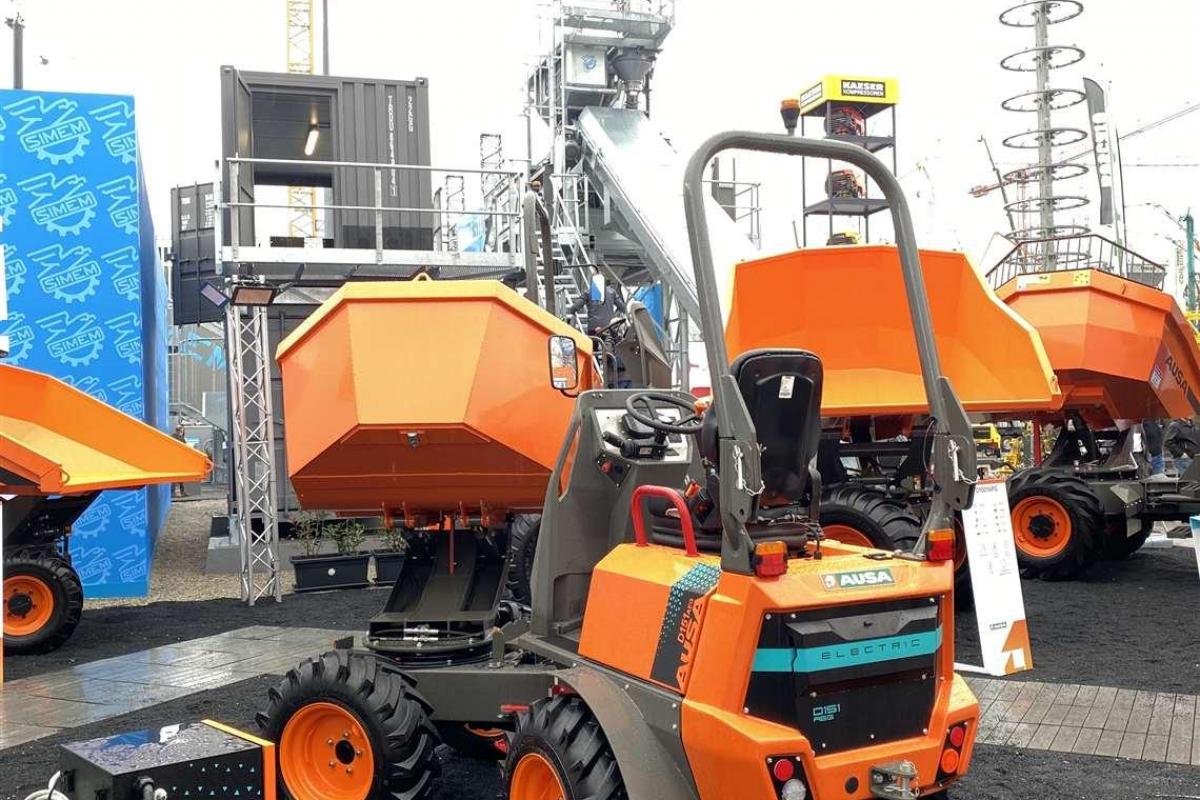 Image- Ausa's new look.
Ausa has launched a new range of electric vehicles, incorporating the D151AEG dumper and the T164E telescopic handler. The pair were launched at bauma, in Germany, last month.
The D151AEG dumper is Ausa's first electric dumper with a 1,500kg payload. With compact dimensions, the unit is designed for working in small spaces offering good manoeuvrability.
The T164E is also the company' first electric telescopic handler with a 1,600kg payload on the market. With its all-terrain capabilities and a maximum lifting height of 4m, it is ideal for working in emission-free spaces such as greenhouses, enclosed spaces and working at night, due to its minimal noise emissions.
Both models have been designed with an operating range of at least one full working day. The li-ion battery pack is managed electronically to offer maximum power in all-terrain conditions that match diesel vehicles. Also, when the accelerator is released, the electric motor reduces the speed instantaneously while the energy is regenerated, extending its range.
Along with the new products, Ausa presented its new look at Bauma. The new branding uses black to complement the corporate orange, thus reducing the overall visual load of the image, says the companty and enhancing the angular lines of its dumpers, all-terrain forklifts and telescopic handlers.
NJC.© info AUSA
---------------------------------------------------------------------------------------------------------------
10/11/22-NL
Ausa lanceert elektrisch assortiment en nieuwe look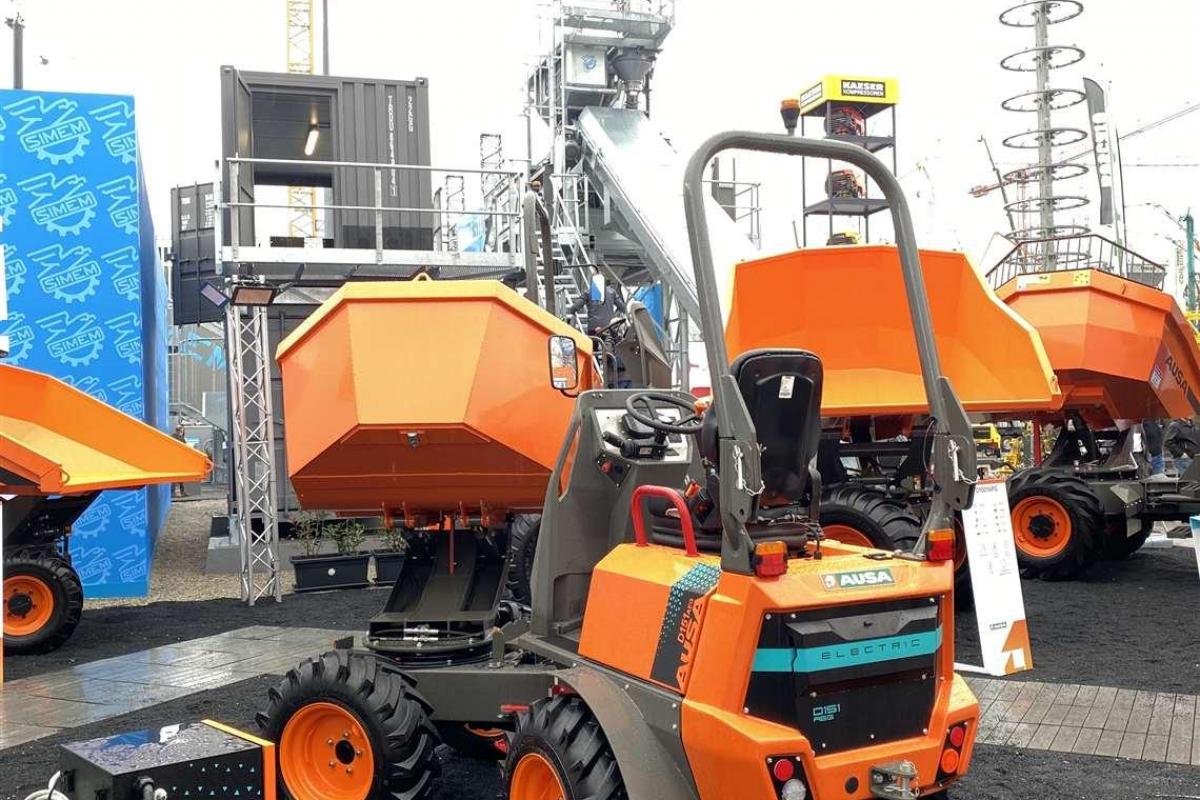 Image- Ausa's new look.
Ausa heeft een nieuwe reeks elektrische voertuigen gelanceerd, waaronder de D151AEG-dumper en de T164E-verreiker. Het paar werd vorige maand gelanceerd op de bauma, in Duitsland.
De D151AEG-dumper is de eerste elektrische dumper van Ausa met een laadvermogen van 1.500 kg. Met compacte afmetingen is de unit ontworpen voor het werken in kleine ruimtes en biedt hij een goede wendbaarheid.
De T164E is ook de eerste elektrische verreiker van het bedrijf met een laadvermogen van 1600 kg op de markt. Met zijn all-terrain capaciteiten en een maximale hefhoogte van 4m is hij door zijn minimale geluidsemissie ideaal voor het werken in emissievrije ruimtes zoals kassen, besloten ruimtes en 's nachts werken.
Beide modellen zijn ontworpen met een werkbereik van minimaal één volledige werkdag. Het li-ionbatterijpakket wordt elektronisch beheerd om maximaal vermogen te bieden in alle terreinomstandigheden die overeenkomen met dieselvoertuigen. Wanneer het gaspedaal wordt losgelaten, verlaagt de elektromotor de snelheid onmiddellijk terwijl de energie wordt geregenereerd, waardoor het bereik wordt vergroot.
Samen met de nieuwe producten presenteerde Ausa haar nieuwe look op Bauma. De nieuwe branding gebruikt zwart als aanvulling op het bedrijfsoranje, waardoor de algehele visuele belasting van het beeld wordt verminderd, zegt het bedrijf en de hoekige lijnen van zijn dumpers, terreinheftrucks en verreikers worden versterkt.
NJC.© info AUSA
--------------------------------------------------------------------------------------------------------------------