Bamboo Sustainable Safety Gloves combine Cut Protection and Comfort

12/05/23-FR-English-NL-footer
Les gants de sécurité durables en bambou combinent protection contre les coupures et confort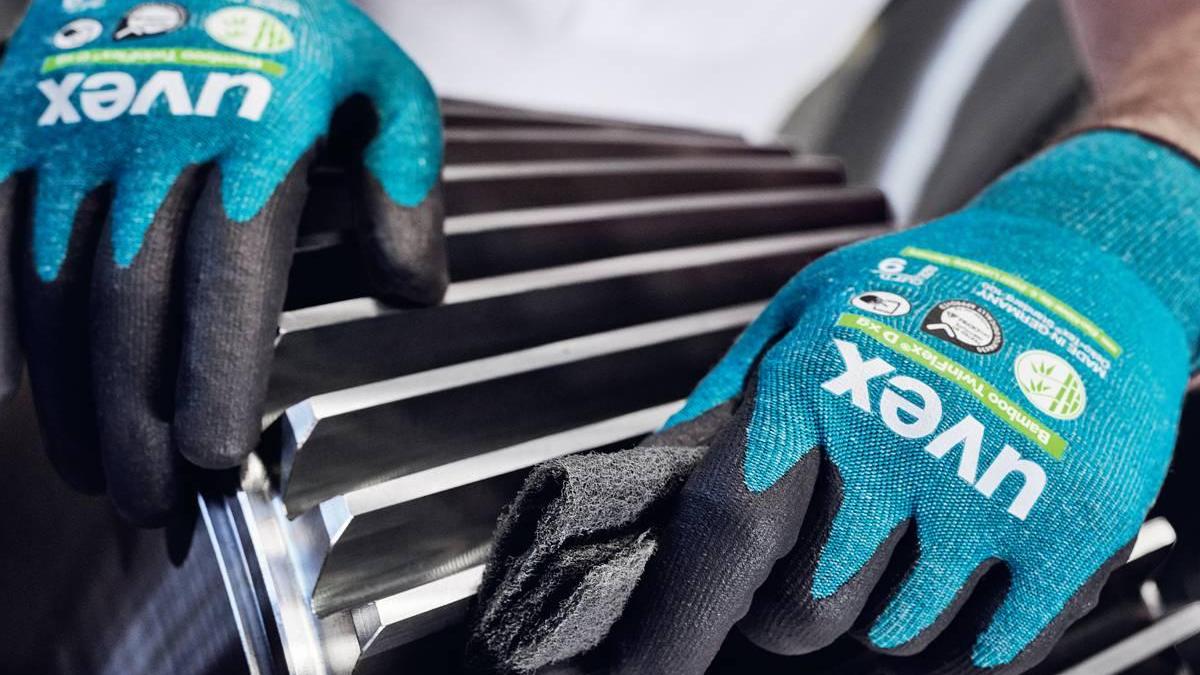 Image- uvex
uvex a lancé un gant de sécurité durable doté de la technologie de fil brevetée Bamboo TwinFlex® qui offre confort, sensibilité et protection élevée contre les coupures tout en un.
Le gant uvex Bamboo TwinFlex® D xg est un gant de jauge 18 qui équilibre le niveau de protection contre les coupures D avec une excellente sensibilité et un confort de port impressionnant.
Son matériau en viscose de bambou permet un ajustement flexible qui s'adapte précisément à la forme de la main en trois à cinq minutes et prend en charge l'utilisation de l'écran tactile. De plus, la fibre de bambou offre une sensation douce et soyeuse sur la peau et est testée dermatologiquement pour sa compatibilité avec la peau. La coupe lisse, l'absorption rapide et la rétention d'humidité élevée du gant garantissent un confort durable et une excellente acceptation par le porteur.
Un haut niveau de protection contre les risques d'abrasion et de coupure est assuré par des fibres hautes performances, qui offrent une protection contre les coupures à 4X41D selon EN 388:2016. La zone uvex protexxion supplémentaire entre le pouce et l'index offre une résistance à l'abrasion doublée (200 %) par rapport à l'intérieur du gant pour augmenter sa durée de vie et sa durabilité. Pendant ce temps, le revêtement en mousse aqua-polymère Xtra-Grip offre une excellente adhérence dans des conditions sèches et légèrement humides ou huileuses. Le gant convient également à une chaleur de contact jusqu'à +100 °C conformément à la norme EN 407.
L'uvex Bamboo TwinFlex® D xg est idéal pour une grande variété d'exigences, y compris les travaux dans l'industrie automobile, agro-alimentaire, le travail du verre et des métaux ainsi que le contrôle qualité, les travaux de précision et les domaines avec l'utilisation d'écrans tactiles et pour l'installation de pièces bordées ou non ébavurées.
En plus de ses avantages en termes de performances, l'uvex Bamboo TwinFlex® D xg se distingue par sa durabilité. Il a une longue durée de vie et est composé à 45 % de polyamide recyclé et de viscose de bambou, à base de matières premières renouvelables. Il bénéficie également d'une production neutre en CO2 dans les usines allemandes d'uvex et ne contient pas de solvants.
Clair Weston, responsable marketing chez uvex, commente : « L'uvex Bamboo TwinFlex® D xg est particulièrement léger, fin et flexible avec une protection élevée contre les coupures, tandis que la capacité de l'écran tactile signifie qu'il n'est pas nécessaire de retirer le gant pendant le travail. C'est un gant de sécurité nettement supérieur qui offre confort, protection et durabilité dans un gant de protection contre les coupures de calibre 18. »
NJC.© Info uvex
--------------------------------------------------------------------------------------------------------------

12/05/23-English
Bamboo Sustainable Safety Gloves combine Cut Protection and Comfort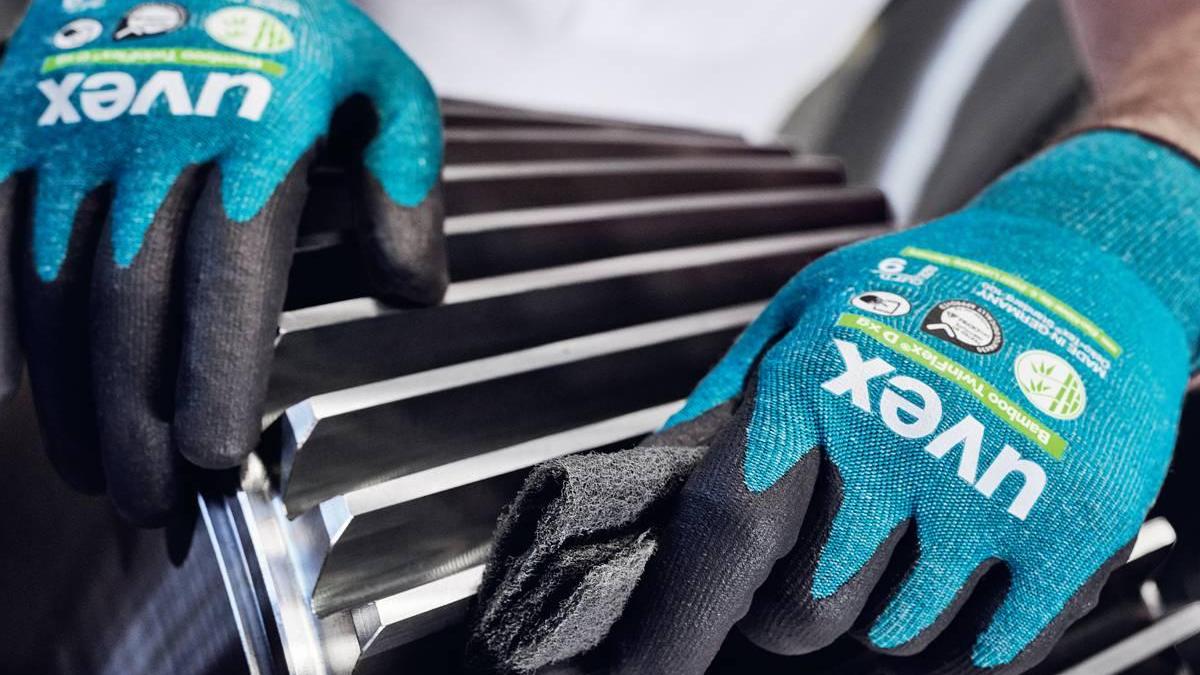 Image- uvex
uvex has launched a sustainable safety glove featuring patented Bamboo TwinFlex® yarn technology that provides comfort, sensitivity and high cut protection all in one.
The uvex Bamboo TwinFlex® D xg is an 18-gauge glove that balances cut protection level D with excellent sensitivity and impressive wearer comfort.
Its bamboo-viscose material allows for a flexible fit that adapts precisely to the shape of the hand within three to five minutes and supports touchscreen use. Furthermore, the bamboo fibre offers a silky soft feel against the skin and is dermatologically tested for skin compatibility. The glove's smooth fit, fast absorption and high moisture retention ensure long-lasting comfort and excellent wearer acceptance.
A high level of protection against abrasion and cut hazards is ensured by high-performance fibres, which provide cut protection at 4X41D according to EN 388:2016. The additional uvex protexxion zone between the thumb and index finger delivers double the abrasion resistance (200 percent) compared to the inside of the glove to increase its service life and durability. Meanwhile, the Xtra-Grip aqua-polymer foam coating offers excellent grip in dry and slightly damp or oily conditions. The glove is also suitable for contact warmth up to +100 °C in accordance with EN 407.
The uvex Bamboo TwinFlex® D xg is ideal for a wide variety of requirements, including work in the automotive, food processing, glass and metalworking industries as well as quality control, precision work, and areas with the use of touchscreens and for installing sharp-edged or unburred parts.
In addition to its performance benefits, the uvex Bamboo TwinFlex® D xg scores highly on sustainability. It has a long service life and is made from 45 percent recycled polyamide and bamboo viscose, which is based on renewable raw materials. It also benefits from CO2-neutral production in uvex's German facilities and is free from solvents.
Clair Weston, marketing manager at uvex, comments: "The uvex Bamboo TwinFlex® D xg is particularly light, thin and flexible with high cut protection, while the touchscreen capability means there is no need to remove the glove while working. It's a noticeably superior safety glove that delivers comfort, protection and sustainability in one fine 18-gauge cut protection glove."
NJC.© Info uvex
----------------------------------------------------------------------------------------------------------------

12/05/23-NL
Bamboo Sustainable Safety Handschoenen combineren snijbescherming en comfort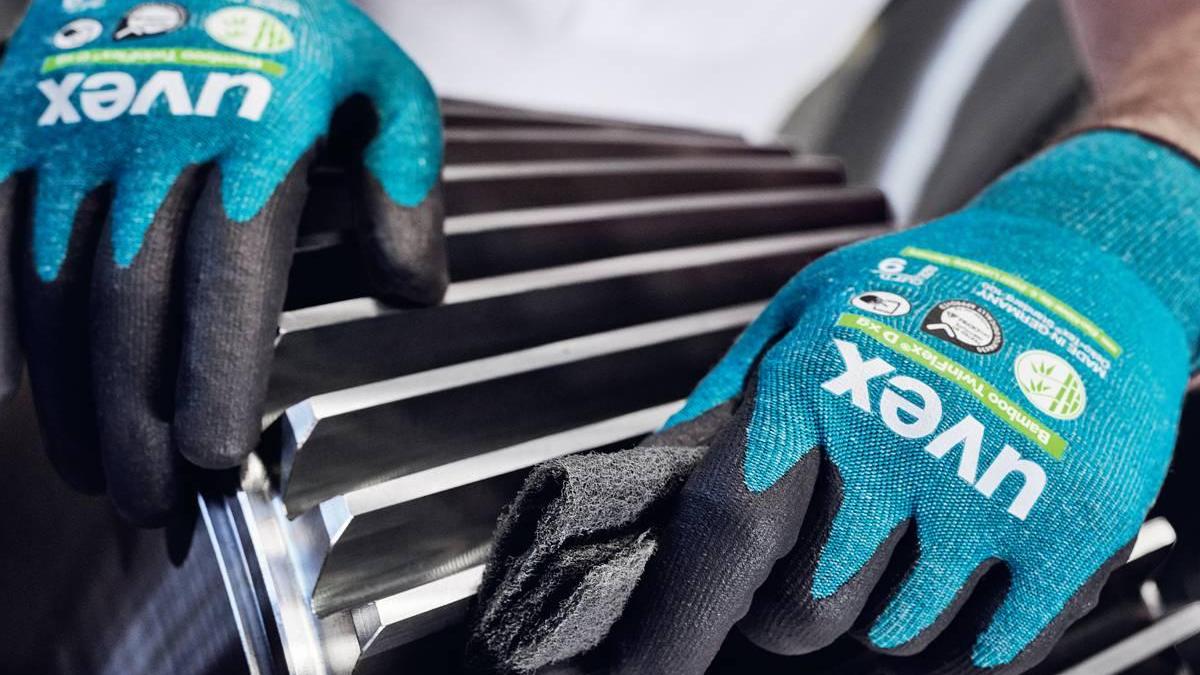 Image- uvex
uvex heeft een duurzame veiligheidshandschoen gelanceerd met gepatenteerde Bamboo TwinFlex®-garentechnologie die comfort, gevoeligheid en hoge snijbescherming in één biedt.
De uvex Bamboo TwinFlex® D xg is een 18-gauge handschoen die snijbeschermingsniveau D in evenwicht brengt met uitstekende gevoeligheid en indrukwekkend draagcomfort.
Het bamboe-viscose materiaal zorgt voor een flexibele pasvorm die zich binnen drie tot vijf minuten precies aanpast aan de vorm van de hand en ondersteunt touchscreen-gebruik. Bovendien voelt de bamboevezel zijdezacht aan op de huid en is dermatologisch getest op huidverdraagzaamheid. De soepele pasvorm, snelle absorptie en hoge vochtretentie van de handschoen zorgen voor langdurig comfort en uitstekende acceptatie door de drager.
Een hoog niveau van bescherming tegen schuren en snijden wordt gegarandeerd door hoogwaardige vezels, die snijbescherming bieden bij 4X41D volgens EN 388:2016. De extra uvex protexxion-zone tussen duim en wijsvinger biedt een dubbele slijtvastheid (200 procent) in vergelijking met de binnenkant van de handschoen om de levensduur en duurzaamheid te verlengen. Ondertussen biedt de Xtra-Grip aqua-polymeer schuimcoating uitstekende grip in droge en licht vochtige of olieachtige omstandigheden. De handschoen is ook geschikt voor contactwarmte tot +100 °C volgens EN 407.
De uvex Bamboo TwinFlex® D xg is ideaal voor de meest uiteenlopende eisen, waaronder werkzaamheden in de automobiel-, voedselverwerkende, glas- en metaalverwerkende industrie, evenals kwaliteitscontrole, precisiewerk en gebieden met het gebruik van touchscreens en voor het installeren van scherpe scherpe of ongebraamde delen.
Naast de prestatievoordelen scoort de uvex Bamboo TwinFlex® D xg hoog op het gebied van duurzaamheid. Het heeft een lange levensduur en is gemaakt van 45 procent gerecycled polyamide en bamboe viscose, op basis van hernieuwbare grondstoffen. Het profiteert ook van een CO2-neutrale productie in de Duitse vestigingen van uvex en is vrij van oplosmiddelen.
Clair Weston, marketingmanager bij uvex, merkt op: "De uvex Bamboo TwinFlex® D xg is bijzonder licht, dun en flexibel met een hoge snijbescherming, terwijl de touchscreen-functie betekent dat het niet nodig is om de handschoen uit te doen tijdens het werk. Het is een merkbaar superieure veiligheidshandschoen die comfort, bescherming en duurzaamheid biedt in één fijne 18-gauge snijbeschermingshandschoen."
NJC.© Info uvex
----------------------------------------------------------------------------------------------------------------