Bauma 2022-Comansa presents the new LCH300 hydraulic luffing jib crane
01/09/22-FR-English-NL-footer
Bauma 2022-Comansa présente la nouvelle grue à flèche relevable hydraulique LCH300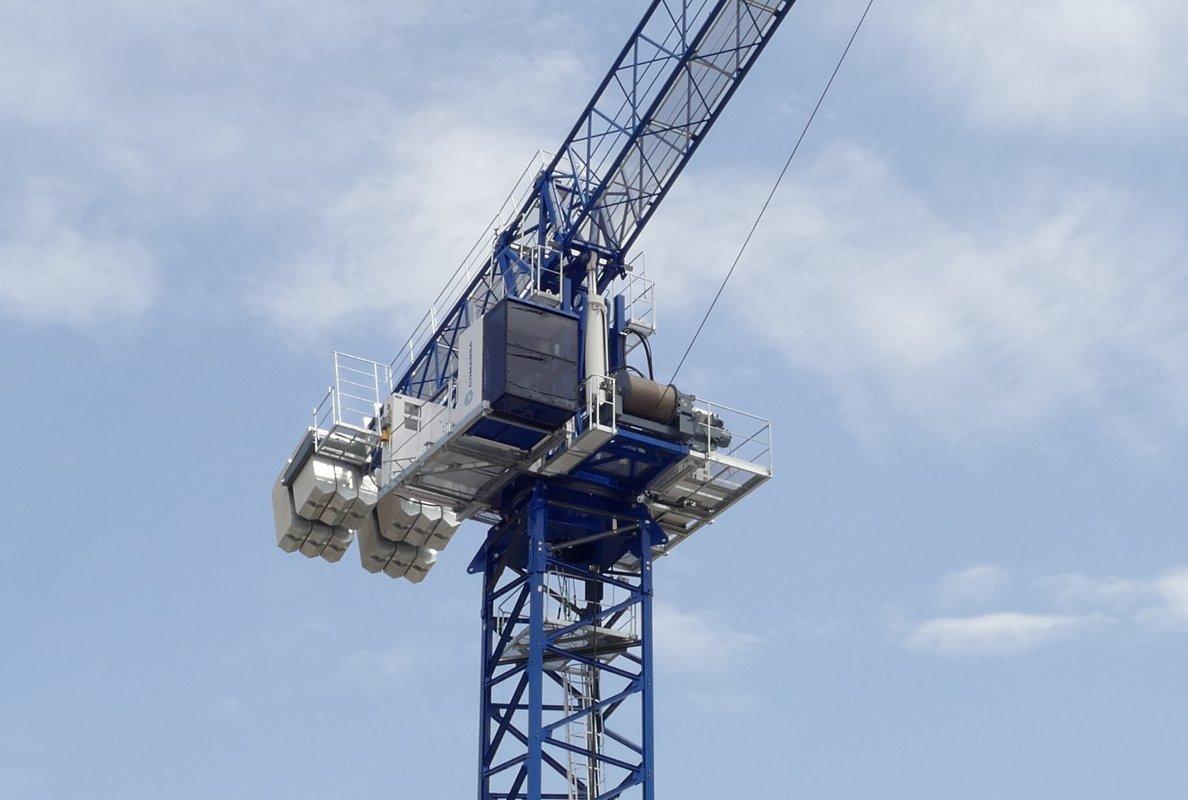 New LCH300 hydraulic luffing jib crane from Comansa platforms. IMAGE SOURCE: COMANSA
Le constructeur espagnol de grues à tour présentera son modèle innovant fin octobre à Bauma Munich 2022
Comansa élargit sa gamme de grues à flèche relevable avec le lancement de la LCH300, son premier modèle hydraulique, avec une capacité de charge maximale de 16 tonnes et une portée de 60 mètres. Le fabricant de grues à tour présentera officiellement ce modèle innovant au salon Bauma 2022, qui se tiendra du 24 au 30 octobre à Munich.
Le LCH300/16 t est disponible en différentes versions : encastré, posé sur des socles de 6 ou 8 mètres, ou mobile. La grue peut être assemblée avec des sections de tour de 2,5 x 2,5 m. Sa flèche modulable a une portée de 25 à 60 mètres, avec des configurations tous les 5 mètres. Il a un rayon de travail minimum de 4 mètres et un rayon minimum de 9 mètres hors service.
Il a des combinaisons de transmission manuelle de 1T (traction directe) et 2T. La capacité de charge maximale est de 8 t avec la configuration 1T et de 16 t avec la configuration 2T. La charge maximale en bout de flèche est respectivement de 3 400 et 3 150 kg.
Le relevage déplace la flèche et la contre-flèche conjointement par un vérin hydraulique au niveau de l'ensemble d'articulation de tête de cathéter et de flèche. L'unité de pompe hydraulique est située sur une plate-forme mobile en une seule pièce.
Depuis la cabine, il y a une visibilité directe du mécanisme de levage entre 50kW (standard) et 65kW (en option). Grâce à la technologie Effi-Plus, il est possible d'augmenter la vitesse du mécanisme de levage sans affecter la consommation, ce qui permet de réduire considérablement les cycles de chargement, améliorant ainsi la productivité de la grue.
La conception de cette nouvelle partie tournante - flèche, cathead et contre-flèche - ainsi que des plateformes mécanisme, cabine et groupe hydraulique, optimise le transport de ce modèle qui peut être alimenté par 8 camions ou conteneurs.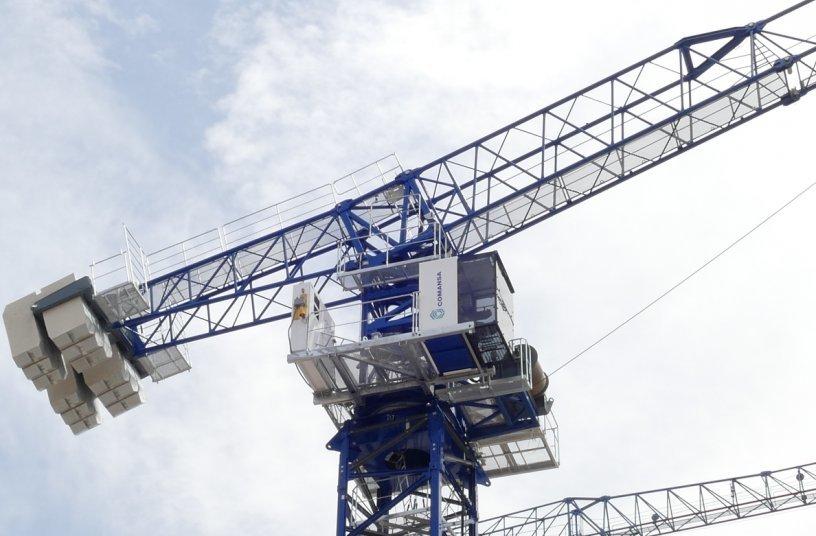 New LCH300 hydraulic luffing jib crane from Comansa platforms. IMAGE SOURCE: COMANSA
Cette nouvelle grue à flèche relevable de Comansa intègre la cabine CUBE primée (L ou XL) avec climatisation de type Split. La plate-forme de la cabine, tout comme les plates-formes de l'unité de levage et de l'unité hydraulique, peut être transportée en une seule pièce.
Les grues à tour à flèche relevable Comansa offrent des performances optimales là où les grues à flèche horizontale ne peuvent pas déplacer les charges librement en raison des contraintes d'espace. Désormais, avec l'incorporation du modèle hydraulique LCH300, le mécanisme de relevage est optimisé pour offrir des performances encore plus élevées et un montage efficace, ainsi qu'une réduction du rayon en cas de mise hors service.
CNM.© Info COMANSA
-----------------------------------------------------------------------------------------------------------------
01/09/22-English
Bauma 2022-Comansa presents the new LCH300 hydraulic luffing jib crane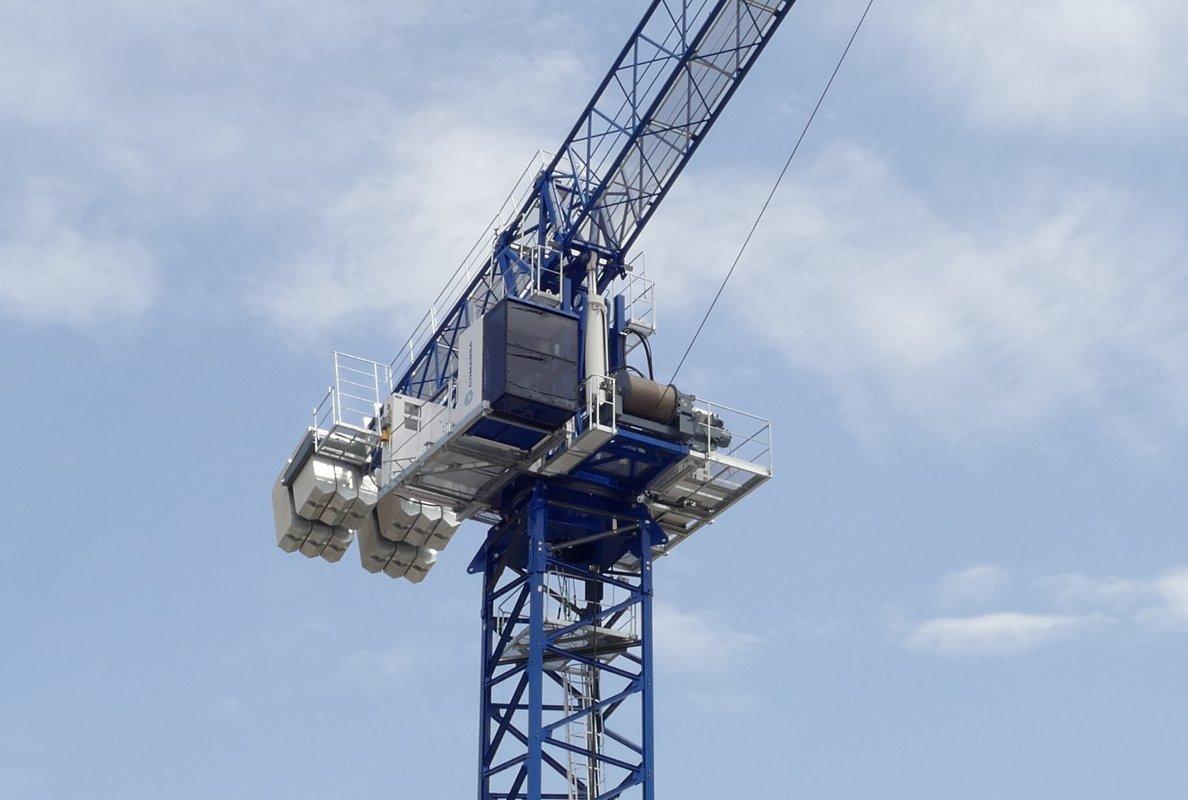 New LCH300 hydraulic luffing jib crane from Comansa platforms. IMAGE SOURCE: COMANSA
The Spanish tower crane manufacturer will present its innovative model at the end of October at Bauma Munich 2022
Comansa expands its range of luffing jib cranes with the launch of the LCH300, its first hydraulic model, with a maximum load capacity of 16 tonnes and reach of 60 metres. The tower crane manufacturer will officially showcase this innovative model at the Bauma 2022 trade fair, which will be held from the 24th to 30th of October in Munich.
The LCH300/16 t is available in various versions: embedded, supported on bases of 6 or 8 metres, or movable. The crane can be assembled with 2.5 x 2.5m tower sections. Its modular jib has a reach of 25 to 60 metres, with configurations every 5 metres. It has a minimum working radius of 4 metres and a minimum radius of 9 metres when out of service.
It has manual transmission combinations of 1T (direct pulling) and 2T. The maximum load capacity is 8t with the 1T configuration and 16t with the 2T configuration. The maximum load at the jib end is 3,400 and 3,150kg, respectively.
The luffing moves the jib and counter jib jointly by a hydraulic cylinder at the cathead and jib hinge assembly. The hydraulic pump unit is located on a movable platform in one piece.
From the cabin there is direct visibility of the lifting mechanism of between 50kW (standard) and 65kW (optional). Thanks to the Effi-Plus technology, it is possible to increase the speed of the lifting mechanism without affecting consumption, which allows loading cycles to be considerably reduced, thereby improving the productivity of the crane.
The design of this new rotating part - jib, cathead and counter jib - as well as the mechanism, cabin and hydraulic unit platforms, optimises the transport of this model, which may be supplied by 8 trucks or containers.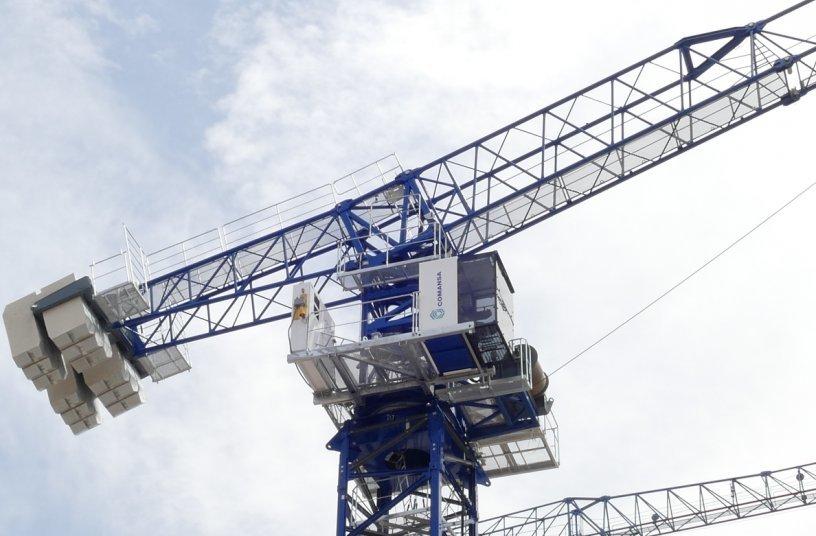 New LCH300 hydraulic luffing jib crane from Comansa platforms. IMAGE SOURCE: COMANSA
This new luffing jib crane from Comansa incorporates the award-winning CUBE Cab (L or XL) with Split type air conditioning. The cabin platform, like the lifting and hydraulic unit platforms, can be transported in a single piece.
Comansa luffing jib tower cranes offer optimal performance where horizontal jib cranes cannot move loads freely due to space limitations. Now, with the incorporation of the LCH300 hydraulic model, the luffing mechanism is optimised to offer even greater performance and an efficient assembly, as well as reduction of the radius when out of service.
NJC.© Info COMANSA
------------------------------------------------------------------------------------------------------------------
01/09/22-NL
Bauma 2022-Comansa presenteert de nieuwe LCH300 hydraulische beweegbare zwenkkraan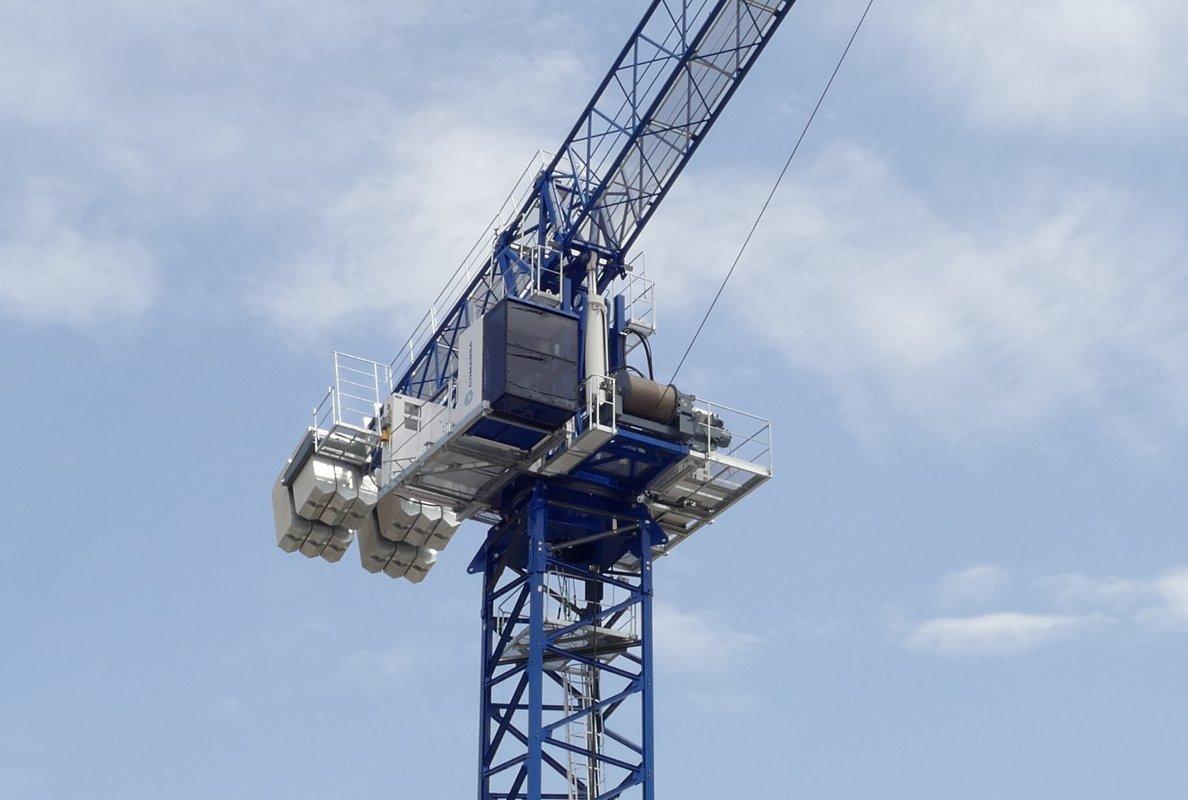 New LCH300 hydraulic luffing jib crane from Comansa platforms. IMAGE SOURCE: COMANSA
De Spaanse torenkraanfabrikant presenteert zijn innovatieve model eind oktober op Bauma München 2022
Comansa breidt zijn assortiment beweegbare zwenkkranen uit met de lancering van de LCH300, het eerste hydraulische model, met een maximaal laadvermogen van 16 ton en een bereik van 60 meter. De torenkraanfabrikant zal dit innovatieve model officieel presenteren op de vakbeurs Bauma 2022, die van 24 tot 30 oktober in München wordt gehouden.
De LCH300/16 t is verkrijgbaar in verschillende uitvoeringen: ingebed, ondersteund op sokkels van 6 of 8 meter, of verplaatsbaar. De kraan kan worden samengesteld met torendelen van 2,5 x 2,5 m. De modulaire jib heeft een bereik van 25 tot 60 meter, met configuraties om de 5 meter. Het heeft een minimale actieradius van 4 meter en een minimale actieradius van 9 meter wanneer deze buiten dienst is.
Het heeft handgeschakelde transmissiecombinaties van 1T (direct trekken) en 2T. Het maximale laadvermogen is 8t bij de 1T-configuratie en 16t bij de 2T-configuratie. De maximale belasting aan het uiteinde van de giek is respectievelijk 3.400 en 3.150 kg.
Het loeven beweegt de giek en de tegengiek gezamenlijk door een hydraulische cilinder bij de cathead en de giekscharnierconstructie. De hydraulische pompunit staat uit één stuk op een verplaatsbaar platform.
Vanuit de cabine is er direct zicht op het hefmechanisme tussen 50kW (standaard) en 65kW (optioneel). Dankzij de Effi-Plus-technologie is het mogelijk om de snelheid van het hefmechanisme te verhogen zonder het verbruik te beïnvloeden, waardoor de laadcycli aanzienlijk kunnen worden verminderd, waardoor de productiviteit van de kraan wordt verbeterd.
Het ontwerp van dit nieuwe roterende deel - jib, cathead en contra-jib - evenals het mechanisme, de cabine en de hydraulische unit platforms, optimaliseert het transport van dit model, dat kan worden geleverd door 8 vrachtwagens of containers.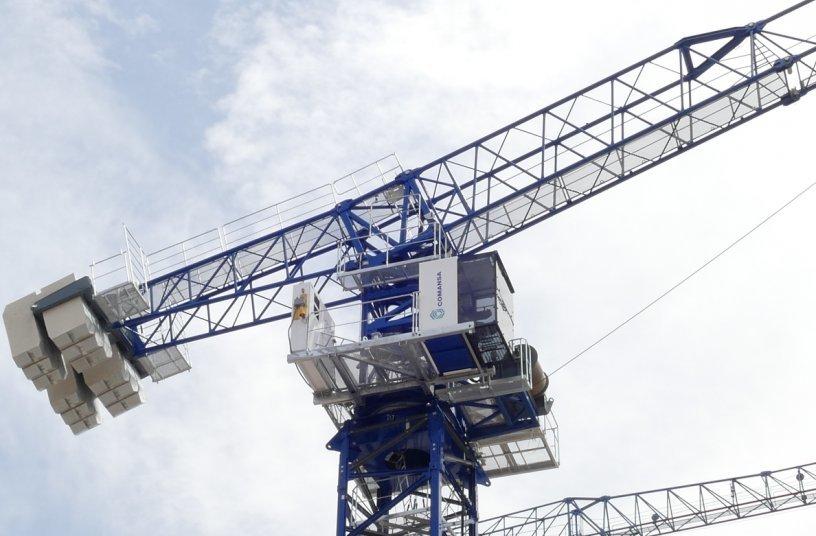 New LCH300 hydraulic luffing jib crane from Comansa platforms. IMAGE SOURCE: COMANSA
Deze nieuwe beweegbare zwenkkraan van Comansa is uitgerust met de bekroonde CUBE Cab (L of XL) met airconditioning van het type Split. Het cabineplatform kan, net als de hef- en hydrauliekplatforms, in één stuk vervoerd worden.
Comansa beweegbare zwenkarm torenkranen bieden optimale prestaties waar horizontale zwenkkranen lasten niet vrij kunnen verplaatsen vanwege ruimtebeperkingen. Nu, met de integratie van het hydraulische LCH300-model, is het beweegmechanisme geoptimaliseerd om nog betere prestaties en een efficiënte montage te bieden, evenals een vermindering van de straal wanneer het buiten dienst is.
NJC.© Info COMANSA
------------------------------------------------------------------------------------------------------------------