BAUMA 2022-Komatsu Europe announces a major upgrade for its backhoe loaders range
09/09/22-FR-English-NL-footer
BAUMA 2022-Komatsu Europe annonce une mise à jour majeure de sa gamme de tractopelles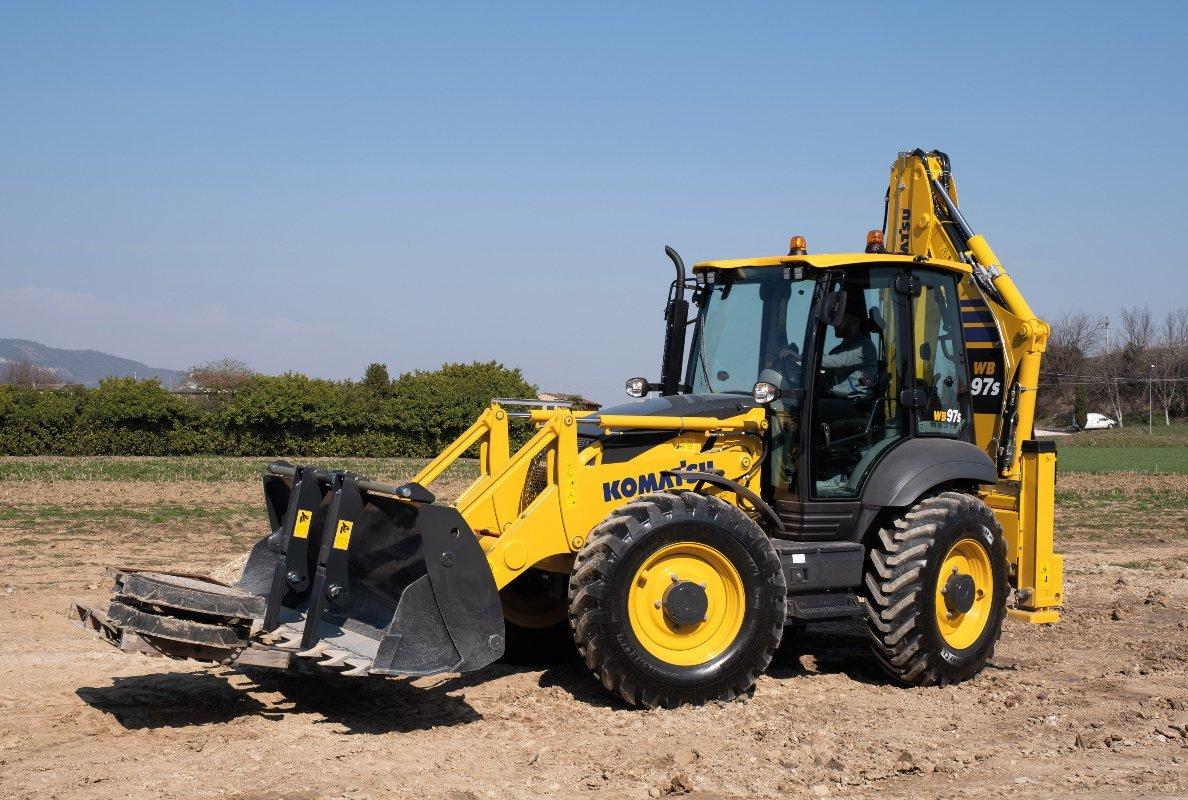 Komatsu WB97S-8
IMAGE SOURCE: Komatsu
Le WB97S-8 sera exposé au bauma 2022 Visitez Komatsu au bauma 2022 dans le hall C6 et sur le terrain de démonstration extérieur FM713/1.
Récemment, Komatsu Europe a annoncé une mise à niveau EU Stage V pour toute sa gamme de chargeuses-pelleteuses. Les nouveaux WB93R-8, WB97R-8, WB93S-8 et WB97S-8 sont désormais équipés d'un moteur conforme à la norme EU Stage V ainsi que de technologies de post-traitement éprouvées. Ils conservent également toutes les valeurs des modèles précédents pour offrir une solution robuste, fiable et à très faible maintenance à vos clients.
« Suite à l'introduction réussie de la gamme -8, les nouveaux modèles conformes à la phase V apportent une gamme de fonctionnalités de haut niveau à la famille des chargeuses-pelleteuses Komatsu », déclare Alex Visentin, chef de produit chez Komatsu Europe. « En mettant clairement l'accent sur la sécurité, cette gamme de chargeuses-pelleteuses Komatsu mise à jour est un équilibre parfait entre une excellente visibilité, le confort de l'opérateur et la productivité, ce qui en fait une solution idéale pour tous les besoins des clients.
L'équipe de développement de Komatsu a également écouté les clients pour offrir une expérience EU Stage V centrée sur le conducteur qui conserve la combinaison unique du tuyau d'échappement latéral et du capot compact de la chargeuse-pelleteuse Komatsu, apporte une acoustique de cabine semblable à celle d'une salle de concert et propose une variété de toutes nouvelles options qui offrent des valeurs client exceptionnelles.
Avec leur attitude confiante, dynamique et déterminée, la gamme de chargeuses-pelleteuses Komatsu EU Stage V ne manquera pas de se démarquer de la foule.
Nouvelles fonctionnalités et avantages pour WB93R-8, WB97R-8, WB93S-8, WB97S-8
Filtre à particules diesel longue durée ; Durée de vie de 8 000 heures - tranquillité d'esprit.
Conformité aux émissions EU Stage V - tranquillité d'esprit, participez à n'importe quel appel d'offres.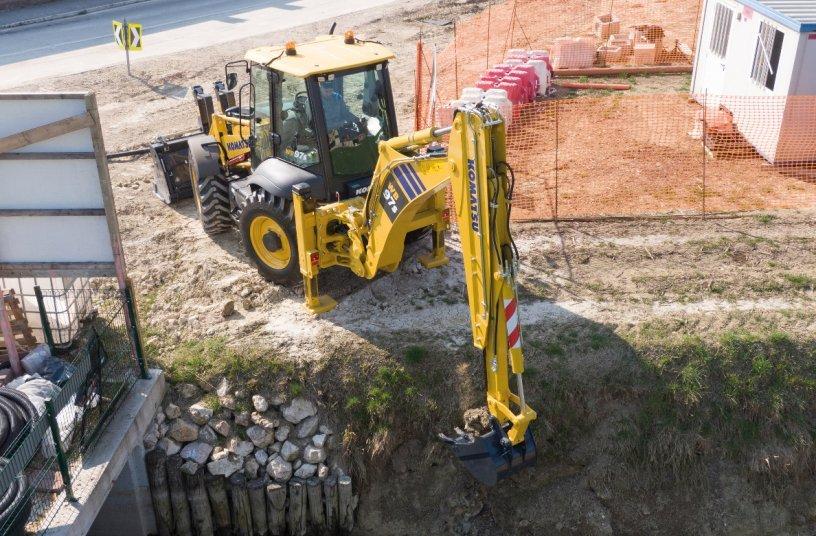 Komatsu WB97S-8
IMAGE SOURCE: Komatsu
Cylindrée augmentée : 3,6 litres.
Frein assisté => Sûr. Faible fatigue confort jusqu'à la production jusqu'à.
Ligne d'attache rapide pour rétrocaveuse WB97 Diminuez les PDI, les efforts de personnalisation et les coûts dans vos ateliers.
Boîte à outils arrière en option => Espace de travail bien organisé.
Fonction hypervent du moteur => amélioration de la productivité du refroidissement du moteur.
Les codes d'erreur sont maintenant visibles dans Komtrax => une maintenance plus facile réduit les coûts.
Option pneus Michelin Power CL => grande polyvalence.
Montage usine Lehnhoff MS/HS disponible en option => Garanti Komatsu. qualité, facilité d'achat et sécurité de l'ensemble complet.
Option radio DAB => tranquillité d'esprit
NJC.© Infos KOMATSU
-----------------------------------------------------------------------------------------------------------------
09/09/22-English
BAUMA 2022-Komatsu Europe announces a major upgrade for its backhoe loaders range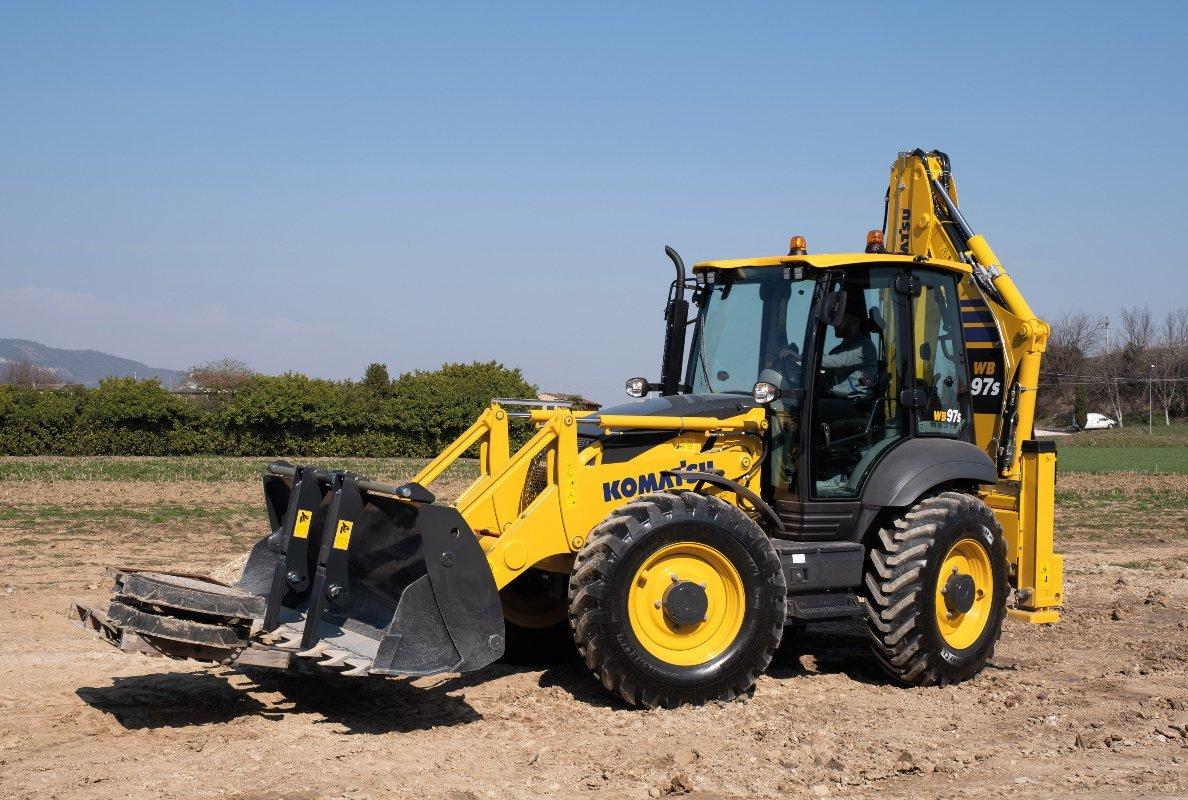 Komatsu WB97S-8
IMAGE SOURCE: Komatsu
The WB97S-8 will be on display at bauma 2022 Visit Komatsu at bauma 2022 in hall C6 and on the outdoor demo ground FM713/1.
Recently, Komatsu Europe announced an EU Stage V upgrade for all its backhoe loader range. The new WB93R-8, WB97R-8, WB93S-8, and WB97S-8 now feature an EU Stage V compliant engine along with proven aftertreatment technologies. They also retain all the values of the previous models to offer a robust, reliable, and ultra-low maintenance solution to your customers.
"Following the successful introduction of the -8 range, the new Stage V compliant models brings a range of high-standard features to the Komatsu Backhoe Loader family" says Alex Visentin, Product Manager at Komatsu Europe. "With a clear focus on safety, this updated Komatsu backhoe loader range is a perfect balance between great visibility, operator comfort and productivity, which makes it an ideal match for any customer's needs."
The Komatsu development team also listened to customers to deliver a driver-centric EU Stage V experience that keeps the unique Komatsu backhoe loader lateral exhaust pipe & compact bonnet combination, brings concert hall like cabin acoustics, and serves up a variety of all-new options that deliver exceptional customer values.
With their confident, dynamic, and purposeful stance, the Komatsu EU Stage V bakhoe loader range is sure to stand out from the crowd.
New features and benefits for WB93R-8, WB97R-8, WB93S-8, WB97S-8
Long-life diesel particulate filter; 8000hrs life – peace of mind.
EU Stage V emissions compliant – peace of mind, participate in any tender.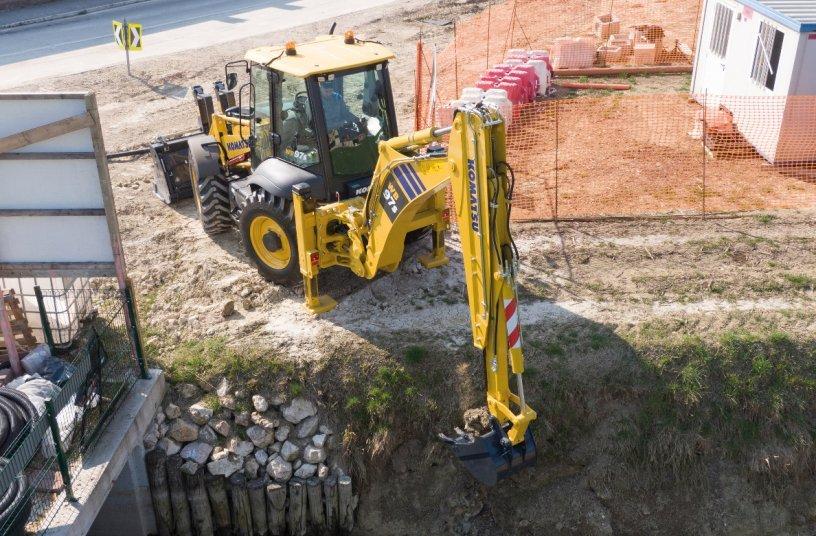 Komatsu WB97S-8
IMAGE SOURCE: Komatsu
Increased engine displacement: 3,6 litre.
Power assisted brake => Safe. Low fatigue comfort up production up.
Quick coupler line for WB97's backhoe Drive down PDI, customization efforts, and costs, in your workshops.
Rear tool box as option => Workspace well organized.
Engine hyper vent function => improved engine cooling productivity up.
Error codes now visible in Komtrax => easier maintenance reduce cost.
Michelin Power CL tyres option => high versatility.
Factory fit Lehnhoff MS/HS available as option => Guaranteed Komatsu. quality, ease of purchase, and safety of the complete package.
DAB radio option => peace of mind
NJC.© Info KOMATSU
-------------------------------------------------------------------------------------------------------------------
09/09/22-NL
BAUMA 2022-Komatsu Europe kondigt een belangrijke upgrade aan voor zijn assortiment graaflaadmachines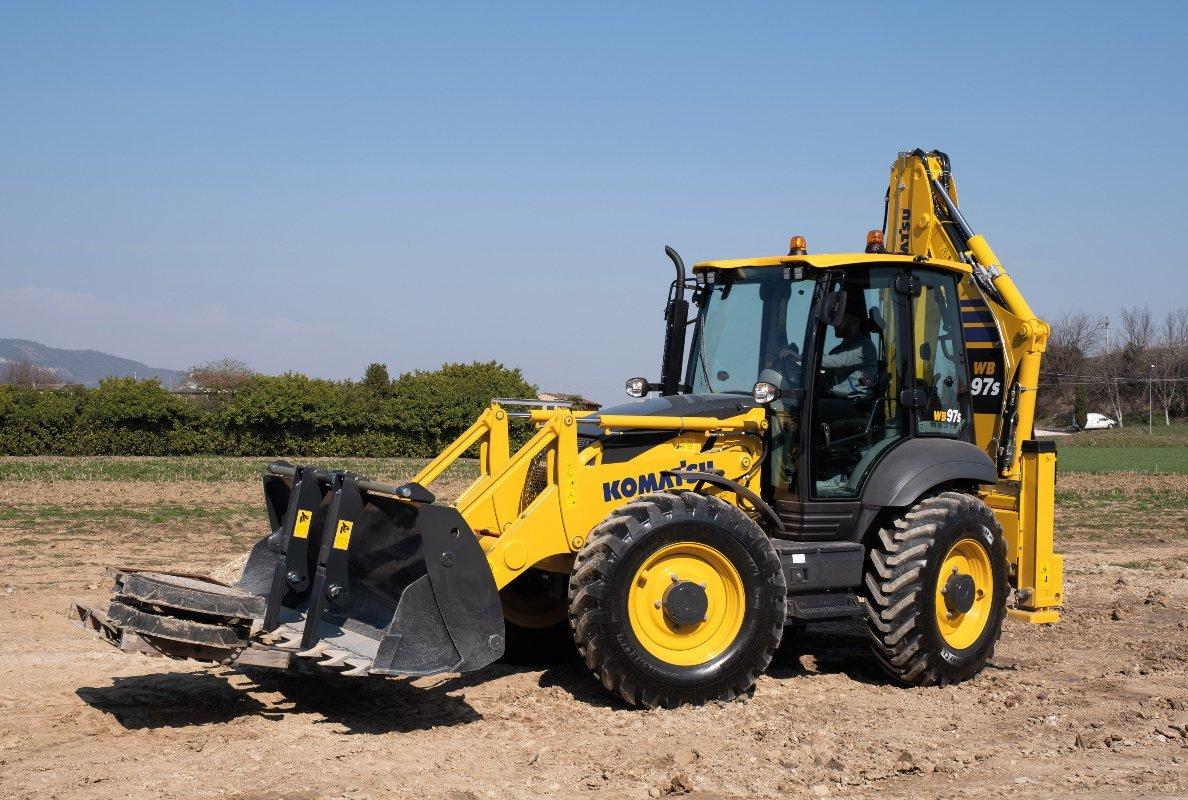 Komatsu WB97S-8
IMAGE SOURCE: Komatsu
De WB97S-8 zal te zien zijn op bauma 2022 Bezoek Komatsu op bauma 2022 in hal C6 en op het buitendemoterrein FM713/1.
Onlangs heeft Komatsu Europe een EU Stage V-upgrade aangekondigd voor al zijn graaflaadcombinaties. De nieuwe WB93R-8, WB97R-8, WB93S-8 en WB97S-8 beschikken nu over een motor die voldoet aan EU Stage V en beproefde nabehandelingstechnologieën. Ze behouden ook alle waarden van de vorige modellen om uw klanten een robuuste, betrouwbare en uiterst onderhoudsarme oplossing te bieden.
"Na de succesvolle introductie van de -8-reeks, voegen de nieuwe Stage V-conforme modellen een reeks hoogwaardige functies toe aan de Komatsu Backhoe Loader-familie", zegt Alex Visentin, Product Manager bij Komatsu Europe. "Met een duidelijke focus op veiligheid, is deze vernieuwde serie graaflaadcombinaties van Komatsu een perfecte balans tussen uitstekend zicht, bestuurderscomfort en productiviteit, waardoor het een ideale match is voor de behoeften van elke klant."
Het ontwikkelingsteam van Komatsu luisterde ook naar klanten om een ​​op de bestuurder gerichte EU Stage V-ervaring te bieden die de unieke combinatie van de laterale uitlaatpijp en compacte motorkap van Komatsu graaflaadmachine behoudt, een concertzaalachtige cabine-akoestiek biedt en een verscheidenheid aan geheel nieuwe opties biedt die uitzonderlijke klantwaarden leveren.
Met hun zelfverzekerde, dynamische en doelgerichte houding zal de Komatsu EU Stage V bakhoe-laderreeks zeker opvallen in de massa.
Nieuwe functies en voordelen voor WB93R-8, WB97R-8, WB93S-8, WB97S-8
Longlife roetfilter; Levensduur van 8000 uur – gemoedsrust.
Voldoet aan EU Stage V-emissies - gemoedsrust, neem deel aan elke aanbesteding.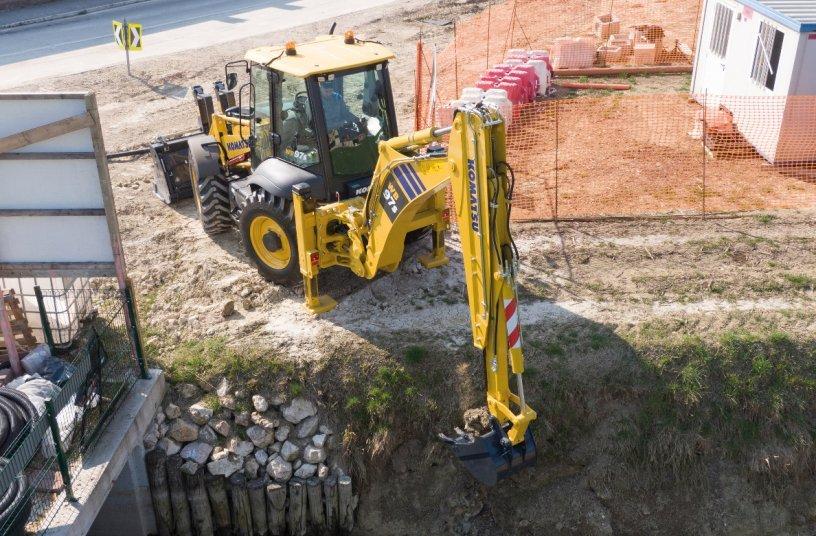 Komatsu WB97S-8
IMAGE SOURCE: Komatsu
Grotere cilinderinhoud: 3,6 liter.
Bekrachtigde rem => Veilig. Lage vermoeidheid comfort up productie up.
Snelkoppelingslijn voor WB97-graaflaadcombinaties Verlaag PDI, aanpassingsinspanningen en kosten in uw werkplaatsen.
Gereedschapskist achter als optie => Werkruimte goed georganiseerd.
Motor hypervent-functie => verbeterde productiviteit van de motorkoeling.
Foutcodes nu zichtbaar in Komtrax => eenvoudiger onderhoud, lagere kosten.
Michelin Power CL banden optie => grote veelzijdigheid.
Fabrieksmontage Lehnhoff MS/HS beschikbaar als optie => Gegarandeerd Komatsu. kwaliteit, aankoopgemak en veiligheid van het complete pakket.
DAB-radio-optie => gemoedsrust
NJC.© Info KOMATSU
----------------------------------------------------------------------------------------------------------------