BAUMA 2022-Komatsu HD785-8 Rigid Dump Truck to be featured at bauma 2022
29/09/22-FR-English-NL-footer
Le camion à benne rigide BAUMA 2022-Komatsu HD785-8 sera présenté au salon bauma 2022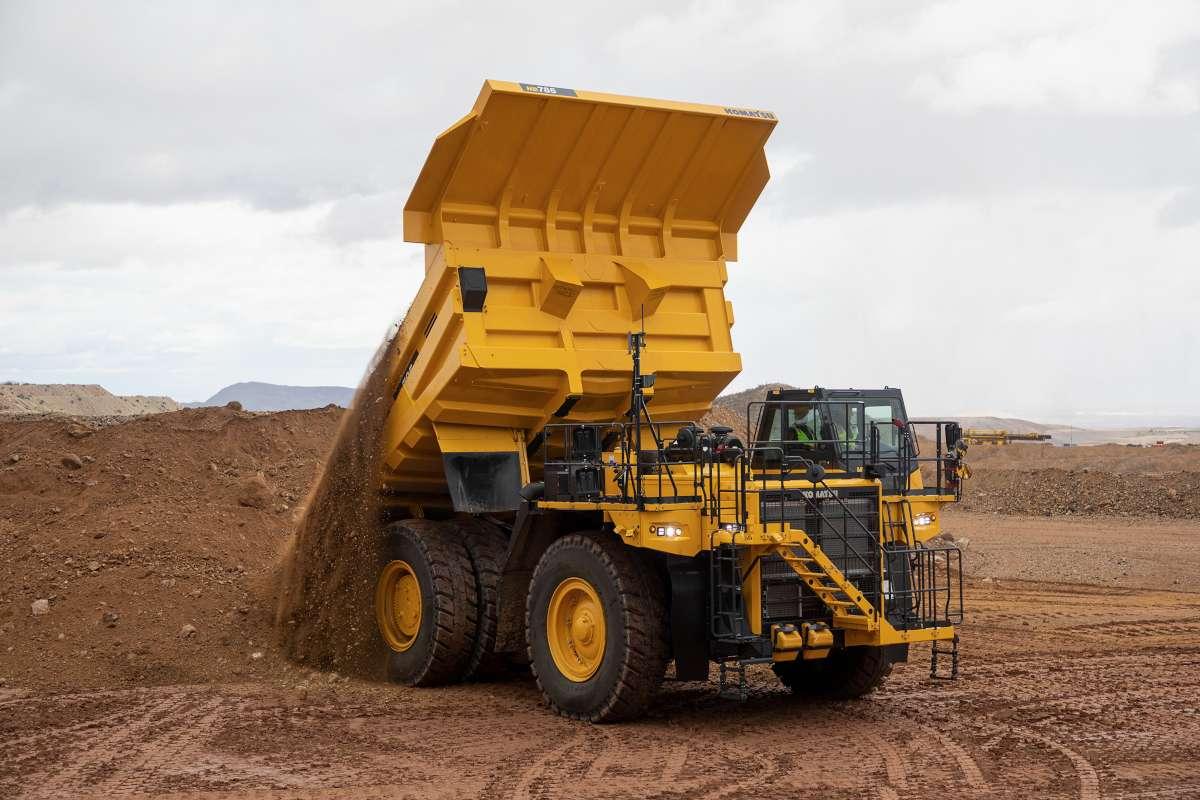 Image-Komatsu HD785-8 Rigid Dump Truck
Le tombereau rigide HD785-8 de Komatsu Europe sera présenté sur le terrain de démonstration à bauma 2022. Conçu, développé et fabriqué sur la base de 100 ans d'expérience et de savoir-faire Komatsu, le HD785-8 offre les plus hauts niveaux de sécurité, de performance, d'opérateur confort et productivité.
« Le HD785-8 offre un excellent confort d'utilisation, d'excellentes performances de déplacement et la fiabilité bien connue de Komatsu du modèle précédent », déclare Juuso Ahola, chef de produit chez Komatsu Europe. "Cette machine est un tel plaisir à utiliser que vous voudrez peut-être garder les clés à la fin de votre quart de travail plutôt que de les remettre à l'opérateur suivant."
Sécurité et confort de l'opérateur de première classe
La sécurité est la priorité numéro un de Komatsu. Le HD785-8 est équipé de voyants LED, d'une batterie au niveau du sol, d'interrupteurs de déconnexion de démarrage et de verrouillage de la machine. Un escalier nouvellement conçu permet d'accéder en toute sécurité à la cabine.
Pour plus de sécurité, Komatsu KomVision est de série : il crée une vue plongeante à 360 degrés en temps réel sur le moniteur de la cabine et élimine les angles morts à l'arrière et sur les côtés de la machine.
Le confort de l'opérateur sur le HD785-8 comprend une nouvelle cabine ergonomique, avec une disposition pratique des commandes et un environnement confortable pour un travail plus confiant et une plus grande productivité.
Le nouveau siège à suspension pneumatique recouvert de tissu est réglable en fonction du poids et de la taille de l'opérateur et comprend un siège chauffant et un ventilateur de série.
Grâce à un moteur silencieux, des supports de cabine visqueux de grande capacité, une suspension hydropneumatique et une suspension indépendante de type jambe de force sur les roues avant, les niveaux de bruit dans la cabine sont maintenus à 72 dBA.
Entretien facile et sûr
Le nettoyage du radiateur devient facile grâce au ventilateur hydraulique du radiateur avec mode inversé.
Le réceptacle de démarrage au niveau du sol et le centre de service avec coupleur de remplissage rapide pour le moteur, la transmission, l'huile de frein et les remplissages de liquide de refroidissement facilitent davantage l'entretien facile et sûr.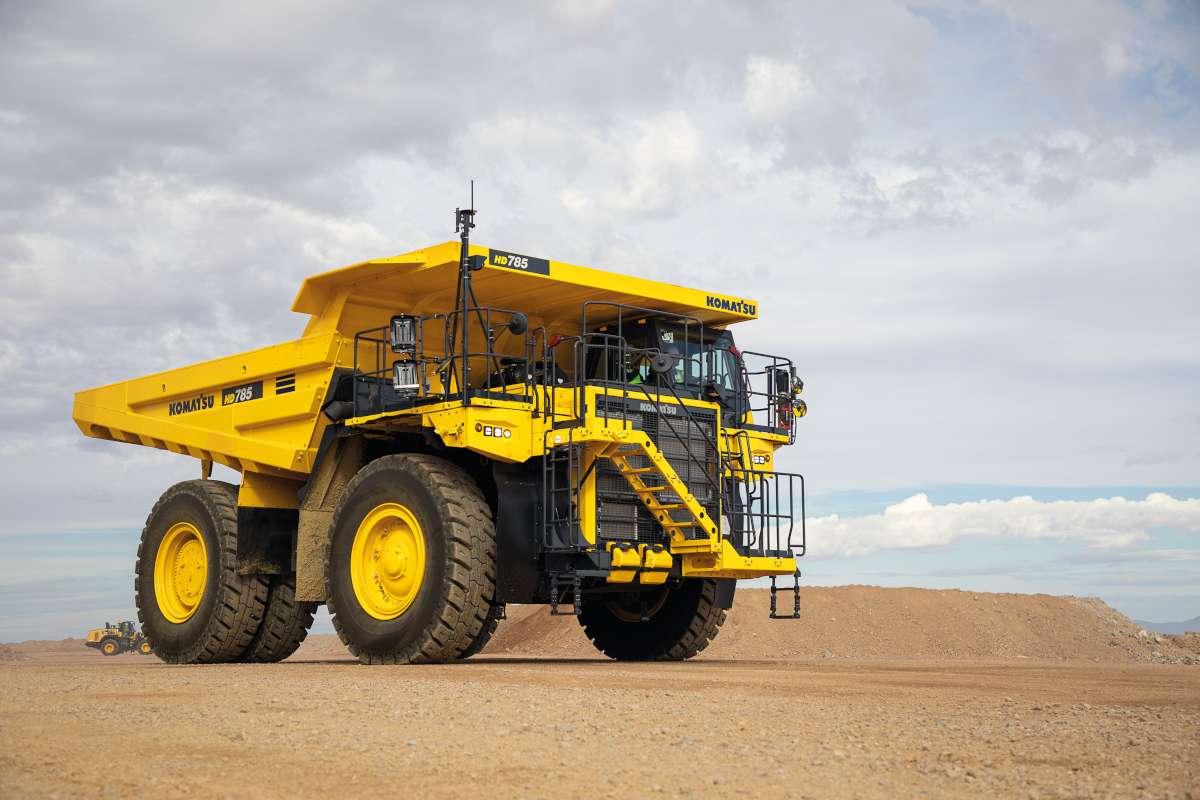 Image-Komatsu HD785-8 Rigid Dump Truck
Pour la sécurité en hauteur, les techniciens peuvent attacher des longes à des points d'attache (ISO 14567) bien placés autour du HD785-8.
Nouvelles fonctionnalités et avantages
Conformité aux émissions EU Stage V - tranquillité d'esprit.
Avec escabeau avant
Système de contrôle de la traction Komatsu (KTCS) – productivité maximisée
Fonctionnement économe en énergie – efficacité optimisée.
Nouvelle cabine de conduite ergonomique - confort de l'opérateur amélioré
Siège à suspension pneumatique chauffé et ventilé - confort de l'opérateur amélioré
Centre de service avec connexion de remplissage rapide de carburant, d'huile et de liquide de refroidissement (Wiggins) - disponibilité maximale, productivité maximale, profit maximal
Vue panoramique KomVision, avec radar - pour une sécurité à la pointe de l'industrie - Tranquillité d'esprit
Interrupteurs secondaires et d'arrêt d'urgence du moteur - sécurité, tranquillité d'esprit
Système d'éclairage entièrement à LED - sécurité, tranquillité d'esprit
KOMTRAX Step 5 – gestion ultime des actifs
KOMTRAX-Plus mis à jour - suivi pratique de la machine et gestion des données
Komatsu CARE – la tranquillité d'esprit
NJC.© Info Komatsu Europe
-------------------------------------------------------------------------------------------------------------------
29/09/22-English
BAUMA 2022-Komatsu HD785-8 Rigid Dump Truck to be featured at bauma 2022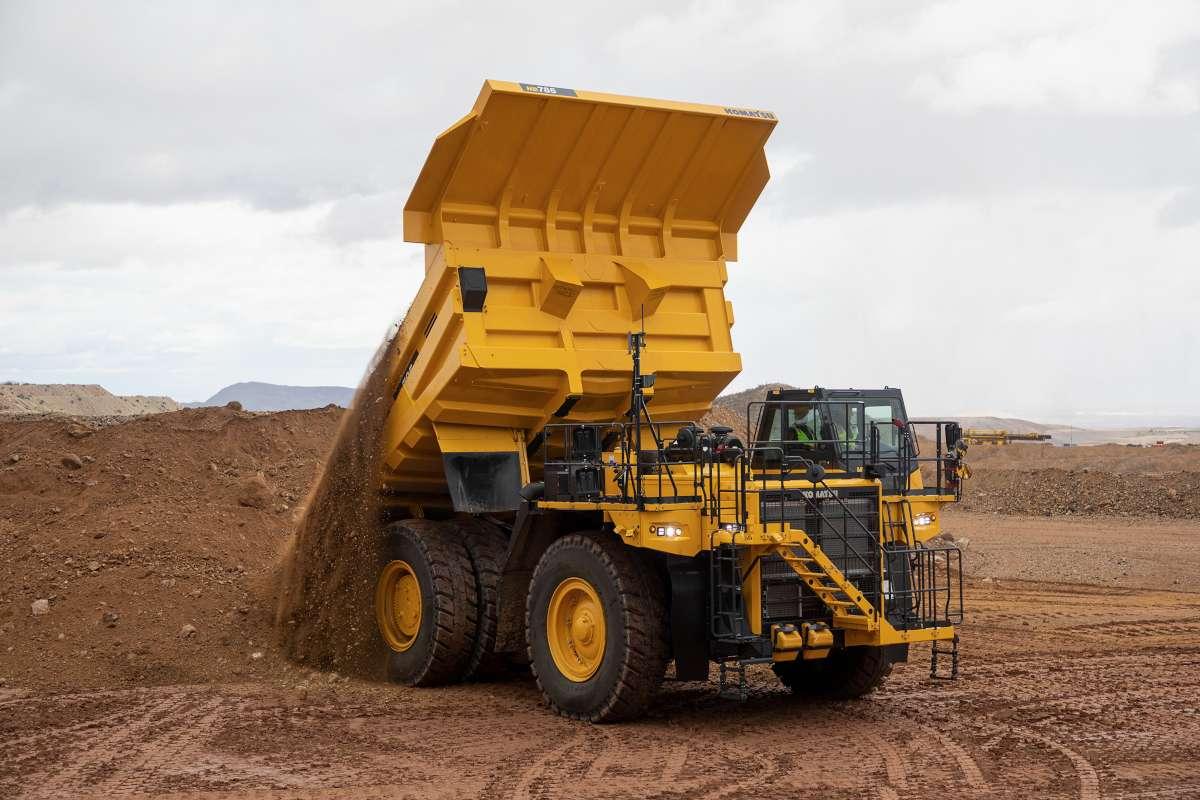 Image-Komatsu HD785-8 Rigid Dump Truck
Komatsu Europe's HD785-8 Rigid Dump Truck will be presented on the demo ground at bauma 2022. Designed, developed, and manufactured based on 100 years Komatsu experience and know-how, the HD785-8 delivers the highest levels of safety, performance, operator comfort and productivity.
"The HD785-8 proposes excellent operator comfort, great travel performance and the well-known Komatsu reliability of the previous model" says Juuso Ahola, Product Manager at Komatsu Europe. "This machine is such a pleasure to operate that you just might want to keep the keys at the end of your shift rather than hand them over to the next operator."
Safety & First-class operator comfort
Safety is Komatsu's number one priority. The HD785-8 is equipped with LED lights, ground level battery, starter and machine lockout disconnect switches. A newly designed stairway provides safe access to the cabin.
For improved safety, Komatsu KomVision is standard: it creates a real-time 360-degree bird's-eye view on the cab monitor and eliminates any blind spots on the rear and sides of the machine.
Operator comfort on the HD785-8 includes a new ergonomically designed cab, with a convenient control layout and a comfortable environment for more confident work and greater productivity.
The new fabric-covered, air suspension seat is adjustable to the operator's weight and height and includes a seat heater and a ventilator as standard.
Thanks to a low noise engine, large capacity viscous cab mountings, hydro-pneumatic suspension and independent strut type suspension on the front wheels, in-cab noise levels are kept at 72 dBA.
Easy & Safe Maintenance
Radiator cleaning becomes easy thanks to the hydraulic radiator fan with reverse mode.
The ground level jump start receptacle and service centre with fast fill coupler for engine, transmission, brake oil & coolant refills further facilitates easy and safe maintenance.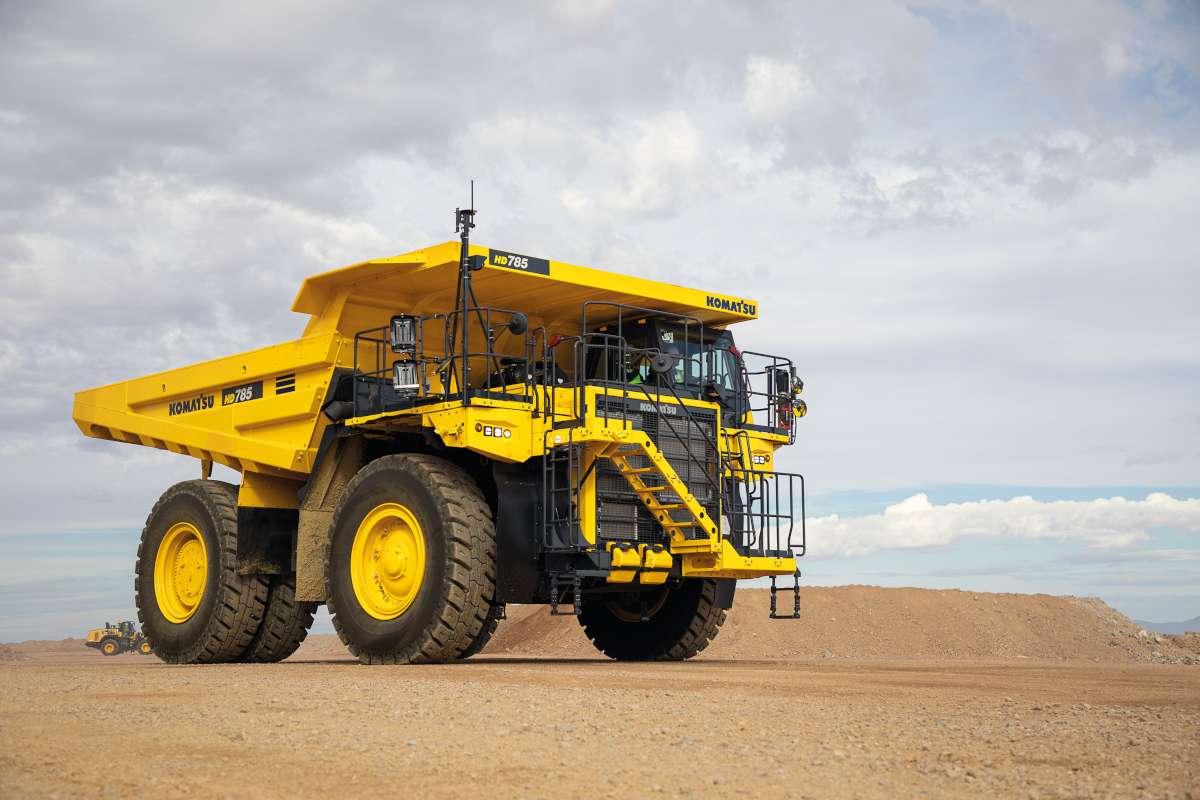 Image-Komatsu HD785-8 Rigid Dump Truck
For safety at height, technicians can attach lanyards to tie-off points (ISO 14567) well-placed around the HD785-8.
New Features and Benefits
EU Stage V emissions compliant – peace of mind.
With front step ladder
Komatsu Traction Control System (KTCS) – maximised productivity
Energy saving operation – optimised efficiency.
New, ergonomically designed operator cab – improved operator comfort
Heated & ventilated air suspension seat – improved operator comfort
Service centre with fuel, oil & coolant fast fill connection (Wiggins) – maximum uptime, maximum productivity, maximise profit
KomVision surround view, with radar – for industry leading safety – Peace of Mind
Engine secondary and emergency shut down switches – safety, peace of mind
Full LED lighting system – safety, peace of mind
KOMTRAX Step 5 – ultimate asset management
Updated KOMTRAX-Plus – convenient machine follow-up & data management
Komatsu CARE – peace of mind
NJC.© Info Komatsu Europe
------------------------------------------------------------------------------------------------------------
29/09/22-NL
BAUMA 2022-Komatsu HD785-8 Rigid Dump Truck te zien op Bauma 2022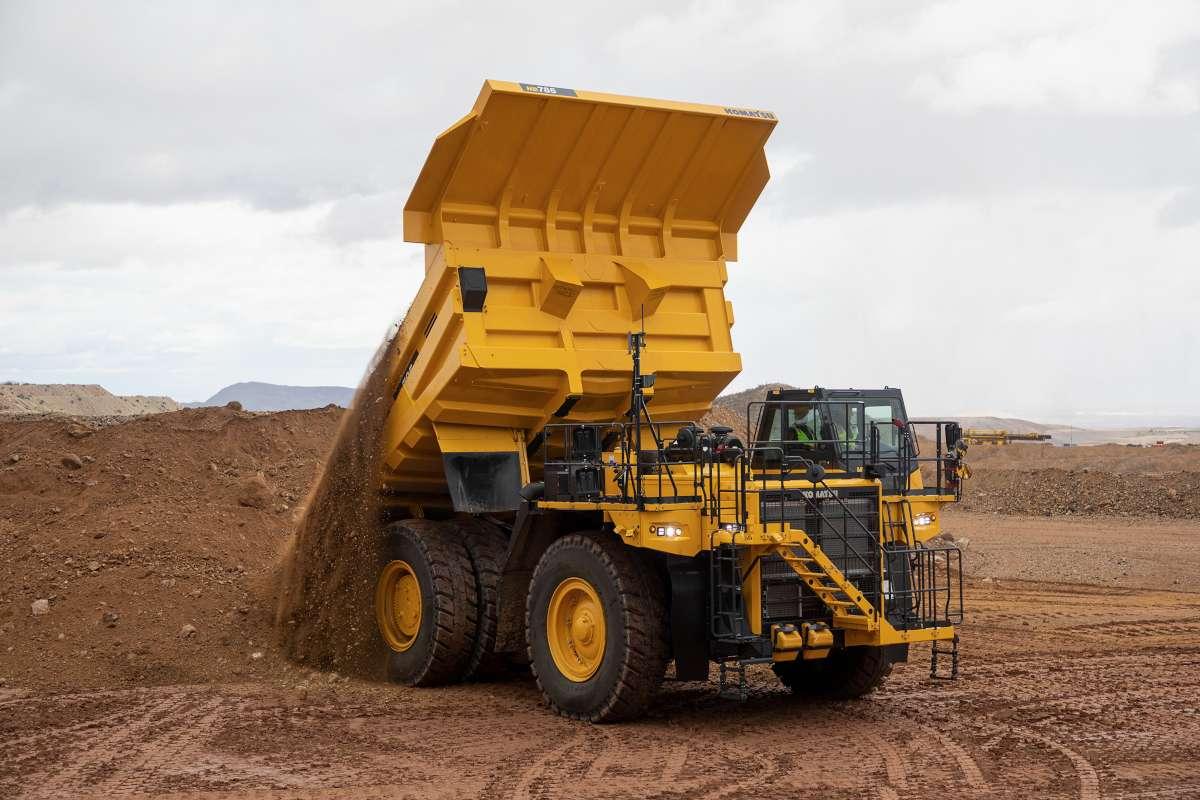 Image-Komatsu HD785-8 Rigid Dump Truck
De HD785-8 Rigid Dump Truck van Komatsu Europe zal tijdens Bauma 2022 op het demoterrein worden gepresenteerd. De HD785-8 is ontworpen, ontwikkeld en vervaardigd op basis van 100 jaar ervaring en knowhow van Komatsu en levert het hoogste niveau van veiligheid, prestaties en machinist. comfort en productiviteit.
"De HD785-8 biedt een uitstekend bestuurderscomfort, geweldige reisprestaties en de bekende Komatsu-betrouwbaarheid van het vorige model", zegt Juuso Ahola, Product Manager bij Komatsu Europe. "Deze machine is zo plezierig om te bedienen dat je misschien liever de sleutels aan het einde van je dienst houdt in plaats van ze aan de volgende operator over te dragen."
Veiligheid & Eersteklas comfort voor de machinist
Veiligheid is prioriteit nummer één bij Komatsu. De HD785-8 is uitgerust met LED-verlichting, grondniveau-accu, start- en machineblokkeringsschakelaars. Een nieuw ontworpen trap biedt veilige toegang tot de cabine.
Voor meer veiligheid is Komatsu KomVision standaard: het creëert een realtime 360-graden vogelperspectief op de cabinemonitor en elimineert dode hoeken aan de achterkant en zijkanten van de machine.
Het comfort van de machinist op de HD785-8 omvat een nieuwe, ergonomisch ontworpen cabine, met een handige lay-out van de bedieningselementen en een comfortabele omgeving voor zelfverzekerder werk en hogere productiviteit.
De nieuwe met stof beklede, luchtgeveerde stoel is instelbaar op het gewicht en de lengte van de machinist en is standaard voorzien van stoelverwarming en ventilator.
Dankzij een geluidsarme motor, viskeuze cabinebevestigingen met grote capaciteit, hydropneumatische ophanging en onafhankelijke veerpootophanging op de voorwielen, wordt het geluidsniveau in de cabine op 72 dBA gehouden.
Eenvoudig en veilig onderhoud
Radiatorreiniging wordt eenvoudig dankzij de hydraulische radiatorventilator met omgekeerde modus.
Het starthulpstuk op grondniveau en het servicecentrum met snelvulkoppeling voor het bijvullen van motor, transmissie, remolie en koelvloeistof maken verder eenvoudig en veilig onderhoud mogelijk.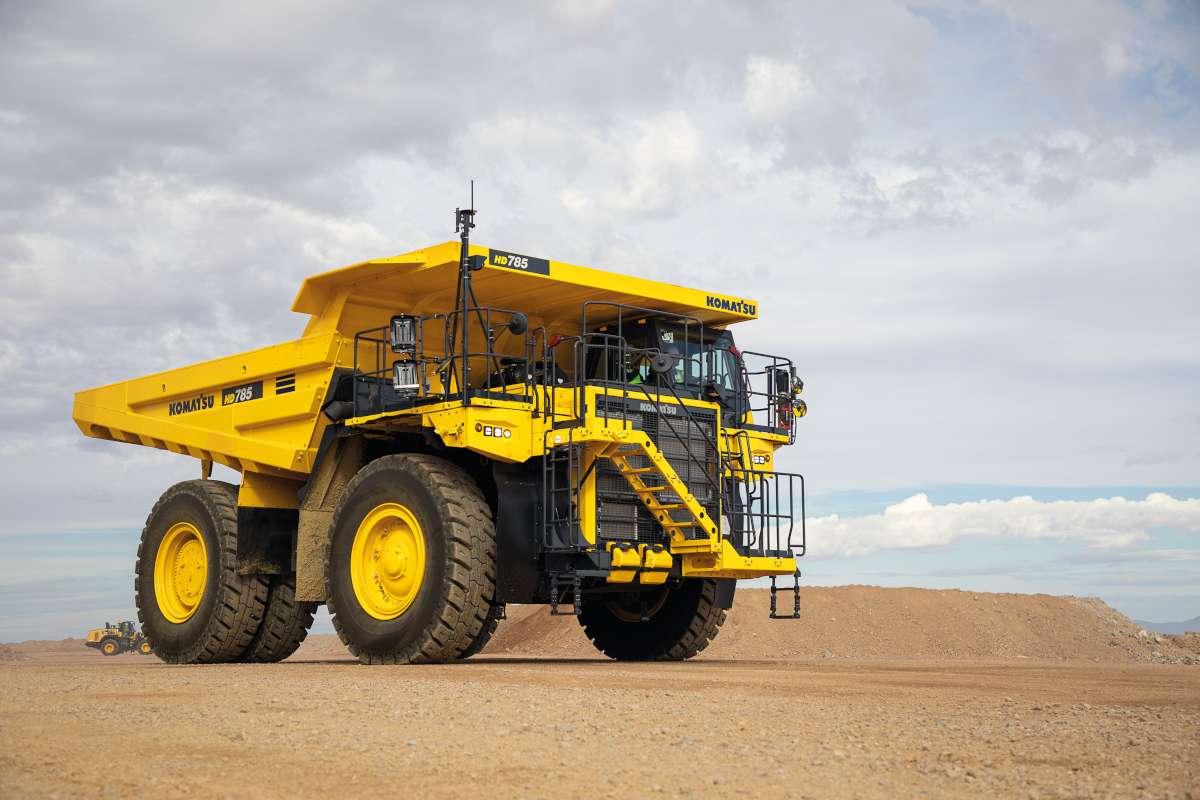 Image-Komatsu HD785-8 Rigid Dump Truck
Voor veiligheid op hoogte kunnen technici vanglijnen bevestigen aan bevestigingspunten (ISO 14567) die goed rond de HD785-8 zijn geplaatst.
Nieuwe functies en voordelen
Voldoet aan EU Stage V-emissies - gemoedsrust.
Met ladder aan de voorkant
Komatsu Traction Control System (KTCS) – maximale productiviteit
Energiebesparende werking – geoptimaliseerde efficiëntie.
Nieuwe, ergonomisch ontworpen bestuurderscabine – verbeterd bestuurderscomfort
Verwarmde en geventileerde stoel met luchtvering – verbeterd comfort voor de machinist
Servicecentrum met snelvulaansluiting voor brandstof, olie en koelvloeistof (Wiggins) - maximale uptime, maximale productiviteit, maximale winst
KomVision surround view, met radar – voor toonaangevende veiligheid – gemoedsrust
Secundaire motor- en noodstopschakelaars – veiligheid, gemoedsrust
Volledig LED-verlichtingssysteem – veiligheid, gemoedsrust
KOMTRAX Stap 5 – ultiem vermogensbeheer
Bijgewerkt KOMTRAX-Plus – gemakkelijke machineopvolging & gegevensbeheer
Komatsu CARE – gemoedsrust
NJC.© Info Komatsu Europe
-----------------------------------------------------------------------------------------------------------------------