JASO-Bauma 2022: Unveiling our New Tower Crane Portfolio
27/09/22-FR-English-NL-footer
Bauma 2022 : Dévoilement de notre nouveau portefeuille de grues à tour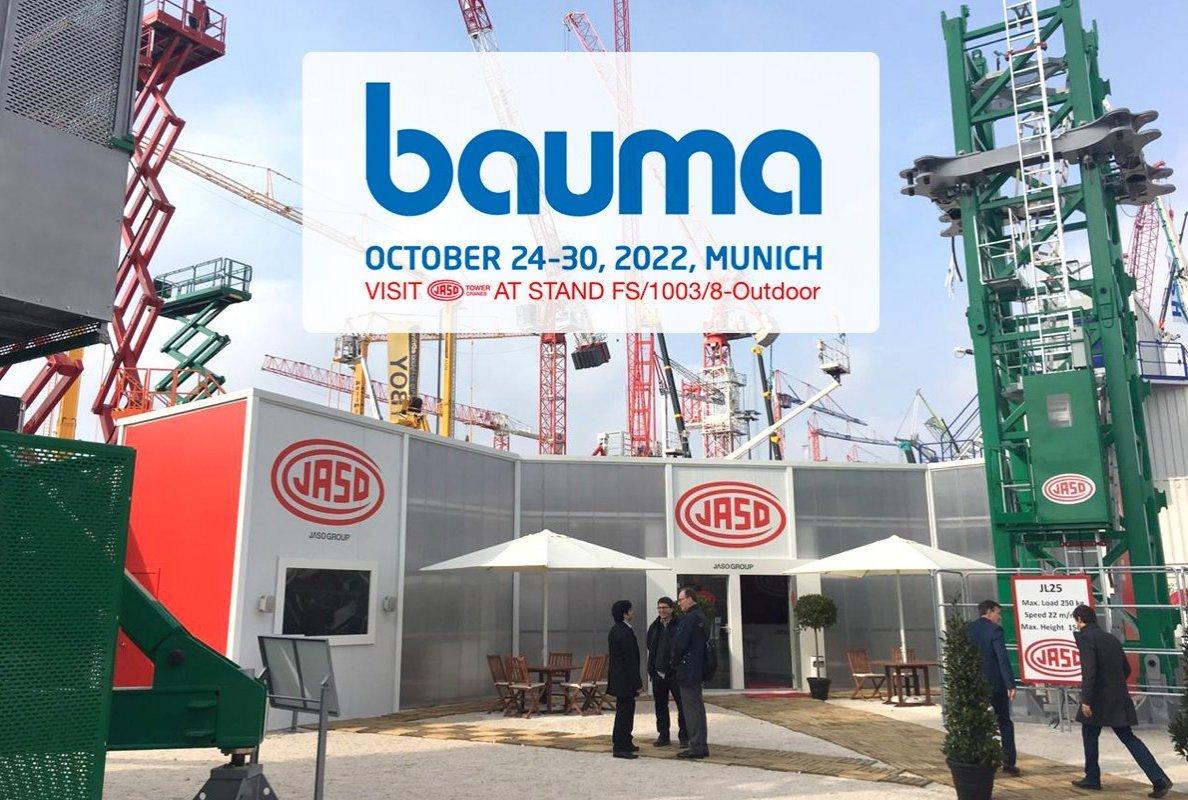 Bauma 2022: Unveiling our New Tower Crane Portfolio IMAGE SOURCE: JASO Tower Cranes
Vous pourrez également découvrir en avant-première deux nouveaux modèles de grue sur notre stand (FS.1003/8) : la Low Top J390 et la Flat Top J235.12.
La prochaine édition de Bauma, qui aura lieu cette année du 24 au 30 octobre à Munich (Allemagne), se rapproche de plus en plus. JASO sera de nouveau présent à ce salon renommé. Si vous allez assister à cet événement, venez nous voir au stand FS.1003/8 pour en savoir plus sur nos nouveautés.
Cette édition sera l'occasion idéale de dévoiler notre reformulation des familles de grues à tour et de présenter deux nouveaux modèles :
● La J390, une grue Low Top d'une charge maximale de 24 tonnes et d'une charge de pointe de 3,8 tonnes pour une portée maximale de 75 mètres, dont la longueur peut être augmentée par tronçons de 5 mètres. Il dispose d'options de tableau de charge polyvalentes et ses caractéristiques comprennent un rayon de rotation de 15,3 mètres, des contrepoids plats et une hauteur libre maximale de 81,4 mètres avec un système de tour de 2,16 mètres.
● La J235.12, une grue Flat Top avec une charge maximale de 12 tonnes et une charge de pointe de 2,6 tonnes. Il a une longueur de flèche de 30 à 65 mètres, qui peut être augmentée par tronçons de 5 mètres. Il se distingue par son rayon de rotation de 14,9 mètres, ses contrepoids à plat, sa hauteur libre de 55,9 mètres avec un système de tour de 1,75 mètre et son mécanisme performant, avec un maximum de 225 m/min (65 kW).
Les deux grues sont optimisées pour le transport/l'assemblage et disposent du système ECO Mode économe en énergie pour réduire l'empreinte carbone.
De plus, nous présenterons notre palan JL25, équipé de notre système à crémaillère et conçu pour permettre un meilleur accès de l'opérateur et du personnel de maintenance à la grue à tour.
Bauma 2022 : Dévoilement de notre nouveau portefeuille de grues à tour
● La JL25 assure une sécurité maximale pour les ouvriers grâce à son emplacement à l'extérieur de la grue (facilitant le sauvetage de l'opérateur si nécessaire) et ses deux unités d'entraînement redondantes avec freins centrifuges. De plus, il dispose d'un système de détection de panne intelligent. Il dispose d'une cabine large et confortable, adaptée pour deux personnes (250 kg), d'une hauteur maximale de 150 mètres et d'un système de contrôle portable et facile à utiliser, LOTO, sans cadenas ni clés. Parmi ses points forts : aucun entretien du parachute n'est nécessaire et il est conçu pour plus de 35 ans de durée de vie.
Enfin, représentant la division des ascenseurs de JASO, JASO Elevation Systems, nous présenterons pour la première fois le modèle GE2050.
● Le GE2050, un monte-personnes et matériel pour les projets de construction. Avec une charge maximale de 2 000 kilos ou 18 personnes, une vitesse de levage de 50 m/min. et une hauteur maximale de 200 mètres, il se distingue également par ses deux tailles de cabine disponibles, pour avoir un mât et des composants compatibles avec GP40, GE0525 et GM1500 et pour avoir différents accessoires pour s'adapter à tout projet. Le système ECO Mode réduit sa consommation d'énergie, ce qui en fait un ascenseur respectueux de l'environnement.
Allez-vous assister à Bauma 2022 ? Alors passez nous voir sur notre stand (FS.1003/8), nos équipes commerciales et techniques se réjouissent de vous rencontrer !
NJC.© Info Grues à tour JASO
------------------------------------------------------------------------------------------------------------------
27/09/22-English
Bauma 2022: Unveiling our New Tower Crane Portfolio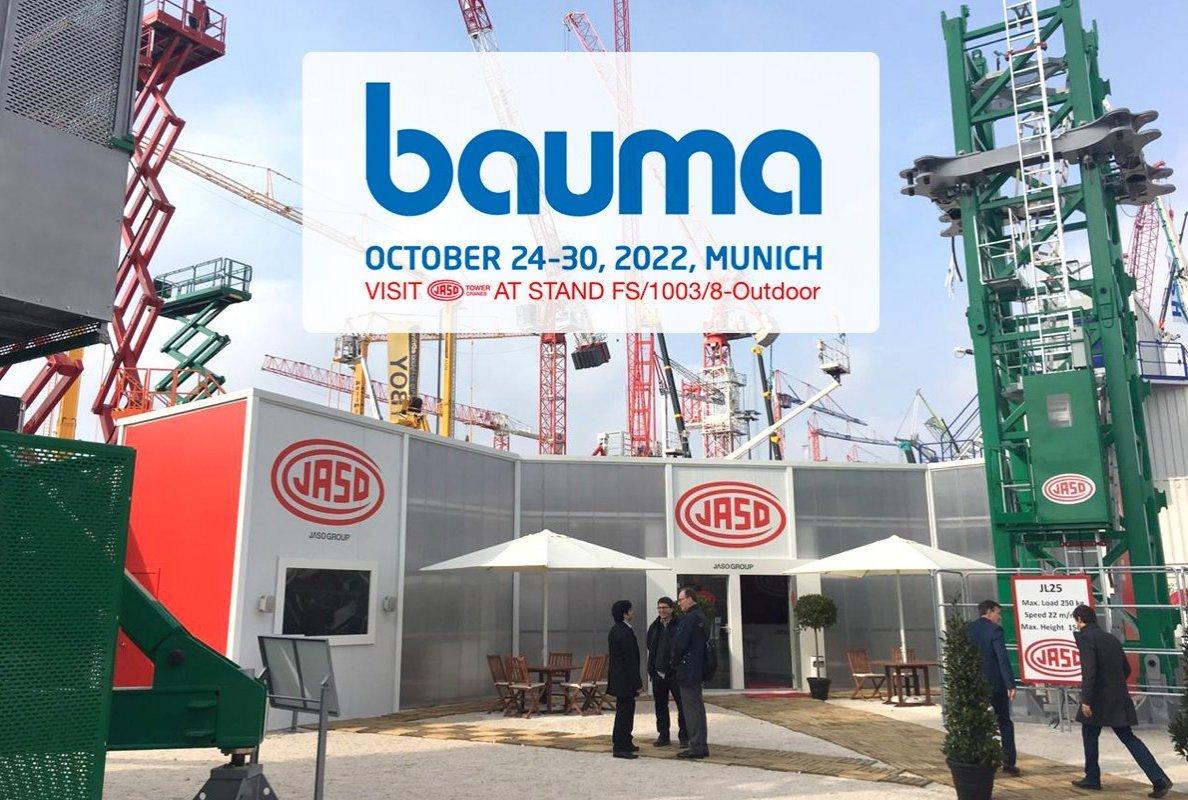 Bauma 2022: Unveiling our New Tower Crane Portfolio IMAGE SOURCE: JASO Tower Cranes
You will also be able to see the first glimpse of two new crane models at our booth (FS.1003/8): the Low Top J390 and the Flat Top J235.12.
The next edition of Bauma, which will take place from October 24 to 30 in Munich (Germany) this year, is getting closer and closer. JASO will be present again at this renowned trade show. If you are going to attend this event, come and see us at stand FS.1003/8 to learn more about our new products.
This edition will be the perfect occasion to unveil our reformulation of tower crane families, and to showcase two new models:
● The J390, a Low Top crane with a maximum load of 24 tonnes and a tip load of 3.8 tonnes for a maximum outreach of 75 metres, whose length can be increased in 5-metre sections. It has versatile load chart options and its features include a 15.3-metre swing radius, lay flat counterweights and a maximum free standing height of 81.4 metres with a 2.16-metre tower system.
● The J235.12, a Flat Top crane with a maximum load of 12 tonnes and a tip load of 2.6-tonnes. It has a boom length of 30 to 65 metres, which can be increased in 5-metre sections. It stands out for its 14.9-metre swing radius, lay flat counterweights, 55.9-metre free standing height with a 1.75-metre tower system and its high-performance mechanism, with a maximum of 225 m/min (65kW).
Both cranes are optimized for transport/assembly and feature the energy efficient ECO Mode system to reduce the carbon footprint.
In addition, we will showcase our JL25 hoist, equipped with our pioneering rack-and-pinion system and designed to allow better operator and maintenance personnel access to the tower crane.
Bauma 2022: Unveiling our New Tower Crane Portfolio
● The JL25 ensures maximum safety for workers due to its location on the outside of the crane (making it easy to rescue the operator if necessary) and its two redundant drive units with centrifugal brakes. In addition, it has an intelligent fault detection system. It has a wide and comfortable cabin, suitable for two people (250 kg), a maximum height of 150 metres and a portable, easy-to-use control system, LOTO, without padlock or keys. Among its highlights: no parachute maintenance is required and it is designed for more than 35 years of service life.
Finally, representing JASO's elevator division, JASO Elevation Systems, we will be showcasing the GE2050 model for the first time.
● The GE2050, a personnel and material hoist for construction projects. With a maximum load of 2,000 kilos or 18 people, a lifting speed of 50 m/min. and a maximum height of 200 metres, it also stands out for its two available cabin sizes, for having a mast and components compatible with GP40, GE0525 and GM1500 and for having different accessories to adapt to any project. The ECO Mode system reduces its energy consumption, making it an environmentally friendly elevator.
Are you going to attend Bauma 2022? Then drop by our stand (FS.1003/8), our sales and tech team are looking forward to meeting with you!
NJC.© Info JASO Tower Cranes
-----------------------------------------------------------------------------------------------------------------
27/09/22-NL
Bauma 2022: onthulling van onze nieuwe torenkraanportfolio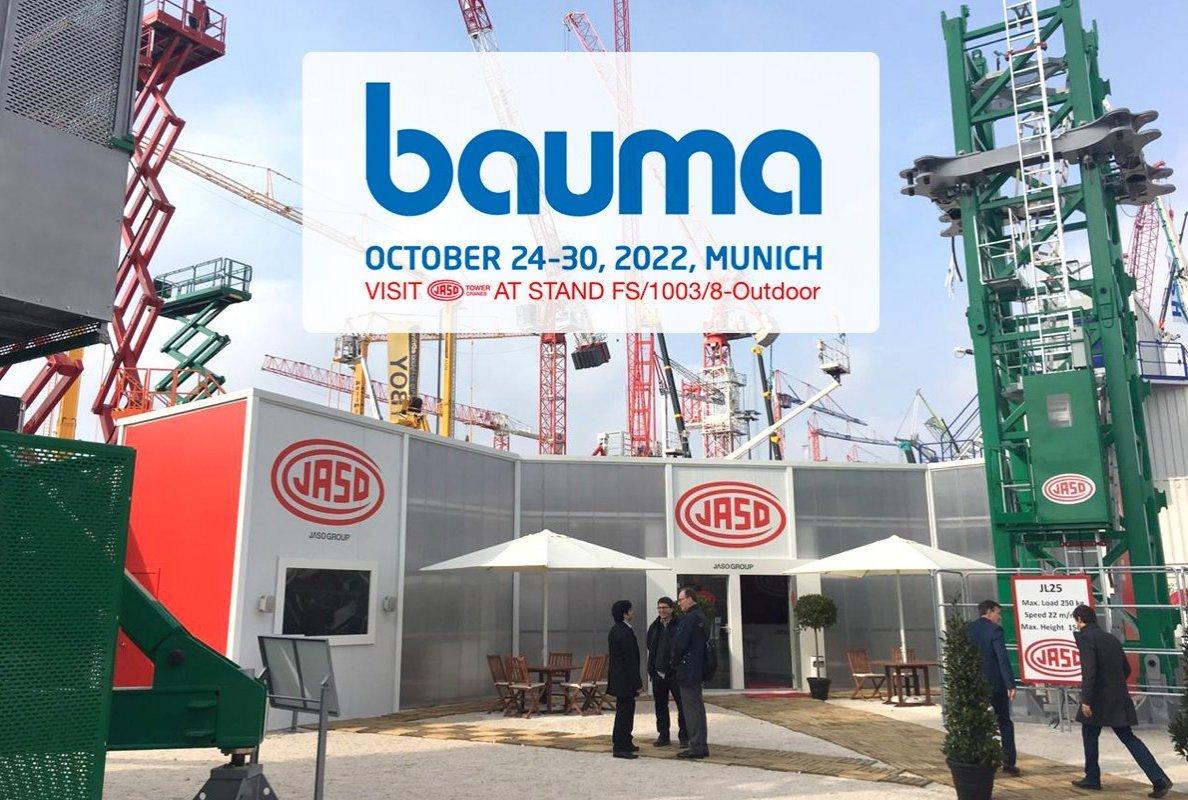 Bauma 2022: Unveiling our New Tower Crane Portfolio IMAGE SOURCE: JASO Tower Cranes
Op onze stand (FS.1003/8) kunt u ook de eerste glimp opvangen van twee nieuwe kraanmodellen: de Low Top J390 en de Flat Top J235.12.
De volgende editie van Bauma, die dit jaar van 24 tot 30 oktober in München (Duitsland) plaatsvindt, komt steeds dichterbij. JASO is weer aanwezig op deze gerenommeerde vakbeurs. Als u dit evenement gaat bijwonen, bezoek ons ​​dan op stand FS.1003/8 om meer te weten te komen over onze nieuwe producten.
Deze editie zal de perfecte gelegenheid zijn om onze herformulering van torenkraanfamilies te onthullen en om twee nieuwe modellen te presenteren:
● De J390, een Low Top kraan met een maximale belasting van 24 ton en een tipbelasting van 3,8 ton voor een maximale reikwijdte van 75 meter, waarvan de lengte kan worden vergroot in secties van 5 meter. Hij heeft veelzijdige opties voor lastdiagrammen en heeft onder meer een draaicirkel van 15,3 meter, platliggende contragewichten en een maximale vrijstaande hoogte van 81,4 meter met een torensysteem van 2,16 meter.
● De J235.12, een Flat Top kraan met een maximale last van 12 ton en een tiplast van 2,6 ton. Het heeft een gieklengte van 30 tot 65 meter, die in secties van 5 meter kan worden vergroot. Hij valt op door zijn 14,9 meter lange draaicirkel, platliggende contragewichten, 55,9 meter vrijstaande hoogte met een torensysteem van 1,75 meter en zijn krachtige mechanisme, met een maximum van 225 m/min (65 kW).
Beide kranen zijn geoptimaliseerd voor transport/montage en beschikken over het energiezuinige ECO Mode-systeem om de ecologische voetafdruk te verkleinen.
Daarnaast zullen we onze JL25-takel demonstreren, uitgerust met ons baanbrekende tandheugelsysteem en ontworpen om een ​​betere toegang tot de torenkraan voor machinist en onderhoudspersoneel te bieden.
Bauma 2022: onthulling van onze nieuwe torenkraanportfolio
● De JL25 zorgt voor maximale veiligheid voor de arbeiders door zijn plaatsing aan de buitenkant van de kraan (waardoor de machinist indien nodig gemakkelijk kan worden gered) en zijn twee redundante aandrijfeenheden met centrifugaalremmen. Bovendien heeft het een intelligent foutdetectiesysteem. Het heeft een brede en comfortabele cabine, geschikt voor twee personen (250 kg), een maximale hoogte van 150 meter en een draagbaar, gebruiksvriendelijk besturingssysteem, LOTO, zonder hangslot of sleutels. Een van de hoogtepunten: er is geen onderhoud aan de parachute nodig en hij is ontworpen voor een levensduur van meer dan 35 jaar.
Ten slotte zullen we, als vertegenwoordiger van JASO's liftdivisie, JASO Elevation Systems, voor het eerst het GE2050-model presenteren.
● De GE2050, een personeels- en materiaallift voor bouwprojecten. Met een maximale belasting van 2.000 kilo of 18 personen, een hefsnelheid van 50 m/min. en een maximale hoogte van 200 meter, onderscheidt hij zich ook door zijn twee beschikbare cabineformaten, door een mast en componenten die compatibel zijn met GP40, GE0525 en GM1500 en door verschillende accessoires om aan elk project aan te passen. Het ECO Mode-systeem vermindert het energieverbruik, waardoor het een milieuvriendelijke lift is.
Ga jij naar Bauma 2022? Kom dan langs op onze stand (FS.1003/8), ons sales- en tech-team kijkt ernaar uit u te ontmoeten!
NJC.© Info JASO Torenkranen
--------------------------------------------------------------------------------------------------------------------
Date de dernière mise à jour : 27/09/2022