BAUMA2022-CM Labs to showcase new simulator training solutions for compact track loader, telehandler, and articulated dump truck
01/08/22-FR-English-NL-footer
BAUMA-CM Labs présentera de nouvelles solutions de formation sur simulateur pour chargeuses compactes sur chenilles, chariots télescopiques et tombereaux articulés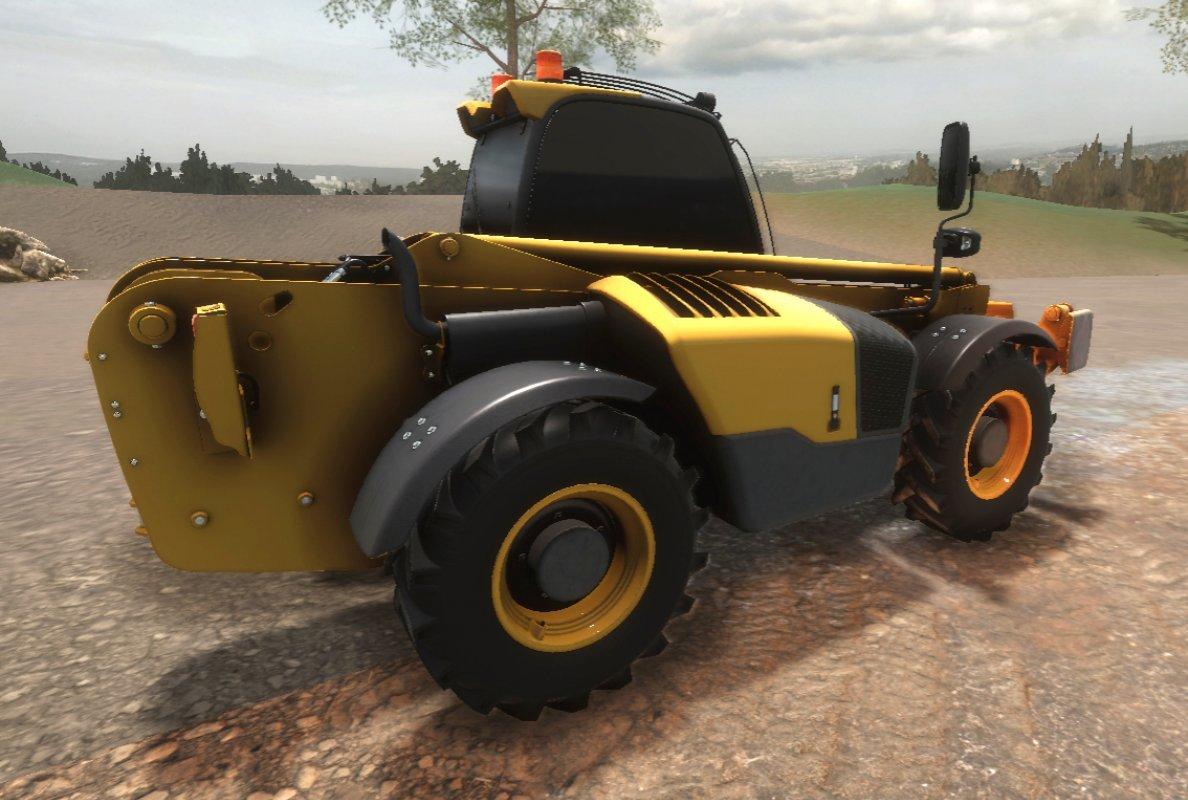 Telehandler CM Labs IMAGE SOURCE: CM Labs Simulations
CM Labs Simulations, développeur de simulateurs de formation Vortex®, présentera ses dernières solutions de formation et d'évaluation par simulation lors de Bauma, du 24 au 30 octobre, à Munich, en Allemagne, au stand C2.226-1 du pavillon canadien.
Les nouvelles versions incluent des packs de formation sur simulateur pour la chargeuse compacte sur chenilles, le chargeur télescopique et le tombereau articulé, tous fonctionnant sur le Vortex Advantage immersif et le Vortex Edge Max d'entrée de gamme activé par le mouvement. Les deux simulateurs déploieront le catalogue complet d'équipements de terrassement et de levage de CM Labs, y compris la récente sortie de leur pack de formation de simulation de camion à flèche.
De plus, les participants découvriront le nouveau pack de formation sur simulateur de pelle de CM Labs, qui comprend des accessoires de tiltrotateur et de marteau-piqueur. Ce pack de formation s'intègre à la plate-forme Trimble® Earthworks Grade Control, désormais disponible avec les solutions de formation pour bouteurs et niveleuses.
Pendant les sessions de formation des opérateurs, toutes les informations sont capturées par le simulateur et transmises à un poste d'exploitation de l'instructeur (IOS) qui sera également présenté sur le stand CM Labs. L'IOS soutient les formateurs avec des rapports objectifs sur les mesures clés liées aux violations de la sécurité et à l'efficacité, ce qui fournit des informations précieuses sur les véritables capacités de l'opérateur.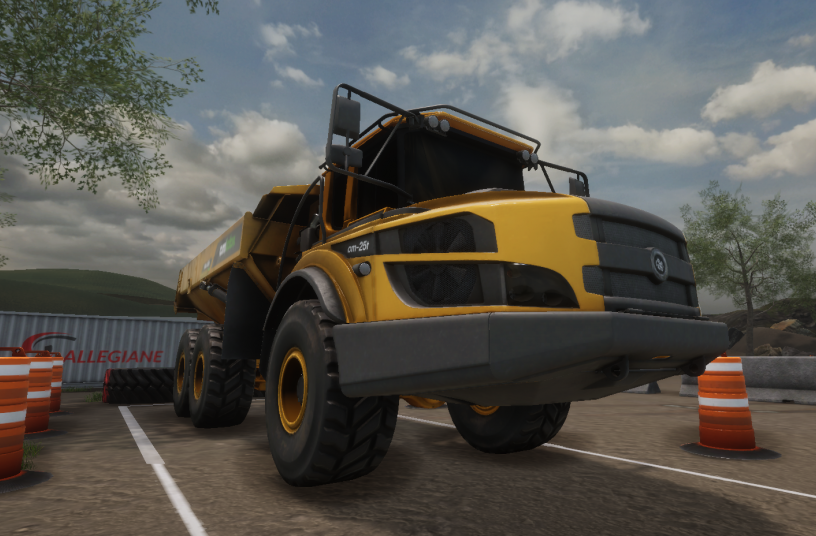 Articulated Dump Truck - CM Labs
IMAGE SOURCE: CM Labs Simulations
Cet aperçu est possible grâce à la haute fidélité des solutions de formation de CM Labs, optimisées par la technologie exclusive Smart Training Technology™ de l'entreprise.
Composée d'algorithmes propriétaires et brevetés, la technologie de formation intelligente permet une formation basée sur des données réelles et de vraies machines, offrant les compétences d'opérateur les plus transférables partout, en dehors de l'équipement réel.
Cela signifie également que les machines simulées interagissent avec leur environnement comme elles le font dans le monde réel. Par exemple, avec les simulateurs de pelle de CM Labs, les opérateurs apprennent à optimiser les angles de bras pour une force de creusement maximale. En effet, les simulateurs CM Labs sont la seule solution sur le marché capable de calculer et de reproduire avec précision ces forces.
NJC.© Info CM Labs Simulations Inc.
---------------------------------------------------------------------------------------------------------------------
01/08/22-English
BAUMA-CM Labs to showcase new simulator training solutions for compact track loader, telehandler, and articulated dump truck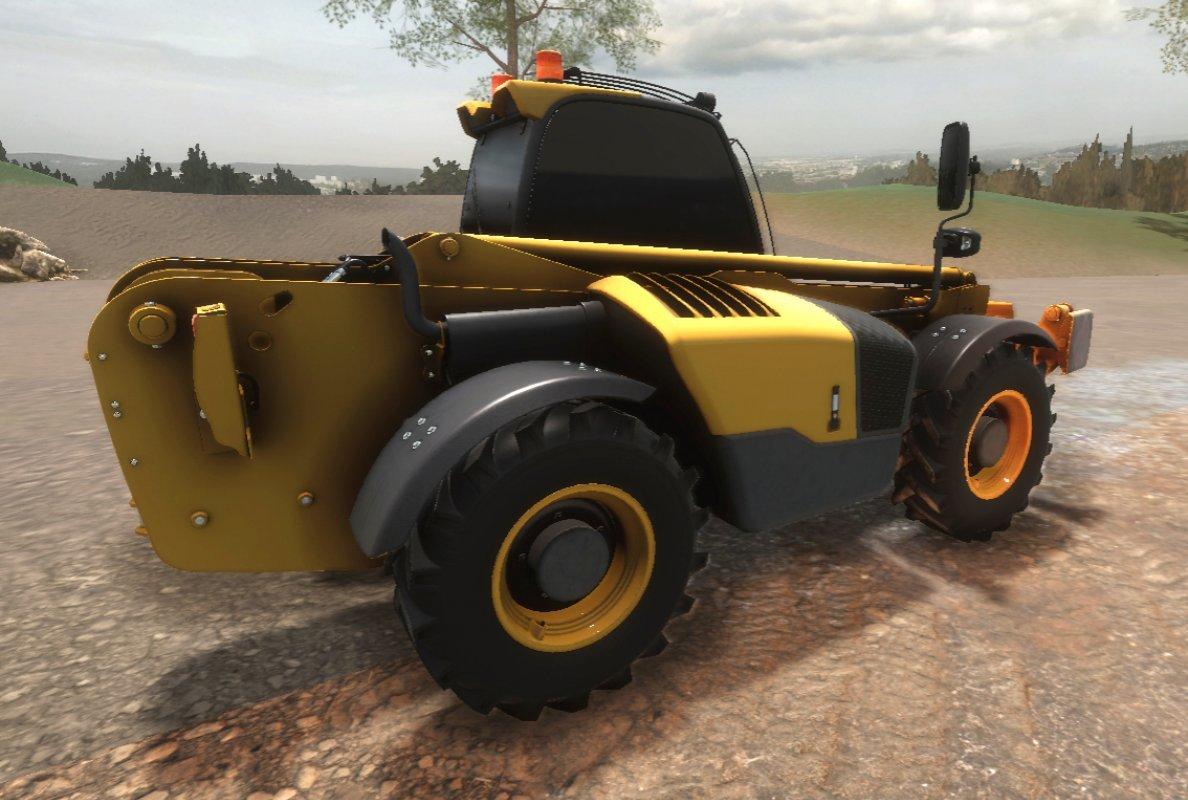 Telehandler CM Labs IMAGE SOURCE: CM Labs Simulations
CM Labs Simulations, developer of Vortex® training simulators, will showcase its latest simulation training and assessment solutions during Bauma, October 24–30, in Munich, Germany, at booth C2.226-1 in the Canadian Pavilion.
The new releases include simulator training packs for the compact track loader, telehandler, and articulated dump truck, all running on the immersive Vortex Advantage and the entry-level motion-enabled Vortex Edge Max. Both simulators will be deploying CM Labs' full catalogue of earthmoving and lifting equipment, including the recent release of their boom truck simulation training pack.
In addition, attendees will experience CM Labs' newly expanded excavator simulator training pack, which includes tiltrotator and jackhammer attachments. This training pack integrates with the Trimble® Earthworks Grade Control Platform, which is now available with the dozer and motor grader training solutions.
During operator training sessions, all information is captured by the simulator and pushed to an Instructor Operating Station (IOS) that will also be demonstrated in the CM Labs booth. The IOS supports trainers with objective reporting on key metrics related to safety violations and efficiency, which provides valuable insight into the operator's true capabilities.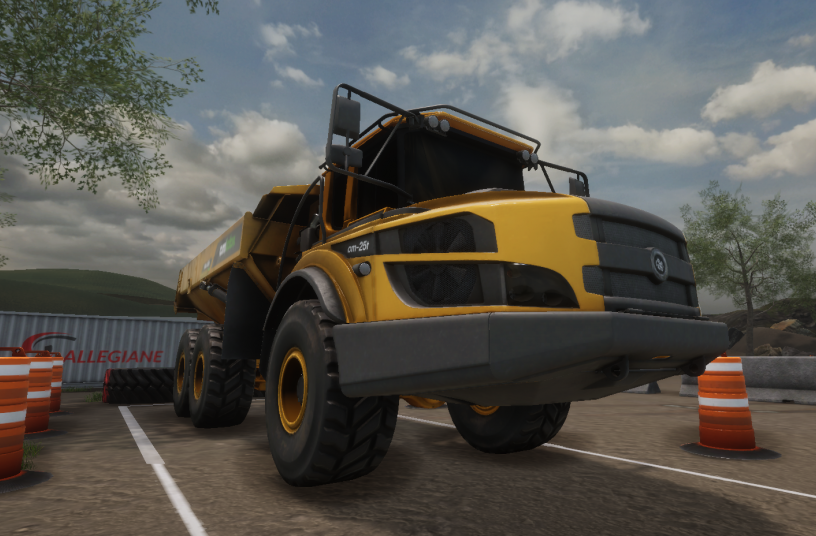 Articulated Dump Truck - CM Labs
IMAGE SOURCE: CM Labs Simulations
This insight is possible due to the high fidelity of CM Labs' training solutions, powered by the company's exclusive Smart Training Technology™.
Comprised of proprietary and patented algorithms, Smart Training Technology results in training that's based on real data and real machines, delivering the most transferable operator skills anywhere, outside the real equipment.
It also means simulated machines interact with their environment just as they do in the real world. For instance, with CM Labs' excavator simulators, operators learn how to optimize arm angles for maximum digging force. That's because CM Labs simulators are the only solution on the market that can accurately compute and replicate these forces.
NJC.© Info CM Labs Simulations Inc.
-----------------------------------------------------------------------------------------------------------
01/08/22-NL
BAUMA-CM Labs presenteert nieuwe simulatortrainingsoplossingen voor compacte rupslader, verreiker en knikdumper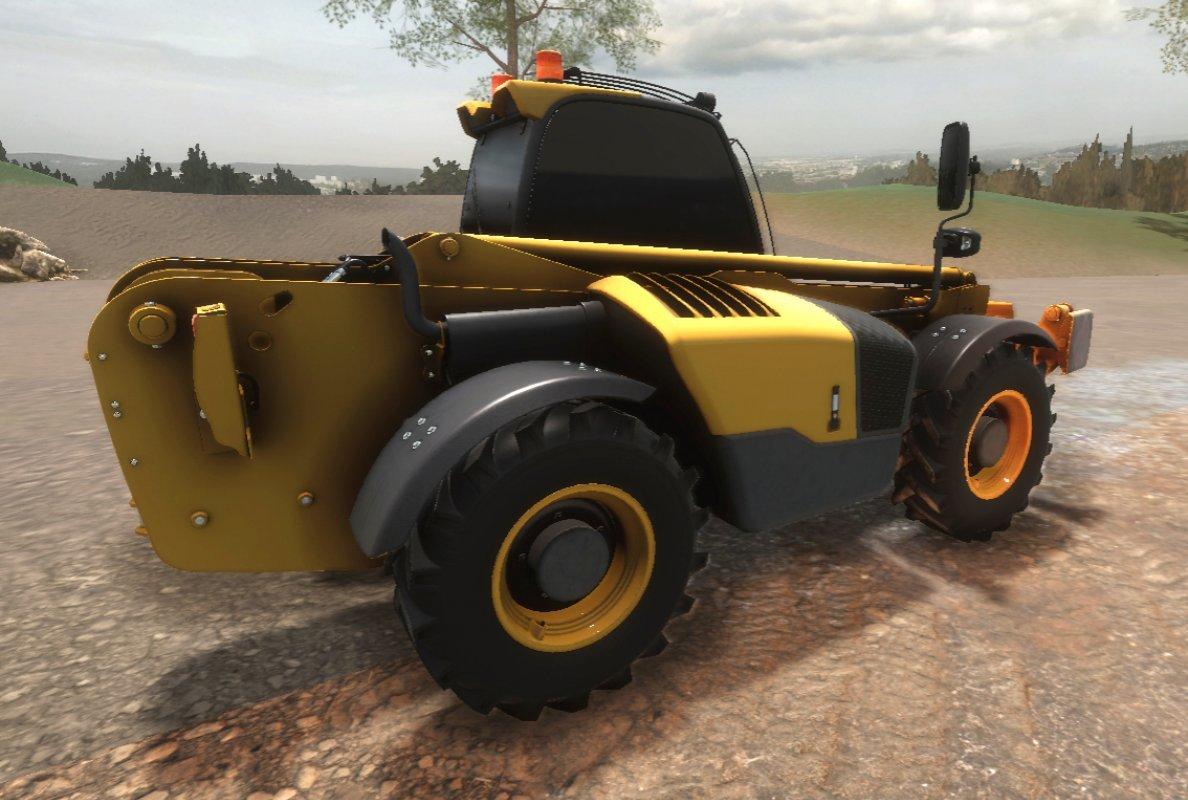 Telehandler CM Labs IMAGE SOURCE: CM Labs Simulations
CM Labs Simulations, ontwikkelaar van Vortex®-trainingssimulators, zal zijn nieuwste simulatietraining- en beoordelingsoplossingen presenteren tijdens Bauma, 24-30 oktober, in München, Duitsland, op stand C2.226-1 in het Canadese paviljoen.
De nieuwe releases omvatten simulatortrainingspakketten voor de compacte rupslader, verreiker en knikdumper, allemaal draaiend op de meeslepende Vortex Advantage en de instapmodel Motion-enabled Vortex Edge Max. Beide simulatoren zullen de volledige catalogus van grondverzet- en hijsapparatuur van CM Labs inzetten, inclusief de recente release van hun simulatietrainingspakket voor boomtrucks.
Bovendien zullen deelnemers het onlangs uitgebreide trainingspakket voor graafmachines van CM Labs ervaren, inclusief tiltrotator- en jackhammer-hulpstukken. Dit trainingspakket integreert met het Trimble® Earthworks Grade Control Platform, dat nu beschikbaar is met de trainingsoplossingen voor dozers en motorgraders.
Tijdens de trainingssessies voor operators wordt alle informatie vastgelegd door de simulator en naar een Instructor Operating Station (IOS) gepusht dat ook zal worden gedemonstreerd in de CM Labs-stand. De IOS ondersteunt trainers met objectieve rapportage over belangrijke statistieken met betrekking tot veiligheidsschendingen en efficiëntie, wat een waardevol inzicht geeft in de werkelijke capaciteiten van de operator.
Dit inzicht is mogelijk dankzij de hoge betrouwbaarheid van de trainingsoplossingen van CM Labs, mogelijk gemaakt door de exclusieve Smart Training Technology™ van het bedrijf.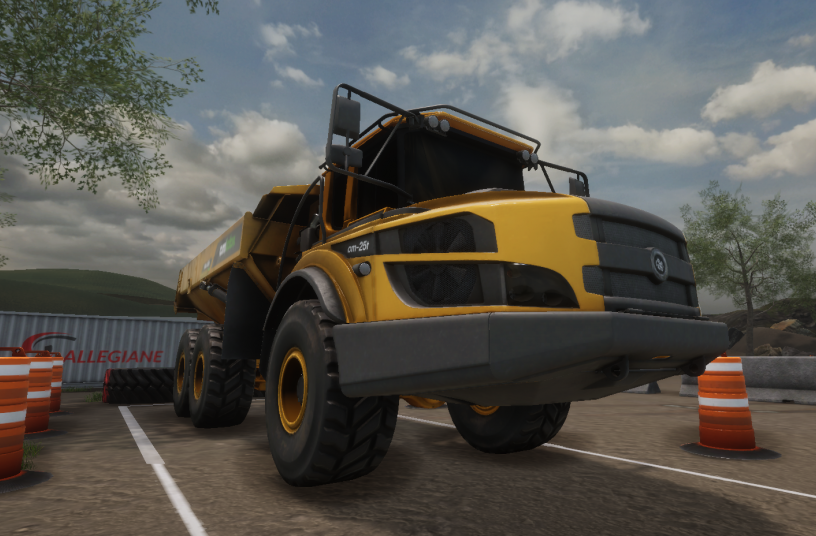 Articulated Dump Truck - CM Labs
IMAGE SOURCE: CM Labs Simulations
Smart Training Technology bestaat uit gepatenteerde en gepatenteerde algoritmen en resulteert in training die is gebaseerd op echte gegevens en echte machines, waardoor de meest overdraagbare operatorvaardigheden overal worden geboden, buiten de echte apparatuur.
Het betekent ook dat gesimuleerde machines interactie hebben met hun omgeving, net als in de echte wereld. Met de graafmachinesimulatoren van CM Labs leren machinisten bijvoorbeeld hoe ze de armhoeken kunnen optimaliseren voor maximale graafkracht. Dat komt omdat CM Labs-simulators de enige oplossing op de markt zijn die deze krachten nauwkeurig kunnen berekenen en repliceren.
NJC.© Info CM Labs Simulations Inc.
-----------------------------------------------------------------------------------------------------------------
Date de dernière mise à jour : 30/07/2022