BAUMA2022-Vögele is introducing new mini road pavers
13/10/22-FR-English-NL-footer
Vögele lance de nouveaux mini-finisseurs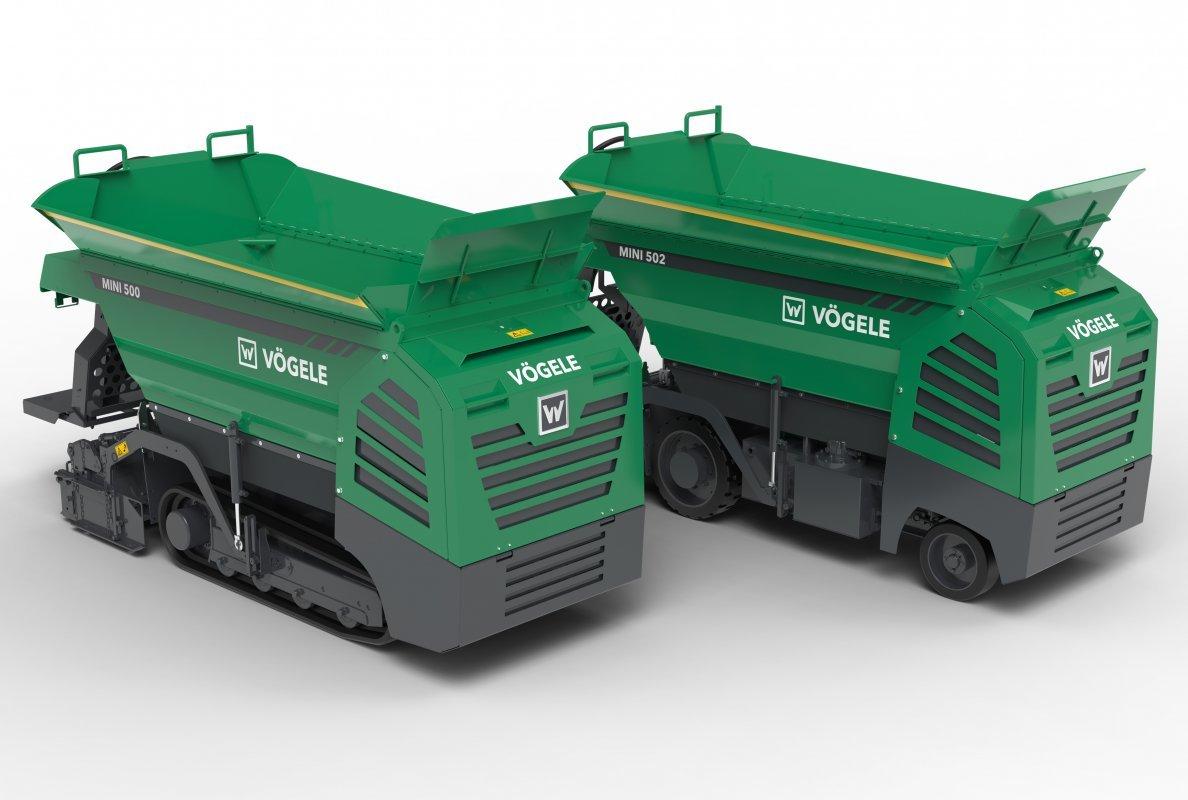 The new Vögele mini road pavers are available as wheeled or tracked pavers with electric or diesel engine drive systems. IMAGE SOURCE: WIRTGEN GROUP
Deux modèles électriques à batterie seront également disponibles
Vögele présentera à la Bauma 2022 quatre nouveaux mini-finisseurs capables de poser des largeurs allant de 0,25 à 1,80 m. Le finisseur sur roues et le finisseur sur chenilles seront disponibles avec des systèmes d'entraînement diesel ou électriques en option. Les nouvelles machines complètent le bas de gamme de la vaste gamme de produits d'asphaltage de Vögele.
« La demande de solutions flexibles et durables sur les petits chantiers de construction est élevée et nous pensons qu'elle va continuer à augmenter. Nos nouveaux mini-finisseurs permettront aux clients de réaliser de petits travaux de pavage rapidement, de manière rentable, durable et donc rentable », a expliqué Marcio Cavalcanti Happle, responsable des ventes, du marketing local et du support produit/client chez Vögele.
Large gamme d'applications
Grâce à leurs dimensions compactes et à leurs largeurs de pose variables, les finisseurs sur chenilles MINI 500 (diesel) et MINI 500e (électrique à batterie) ainsi que les finisseurs sur roues MINI 502 (diesel) et MINI 502e (électrique à batterie) conviennent parfaitement aux petites des projets de construction à grande échelle qui comprennent la construction de pistes cyclables et piétonnes, le pavage entre les voies ferrées ainsi que des travaux de réparation dans de petits sites du centre-ville, qui sont souvent caractérisés par leurs espaces de travail étroits.
La largeur de travail standard de la table est de 0,80 m et peut être agrandie jusqu'à 1,35 m hydrauliquement. La largeur minimale de pose peut être réduite à 0,25 m ou la largeur peut être augmentée jusqu'à 1,80 m maximum à l'aide d'extensions boulonnées.
Des dimensions de transport compactes de 2 670 x 870 x 1 585 mm et des poids faibles entre 1 000 et 1 500 kg (selon le modèle) permettent un transport aisé. Un rayon de braquage étroit rend les finisseurs à quatre roues ou à chenilles extrêmement agiles.
Les nouveaux finisseurs mini Vögele sont disponibles en tant que finisseurs sur roues ou sur chenilles avec des systèmes d'entraînement à moteur électrique ou diesel.
Les appels d'offres définissent de plus en plus des exigences d'émission plus strictes pour les projets de construction. Les systèmes d'entraînement électriques à batterie utilisés dans la MINI 500e et la MINI 502e les rendent idéales pour l'asphaltage local sans émissions. Les mini-finisseurs électriques de Vögele, tous deux marqués du suffixe « e », offrent un système de production durable lorsqu'ils sont utilisés avec les rouleaux tandem également électriques à batterie de Hamm CompactLine.
Lancement commercial en Europe
Le lancement sur le marché européen des modèles à moteur diesel est prévu pour le premier semestre 2023 et le lancement des machines E-Power suivra par la suite. La distribution européenne sera assurée par les réseaux de vente et de service du Wirtgen Group.
En collaboration avec C. M. S.r.l.
La nouvelle série Vögele MINI a été développée et sera fabriquée pour Vögele par C. M. S.r.l., une entreprise italienne avec plus de 40 ans d'expérience dans la fabrication d'équipements de construction routière. « Nous sommes impatients de coopérer avec le premier fabricant de finisseurs routiers. Travailler avec Vögele sera également un vote de confiance dans notre expertise », a déclaré Gaetano Castiglione, PDG de C. M. S.r.l.
Les mini-finisseurs élargiront la gamme de machines du Wirtgen Group
« Les nouveaux mini-finisseurs élargiront la gamme de produits de Vögele et les modèles électriques à batterie permettront au Wirtgen Group de soutenir les objectifs de développement durable de ses clients ainsi que ses ambitions d'étendre la disponibilité des modèles de produits électrifiés d'ici 2026. La coopération avec C. M. S.r.l. être un grand pas en avant sur la voie de la durabilité », a déclaré Domenic Ruccolo, CSO du Wirtgen Group et vice-président directeur, Ventes, marketing et assistance produit, Global Construction Equipment, John Deere.
NJC.© Info WIRTGEN GROUP Vögele
------------------------------------------------------------------------------------------------------------------
13/10/22-English
Vögele is introducing new mini road pavers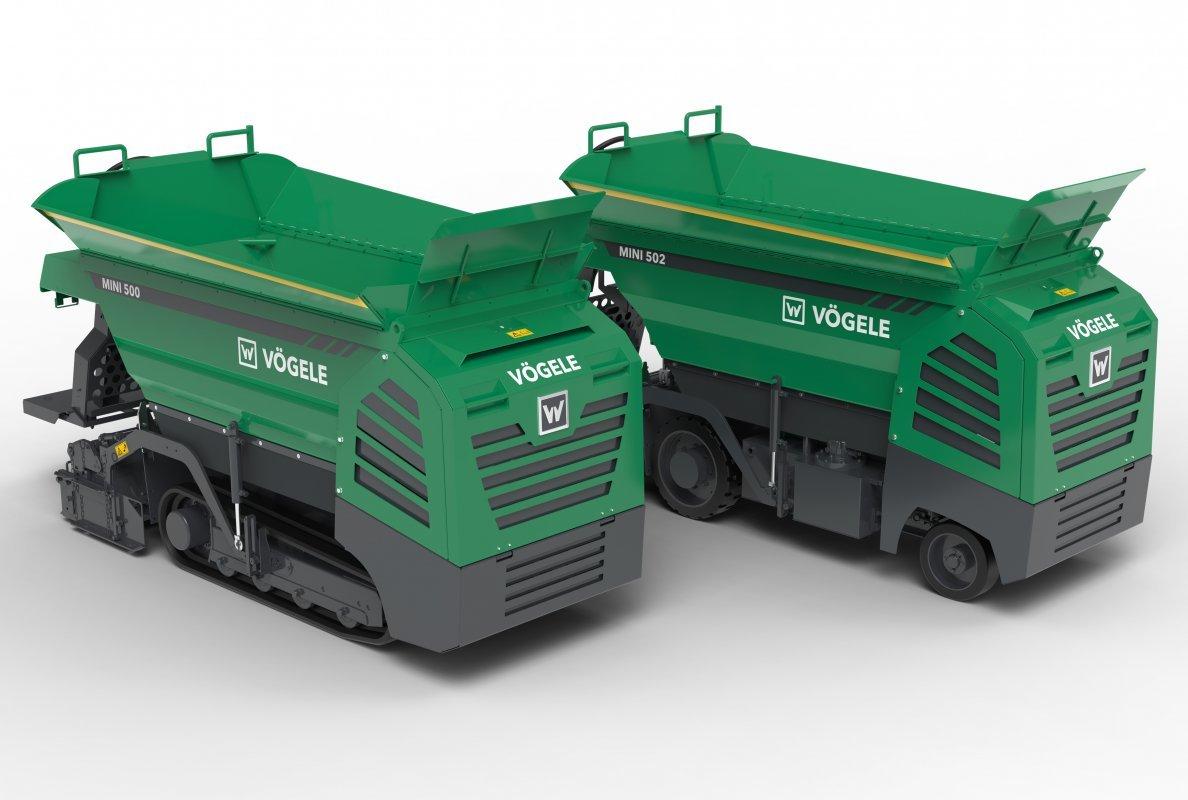 The new Vögele mini road pavers are available as wheeled or tracked pavers with electric or diesel engine drive systems. IMAGE SOURCE: WIRTGEN GROUP
Two battery-electric models will also be available
Vögele will be presenting four new mini road pavers at Bauma 2022 that are able to pave widths ranging from 0.25 to 1.80 m. Both the wheeled paver and the tracked paver will be available with optional diesel or battery-electric drive systems. The new machines round off the lower end of Vögele's wide range of asphalt paving products.
"The demand for flexible and sustainable solutions at small construction sites is high and our view is that it will continue to increase. Our new mini pavers will enable customers to complete small paving jobs quickly, cost-effectively, sustainably and therefore profitably", explained Marcio Cavalcanti Happle, Head of Sales, Local Marketing and Product/Customer Support at Vögele.
Wide range of applications
Their compact dimensions and variable paving widths make the MINI 500 (diesel) and MINI 500e (battery-electric) tracked pavers as well as the MINI 502 (diesel) and MINI 502e (battery-electric) wheeled pavers ideally suitable for use in small-scale construction projects that include constructing cycle and pedestrian paths, paving between railroad tracks as well as repair work in small inner-city sites, which are often characterised by their narrow working spaces.
The standard screed working width is 0.80 m and it can be enlarged up to 1.35 m hydraulically. The minimum paving width can be reduced down to 0.25 m, or the width can be built up to a maximum of 1.80 m using bolt-on extensions.
Compact transport dimensions of 2,670 x 870 x 1,585 mm and low weights of between 1,000 and 1,500 kg (depending on the model) allow for easy transport. A narrow turning radius makes the four wheeled or tracked pavers extremely agile.
The new Vögele mini road pavers are available as wheeled or tracked pavers with electric or diesel engine drive systems.
Tenders are increasingly defining stricter emission requirements for construction projects. The battery-electrical drive systems used in the MINI 500e and the MINI 502e make them ideal for local emission-free asphalt paving. The Vögele electric mini pavers, both marked with the suffix "e", provide a sustainable production system when used in conjunction with the likewise battery-electrical tandem rollers from the Hamm CompactLine.
Sales launch in Europe
The European market launch of the diesel-powered models is planned for the first half of 2023 and the launch of the E-Power machines will follow afterwards. European distribution will be handled by the Wirtgen Group's sales and service networks.
Cooperating with C. M. S.r.l.
The new Vögele MINI series has been developed and will be manufactured for Vögele by C. M. S.r.l., an Italian company with more than 40 years' manufacturing experience with roadbuilding equipment. "We are very much looking forward to cooperating with the leading road paver manufacturer. Working with Vögele will also be a vote of confidence in our expertise", said Gaetano Castiglione, CEO of C. M. S.r.l.
Mini-pavers will expand the Wirtgen Group's range of machines
"The new mini-pavers will expand Vögele's product range and the battery-electric models will enable the Wirtgen Group to support the sustainability targets of its customers as well as its ambitions to expand the availability of electrified product models by 2026. Cooperating with C. M. S.r.l will be a huge leap along the sustainability path", said Domenic Ruccolo, CSO of the Wirtgen Group und Senior Vice President, Sales, Marketing, and Product Support, Global Construction Equipment, John Deere.
NJC.© Info WIRTGEN GROUP Vögele
-------------------------------------------------------------------------------------------------------------------
13/10/22-NL
Vögele introduceert nieuwe mini straatstenen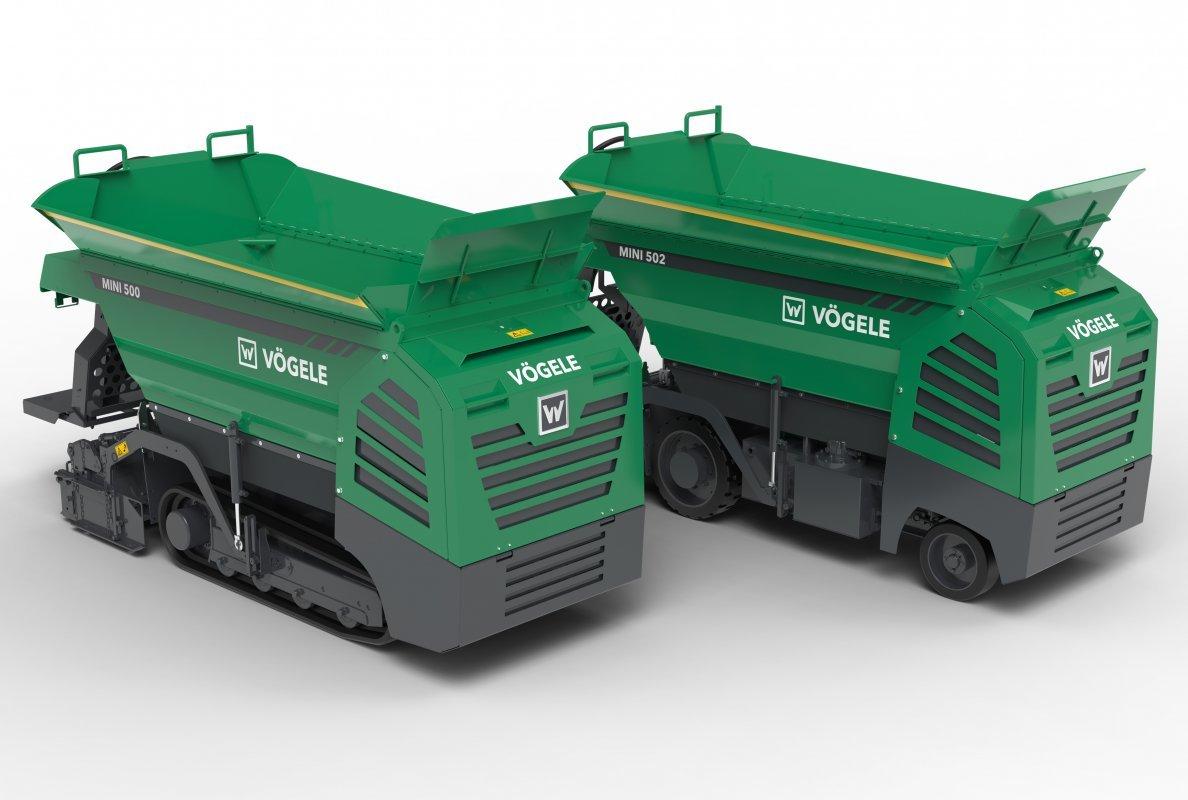 The new Vögele mini road pavers are available as wheeled or tracked pavers with electric or diesel engine drive systems. IMAGE SOURCE: WIRTGEN GROUP
Er zullen ook twee batterij-elektrische modellen beschikbaar zijn
Vögele presenteert op Bauma 2022 vier nieuwe mini-wegmachines die in staat zijn om te asfalteren met een breedte van 0,25 tot 1,80 m. Zowel de asfalteermachine op wielen als de asfalteermachine met rupsbanden zijn verkrijgbaar met optionele diesel- of batterij-elektrische aandrijfsystemen. De nieuwe machines ronden de onderkant van Vögele's brede assortiment asfaltverhardingsproducten af.
"De vraag naar flexibele en duurzame oplossingen op kleine bouwplaatsen is groot en zal volgens ons alleen maar toenemen. Met onze nieuwe mini-straatstenen kunnen klanten kleine bestratingswerkzaamheden snel, kosteneffectief, duurzaam en dus winstgevend uitvoeren", aldus Marcio Cavalcanti Happle, Head of Sales, Local Marketing en Product/Customer Support bij Vögele.
Breed scala aan toepassingen
Door hun compacte afmetingen en variabele wegdekbreedtes zijn de rupsbanden MINI 500 (diesel) en MINI 500e (batterij-elektrisch), evenals de asfalteermachines MINI 502 (diesel) en MINI 502e (batterij-elektrisch) ideaal geschikt voor gebruik in kleine grootschalige bouwprojecten, waaronder de aanleg van fiets- en voetpaden, bestrating tussen spoorlijnen en reparatiewerkzaamheden op kleine binnenstedelijke locaties, die vaak worden gekenmerkt door hun smalle werkruimtes.
De standaard werkbreedte van de afwerkbalk is 0,80 m en kan hydraulisch worden vergroot tot 1,35 m. De minimale verhardingsbreedte kan worden teruggebracht tot 0,25 m, of de breedte kan worden opgebouwd tot maximaal 1,80 m met behulp van aanboutbare verlengingen.
Compacte transportafmetingen van 2.670 x 870 x 1.585 mm en lage gewichten tussen 1.000 en 1.500 kg (afhankelijk van het model) zorgen voor eenvoudig transport. Een kleine draaicirkel maakt de asfalteermachines met vier wielen of rupsbanden uiterst wendbaar.
De nieuwe Vögele mini-straatmachines zijn verkrijgbaar als asfalteermachines op wielen of rupsbanden met elektrische of dieselmotoraandrijving.
In aanbestedingen worden steeds strengere emissie-eisen gesteld aan bouwprojecten. De batterij-elektrische aandrijfsystemen die in de MINI 500e en de MINI 502e worden gebruikt, maken ze ideaal voor lokale emissievrije asfaltverharding. De elektrische mini-klinkers van Vögele, beide gemarkeerd met het achtervoegsel "e", zorgen in combinatie met de eveneens batterij-elektrische tandemwalsen van de Hamm CompactLine voor een duurzaam productiesysteem.
Verkooplancering in Europa
De Europese marktintroductie van de dieselaangedreven modellen staat gepland voor de eerste helft van 2023 en daarna volgt de lancering van de E-Power-machines. De Europese distributie zal worden verzorgd door de verkoop- en servicenetwerken van de Wirtgen Group.
Samenwerken met C.M. S.r.l.
De nieuwe Vögele MINI-serie is ontwikkeld en zal voor Vögele worden geproduceerd door C. M. S.r.l., een Italiaans bedrijf met meer dan 40 jaar productie-ervaring met wegenbouwapparatuur. "We kijken er erg naar uit om samen te werken met de toonaangevende fabrikant van wegenbouwmachines. De samenwerking met Vögele is ook een blijk van vertrouwen in onze expertise", aldus Gaetano Castiglione, CEO van C.M. S.r.l.
Mini-straatstenen zullen het assortiment machines van de Wirtgen Group uitbreiden
"De nieuwe mini-straatstenen zullen het productassortiment van Vögele uitbreiden en de batterij-elektrische modellen zullen de Wirtgen Group in staat stellen de duurzaamheidsdoelstellingen van haar klanten te ondersteunen, evenals haar ambities om de beschikbaarheid van geëlektrificeerde productmodellen uit te breiden tegen 2026. De samenwerking met C.M. S.r.l. zal een enorme sprong voorwaarts zijn op het pad van duurzaamheid", zegt Domenic Ruccolo, CSO van de Wirtgen Group en Senior Vice President, Sales, Marketing en Product Support, Global Construction Equipment, John Deere.
NJC.© Info WIRTGEN GROUP Vögele
------------------------------------------------------------------------------------------------------------------