Belgium-ABHR erects first-ever Raimondi T187 flat-top tower crane in Europe

31/05/23-FR-English-NL-footer
Belgique-ABHR érige la toute première grue à tour plate Raimondi T187 en Europe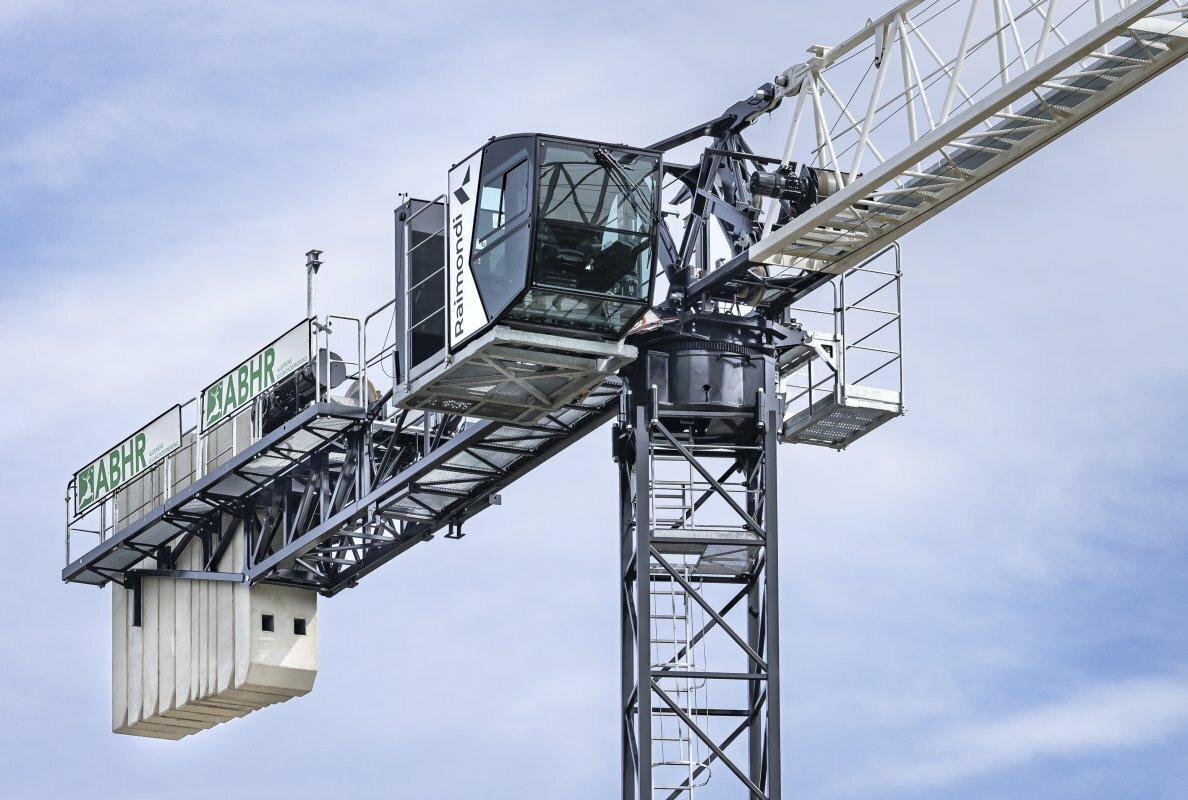 ABHR erects first-ever Raimondi T187 flat-top in Europe IMAGE SOURCE: Raimondi Cranes SpA
Raimondi T187 a été choisi pour ses caractéristiques de pointe en termes de capacités de levage et de vitesse.
Le T187 est au travail en Belgique équipé de la cabine de grue Raimondi Lumina
La machine est équipée du nouveau système de contrôle ConCore.
ABHR, une entreprise de construction belge avec plus d'un demi-siècle d'expérience dans l'industrie, a installé la toute première grue à tour plate Raimondi T187 dans une commune du nord-est d'Anvers, en Belgique.
Faisant partie de la nouvelle série Class 110, la grue a été installée avec le soutien d'un technicien de terrain Raimondi et de quatre spécialistes de la mise en service du groupe Uperio. Achetée à Bauma 2022 à Munich, en Allemagne, la grue participe à la construction de 19 unités résidentielles et restera sur place pendant environ 18 mois supplémentaires.
Le processus d'installation technique comprenait la première étape de préparation de la flèche et de la contre-flèche au niveau du sol, ainsi que le montage de la tour et de la cabine, suivi de l'utilisation d'une grue mobile de 200 tonnes.
« Nous sommes ravis d'être la première entreprise de construction européenne à disposer d'une machine de la nouvelle série Raimondi. Les excellentes spécifications de la grue en termes de capacités de levage et de vitesse, ainsi que les composants optimisés en poids, qui facilitent les procédures d'installation, ont été les caractéristiques que nous avons le plus prises en compte lors du choix de ce modèle », a déclaré Max Van Gompel, directeur général, ABHR. .
La Raimondi T187, comme toute la série de grues de classe 110, bénéficie d'améliorations significatives tant au niveau technique qu'au niveau opérationnel grâce à son nouveau système de contrôle - ConCore.
Les nombreux avantages de ConCore incluent des diagnostics d'erreur améliorés, ainsi que les avantages de la modularité des pièces mécaniques et de menuiserie et l'interchangeabilité des pièces d'éléments de flèche. Doté des meilleures spécifications de sa catégorie, le T187 peut soulever à une vitesse maximale de 115 mètres dans la version treuil de 37 kW et une capacité de tambour de 620 m.
Disponible avec une capacité de levage maximale de 8 tn ou 10 tn, chutes II/IV ou chutes II permanentes, le Raimondi T187 répond à une variété de besoins des clients et d'exigences de chantier. Le premier flat-top de la classe 110 fonctionnant sur site célèbre la mise en œuvre extensive de la nouvelle approche de développement et de conception de Raimondi pour son système de fabrication de grues à tour.
La machine, au travail avec un rayon maximum de la grue de 67,5 m, une hauteur sous crochet (HUH) de 35 m et une charge de pointe de 1,61 t, est équipée de la cabine de la grue Raimondi Lumina. La nouvelle cabine est l'une des plus grandes du marché avec une hauteur de 2,14 mètres et une longueur de 2,28 mètres, et est louée pour son confort car elle comprend des fonctionnalités d'expérience utilisateur telles qu'un réfrigérateur et un système audio Bluetooth, entre autres.
Le Raimondi Lumina est équipé d'un impressionnant écran 10'' qui booste la lisibilité, la gestion et le stockage des données, et surtout facilite l'assistance à distance car il permet une intervention instantanée et efficace.
« En termes d'analyse de marché plus large, le Raimondi T187 est bien adapté aux exigences actuelles des développements de taille moyenne en Belgique. Il offre de bonnes capacités de levage et une bonne vitesse, tout en permettant des hauteurs autoportantes plus élevées grâce à des tours renforcées », a conclu Van Gompel.
NJC.© Info Raimondi Cranes SpA
------------------------------------------------------------------------------------------------------------------

31/05/23-English
Belgium-ABHR erects first-ever Raimondi T187 flat-top tower crane in Europe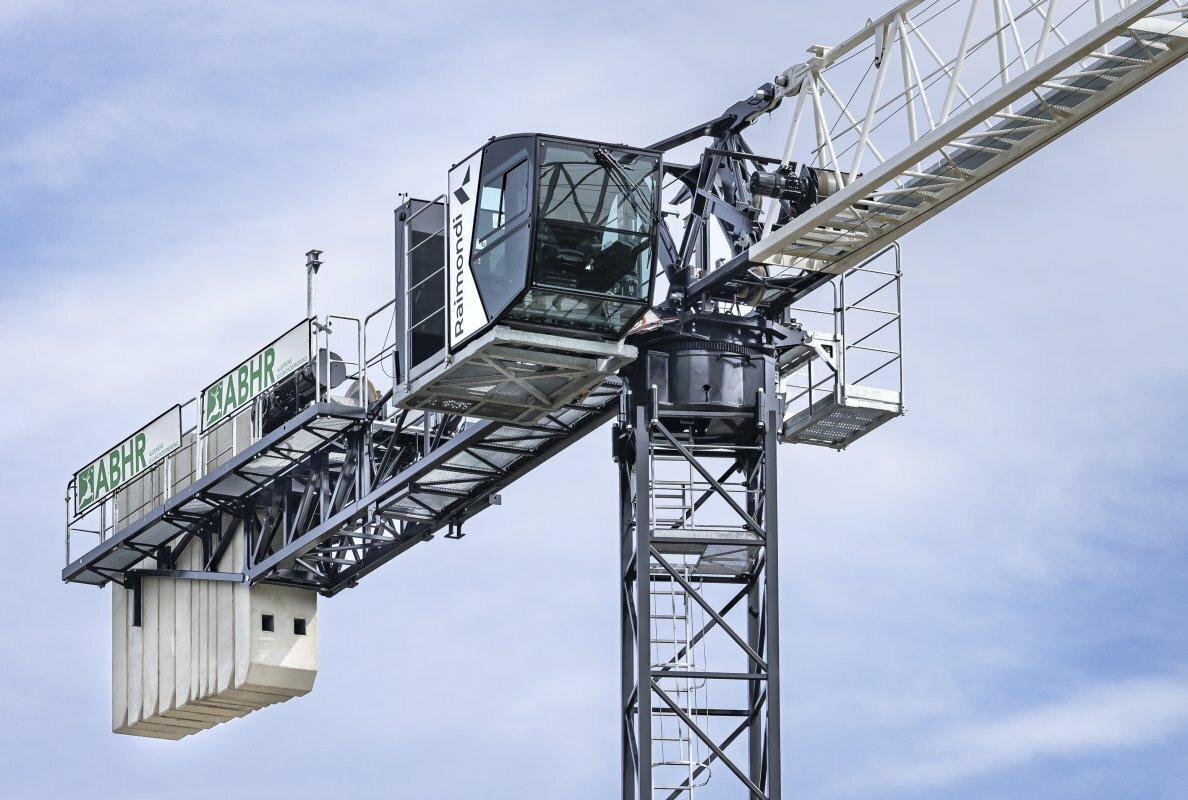 ABHR erects first-ever Raimondi T187 flat-top in Europe IMAGE SOURCE: Raimondi Cranes SpA
Raimondi T187 has been chosen for its best-in class specifications in terms of lifting capabilities and speed.
The T187 is at work in Belgium equipped with the Raimondi Lumina crane cab
The machine is equipped with the new control system ConCore.
ABHR, a Belgian construction company with more than half a century of experience in the industry, installed the first-ever Raimondi T187 flat-top tower crane in a northern eastern municipality of Antwerp, Belgium.
Part of the newly launched Class 110 series, the crane was installed with the support of a Raimondi field technician and four commissioning specialists from Uperio Group. Purchased at Bauma 2022 in Munich, Germany, the crane is participating in the build of 19 residential units and will remain onsite for approximately 18 more months.
The technical installation process included the first stage of the jib and counterjib preparation at ground level, as well as the tower and cabin erection followed by the usage of a 200-tonne mobile crane.
"We are thrilled to be the first European construction company to have a machine from the new Raimondi series. The excellent specifications of the crane in terms of lifting capabilities and speed, as well as the weight-optimized components, which facilitate the installation procedures, were the features we most considered in choosing this model," said Max Van Gompel, Director General, ABHR.
The Raimondi T187, as with the entire Class 110 crane series, boasts significant improvements on both the technical and operational level thanks to its new control system – ConCore.
ConCore's many benefits include improved error diagnostics, alongside the plusses of mechanical and carpentry part modularity, and interchangeability of jib element parts. Having the best-in-class specifications, the T187 can lift at a maximum speed of 115 meters in the 37kW winch version, and the drum capacity of 620m.
Available with a maximum lifting capacity of 8tn or 10tn, II/IV falls or permanent II falls, the Raimondi T187 satisfies a variety of client needs and jobsite requirements. The first flat-top of Class 110 operating onsite celebrates the extensive implementation of Raimondi's new development and design approach to its tower crane manufacturing system.
The machine, at work with the crane maximum radius of 67.5m, a height under the hook (HUH) of 35m and a tip load of 1.61t, is fitted with the Raimondi Lumina crane cab. The new cabin is one of the largest in the marketplace at a height of 2.14 meters and a length of 2.28 meters, and is lauded for its comfort as it includes user experience features such as a refrigerator and a Bluetooth audio system, amongst others.
The Raimondi Lumina is equipped with an impressive 10'' monitor that boots legibility, data management and storage, and most importantly facilitates remote assistance as it allows instant and effective intervention.
"In terms of a broader market analysis, the Raimondi T187 is well-suited to the current requirements for medium-size developments in Belgium. It offers good lifting capacities and speed, while allowing for higher freestanding heights thanks to reinforced towers," Van Gompel concluded.
NJC.© Info Raimondi Cranes SpA
-----------------------------------------------------------------------------------------------------------------

31/05/23-NL
België-ABHR bouwt de allereerste Raimondi T187 flat-top torenkraan in Europa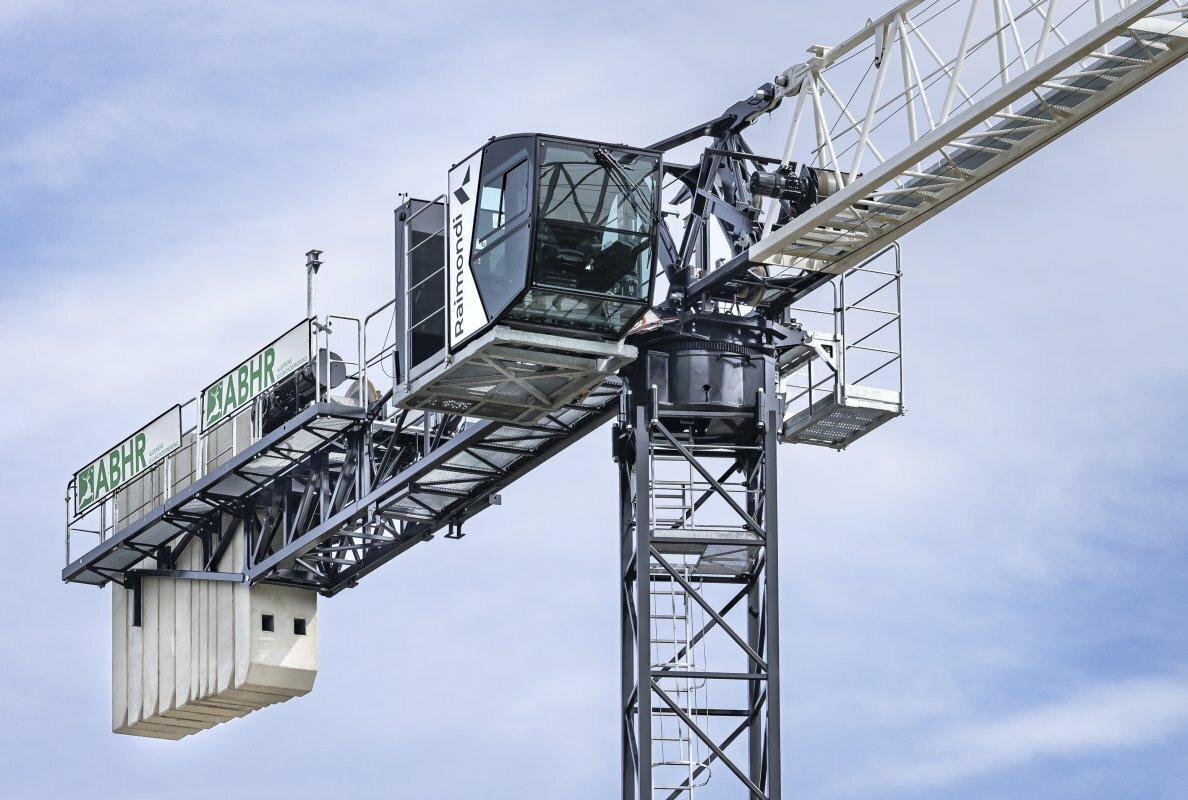 ABHR erects first-ever Raimondi T187 flat-top in Europe IMAGE SOURCE: Raimondi Cranes SpA
De Raimondi T187 is gekozen vanwege de beste specificaties in zijn klasse op het gebied van hefvermogen en snelheid.
De T187 is aan het werk in België uitgerust met de Raimondi Lumina kraancabine
De machine is voorzien van het nieuwe besturingssysteem ConCore.
ABHR, een Belgisch bouwbedrijf met meer dan een halve eeuw ervaring in de branche, installeerde de allereerste Raimondi T187 flat-top torenkraan in een noordoostelijke gemeente in Antwerpen, België.
De kraan maakt deel uit van de nieuw gelanceerde Class 110-serie en werd geïnstalleerd met de steun van een Raimondi-veldtechnicus en vier inbedrijfstellingsspecialisten van Uperio Group. De kraan, gekocht op Bauma 2022 in München, Duitsland, neemt deel aan de bouw van 19 wooneenheden en zal nog ongeveer 18 maanden ter plaatse blijven.
Het technische installatieproces omvatte de eerste fase van de giek- en contragiekvoorbereiding op grondniveau, evenals de montage van de toren en de cabine, gevolgd door het gebruik van een mobiele kraan van 200 ton.
"We zijn heel blij dat we het eerste Europese bouwbedrijf zijn dat een machine uit de nieuwe Raimondi-serie heeft. De uitstekende specificaties van de kraan op het gebied van hijsvermogen en snelheid, evenals de componenten met geoptimaliseerd gewicht, die de installatieprocedures vergemakkelijken, waren de kenmerken waar we het meest over nadachten bij de keuze voor dit model", aldus Max Van Gompel, directeur-generaal, ABHR .
De Raimondi T187 kan, net als de hele Class 110-kraanserie, bogen op aanzienlijke verbeteringen op zowel technisch als operationeel niveau dankzij het nieuwe besturingssysteem – ConCore.
De vele voordelen van ConCore omvatten een verbeterde foutdiagnose, naast de pluspunten van de modulariteit van mechanische en timmerwerkonderdelen, en de uitwisselbaarheid van onderdelen van giekelementen. Met de best-in-class specificaties kan de T187 heffen met een maximale snelheid van 115 meter in de 37kW lierversie, en de trommelcapaciteit van 620m.
Verkrijgbaar met een maximaal hefvermogen van 8 ton of 10 ton, II/IV-vallen of permanente II-vallen, de Raimondi T187 voldoet aan een verscheidenheid aan klantbehoeften en vereisten op de werkvloer. De eerste flat-top van Class 110 die ter plaatse werkt, viert de uitgebreide implementatie van Raimondi's nieuwe ontwikkelings- en ontwerpbenadering van zijn productiesysteem voor torenkranen.
De machine, aan het werk met een kraanradius van 67,5 m, een hoogte onder de haak (HUH) van 35 m en een kiplast van 1,61 ton, is uitgerust met de Raimondi Lumina kraancabine. De nieuwe cabine is een van de grootste op de markt met een hoogte van 2,14 meter en een lengte van 2,28 meter, en wordt geprezen om zijn comfort, aangezien hij functies voor gebruikerservaring bevat, zoals een koelkast en een Bluetooth-audiosysteem.
De Raimondi Lumina is uitgerust met een indrukwekkende 10-inch monitor die zorgt voor leesbaarheid, gegevensbeheer en -opslag, en vooral hulp op afstand mogelijk maakt, omdat het directe en effectieve interventie mogelijk maakt.
"In termen van een bredere marktanalyse is de Raimondi T187 zeer geschikt voor de huidige vereisten voor middelgrote ontwikkelingen in België. Het biedt goede hefcapaciteiten en snelheid, terwijl het grotere vrijstaande hoogtes mogelijk maakt dankzij versterkte torens", besluit Van Gompel.
NJC.© Info Raimondi Cranes SpA
-----------------------------------------------------------------------------------------------------------------