Belgium-Jan De Nul utilises new Hitachi ZX690LCH-7 in Belgium

07/02/23-FR-English-NL-footer
Belgique-Jan De Nul utilise la nouvelle Hitachi ZX690LCH-7 en Belgique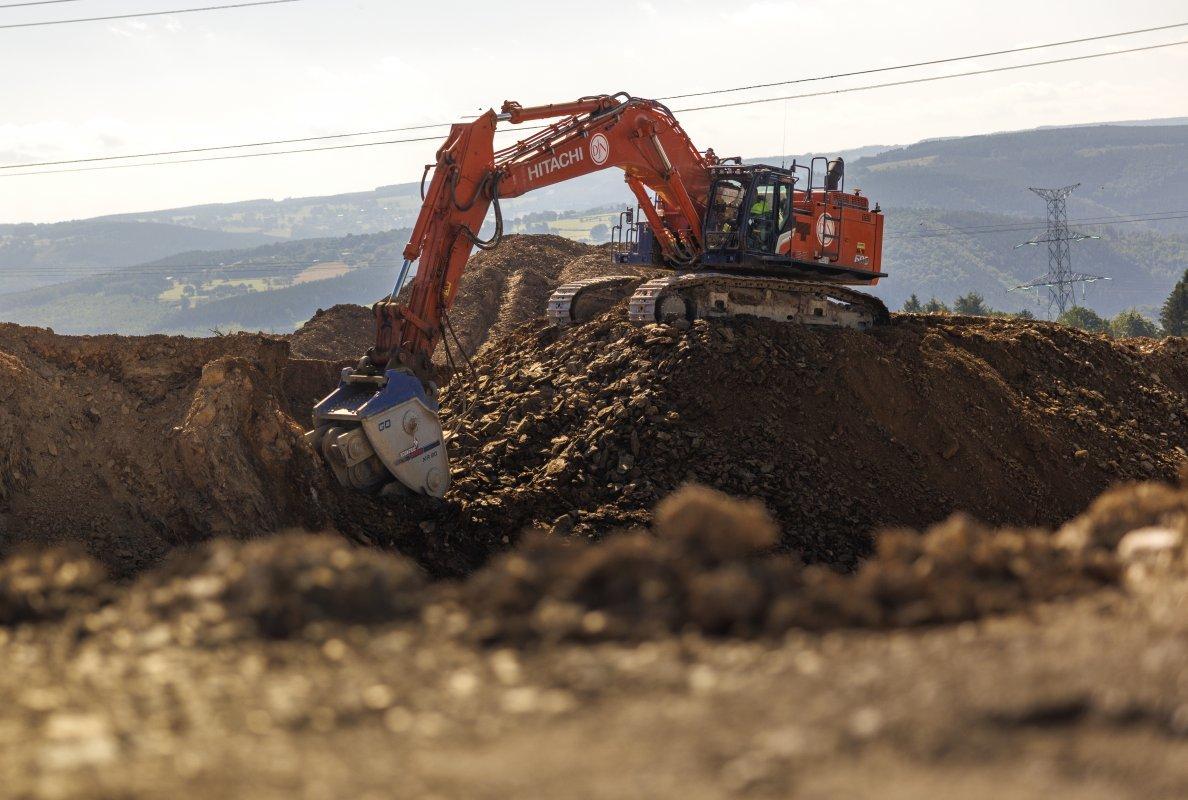 Jan De Nul utilises new Hitachi ZX690LCH-7 in Belgium IMAGE SOURCE: Hitachi Construction Machinery (Europe) NV
Jan De Nul Group utilise une nouvelle ZX690LCH-7 pour travailler avec d'autres machines Hitachi sur un projet de terrassement spécialisé dans un réservoir situé à Trois-Ponts, dans la province de Liège, en Belgique. Le nouveau modèle Zaxis-7 a rejoint trois autres grandes pelles (une EX1200-6, une ZX870LCR-5 et une ZX490LCH-6) et quatre pelles moyennes (trois ZX350LC-6 et une ZX225USLC-6).
Ils doivent creuser un million de mètres cubes de matériaux sur une période de neuf mois à l'extrémité inférieure du site. Ceux-ci sont remorqués sur une courte distance en amont, où ils sont utilisés pour : élever la hauteur du réservoir de 3 m ; stabiliser les digues environnantes en réduisant la pente de 66,67 % à 50 % ; et à terme augmenter la capacité du réservoir de 7,5 %.
Solide et fiable
En tant que responsable du site de Jan De Nul Group à Trois-Ponts, Bert Dierick avait une certaine liberté pour choisir les machines déployées sur le projet. « C'est un excellent travail pour Jan De Nul, car il est assez spécialisé et peu d'autres entreprises peuvent effectuer ce type de travail dans les délais stricts.
« Les engins de construction sont conservés indéfiniment dans le parc et certaines machines ont 10 à 12 000 heures avant d'être déplacées. Cependant, cela dépendra de plusieurs facteurs, tels que leur état, leur valeur de revente et s'ils sont nécessaires pour un travail spécifique. Par exemple, une ZX670LCH-3 de 14 000 heures a été récemment remplacée par la ZX690LCH-7, dont nous avions besoin avec un accessoire de ripper pour ce projet.
« Lorsque mes collègues envisagent d'acheter une nouvelle machine, je leur donne mon avis. Les pelles Hitachi sont la clé de la production sur ce site et elles fonctionnent bien. Ils sont solides, fiables et le niveau de disponibilité est très élevé.
La meilleure grande pelle
Kris De Backer, superviseur technique chez Jan De Nul Group, est le principal point de contact du concessionnaire Hitachi belge, Luyckx, un partenaire qu'il tient en haute estime : « Le plus grand avantage de gérer une flotte Hitachi est l'excellent service fourni par notre concessionnaire – grâce à Luyckx, nous achèterons toujours plus de machines Hitachi.
« S'il y a un problème avec l'une des grosses excavatrices, cela nous coûte de l'argent parce que les camions à benne - et tout le processus - s'arrêteront. Par conséquent, la fiabilité est la clé. De plus, nos opérateurs ne se plaignent jamais des machines Hitachi ni ne nous demandent d'acheter d'autres marques. En fait, ils disent qu'Hitachi fabrique la meilleure grande pelle sur le marché.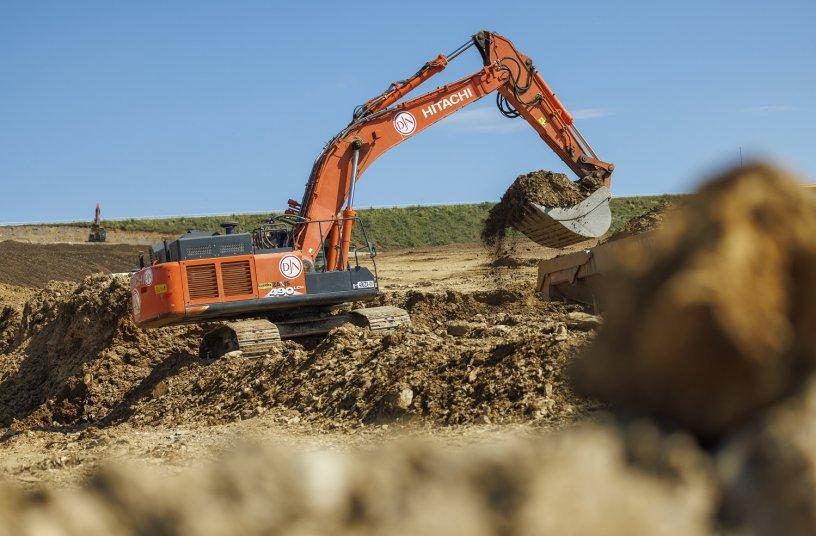 Jan De Nul utilises new Hitachi ZX690LCH-7 in Belgium IMAGE SOURCE: Hitachi Construction Machinery (Europe) NV
Andy Moreels, un opérateur de pelle de longue date avec 23 ans d'expérience au sein du groupe Jan De Nul, a l'expérience de l'utilisation de toutes les machines de la série Zaxis (de la gamme -1 à -7) et son modèle préféré est le ZX350LC-6 pour sa « polyvalence et son confort ».
À propos de la ZX690LCH-7, Andy déclare : « Dans l'ensemble, c'est une excellente machine. Le confort est bien meilleur que les versions précédentes, comme le siège et la façon dont il se déplace en harmonie avec la console. J'aime aussi les joysticks réglables, et le moniteur et la caméra ont été améliorés, comme la vue à vol d'oiseau avec tout ce qui est maintenant visible à l'écran.
« La puissance d'excavation et la résistance de la machine sont excellentes. Je peux charger des camions assez rapidement et la réponse est bonne grâce à l'hydraulique. Il est également facile à manœuvrer, même avec le lourd accessoire de ripper que j'utilise maintenant. Il y a encore moins de bruit dans la cabine, en raison de la distance avec le compartiment moteur derrière moi.
Énergie hydroélectrique
Il n'est pas possible de travailler sur le site à partir de novembre - car il se trouve à 500 m au-dessus du niveau de la mer - et donc même si le terrassement sera terminé, les pelles moyennes ne pourront pas terminer les travaux d'aménagement paysager avant février 2023. Le projet est exécuté par la division civile de Jan De Nul Group pour le compte d'ENGIE, le leader du marché belge de l'électricité, du gaz naturel et des services énergétiques.
Les réservoirs supérieurs font partie de la centrale hydroélectrique de Coo-Trois-Ponts. Les turbines sont utilisées pour pomper l'eau vers les réservoirs supérieurs lorsqu'il y a un surplus d'énergie. Lorsque la demande d'électricité est élevée, l'énergie hydraulique des réservoirs supérieurs est utilisée pour alimenter les mêmes turbines. Les digues des réservoirs supérieurs ont été surélevées et élargies pour augmenter la capacité d'une part et, en s'élargissant, pour répondre aux normes sismiques les plus élevées d'autre part.
NJC.© Info Hitachi Construction Machinery (Europe) NV
---------------------------------------------------------------------------------------------------------------------

07/02/23-English
Belgium-Jan De Nul utilises new Hitachi ZX690LCH-7 in Belgium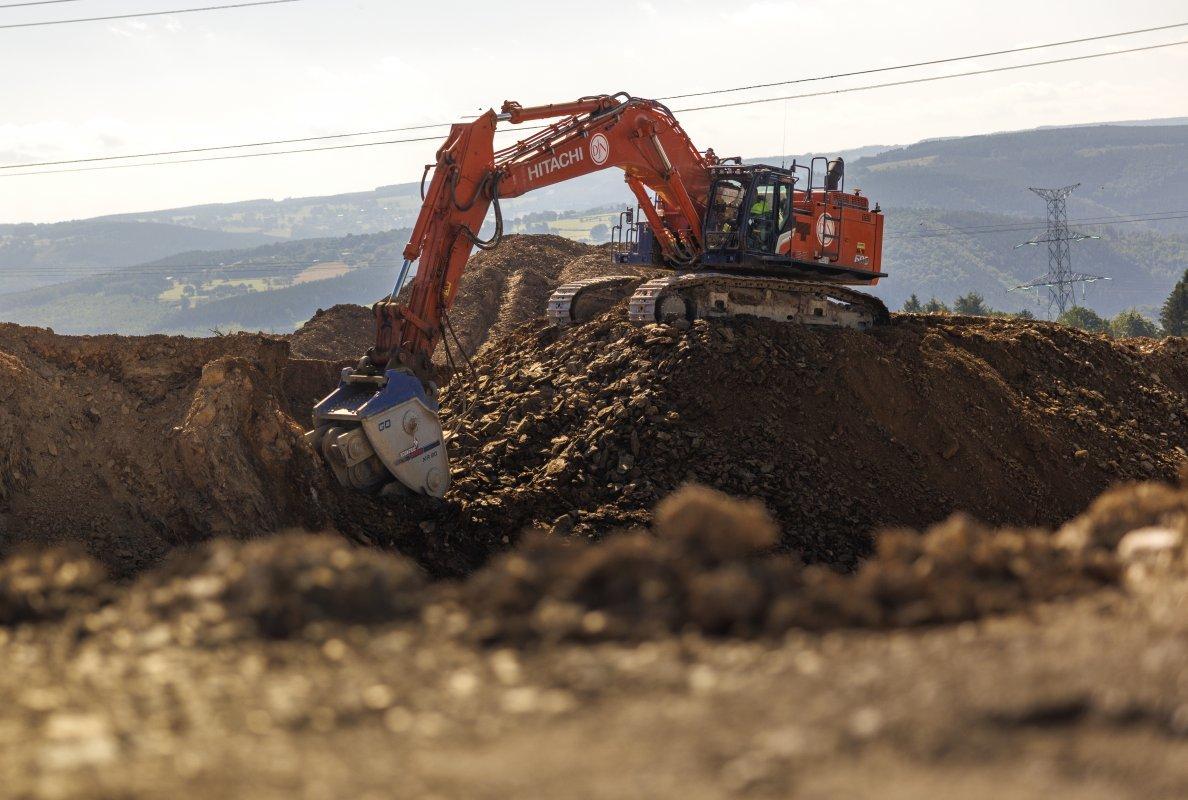 Jan De Nul utilises new Hitachi ZX690LCH-7 in Belgium IMAGE SOURCE: Hitachi Construction Machinery (Europe) NV
Jan De Nul Group is utilising a new ZX690LCH-7 to work alongside other Hitachi machines on a specialist earthmoving project at a reservoir situated at Trois-Ponts, in the province of Liège, Belgium. The new Zaxis-7 model has joined three other large (an EX1200-6, ZX870LCR-5 and ZX490LCH-6) and four medium (three ZX350LC-6s and a ZX225USLC-6) excavators.
They are scheduled to excavate one million cubic metres of materials over a nine-month period at the lower end of the site. These are being hauled a short distance uphill, where they are being used to: raise the height of the reservoir by 3m; stabilise the surrounding dikes by reducing the gradient from 66.67% to 50%; and ultimately increase the capacity of the reservoir by 7.5%.
Strong and reliable
As Jan De Nul Group's Site Manager at Trois-Ponts, Bert Dierick had some freedom to choose the machines deployed on the project. "This is a great job for Jan De Nul, as it is quite specialist and not many other companies can do this type of work within the strict timescale.
"The construction machinery is kept on the fleet indefinitely and some machines have 10-12,000 hours before they are moved on. However, this will depend on several factors, such as their condition, resale value and if they are needed for a specific job. As an example, a 14,000-hour ZX670LCH-3 was recently replaced by the ZX690LCH-7, which we needed with a ripper attachment for this project.
"When my colleagues consider a new machine for purchase, I give them my opinion. The Hitachi excavators are the key to the production on this site and they are working well. They are strong, reliable and the level of availability is very high."
The best large excavator
Kris De Backer, Technical Supervisor at Jan De Nul Group, is the main point of contact for the Belgian Hitachi dealer, Luyckx – a partner he holds in high regard: "The biggest benefit of running a Hitachi fleet is the excellent service provided by our dealer – thanks to Luyckx, we will always buy more Hitachi machines.
"If there's an issue with any of the large excavators, it costs us money because the dump trucks – and the whole process – will come to a stop. Therefore, reliability is the key. In addition, our operators never complain about the Hitachi machines or request that we should buy any other brands. In fact, they say that Hitachi makes the best large excavator in the market."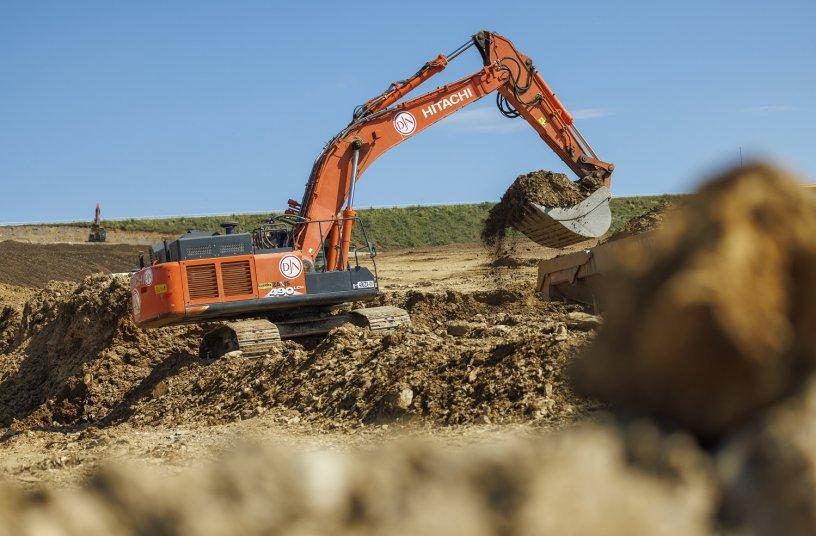 Jan De Nul utilises new Hitachi ZX690LCH-7 in Belgium IMAGE SOURCE: Hitachi Construction Machinery (Europe) NV
Andy Moreels, a long-standing excavator operator with 23 years' experience within Jan De Nul Group, has experience of operating all of the Zaxis series machines (from the -1 to -7 range) and his favourite model is the ZX350LC-6 for its "versatility and comfort".
Of the ZX690LCH-7, Andy says: "Overall, this is an excellent machine. The comfort is much better than previous versions, such as the seat and the way in which it moves as one with the console. I also like the adjustable joysticks, and the monitor and camera have been improved, such as the bird's-eye view with everything now visible on screen.
"The digging power and strength of the machine are excellent. I can load trucks relatively quickly and the response is good thanks to the hydraulics. It's also easy to manoeuvre, even with the heavy ripper attachment I'm using now. There is even less noise in the cab, due to the distance from the engine compartment behind me."
Hydroelectric power
It's not possible to work on the site from November onwards – as it's 500m above sea level – and so even though the earthmoving will be complete, the medium excavators will be unable to finish the landscaping work until February 2023. The project is being executed by the civil division of Jan De Nul Group on behalf of ENGIE, the Belgian market leader for electricity, natural gas and energy services.
The upper reservoirs are part of the Hydroelectric Power Station at Coo-Trois-Ponts. Turbines are used to pump water to the upper reservoirs when there is a power surplus. When power demand is high, hydro power from the upper reservoirs is used to power the same turbines. The dykes at the upper reservoirs were raised and widened to increase capacity on the one hand and, by widening, to meet the highest seismic standards on the other.
NJC.© Info Hitachi Construction Machinery (Europe) NV
-------------------------------------------------------------------------------------------------------------

07/03/23-NL
België-Jan De Nul gebruikt de nieuwe Hitachi ZX690LCH-7 in België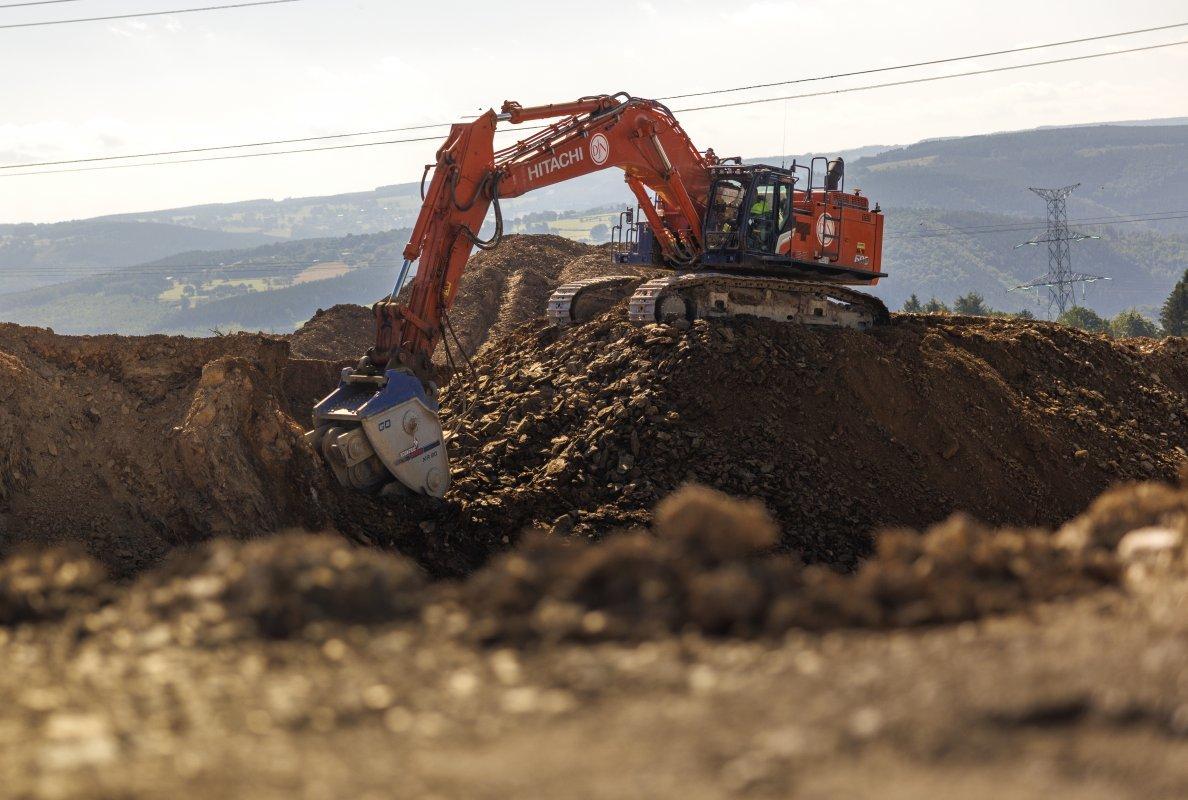 Jan De Nul utilises new Hitachi ZX690LCH-7 in Belgium IMAGE SOURCE: Hitachi Construction Machinery (Europe) NV
Jan De Nul Group gebruikt een nieuwe ZX690LCH-7 om samen met andere Hitachi-machines te werken aan een specialistisch grondverzetproject bij een stuwmeer in Trois-Ponts, in de provincie Luik, België. Het nieuwe Zaxis-7-model is toegevoegd aan drie andere grote (een EX1200-6, ZX870LCR-5 en ZX490LCH-6) en vier middelgrote (drie ZX350LC-6's en een ZX225USLC-6) graafmachines.
Ze zijn gepland om een miljoen kubieke meter materiaal uit te graven over een periode van negen maanden aan de onderkant van de site. Deze worden een klein stukje bergopwaarts gesleept, waar ze worden gebruikt om: de hoogte van het reservoir met 3 meter te verhogen; de omliggende dijken te stabiliseren door het hellingspercentage te verlagen van 66,67% naar 50%; en uiteindelijk de capaciteit van het reservoir met 7,5% verhogen.
Sterk en betrouwbaar
Als Site Manager van Jan De Nul Group bij Trois-Ponts had Bert Dierick enige vrijheid bij het kiezen van de machines die op het project werden ingezet. "Dit is een geweldige job voor Jan De Nul, want het is nogal specialistisch werk en niet veel andere bedrijven kunnen dit soort werk binnen de strikte tijdspanne uitvoeren.
"De bouwmachines worden voor onbepaalde tijd in het wagenpark gehouden en sommige machines hebben 10-12.000 uur nodig voordat ze worden verplaatst. Dit hangt echter af van verschillende factoren, zoals hun staat, inruilwaarde en of ze nodig zijn voor een specifieke klus. Zo is onlangs een ZX670LCH-3 met een gebruiksduur van 14.000 uur onlangs vervangen door de ZX690LCH-7, die we nodig hadden met een ripperhulpstuk voor dit project.
"Als mijn collega's overwegen een nieuwe machine aan te schaffen, geef ik ze mijn mening. De graafmachines van Hitachi zijn de sleutel tot de productie op deze locatie en ze werken goed. Ze zijn sterk, betrouwbaar en de beschikbaarheid is zeer hoog."
De beste grote graafmachine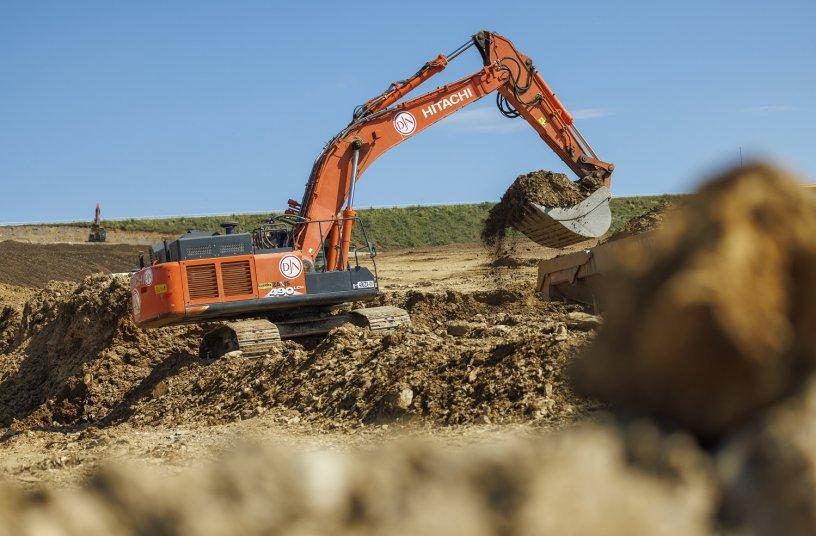 Jan De Nul utilises new Hitachi ZX690LCH-7 in Belgium IMAGE SOURCE: Hitachi Construction Machinery (Europe) NV
Kris De Backer, Technical Supervisor bij Jan De Nul Group, is het belangrijkste aanspreekpunt voor de Belgische Hitachi-dealer Luyckx, een partner die hij hoog in het vaandel heeft staan: "Het grootste voordeel van het runnen van een Hitachi-vloot is de uitstekende service van onze dealer – dankzij Luyckx zullen we altijd meer Hitachi-machines kopen.
"Als er een probleem is met een van de grote graafmachines, kost dat ons geld omdat de dumptrucks – en het hele proces – tot stilstand komen. Daarom is betrouwbaarheid de sleutel. Bovendien klagen onze machinisten nooit over de Hitachi-machines en vragen ze ons nooit andere merken te kopen. Ze zeggen zelfs dat Hitachi de beste grote graafmachine op de markt maakt."
Andy Moreels, een jarenlange machinist van graafmachines met 23 jaar ervaring binnen Jan De Nul Group, heeft ervaring met het bedienen van alle machines uit de Zaxis-serie (van de -1 tot -7 reeks) en zijn favoriete model is de ZX350LC-6 voor zijn "veelzijdigheid en comfort".
Over de ZX690LCH-7 zegt Andy: "Over het algemeen is dit een uitstekende machine. Het comfort is veel beter dan eerdere versies, zoals de stoel en de manier waarop deze als één geheel met de console beweegt. Ik hou ook van de verstelbare joysticks en de monitor en camera zijn verbeterd, zoals het vogelperspectief met alles nu zichtbaar op het scherm.
"De graafkracht en sterkte van de machine zijn uitstekend. Ik kan vrachtwagens relatief snel laden en de respons is goed dankzij de hydrauliek. Hij is ook gemakkelijk te manoeuvreren, zelfs met het zware ripperhulpstuk dat ik nu gebruik. Door de afstand tot de motorruimte achter mij is er nog minder geluid in de cabine."
Waterkracht
Het is niet mogelijk om vanaf november op het terrein te werken – aangezien het 500 meter boven de zeespiegel ligt – en dus hoewel het grondverzet voltooid zal zijn, zullen de middelgrote graafmachines het landschapswerk pas in februari 2023 kunnen voltooien. Het project wordt uitgevoerd door de civiele afdeling van Jan De Nul Group in opdracht van ENGIE, de Belgische marktleider voor elektriciteit, aardgas en energiediensten.
De bovenste reservoirs maken deel uit van de waterkrachtcentrale van Coo-Trois-Ponts. Turbines worden gebruikt om water naar de bovenste reservoirs te pompen wanneer er een stroomoverschot is. Wanneer de vraag naar energie groot is, wordt waterkracht uit de bovenste reservoirs gebruikt om dezelfde turbines aan te drijven. De dijken bij de bovenste spaarbekkens zijn verhoogd en verbreed om enerzijds de capaciteit te vergroten en anderzijds door de verbreding te voldoen aan de hoogste seismische normen.
NJC.© Info Hitachi Construction Machinery (Europe) NV
---------------------------------------------------------------------------------------------------------------
Date de dernière mise à jour : 07/02/2023