Bobcat Launches New MT100 Mini Track Loader
19/09/22-FR-English-NL-footer
Bobcat lance la nouvelle mini chargeuse sur chenilles MT100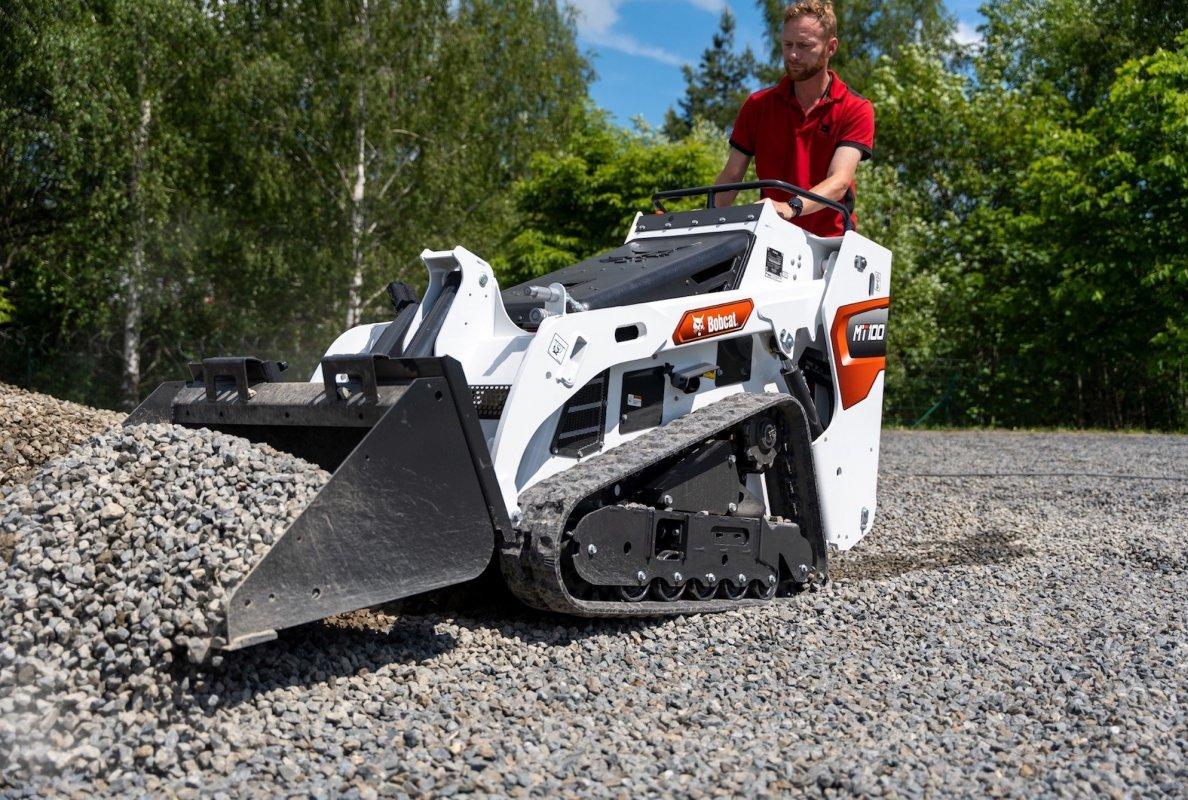 Bobcat Launches New MT100 Mini Track Loader IMAGE SOURCE: Doosan Bobcat EMEA
Bobcat a lancé la nouvelle mini chargeuse sur chenilles MT100, supprimant le besoin de main-d'œuvre manuelle et remplaçant l'utilisation de brouettes, de pelles et d'outils à main dans de nombreuses applications de la construction, de la démolition, de la location, de l'aménagement paysager, de l'agriculture et d'autres industries.
Avec une largeur standard de seulement 904 mm (augmentée à 1045 mm avec l'option de chenilles larges offrant une stabilité accrue et une pression au sol réduite), les dimensions réduites du nouveau MT100 facilitent le passage à travers les portails et les portes étroits et facilitent le travail dans les espaces confinés.
La plate-forme autoportée intégrée du MT100 offre à l'utilisateur une vue plus large sur les côtés de la machine ainsi que sur le tranchant du godet ou l'accessoire. Combinée au système de chenilles, la plate-forme autoportée du MT100 offre une conduite en douceur pour un confort et une confiance accrus de l'opérateur. Les commandes par joystick ISO du MT100 sont conçues de manière ergonomique et offrent une précision finement réglée, de sorte que le contrôle de la machine est sûr, facile et confortable.
John Chattaway, chef de produit chargeuses chez Bobcat, a commenté : « Avec la mini chargeuse sur chenilles MT100, les utilisateurs peuvent se déplacer et travailler dans les espaces les plus restreints là où les autres machines ne le peuvent pas. Le MT100 ne doit pas être sous-estimé - il fait un travail sérieux : du nettoyage sous les convoyeurs dans les carrières et les sites de déchets au creusement, au creusement de tranchées, au labourage et au déplacement de matériaux et plus encore sur les chantiers de construction et de démolition. Le MT100 offre également la polyvalence d'accessoires des plus grandes chargeuses compactes Bobcat.
Spécifications exceptionnelles pour répondre aux travaux les plus exigeants
Malgré sa taille compacte, la mini chargeuse sur chenilles MT100 offre toujours une capacité de fonctionnement nominale de 460 kg, une charge de basculement de 1314 kg, une force d'arrachement puissante et une hauteur de levage de 2057 mm.
Le système de contrepoids mobiles (CW) ajoute encore plus de capacité et permet à l'utilisateur d'adapter la capacité de levage ou l'engagement au sol en fonction de l'application. De série, les contrepoids sont placés dans le train de roulement avant pour assurer un contact au sol optimal. Les déplacer vers les montants arrière augmente la capacité de levage à 485 kg et la charge de basculement à 1387 kg en cas de besoin.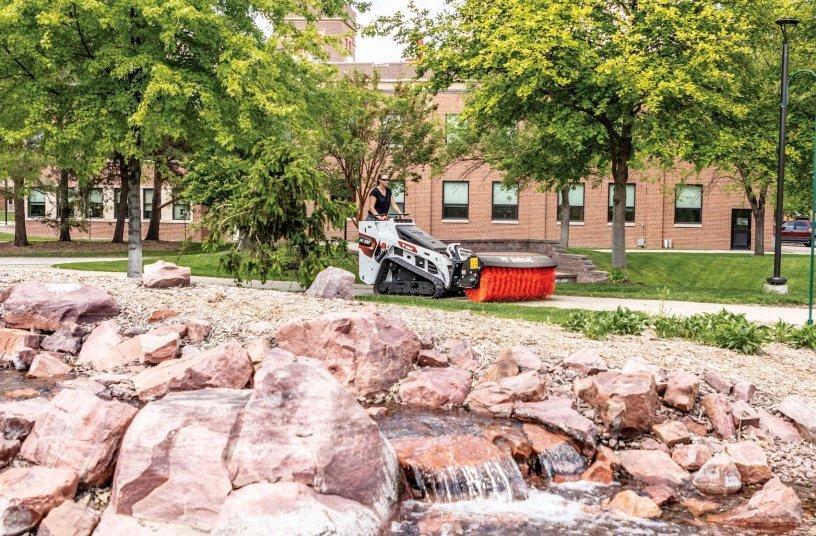 Bobcat Launches New MT100 Mini Track Loader IMAGE SOURCE: Doosan Bobcat EMEA
Le moteur Stage V de 25 CV du MT100 fonctionne efficacement pour entraîner l'équipement de travail. L'entraînement par chenilles et le puissant circuit hydraulique auxiliaire de 41 l/min garantissent que le MT100 peut être utilisé pour des travaux multifonctions, effectués à l'aide des nombreux accessoires disponibles.
En fait, qu'il s'agisse de construction, de démolition ou d'aménagement paysager, le MT100 partage bon nombre des mêmes accessoires trouvés sur les plus petits chargeurs de l'entreprise utilisant le même système d'attache Bob-Tach standard. Il existe également une interface industrielle commune disponible pour se connecter à d'autres équipements que les clients peuvent avoir dans leurs flottes.
Les chenilles aident à protéger les surfaces établies
Les chenilles du MT100 permettent de se déplacer sur des surfaces établies, sans se soucier des réparations et des coûts associés aux dommages de surface. Avec une pression au sol de 36 kPa (5,25 psi), les chenilles étroites standard de 180 mm offrent une bonne protection pour la plupart des surfaces gazonnées et finies. Les chenilles de 250 mm de large en option réduisent encore la pression au sol à 30 kPa (3,97 psi). Le MT100 dispose également d'une garde au sol inégalée de 205 mm, qui rend le travail au-dessus et autour des obstacles plus sûr et plus facile pour les tâches de démolition et d'aménagement paysager.
NJC.© Info BOBCAT
-------------------------------------------------------------------------------------------------------------------
19/09/22-English
Bobcat Launches New MT100 Mini Track Loader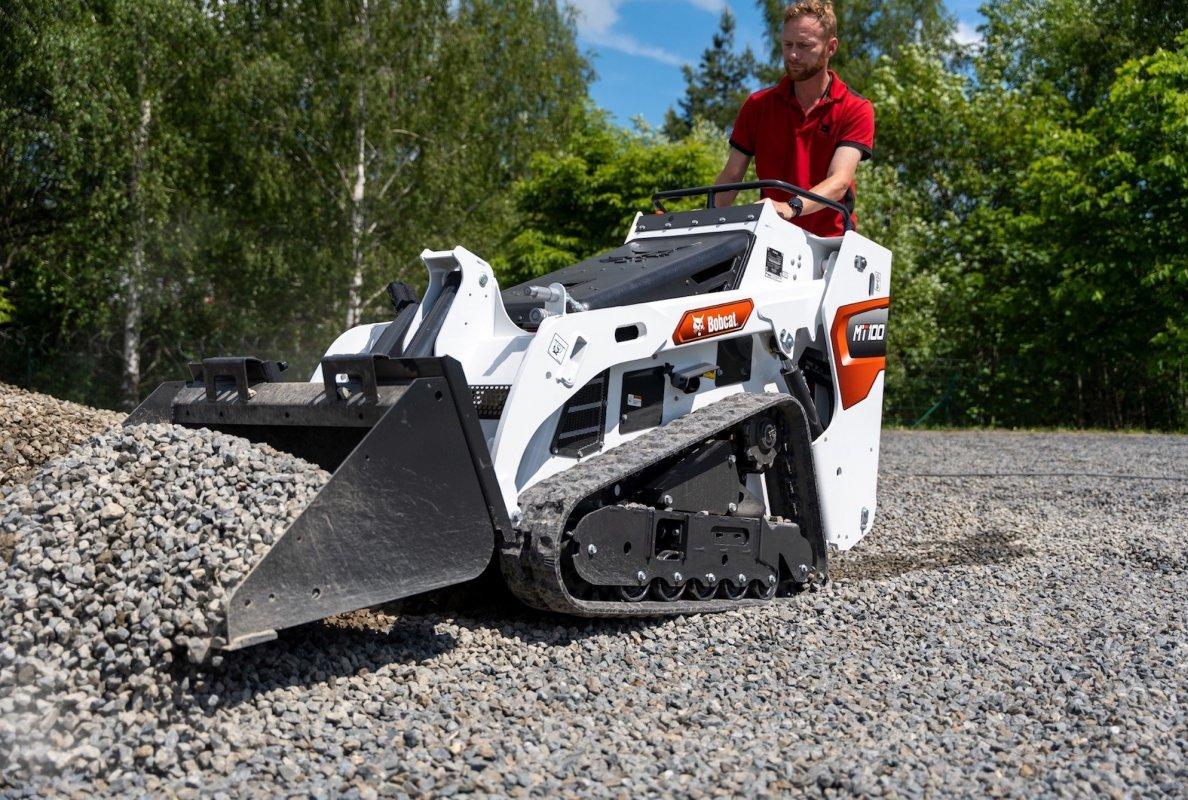 Bobcat Launches New MT100 Mini Track Loader IMAGE SOURCE: Doosan Bobcat EMEA
Bobcat has launched the new MT100 mini track loader, removing the need for manual labour, and replacing the use of wheelbarrows, shovels and hand tools in many applications in construction, demolition, rental, landscaping, agriculture and other industries.
With a standard width of just 904 mm (increasing to 1045 mm with the Wide Track Option providing increased stability and lower ground pressure), the reduced dimensions of the new MT100 provide easy passage through narrow gates and doorways and facilitate work in confined spaces.
The integrated ride-on platform of the MT100 gives the user a wider view to the sides of the machine as well as the bucket cutting edge or attachment. Combined with the track system, the ride-on platform on the MT100 provides a smooth ride for enhanced operator comfort and confidence. The ISO joystick controls on the MT100 are ergonomically designed and provide finely tuned precision – so controlling the machine is safe, easy and comfortable.
John Chattaway, Loaders Product Manager at Bobcat, commented: "With the MT100 mini track loader, users can travel and work in the tightest spaces where other machines cannot. The MT100 should not be underestimated - it does serious work: from cleaning up under conveyors at quarries and waste sites to digging, trenching, tilling and moving materials and more on construction and demolition sites. The MT100 also offers the attachment versatility of larger Bobcat compact loaders."
Outstanding Specifications to Meet the Most Demanding Jobs
Despite its compact size, the MT100 mini track loader still delivers a rated operating capacity of 460 kg, a tipping load of 1314 kg, a powerful breakout force and a lift height of 2057 mm.
The moveable counterweights (CWs) system adds even more capability and allows the user to tailor the lift capacity or ground engagement depending on the application. As standard, the counterweights sit in the front undercarriage to provide optimal ground engagement. Moving them to the rear uprights increases lift capacity to 485 kg and the tipping load to 1387 kg when needed.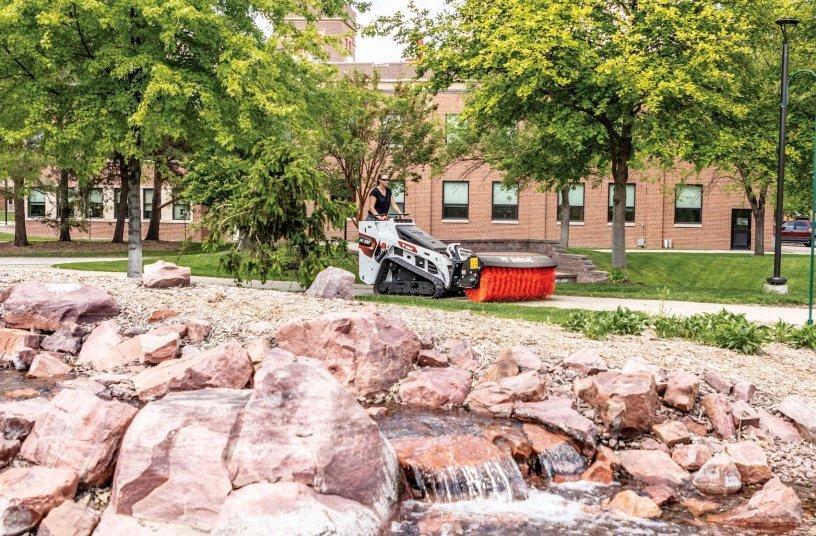 Bobcat Launches New MT100 Mini Track Loader IMAGE SOURCE: Doosan Bobcat EMEA
The Stage V, 25 HP engine on the MT100 works efficiently to drive the work equipment. The track drive and powerful 41 l/min auxiliary hydraulics ensure the MT100 can be used for multi-function work, carried out using the many different attachments available.
In fact, whether constructing, demolishing or landscaping, the MT100 shares many of the same attachments found on the company's smaller loaders using the same standard Bob-Tach attachment system. There is also a common industry interface available for hooking up to other equipment that customers may have in their fleets.
Tracks Help to Protect Established Surfaces
The tracks on the MT100 allow travel over established surfaces, with less worry about repairs and costs associated with surface damage. With a ground pressure of 36 kPa (5.25 psi), the standard 180 mm narrow tracks provide good protection for most turf and finished surfaces. The optional 250 mm wide tracks further reduce the ground pressure to 30 kPa (3.97 psi). The MT100 also has a class-leading ground clearance of 205 mm, that makes working over and around obstacles safer and easier for demolition and landscaping tasks.
NJC.© Info BOBCAT
----------------------------------------------------------------------------------------------------------------------
19/09/22-NL
Bobcat lanceert nieuwe MT100 mini-rupslader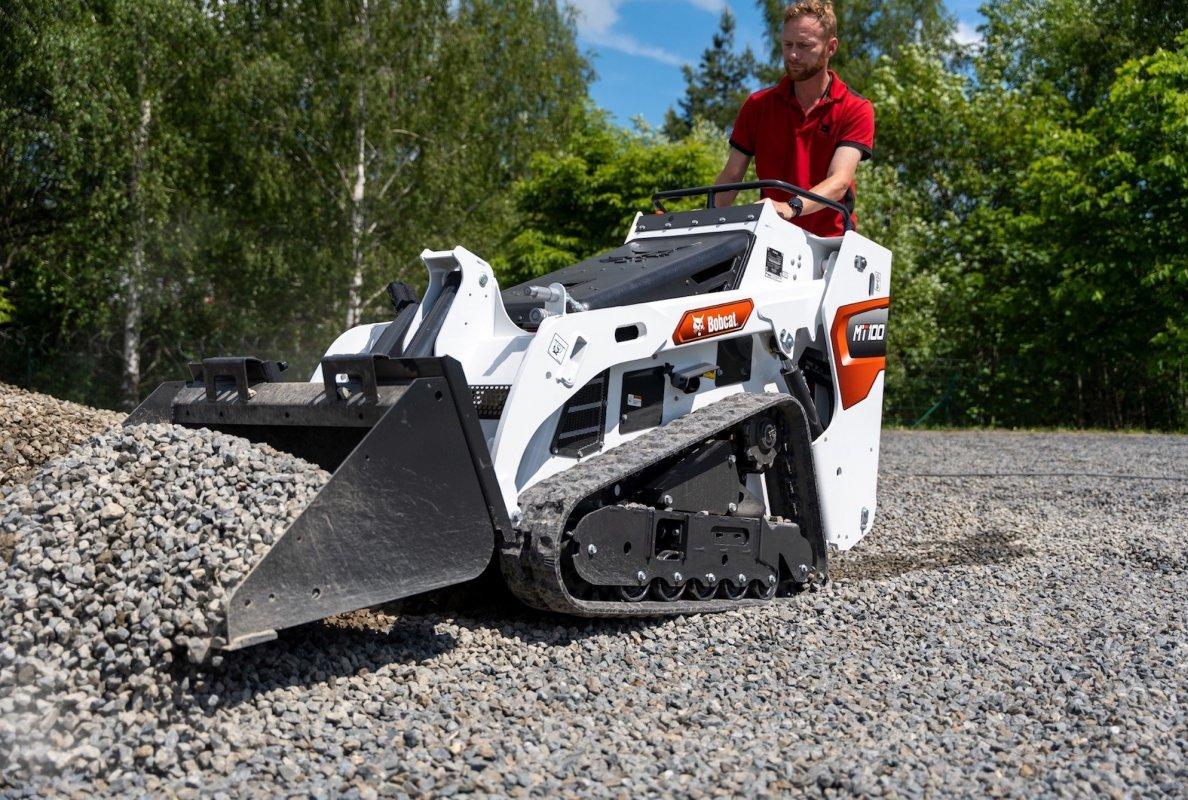 Bobcat Launches New MT100 Mini Track Loader IMAGE SOURCE: Doosan Bobcat EMEA
Bobcat heeft de nieuwe MT100 mini-rupslader gelanceerd, waardoor handmatige arbeid overbodig is en het gebruik van kruiwagens, schoppen en handgereedschap in veel toepassingen in de bouw, sloop, verhuur, landschapsarchitectuur, landbouw en andere industrieën is vervangen.
Met een standaardbreedte van slechts 904 mm (toenemend tot 1045 mm met de Wide Track-optie voor meer stabiliteit en lagere bodemdruk), bieden de kleinere afmetingen van de nieuwe MT100 een gemakkelijke doorgang door smalle poorten en deuropeningen en vergemakkelijken ze het werken in krappe ruimtes.
Het geïntegreerde zitplatform van de MT100 geeft de gebruiker een breder zicht op de zijkanten van de machine en op de baksnijkant of het hulpstuk. In combinatie met het rupsbandsysteem zorgt het zitplatform op de MT100 voor een soepele rit voor meer comfort en vertrouwen voor de machinist. De ISO-joystickbedieningen op de MT100 zijn ergonomisch ontworpen en bieden fijn afgestelde precisie - dus het bedienen van de machine is veilig, gemakkelijk en comfortabel.
John Chattaway, Loaders Product Manager bij Bobcat, merkte op: "Met de MT100 mini-rupslader kunnen gebruikers reizen en werken in de krapste ruimtes waar andere machines dat niet kunnen. De MT100 mag niet worden onderschat - hij doet serieus werk: van het opruimen onder transportbanden in steengroeven en afvallocaties tot graven, sleuven graven, grondbewerking en het verplaatsen van materialen en meer op bouw- en slooplocaties. De MT100 biedt ook de veelzijdigheid aan uitrustingsstukken van grotere Bobcat-compacte laders."
Uitstekende specificaties voor de meest veeleisende taken
Ondanks zijn compacte formaat levert de MT100 mini-rupslader nog steeds een nominaal werkvermogen van 460 kg, een kiplast van 1314 kg, een krachtige opbreekkracht en een hefhoogte van 2057 mm.
Het systeem met verplaatsbare contragewichten (CW's) voegt nog meer mogelijkheden toe en stelt de gebruiker in staat om het hefvermogen of de bodemaangrijping aan te passen aan de toepassing. De contragewichten zitten standaard in de voorste onderwagen voor een optimale bodemaangrijping. Door ze naar de achterste staanders te verplaatsen, wordt het hefvermogen verhoogd tot 485 kg en het kiepvermogen tot 1387 kg indien nodig.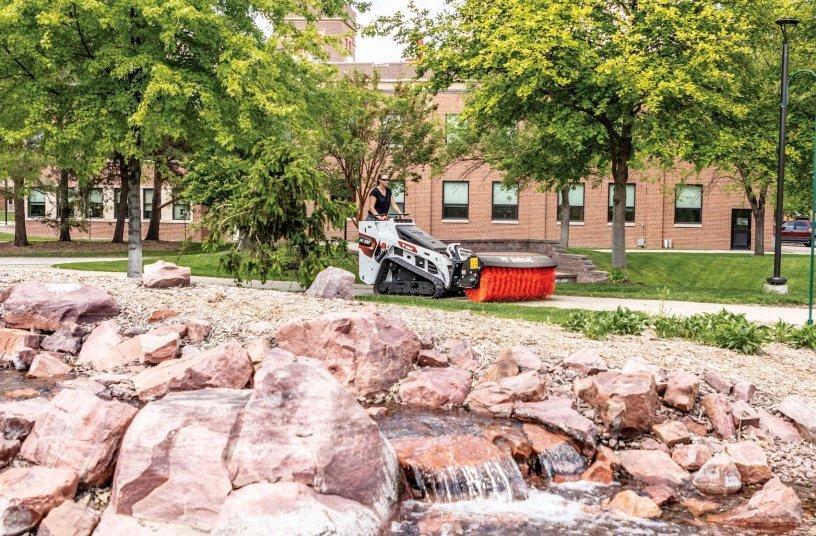 Bobcat Launches New MT100 Mini Track Loader IMAGE SOURCE: Doosan Bobcat EMEA
De Stage V, 25 pk motor op de MT100 werkt efficiënt om de werkapparatuur aan te drijven. De rupsaandrijving en krachtige 41 l/min extra hydrauliek zorgen ervoor dat de MT100 kan worden gebruikt voor multifunctioneel werk, uitgevoerd met behulp van de vele verschillende beschikbare uitrustingsstukken.
Of het nu gaat om bouwen, slopen of landschapsarchitectuur, de MT100 deelt veel van dezelfde aanbouwdelen als op de kleinere laders van het bedrijf met hetzelfde standaard Bob-Tach-aanbouwsysteem. Er is ook een gemeenschappelijke industrie-interface beschikbaar voor aansluiting op andere apparatuur die klanten mogelijk in hun wagenpark hebben.
Tracks helpen om gevestigde oppervlakken te beschermen
De rupsbanden op de MT100 maken reizen over gevestigde oppervlakken mogelijk, met minder zorgen over reparaties en kosten in verband met schade aan het oppervlak. Met een gronddruk van 36 kPa (5,25 psi) bieden de standaard smalle rupsen van 180 mm een ​​goede bescherming voor de meeste graszoden en afgewerkte oppervlakken. De optionele 250 mm brede rupsbanden verlagen de bodemdruk verder tot 30 kPa (3,97 psi). De MT100 heeft ook een toonaangevende bodemvrijheid van 205 mm, wat het werken over en rond obstakels veiliger en gemakkelijker maakt voor sloop- en landschapswerkzaamheden.
NJC.© Info BOBCAT
------------------------------------------------------------------------------------------------------------------