Bobcat's S86, T86 Loaders Set New Industry Benchmarks

06/01/23-FR-English-NL-footer
Les chargeuses S86 et T86 de Bobcat établissent de nouvelles références dans l'industrie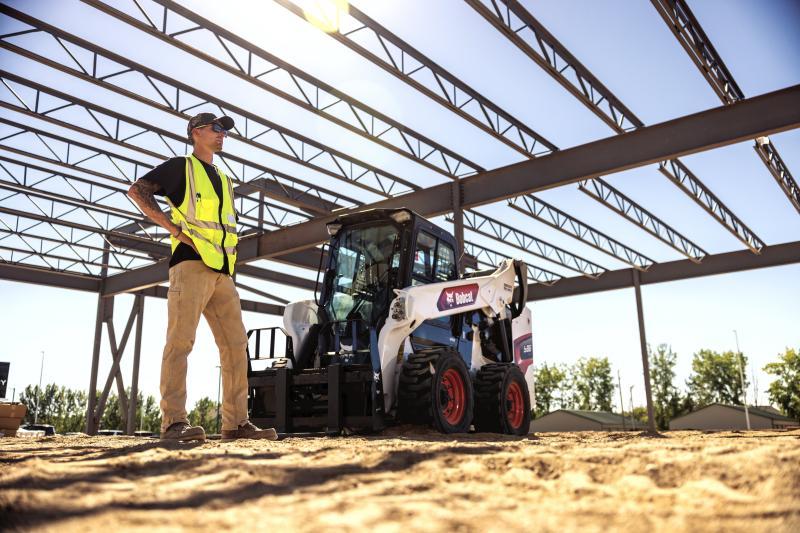 Bobcat Company's latest offerings to the construction and landscaping arena are the T86 compact track loader and S86 skid-steer loader, setting new standards for efficiency and versatility, along with added control and comfort for the operator. (Bobcat photo)
Des inventeurs qui ont introduit les chargeuses compactes dans l'industrie des équipements compacts, vient la gamme de chargeuses de la série R - les machines les plus confortables, les plus durables et les plus puissantes jamais fabriquées par l'entreprise. Les dernières offres de Bobcat Company dans le domaine de la construction et de l'aménagement paysager sont la chargeuse compacte sur chenilles T86 et la chargeuse compacte S86, établissant de nouvelles normes d'efficacité et de polyvalence, ainsi qu'un contrôle et un confort accrus pour l'opérateur. Les modèles récemment introduits sont les seules machines qui offrent trois options de débit hydraulique en une - standard, haut débit et super débit - pour répondre aux projets simples nécessitant une puissance hydraulique inférieure aux applications d'accessoires les plus exigeantes.
Le fabricant mondial basé à West Fargo, N.D. n'est pas novice dans l'établissement de références incroyables pour lui-même et pour l'industrie. Bobcat a reçu de nombreuses reconnaissances au fil des décennies, les plus récentes étant les CES Innovation Awards 2022 dans les catégories Vehicle Intelligence & Transportation et Smart Cities pour la chargeuse sur chenilles compacte tout électrique T7X en 2021 ; Landscape Business Twenty pour le prix du nouveau produit 2020 pour les chargeurs de la série R ; et l'International Forum Design Award 2019 pour la pelle compacte R-Series E85.
Le Dakota du Nord, où l'équipement a été inventé il y a plus de 60 ans, est l'endroit où se trouvent les bureaux régionaux de Bobcat, les installations mondiales de recherche et d'essai, les installations de production et d'ingénierie et l'espace dédié à l'innovation. D'autres sites nord-américains de formation et de fabrication se trouvent au Minnesota, au Colorado, en Caroline du Nord et au Wisconsin. À l'échelle internationale, la société possède des centres de distribution de pièces, des installations de recherche et développement, des bureaux de vente, des centres de formation et des installations de fabrication dans plusieurs grandes villes. Bobcat emploie plus de 5 000 personnes aux États-Unis et au Canada, et Doosan, la société mère, compte plus de 43 000 employés dans ses entreprises réparties dans 38 pays.
"Nous vendons des produits à l'échelle nationale et mondiale. Nous avons plus de 700 revendeurs ici en Amérique du Nord", a déclaré Mike Fitzgerald, directeur du marketing, qui travaille pour l'entreprise depuis 1987. "Nous couvrons une grande variété d'applications différentes, et cela a considérablement changé. au fil des ans sur la façon dont l'équipement compact est utilisé. Ce qui était une pièce d'équipement supplémentaire sur un chantier il y a 30 à 40 ans, est maintenant la seule unité motrice dont disposent les entrepreneurs. Maintenant, ils ont une grande variété d'accessoires qui obtiennent leur travail effectué. Quand j'ai commencé, il y avait moins de 10 groupes d'accessoires que nous proposions. Nous avons maintenant plus de 70 groupes d'accessoires que nous offrons à travers l'entreprise. Cela a considérablement changé au fil des ans, ce qui rend nos produits beaucoup plus avantageux et efficace pour le client qui l'utilise."
Les accessoires de déneigement de Bobcat proposent à eux seuls une gamme de souffleuses à neige, de lames, de poussoirs et de godets pour chargeuses compactes, chargeuses compactes sur chenilles, mini chargeuses sur chenilles, tracteurs sous-compacts et compacts, petites chargeuses articulées et chargeuses sur pneus compactes. C'est cette polyvalence d'utilisation de plusieurs accessoires et outils sur une seule machine pour diverses fonctions qui a valu à Bobcat la renommée mondiale. Permettre aux clients d'accomplir plus en moins de temps en utilisant des machines construites avec des composants plus solides qui peuvent supporter des conditions de travail difficiles a été le mantra de Bobcat depuis le premier jour. La chargeuse compacte à direction à glissement S86 et la chargeuse compacte sur chenilles T86 ne sont qu'un exemple parmi d'autres de la manière dont l'entreprise améliore constamment ses propres offres, améliorant ainsi le retour sur investissement des grandes et petites entreprises à travers le monde.
"Depuis le moment où nous effectuons nos recherches initiales jusqu'à la mise en production et la mise en production dans un processus normal, cela prend quelques années. Nous ne le faisons pas du jour au lendemain et nous soumettons nos machines à un programme de tests rigoureux", a déclaré Fitzgerald. "Nous avons des terrains d'essai en Arizona où nous testons les machines pour nous assurer que tous les composants résistent à plus que ce que nous attendons de nos clients."
Les chargeurs Bobcat S86 et T86 offrent un rapport poids/puissance supplémentaire et une plus grande capacité de levage, comprennent un système de gestion de l'alimentation Premium Power Performance pour une efficacité améliorée du moteur au groupe de travail, offrent un meilleur refroidissement pour un fonctionnement optimal et une disponibilité maximale, et ont une cabine spacieuse. pour les opérateurs, avec des commandes ergonomiques, des écrans innovants et des capacités d'interaction et de surveillance de la machine - une fois de plus, offrant des solutions révolutionnaires répondant aux problèmes des clients.
Malgré les nombreux obstacles présentés par la pandémie au cours des deux dernières années, y compris les problèmes de chaîne d'approvisionnement et les pénuries de main-d'œuvre, l'équipe Bobcat a relevé tous les défis avec brio, s'adaptant aux différentes façons de faire des affaires tout en continuant à faire sa marque dans l'industrie.
"La pénurie continue de main-d'œuvre va devoir rendre les gens plus efficaces dans la façon dont ils font des affaires, comment ils travaillent sur leur travail et ce qu'ils peuvent faire. Nous faisons en sorte que l'équipement que vous achetez soit plus efficace et capable ", a déclaré Fitzgerald.
Du côté de l'équipement, il a partagé que Bobcat avait introduit des machines électriques, en gardant à l'esprit que les émissions sont une grande préoccupation dans certaines régions.
L'innovation fait partie intégrante de la marque Bobcat et l'entreprise continue de concevoir des solutions intelligentes en ce qui concerne ses produits. L'utilisation des communications sans fil pour que les clients aient un meilleur contrôle de leurs machines et des fonctionnalités technologiques avancées permettant aux opérateurs d'en faire plus ne sont que quelques-unes des façons dont l'entreprise s'engage envers sa philosophie. Bobcat s'engage également dans des initiatives extérieures à l'organisation, axées sur la communauté, l'éducation et l'environnement. Les efforts ont inclus des employés participant à des services communautaires, la sensibilisation des STEM dans les écoles par des bénévoles du personnel pour inspirer les élèves à envisager des carrières dans les STEM et la fourniture d'équipements pour les secours en cas de catastrophe naturelle.
Concernant les plans futurs, Fitzgerald a déclaré : « Nous ajoutons continuellement de nouveaux produits à notre offre de produits, nous avons des gens qui recherchent ce que nos clients veulent et ont besoin, puis nous alimentons nos groupes de recherche et développement pour aller de l'avant. nous disons dans l'entreprise, 'Ce qui était un élément passionnant hier est un équipement standard aujourd'hui.' Les choses ont considérablement changé au fil du temps et nous développons continuellement de nouveaux produits pour mieux répondre aux besoins de nos clients, qu'il s'agisse des groupes motopropulseurs principaux ou des accessoires qui aideront ces groupes motopropulseurs, avec leur retour sur investissement, leur utilisation pour mieux répondre à leurs besoins et en faire une opération plus efficace." CEG
NJC.© Info BOBCAT
--------------------------------------------------------------------------------------------------------------------

06/01/22-English
Bobcat's S86, T86 Loaders Set New Industry Benchmarks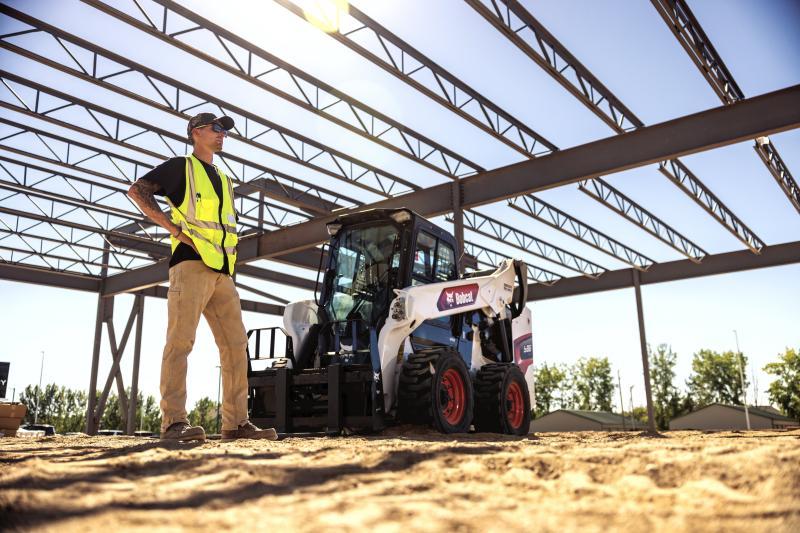 Bobcat Company's latest offerings to the construction and landscaping arena are the T86 compact track loader and S86 skid-steer loader, setting new standards for efficiency and versatility, along with added control and comfort for the operator. (Bobcat photo)
From the inventors who introduced skid-steer loaders to the compact equipment industry comes the R-Series lineup of loaders — the most comfortable, durable and powerful machines ever made by the company. Bobcat Company's latest offerings to the construction and landscaping arena are the T86 compact track loader and S86 skid-steer loader, setting new standards for efficiency and versatility, along with added control and comfort for the operator. The recently introduced models are the only machines that offer three hydraulic flow options in one — standard, high and super flow — to address simple projects requiring lower hydraulic horsepower to the most demanding attachment applications.
The West Fargo, N.D.-based global manufacturer is no novice in setting incredible benchmarks for itself and the industry. Bobcat has received recognition galore over the decades, the most recent being 2022 CES Innovation Awards in the categories of Vehicle Intelligence & Transportation and Smart Cities for the T7X all-electric compact track loader in 2021; Landscape Business Twenty for 2020 New Product Award for the R-Series loaders; and the 2019 International Forum Design Award for the R-Series E85 compact excavator.
North Dakota, where the equipment was invented more than 60 years ago, is where Bobcat's regional corporate offices, global research and testing facility, production and engineering facilities and dedicated innovation space are located. Additional North American locations for training and manufacturing are in Minnesota, Colorado, North Carolina and Wisconsin. Internationally, the company has parts distribution centers, research and development facilities, sales offices, training centers and manufacturing facilities in several major cities. Bobcat employs more than 5,000 people in the United States and Canada, and Doosan, the corporate parent company, has more than 43,000 employed in its businesses across 38 countries.
"We sell products nationwide and worldwide. We have more than 700 dealers here in North America," said Mike Fitzgerald, marketing manager, who has been with the company since 1987. "We cover a wide variety of different applications, and it's changed significantly over the years as to how compact equipment is utilized. What was an extra piece of equipment on a job site 30 to 40 years ago, is now the only power unit that contractors have. Now, they have a wide variety of attachments that get their work done. When I started, there were less than 10 groups of attachments that we offered. We now have more than 70 groups of attachments that we offer through the company. It's changed significantly over the years which makes our products that much more beneficial and efficient to the customer that's using it."
Bobcat's snow removal attachments alone offer a range of snowblowers, blades, pushers and buckets for skid-steer loaders, compact track loaders, mini-track loaders, sub-compact and compact tractors, small articulated loaders and compact wheel loaders. It's this versatility of using multiple attachments and implements on one machine for various functions that has earned Bobcat global fame. Empowering customers to accomplish more in less time using machines that are built with stronger components that can endure challenging work conditions has been Bobcat's mantra from day one. The S86 skid-steer loader and T86 compact track loader are just one example of how the company is consistently improving upon its own offerings, enhancing ROI for organizations large and small across the world.
"From the time we do our initial research to getting things put through and into production in a normal process, that's a few years. We don't do it overnight, and we put our machines through a rigorous testing regimen," Fitzgerald said. "We have proving grounds in Arizona where we test machines to make sure that all components stand up to more than what we expect our customers to put them through."
The Bobcat S86 and T86 loaders bring additional weight-to-horsepower ratio and greater lifting ability, include Premium Power Performance power management system for improved engine-to-workgroup efficiency, offer better cooling for optimal operation and maximum uptime, and have a roomy cab for operators, with ergonomic controls, innovative displays, and machine interaction and monitoring capabilities — once again, delivering revolutionary solutions addressing customer pain points.
Despite the many obstacles presented by the pandemic over the last two years, including supply-chain issues and labor shortages, the Bobcat team has taken every challenge in stride, adapting to different ways of doing business but continuing to make its mark in the industry.
"The continued labor shortage is going to have to make people more efficient in the way they do business, how they work on their jobs and what they can do. We make it so that the equipment that you're buying is more efficient and capable," Fitzgerald said.
On the equipment side, he shared Bobcat had introduced some electric machines, keeping in mind that emissions are a big concern in some areas.
Innovation is an integral part of the Bobcat brand, and the company continues to devise smart solutions when it comes to its products. Using wireless communications for customers to have greater control of their machines and advanced technology features empowering operators to do more are just some ways the company is committed to its ethos. Bobcat is also committed to initiatives outside the organization, focused on community, education and the environment. Efforts have included employees participating in community services, STEM outreach in schools by staff volunteers to inspire students to consider STEM careers and providing equipment for natural disaster relief.
On future plans, Fitzgerald said, "We're continually adding new products to our product offering, we have people that are researching what our customer wants and needs are, and then we feed that into our research and development groups to move forward. As we say in the business, 'What was an exciting item yesterday is standard equipment today.' Things have changed significantly over the course of time, and we're continually developing new products to better meet the needs of our customers, be it the main power units or attachments that will help those power units, with their return on investment, their utilization to better suit their needs and make them a more efficient operation." CEG
NJC.© Info BOBCAT
------------------------------------------------------------------------------------------------------------------

06/01/23-NL
De S86-, T86-laders van Bobcat zetten nieuwe maatstaven in de industrie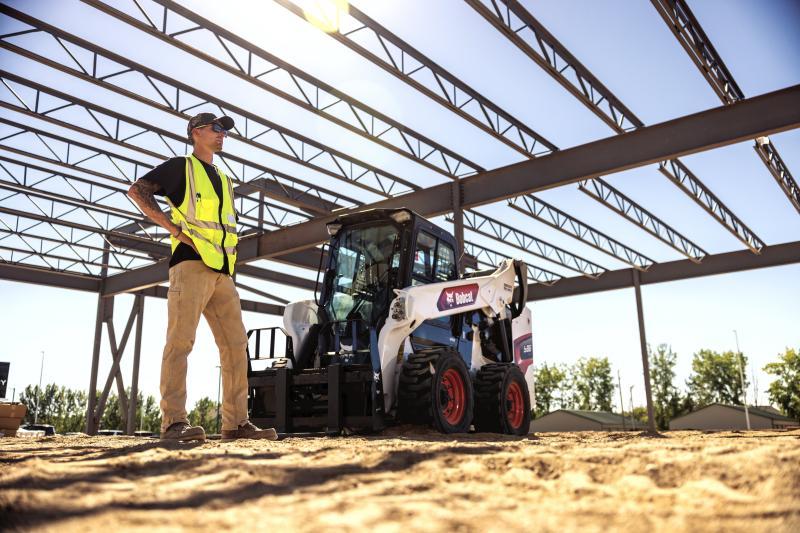 Bobcat Company's latest offerings to the construction and landscaping arena are the T86 compact track loader and S86 skid-steer loader, setting new standards for efficiency and versatility, along with added control and comfort for the operator. (Bobcat photo)
Van de uitvinders die schrankladers introduceerden in de industrie voor compact materieel, komt de R-serie laders: de meest comfortabele, duurzame en krachtige machines die het bedrijf ooit heeft gemaakt. De nieuwste aanbiedingen van Bobcat Company voor de bouw- en landschapsarchitectuur zijn de T86 compacte rupslader en de S86 schranklader, die nieuwe normen stellen voor efficiëntie en veelzijdigheid, samen met extra controle en comfort voor de machinist. De onlangs geïntroduceerde modellen zijn de enige machines die drie opties voor hydraulisch debiet in één bieden - standaard, hoog en superdebiet - voor eenvoudige projecten die een lager hydraulisch vermogen vereisen voor de meest veeleisende toepassingen van uitrustingsstukken.
De in West Fargo, N.D. gevestigde wereldwijde fabrikant is geen beginner in het stellen van ongelooflijke maatstaven voor zichzelf en de industrie. Bobcat heeft de afgelopen decennia veel erkenning gekregen, met als meest recente de 2022 CES Innovation Awards in de categorieën Vehicle Intelligence & Transportation en Smart Cities voor de T7X volledig elektrische compacte rupslader in 2021; Landscape Business Twenty for 2020 New Product Award voor de R-serie laders; en de International Forum Design Award 2019 voor de R-serie E85 compacte graafmachine.
In North Dakota, waar de apparatuur meer dan 60 jaar geleden werd uitgevonden, bevinden zich de regionale kantoren van Bobcat, de wereldwijde onderzoeks- en testfaciliteit, de productie- en engineeringfaciliteiten en de speciale innovatieruimte. Extra Noord-Amerikaanse locaties voor training en productie zijn in Minnesota, Colorado, North Carolina en Wisconsin. Internationaal heeft het bedrijf onderdelendistributiecentra, onderzoeks- en ontwikkelingsfaciliteiten, verkoopkantoren, trainingscentra en productiefaciliteiten in verschillende grote steden. Bobcat heeft meer dan 5.000 mensen in dienst in de Verenigde Staten en Canada, en Doosan, het moederbedrijf, heeft meer dan 43.000 werknemers in zijn bedrijven in 38 landen.
"We verkopen producten in het hele land en wereldwijd. We hebben meer dan 700 dealers hier in Noord-Amerika", zegt Mike Fitzgerald, marketingmanager, die sinds 1987 bij het bedrijf werkt. door de jaren heen over hoe compacte apparatuur wordt gebruikt. Wat 30 tot 40 jaar geleden een extra apparaat was op een bouwplaats, is nu de enige krachtbron die aannemers hebben. Nu hebben ze een breed scala aan hulpstukken die hun werk gedaan. Toen ik begon, waren er minder dan 10 groepen bijlagen die we aanboden. We hebben nu meer dan 70 groepen bijlagen die we via het bedrijf aanbieden. Het is in de loop der jaren aanzienlijk veranderd, waardoor onze producten veel voordeliger en efficiënt voor de klant die het gebruikt."
Alleen al de sneeuwruimers van Bobcat bieden een reeks sneeuwblazers, bladen, duwers en bakken voor schrankladers, compacte rupsladers, minirupsladers, subcompacte en compacte tractoren, kleine knikladers en compacte wielladers. Het is deze veelzijdigheid van het gebruik van meerdere aanbouwdelen en werktuigen op één machine voor verschillende functies die Bobcat wereldwijde bekendheid heeft opgeleverd. Klanten in staat stellen om meer te bereiken in minder tijd met behulp van machines die zijn gebouwd met sterkere componenten die uitdagende werkomstandigheden aankunnen, is vanaf de eerste dag de mantra van Bobcat geweest. De S86-schranklader en de T86 compacte rupslader zijn slechts één voorbeeld van hoe het bedrijf zijn eigen aanbod consequent verbetert en de ROI voor grote en kleine organisaties over de hele wereld verbetert.
"Vanaf het moment dat we ons eerste onderzoek doen om dingen in een normaal proces door te voeren en in productie te krijgen, is dat een paar jaar. We doen het niet van de ene op de andere dag en we onderwerpen onze machines aan een rigoureus testregime", zei Fitzgerald. "We hebben testterreinen in Arizona waar we machines testen om er zeker van te zijn dat alle componenten bestand zijn tegen meer dan we van onze klanten verwachten."
De Bobcat S86- en T86-laders bieden een extra gewicht-pk-verhouding en een groter hefvermogen, omvatten het Premium Power Performance-energiebeheersysteem voor verbeterde motor-naar-werkgroep-efficiëntie, bieden betere koeling voor optimale werking en maximale uptime, en hebben een ruime cabine voor machinisten, met ergonomische bedieningselementen, innovatieve displays en machine-interactie en bewakingsmogelijkheden - opnieuw revolutionaire oplossingen die pijnpunten van klanten aanpakken.
Ondanks de vele obstakels die de pandemie de afgelopen twee jaar opleverde, waaronder problemen met de toeleveringsketen en tekorten aan arbeidskrachten, heeft het Bobcat-team elke uitdaging aangegaan, zich aangepast aan verschillende manieren van zakendoen, maar zijn stempel blijven drukken in de branche.
"Het aanhoudende tekort aan arbeidskrachten zal mensen efficiënter moeten maken in de manier waarop ze zaken doen, hoe ze aan hun werk werken en wat ze kunnen doen. We zorgen ervoor dat de apparatuur die u koopt efficiënter en capabeler is ', zei Fitzgerald.
Wat de uitrusting betreft, vertelde hij dat Bobcat een aantal elektrische machines had geïntroduceerd, rekening houdend met het feit dat emissies in sommige gebieden een groot probleem zijn.
Innovatie is een integraal onderdeel van het merk Bobcat en het bedrijf blijft slimme oplossingen bedenken als het om zijn producten gaat. Het gebruik van draadloze communicatie voor klanten om meer controle over hun machines te hebben en geavanceerde technologische functies die machinisten in staat stellen meer te doen, zijn slechts enkele manieren waarop het bedrijf zich aan zijn ethos houdt. Bobcat zet zich ook in voor initiatieven buiten de organisatie, gericht op gemeenschap, onderwijs en het milieu. De inspanningen omvatten onder meer werknemers die deelnemen aan gemeenschapsdiensten, STEM-outreach op scholen door vrijwilligers van het personeel om studenten te inspireren STEM-carrières te overwegen en het verstrekken van uitrusting voor noodhulp bij natuurrampen.
Over toekomstige plannen zei Fitzgerald: "We voegen voortdurend nieuwe producten toe aan ons productaanbod, we hebben mensen die onderzoeken wat onze klanten willen en nodig hebben, en dan voeden we dat in onze onderzoeks- en ontwikkelingsgroepen om verder te gaan. Zoals zeggen we in de zaak: 'Wat gisteren een opwindend item was, is vandaag standaarduitrusting.' Dingen zijn in de loop van de tijd aanzienlijk veranderd en we ontwikkelen voortdurend nieuwe producten om beter aan de behoeften van onze klanten te voldoen, of het nu gaat om de belangrijkste krachtbronnen of hulpstukken die die krachtbronnen zullen helpen, met hun rendement op investering, hun gebruik om beter aan hun behoeften te voldoen en ze efficiënter te laten werken." CiTG
NJC.© Info BOBCAT
-------------------------------------------------------------------------------------------------------------------