Bosch Rexroth showing myriad machine solutions at IFPE

02/03/23-FR-English-NL-footer
Bosch Rexroth présente une myriade de solutions de machines à l'IFPE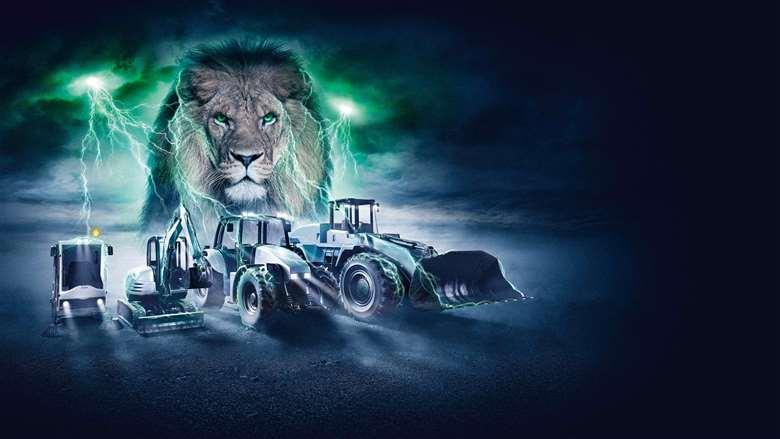 Bosch Rexroth is displaying its full range of technology solutions at IFPE, including its latest mobile hydraulics and mobile control technologies as well as Hägglunds hydraulic direct drive systems. (Photo: Bosch Rexroth)
Bosch Rexroth présente à l'IFPE sa large gamme de technologies pour les transmissions électriques, l'hydraulique de travail à commande électronique, la télématique d'avenir et l'automatisation tout-terrain pas à pas.
Bosch Rexroth à l'IFPE Bosch Rexroth présente sa gamme complète de solutions technologiques à l'IFPE, y compris ses dernières technologies d'hydraulique mobile et de commande mobile ainsi que les systèmes hydrauliques à entraînement direct Hägglunds.
Grâce à une gamme de démonstrations de technologies de travail, d'expositions et d'experts en technologie des machines mobiles, les visiteurs du stand ont l'opportunité de découvrir la gamme complète de systèmes, de solutions et de produits avancés que Bosch Rexroth et Hägglunds proposent aux secteurs de la construction et des équipements hors route.
Les visiteurs auront l'occasion d'apprendre tous les détails sur les principales nouvelles solutions de machines mobiles, notamment :
La plate-forme d'électrification eLion, un portefeuille haute tension de systèmes modulaires pour l'électrification des machines mobiles, comprenant des moteurs-générateurs, des onduleurs, des boîtes de vitesses, des logiciels et des accessoires. Les produits sont évolutifs et prennent en charge les fonctions de conduite et de travail dans une plage de puissance de 20 à 200 kW (puissance de pointe jusqu'à 400 kW) pour des applications dans des machines compactes et lourdes.
Un portefeuille numérique BODAS élargi de solutions IoT, de logiciels et de matériel électronique. Le nouveau module BODAS Connect permet des mises à jour sécurisées en direct des unités de contrôle, quelle que soit la taille de la flotte de véhicules ou l'emplacement. Il prend en charge tous les contrôleurs Rexroth et fonctionnera également à l'avenir avec des appareils tiers de partenaires, a indiqué la société.
La plate-forme myBODAS offre aux fabricants de machines hors route un accès gratuit à l'ensemble du portefeuille standard de logiciels BODAS pour le contrôle des machines mobiles. L'accès ouvert signifie que les équipementiers peuvent télécharger gratuitement des progiciels validés pour une gamme d'applications, pour les tester et les adapter aux exigences uniques des machines qu'ils construisent.
L'exposition New Experience Automation, mettant en lumière les fonctions d'assistance avancées pour les pelles, les chargeuses sur pneus et les chariots télescopiques intégrant des systèmes de capteurs modernes et des dispositifs de commande intuitifs. Celles-ci incluent des fonctions d'assistance au conducteur pour des murs virtuels de travail plus efficaces et des indications de paramètres de fonctionnement critiques pour une plus grande sécurité de travail. Des modules logiciels prêts à l'emploi permettent de réduire le temps d'intégration dans les architectures de véhicules existantes et futures, ce qui accélère la mise sur le marché.
Les nouveaux développements de moteurs Hägglunds visaient à réduire la taille et le poids tout en augmentant les capacités de performance dans l'exploitation minière et d'autres applications mobiles. De plus, une nouvelle gamme de moteurs Hägglunds Quantum sera dévoilée lors du salon.
Le groupe hydraulique CytroBox, un groupe hydraulique modulaire pour les applications de moyenne puissance jusqu'à 30 kW. Il offre une conception compacte et des capacités IoT intelligentes telles que des interfaces de communication ouvertes et des capteurs intégrés pour fournir des informations sur l'état actuel du filtre, de l'huile ou de l'entraînement.
Pendant le salon, les participants sont encouragés à visiter Broderson Manufacturing (stand F9441) pour voir comment le moteur eLion de Rexroth et l'ensemble onduleur sont utilisés sur la première grue de pont de transport industrielle alimentée par batterie et à zéro émission de Broderson, l'ICe-80.
NJC.© Info Bosch Rexroth
-----------------------------------------------------------------------------------------------------------------

02/03/23-English
Bosch Rexroth showing myriad machine solutions at IFPE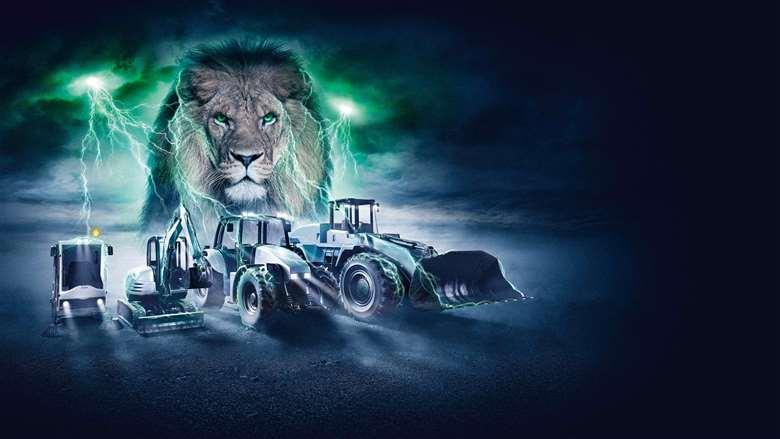 Bosch Rexroth is displaying its full range of technology solutions at IFPE, including its latest mobile hydraulics and mobile control technologies as well as Hägglunds hydraulic direct drive systems. (Photo: Bosch Rexroth)
Bosch Rexroth is highlighting its broad range of technologies for electric drivetrains, electronically controllable working hydraulics, future-proof telematics and step-by-step off-highway automation at IFPE.
Bosch Rexroth at IFPE Bosch Rexroth is displaying its full range of technology solutions at IFPE, including its latest mobile hydraulics and mobile control technologies as well as Hägglunds hydraulic direct drive systems.
Through an array of working technology demos, exhibits and mobile machine technology experts, booth visitors have the opportunity to learn about the full range of advanced systems, solutions and products Bosch Rexroth and Hägglunds offer the construction and off-highway equipment industries.
Visitors will have the opportunity to learn full details on major new mobile machine solutions including:
The eLion electrification platform, a high-voltage portfolio of modular systems for the electrification of mobile machinery, including motor-generators, inverters, gearboxes, software and accessories. The products are scalable and support driving and work functions in a power range from 20 to 200 kW (peak power up to 400 kW) for applications in both compact and heavy machines.
An expanded BODAS digital portfolio of IoT solutions, software and electronic hardware. The new BODAS Connect module enables secure over-the-air updates of control units, regardless of the size of the vehicle fleet or location. It supports all Rexroth controllers and in the future will also work with third-party devices from partners, the company said.
The myBODAS platform offers manufacturers of off-highway machines free access to the entire standard portfolio of BODAS software for controlling mobile machines. Open access means OEMs can download validated software packages for a range of applications free-of-charge, to test them and adapt them to suit the unique requirements of the machines they are building.
The New Experience Automation exhibit, highlighting advanced assistance functions for excavators, wheeled loaders and telehandlers incorporating modern sensor systems and intuitive operating devices. These include driver assistance functions for more efficient working virtual walls and critical operating parameter indications for greater work safety. Ready-to-use software modules help to reduce the integration time into existing and future vehicle architectures which speed up market launch.
New Hägglunds motor developments aimed to reduce size and weight while expanding performance capabilities in mining and other mobile applications. In addition, a new Hägglunds Quantum motor range will be revealed during the show.
The CytroBox hydraulic power unit, a modular hydraulic power unit for medium power applications up to 30 kW. It offers a compact design and intelligent IoT capabilities such as open communications interfaces and integrated sensors to provide information regarding the current filter, oil or drive condition.
While at the show, attendees are encouraged to visit Broderson Manufacturing (booth F9441) to see how Rexroth's eLion motor and inverter package is being used on Broderson's first battery electric powered, zero emissions industrial carry deck crane, the ICe-80.
NJC.© Info Bosch Rexroth
------------------------------------------------------------------------------------------------------------------

02/03/23-NL
Bosch Rexroth toont talloze machineoplossingen op IFPE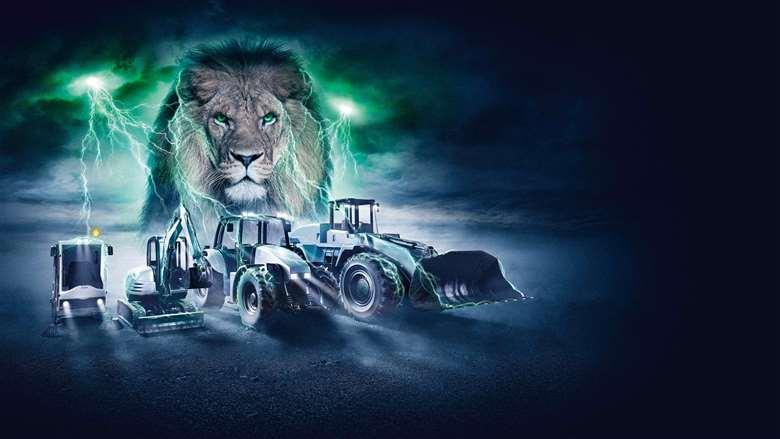 Bosch Rexroth is displaying its full range of technology solutions at IFPE, including its latest mobile hydraulics and mobile control technologies as well as Hägglunds hydraulic direct drive systems. (Photo: Bosch Rexroth)
Bosch Rexroth belicht op IFPE zijn brede scala aan technologieën voor elektrische aandrijflijnen, elektronisch regelbare werkhydraulica, toekomstbestendige telematica en stapsgewijze offroad-automatisering.
Bosch Rexroth op IFPE Bosch Rexroth toont zijn volledige assortiment technologische oplossingen op IFPE, inclusief de nieuwste mobiele hydrauliek en mobiele besturingstechnologieën, evenals Hägglunds hydraulische directe aandrijfsystemen.
Door middel van een scala aan werkende technologiedemo's, exposities en experts op het gebied van mobiele machinetechnologie, hebben standbezoekers de mogelijkheid om meer te weten te komen over het volledige scala aan geavanceerde systemen, oplossingen en producten die Bosch Rexroth en Hägglunds bieden aan de bouw- en off-highway-industrie.
Bezoekers krijgen de kans om alle details te leren over belangrijke nieuwe mobiele machine-oplossingen, waaronder:
Het eLion elektrificatieplatform, een hoogspanningsportfolio van modulaire systemen voor de elektrificatie van mobiele machines, waaronder motorgeneratoren, omvormers, tandwielkasten, software en accessoires. De producten zijn schaalbaar en ondersteunen rij- en werkfuncties in een vermogensbereik van 20 tot 200 kW (piekvermogen tot 400 kW) voor toepassingen in zowel compacte als zware machines.
Een uitgebreid BODAS digitaal portfolio van IoT-oplossingen, software en elektronische hardware. De nieuwe BODAS Connect-module maakt veilige draadloze updates van regeleenheden mogelijk, ongeacht de grootte van het wagenpark of de locatie. Het ondersteunt alle Rexroth-controllers en zal in de toekomst ook werken met apparaten van derden van partners, aldus het bedrijf.
Het myBODAS-platform biedt fabrikanten van terreinmachines gratis toegang tot het volledige standaardportfolio van BODAS-software voor het aansturen van mobiele machines. Open toegang betekent dat OEM's gratis gevalideerde softwarepakketten kunnen downloaden voor een reeks toepassingen, om ze te testen en aan te passen aan de unieke eisen van de machines die ze bouwen.
De expositie New Experience Automation, waarin geavanceerde assistentiefuncties voor graafmachines, wielladers en verreikers met moderne sensorsystemen en intuïtieve bedieningsapparaten worden belicht. Deze omvatten bestuurdersassistentiefuncties voor efficiënter werken met virtuele muren en indicaties van kritieke bedrijfsparameters voor meer veiligheid op het werk. Kant-en-klare softwaremodules helpen de integratietijd in bestaande en toekomstige voertuigarchitecturen te verkorten, wat de marktintroductie versnelt.
Nieuwe motorontwikkelingen van Hägglunds waren gericht op het verminderen van de afmetingen en het gewicht en het uitbreiden van de prestatiemogelijkheden in mijnbouw en andere mobiele toepassingen. Daarnaast zal tijdens de show een nieuwe Hägglunds Quantum-motorreeks worden onthuld.
De CytroBox hydraulische power unit, een modulaire hydraulische power unit voor middelzware toepassingen tot 30 kW. Het biedt een compact ontwerp en intelligente IoT-mogelijkheden zoals open communicatie-interfaces en geïntegreerde sensoren om informatie te geven over de huidige filter-, olie- of aandrijfconditie.
Tijdens de show worden aanwezigen aangemoedigd om Broderson Manufacturing (stand F9441) te bezoeken om te zien hoe Rexroth's eLion motor- en omvormerpakket wordt gebruikt op Broderson's eerste door een batterij aangedreven, emissievrije industriële draagdekkraan, de ICe-80.
NJC.© Info Bosch Rexroth
-----------------------------------------------------------------------------------------------------------------