Brokk-BAUMA2022- showcasing new Demolition Robot Innovations at bauma
21/10/22-FR-English-NL-footer
Brokk-BAUM2022- présente de nouvelles innovations de robots de démolition à bauma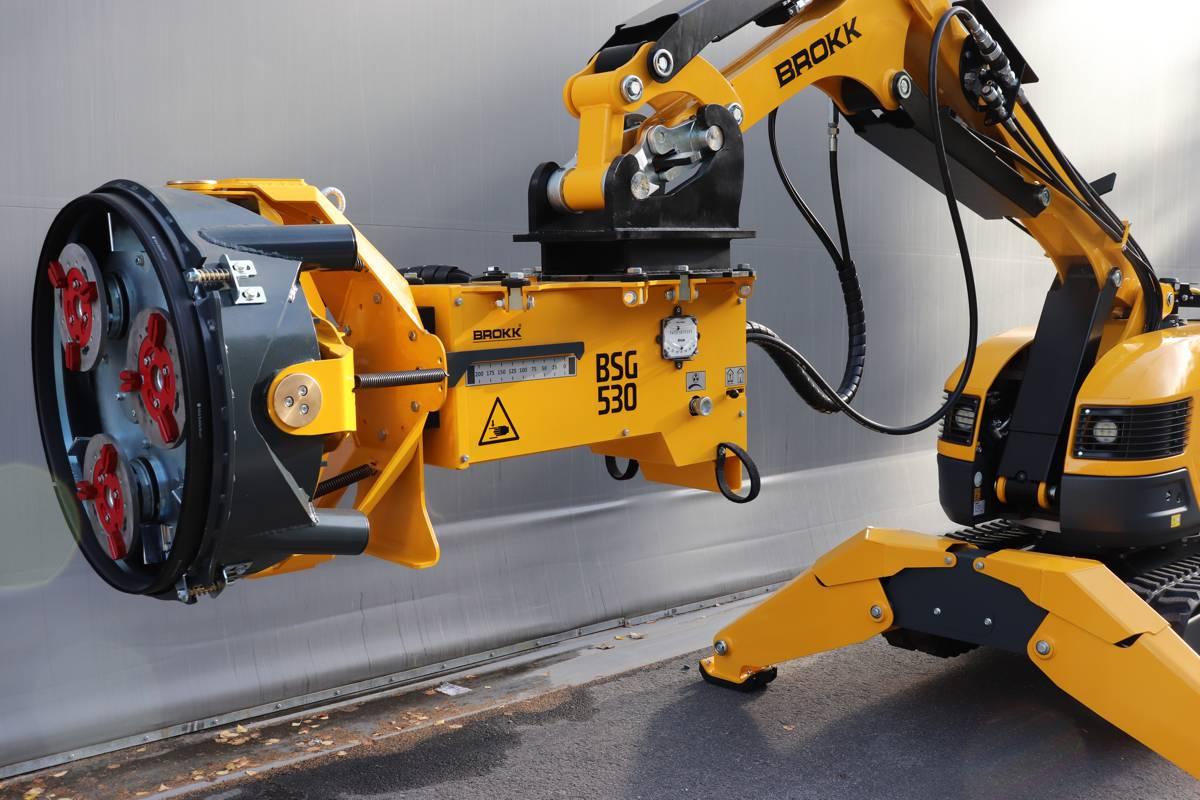 Image- Brokk
Brokk, le premier fabricant mondial de robots de démolition télécommandés, présentera trois nouveaux produits et présentera d'autres innovations au bauma 2022 à Munich, en Allemagne.
Les nouveaux produits comprennent la scie à grappin Brokk (BGS 15), la rectifieuse plane Brokk (BSG 530) et My Brokk, un portail en ligne qui combine plusieurs services, dont Brokk Connect, une bibliothèque de documents et une boutique en ligne en une seule ressource. Le robot de démolition le plus récent et le plus puissant du fabricant, le Brokk 900, et le populaire système de suppression de poussière Atomized Water Mist seront également exposés.
« Bauma offre l'opportunité idéale de présenter nos nouveaux produits innovants qui offrent une polyvalence, une productivité et une sécurité accrues pour nos clients », a déclaré Martin Krupicka, PDG du groupe Brokk. "Notre équipement révolutionne la façon dont les entrepreneurs travaillent, les aidant à relever les défis mondiaux des pénuries de main-d'œuvre et des problèmes de sécurité à une période où l'infrastructure mondiale a besoin d'énormes réparations. Nos solutions aident non seulement les équipes à maximiser leur efficacité avec un minimum de main-d'œuvre, mais elles permettent également une meilleure gestion de la flotte, la disponibilité des machines et une sécurité accrue dans n'importe quelle application.
Le nouveau portail My Brokk combine des capacités de gestion de flotte, une bibliothèque de documents ainsi que la commande de pièces et d'accessoires en une seule ressource. Grâce au portail, les utilisateurs peuvent accéder à Brokk Connect pour surveiller et gérer leurs machines. Il comprend également une bibliothèque de manuels d'équipement, de données techniques, de marquages ​​CE et de schémas ainsi qu'une boutique en ligne qui permet aux utilisateurs d'accéder en ligne à la vue et à la commande d'une gamme complète de pièces de rechange et d'accessoires d'origine Brokk, tels que des chenilles en caoutchouc et des marteaux hydrauliques. Le nouveau portail rationalise les processus des clients pour la gestion et la maintenance de leurs robots Brokk et se traduit par une disponibilité accrue.
Le Brokk Surface Grinder 530 (BSG 530) offre une méthode télécommandée pour décaper efficacement et en toute sécurité le plâtre, les matériaux contaminés, la colle à carrelage et la peinture des murs, des plafonds et des sols. Adapté aux Brokk 170, Brokk 200 et Brokk 300, le BSG 530 enlève la matière par un contact constant et une pression élevée sur la surface, ce qui permet un enlèvement plus uniforme et constant sur de grandes surfaces, ce qui n'est pas possible avec les outils de meulage portatifs. La rectifieuse plane Brokk est particulièrement utile lorsqu'il s'agit de manipuler des matériaux dangereux, tels que l'amiante, où la sécurité de l'opérateur est essentielle. L'accessoire peut également être utilisé pour la préparation de surface et le polissage grâce à l'ajout de différents outils.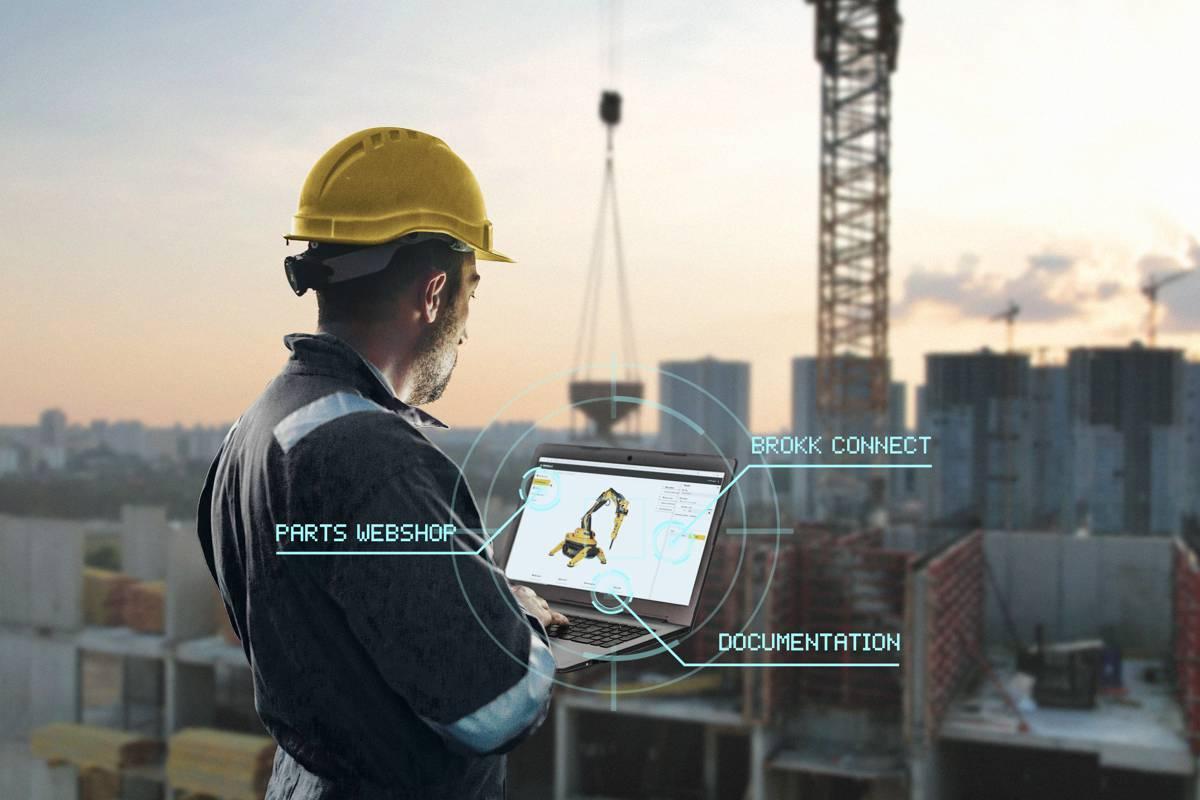 Image- Brokk
La scie à grappin Brokk 15 (BGS 15) est deux accessoires en un - un grappin et une scie à coupe à froid. Elle peut couper des tuyaux métalliques d'un diamètre allant jusqu'à environ 200 millimètres (7,87 pouces) et saisir et trier les matériaux sans changer l'accessoire. Compatible avec les Brokk 110, Brokk 170 et Brokk 200, le BGS 15 coupe à la fois les matériaux fixes et les déchets en vrac sans créer d'étincelles qui présentent un risque d'incendie. Un robot Brokk, associé à cet accessoire, apporte une puissance compacte aux grandes tâches de coupe dans des espaces restreints.
Brokk fera également la démonstration de son système unique de suppression de la poussière, le brouillard d'eau atomisé. Le système offre une suppression supérieure de la poussière comme solution idéale pour lutter contre la poussière de silice nocive. Le brouillard d'eau nécessite moins d'eau que les autres méthodes avec seulement 0,2 litre par minute (6,76 onces par minute). Cela signifie non seulement moins de consommation d'eau, mais aussi un chantier plus propre et moins de déchets.
Enfin, Bauma marquera la première fois que le Brokk 900 sera présenté lors d'une exposition. Introduit en 2021, le Brokk 900 est le robot de démolition le plus puissant au monde, avec 25 % de puissance en plus que son prédécesseur, dans le même boîtier compact pour sa portée et ses performances.
NJC.© Info Brokk
---------------------------------------------------------------------------------------------------------------------
21/10/22-English
Brokk-BAUM2022- showcasing new Demolition Robot Innovations at bauma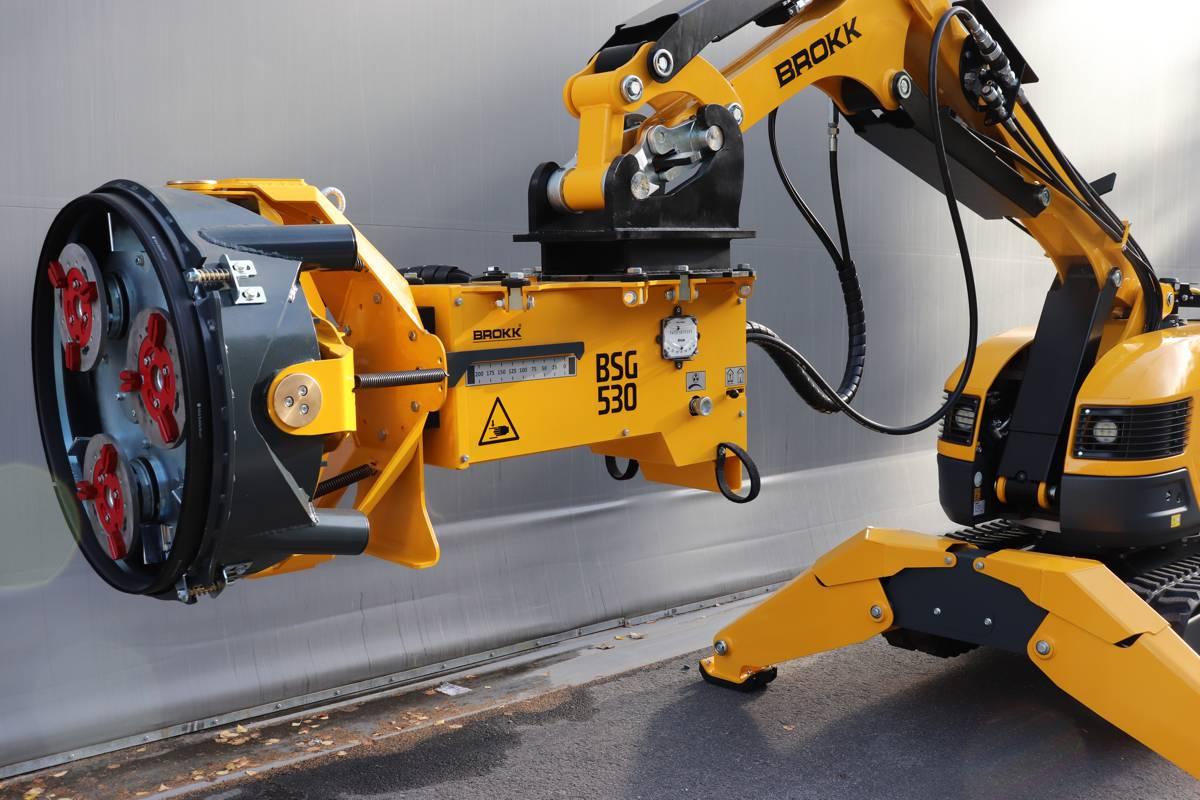 Image- Brokk
Brokk, the world's leading manufacturer of remote-controlled demolition robots, will introduce three new products and showcase other innovations at bauma 2022 in Munich, Germany.
The new products include the Brokk Grapple Saw (BGS 15), the Brokk Surface Grinder (BSG 530) and My Brokk, an online portal that combines multiple services, including Brokk Connect, a document library and a Webshop into a single resource. The manufacturer's newest and most powerful demolition robot, the Brokk 900, and the popular Atomized Water Mist dust suppression system will also be on display.
"Bauma offers the ideal opportunity to showcase our innovative new products that offer increased versatility, productivity and safety for our customers," said Martin Krupicka, CEO of Brokk Group. "Our equipment is revolutionizing the way contractors work, helping them address the worldwide challenges of labour shortages and safety concerns at a period where global infrastructure is in need of tremendous repair. Our solutions not only help crews maximize their efficiency with minimal labour, but they also enable better fleet management, machine uptime and enhanced safety in any application."
The new My Brokk portal combines fleet management capabilities, a document library plus parts and accessory ordering into a single resource. Through the portal, users can access Brokk Connect to monitor and manage their machines. It also includes a library of equipment manuals, technical data, CE markings and diagrams along with a Webshop that allows online access for users to view and order a full range of Brokk original spare parts and attachments, such as rubber caterpillar tracks and hydraulic breakers. The new portal streamlines customers' processes for managing and maintaining their Brokk robots and results in increased uptime.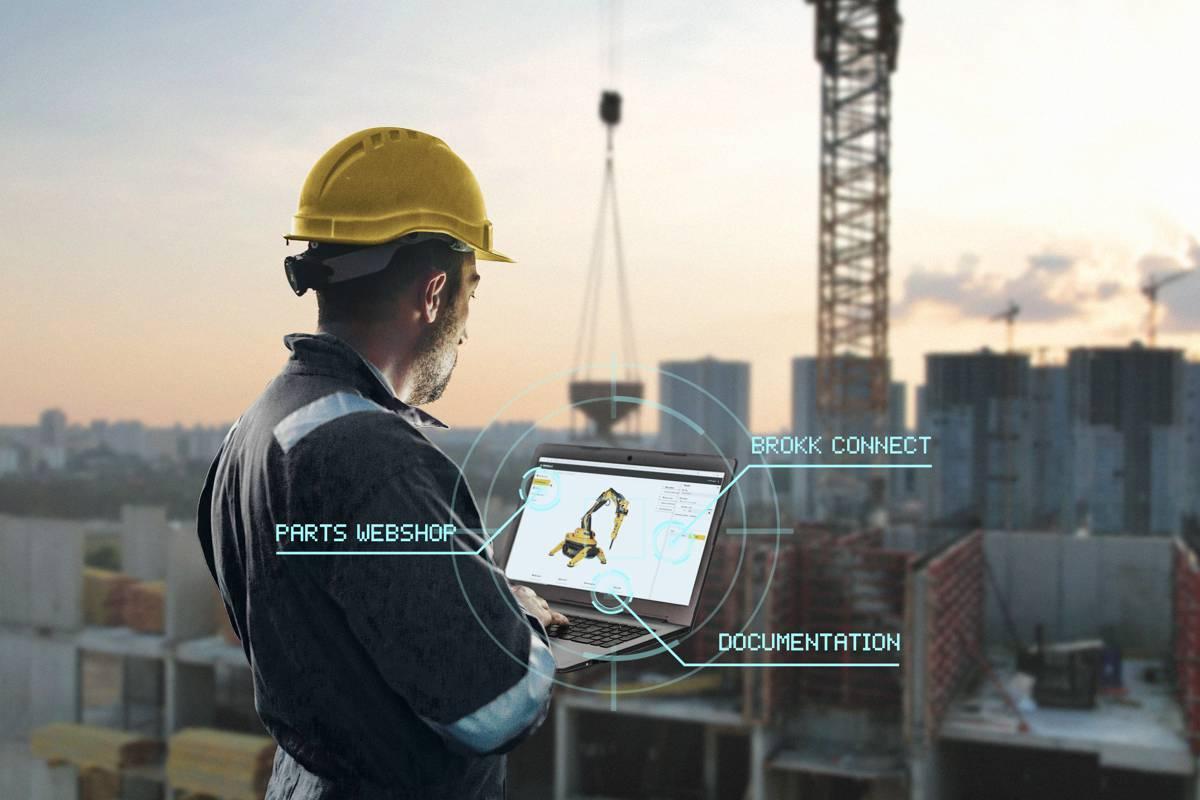 Image- Brokk
The Brokk Surface Grinder 530 (BSG 530) offers a remote-controlled method to safely and efficiently strip plaster, contaminated material, tile adhesive and paint off walls, ceilings and floors. Suitable for the Brokk 170, Brokk 200 and Brokk 300, the BSG 530 removes material through constant contact and high pressure on the surface, resulting in a more even, consistent removal over large areas that isn't possible with handheld grinding tools. The Brokk Surface Grinder is particularly useful when it comes to handling hazardous materials, such as asbestos, where operator safety is key. The attachment can also be used for surface preparation and polishing through the addition of different tools.
The Brokk Grapple Saw 15 (BGS 15) is two attachments in one – a grapple and cold cutting saw It can cut metal pipes with a diameter of up to approximately 200 millimetres (7.87 inches) and grab and sort material without changing the attachment. Compatible with the Brokk 110, Brokk 170 and Brokk 200, the BGS 15 cuts both fixed material and loose scrap without creating sparks that pose a fire risk. A Brokk robot, paired with this attachment, brings compact power to large cutting tasks in tight spaces.
Brokk will also demonstrate its unique dust suppression system, the Atomized Water Mist. The system offers superior dust suppression as an ideal solution for combatting harmful silica dust. The water mist requires less water than other methods with just 0.2 litres per minute (6.76 ounces per minute). This means not only less water consumption, but also a cleaner worksite and less waste.
Finally, Bauma will mark the first time the Brokk 900 will be displayed at an exhibition. Introduced in 2021, the Brokk 900 is the world's most powerful demolition robot, with 25% more output than its predecessor, in the same compact package for its reach and performance.
NJC.© Info Brokk
----------------------------------------------------------------------------------------------------------------------
21/10/22-NL
Brokk-BAUM2022-presentatie van nieuwe Demolition Robot Innovations op bauma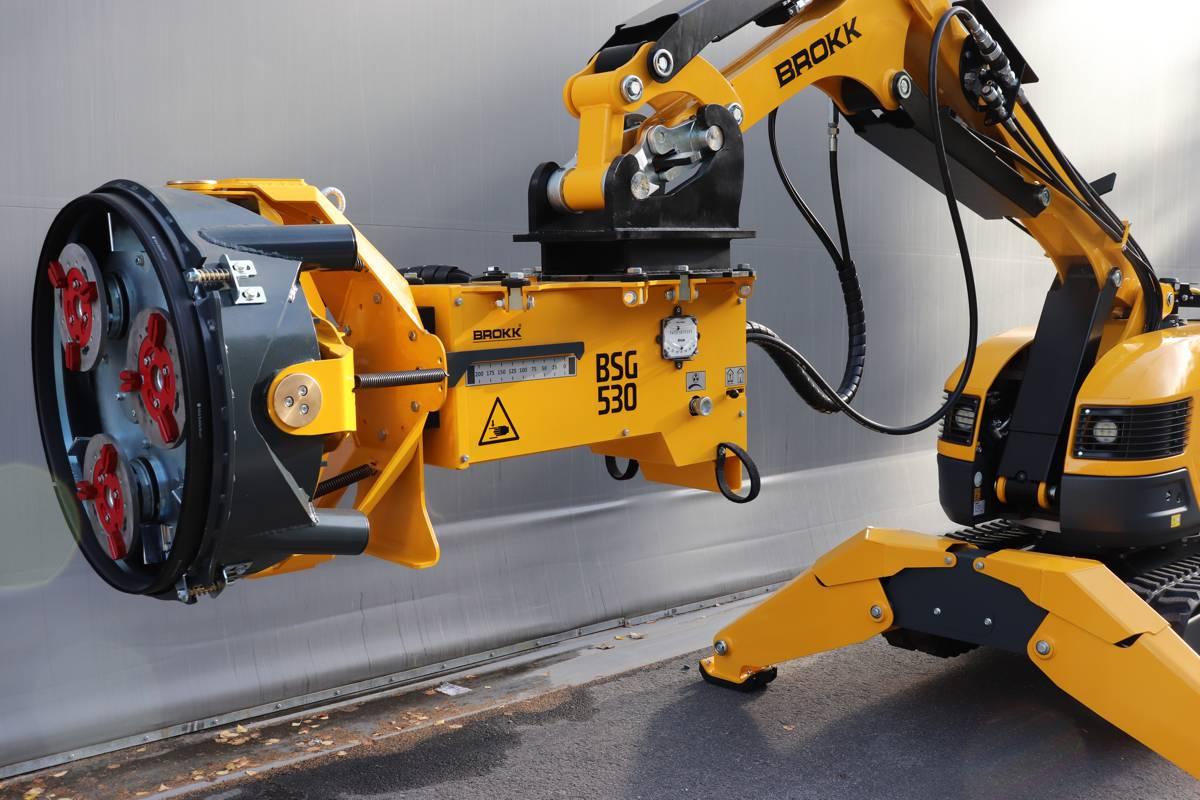 Image- Brokk
Brokk, 's werelds toonaangevende fabrikant van op afstand bestuurbare slooprobots, zal drie nieuwe producten introduceren en andere innovaties presenteren op bauma 2022 in München, Duitsland.
De nieuwe producten zijn de Brokk Grapple Saw (BGS 15), de Brokk Surface Grinder (BSG 530) en My Brokk, een online portal die meerdere diensten combineert, waaronder Brokk Connect, een documentbibliotheek en een webshop in één hulpmiddel. De nieuwste en krachtigste slooprobot van de fabrikant, de Brokk 900, en het populaire Atomized Water Mist-stofonderdrukkingssysteem zullen ook te zien zijn.
"Bauma biedt de ideale gelegenheid om onze innovatieve nieuwe producten te presenteren die onze klanten meer veelzijdigheid, productiviteit en veiligheid bieden", aldus Martin Krupicka, CEO van Brokk Group. "Onze apparatuur zorgt voor een revolutie in de manier waarop aannemers werken en helpt hen de wereldwijde uitdagingen van arbeidstekorten en veiligheidsproblemen aan te pakken in een periode waarin de wereldwijde infrastructuur enorme reparaties nodig heeft. Onze oplossingen helpen bemanningen niet alleen om hun efficiëntie te maximaliseren met minimale arbeid, maar ze zorgen ook voor een beter vlootbeheer, machine-uptime en verbeterde veiligheid in elke toepassing."
De nieuwe My Brokk-portal combineert de mogelijkheden voor wagenparkbeheer, een documentbibliotheek plus het bestellen van onderdelen en accessoires in één enkele bron. Via de portal hebben gebruikers toegang tot Brokk Connect om hun machines te bewaken en te beheren. Het bevat ook een bibliotheek met handleidingen, technische gegevens, CE-markeringen en diagrammen, samen met een webshop die gebruikers online toegang biedt om een ​​volledig assortiment originele reserveonderdelen en hulpstukken van Brokk te bekijken en te bestellen, zoals rubberen rupsbanden en hydraulische sloophamers. De nieuwe portal stroomlijnt de processen van klanten voor het beheer en onderhoud van hun Brokk-robots en resulteert in een hogere uptime.
De Brokk Vlakslijper 530 (BSG 530) biedt een op afstand bediende methode om pleister, verontreinigd materiaal, tegellijm en verf van muren, plafonds en vloeren veilig en efficiënt te verwijderen. Geschikt voor de Brokk 170, Brokk 200 en Brokk 300, de BSG 530 verwijdert materiaal door constant contact en hoge druk op het oppervlak, wat resulteert in een meer gelijkmatige, consistente verwijdering over grote oppervlakken die niet mogelijk is met handslijpgereedschappen. De Brokk Surface Grinder is met name handig als het gaat om het hanteren van gevaarlijke materialen, zoals asbest, waarbij de veiligheid van de gebruiker van cruciaal belang is. Het opzetstuk kan ook worden gebruikt voor oppervlaktevoorbereiding en polijsten door toevoeging van verschillende gereedschappen.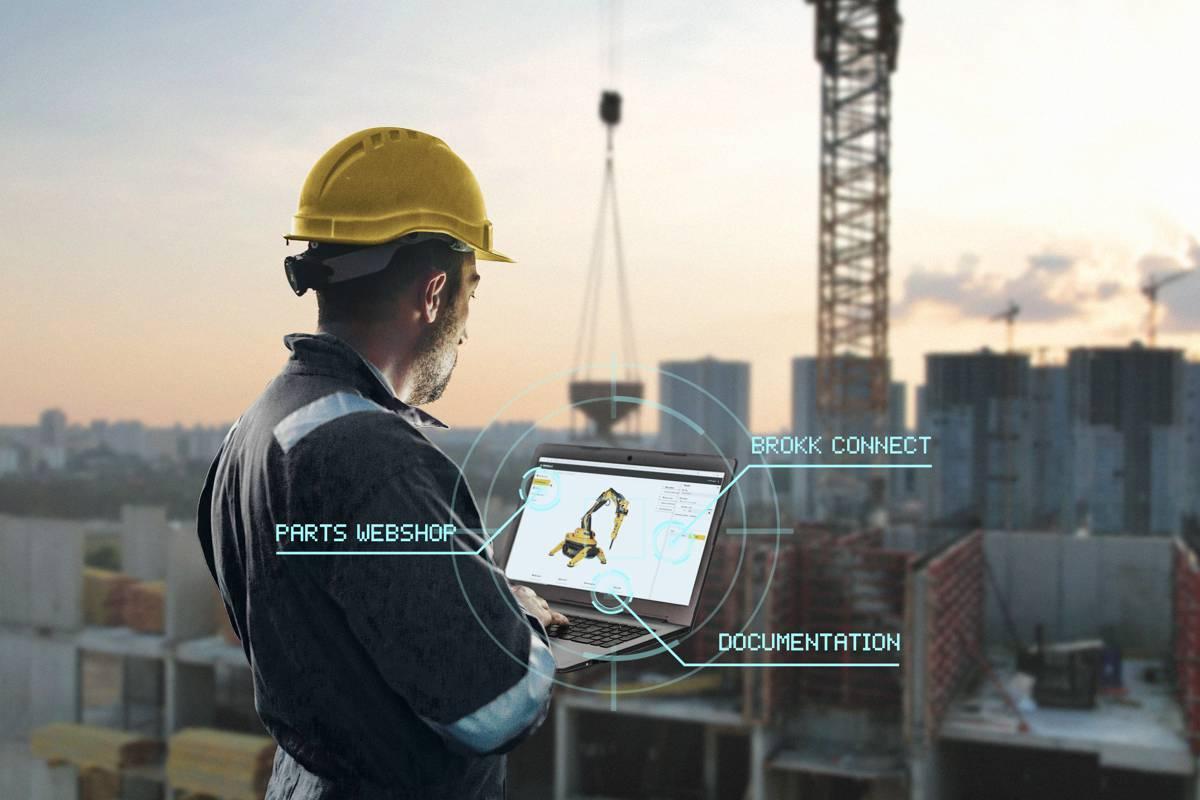 Image- Brokk
De Brokk Grapple Saw 15 (BGS 15) is twee hulpstukken in één - een grijper en koudzaag. Hij kan metalen buizen met een diameter tot ongeveer 200 millimeter (7,87 inch) doorzagen en materiaal grijpen en sorteren zonder het hulpstuk te veranderen. De BGS 15 is compatibel met de Brokk 110, Brokk 170 en Brokk 200 en snijdt zowel vast materiaal als los schroot zonder vonken te creëren die brandgevaar opleveren. Een Brokk-robot, gecombineerd met dit hulpstuk, zorgt voor compacte kracht voor grote snijtaken in krappe ruimtes.
Brokk zal ook zijn unieke stofonderdrukkingssysteem demonstreren, de Atomized Water Mist. Het systeem biedt superieure stofonderdrukking als een ideale oplossing voor het bestrijden van schadelijk silicastof. De watermist vereist minder water dan andere methoden met slechts 0,2 liter per minuut (6,76 ounces per minuut). Dit betekent niet alleen minder waterverbruik, maar ook een schonere werkplek en minder afval.
Tot slot markeert Bauma de eerste keer dat de Brokk 900 op een tentoonstelling wordt getoond. De Brokk 900, geïntroduceerd in 2021, is 's werelds krachtigste slooprobot, met 25% meer output dan zijn voorganger, in hetzelfde compacte pakket voor zijn bereik en prestaties.
NJC.© Info Brokk
------------------------------------------------------------------------------------------------------------------
Date de dernière mise à jour : 21/10/2022