Cat's new Stage V gen set
25/11/22-FR-English-NL-footer
Le nouveau groupe électrogène Stage V de Cat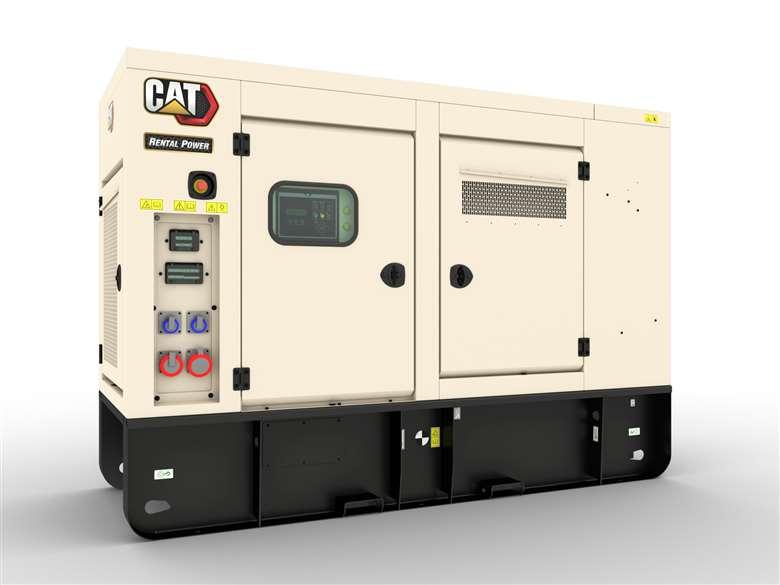 The Stage V Cat XQP115 generator set. Photo: Cat.
Caterpillar a lancé le groupe électrogène Cat XQP115 de 115 kVA, qui répond aux normes d'émission Stage V de l'Union européenne (UE) et offre un certain nombre de fonctionnalités conviviales pour la location.
Conçu et testé par Caterpillar, l'ensemble Cat XQP115 est le troisième d'une série de solutions d'alimentation mobiles compactes de 115 à 310 kVA qui respectent la réduction de 90 % des oxydes d'azote par rapport à la norme Stage IIIA, ainsi que d'autres modifications spécifiées par Normes de la phase V.
Le groupe électrogène Stage V Cat XQP115. Photo : chat.
De plus, la série offre une puissance de crête moyenne de 20 % supérieure en fonctionnement principal par rapport aux modèles XQP Cat Stage IIIA précédents desservant cette plage de puissance.
« Le Cat XQP115 offre polyvalence et flexibilité en commutant facilement entre 50 et 60 Hz et sur une gamme de tensions, ce qui lui permet de répondre à une large gamme d'exigences de charge pour les applications dans les secteurs de la fabrication, du pétrole et du gaz, de la construction, de l'exploitation minière et d'autres industries, " confirme un communiqué de l'OEM.
Outre les autres solutions d'alimentation mobiles Stage V de Cat, il est également censé offrir de nombreuses fonctionnalités pour les applications de location, notamment le panneau de commande numérique XQCP, qui fournit toutes les commandes du groupe électrogène et les indicateurs du système dans une interface unique et facile d'accès.
Les groupes électrogènes sont conçus avec un réservoir de carburant à double paroi avec une digue ouverte qui aide à protéger l'environnement en contenant les déversements, a déclaré Cat, tandis que la protection de l'isolation côtière (CIP) permet un fonctionnement dans des conditions difficiles.
"Leurs châssis de base larges et absorbant les chocs, les connexions client isolées des disjoncteurs et les prises CEE en option sont conçues pour faciliter le transport, l'installation et l'utilisation. Des passages de chariot élévateur, des points de traînée et une arche de levage aident à simplifier le chargement, le déchargement et le placement autour du chantier. »
Le Cat XQP115 est équipé de la technologie Cat Connect par abonnement pour donner aux opérateurs des informations qui permettent de gérer les coûts et de réduire les risques. La télématique envoie des informations en temps réel sur le niveau de carburant, le niveau de fluide d'échappement diesel (DEF), la tension de la batterie et l'état de fonctionnement, et les actifs connectés prennent en charge le fonctionnement de pointe avec des informations opportunes qui aident les clients à mieux contrôler les coûts, à améliorer les performances et à réduire les risques.
De plus, les groupes électrogènes mobiles Cat conformes aux normes européennes Stage V sur les émissions peuvent utiliser jusqu'à 100 % d'huile végétale hydrotraitée (HVO), un carburant diesel renouvelable conforme à la norme EN15940.
Tom Caldwell, directeur général mondial des solutions de location d'électricité chez Caterpillar, a déclaré ; "L'ajout du Cat XQP115 à notre portefeuille de solutions d'alimentation mobiles conformes aux normes d'émission européennes Stage V permet aux utilisateurs de sélectionner avec précision le package qui répond à leurs besoins en énergie."
NJC.© Info Caterpillar
---------------------------------------------------------------------------------------------------------------------
25/11/22-English
Cat's new Stage V gen set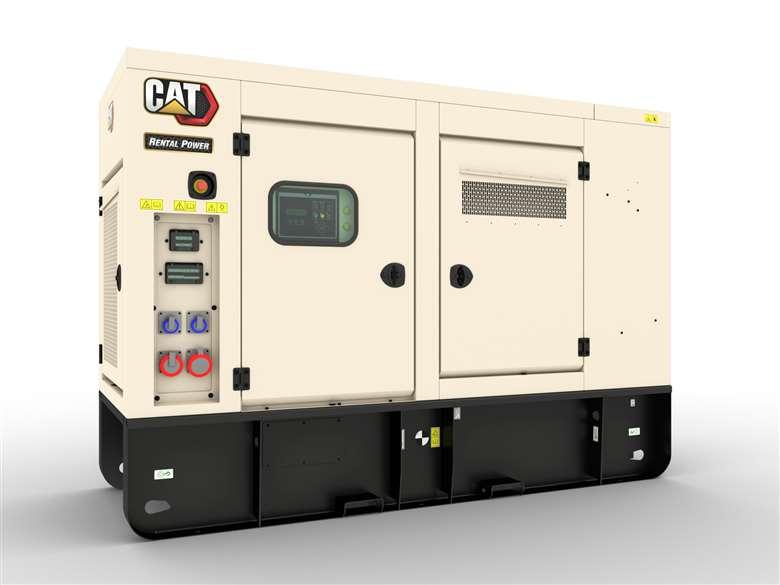 The Stage V Cat XQP115 generator set. Photo: Cat.
Caterpillar has launched the 115 kVA Cat XQP115 generator set, which meets European Union (EU) Stage V emission standards and offers a number of rental friendly features.
Designed and tested by Caterpillar, the Cat XQP115 set is the third in a series of compact mobile power solutions from 115 to 310 kVA that meet the 90% reduction in nitrogen oxides when compared with the Stage IIIA standard, as well as other changes specified by Stage V standards.
The Stage V Cat XQP115 generator set. Photo: Cat.
Additionally, the series offers an average of 20% higher peak power in prime operation than the previous Stage IIIA Cat XQP models serving this power range.
"The Cat XQP115 offers versatility and flexibility by easily switching between 50 and 60 Hz and across a range of voltages, enabling it to accommodate a wide range of load requirements for applications in manufacturing, oil and gas, construction, mining, and other industries," a statement from the OEM confirmed.
Along with Cat's other Stage V mobile power solutions, it is also said to offer numerous features for rental applications, including the XQCP digital control panel, which provides all generator set controls and system indicators in a single, easy-to-access interface.
The gen sets are designed with a dual-wall fuel tank with an open bund that helps to protect the environment by containing spills, Cat said, while coastal insulation protection (CIP) enables operation in harsh conditions.
"Their wide, impact-absorbing base frames, customer connections isolated from circuit breakers, and optional CEE sockets are designed to facilitate transportation, set-up and use. Forklift pockets, dragging points, and a lifting arch help to simplify loading, unloading, and placement around the worksite."
The Cat XQP115 is equipped with subscription-based Cat Connect technology to give operators insights that manage costs and reduce risks. The telematics send real-time information on fuel level, diesel exhaust fluid (DEF) level, battery voltage, and run status, and connected assets support peak operation with timely insights that help customers better control costs, improve performance and reduce risks.
In addition, Cat mobile generator sets meeting EU Stage V emission standards can use up to 100% hydrotreated vegetable oil (HVO), a renewable diesel fuel meeting EN15940.
Tom Caldwell, global general manager for electric power rental solutions at Caterpillar, said; "The addition of the Cat XQP115 to our portfolio of mobile power solutions that meet EU Stage V emission standards enables users to precisely select the package that meets their power needs."
NJC.© Info Caterpillar
---------------------------------------------------------------------------------------------------------------------
25/11/22-NL
Cat's nieuwe Stage V genset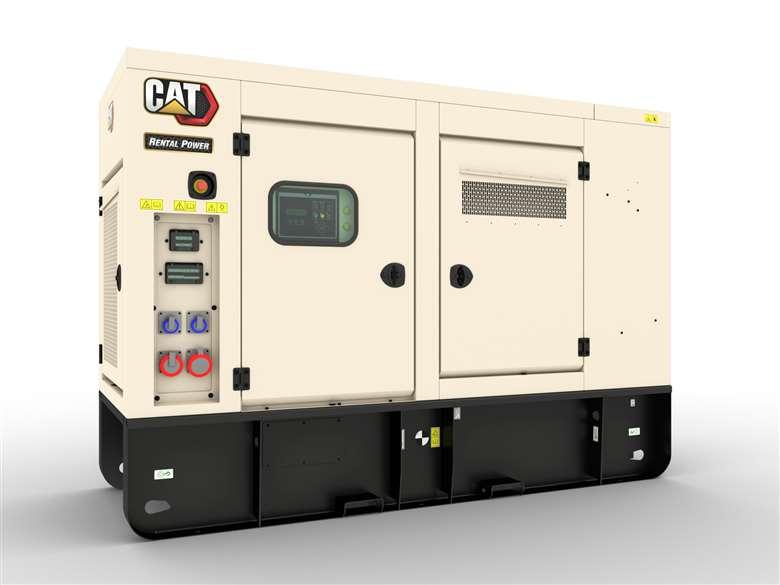 The Stage V Cat XQP115 generator set. Photo: Cat.
Caterpillar heeft de 115 kVA Cat XQP115-generatorset gelanceerd, die voldoet aan de emissienormen van de Europese Unie (EU) Stage V en een aantal verhuurvriendelijke functies biedt.
Ontworpen en getest door Caterpillar, is de Cat XQP115-set de derde in een reeks compacte mobiele stroomoplossingen van 115 tot 310 kVA die voldoen aan de 90% reductie in stikstofoxiden in vergelijking met de Stage IIIA-norm, evenals aan andere wijzigingen gespecificeerd door Stage V-normen.
De Stage V Cat XQP115 generatorset. Foto: Kat.
Bovendien biedt de serie een gemiddeld 20% hoger piekvermogen in primaire werking dan de vorige Stage IIIA Cat XQP-modellen die dit vermogensbereik bedienen.
"De Cat XQP115 biedt veelzijdigheid en flexibiliteit door eenvoudig te schakelen tussen 50 en 60 Hz en over een reeks spanningen, waardoor hij geschikt is voor een breed scala aan belastingsvereisten voor toepassingen in productie, olie en gas, bouw, mijnbouw en andere industrieën, ', bevestigde een verklaring van de OEM.
Samen met Cat's andere Stage V mobiele stroomoplossingen biedt het ook tal van functies voor verhuurtoepassingen, waaronder het XQCP digitale bedieningspaneel, dat alle bedieningselementen van de generatorset en systeemindicatoren in één enkele, gemakkelijk toegankelijke interface biedt.
De generatorsets zijn ontworpen met een dubbelwandige brandstoftank met een open inkuiping die helpt het milieu te beschermen door lekkages in te dammen, zei Cat, terwijl kustisolatiebescherming (CIP) het mogelijk maakt om onder zware omstandigheden te werken.
"Hun brede, schokabsorberende basisframes, klantaansluitingen geïsoleerd van stroomonderbrekers en optionele CEE-stopcontacten zijn ontworpen om transport, installatie en gebruik te vergemakkelijken. Vorkheftruckkokers, sleeppunten en een hefboog helpen om het laden, lossen en plaatsen op de werkplek te vereenvoudigen."
De Cat XQP115 is uitgerust met op abonnementen gebaseerde Cat Connect-technologie om machinisten inzichten te geven die kosten beheersen en risico's verminderen. De telematica verzendt real-time informatie over het brandstofpeil, het niveau van de dieseluitlaatvloeistof (DEF), de accuspanning en de bedrijfsstatus, en aangesloten activa ondersteunen de piekwerking met tijdige inzichten die klanten helpen de kosten beter te beheersen, de prestaties te verbeteren en risico's te verminderen.
Bovendien kunnen Cat mobiele generatorsets die voldoen aan de EU Stage V-emissienormen tot 100% waterstofbehandelde plantaardige olie (HVO) gebruiken, een hernieuwbare dieselbrandstof die voldoet aan EN15940.
Tom Caldwell, global general manager voor verhuuroplossingen voor elektrische energie bij Caterpillar, zei; "Door de toevoeging van de Cat XQP115 aan ons portfolio van mobiele stroomoplossingen die voldoen aan de EU Stage V-emissienormen, kunnen gebruikers precies het pakket kiezen dat aan hun stroombehoeften voldoet."
NJC.© Info Caterpillar
---------------------------------------------------------------------------------------------------------------------