Caterpillar expands Tilt Rotate System (TRS) offering to work with Cat® Mini Excavators
07/11/22-FR-English-NL-footer
Caterpillar étend son offre TRS (Tilt Rotate System) pour travailler avec les mini-pelles Cat®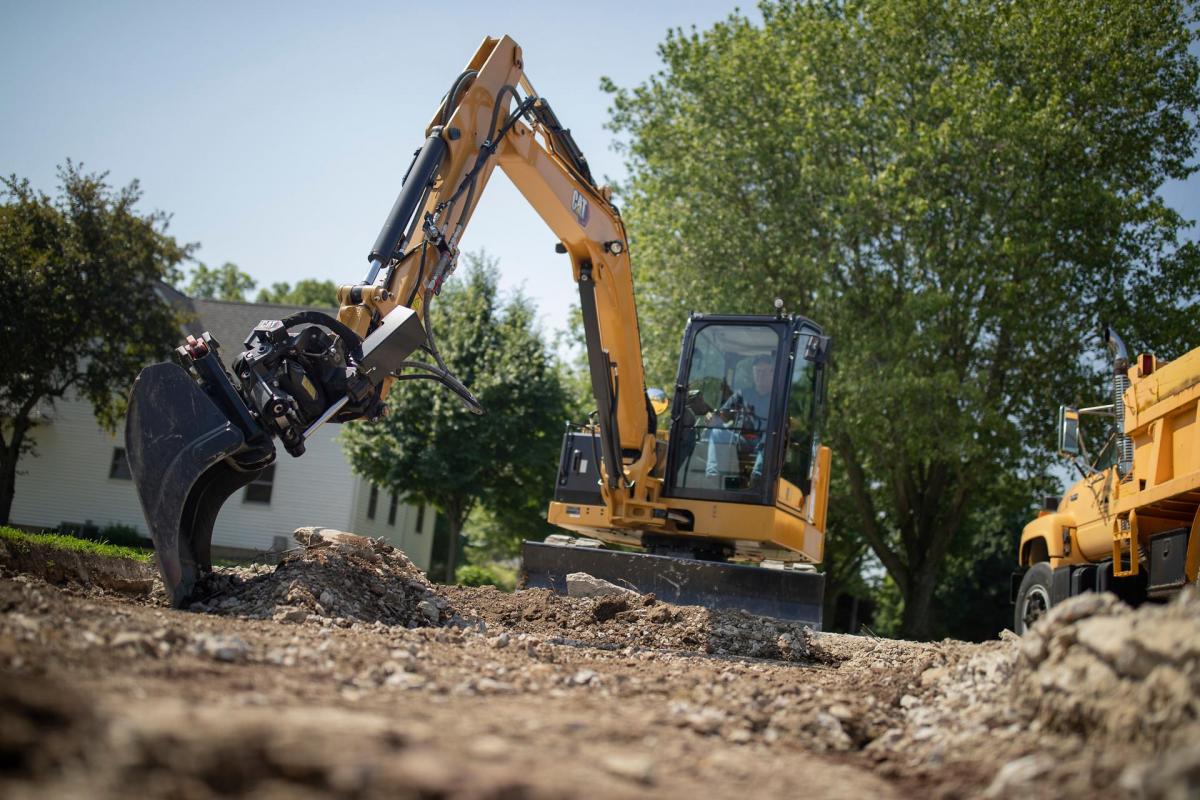 Image- Caterpillar
Caterpillar Work Tools Division annonce de nouveaux modèles de système d'inclinaison et de rotation (TRS) pour les mini-pelles Cat® 302.7 à 310 de nouvelle génération. Les nouveaux modèles TRS4 et TRS8 S45 ainsi que les modèles TRS6 mis à jour permettent aux outils de travail attachés de pivoter à 360 degrés et de s'incliner de 40 degrés d'un côté à l'autre. Cela permet à la machine d'atteindre plus de zones de travail à partir d'une seule position, tout en manœuvrant les outils sur, sous et autour des obstacles lors de l'excavation, du nivellement des fossés, du tri des matériaux recyclés ou du placement des tuyaux. Les nouveaux modèles TRS multiplient la polyvalence de la mini-pelle et sont disponibles dans différentes configurations pour correspondre à l'application.
La conception du système comprend une interface supérieure qui relie le TRS à la machine porteuse et une interface inférieure qui relie divers outils de travail au TRS. Les connexions d'interface supérieures pour les TRS4, ​​TRS6 et TRS8 incluent un choix entre un coupleur hydraulique de type S ou une broche, tandis que les options d'interface inférieure incluent le coupleur à broche ou de type S.
Tous les modèles TRS sont standardisés avec une fonction hydraulique auxiliaire TRSAux1 en bas. Cela permet l'installation d'un module de grappin intégré lorsque le modèle TRS est attaché au porteur via le système de coupleur de type S.
Les TRS6 et TRS8 disposent d'un port auxiliaire TRSAux2 standard en bas pour connecter une variété d'outils hydrauliques différents. Les capteurs de ces modèles TRS fonctionnent en combinaison avec le logiciel de mini-pelle Cat et une variété de différents fournisseurs de référence externes pour les applications de travail 2D et 3D.
Avantages de conception
La conception compacte des TRS4, ​​TRS6 et TRS8 permet à la mini-pelle de maintenir des forces d'excavation élevées. Une boîte de vitesses TRS renforcée avec une bague de roulement spécialement conçue répartit les forces de travail pour réduire les contraintes sur le TRS et la machine hôte. Un système de lubrification sans entretien du système de rotation répartit efficacement la chaleur. Le système de rotation à couple élevé positionne rapidement les outils de travail et un mécanisme autobloquant intégré permet de creuser à n'importe quel angle requis. Les points de graissage simples/minimaux pour les modèles TRS permettent un graissage rapide et efficace de tous les joints nécessitant une lubrification.
Les soupapes de maintien de charge intégrées pour le vérin d'inclinaison à double effet maintiennent les pressions de maintien et empêchent le mouvement du vérin sous charge. La conception du cylindre comprend des pistons durcis et des roulements sans entretien, et ses surfaces anti-rayures et antirouille ne nécessitent aucun entretien.
Un kit de commande sur le terrain intégré installé par le concessionnaire, qui comprend des manettes spécialement conçues, convient à toutes les combinaisons de flèche et de bras et offre un contrôle intuitif du TRS et du grappin intégré. Le moniteur TRS informe l'opérateur de la position de l'accessoire et un capteur d'engagement/désengagement garantit que les outils de travail sont sécurisés via un mécanisme de verrouillage de sécurité avec indicateur. Activés par un bouton de manette, tous les modèles TRS offrent une fonction de secouage du godet pour faciliter l'épandage uniforme des matériaux.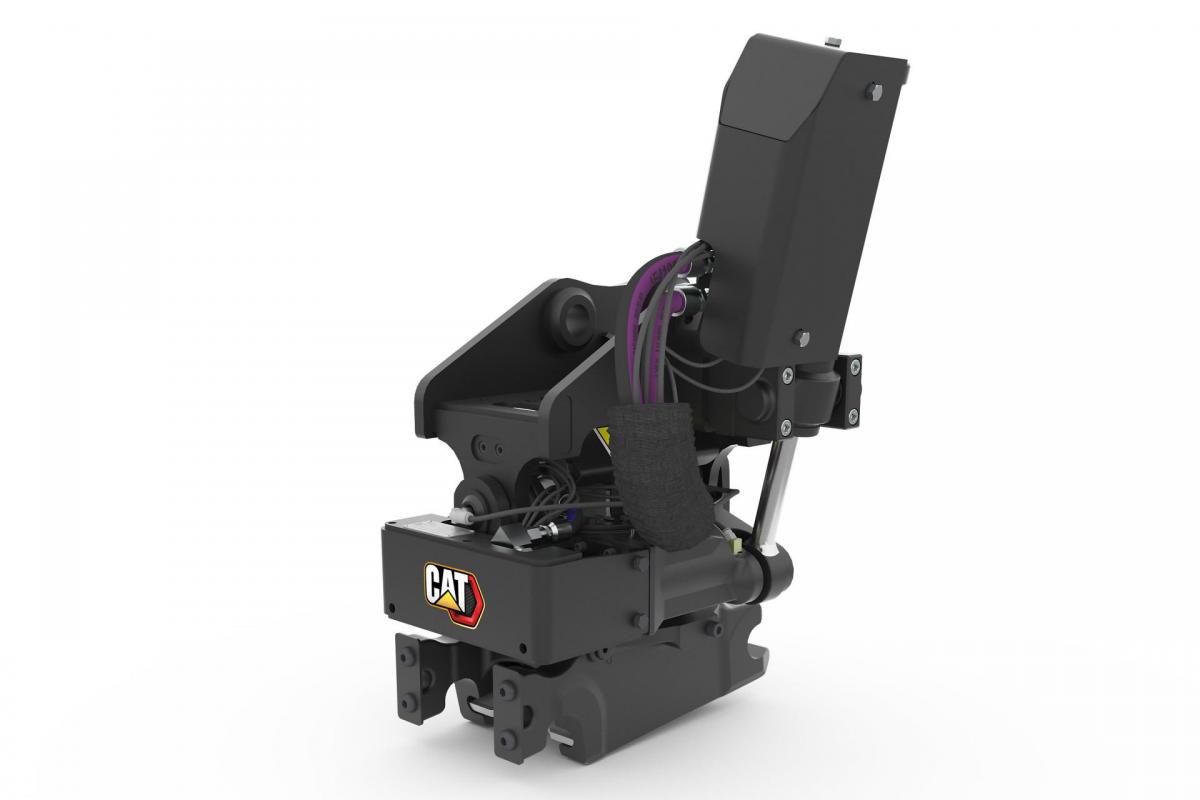 Image- Caterpillar
Demande SRT
Les modèles TRS4 sont conçus pour une utilisation efficace par les mini-pelles Cat 302.7, 303, 303.5 et 304, tandis que les modèles TRS6 sont compatibles avec les modèles Cat 305.5CR et 306 CR. Les modèles TRS8 sont conçus pour être utilisés avec les Cat 307.5, 308, 308.5, 309 et 310.
NJC.© Info Caterpillar
-------------------------------------------------------------------------------------------------------------------
07/11/22-English
Caterpillar expands Tilt Rotate System (TRS) offering to work with Cat® Mini Excavators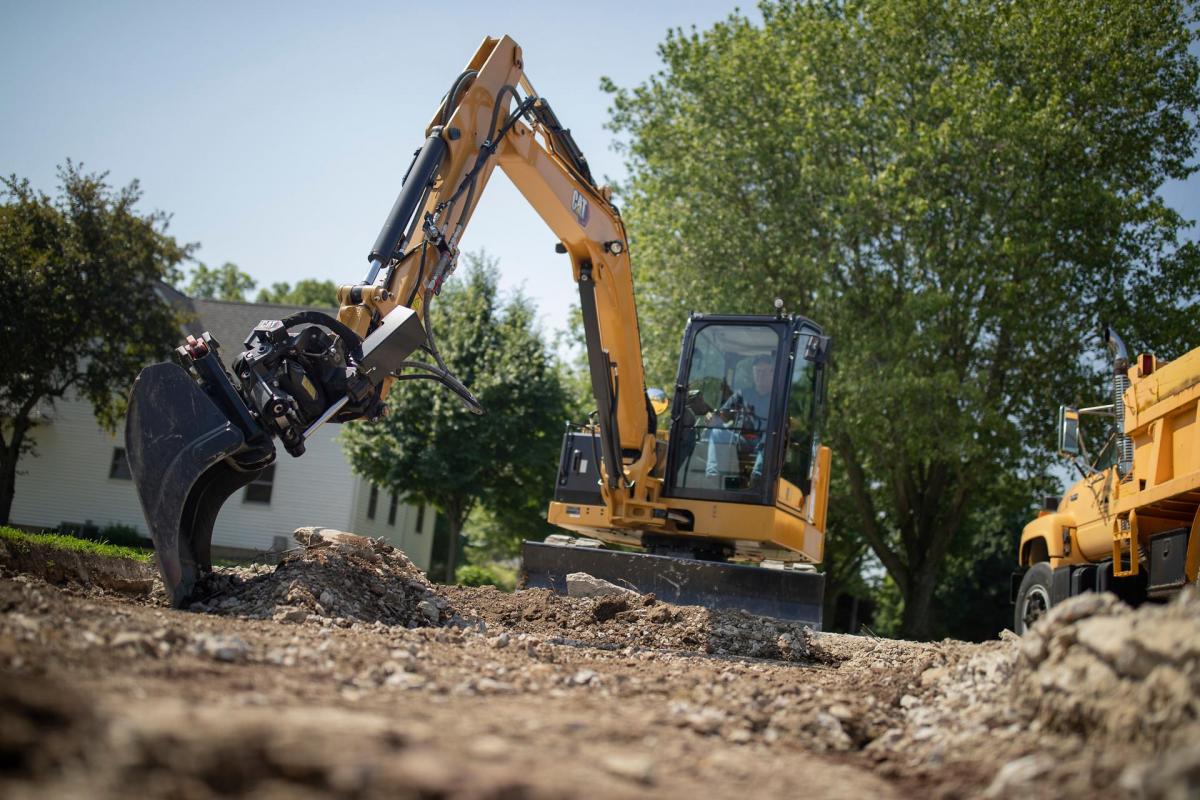 Image- Caterpillar
Caterpillar Work Tools Division announces new Tilt Rotate System (TRS) models for Cat® 302.7 through 310 Next Generation Mini Excavators. The new TRS4 and TRS8 S45 plus updated TRS6 models allow attached work tools to rotate 360 degrees and tilt 40 degrees side-to-side. This enables the machine to reach more work areas from a single position, while maneuvering tools over, under, and around obstructions when excavating, grading ditches, sorting recycle materials, or placing pipe. The new TRS models multiply the mini excavator's versatility and are available in various configurations to match the application.
System design includes a top interface that connects the TRS to the carrier machine and a bottom interface that connects various work tools to the TRS. Top interface connections for the TRS4, TRS6 and TRS8 include a choice between an S Type hydraulic-coupler or pin on, while bottom interface options include the Pin Grabber or S type coupler.
All TRS models are standardized with an auxiliary TRSAux1 hydraulic function at the bottom. This allows for the installation of an integrated grapple module when the TRS model is attached to the carrier via the S type coupler system.
The TRS6 and TRS8 feature a standard TRSAux2 auxiliary port at the bottom to connect a variety for different hydraulic tools. Sensors for these TRS models work in combination with Cat mini excavator software and a variety of different external reference suppliers for 2D and 3D work applications.
Design benefits
The compact design of the TRS4, TRS6 and TRS8 allows the mini excavator to maintain high digging forces. A reinforced TRS gearbox with a specially designed bearing ring distributes working forces to reduce stress on the TRS and the host machine. A no-maintenance lubrication system for the rotation system effectively distributes heat. The high-torque rotation system quickly positions work tools, and an integral self-locking mechanism enables digging at any angle required. Single/minimal grease points for TRS models delivers quick, efficient greasing of all joints requiring lubrication.
Integrated load-hold valves for the double-acting tilt cylinder maintains holding pressures and prevents cylinder movement under load. Cylinder design features hardened pistons and maintenance-free bearings, and its scratch-resistant, rust-proof surfaces require no maintenance.
An integrated, dealer-installed field control kit, which includes specially designed joysticks, suits all boom-and-stick combinations and provides intuitive control of the TRS and integral grapple. The TRS monitor informs the operator of the attachment's position, and an engagement/disengagement sensor assures that work tools are secured via a safety locking mechanism with indicator. Activated by a joystick button, all TRS models offer a bucket-shake feature to facilitate even spreading of materials.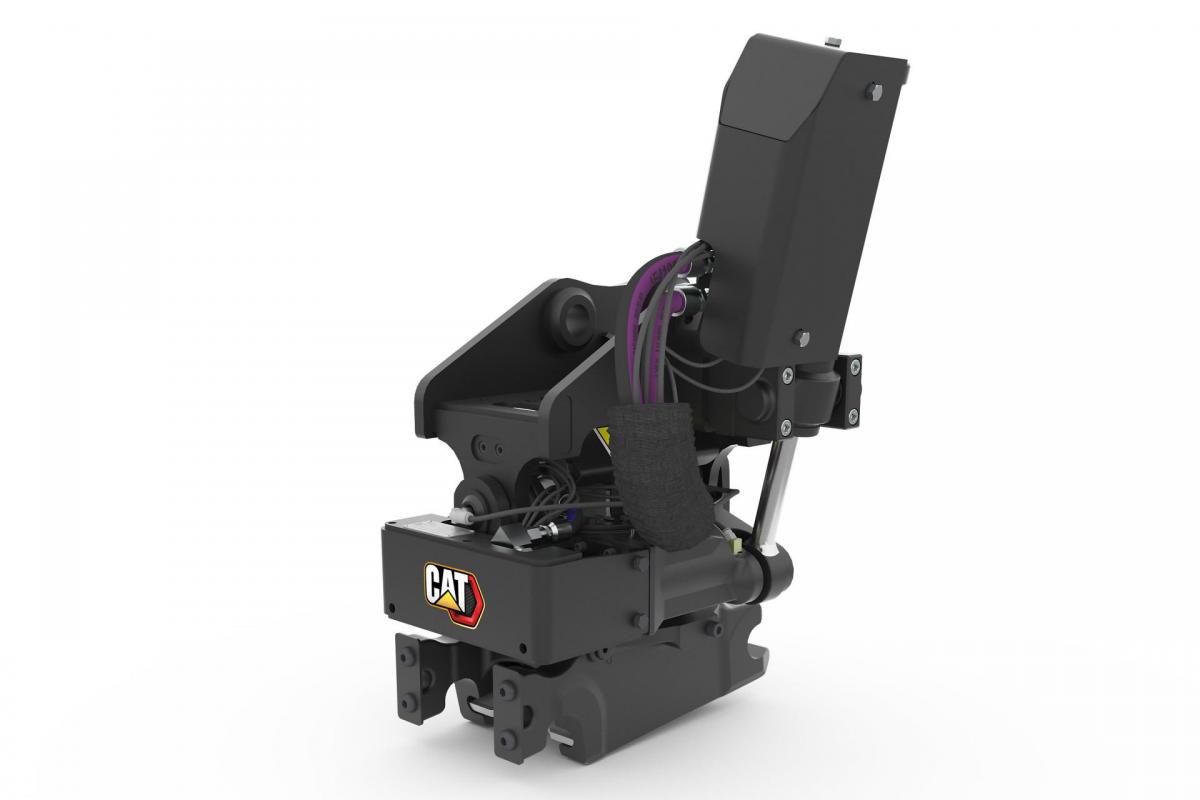 Image- Caterpillar
TRS application
TRS4 models are designed for efficient use by the Cat 302.7, 303, 303.5 and 304 Mini Excavators, while the TRS6 models are compatible with the Cat 305.5CR and 306 CR models. The TRS8 models are designed for use with the Cat 307.5, 308, 308.5, 309 and 310.
NJC.© Info Caterpillar
------------------------------------------------------------------------------------------------------------------
07/11/22-NL
Caterpillar breidt Tilt Rotate System (TRS)-aanbod uit om te werken met Cat® minigraafmachines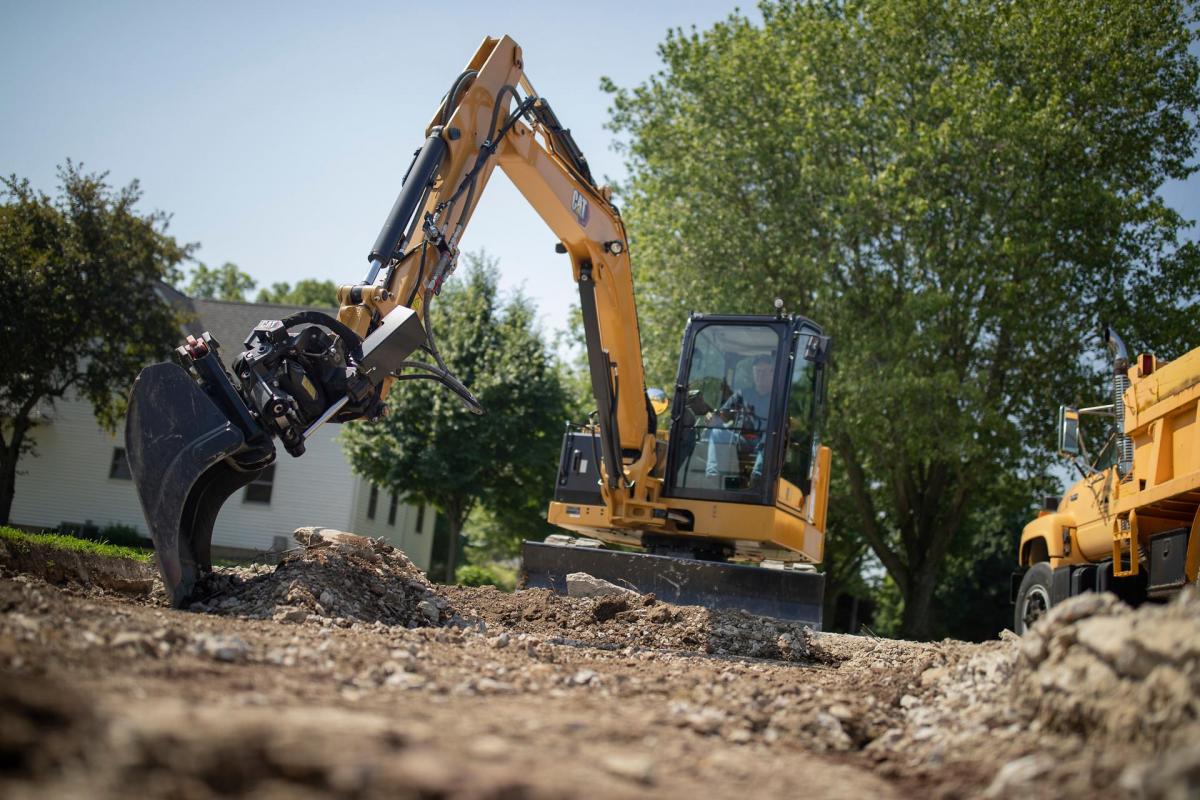 Image- Caterpillar
Caterpillar Work Tools Division kondigt nieuwe Tilt Rotate System (TRS)-modellen aan voor Cat® 302.7 tot en met 310 Next Generation minigraafmachines. Met de nieuwe TRS4 en TRS8 S45 plus bijgewerkte TRS6-modellen kunnen bevestigde uitrustingsstukken 360 graden draaien en 40 graden zijdelings kantelen. Hierdoor kan de machine vanuit één enkele positie meer werkgebieden bereiken, terwijl het gereedschap over, onder en rond obstakels manoeuvreert bij het graven, egaliseren van greppels, sorteren van gerecycled materiaal of het plaatsen van buizen. De nieuwe TRS-modellen vergroten de veelzijdigheid van de minigraafmachine en zijn verkrijgbaar in verschillende configuraties die bij de toepassing passen.
Het systeemontwerp omvat een interface aan de bovenzijde die de TRS verbindt met de draagmachine en een interface aan de onderkant die verschillende uitrustingsstukken verbindt met de TRS. Bovenste interface-aansluitingen voor de TRS4, ​​TRS6 en TRS8 omvatten een keuze tussen een S-type hydraulische koppeling of pin-on, terwijl de onderste interface-opties de Pin Grabber- of S-type koppeling omvatten.
Alle TRS-modellen zijn gestandaardiseerd met een extra TRSAux1-hydraulische functie aan de onderkant. Dit maakt de installatie van een geïntegreerde grijpermodule mogelijk wanneer het TRS-model via het S-type koppelingssysteem aan de drager is bevestigd.
De TRS6 en TRS8 hebben een standaard TRSAux2-hulppoort aan de onderkant om verschillende hydraulische gereedschappen aan te sluiten. Sensoren voor deze TRS-modellen werken in combinatie met Cat minigraafmachinesoftware en een verscheidenheid aan verschillende externe referentieleveranciers voor 2D- en 3D-werktoepassingen.
Ontwerpvoordelen
Door het compacte ontwerp van de TRS4, ​​TRS6 en TRS8 kan de minigraafmachine hoge graafkrachten behouden. Een versterkte TRS-versnellingsbak met een speciaal ontworpen lagerring verdeelt de werkkrachten om de spanning op de TRS en de hostmachine te verminderen. Een onderhoudsvrij smeersysteem voor het rotatiesysteem verdeelt de warmte effectief. Het rotatiesysteem met hoog koppel positioneert uitrustingsstukken snel en een integraal zelfvergrendelend mechanisme maakt graven onder elke gewenste hoek mogelijk. Enkele/minimale smeerpunten voor TRS-modellen zorgen voor een snelle, efficiënte smering van alle verbindingen die gesmeerd moeten worden.
Geïntegreerde lasthoudkleppen voor de dubbelwerkende kantelcilinder handhaven de houddruk en voorkomen beweging van de cilinder onder belasting. Het cilinderontwerp heeft geharde zuigers en onderhoudsvrije lagers, en de krasbestendige, roestvaste oppervlakken vereisen geen onderhoud.
Een geïntegreerde, door de dealer geïnstalleerde veldbedieningskit, die speciaal ontworpen joysticks bevat, is geschikt voor alle combinaties van giek en stick en biedt intuïtieve bediening van de TRS en integrale grijper. De TRS-monitor informeert de machinist over de positie van het aanbouwdeel en een in-/uitschakelsensor zorgt ervoor dat uitrustingsstukken worden vastgezet via een veiligheidsvergrendelingsmechanisme met indicator. Alle TRS-modellen worden geactiveerd door een joystickknop en bieden een emmerschudfunctie om het gelijkmatig verspreiden van materialen te vergemakkelijken.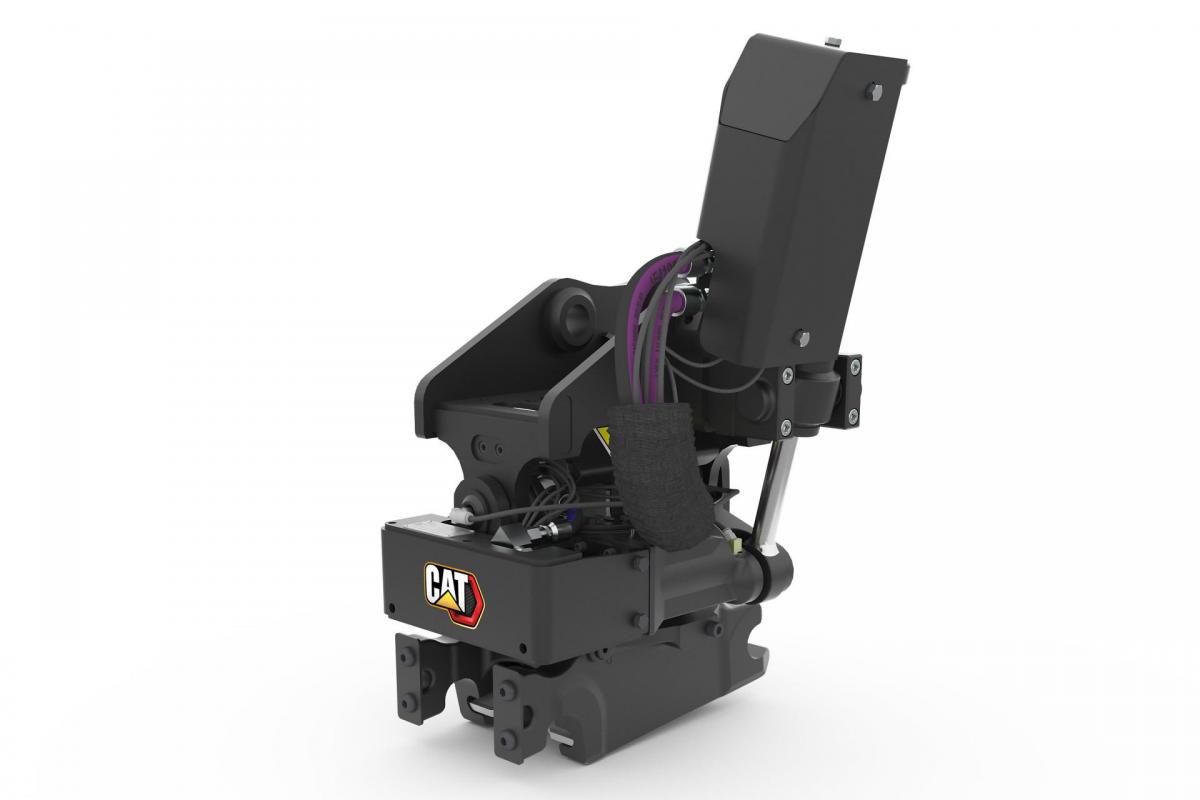 Image- Caterpillar
TRS-applicatie
TRS4-modellen zijn ontworpen voor efficiënt gebruik door de Cat 302.7, 303, 303.5 en 304 minigraafmachines, terwijl de TRS6-modellen compatibel zijn met de Cat 305.5CR- en 306 CR-modellen. De TRS8-modellen zijn ontworpen voor gebruik met de Cat 307.5, 308, 308.5, 309 en 310.
NJC.© Info Caterpillar
-------------------------------------------------------------------------------------------------------------------