Cepton and Exwayz developing state-of-the-art LiDAR Mobile Robotics Solutions
05/12/22-FR-English-NL-footer
Cepton et Exwayz développent des solutions de robotique mobile LiDAR de pointe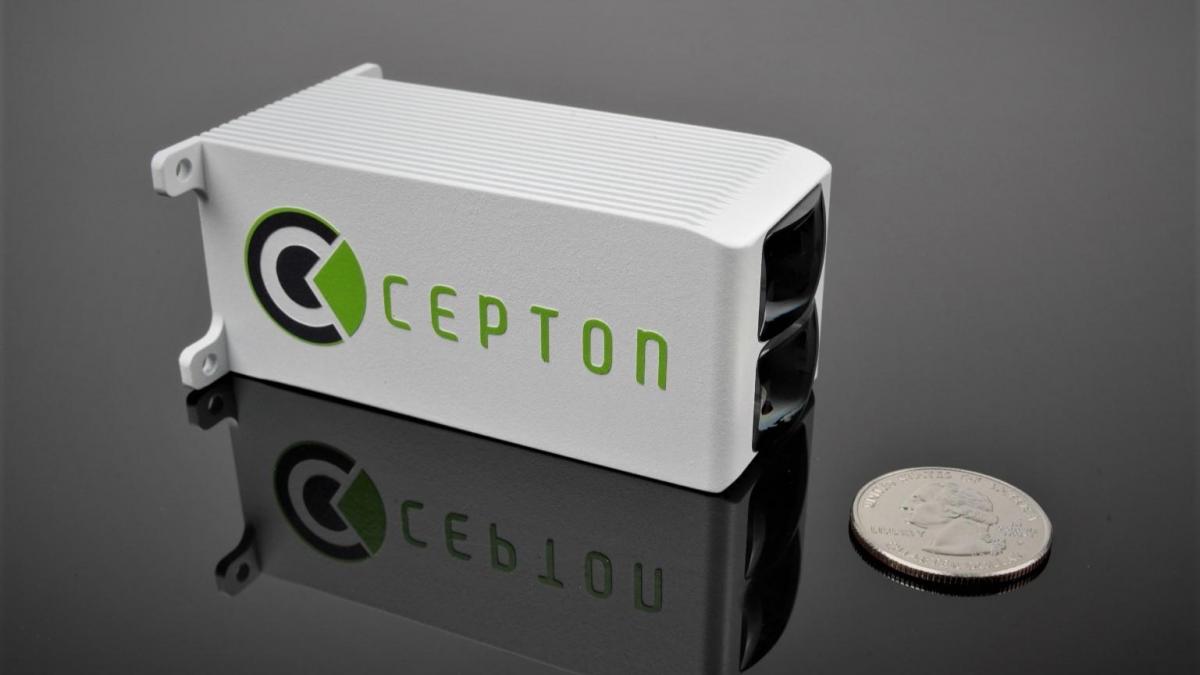 Image- Cepton
Cepton, Inc., un innovateur de la Silicon Valley et leader des solutions lidar hautes performances, collabore avec Exwayz pour faire la démonstration de nouvelles solutions de perception basées sur le lidar pour les applications de robotique mobile.
Exwayz fournit un logiciel de perception plug-and-play pour permettre la cartographie, la localisation et la relocalisation 3D basées sur le lidar, ainsi que la détection et la classification d'objets. Son SDK complet pour le traitement lidar 3D en temps réel est principalement utilisé dans la robotique mobile pour la logistique, la construction, la sécurité, etc.
Les fournisseurs de solutions Lidar, quelles que soient leurs propres capacités logicielles, peuvent intégrer le logiciel d'Exwayz à leur propre matériel lidar pour une démonstration simple de la façon dont le lidar améliore l'intelligence des applications robotiques. La collaboration de Cepton avec Exwayz s'ajoute aux solutions de perception existantes de Cepton, créant de nouvelles possibilités pour rationaliser le développement et la démonstration de systèmes robotiques intégrés au lidar auprès d'une clientèle en croissance rapide.
En raison de ses excellentes capacités de détection 3D et de sa capacité à fonctionner dans des conditions d'éclairage difficiles, le lidar est rapidement reconnu comme une technologie de capteur essentielle dans la robotique. Lidar offre une précision inégalée dans la détection de la distance, de la taille et de la vitesse de déplacement d'un objet. Les données 3D de haute précision de Lidar aident non seulement les systèmes robotiques à naviguer en toute sécurité et de manière autonome, mais permettent également aux opérateurs de suivre facilement leurs emplacements tout en obtenant des informations essentielles sur la façon dont un espace est utilisé (par exemple, le trafic, l'occupation de l'espace et la densité de la foule). Lidar fonctionne jour et nuit, à l'intérieur et à l'extérieur, ce qui le rend disponible 24h/24 et 7j/7. De plus, le lidar ne collecte pas de données biométriques, ce qui lui permet d'être utilisé dans des lieux sensibles à la vie privée pour classer avec précision les personnes à partir d'autres objets et suivre anonymement leurs mouvements.
Cepton propose une suite complète de capteurs lidar pour les applications d'infrastructure automobile et intelligente, ainsi que des solutions de perception propriétaires. La collaboration de Cepton avec Exwayz ouvre davantage l'utilisation potentielle de sa technologie lidar dans une large gamme d'applications de robotique mobile. En tirant parti de la polyvalence et de la fiabilité des lidars hautes performances et faciles à intégrer de Cepton, Cepton et Exwayz visent à fournir une solution immédiate pour accélérer les processus d'intégration de solutions pour les clients mondiaux.
Henri Häfner, directeur de la gestion des produits, du marketing et du développement commercial chez Cepton, déclare : « Les capteurs lidar de qualité automobile de Cepton ont démontré la qualité et la fiabilité nécessaires aux solutions de robotique mobile. Notre technologie lidar de base permet une combinaison optimale de hautes performances, de robustesse et d'intégration inégalée.
Nous sommes maintenant ravis de travailler avec Exwayz pour déployer également le Nova Lidar primé de Cepton pour les applications à courte portée. Nova est conçu pour traiter les angles morts de perception, avec sa taille miniature idéale pour les petits systèmes sans pilote. Exwayz offre une assistance exceptionnelle centrée sur le client avec ses produits. Leur style de travail agile et dynamique m'a impressionné dès le premier jour. Nous sommes impatients de montrer à nos clients comment ils peuvent utiliser une perception lidar 3D précise et anonyme pour élever l'intelligence et la sécurité de la robotique mobile.
Mathias Corsia, CTO et co-fondateur d'Exwayz, déclare : « Nous travaillons avec Cepton depuis le premier jour où nous avons sorti notre produit en octobre 2021. En plus de la gamme et du niveau de détails impressionnants mesurés par leurs capteurs, nous étions très impressionné par la compacité et la variété de la gamme de produits de Cepton, qui répond parfaitement aux besoins de l'industrie en termes d'intégration et de robustesse pour faire des systèmes autonomes une réalité.
Hassan Bouchiba, PDG et co-fondateur d'Exwayz, ajoute : « Nous sommes ravis des expérimentations que nos équipes mènent ensemble sur le tout nouveau lidar Nova et nous avons hâte de le voir intégré dans divers systèmes pour rendre la perception 3D fiable et sûre. à courte distance. »
En tant que fournisseur complet, Cepton propose des solutions lidar flexibles et compatibles avec les logiciels propriétaires et externes. Cepton développe son système Helius Smart Lidar de nouvelle génération pour les villes intelligentes, la gestion du trafic, la sécurité, l'analyse des foules et l'automatisation robotique. La première génération d'Helius est déjà déployée dans le monde entier depuis 2019, contribuant à transformer les villes et les espaces tout en ayant un impact réel.
NJC.© Info Cepton
--------------------------------------------------------------------------------------------------------------------
05/12/22-English
Cepton and Exwayz developing state-of-the-art LiDAR Mobile Robotics Solutions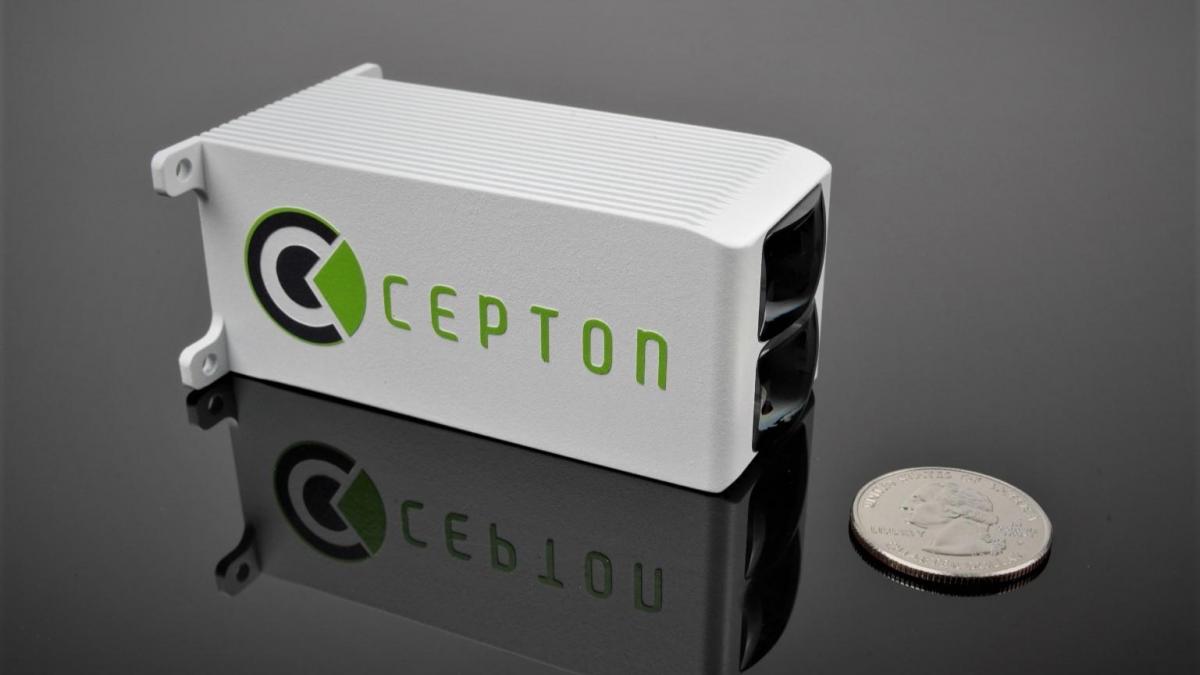 Image- Cepton
Cepton, Inc., a Silicon Valley innovator and leader in high-performance lidar solutions, is collaborating with Exwayz to demonstrate new lidar-based perception solutions for mobile robotics applications.
Exwayz provides plug-and-play perception software to enable lidar-based 3D mapping, localization and re-localization as well as object detection and classification. Its complete SDK for real-time 3D lidar processing is used primarily in mobile robotics for logistics, construction, security and more.
Lidar solution providers, regardless of their own software capabilities, can integrate Exwayz's software with their own lidar hardware for an easy demonstration of how lidar enhances intelligence for robotic applications. Cepton's collaboration with Exwayz adds to Cepton's existing perception solutions, creating new possibilities to streamline the development and demonstration of lidar-integrated robotic systems across a fast-growing customer base.
Due to its excellent 3D sensing capabilities and ability to operate under challenging lighting conditions, lidar is quickly becoming recognized as an essential sensor technology within robotics. Lidar offers unparalleled accuracy in detecting an object's distance, size and moving speed. Lidar's high-precision 3D data not only helps robotic systems navigate safely and autonomously, but also allows operators to easily track their locations while gaining critical insights into how a space is being utilized (e.g., footfall traffic, space occupancy and crowd density). Lidar performs day and night, indoor and outdoor, making it available 24/7. In addition, lidar does not collect biometric data, allowing it to be used in privacy-sensitive venues to accurately classify people from other objects and anonymously track their movement.
Cepton offers a full suite of lidar sensors for automotive and smart infrastructure applications, as well as proprietary perception solutions. Cepton's collaboration with Exwayz further unlocks the potential utilization of its lidar technology across a wide range of mobile robotics applications. By leveraging the versatility and reliability of Cepton's high-performance, easy-to-integrate lidars, Cepton and Exwayz aim to provide an immediate solution to expediting solution integration processes for global customers.
Henri Häfner, Director Product Management, Marketing and Business Development at Cepton, says: "Cepton's automotive-grade lidar sensors have demonstrated the quality and reliability necessary for mobile robotics solutions. Our core lidar technology enables an optimal combination of high performance, ruggedness and unrivaled embeddability.
We are now pleased to be working with Exwayz to also deploy Cepton's award-winning Nova Lidar for near-range applications. Nova is designed to address perception blind spots, with its miniature size that's ideal for smaller unmanned systems. Exwayz offers outstanding customer-centric support along with their products. Their agile and dynamic working style impressed me from day one. We can't wait to showcase to our customers how they can utilize accurate, anonymous 3D lidar perception to elevate the intelligence and safety of mobile robotics."
Mathias Corsia, CTO and co-founder at Exwayz, says: "We have been working with Cepton since the first day we released our product in October 2021. In addition to the impressive range and level of details measured by their sensors, we were very impressed by the compactness and variety of Cepton's product line, which fits perfectly the industry needs in terms of integration and robustness for making autonomous systems a reality."
Hassan Bouchiba, CEO and co-founder at Exwayz, adds: "We are thrilled by the experiments our teams are carrying together on the brand-new Nova lidar and we cannot wait to see it integrated in various systems for making 3D perception reliable and safe at a near range."
As a full-stack provider, Cepton offers lidar solutions that are flexible and compatible with both proprietary and external software. Cepton is developing its next-generation Helius Smart Lidar System for smart cities, traffic management, security, crowd analytics and robotic automation. The first generation of Helius has already been deployed globally since 2019, helping transform cities and spaces while making a real-world impact.
NJC.© Info Cepton
-------------------------------------------------------------------------------------------------------------
05/12/22-NL
Cepton en Exwayz ontwikkelen state-of-the-art LiDAR Mobile Robotics Solutions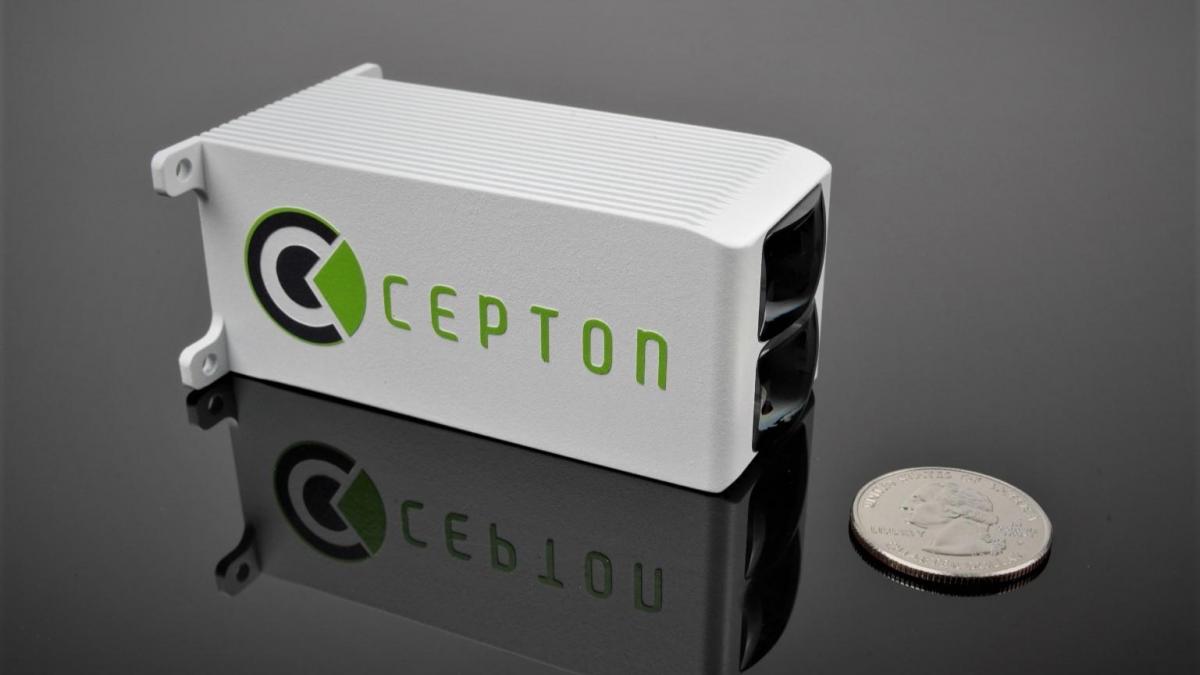 Image- Cepton
Cepton, Inc., een innovator uit Silicon Valley en leider in hoogwaardige lidar-oplossingen, werkt samen met Exwayz om nieuwe op lidar gebaseerde waarnemingsoplossingen voor mobiele robotica-toepassingen te demonstreren.
Exwayz biedt plug-and-play perceptiesoftware om op lidar gebaseerde 3D-mapping, lokalisatie en herlokalisatie mogelijk te maken, evenals objectdetectie en -classificatie. De complete SDK voor real-time 3D-lidarverwerking wordt voornamelijk gebruikt in mobiele robotica voor logistiek, constructie, beveiliging en meer.
Leveranciers van Lidar-oplossingen kunnen, ongeacht hun eigen softwaremogelijkheden, de software van Exwayz integreren met hun eigen lidar-hardware voor een eenvoudige demonstratie van hoe lidar de intelligentie voor robottoepassingen verbetert. De samenwerking van Cepton met Exwayz draagt bij aan de bestaande waarnemingsoplossingen van Cepton en creëert nieuwe mogelijkheden om de ontwikkeling en demonstratie van in lidar geïntegreerde robotsystemen te stroomlijnen bij een snelgroeiend klantenbestand.
Vanwege zijn uitstekende 3D-waarnemingsmogelijkheden en het vermogen om onder uitdagende lichtomstandigheden te werken, wordt lidar snel erkend als een essentiële sensortechnologie binnen de robotica. Lidar biedt ongeëvenaarde nauwkeurigheid bij het detecteren van de afstand, grootte en bewegingssnelheid van een object. De zeer nauwkeurige 3D-gegevens van Lidar helpen robotsystemen niet alleen veilig en autonoom te navigeren, maar stellen operators ook in staat om eenvoudig hun locaties te volgen terwijl ze kritische inzichten krijgen in hoe een ruimte wordt gebruikt (bijvoorbeeld bezoekersaantallen, ruimtebezetting en menigtedichtheid). Lidar draait dag en nacht, binnen en buiten en is daardoor 24/7 beschikbaar. Bovendien verzamelt lidar geen biometrische gegevens, waardoor het op privacygevoelige locaties kan worden gebruikt om mensen nauwkeurig te classificeren van andere objecten en hun bewegingen anoniem te volgen.
Cepton biedt een volledige reeks lidar-sensoren voor automobiel- en slimme infrastructuurtoepassingen, evenals eigen waarnemingsoplossingen. De samenwerking van Cepton met Exwayz ontsluit het potentiële gebruik van zijn lidar-technologie voor een breed scala aan mobiele robotica-toepassingen. Door gebruik te maken van de veelzijdigheid en betrouwbaarheid van Cepton's krachtige, eenvoudig te integreren lidars, willen Cepton en Exwayz een onmiddellijke oplossing bieden voor het versnellen van oplossingsintegratieprocessen voor wereldwijde klanten.
Henri Häfner, Director Product Management, Marketing en Business Development bij Cepton, zegt: "Cepton's lidar-sensoren van autokwaliteit hebben de kwaliteit en betrouwbaarheid aangetoond die nodig zijn voor mobiele robotoplossingen. Onze kernlidar-technologie maakt een optimale combinatie van hoge prestaties, robuustheid en ongeëvenaarde insluitbaarheid mogelijk.
We zijn nu verheugd om samen te werken met Exwayz om ook de bekroonde Nova Lidar van Cepton in te zetten voor toepassingen op korte afstand. Nova is ontworpen om waarnemingsblinde vlekken aan te pakken, met zijn miniatuurformaat dat ideaal is voor kleinere onbemande systemen. Exwayz biedt uitstekende klantgerichte ondersteuning samen met hun producten. Hun behendige en dynamische werkstijl maakte vanaf dag één indruk op mij. We kunnen niet wachten om onze klanten te laten zien hoe ze nauwkeurige, anonieme 3D-lidar-perceptie kunnen gebruiken om de intelligentie en veiligheid van mobiele robotica te verbeteren."
Mathias Corsia, CTO en mede-oprichter bij Exwayz, zegt: "We werken samen met Cepton sinds de eerste dag dat we ons product uitbrachten in oktober 2021. Naast het indrukwekkende bereik en detailniveau gemeten door hun sensoren, waren we zeer onder de indruk van de compactheid en verscheidenheid van de productlijn van Cepton, die perfect past bij de behoeften van de industrie op het gebied van integratie en robuustheid om autonome systemen te realiseren."
Hassan Bouchiba, CEO en mede-oprichter van Exwayz, voegt toe: "We zijn enthousiast over de experimenten die onze teams samen uitvoeren op de gloednieuwe Nova lidar en we kunnen niet wachten om het geïntegreerd te zien in verschillende systemen om 3D-perceptie betrouwbaar en veilig te maken. op korte afstand."
Als full-stack provider biedt Cepton lidar-oplossingen die flexibel zijn en compatibel zijn met zowel bedrijfseigen als externe software. Cepton ontwikkelt zijn volgende generatie Helius Smart Lidar-systeem voor slimme steden, verkeersbeheer, beveiliging, crowd-analyse en robotautomatisering. De eerste generatie Helius wordt al sinds 2019 wereldwijd ingezet en helpt steden en ruimtes te transformeren en tegelijkertijd een echte impact te hebben.
NJC.© Info Cepton
------------------------------------------------------------------------------------------------------------------------