CLARK-Power packs for long-distance transports
19/09/22-FR-English-NL-footer
Blocs d'alimentation CLARK pour les transports longue distance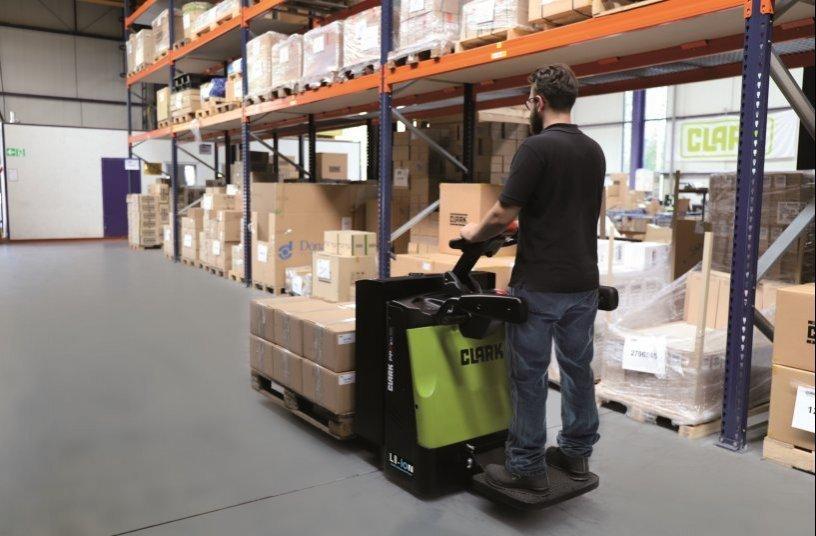 The PPXS20 series has power steering as standard and features improved ergonomics and greater operator friendliness.
IMAGE SOURCE: CLARK Europe GmbH
Clark relance la série de chariots à faible levée
Clark a relooké les chariots à faible levée avec plate-forme de conduite rabattable et a combiné toutes les variantes de modèle sous le nom de PPXS20. Par exemple, la nouvelle série est équipée de série d'une direction assistée et se caractérise par une ergonomie améliorée et une plus grande convivialité.
Seuls des composants et des matériaux éprouvés sont utilisés dans la conception des chariots à faible levée PPXS20, garantissant une longue durée de vie, des performances élevées et la sécurité. Les chariots sont conçus pour être utilisés sur des trajets de transport moyens à longs. Mais les camions sont également dans leur élément sur les rampes et les pentes grâce à leur protection anti-retour.
La série se compose de trois variantes de modèle avec une capacité de charge de 2000 kg : Le PPXS20 avec batterie au plomb (375 Ah) dans la version 12 km/h convient aux longs trajets de transport où la vitesse élevée est importante. Pour les distances plus courtes, une version avec une vitesse maximale de 8 km/h est disponible en alternative. Pour les variantes de modèle avec batterie au plomb, différentes capacités de batterie sont disponibles selon les exigences du client. Selon l'application, une batterie de 24 volts et 225, 250 ou 375 Ah est disponible.
La série PPXS20 est équipée de série d'une direction assistée et offre une ergonomie améliorée et une plus grande convivialité pour l'opérateur.
Pour les applications intensives, telles que le fonctionnement en plusieurs équipes, où l'accent est mis sur la haute disponibilité, le PPXS20 est également disponible avec une batterie lithium-ion (205 Ah). La batterie Li-Ion peut être facilement rechargée sans limiter la durée de vie. La batterie peut être rechargée sur n'importe quelle prise 230 volts. En seulement 10 minutes, 7 % de la capacité de la batterie peut être rechargée.
Convivial et sûr à utiliser
La plate-forme opérateur avec protections latérales est un équipement standard sur le PPXS20. Comme les protections latérales, la plate-forme peut être repliée manuellement (fonctionnement piéton). Avec la direction assistée de série, cela garantit que les véhicules peuvent également être utilisés sans problème dans les zones de travail à espace restreint. La bande de roulement de la plate-forme a une surface antidérapante et offre un confort et une sécurité optimaux grâce à la suspension supplémentaire. La faible hauteur de marche facilite également la montée et la descente de l'opérateur. Lorsque l'opérateur quitte la plate-forme, le véhicule passe automatiquement en mode veille. Le chariot ne peut alors plus être déplacé. Avec les protections latérales activées, la vitesse de déplacement maximale est de 8 ou 12 km/h. Lorsque les protections latérales sont repliées, la vitesse de conduite maximale est automatiquement réduite. Toutes les commandes et fonctions de levage, d'abaissement et de conduite sont placées à portée de main dans le timon ergonomique, qui peut être utilisé indifféremment par des opérateurs droitiers et gauchers. Le véhicule freine automatiquement lorsque le conducteur relâche le timon. En même temps, en cas de dysfonctionnement, il affiche des codes d'erreur pour aider le mécanicien dans le dépannage. La réduction automatique de la vitesse dans les virages assure un haut niveau de sécurité. Avec la série PPXS20, l'opérateur peut donc se concentrer pleinement sur son travail - c'est-à-dire le transport de marchandises - et l'opérateur atteint une efficacité élevée.
NJC.© Info CLARK Europe GmbH
-----------------------------------------------------------------------------------------------------------------
19/09/22-English
CLARK-Power packs for long-distance transports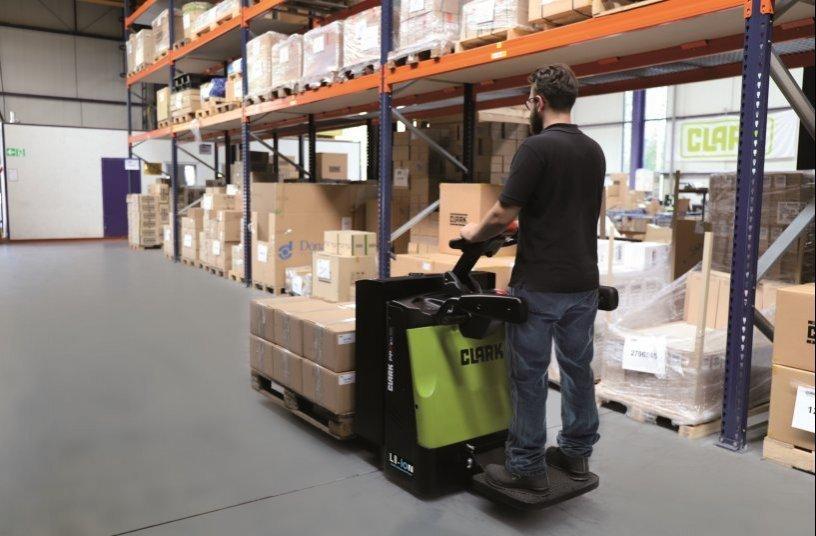 The PPXS20 series has power steering as standard and features improved ergonomics and greater operator friendliness.
IMAGE SOURCE: CLARK Europe GmbH
Clark relaunches low-lift truck series
Clark has given the low-lift trucks with folding operator platform a facelift and combined all model variants under the name PPXS20. For example, the new series has power steering as standard and is characterised by improved ergonomics and greater user-friendliness.
Only proven components and materials are used in the design of the PPXS20 low-lift trucks, ensuring a long service life, high performance and safety. The trucks are designed for use on medium to long transport routes. But the trucks are also in their element on ramps and inclines thanks to their roll-back protection.
The series consists of three model variants with a load capacity of 2000 kg: The PPXS20 with lead-acid battery (375 Ah) in the 12 km/h version is suitable for long transport routes where high speed is important. For shorter distances, a version with a maximum speed of 8 km/h is available as an alternative. For the model variants with lead-acid battery, different battery capacities are available according to customer requirements. Depending on the application, a battery with 24 volts and 225, 250 or 375 Ah is available.
The PPXS20 series has power steering as standard and features improved ergonomics and greater operator friendliness.
For intensive applications, such as multi-shift operation, where the focus is on high availability, the PPXS20 is also available with a lithium-ion battery (205 Ah). The Li-Ion battery can be easily recharged without limiting the service life. The battery can be recharged at any 230-volt socket. In only 10 minutes, 7 % of the battery capacity can be recharged.
User-friendly and safe to operate
The operator platform with side guards is standard equipment on the PPXS20. Like the side guards, the platform can be folded away manually (pedestrian operation). Together with the standard power steering, this ensures that the vehicles can also be used in space-critical work areas without any problems. The platform tread has a non-slip surface and offers optimum comfort and safety thanks to the additional suspension. The low step height also makes it easier for the operator to climb up and down. When the operator leaves the platform, the vehicle automatically switches to stand-by mode. The truck can then no longer be moved. With the side guards activated, the maximum travel speed is up to 8 or 12 km/h. When the side guards are folded in, the maximum driving speed is automatically reduced. All controls and functions for lifting, lowering and driving are positioned within easy reach in the ergonomic tiller, which can be operated equally by right-handed and left-handed operators. The vehicle brakes automatically when the driver releases the tiller. At the same time, in the event of a malfunction, it displays error codes to assist the mechanic in troubleshooting. The automatic speed reduction when cornering ensures a high level of safety. With the PPXS20 series, the operator can therefore concentrate fully on his work – i.e. transporting goods – and the operator achieves high efficiency.
NJC.© Info CLARK Europe GmbH
-----------------------------------------------------------------------------------------------------------------
19/09/22-NL
CLARK-Power packs voor langeafstandstransporten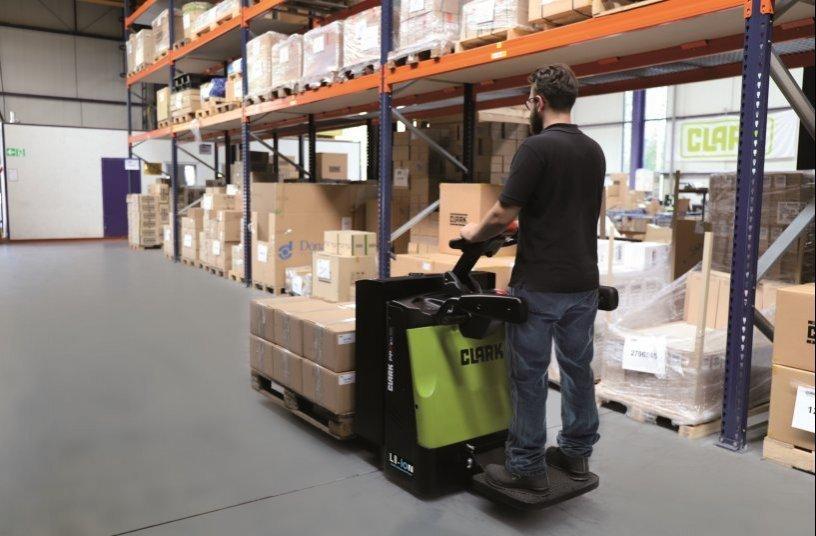 The PPXS20 series has power steering as standard and features improved ergonomics and greater operator friendliness.
IMAGE SOURCE: CLARK Europe GmbH
Clark lanceert serie lage heftrucks
Clark heeft de low-lift trucks met opklapbaar bestuurdersplatform een ​​facelift gegeven en alle modelvarianten gecombineerd onder de naam PPXS20. Zo heeft de nieuwe serie standaard stuurbekrachtiging en kenmerkt zich door een verbeterde ergonomie en meer gebruiksvriendelijkheid.
Alleen beproefde componenten en materialen worden gebruikt bij het ontwerp van de PPXS20-diepladers, wat zorgt voor een lange levensduur, hoge prestaties en veiligheid. De trucks zijn ontworpen voor gebruik op middellange tot lange transportroutes. Maar ook op hellingen en hellingen zijn de trucks in hun element dankzij hun terugrolbeveiliging.
De serie bestaat uit drie modelvarianten met een laadvermogen van 2000 kg: De PPXS20 met loodaccu (375 Ah) in de 12 km/u-uitvoering is geschikt voor lange transportroutes waarbij hoge snelheid belangrijk is. Voor kortere afstanden is als alternatief een uitvoering met een maximumsnelheid van 8 km/u leverbaar. Voor de modelvarianten met loodaccu zijn verschillende accucapaciteiten beschikbaar, afhankelijk van de wensen van de klant. Afhankelijk van de toepassing is er een accu met 24 volt en 225, 250 of 375 Ah leverbaar.
De PPXS20-serie is standaard voorzien van stuurbekrachtiging en heeft een verbeterde ergonomie en een grotere gebruiksvriendelijkheid.
Voor intensieve toepassingen, zoals meerploegendienst, waarbij de focus ligt op hoge beschikbaarheid, is de PPXS20 ook verkrijgbaar met een lithium-ion accu (205 Ah). De Li-Ion-accu kan eenvoudig worden opgeladen zonder de levensduur te beperken. De batterij kan worden opgeladen aan elk 230 volt stopcontact. In slechts 10 minuten kan 7% van de batterijcapaciteit worden opgeladen.
Gebruiksvriendelijk en veilig te bedienen
Het bestuurdersplatform met onrusthekken is standaard op de PPXS20. Net als de onrusthekken kan het platform handmatig worden weggeklapt (meeloopbediening). Samen met de standaard stuurbekrachtiging zorgt dit ervoor dat de voertuigen ook probleemloos in ruimtekritische werkruimten kunnen worden ingezet. Het platformtrede heeft een antislip oppervlak en biedt optimaal comfort en veiligheid dankzij de extra vering. De lage opstaphoogte maakt het ook gemakkelijker voor de machinist om op en neer te klimmen. Wanneer de bestuurder het platform verlaat, schakelt het voertuig automatisch over naar de stand-bymodus. De vrachtwagen kan dan niet meer worden verplaatst. Met geactiveerde onrusthekken is de maximale rijsnelheid 8 of 12 km/u. Als de onrusthekken zijn ingeklapt, wordt de maximale rijsnelheid automatisch verlaagd. Alle bedieningselementen en functies voor heffen, dalen en rijden bevinden zich binnen handbereik in de ergonomische dissel, die zowel door rechtshandige als door linkshandige bestuurders kan worden bediend. Het voertuig remt automatisch wanneer de bestuurder de dissel loslaat. Tegelijkertijd worden in het geval van een storing foutcodes weergegeven om de monteur te helpen bij het oplossen van problemen. De automatische snelheidsreductie in bochten zorgt voor een hoog veiligheidsniveau. Met de PPXS20-serie kan de machinist zich daarom volledig concentreren op zijn werk – namelijk het transporteren van goederen – en behaalt de machinist een hoge efficiëntie.
NJC.© Info CLARK Europe GmbH
---------------------------------------------------------------------------------------------------------------------