CM Labs Ships MasterCab, Full-immersion Port Equipment Simulator

16/06/23-FR-English-NL-footer
CM Labs livre MasterCab, un simulateur d'équipement portuaire à immersion totale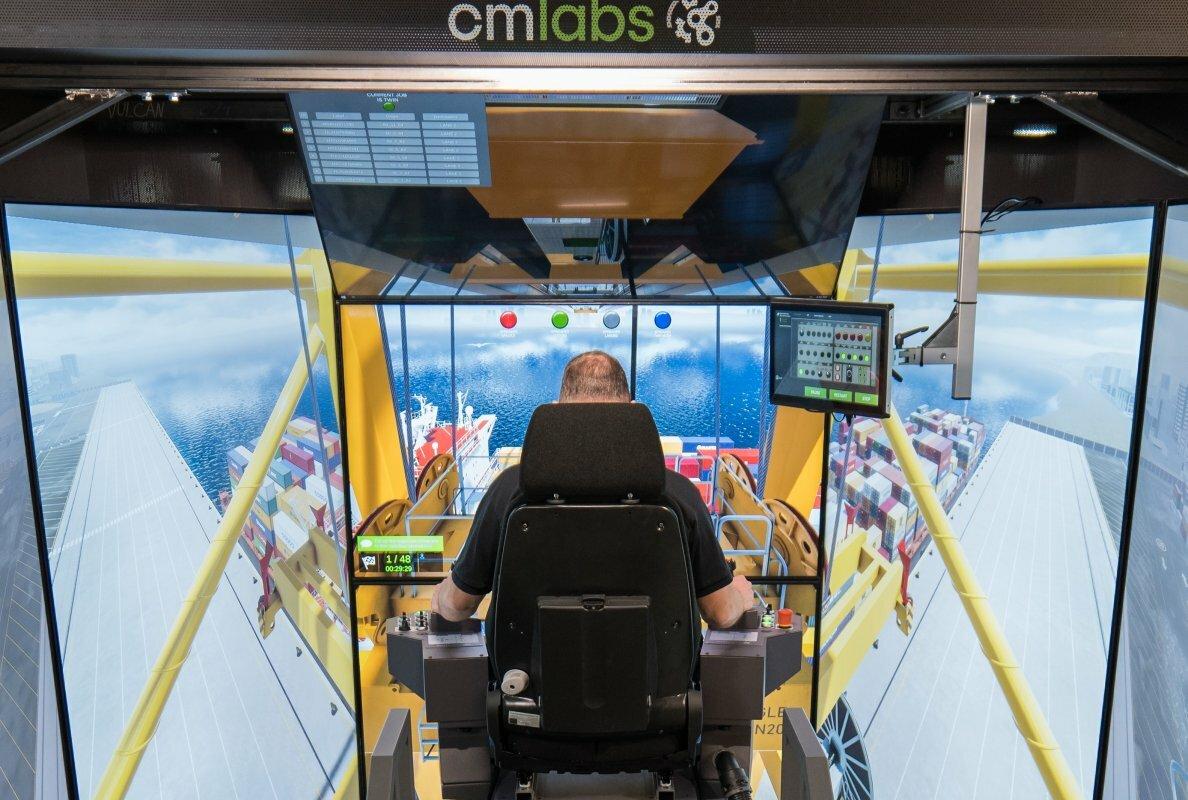 CM Labs MasterCab IMAGE SOURCE: CM Labs Simulations Inc.
CM Labs Simulations, fournisseur leader de formation basée sur la simulation dans les secteurs de la construction et des ports, a annoncé aujourd'hui que MasterCab de CM Labs, un simulateur de formation en immersion complète alimenté par la simulation d'équipement portuaire la plus réaliste sur le marché aujourd'hui, est disponible pour expédition. Le MasterCab est une solution de formation complète qui développe les compétences opérationnelles, la mémoire musculaire et l'intelligence spatiale. Cela permet aux terminaux portuaires d'évaluer et de former de manière sûre et efficace de nouveaux opérateurs et de préparer le personnel aux nouveaux équipements et processus.
Le MasterCab est doté de 10 écrans haute définition de CM Labs, offrant une perspective de champ de vision complète, pilotée par une simulation de pointe des conditions de fonctionnement, de la réponse de la machine et de l'environnement portuaire.
Avec des sièges, des commandes et des pédales de qualité professionnelle, ainsi qu'un son haute fidélité et un système de mouvement extensible à 6 degrés de liberté (DOF), le MasterCab reproduit les signaux sensoriels ressentis par les opérateurs sur l'équipement réel, ce qui permet un loin transition plus fluide de la formation aux opérations réelles.
"Nous tenons la promesse de proposer une expérience de formation par simulation entièrement immersive avec le MasterCab", a déclaré Devon Van de Kletersteeg, chef de produit, ports chez CM Labs. "Avec MasterCab, les gestionnaires et les opérateurs de terminaux portuaires peuvent bénéficier d'une formation et d'un développement des compétences plus efficaces, et finalement réaliser un retour sur investissement plus rapide."
La MasterCab dispense des formations disponibles 24h/24 et 7j/7 et gère un catalogue complet de packs de formation sur les équipements côté quai et côté cour (STS, MHC, SPC, ITV, RTG, ECH, Reach Stacker, Straddle Carrier, Forklift), ainsi que ainsi que des simulations personnalisées.
Grâce aux données de formation en temps réel capturées par le MasterCab, les instructeurs peuvent surveiller, évaluer et rendre compte de toutes les sessions à partir de la station d'instructeur fournie avec la solution.
Pour en savoir plus, contactez marketing@cm-labs.com ou visitez le stand E36 au TOC Europe 2023. Lors du salon, CM Labs présentera un certain nombre de solutions basées sur la simulation conçues pour aider les terminaux portuaires à obtenir un retour sur investissement plus rapide sur leur initiatives, y compris le Vortex Master, un simulateur de mouvement à 10 écrans exécutant un pack de formation Ship to Shore (STS) amélioré et une démonstration technique spéciale. Visitez le stand pour rencontrer les experts portuaires de CM Labs et discuter d'autres technologies innovantes, telles que le simulateur de station d'exploitation à distance (ROS) pour les opérations STS, et des outils pour améliorer les systèmes de gestion de la formation.
NJC.© Info CM Labs Simulations Inc.
---------------------------------------------------------------------------------------------------------------

16/06/23-English
CM Labs Ships MasterCab, Full-immersion Port Equipment Simulator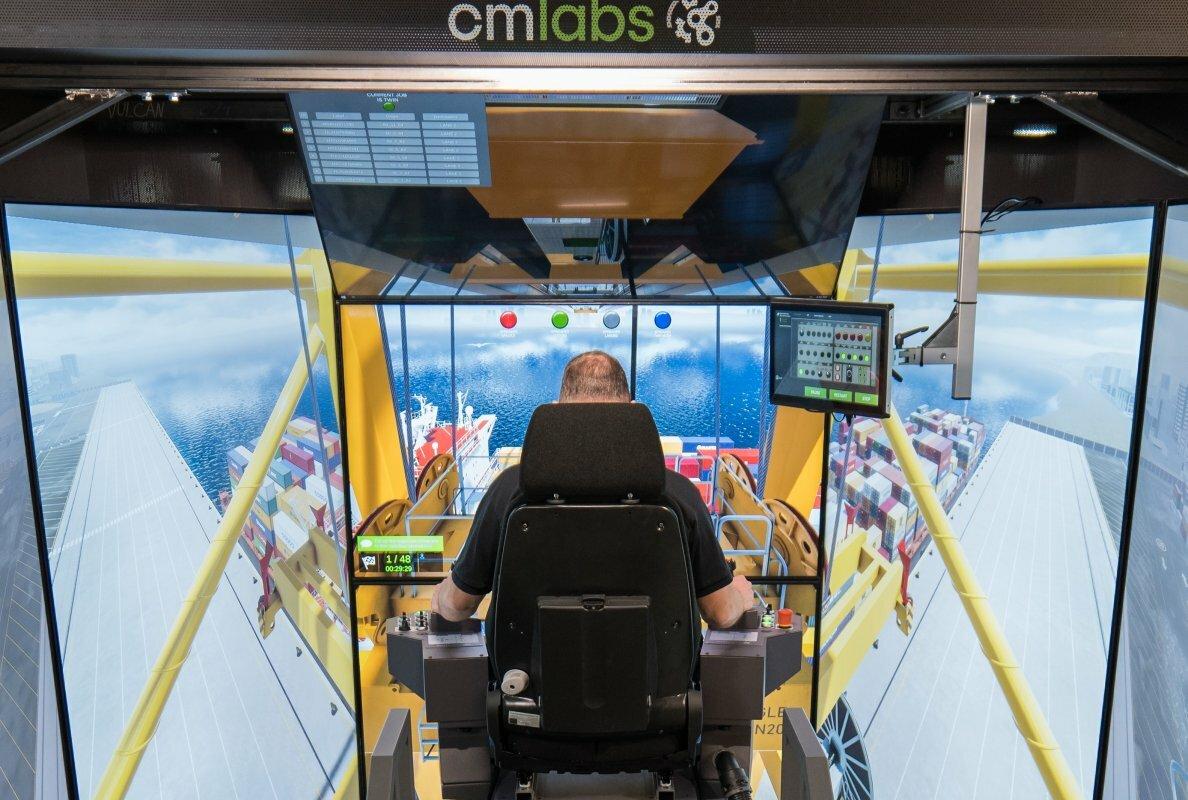 CM Labs MasterCab IMAGE SOURCE: CM Labs Simulations Inc.
CM Labs Simulations, leading vendor for simulation-based training in the construction and ports industries, today announced that CM Labs' MasterCab, a full-immersion training simulator powered by the most realistic port equipment simulation on the market today, is available to ship. The MasterCab is a comprehensive training solution that develops operational skills, muscle memory, and spatial intelligence. This allows port terminals to safely and effectively assess and train new operators, and prepare personnel for new equipment and processes.
The MasterCab is CM Labs' features 10 high-definition displays, providing full field-of-view perspective, driven by industry-leading simulation of operating conditions, machine response and the port environment.
With professional-grade seating, controls, and pedals, as well as high-fidelity audio and a motion system expandable to 6 Degrees of Freedom (DOF), the MasterCab reproduces the sensory cues experienced by operators on the real equipment, which enables a far more fluid transition from training to real operations.
"We are delivering on the promise to release a fully immersive simulation training experience with the MasterCab," said Devon Van de Kletersteeg, CM Labs' product manager, ports. "With the MasterCab, Port Terminal managers and operators can experience more effective training and skills development, and ultimately realize a faster return on their investment."
The MasterCab provides training that is available 24/7, and runs a complete catalog of quay-side and yard-side equipment training packs (STS, MHC, SPC, ITV, RTG, ECH, Reach Stacker, Straddle Carrier, Forklift), as well as custom simulations.
Thanks to the real-time training data captured by the MasterCab, instructors can monitor, assess, and report on all sessions from the Instructor Station provided with the solution.
To learn more, contact marketing@cm-labs.com, or visit Booth E36 at TOC Europe 2023. At the show, CM Labs will be showcasing a number of simulation-based solutions designed to help port terminals obtain faster return on investment on their initiatives, including the Vortex Master, a 10-display motion simulator running an enhanced Ship to Shore (STS) Training Pack, and a special tech demo. Visit the booth to meet with CM Labs' port experts and discuss other innovative technologies, such as the Remote Operating Station (ROS) simulator for STS operations, and tools to improve training management systems.
NJC.© Info CM Labs Simulations Inc.
--------------------------------------------------------------------------------------------------------------------

16/06/23-NL
CM Labs verscheept MasterCab, volledig onderdompelende havenapparatuursimulator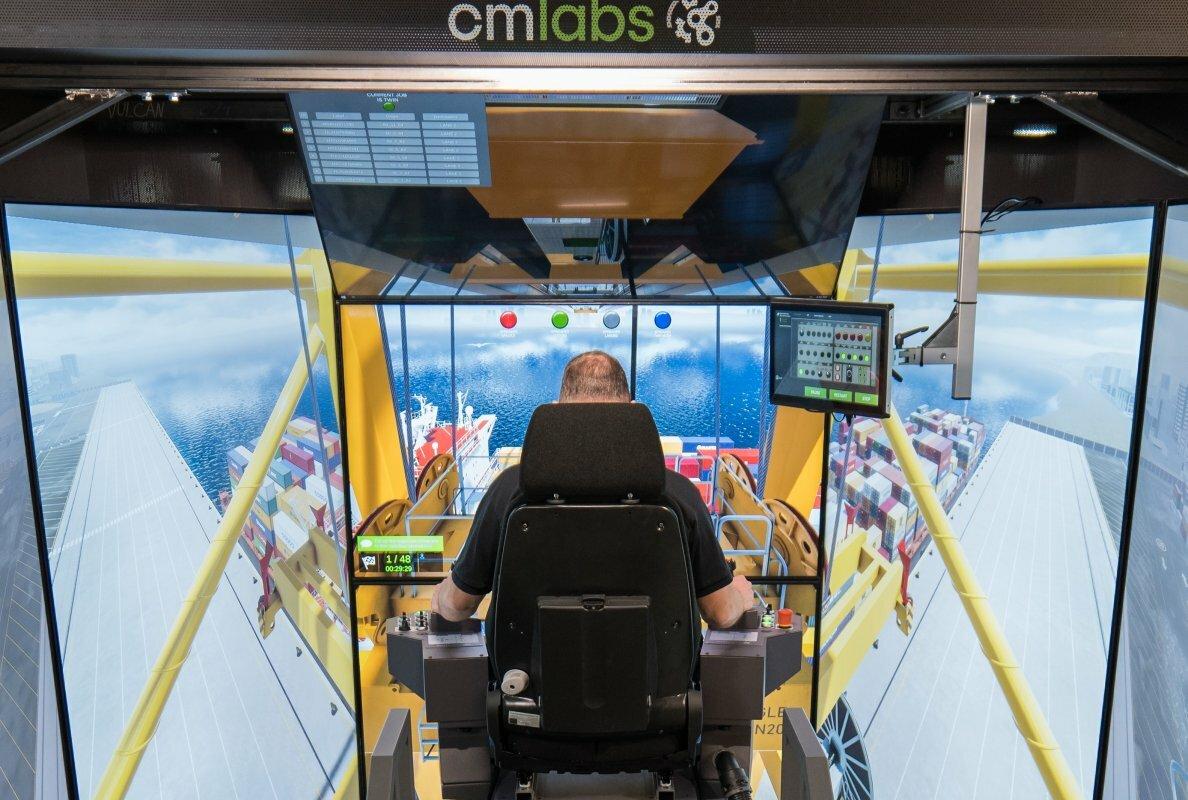 CM Labs MasterCab IMAGE SOURCE: CM Labs Simulations Inc.
CM Labs Simulations, toonaangevende leverancier van op simulatie gebaseerde training in de bouw- en havenindustrie, heeft vandaag aangekondigd dat CM Labs' MasterCab, een volledig onderdompelende trainingssimulator die wordt aangedreven door de meest realistische simulatie van havenapparatuur die momenteel op de markt is, beschikbaar is voor verzending. De MasterCab is een uitgebreide trainingsoplossing die operationele vaardigheden, spiergeheugen en ruimtelijke intelligentie ontwikkelt. Hierdoor kunnen haventerminals veilig en effectief nieuwe operators beoordelen en opleiden, en personeel voorbereiden op nieuwe apparatuur en processen.
De MasterCab is van CM Labs en beschikt over 10 high-definition displays, die een volledig gezichtsveld bieden, aangedreven door toonaangevende simulatie van bedrijfsomstandigheden, machinerespons en de havenomgeving.
Met stoelen, bedieningselementen en pedalen van professionele kwaliteit, evenals high-fidelity audio en een bewegingssysteem dat uitbreidbaar is tot 6 graden van vrijheid (DOF), reproduceert de MasterCab de zintuiglijke signalen die operators ervaren op de echte apparatuur, waardoor een verre vloeiendere overgang van training naar echte operaties.
"We maken de belofte waar om een volledig meeslepende simulatietrainingservaring uit te brengen met de MasterCab", zegt Devon Van de Kletersteeg, CM Labs' productmanager, ports. "Met de MasterCab kunnen managers en operators van haventerminals effectievere training en ontwikkeling van vaardigheden ervaren en uiteindelijk een sneller rendement op hun investering realiseren."
De MasterCab biedt training die 24/7 beschikbaar is, en heeft een complete catalogus van trainingspakketten voor kade- en werfapparatuur (STS, MHC, SPC, ITV, RTG, ECH, Reach Stacker, Straddle Carrier, Forklift), evenals evenals aangepaste simulaties.
Dankzij de real-time trainingsgegevens die door de MasterCab worden vastgelegd, kunnen instructeurs alle sessies volgen, beoordelen en rapporteren vanaf het instructeursstation dat bij de oplossing wordt geleverd.
Neem voor meer informatie contact op met marketing@cm-labs.com of bezoek stand E36 op TOC Europe 2023. Op de show zal CM Labs een aantal op simulatie gebaseerde oplossingen presenteren die zijn ontworpen om haventerminals te helpen een sneller rendement op hun investering te behalen. initiatieven, waaronder de Vortex Master, een bewegingssimulator met 10 schermen met een verbeterd Ship to Shore (STS) trainingspakket en een speciale technische demo. Bezoek de stand om de havenexperts van CM Labs te ontmoeten en andere innovatieve technologieën te bespreken, zoals de Remote Operating Station (ROS)-simulator voor STS-operaties en hulpmiddelen om trainingsbeheersystemen te verbeteren.
NJC.© Info CM Labs Simulations Inc.
-------------------------------------------------------------------------------------------------------------------