Compact tandem rollers and compactors from Hamm – the perfect rental machines

28/07/23-FR-English-NL-footer
Rouleaux tandem compacts et compacteurs de Hamm – les machines de location idéales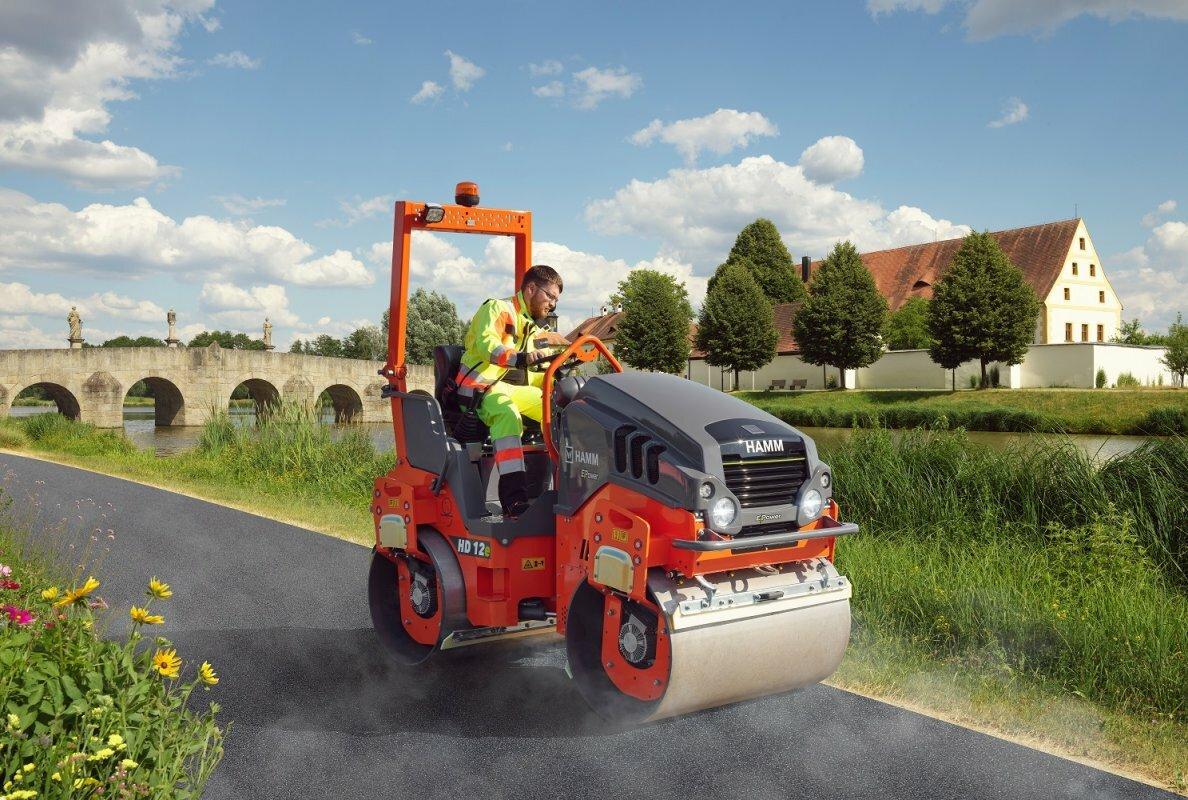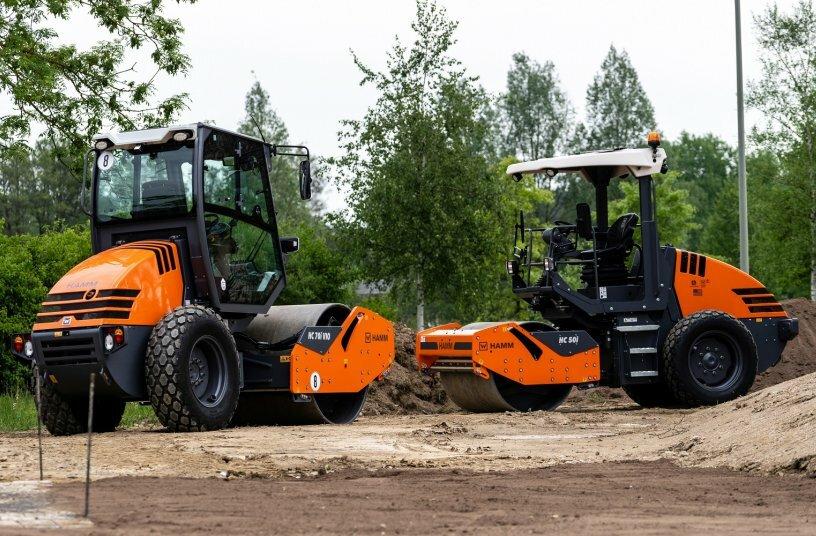 Small compactors: The HC 50i and HC 70i in the CompactLine from Hamm have highly compact dimensions. From their seat, the driver has a perfect overview of the machine and the construction site.
IMAGE SOURCE: WIRTGEN GROUP
Début 2023, Hamm a élargi sa gamme de rouleaux compacts pour inclure huit modèles entièrement électriques qui compactent sans produire d'émissions locales. Cela signifie que Hamm propose plus de 40 rouleaux tandem compacts dans la HD CompactLine en tant que polyvalents pour l'asphalte et l'aménagement paysager. Pour les travaux de terrassement, la nouvelle série HC CompactLine compte cinq petits compacteurs puissants dans la gamme depuis 2022. Les deux séries sont prédestinées à la location de machines car elles sont si polyvalentes et faciles à manipuler.
Rouleaux électriques en demande pour les flottes de location
Les rouleaux CompactLine de Hamm font depuis des années partie intégrante de la gamme de produits de nombreuses sociétés de location. Bien connus sur le marché, populaires auprès des clients et robustes en fonctionnement, ils ont tout ce dont le marché de la location a besoin. Cela vaut également pour les nouveaux modèles électriques. Depuis que les rouleaux électriques ont été présentés pour la première fois à Bauma 2022, Hamm a connu une énorme demande pour ces machines, y compris de la part du secteur de la location. Actuellement, les flottes de location soutiennent de nombreuses entreprises de construction travaillant sur des projets spécifiques qui nécessitent des machines qui ne dégagent pas d'émissions locales. Parallèlement, la part des compacteurs à entraînement électrique continuera également de croître, en partie en raison des exigences légales et en partie des engagements pris volontairement par les constructeurs et les entreprises de construction.
Proportions compactes, bonne maniabilité, excellente capacité de franchissement
Pas seulement les modèles électriques, mais tous les autres rouleaux tandem et compacteurs de la CompactLine ont une conception très compacte. Son articulation 3 points assure une bonne maniabilité. Il offre qualité et sécurité en assurant une stabilité de conduite élevée et une répartition uniforme du poids sur les deux essieux. Dans la construction d'asphalte, cela se traduit par des surfaces planes sans formation d'ondulations et un haut niveau de sécurité contre le renversement dans les virages. Les principaux avantages pour les travaux de terrassement sont la stabilité directionnelle et l'absorption efficace des chocs. Cela permet aux compacteurs de compacter en toute sécurité sur des terrains accidentés. En tout-terrain, ces petits compacteurs impressionnent également par leur garde au sol élevée et leur aptitude en pente – ils peuvent gérer des pentes de 60 % et plus. Avec une longueur d'environ 4,40 m, le H 70i est également le compacteur le plus court au monde dans cette catégorie de poids.
Facile à utiliser
Les conducteurs peuvent immédiatement utiliser correctement les rouleaux compacts de Hamm sans avoir besoin d'une induction. Il est particulièrement important d'avoir une vue dégagée et un accès facile aux quelques boutons du tableau de bord, dont la conception est très similaire pour les rouleaux tandem et les compacteurs. Des symboles clairs, neutres dans la langue et disposés de manière logique évitent les erreurs de l'opérateur, même dans l'obscurité, car des touches lumineuses facilitent l'orientation.
Les postes de travail ergonomiquement optimisés assurent une bonne visibilité et le conducteur peut régler très facilement le siège à sa taille et à son poids.
Petits compacteurs : Les HC 50i et HC 70i de la CompactLine de Hamm ont des dimensions très compactes. Depuis son siège, le conducteur a une vue d'ensemble parfaite de la machine et du chantier.
Hamm propose une large gamme de modèles dans la série HD CompactLine. Il existe des rouleaux tandem avec des rouleaux vibrants ou des rouleaux oscillants (respectivement VV et VO), des rouleaux combinés (VT) et un rouleau pneumatique (TT). Les poids en ordre de marche des HD 8 – HD 14(i) vont de 1,5 à 4,5 t. Ils couvrent des largeurs de tambour de 800 à 1400 mm. Les rouleaux entièrement électriques de Hamm sont reconnaissables au « e » dans la désignation du modèle. Le HD 10e (largeur de tambour : 1000 mm) pèse 2,5 t, tandis que le HD 12e (largeur de tambour : 1200 m) apporte 2,7 t sur le chantier. Les modèles électriques HD 10e et HD 12e sont disponibles avec deux tambours vibrants (VV), avec un tambour vibrant et un tambour oscillant (VO) et en tant que rouleau combiné avec vibration (VT) ou oscillation (OT). Dans le segment des petits compacteurs, Hamm propose des modèles avec des tambours lisses ou à pieds dameurs ainsi que des coques à pieds dameurs en deux parties. Le HC 70i est également disponible avec un tambour VIO. Il peut compacter avec des vibrations ou des oscillations, ce qui lui permet de couvrir une vaste gamme d'applications.
Options de location spéciales
Parmi les nombreuses options du HD CompactLine, plusieurs sont particulièrement adaptées à la location. Ceux-ci incluent l'éclairage du bord du tambour, une cabine ROPS et des épandeurs de copeaux pour les plus grands modèles. Pour les compacteurs, par exemple, un éclairage LED et une interface télématique avec le centre d'opérations John Deere sont disponibles pour une gestion efficace de la flotte et des services.
Technologie de moteur économique
Les plus de 30 rouleaux tandem de la série HD CompactLine avec moteurs à combustion fonctionnent avec des groupes motopropulseurs économes en carburant de Kubota conformes à Tier 3 (UN ECE R96) ou EPA Tier 4/EU Stage V. Les compacteurs de la HC CompactLine répondent aux exigences de l'EPA Tier 4/EU Stage V avec leurs moteurs de 55,4 kW. Tous les rouleaux compacts peuvent fonctionner au diesel ou au carburant HVO. De plus, il y a un arrêt automatique du moteur pour les rouleaux tandem et les compacteurs. Cela coupe automatiquement le moteur si la machine est à l'arrêt pendant une période prolongée, ce qui permet d'économiser du carburant. Cela réduit le nombre d'heures de fonctionnement, réduit l'usure des unités de puissance et augmente la valeur de revente. Un autre avantage des machines compactes de Hamm est le concept de maintenance bien pensé. Les quelques points d'entretien sont facilement accessibles et tous les points d'entretien quotidien sont idéalement situés sur un côté du moteur.
Rouleaux électriques suffisamment puissants pour la journée de travail
Les huit rouleaux électriques disposent d'une batterie Li-ion d'une capacité de 23 kWh, qui fournit la puissance pour les entraînements de déplacement, de direction et de vibration ou d'oscillation via un système 48 V. Le personnel n'a besoin d'aucune formation ou qualification spécialisée pour l'utiliser. Ils se chargent via une prise de charge rapide (400 V, CEE) ou une prise avec un adaptateur mis à la terre (230 V). Il faut environ 4 heures pour charger de 0% à 100% avec la prise de charge rapide.
NJC.© Infos WIRTGEN GROUP
------------------------------------------------------------------------------------------------------------------

28/07/23-English
Compact tandem rollers and compactors from Hamm – the perfect rental machines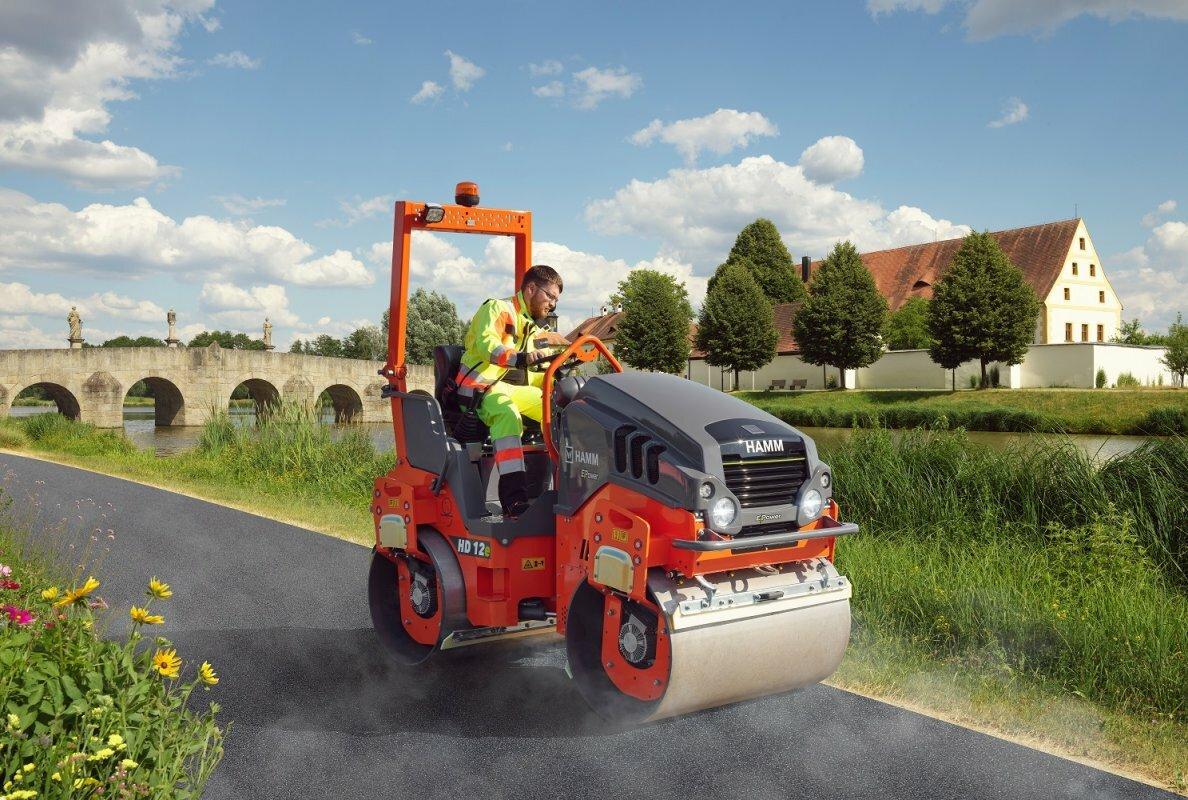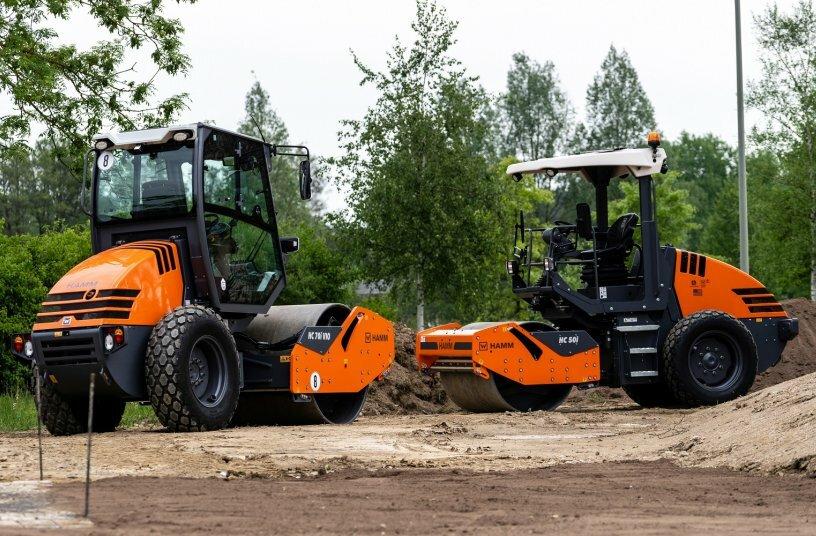 Small compactors: The HC 50i and HC 70i in the CompactLine from Hamm have highly compact dimensions. From their seat, the driver has a perfect overview of the machine and the construction site.
IMAGE SOURCE: WIRTGEN GROUP
At the start of 2023, Hamm expanded its range of compact rollers to include eight fully electric models that compact without producing any local emissions. This means that Hamm offers more than 40 compact tandem rollers in the HD CompactLine as all-rounders for asphalt and landscape gardening. For earthworks, the new HC CompactLine series has included five powerful, small compactors in the range since 2022. Both series are predestined for machine rental because they are so versatile and easy to handle.
Electric rollers in demand for rental fleets
The CompactLine rollers from Hamm have been a firmly established part of the product range of many rental companies for years. Well-known in the market, popular with customers, and robust in operation, they have everything that the rental market needs. This also applies to the new electric models. Since the electric rollers were first presented at Bauma 2022, Hamm has experienced huge demand for these machines, including from the rental sector. Currently, rental fleets support many construction companies working on specific projects that require machines that do not release local emissions. Alongside this, the share of electrically driven compact rollers will also continue to grow, partly due to legal requirements and partly to the commitments made voluntarily by builders and construction companies.
Compact proportions, good handling, great gradeability
Not just the electric models, but all the other tandem rollers and compactors in the CompactLine have a very compact design. Its 3-point articulation ensures good handling. It delivers quality and safety by ensuring high driving stability and even weight distribution on both axles. In asphalt construction, this results in level surfaces without undulation formation, and a high level of safety against overturning when cornering. The main advantages for earthworks are the directional stability and effective shock absorption. This enables the compactors to compact safely on uneven terrain. Off-road, these small compactors also impress with their high ground clearance and gradeability – they can handle gradients of 60% and more. With a length of around 4.40 m, the H 70i is also the shortest compactor in the world in this weight class.
Easy to use
Drivers can immediately operate compact rollers from Hamm correctly without any need for an induction. It is particularly important to have a clear view and easy access to the few buttons on the dashboard, which is very similar in design for the tandem rollers and the compactors. Clear, language-neutral and logically arranged symbols prevent operator errors – even in the dark, because there are luminous buttons to help with orientation.
The ergonomically optimised workstations ensure good visibility, and drivers can adjust the seat to their height and weight very easily.
Small compactors: The HC 50i and HC 70i in the CompactLine from Hamm have highly compact dimensions. From their seat, the driver has a perfect overview of the machine and the construction site.
Hamm offers a wide range of models in the HD CompactLine series. There are tandem rollers with vibrating roller drums or oscillation drums (VV and VO respectively), combination rollers (VT) and a pneumatic-tyre roller (TT). The operating weights of the HD 8 – HD 14(i) range from 1.5 to 4.5 t. They cover drum widths from 800 to 1400 mm. The fully electric rollers from Hamm can be recognised by the "e" in the model designation. The HD 10e (drum width: 1000 mm) weighs 2.5 t, whereas the HD 12e (drum width: 1200 m) brings 2.7 t to the construction site. The HD 10e and HD 12e electric models are available with two vibrating roller drums (VV), with one vibrating roller drum and one oscillation drum (VO) and as a combination roller with vibration (VT) or oscillation (OT). In the small compactor segment, Hamm offers models with smooth or padfoot drums as well as two-piece padfoot shells. The HC 70i is also available with a VIO drum. It can compact with either vibration or oscillation, which allows it to cover an enormous range of applications.
Special rental options
The numerous options for the HD CompactLine include several that are especially well-suited to rental. These include drum edge lighting, a ROPS cab, and chip spreaders for the larger models. For the compactors, for example, LED lighting and a telematics interface to the John Deere Operations Center are available for efficient fleet and service management.
Economical engine technology
The 30-plus tandem rollers in the HD CompactLine series with combustion engines operate with fuel-efficient power units from Kubota complying with Tier 3 (UN ECE R96) or EPA Tier 4/EU Stage V. The compactors in the HC CompactLine meet the requirements of EPA Tier 4/EU Stage V with their 55.4 kW engines. All compact rollers can be operated either with diesel or with HVO fuel. In addition, there is an automatic engine stop for the tandem rollers and compactors. This switches off the engine automatically if the machine is at a standstill for an extended period of time, thereby saving fuel. This reduces the number of operating hours, cuts wear and tear on the power units, and increases the resale value. Another plus point of the compact machines from Hamm is the thoughtfully designed maintenance concept. The few maintenance points are easily accessible, and all points for daily maintenance are conveniently located on one side of the engine.
Electric rollers with enough power for the day's work
The eight electric rollers have a Li-ion battery with a capacity of 23 kWh, which provides the power for the travel, steering and vibration or oscillation drives via a 48-V system. Staff do not require any specialist training or qualifications to operate it. They are charged via a rapid-charge plug (400 V, CEE) or a plug with an earthed adapter (230 V). It takes about 4 hours to charge from 0% to 100% with the rapid-charge plug.
NJC.© Info WIRTGEN GROUP
----------------------------------------------------------------------------------------------------------------

28/07/23-NL
Compacte tandemwalsen en compactors van Hamm – de perfecte verhuurmachines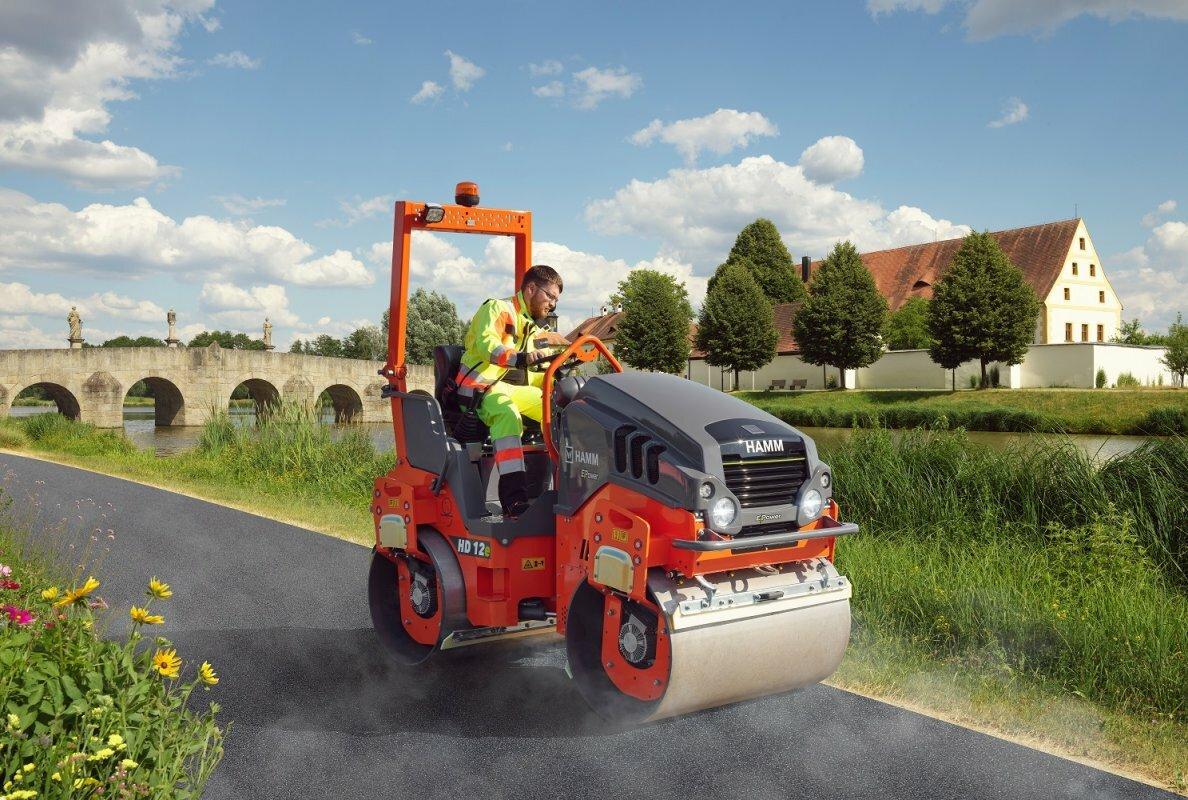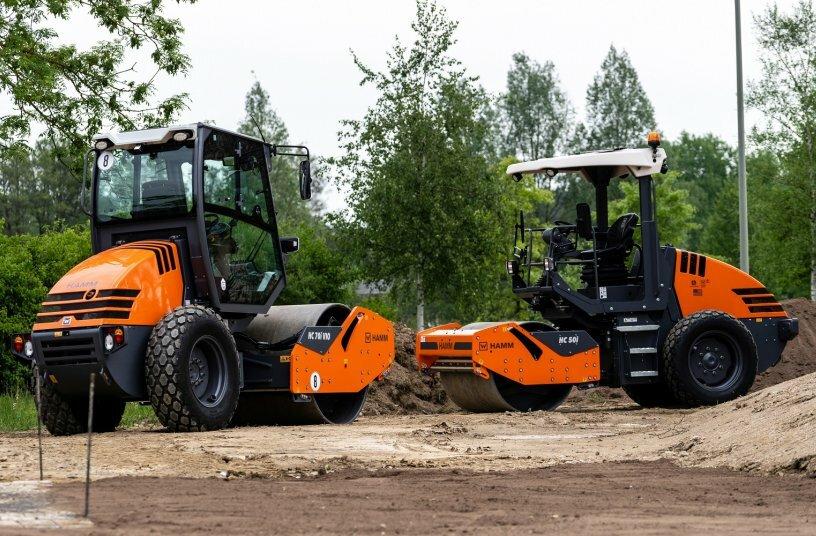 Small compactors: The HC 50i and HC 70i in the CompactLine from Hamm have highly compact dimensions. From their seat, the driver has a perfect overview of the machine and the construction site.
IMAGE SOURCE: WIRTGEN GROUP
Begin 2023 breidde Hamm zijn assortiment compacte walsen uit met acht volledig elektrische modellen die verdichten zonder lokale uitstoot te produceren. Dit betekent dat Hamm meer dan 40 compacte tandemwalsen in de HD CompactLine aanbiedt als allrounders voor asfalt- en landschapsarchitectuur. Voor grondwerken heeft de nieuwe HC CompactLine-serie sinds 2022 vijf krachtige, kleine verdichters in het assortiment opgenomen. Beide series zijn voorbestemd voor machineverhuur omdat ze zo veelzijdig en gemakkelijk te hanteren zijn.
Elektrische walsen in trek bij verhuurvloten
De CompactLine walsen van Hamm zijn al jaren een vast onderdeel van het assortiment van veel verhuurbedrijven. Bekend in de markt, populair bij klanten en robuust in gebruik, ze hebben alles in huis wat de huurmarkt nodig heeft. Dat geldt ook voor de nieuwe elektrische modellen. Sinds de eerste presentatie van de elektrische walsen op de Bauma 2022, merkt Hamm een enorme vraag naar deze machines, ook vanuit de verhuursector. Momenteel ondersteunen verhuurvloten veel bouwbedrijven die aan specifieke projecten werken waarvoor machines nodig zijn die geen lokale emissies uitstoten. Daarnaast zal ook het aandeel elektrisch aangedreven compactwalsen blijven groeien, deels door wettelijke eisen en deels door vrijwillige toezeggingen van bouwers en bouwbedrijven.
Compacte proporties, goede wegligging, groot klimvermogen
Niet alleen de elektrische modellen, maar ook alle andere tandemwalsen en verdichters in de CompactLine hebben een zeer compact ontwerp. De 3-punts-articulatie zorgt voor een goede wegligging. Hij levert kwaliteit en veiligheid door te zorgen voor een hoge rijstabiliteit en een gelijkmatige gewichtsverdeling over beide assen. In de asfaltbouw resulteert dit in vlakke oppervlakken zonder golving en een hoge mate van veiligheid tegen kantelen in bochten. De belangrijkste voordelen voor grondwerken zijn de richtingsstabiliteit en effectieve schokabsorptie. Hierdoor kunnen de verdichters veilig verdichten op oneffen terrein. Off-road maken deze kleine verdichters ook indruk met hun grote bodemvrijheid en klimvermogen - ze kunnen hellingen van 60% en meer aan. Met een lengte van ongeveer 4,40 m is de H 70i ook de kortste verdichter ter wereld in deze gewichtsklasse.
Makkelijk te gebruiken
Chauffeurs kunnen compactwalsen van Hamm direct correct bedienen zonder dat er een inductie nodig is. Het is vooral belangrijk om goed zicht te hebben op en gemakkelijke toegang tot de paar knoppen op het dashboard, dat qua ontwerp sterk lijkt op de tandemwalsen en de verdichters. Duidelijke, taalneutrale en logisch gerangschikte symbolen voorkomen bedieningsfouten – zelfs in het donker, omdat er lichtgevende knoppen zijn die helpen bij de oriëntatie.
De ergonomisch geoptimaliseerde werkplekken zorgen voor een goed zicht en de chauffeurs kunnen de stoel heel eenvoudig aanpassen aan hun lengte en gewicht.
Kleine verdichters: De HC 50i en HC 70i in de CompactLine van Hamm hebben zeer compacte afmetingen. De chauffeur heeft vanaf zijn stoel een perfect overzicht over de machine en de bouwplaats.
Hamm biedt een breed scala aan modellen in de HD CompactLine-serie. Er zijn tandemwalsen met trilwalstrommels of oscillatiewalsen (respectievelijk VV en VO), combiwalsen (VT) en een luchtbandenwals (TT). De bedrijfsgewichten van de HD 8 – HD 14(i) variëren van 1,5 tot 4,5 t. Ze dekken trommelbreedtes van 800 tot 1400 mm. De volledig elektrische walsen van Hamm zijn te herkennen aan de "e" in de modelaanduiding. De HD 10e (trommelbreedte: 1000 mm) weegt 2,5 ton, terwijl de HD 12e (trommelbreedte: 1200 m) 2,7 ton naar de bouwplaats brengt. De elektrische modellen HD 10e en HD 12e zijn leverbaar met twee trilwalstrommels (VV), met één trilwalstrommel en één trilwals (VO) en als combiwals met tril- (VT) of oscillatie- (OT). In het segment van de kleine verdichters biedt Hamm modellen met gladde of kussenvormige trommels en tweedelige kussenvormige schalen. De HC 70i is ook verkrijgbaar met een VIO-trommel. Het kan verdichten met trillingen of oscillatie, waardoor het een enorm scala aan toepassingen kan dekken.
Speciale verhuurmogelijkheden
Van de talrijke opties voor de HD CompactLine zijn er een aantal die bijzonder geschikt zijn voor verhuur. Deze omvatten trommelrandverlichting, een ROPS-cabine en spaanspreiders voor de grotere modellen. Voor de verdichters zijn bijvoorbeeld LED-verlichting en een telematica-interface naar het John Deere Operations Center beschikbaar voor efficiënt wagenpark- en servicebeheer.
Zuinige motortechniek
De meer dan 30 tandemwalsen in de HD CompactLine-serie met verbrandingsmotoren werken met zuinige aandrijfeenheden van Kubota die voldoen aan Tier 3 (UN ECE R96) of EPA Tier 4/EU Stage V. De verdichters in de HC CompactLine voldoen aan de eisen van EPA Tier 4/EU Stage V met hun 55,4 kW motoren. Alle compacte walsen kunnen zowel op diesel als op HVO-brandstof worden gebruikt. Daarnaast is er een automatische motorstop voor de tandemwalsen en verdichters. Deze schakelt de motor automatisch uit als de machine voor langere tijd stilstaat, waardoor brandstof wordt bespaard. Dit vermindert het aantal bedrijfsuren, vermindert de slijtage van de krachtbronnen en verhoogt de inruilwaarde. Een ander pluspunt van de compacte machines van Hamm is het doordachte onderhoudsconcept. De weinige onderhoudspunten zijn goed bereikbaar en alle punten voor dagelijks onderhoud zijn handig aan één zijde van de motor geplaatst.
Elektrische walsen met voldoende vermogen voor het dagelijkse werk
De acht elektrische walsen hebben een Li-ion-accu met een capaciteit van 23 kWh, die via een 48V-systeem de aandrijving voor de rij-, stuur- en tril- of pendelaandrijvingen levert. Het personeel heeft geen gespecialiseerde opleiding of kwalificaties nodig om het te bedienen. Ze worden opgeladen via een snellaadstekker (400 V, CEE) of een stekker met geaarde adapter (230 V). Het duurt ongeveer 4 uur om met de snellaadstekker van 0% naar 100% op te laden.
NJC.© Info WIRTGEN GROEP
--------------------------------------------------------------------------------------------------------------
Date de dernière mise à jour : 27/07/2023