Daimler Truck has started 2022 well, with unit sales
23/05/22-FR-English-NL footer
Daimler Truck a bien démarré l'année 2022, avec des ventes unitaires, un chiffre d'affaires et un EBIT ajusté en hausse par rapport au T1 2021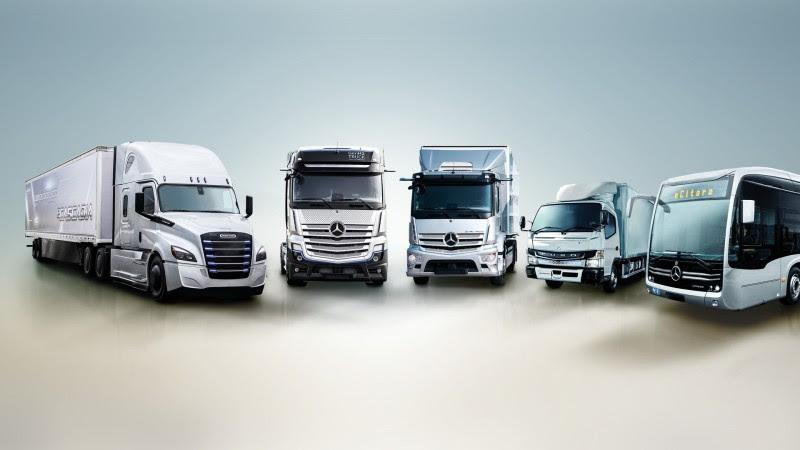 Les ventes du groupe s'élèvent à 109 000 unités, ce qui est nettement supérieur au niveau de l'année précédente (T1 2021 : 101 000 unités).
·Nombre de commandes toujours élevé et niveau record du carnet de commandes.
·Malgré les contraintes pesant sur la chaîne d'approvisionnement, le chiffre d'affaires augmente de façon significative.
·L'EBIT ajusté du groupe augmente pour atteindre 651 millions d'euros (T1 2021 : 588 millions d'euros).
·Marge opérationnelle ajustée de 5,9 % (T1 2021 : 6,3 %).
·La société confirme les perspectives pour 2022.
Stuttgart – Daimler Truck Holding AG (« Daimler Truck ») a bien commencé la nouvelle année avec une croissance des ventes unitaires, du chiffre d'affaires et de l'EBIT (ajusté). La société a été en mesure d'augmenter nettement ses ventes unitaires du groupe en glissement annuel pour atteindre 109 000 unités au T1 2022 (+ 8 %, T1 2021 : 101 000 unités). En dépit des blocages persistants de l'approvisionnement, Daimler Truck a pu profiter de la forte demande durant le premier trimestre. Grâce aux ventes unitaires soutenues des segments Trucks North America et Mercedes-Benz, à l'amélioration des prix nets et aux contributions positives de l'activité d'après-vente et de véhicules d'occasion, le chiffre d'affaires du groupe a augmenté de 17 % à 10,6 milliards d'euros (T1 2021 : 9,0 milliards d'euros). Daimler Truck estime que l'environnement est favorable au maintien d'une demande forte. Avec près de 139 000 unités, la société affiche un « order intake » conséquent pour le premier trimestre de l'année concernée. Le carnet de commandes continue d'augmenter pour atteindre un nouveau niveau record.
L'EBIT (bénéfice avant intérêts et impôts) ajusté a atteint 651 millions d'euros pendant la période concernée, ce qui représente une hausse de 11 % (T1 2021 : 588 millions d'euros). Dans l'activité Industrie, l'EBIT ajusté de 604 millions d'euros a augmenté d'environ 9 % par rapport à la même période de l'année précédente (552 millions d'euros). La marge opérationnelle ajustée s'élève à 5,9 % (T1 2021 : 6,3 %).
Le 27 février 2022, à la suite du déclenchement de la guerre en Ukraine par la Russie, Daimler Truck a décidé de suspendre jusqu'à nouvel ordre toutes ses activités en Russie. Pour le T1, la dépréciation qui en a résulté a eu un impact négatif ponctuel de 170 millions d'euros. Le reste de l'impact total anticipé, qui représente environ 200 millions d'euros, sera amorti ultérieurement. Compte tenu de la forte demande dans d'autres régions, le volume perdu sur les marchés touchés a été réaffecté et absorbé immédiatement par d'autres marchés.
Jochen Goetz, CFO de Daimler Truck : « Nos résultats positifs au premier trimestre prouvent que nous sommes capables de garder le cap même dans un contexte plus incertain. Nous restons déterminés à réaliser les ambitions que nous nous sommes fixées pour 2025 et nous sommes confiants quant à la réalisation de nos objectifs pour 2022. L'allocation optimisée des semi-conducteurs et les prix nets ajustés se sont avérés efficaces pour remédier aux pénuries de puces et aux contraintes dues aux prix des matières premières. Compte tenu des problèmes persistants de la chaîne d'approvisionnement et de l'impact potentiel de la guerre en Ukraine sur l'ensemble de l'économie, notre gestion rigoureuse des coûts fixes et nos efforts de préservation de la trésorerie sont plus importants que jamais pour garantir une rentabilité durable. Nous ne flanchons pas, à aucun moment. »
Hypothèses de marché 2022 et perspectives
Selon les perspectives de Daimler Truck, les conditions macroéconomiques globales resteront comparativement favorables à la demande mondiale de véhicules utilitaires en 2022. Pour son activité Industrie, Daimler Truck continue d'anticiper une augmentation des ventes unitaires dans une fourchette de 500 000 à 520 000 unités en 2022. D'autre part, la société continue de prévoir une hausse significative de son chiffre d'affaires au niveau du groupe pour 2022. Notamment en raison de meilleurs prix et de considérations liées aux taux de change, Daimler Truck actualise ses prévisions concernant le chiffre d'affaires en le situant entre 48,0 et 50,0 milliards d'euros (prévisions précédentes : 45,5 et 47,5 milliards d'euros). Quant aux prévisions concernant l'EBIT au niveau du groupe, elles ont également été modifiées, passant d'une « légère baisse » au « niveau de l'année précédente ». Concernant la marge opérationnelle ajustée pour l'activité Industrie, Daimler Truck la maintient dans une fourchette de 7 à 9 %.
Les perspectives de Daimler Truck couvrent tous les impacts actuellement connus de la guerre entre la Russie et l'Ukraine et des pénuries de semi-conducteurs. Cependant, elles peuvent évoluer en fonction de nouveaux développements dans cette guerre et de son impact sur l'économie mondiale. Il peut toujours exister d'autres incertitudes liées aux effets de la pandémie de COVID-19 et donc aux confinements qui en résultent.
Des informations et des documents supplémentaires (rapport intermédiaire du premier trimestre, présentation pour les investisseurs, dossier d'information, etc.), y compris un compte-rendu complet du T1 sur les cinq segments concernés de Daimler Truck, sont disponibles en ligne dans la section Relations investisseurs de Daimler Truck.
NJC.© Info Daimler Trucks
--------------------------------------------------------------------------------------------------------------------
23/05/22-English
Daimler Truck has started 2022 well, with unit sales, revenue and adjusted EBIT up compared to Q1 2021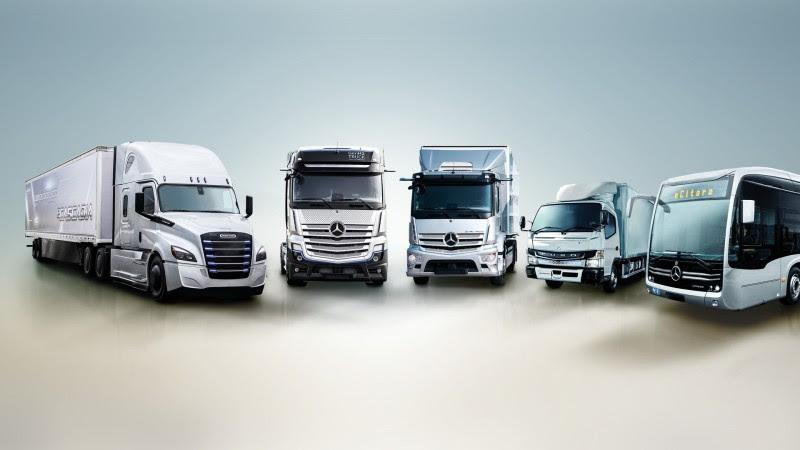 Group sales amounted to 109,000 units, which is significantly higher than the level of the previous year (Q1 2021: 101,000 units).
·Continued high number of orders and record level of the order book.
·Despite the constraints on the supply chain, the turnover increases significantly.
Group adjusted EBIT increased to €651 million (Q1 2021: €588 million).
Adjusted operating margin of 5.9% (Q1 2021: 6.3%).
The company confirms outlook for 2022.
Stuttgart – Daimler Truck Holding AG ("Daimler Truck") started the new year well with growth in unit sales, turnover and EBIT (adjusted). The company was able to significantly increase its group unit sales year-on-year to reach 109,000 units in Q1 2022 (+8%, Q1 2021: 101,000 units). Despite continuing supply bottlenecks, Daimler Truck was able to take advantage of strong demand in the first quarter. Thanks to sustained unit sales in the Trucks North America and Mercedes-Benz segments, improved net prices and positive contributions from the aftermarket and used vehicles business, group sales increased by 17% to €10.6 billion (Q1 2021: €9.0 billion). Daimler Truck believes that the environment is favorable to maintaining strong demand. With nearly 139,000 units, the company posted a substantial "order intake" for the first quarter of the year in question. The order book continues to increase to reach a new record level.
Adjusted EBIT (earnings before interest and tax) reached EUR 651 million in the reporting period, representing an increase of 11% (Q1 2021: EUR 588 million). In the Industry business, the adjusted EBIT of 604 million euros increased by around 9% compared to the same period of the previous year (552 million euros). Adjusted operating margin was 5.9% (Q1 2021: 6.3%).
On February 27, 2022, following the outbreak of war in Ukraine by Russia, Daimler Truck decided to suspend all activities in Russia until further notice. For Q1, the resulting impairment had a one-off negative impact of €170 million. The rest of the total anticipated impact, which represents approximately 200 million euros, will be amortized later. Given the strong demand in other regions, the volume lost in the affected markets was immediately reallocated and absorbed by other markets.
Jochen Goetz, CFO of Daimler Truck: "Our positive results in the first quarter prove that we are able to stay the course even in a more uncertain environment. We remain committed to achieving the ambitions we have set for 2025 and are confident that we will achieve our 2022 targets. Optimized semiconductor allocation and adjusted net pricing have proven effective in addressing supply shortages. chips and constraints due to raw material prices. With ongoing supply chain issues and the potential impact of the war in Ukraine on the wider economy, our disciplined management of fixed costs and our efforts to preserve cash are more important than ever. to ensure sustainable profitability. We are not flinching at any time. »
2022 market assumptions and outlook
According to Daimler Truck's outlook, overall macroeconomic conditions will remain comparatively favorable for global commercial vehicle demand in 2022. For its Industry business, Daimler Truck continues to expect unit sales to increase in the range of 500,000 to 520,000 units in 2022. On the other hand, the company continues to expect a significant increase in turnover at group level for 2022. Due in particular to better prices and exchange rate considerations, Daimler Truck is updating its forecast turnover by placing it between 48.0 and 50.0 billion euros (previous forecast: 45.5 and 47.5 billion euros). As for the EBIT forecast at group level, it has also been changed from a "slight decline" to "previous year's level". Regarding the adjusted operating margin for the Industry activity, Daimler Truck maintains it within a range of 7 to 9%.
Daimler Truck's outlook covers all currently known impacts of the Russia-Ukraine war and semiconductor shortages. However, they may change depending on new developments in this war and its impact on the global economy. There may still be other uncertainties related to the effects of the COVID-19 pandemic and therefore the resulting lockdowns.
Additional information and documents (first quarter interim report, investor presentation, information package, etc.), including a full Q1 review of the five relevant Daimler Truck segments, are available online at the Investor Relations section of Daimler Truck.
NJC.© Info Daimler Trucks
----------------------------------------------------------------------------------------------------------------------
23/05/22-NL
Daimler Truck kende een goede start in 2022, met een stijging van de verkoop, omzet en gecorrigeerde EBIT in het eerste kwartaal van 2021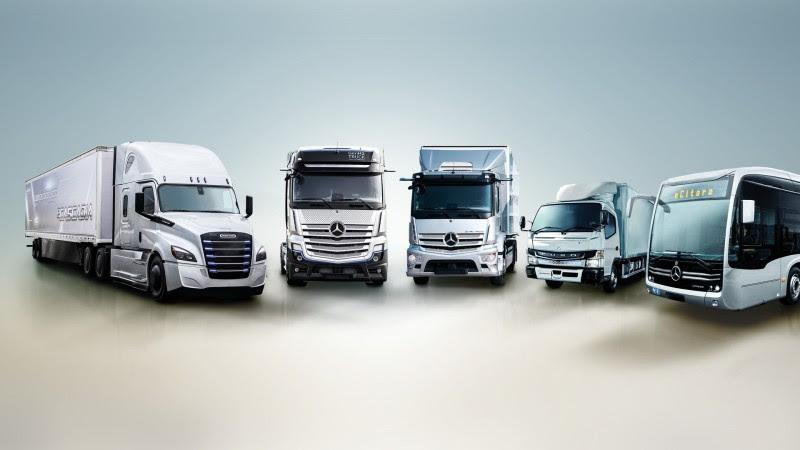 De groepsomzet bedroeg 109.000 eenheden, wat beduidend hoger is dan het niveau van het voorgaande jaar (1e kwartaal 2021: 101.000 eenheden).
·Aanhoudend hoog aantal bestellingen en recordniveau van het orderboek.
·Ondanks de beperkingen op de supply chain stijgt de omzet aanzienlijk.
De aangepaste EBIT van de groep steeg tot € 651 miljoen (1e kwartaal 2021: € 588 miljoen).
Aangepaste operationele marge van 5,9% (1e kwartaal 2021: 6,3%).
Het bedrijf bevestigt de vooruitzichten voor 2022.
Stuttgart – Daimler Truck Holding AG ("Daimler Truck") begon het nieuwe jaar goed met een groei van de verkoop, omzet en EBIT (gecorrigeerd). Het bedrijf was in staat om de verkoop van de groepseenheden op jaarbasis aanzienlijk te verhogen tot 109.000 eenheden in het eerste kwartaal van 2022 (+8%, het eerste kwartaal van 2021: 101.000 eenheden). Ondanks aanhoudende bevoorradingsproblemen kon Daimler Truck profiteren van de sterke vraag in het eerste kwartaal. Dankzij de aanhoudende verkoop van eenheden in de segmenten Trucks Noord-Amerika en Mercedes-Benz, verbeterde nettoprijzen en positieve bijdragen van de aftermarket- en gebruikte voertuigenactiviteiten, steeg de groepsomzet met 17% tot € 10,6 miljard (1e kwartaal 2021: € 9,0 miljard). Daimler Truck is van mening dat het milieu gunstig is voor het handhaven van een sterke vraag. Met bijna 139.000 eenheden boekte het bedrijf een aanzienlijke "orderintake" voor het eerste kwartaal van het betreffende jaar. Het orderboek blijft groeien om een ​​nieuw recordniveau te bereiken.
De Adjusted EBIT (winst voor rente en belastingen) bedroeg in de verslagperiode EUR 651 miljoen, een stijging van 11% (1e kwartaal 2021: EUR 588 miljoen). In de sector Industrie steeg de aangepaste EBIT van 604 miljoen euro met ongeveer 9% in vergelijking met dezelfde periode van vorig jaar (552 miljoen euro). De aangepaste operationele marge bedroeg 5,9% (1e kwartaal 2021: 6,3%).
Op 27 februari 2022, na het uitbreken van de oorlog in Oekraïne door Rusland, besloot Daimler Truck om alle activiteiten in Rusland tot nader order op te schorten. Voor het eerste kwartaal had de resulterende bijzondere waardevermindering een eenmalige negatieve impact van € 170 miljoen. De rest van de totale verwachte impact, die ongeveer 200 miljoen euro vertegenwoordigt, zal later worden afgeschreven. Gezien de sterke vraag in andere regio's, werd het verloren volume in de getroffen markten onmiddellijk herverdeeld en geabsorbeerd door andere markten.
Jochen Goetz, CFO van Daimler Truck: "Onze positieve resultaten in het eerste kwartaal bewijzen dat we in staat zijn om koers te houden, zelfs in een meer onzekere omgeving. We blijven ons inzetten voor het bereiken van de ambities die we hebben gesteld voor 2025 en hebben er vertrouwen in dat we onze doelstellingen voor 2022 zullen bereiken. Geoptimaliseerde allocatie van halfgeleiders en aangepaste nettoprijzen zijn effectief gebleken bij het aanpakken van aanbodtekorten, chips en beperkingen als gevolg van grondstofprijzen. Met aanhoudende problemen met de toeleveringsketen en de mogelijke impact van de oorlog in Oekraïne op de economie in het algemeen, zijn ons gedisciplineerde beheer van vaste kosten en onze inspanningen om contant geld te behouden belangrijker dan ooit om duurzame winstgevendheid te garanderen. We huiveren op geen enkel moment. »
Marktaannames en vooruitzichten voor 2022
Volgens de vooruitzichten van Daimler Truck zullen de algemene macro-economische omstandigheden in 2022 relatief gunstig blijven voor de wereldwijde vraag naar bedrijfsvoertuigen. Voor zijn Industry-activiteiten blijft Daimler Truck verwachten dat de verkoop van eenheden in 2022 met 500.000 tot 520.000 eenheden zal toenemen. Aan de andere kant , blijft het bedrijf voor 2022 een aanzienlijke omzetstijging op groepsniveau verwachten. Met name vanwege betere prijzen en wisselkoersoverwegingen actualiseert Daimler Truck zijn verwachte omzet door deze tussen 48,0 en 50,0 miljard euro te plaatsen (vorige prognose: 45,5 en 47,5 miljard euro). Wat betreft de EBIT-prognose op groepsniveau, deze is ook gewijzigd van een "lichte daling" naar "het niveau van vorig jaar". Wat de aangepaste bedrijfsmarge voor de activiteit Industry betreft, houdt Daimler Truck deze binnen een marge van 7 tot 9%.
De vooruitzichten van Daimler Truck dekken alle momenteel bekende gevolgen van de oorlog tussen Rusland en Oekraïne en de tekorten aan halfgeleiders. Ze kunnen echter veranderen afhankelijk van nieuwe ontwikkelingen in deze oorlog en de impact ervan op de wereldeconomie. Er kunnen nog andere onzekerheden zijn met betrekking tot de effecten van de COVID-19-pandemie en dus de daaruit voortvloeiende lockdowns.
Aanvullende informatie en documenten (halfjaarverslag over het eerste kwartaal, presentatie voor investeerders, informatiepakket, enz.), inclusief een volledig overzicht van het eerste kwartaal van de vijf relevante Daimler Truck-segmenten, zijn online beschikbaar in de sectie Investor Relations van Daimler Truck.
NJC.© Info Daimler Trucks
--------------------------------------------------------------------------------------------------------------------