Daimler Truck is taking efficiency to the next level: The Freightliner SuperTruck II

13/02/23-FR-English-NL-footer
Daimler Truck fait passer l'efficacité au niveau supérieur : le Freightliner SuperTruck II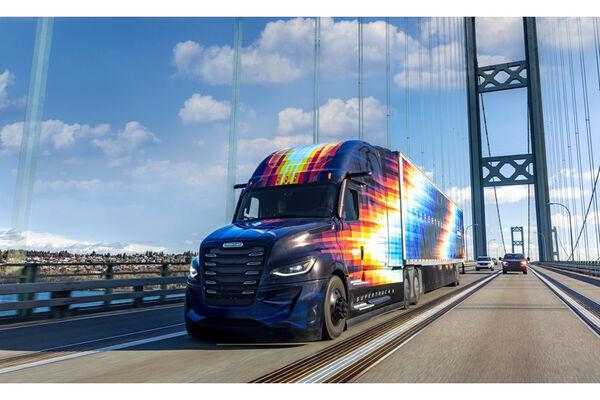 Image-DAIMLER Trucks Freightliner
Leinfelden-Echterdingen / Portland (Oregon) – Daimler Truck North America (DTNA), une filiale de Daimler Truck, a dévoilé cette semaine à Las Vegas le Freightliner SuperTruck II, qui utilise diverses innovations techniques pour démontrer le potentiel d'efficacité du transport de marchandises.
Le véhicule concept a été développé dans le cadre du programme SuperTruck cofinancé par le Département américain de l'énergie, qui vise à réduire les émissions dans le transport routier de marchandises. Dans le cadre du programme SuperTruck, les ingénieurs de DTNA effectuent des recherches sur les technologies de camions commerciaux lourds de nouvelle génération, les moyens techniques de leur développement et les moyens de les intégrer dans la production en série.
DTNA se concentre sur le développement de nouvelles technologies pour des composants et des systèmes de base prometteurs afin d'améliorer l'efficacité d'exploitation des camions dans le monde réel, en augmentant le succès des clients et l'efficacité de la flotte. L'amélioration de l'aérodynamisme des tracteurs, les pneus à faible résistance au roulement, les améliorations du groupe motopropulseur et la gestion de l'énergie avec des technologies avancées ont été identifiés comme des domaines d'innovation technologique qui pourraient potentiellement entrer en production pour les clients à l'avenir.
S'appuyant sur le succès de SuperTruck I, introduit par DTNA en 2015, SuperTruck II a dépassé les attentes en matière d'aérodynamique, de pneus, de groupe motopropulseur et de gestion de l'énergie, tout en doublant l'efficacité du fret du véhicule de base depuis le début du programme SuperTruck.
Le camion le plus aérodynamique que Freightliner ait jamais construit
Les ingénieurs de Freightliner ont réussi à surpasser les améliorations aérodynamiques et à réduire la traînée aérodynamique du SuperTruck II de plus de 12 % par rapport au SuperTruck I. Au lieu de changer radicalement la structure du camion, l'objectif de conception du SuperTruck II était de redéfinir la forme existante du Cascadia, leader du marché, pour maximiser l'efficacité aérodynamique et utiliser simultanément un langage de conception avancé pour transmettre cette efficacité.
Le capot, le pare-chocs et le carénage du châssis redessinés fonctionnent tous bien avec la structure de cabine existante et permettent désormais à l'air de circuler sans perturbation autour du camion. La calandre, les prises d'air et les portes ont été repensées pour être aussi transparentes et propres que possible afin de ne pas compromettre l'aérodynamisme du camion. Des rallonges latérales actives et un système de becquet de toit réduisent l'écart de la remorque jusqu'à 4 pouces à vitesse d'autoroute et un contrôle de hauteur aérodynamique amélioré abaisse le camion à quelques centimètres du sol pour des améliorations aérodynamiques supplémentaires. En supprimant les rétroviseurs extérieurs et en intégrant un système de caméra sans miroir, la traînée aérodynamique du SuperTruck II a été considérablement réduite.
La volonté d'innover
Le SuperTruck II est doté du groupe motopropulseur le plus efficace que Freightliner ait jamais intégré à un camion. Le groupe motopropulseur très efficace permet une réduction de la consommation de carburant de 5,7 % par rapport au SuperTruck I, ce qui permet de réduire la vitesse de descente et de réaliser de plus grandes économies de carburant grâce à une surmultiplication de traînée réduite.
Un système électrique innovant de 48 volts utilisant des batteries lithium-ion permet de réduire la consommation de carburant et d'améliorer le confort du conducteur, comme un nouveau système de climatisation électrique qui consomme 50 % moins d'énergie que le SuperTruck I et continue de fonctionner sans interruption lorsque le moteur est éteint.
De nouveaux pneus spécialement conçus réduisent non seulement la consommation d'énergie du véhicule, mais réduisent également les temps d'arrêt pour l'entretien en raison d'une usure réduite. Les pneus jouent un rôle essentiel pour atteindre les objectifs d'efficacité, en réduisant la friction sur la route, donc moins de carburant est nécessaire pour maintenir la vitesse du camion.
Vous trouverez plus d'informations, des photos, des fiches techniques et des séquences vidéo du Freightliner SuperTruck II sur Nouveau Freightliner SuperTruck II | Semi-remorques 2023 |
NJC.© Info DAIMLER Trucks Freightliner
-------------------------------------------------------------------------------------------------------------------

13/02/23-English
Daimler Truck is taking efficiency to the next level: The Freightliner SuperTruck II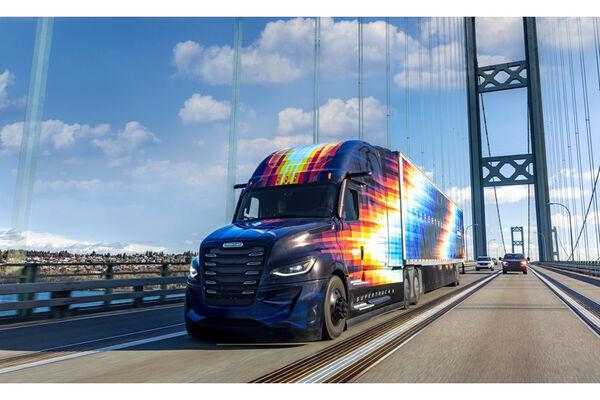 Image-DAIMLER Trucks Freightliner
Leinfelden-Echterdingen / Portland (Oregon) – Daimler Truck North America (DTNA), a subsidiary of Daimler Truck, revealed the Freightliner SuperTruck II in Las Vegas this week, which uses a variety of technical innovations to demonstrate efficiency potential in freight transportation.
The concept vehicle was developed as part of the SuperTruck program co-funded by the U.S. Department of Energy, which aims to reduce emissions in road freight transport. As part of the SuperTruck program, DTNA engineers research on next-generation heavy-duty commercial truck technologies, technical ways for their development, and ways to integrate them into series production.
DTNA is focused on developing new technologies for promising core components and systems to improve truck operating efficiency in the real world, increasing customer success and fleet efficiency. Improved tractor aerodynamics, low-rolling resistance tires, powertrain improvements and energy management with advanced technologies were identified as areas for technology innovation that could potentially enter production for customers in the future.
Building on the success of SuperTruck I, which was introduced by DTNA back in 2015, SuperTruck II surpassed expectations in aerodynamics, tires, powertrain and energy management, while doubling the freight efficiency of the base vehicle from the start of the SuperTruck program.
Most aerodynamic truck Freightliner has ever built
Freightliner engineers were able to overachieve in aerodynamic improvements and reduce the aerodynamic drag of SuperTruck II by more than 12 percent over SuperTruck I. Instead of radically changing the structure of the truck, the design goal for SuperTruck II was to redefine the existing shape of the market-leading Cascadia to maximize aerodynamic efficiency and simultaneously employ advanced design language to convey that efficiency.
The redesigned hood, bumper and chassis fairing all work well with the existing cab structure and now allow the air to flow undisturbed around the truck. The grille, air intakes and doors were redesigned to be as seamless and clean as possible in order to not compromise the aerodynamics of the truck. Active side extenders and a roof spoiler system closes the trailer gap by up to 4 inches at highway speeds and an enhanced Aerodynamic Height Control lowers the truck just inches off the ground for additional aerodynamic improvements. By removing the exterior mirrors and integrating a mirrorless camera system the aerodynamic drag of SuperTruck II was significantly reduced.
The drive to innovate
SuperTruck II features the most efficient powertrain Freightliner has ever integrated into a truck. The highly efficient powertrain enables a 5.7 percent fuel consumption reduction over SuperTruck I, achieving lower downspeeding and greater fuel savings through reduced drag overdrive.
An innovative 48-volt electrical system using lithium-ion batteries allows for decreased fuel consumption and increased driver comfort features like a new electric air conditioning system that consumes 50 percent less energy than SuperTruck I and continues seamless operations while the engine is turned off.
Brand new specifically engineered tires not only reduce vehicle energy consumption but also reduce maintenance downtime due to minimized wear and tear. Tires play a critical role to achieving efficiency goals, by lowering the friction on the road, therefore less fuel is needed to maintain the truck speed.
More information, pictures, tech sheets and video footage of the Freightliner SuperTruck II can be found at New Freightliner SuperTruck II| 2023 Semi Trucks |
NJC.© Info DAIMLER Trucks Freightliner
------------------------------------------------------------------------------------------------------------------

13/02/23-NL
Daimler Truck tilt efficiëntie naar een hoger niveau: de Freightliner SuperTruck II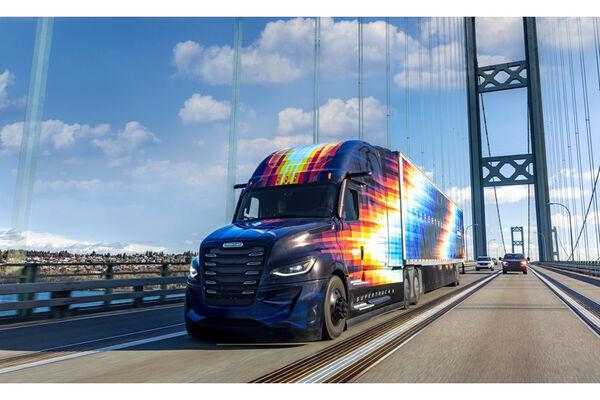 Image-DAIMLER Trucks Freightliner
Leinfelden-Echterdingen / Portland (Oregon) – Daimler Truck North America (DTNA), een dochteronderneming van Daimler Truck, onthulde deze week in Las Vegas de Freightliner SuperTruck II, die gebruikmaakt van een verscheidenheid aan technische innovaties om het efficiëntiepotentieel in vrachtvervoer aan te tonen.
Het conceptvoertuig is ontwikkeld als onderdeel van het SuperTruck-programma, medegefinancierd door het Amerikaanse ministerie van Energie, dat tot doel heeft de uitstoot in het vrachtvervoer over de weg te verminderen. Als onderdeel van het SuperTruck-programma doen DTNA-ingenieurs onderzoek naar technologieën voor zware commerciële vrachtwagens van de volgende generatie, technische manieren voor hun ontwikkeling en manieren om ze te integreren in serieproductie.
DTNA richt zich op het ontwikkelen van nieuwe technologieën voor veelbelovende kerncomponenten en -systemen om de operationele efficiëntie van vrachtwagens in de echte wereld te verbeteren, het succes van klanten en de efficiëntie van het wagenpark te vergroten. Verbeterde aerodynamica van tractoren, banden met een lage rolweerstand, verbeteringen aan de aandrijflijn en energiebeheer met geavanceerde technologieën werden geïdentificeerd als gebieden voor technologische innovatie die mogelijk in de toekomst voor klanten in productie zouden kunnen gaan.
Voortbouwend op het succes van SuperTruck I, dat in 2015 door DTNA werd geïntroduceerd, overtrof SuperTruck II de verwachtingen op het gebied van aerodynamica, banden, aandrijflijn en energiebeheer, terwijl de vrachtefficiëntie van het basisvoertuig vanaf de start van het SuperTruck-programma werd verdubbeld.
De meest aerodynamische truck die Freightliner ooit heeft gebouwd
De ingenieurs van Freightliner slaagden erin aerodynamische verbeteringen te overtreffen en de luchtweerstand van SuperTruck II met meer dan 12 procent te verminderen ten opzichte van SuperTruck I. In plaats van de structuur van de truck radicaal te veranderen, was het ontwerpdoel voor SuperTruck II het herdefiniëren van de bestaande vorm van de truck. marktleidende Cascadia om de aerodynamische efficiëntie te maximaliseren en tegelijkertijd geavanceerde ontwerptaal te gebruiken om die efficiëntie over te brengen.
De opnieuw ontworpen motorkap, bumper en chassiskuip passen allemaal goed bij de bestaande cabinestructuur en laten nu de lucht ongestoord rond de truck stromen. De grille, luchtinlaten en deuren werden opnieuw ontworpen om zo naadloos en schoon mogelijk te zijn om de aerodynamica van de truck niet in gevaar te brengen. Actieve zijverlengers en een dakspoilersysteem sluiten de opening van de aanhanger tot 4 inch bij snelheden op de snelweg en een verbeterde aerodynamische hoogteregeling verlaagt de truck slechts enkele centimeters van de grond voor extra aerodynamische verbeteringen. Door de buitenspiegels te verwijderen en een spiegelloos camerasysteem te integreren, werd de luchtweerstand van de SuperTruck II aanzienlijk verminderd.
De drive om te innoveren
SuperTruck II heeft de meest efficiënte aandrijflijn die Freightliner ooit in een vrachtwagen heeft geïntegreerd. De zeer efficiënte aandrijflijn maakt een 5,7 procent lager brandstofverbruik mogelijk dan SuperTruck I, waardoor minder snelheid wordt bereikt en meer brandstof wordt bespaard door minder luchtweerstand.
Een innovatief elektrisch systeem van 48 volt dat gebruikmaakt van lithium-ionbatterijen zorgt voor een lager brandstofverbruik en meer comfort voor de bestuurder, zoals een nieuw elektrisch airconditioningsysteem dat 50 procent minder energie verbruikt dan de SuperTruck I en naadloos doorgaat terwijl de motor is uitgeschakeld.
Gloednieuwe, speciaal ontworpen banden verminderen niet alleen het energieverbruik van het voertuig, maar verminderen ook de uitvaltijd voor onderhoud door minimale slijtage. Banden spelen een cruciale rol bij het behalen van efficiëntiedoelstellingen, door de wrijving op de weg te verminderen, waardoor er minder brandstof nodig is om de snelheid van de truck te behouden.
Meer informatie, foto's, technische bladen en videobeelden van de Freightliner SuperTruck II zijn te vinden op Nieuwe Freightliner SuperTruck II| 2023 Semi-vrachtwagens |
NJC.© Info DAIMLER Trucks Freightliner
------------------------------------------------------------------------------------------------------------------
Date de dernière mise à jour : 10/02/2023