Daimler Truck's FUSO brand celebrates 90th anniversary
02/05/22-FR-English-NL-footer
La marque FUSO de Daimler Truck fête ses 90 ans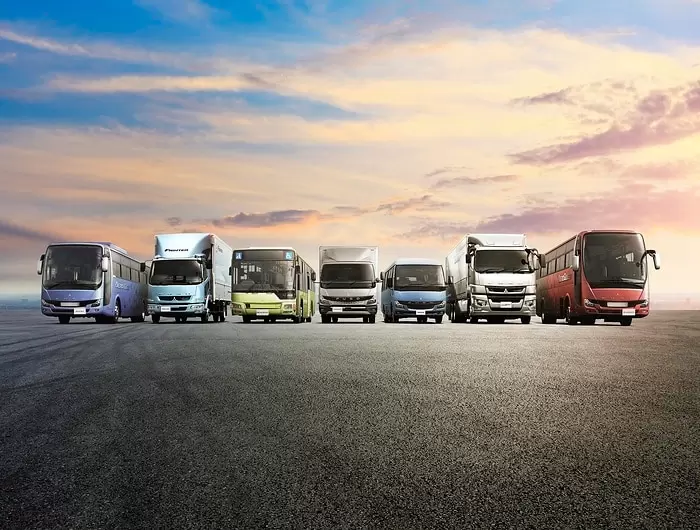 Premier bus de marque FUSO introduit en 1932
La marque emblématique est la pierre angulaire du portefeuille asiatique de Daimler Truck
FUSO livre des camions et des bus dans plus de 170 pays, représentant un quart des ventes unitaires de Daimler Truck
Lancement prochain de Next Generation eCanter
Leinfelden-Echterdingen – Mitsubishi Fuso Truck and Bus Corporation (MFTBC, « FUSO »), filiale asiatique de Daimler Truck, célèbre le 90e anniversaire de la marque FUSO. L'origine du nom emblématique FUSO remonte à mai 1932, lorsque le premier bus de Mitsubishi, la "voiture partagée de type B46", fabriqué au chantier naval de Kobe de l'ancien Mitsubishi Shipbuilding, portait la marque FUSO. Ce nom a été suggéré par un ingénieur du chantier naval. Il se réfère à l'origine à un grand arbre sacré et est maintenant utilisé comme nom pour la fleur d'hibiscus. Le bus de 7 mètres et 38 places était équipé d'un moteur à essence de 7 litres, 6 cylindres et 100 chevaux. En commémoration de la première livraison du bus de type B46 au ministère des chemins de fer, FUSO a été sélectionné parmi les propositions internes pour son surnom.
Karl Deppen, président et chef de la direction de Mitsubishi Fuso Truck & Bus Corporation et directeur de Daimler Truck Asia, a déclaré : « Alors que nous célébrons les 90 ans de FUSO, nous tenons à remercier nos clients, employés et partenaires pour leur fidélité et leur soutien. Cet anniversaire témoigne de la confiance continue de nos parties prenantes dans nos produits, technologies et services. Alors que le secteur automobile s'efforce de décarboner, nous, chez MFTBC, faisons partie de la solution. Nous avons montré cet engagement avec notre eCanter tout électrique d'origine en 2017 et notre modèle de prochaine génération fournira des solutions de mobilité électrique à un éventail encore plus large de clients.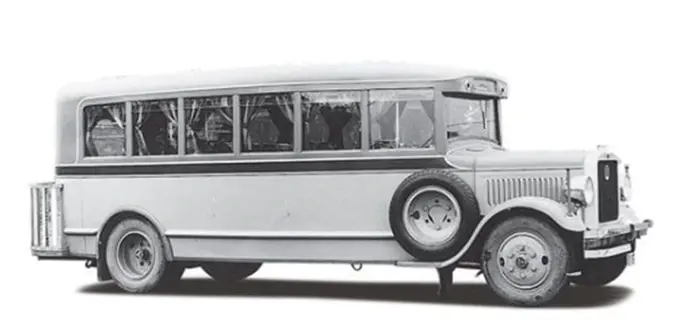 Bref historique de la marque FUSO
Après le premier véhicule, le surnom de FUSO a continué à être utilisé par la suite pour des produits majeurs tels que le camion à moteur à essence de 4 tonnes KT1 (1946), le premier grand camion à cabine avancée du Japon T380 et le premier minibus du Japon, le Rosa (1960). Conformément à la forte croissance économique du Japon dans les années 1950 à 1970, la gamme de produits comprenait rapidement une gamme complète allant des petits aux gros camions et bus, jouant un rôle important dans le développement économique. MFTBC, le fabricant des véhicules utilitaires de marque FUSO, est né lorsque Mitsubishi Motors Corporation a séparé sa division des véhicules utilitaires de l'activité des voitures particulières en 2003, pour faire partie de l'ancienne société Daimler Chrysler. En 2004, MFTBC a rejoint le segment des véhicules utilitaires de Daimler Chrysler.
FUSO aujourd'hui
Aujourd'hui, FUSO fabrique une gamme complète de véhicules utilitaires, y compris des camions légers, moyens et lourds, des bus et des moteurs industriels pour plus de 170 marchés dans le monde. Avec un effectif de plus de 11 000 employés, FUSO fait partie intégrante du portefeuille mondial de camions et d'autobus de Daimler Truck AG (« Daimler Truck ») et un pilier clé des opérations commerciales de l'entreprise dans l'hémisphère asiatique. En 2021, FUSO a fortement contribué à l'augmentation significative des ventes de Daimler Truck avec des ventes unitaires globales de plus de 125 000 unités, représentant plus d'un quart des ventes unitaires mondiales du groupe.
Le légendaire camion léger FUSO Canter est très apprécié dans le monde entier et détient des parts de marché importantes dans de nombreux pays. Depuis son lancement sur le marché en 1963, plus de 4,5 millions de FUSO Canter ont été produits dans le monde. En 2021, FUSO a lancé la nouvelle génération du Canter avec des caractéristiques avancées de sécurité, de confort et de design.
FUSO eCanter – pionnier du transport zéro émission
La filiale asiatique de Daimler Truck est également considérée comme un précurseur en matière de transport zéro émission. En 2017, FUSO a lancé l'eCanter de première génération, un camion léger tout électrique pionnier dont plus de 350 unités sont entre les mains de clients au Japon, en Europe et en Amérique du Nord. Ces véhicules ont déjà parcouru plus de 4,5 millions de kilomètres localement sans émission dans les transports quotidiens. Fruit de cinq années de collaboration continue avec les premiers clients eCanter en termes d'écoute et d'apprentissage, FUSO présentera bientôt le tout nouveau eCanter Next Generation en Asie et en Europe. Ce modèle de production de masse sera accompagné d'améliorations supplémentaires en termes de gamme et de caractéristiques de sécurité, et sera proposé avec une gamme élargie de variantes. Plus de détails sur le Next Generation eCanter seront présentés lors du prochain IAA Transportation 2022 à Hanovre (20. – 25.09.).
Leadership sur les marchés importants
FUSO joue un rôle vital pour Daimler Truck sur certains des marchés de véhicules utilitaires les plus importants d'Asie. En Indonésie, par exemple, FUSO occupe une position de leader depuis plus de cinq décennies avec une part de marché de 46,7 % en 2021. À Taïwan, FUSO détient une part de marché d'env. 33,6% - étant le leader du marché depuis plus de 30 ans. FUSO a également pris la première place en Nouvelle-Zélande, où la reprise de la demande, un réseau de concessionnaires en pleine croissance et une infusion de nouveaux modèles ont contribué à une part de marché de 19,7 % l'année dernière. Mais FUSO, c'est aussi une success story sur les routes européennes. Dans la région de marché de l'UE30, FUSO a enregistré un volume de ventes record en 10 ans, revendiquant la première part de marché dans le segment des camions légers jusqu'à 10 tonnes, à 37,1 %.
NJC.© Info DAIMLER Trucks FUSO
-----------------------------------------------------------------------------------------------------------------
02/06/22-English
Daimler Truck's FUSO brand celebrates 90th anniversary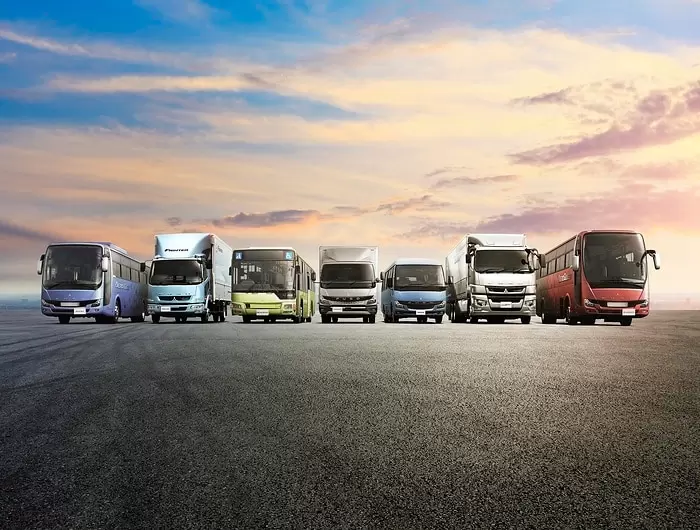 First FUSO branded bus introduced in 1932
Iconic brand is cornerstone in Daimler Truck's Asian portfolio
FUSO delivers trucks & buses to more than 170 countries, accounting for one quarter of Daimler Truck's unit sales
Upcoming launch of Next Generation eCanter
Leinfelden-Echterdingen – Daimler Truck's Asian subsidiary Mitsubishi Fuso Truck and Bus Corporation (MFTBC; "FUSO") celebrates the 90th anniversary of the FUSO brand. The origin of the iconic FUSO name dates back to May 1932, when Mitsubishi's first bus, the "B46 type shared car", manufactured at the Kobe Shipyard of the former Mitsubishi Shipbuilding, was branded FUSO. This name was suggested by an engineer at the shipyard. It originally refers to a large sacred tree and is now used as a name for the hibiscus flower. The 7-meter, 38-seater bus was equipped with a 7-liter, 6-cylinder and 100-horsepower gasoline engine. In commemoration of the first delivery of the B46 type bus to the Ministry of Railways, FUSO was selected from among the internal proposals for its nickname.
Karl Deppen, President & CEO of Mitsubishi Fuso Truck & Bus Corporation and Head of Daimler Truck Asia commented: "As we celebrate 90 years of FUSO, we would like to thank our customers, employees and partners for their loyalty and support. This anniversary signifies our stakeholders' ongoing faith in our products, technologies, and services. As the automobile sector strives for decarbonization, we at MFTBC are part of the solution. We showed this commitment with our original all-electric eCanter in 2017 and our next generation model will provide e-mobilty solutions to an even broader range of customers."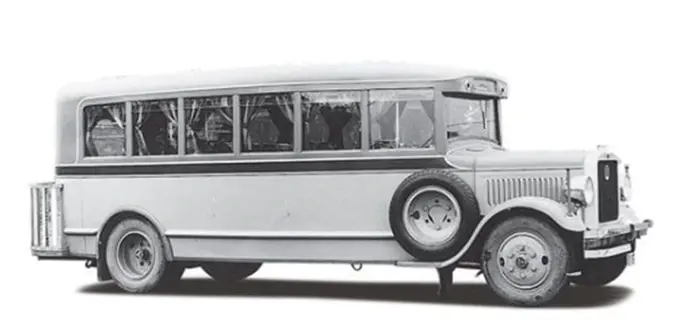 Brief history of the FUSO brand
Following the first vehicle, the nickname FUSO continued to be used thereafter for major products such as the gasoline engine 4-ton truck KT1 (1946), Japan's first large cab-over truck T380, and Japan's first minibus, the Rosa (1960). In line with Japan's high economic growth in 1950s – 70s, the product lineup soon included a full range from small to large trucks and buses, playing an important part in economic development. MFTBC, the manufacturer of the FUSO branded commercial vehicles, was born when Mitsubishi Motors Corporation separated its commercial vehicle division from the passenger car business back in 2003, to become a part of the former Daimler Chrysler company. In 2004, MFTBC joined Daimler Chrysler's Commercial Vehicles segment.
FUSO today
Today FUSO manufactures a full range of commercial vehicles including light, medium, and heavy-duty trucks and buses and industrial engines for over 170 markets worldwide. With a workforce of more than 11.000 employees, FUSO is an integral part of the global truck & bus portfolio of Daimler Truck AG ("Daimler Truck") and a key pillar of the company's business operation in the Asian hemisphere. In 2021, FUSO strongly contributed to Daimler Truck's significant sales increase with overall unit sales of more than 125.000 units, representing over a quarter of the group's global unit sales..
The legendary FUSO Canter light-duty truck is highly regarded around the world and holds top market shares in many countries. Since its market launch in 1963, over 4.5 million FUSO Canter have been produced worldwide. In 2021, FUSO launched the new generation of the Canter with advanced safety, comfort and design features.
FUSO eCanter – pioneer in zero-emission transport
Daimler Truck's Asian affiliate is also considered to be a frontrunner for zero emission transport. In 2017, FUSO introduced the first generation eCanter, a pioneering all-electric light-duty truck from which more than 350 units are in customer hands in Japan, Europe and North America. These vehicles have already covered more than 4.5 million kilometers locally emission free in daily transport. As a result of five years of continuous collaboration with the first eCanter customers in terms of listening and learning, FUSO will present the completely new Next Generation eCanter soon both in Asia and Europe. This mass production model will come with further upgrades in terms of range and safety features, and will be offered with an expanded lineup of variants. More details on the Next Generation eCanter will be presented during the upcoming IAA Transportation 2022 in Hanover (20. – 25.09.).
Market leadership in important markets
FUSO is playing a vital role for Daimler Truck in some of the most important commercial vehicle markets in Asia. In Indonesia, for example, FUSO has a leading position for more than five decades with a market share of 46.7% in 2021. In Taiwan, FUSO has a share of market of approx. 33.6% - being the market leader for more than 30 years. FUSO also took the number one spot in New Zealand, where recovering demand, a growing dealership network, and an infusion of new models contributed to a market share of 19.7% in the past year. But FUSO is also a success story on European roads. In the EU30 market region, FUSO recorded a 10-year high in sales volume, claiming the top market share in the light-duty truck segment up to 10 tons, at 37.1%.
NJC.© Info DAIMLER Trucks FUSO
------------------------------------------------------------------------------------------------------------------------
02/06/22-NL
Het FUSO-merk van Daimler Truck viert 90e verjaardag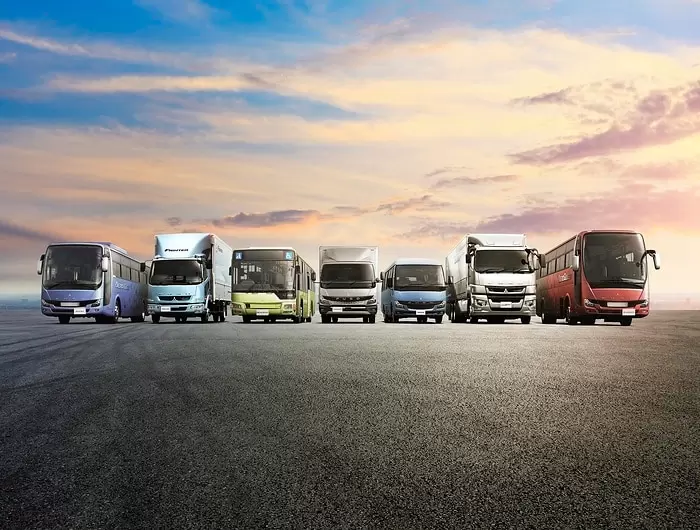 Eerste FUSO-bus geïntroduceerd in 1932
Iconisch merk hoeksteen in Aziatische portfolio van Daimler Truck
FUSO levert vrachtwagens en bussen aan meer dan 170 landen, goed voor een kwart van de verkoop van Daimler Trucks
Aanstaande lancering van Next Generation eCanter
Leinfelden-Echterdingen – Daimler Trucks Aziatische dochteronderneming Mitsubishi Fuso Truck and Bus Corporation (MFTBC; "FUSO") viert de 90e verjaardag van het merk FUSO. De oorsprong van de iconische FUSO-naam gaat terug tot mei 1932, toen Mitsubishi's eerste bus, de "B46 type deelauto", vervaardigd op de Kobe Shipyard van de voormalige Mitsubishi Shipbuilding, werd FUSO genoemd. Deze naam werd gesuggereerd door een ingenieur op de scheepswerf. Het verwijst oorspronkelijk naar een grote heilige boom en wordt nu gebruikt als naam voor de hibiscusbloem. De 7 meter lange bus met 38 zitplaatsen was uitgerust met een 7 liter, 6 cilinder en 100 pk sterke benzinemotor. Ter herdenking van de eerste levering van de bus van het type B46 aan het Ministerie van Spoorwegen, werd FUSO gekozen uit de interne voorstellen voor zijn bijnaam.
Karl Deppen, President & CEO van Mitsubishi Fuso Truck & Bus Corporation en hoofd van Daimler Truck Asia: "Terwijl we 90 jaar FUSO vieren, willen we onze klanten, medewerkers en partners bedanken voor hun loyaliteit en steun. Dit jubileum staat voor het voortdurende vertrouwen van onze belanghebbenden in onze producten, technologieën en diensten. Aangezien de autosector streeft naar decarbonisatie, zijn wij bij MFTBC een deel van de oplossing. We hebben deze toewijding getoond met onze originele volledig elektrische eCanter in 2017 en ons volgende generatiemodel zal e-mobiliteitsoplossingen bieden aan een nog breder scala aan klanten."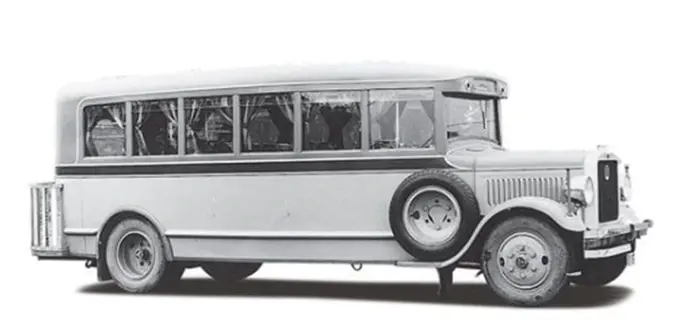 Korte geschiedenis van het merk FUSO
Na het eerste voertuig werd de bijnaam FUSO daarna nog steeds gebruikt voor belangrijke producten zoals de 4-tons vrachtwagen met benzinemotor KT1 (1946), de eerste grote T380-vrachtwagen met cabine van Japan en de eerste minibus van Japan, de Rosa (1960). In lijn met de hoge economische groei van Japan in de jaren 1950 - '70, omvatte het productassortiment al snel een volledig assortiment van kleine tot grote vrachtwagens en bussen, die een belangrijke rol speelden in de economische ontwikkeling. MFTBC, de fabrikant van de bedrijfsvoertuigen van het merk FUSO, werd geboren toen Mitsubishi Motors Corporation in 2003 zijn bedrijfsvoertuigendivisie van de personenauto's scheidde en onderdeel werd van het voormalige bedrijf Daimler Chrysler. In 2004 trad MFTBC toe tot het bedrijfsvoertuigensegment van Daimler Chrysler.
FUSO vandaag
Tegenwoordig produceert FUSO een volledig assortiment bedrijfsvoertuigen, waaronder lichte, middelzware en zware vrachtwagens en bussen en industriële motoren voor meer dan 170 markten wereldwijd. Met een personeelsbestand van meer dan 11.000 medewerkers is FUSO een integraal onderdeel van het wereldwijde truck- en busportfolio van Daimler Truck AG ("Daimler Truck") en een belangrijke pijler van de bedrijfsvoering van het bedrijf op het Aziatisch halfrond. In 2021 heeft FUSO sterk bijgedragen aan de aanzienlijke omzetstijging van Daimler Truck met een totale verkoop van meer dan 125.000 eenheden, wat neerkomt op meer dan een kwart van de wereldwijde verkoop van eenheden.
De legendarische lichte vrachtwagen FUSO Canter staat over de hele wereld hoog aangeschreven en heeft in veel landen topmarktaandelen. Sinds de marktintroductie in 1963 zijn er wereldwijd meer dan 4,5 miljoen FUSO Canter geproduceerd. In 2021 lanceerde FUSO de nieuwe generatie van de Canter met geavanceerde veiligheids-, comfort- en designkenmerken.
FUSO eCanter – pionier in emissievrij transport
Het Aziatische filiaal van Daimler Truck wordt ook beschouwd als een voorloper op het gebied van emissievrij transport. In 2017 introduceerde FUSO de eerste generatie eCanter, een baanbrekende volledig elektrische lichte vrachtwagen waarvan meer dan 350 eenheden in handen zijn van klanten in Japan, Europa en Noord-Amerika. Deze voertuigen hebben in het dagelijkse vervoer al meer dan 4,5 miljoen kilometer lokaal emissievrij afgelegd. Als resultaat van vijf jaar continue samenwerking met de eerste eCanter-klanten op het gebied van luisteren en leren, zal FUSO binnenkort de volledig nieuwe Next Generation eCanter presenteren, zowel in Azië als in Europa. Dit massaproductiemodel zal worden geleverd met verdere upgrades op het gebied van bereik en veiligheidsvoorzieningen, en zal worden aangeboden met een uitgebreide reeks varianten. Meer details over de Next Generation eCanter zullen worden gepresenteerd tijdens de komende IAA Transportation 2022 in Hannover (20 – 25.09.).
Marktleiderschap in belangrijke markten
FUSO speelt een cruciale rol voor Daimler Truck in enkele van de belangrijkste markten voor bedrijfsvoertuigen in Azië. In Indonesië heeft FUSO bijvoorbeeld al meer dan vijf decennia een leidende positie met een marktaandeel van 46,7% in 2021. In Taiwan heeft FUSO een marktaandeel van ca. 33,6% - al meer dan 30 jaar marktleider. FUSO nam ook de nummer één plek in Nieuw-Zeeland in, waar een herstellende vraag, een groeiend dealernetwerk en een infusie van nieuwe modellen hebben bijgedragen aan een marktaandeel van 19,7% in het afgelopen jaar. Maar FUSO is ook een succesverhaal op de Europese wegen. In de marktregio van de EU30 noteerde FUSO een verkoopvolume in tien jaar dat het hoogste was en claimde het het grootste marktaandeel in het segment van lichte vrachtwagens tot 10 ton, namelijk 37,1%.
NJC.© Info DAIMLER Trucks FUSO
---------------------------------------------------------------------------------------------------------------------
Date de dernière mise à jour : 01/06/2022