Daimler Truck subsidiary Torc Robotics opens Technology and Development Center in Stuttgart, Germany
08/04/22- FR + English + NL footer
Torc Robotics, filiale de Daimler Truck, ouvre un centre de technologie et de développement à Stuttgart, en Allemagne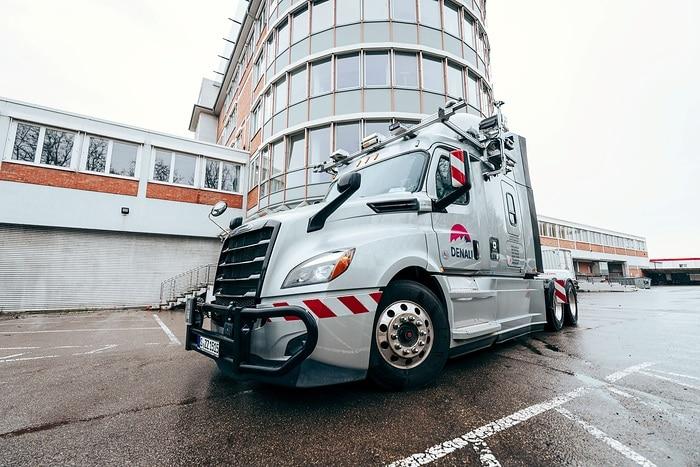 Stuttgart / Blacksburg - Torc Robotics, une filiale indépendante de Daimler Truck, ouvre un centre de développement technologique et logiciel à Stuttgart, en Allemagne. Torc est un leader des logiciels de véhicules autonomes SAE de niveau 4 pour les véhicules utilitaires lourds. Torc Europe GmbH puisera dans le vivier de talents disponibles dans l'une des principales régions automobiles d'Allemagne. L'équipe soutiendra le développement en cours du conducteur virtuel autonome de niveau 4 pour le déploiement dans des camions autonomes aux États-Unis.
Torc Europe GmbH est une entité indépendante et une filiale à 100 % de Torc, Inc. Son bureau est situé dans le quartier Untertuerkheim de Stuttgart, à proximité immédiate d'une installation R&D existante de Daimler Truck et non loin du siège social de Daimler Truck. Torc Europe recrute désormais des ingénieurs logiciels, des data scientists et des architectes dans les domaines des systèmes, de la sécurité, de la validation et du développement de produits.
"Torc travaille en étroite collaboration avec Daimler Truck pour optimiser l'ensemble de la gamme de produits, y compris le conducteur virtuel, le matériel de détection et informatique, et le châssis redondant, pour être la première entreprise à lancer un produit de conduite autonome évolutif et rentable", a déclaré le fondateur de Torc et PDG Michael Fleming. « Le centre de développement technologique et logiciel de Torc à Stuttgart s'appuiera sur l'expertise technique et produit approfondie de l'automobile et du camionnage pour en faire une réalité.
Torc et Daimler Truck poursuivent en collaboration un objectif commun de développer et de mettre sur les routes des camions autonomes pour le camionnage longue distance d'ici une décennie. En 2019, Daimler Truck a investi une participation majoritaire dans Torc, la première entreprise de véhicules autonomes (AV) à conclure un partenariat intégré avec un fabricant d'équipement d'origine (OEM) de camions. Torc et Daimler Truck, avec son entité nord-américaine, accélèrent actuellement le développement et les tests aux États-Unis. L'installation d'essai de Torc à Albuquerque, au Nouveau-Mexique, permet des trajets quotidiens en plusieurs équipes des camions d'essai autonomes de Torc sur les autoroutes du Nouveau-Mexique et du Texas.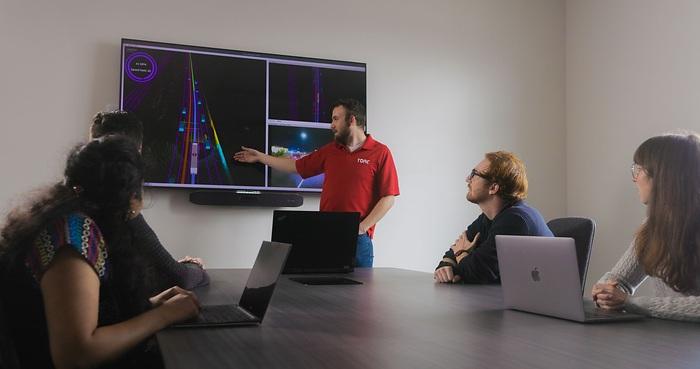 Torc Robotics, dont le siège est à Blacksburg, en Virginie, est une filiale indépendante de Daimler Truck AG, un leader mondial et pionnier du camionnage. Fondée en 2005 à la naissance de la révolution des véhicules autonomes, Torc a 16 ans d'expérience dans les applications pionnières critiques pour la sécurité et autonomes. Torc propose un logiciel complet pour véhicules autonomes et une solution d'intégration et se concentre actuellement sur la commercialisation de camions autonomes. "Le camionnage est l'épine dorsale de l'économie des États-Unis, livrant de la nourriture et des produits à toutes les communautés du pays", a déclaré le PDG et fondateur de Torc, Michael Fleming. « Daimler Truck est à la pointe de l'innovation dans le domaine du camionnage depuis plus d'un siècle, du premier camion à la technologie d'aide à la conduite. Torc travaille avec Daimler Truck pour commercialiser des camions autonomes afin de rendre nos routes plus sûres et meilleures, remplissant ainsi notre mission de sauver des vies.
NJC.© Info DAIMLER Trucks
----------------------------------------------------------------------------------------------------------------------
08/04/22- English
Daimler Truck subsidiary Torc Robotics opens Technology and Development Center in Stuttgart, Germany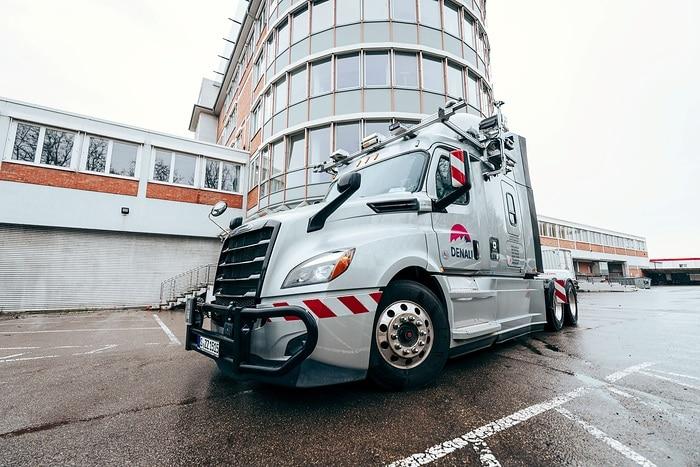 Stuttgart / Blacksburg - Torc Robotics, an independent subsidiary of Daimler Truck, is opening a technology and software development center in Stuttgart, Germany. Torc is a leader in SAE Level 4 self-driving vehicle software for heavy-duty vehicles. Torc Europe GmbH will tap into the available talent pool in one of Germany's prime automotive regions. The team will support the ongoing development of the Level 4 autonomous virtual driver for deployment in autonomous trucks in the United States.
Torc Europe GmbH is an independent entity and is a 100% subsidiary of Torc, Inc. Its office is located in Stuttgart's district Untertuerkheim, in close proximity to an existing Daimler Truck R&D facility and not far from the Daimler Truck headquarter. Torc Europe is now hiring software engineers, data scientists, and architects in the areas of systems, safety, validation, and product development.
"Torc is working closely with Daimler Truck to optimize the entire product stack including the virtual driver, sensing and computer hardware, and the redundant chassis, to be the first company to launch a scalable and profitable self-driving product," said Torc Founder and CEO Michael Fleming. "Torc's Stuttgart technology and software development center will leverage the deep automotive and trucking technical and product expertise to make this a reality."
Torc and Daimler Truck are collaboratively pursuing a common goal of developing and bringing autonomous trucks for long-haul trucking to the roads within the decade. In 2019, Daimler Truck invested a majority share in Torc, the first autonomous vehicle (AV) company to enter an integrated partnership with a truck original equipment manufacturer (OEM). Torc and Daimler Truck, with its North American entity, are currently ramping up development and testing in the United States. Torc's testing facility in Albuquerque, New Mexico, allows daily, multi-shift runs of Torc's autonomous test trucks on highways in New Mexico and Texas.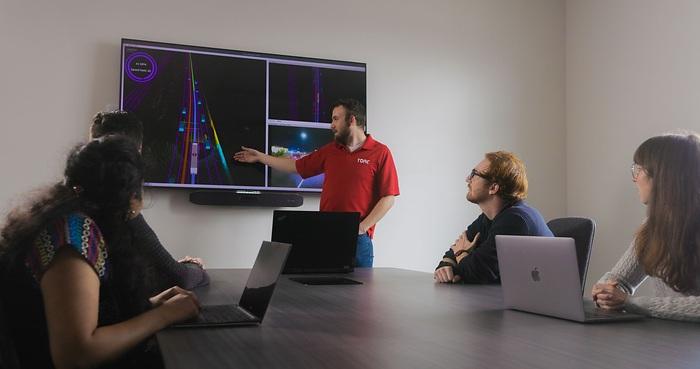 Torc Robotics, headquartered in Blacksburg, Virginia, is an independent subsidiary of Daimler Truck AG, a global leader and pioneer in trucking. Founded in 2005 at the birth of the self-driving vehicle revolution, Torc has 16 years of experience in pioneering safety-critical, self-driving applications. Torc offers a complete self-driving vehicle software and integration solution and is currently focusing on commercializing self-driving trucks. "Trucking is the backbone of the United States economy, delivering food and products to every community in the country," said Torc CEO and Founder Michael Fleming. "Daimler Truck has led innovation in trucking for more than a century, from the first truck, to driver assist technology. Torc is working with Daimler Truck to commercialize self-driving trucks to make our roads safer and better, fulfilling our mission of saving lives."
NJC.© Info DAIMLER Trucks
-------------------------------------------------------------------------------------------------------------------
08/04/22-NL
Daimler Truck-dochter Torc Robotics opent technologie- en ontwikkelingscentrum in Stuttgart, Duitsland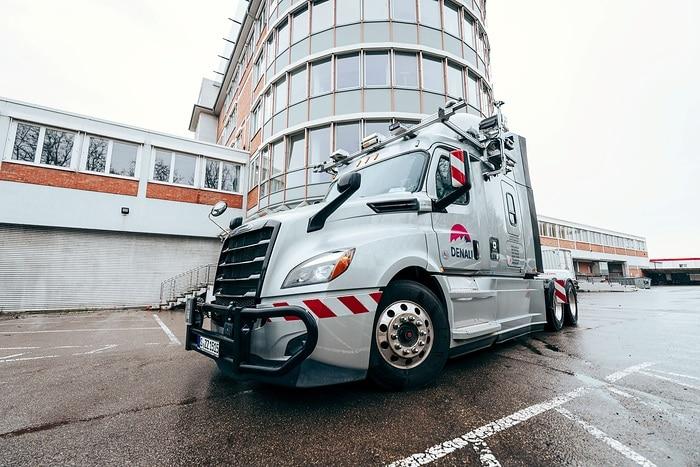 Stuttgart / Blacksburg - Torc Robotics, een onafhankelijke dochteronderneming van Daimler Truck, opent een technologie- en softwareontwikkelingscentrum in Stuttgart, Duitsland. Torc is een leider in SAE Level 4 zelfrijdende voertuigsoftware voor zware voertuigen. Torc Europe GmbH zal gebruikmaken van de beschikbare talentenpool in een van de belangrijkste autoregio's van Duitsland. Het team zal de voortdurende ontwikkeling van de autonome virtuele chauffeur van niveau 4 ondersteunen voor inzet in autonome vrachtwagens in de Verenigde Staten.
Torc Europe GmbH is een onafhankelijke entiteit en is een 100% dochteronderneming van Torc, Inc. Het kantoor is gevestigd in de wijk Untertuerkheim in Stuttgart, in de nabijheid van een bestaande Daimler Truck R&D-faciliteit en niet ver van het hoofdkantoor van Daimler Truck. Torc Europe neemt nu software-engineers, datawetenschappers en architecten aan op het gebied van systemen, veiligheid, validatie en productontwikkeling.
"Torc werkt nauw samen met Daimler Truck om de volledige productstack te optimaliseren, inclusief de virtuele driver, detectie- en computerhardware en het redundante chassis, om het eerste bedrijf te zijn dat een schaalbaar en winstgevend zelfrijdend product lanceert", aldus Torc-oprichter en CEO Michael Fleming. "Torc's technologie- en softwareontwikkelingscentrum in Stuttgart zal gebruikmaken van de diepgaande technische en productexpertise op het gebied van auto's en vrachtwagens om dit te realiseren."
Torc en Daimler Truck streven samen naar een gemeenschappelijk doel: het ontwikkelen en binnen tien jaar op de weg brengen van autonome vrachtwagens voor langeafstandsvrachtvervoer. In 2019 investeerde Daimler Truck een meerderheidsbelang in Torc, het eerste bedrijf voor autonome voertuigen (AV) dat een geïntegreerd partnerschap aangaat met een fabrikant van originele uitrustingen voor vrachtwagens (OEM). Torc en Daimler Truck, met zijn Noord-Amerikaanse entiteit, voeren momenteel de ontwikkeling en het testen in de Verenigde Staten op. Torc's testfaciliteit in Albuquerque, New Mexico, maakt dagelijkse, meerploegendiensten mogelijk van Torc's autonome testtrucks op snelwegen in New Mexico en Texas.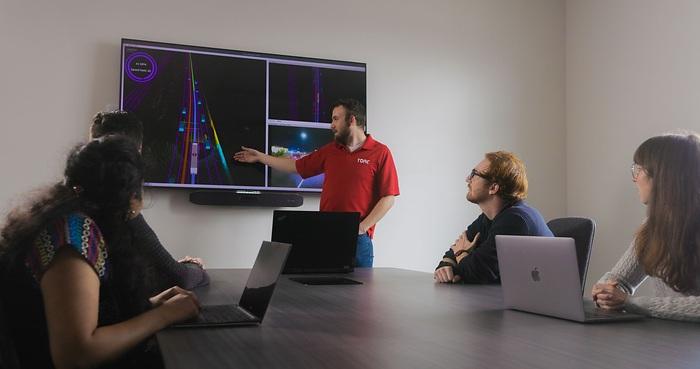 Torc Robotics, met hoofdkantoor in Blacksburg, Virginia, is een onafhankelijke dochteronderneming van Daimler Truck AG, een wereldleider en pionier op het gebied van trucking. Torc, opgericht in 2005 bij de geboorte van de zelfrijdende voertuigrevolutie, heeft 16 jaar ervaring in baanbrekende veiligheidskritieke, zelfrijdende toepassingen. Torc biedt een complete software- en integratieoplossing voor zelfrijdende voertuigen en richt zich momenteel op het commercialiseren van zelfrijdende vrachtwagens. "Vrachtvervoer is de ruggengraat van de economie van de Verenigde Staten en levert voedsel en producten aan elke gemeenschap in het land", zegt Torc CEO en oprichter Michael Fleming. "Daimler Truck leidt al meer dan een eeuw innovatie op het gebied van vrachtwagens, van de eerste vrachtwagen tot technologie voor chauffeursassistentie. Torc werkt samen met Daimler Truck om zelfrijdende vrachtwagens op de markt te brengen om onze wegen veiliger en beter te maken, waarmee we onze missie vervullen om levens te redden."
NJC.© Info DAIMLER Trucks
-----------------------------------------------------------------------------------------------------------------
Date de dernière mise à jour : 07/04/2022