DICA Receives First Patent for ProStack Slot Lock Cribbing Blocks

08/08/23-FR-English-NL-footer
DICA reçoit le premier brevet pour les blocs d'encoffrement ProStack Slot Lock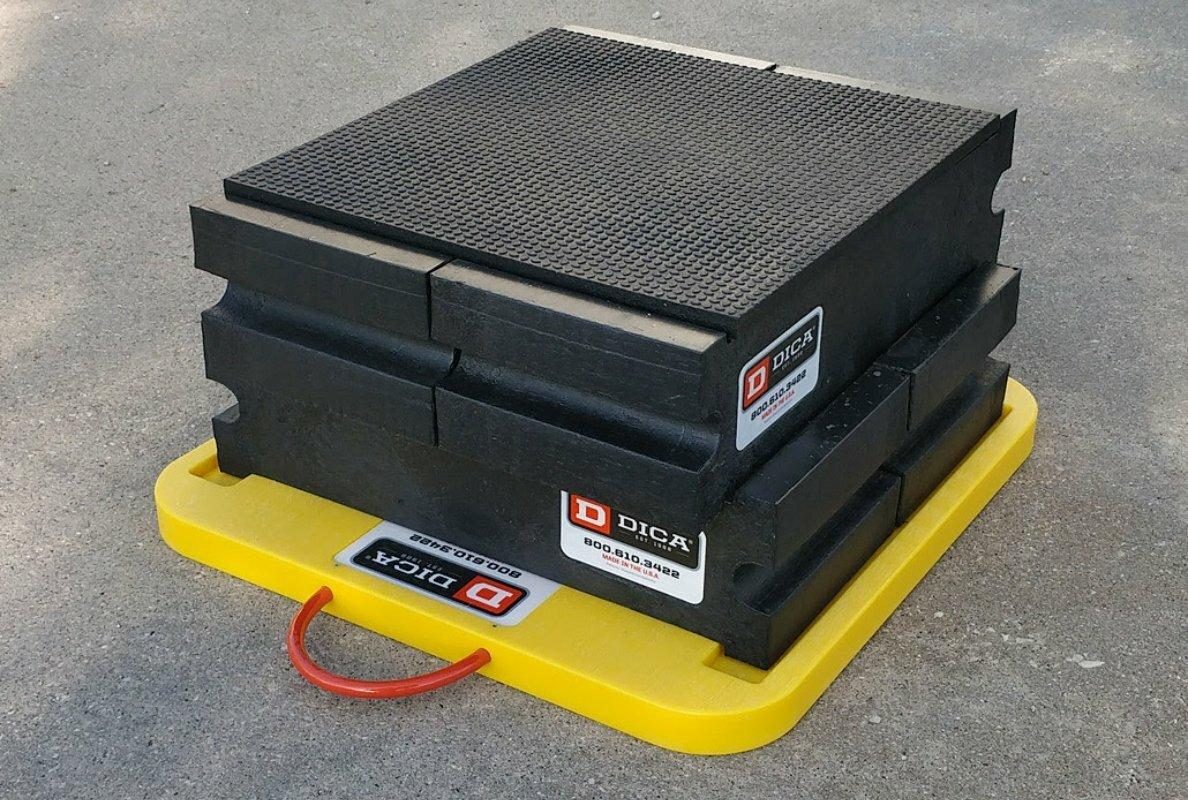 ProStack Slot Lock Cribbing Blocks IMAGE SOURCE: Mighty Mo Media Partners; DICA
DICA a reçu un brevet pour ses blocs de calage emboîtables ProStack Slot Lock. Délivré fin 2022, le brevet (brevet américain 11 479 939) concerne le système d'emboîtement à fente et à bride. Chaque bloc a une surface inférieure plate avec des lèvres s'étendant vers le bas positionnées aux extrémités opposées de la surface inférieure. Lorsque les blocs sont empilés et qu'une pression est appliquée, les blocs se verrouillent ensemble, ce qui permet aux utilisateurs d'augmenter en toute sécurité la hauteur d'encoffrement dans des conditions inégales.
«Les blocs de calage Slot Lock peuvent être utilisés sous des équipements de taille moyenne avec des forces de réaction de stabilisateur ou de stabilisateur allant jusqu'à 100 000 lb. tels que les nacelles élévatrices, les derricks de pelle, les camions-pompes à béton, les grues à flèche articulée », a déclaré Kris Koberg, PDG de DICA.
Le système de verrouillage peut être utilisé indépendamment ou intégré aux coussinets de stabilisateur SafetyTech à fentes pour augmenter la surface d'appui et réduire les pressions d'appui au sol. Chaque couche utilisée augmente la hauteur de calage de cinq pouces. "La combinaison de la hauteur variable, de la capacité d'empilage imbriquée et de la compatibilité avec les coussinets de stabilisateur SafetyTech offre aux opérateurs la sécurité, la stabilité et la polyvalence nécessaires lorsqu'ils travaillent dans des environnements inégaux", a déclaré Koberg.
Les blocs d'encoffrement sont délibérément fabriqués à partir d'une combinaison de matériaux recyclés post-consommation et post-industriels. Ce mélange de matériaux offre aux utilisateurs une solution durable et respectueuse de l'environnement qui ne se fendra pas, ne se fissurera pas et ne pourrira pas.
NJC.© Info DICA
------------------------------------------------------------------------------------------------------------------

08/08/23-English
DICA Receives First Patent for ProStack Slot Lock Cribbing Blocks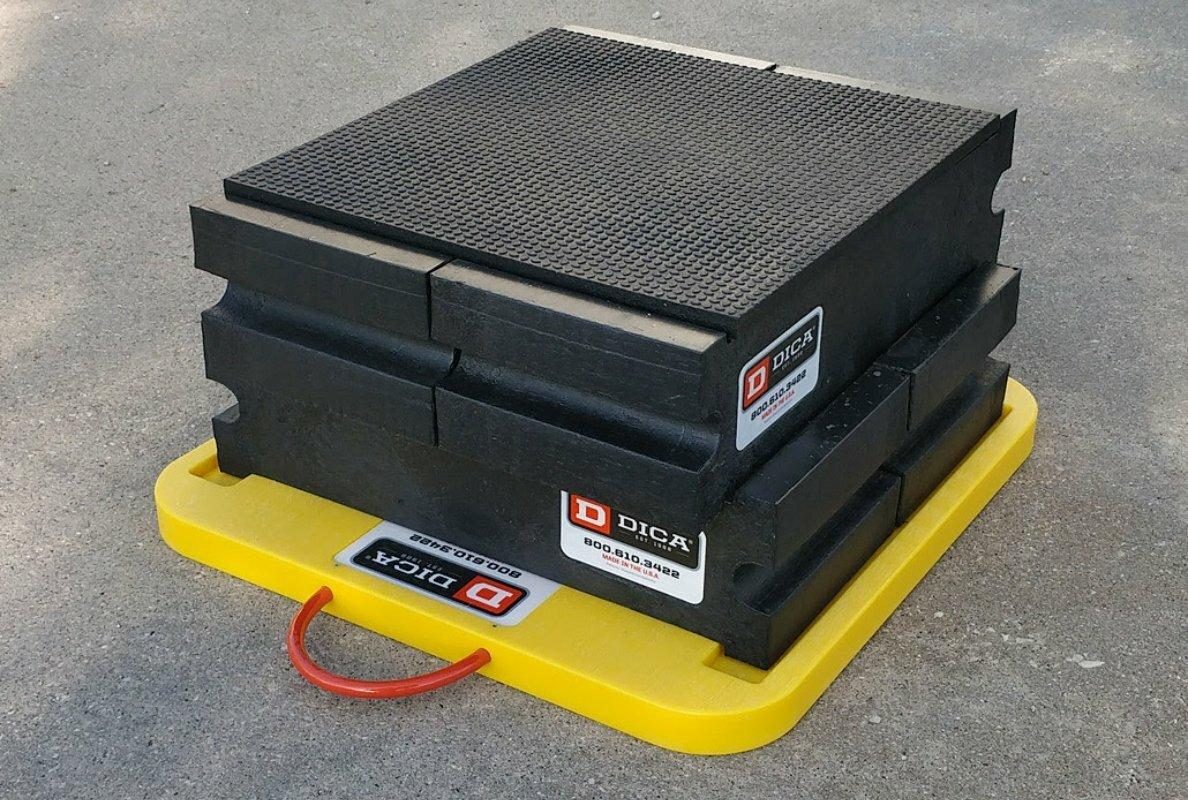 ProStack Slot Lock Cribbing Blocks IMAGE SOURCE: Mighty Mo Media Partners; DICA
DICA has received a patent for its ProStack Slot Lock Interlocking Cribbing Blocks. Issued in late 2022, the patent (U.S. Patent 11,479,939), is for the slot and flange interlocking system. Each block has a flat lower surface with downward extending lips positioned at opposing ends of the lower surface. When the blocks are stacked and pressure is applied, the blocks lock together, giving users the ability to safely gain cribbing height in unlevel conditions.
"Slot Lock Cribbing Blocks can be used under medium sized equipment with stabilizer or outrigger reaction forces up to 100,000 lbs. such as aerial lifts, digger derricks, concrete pump trucks, knuckle boom cranes," said Kris Koberg, CEO of DICA.
The interlocking system can be used independently or integrated with slotted SafetyTech Outrigger Pads to increase bearing area and decrease ground bearing pressures. Each layer used increases cribbing height by five inches. "The combination of variable height, interlocking stack ability, and compatibility with SafetyTech Outrigger Pads gives operators the safety, stability, and versatility needed when working in unlevel environments," said Koberg.
The cribbing blocks are purposefully made from a combination of post-consumer and post-industrial recycled material. This material mixture provides users with a long lasting and environmentally friendly solution that won't splinter, crack, or rot.
NJC.© Info DICA
----------------------------------------------------------------------------------------------------------------

08/08/23-NL
DICA ontvangt eerste patent voor ProStack Slot Lock Cribbing Blocks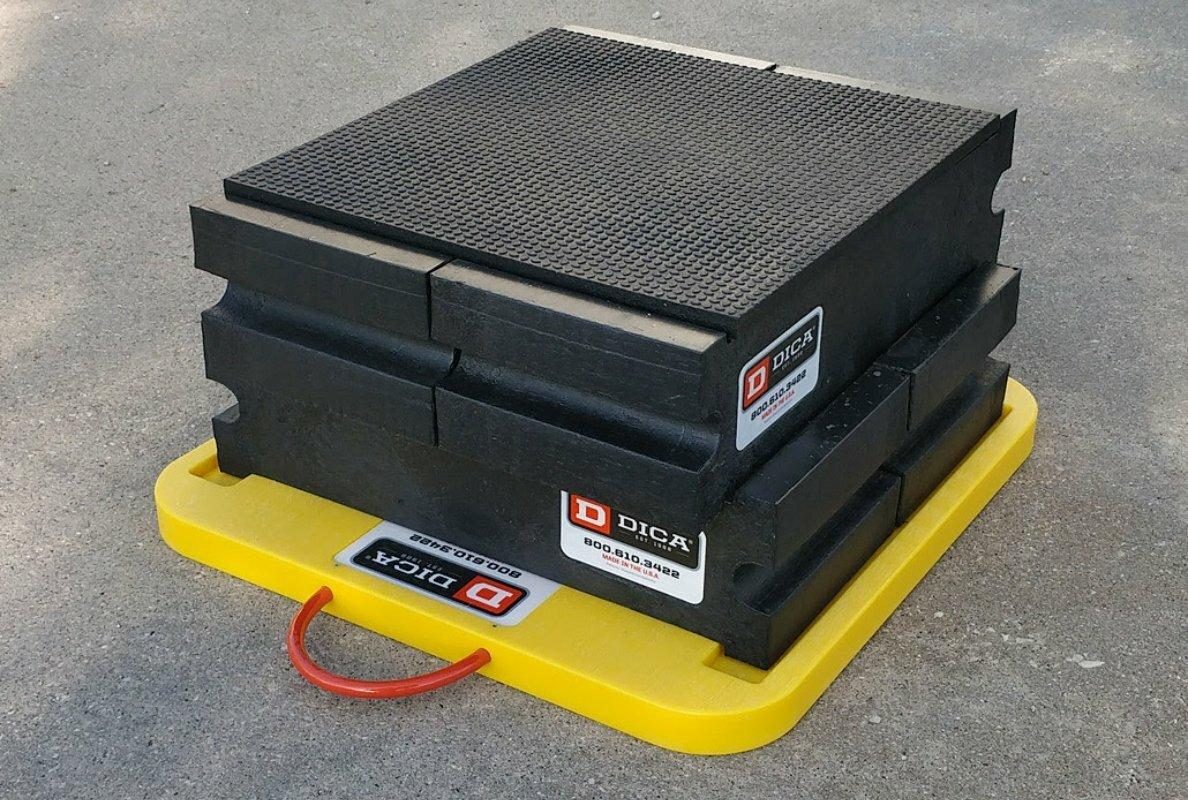 ProStack Slot Lock Cribbing Blocks IMAGE SOURCE: Mighty Mo Media Partners; DICA
DICA heeft een patent ontvangen voor zijn ProStack Slot Lock Interlocking Cribbing Blocks. Het patent (Amerikaans octrooi 11.479.939), dat eind 2022 is uitgegeven, is voor het vergrendelingssysteem met sleuf en flens. Elk blok heeft een vlak onderoppervlak met zich naar beneden uitstrekkende lippen gepositioneerd aan tegenover elkaar liggende einden van het onderoppervlak. Wanneer de blokken worden gestapeld en er druk op wordt uitgeoefend, vergrendelen de blokken zich, waardoor gebruikers in staat zijn om veilig kribhoogte te bereiken in oneffen omstandigheden.
"Slot Lock Cribbing Blocks kunnen worden gebruikt onder middelgrote apparatuur met reactiekrachten van stabilisatoren of stempels tot 100.000 lbs. zoals hoogwerkers, graafmachines, betonpompwagens, knikarmkranen", aldus Kris Koberg, CEO van DICA.
Het vergrendelingssysteem kan onafhankelijk worden gebruikt of worden geïntegreerd met SafetyTech-stempelkussens met sleuven om het draagoppervlak te vergroten en de gronddruk te verminderen. Elke gebruikte laag verhoogt de hoogte van de wieg met vijf centimeter. "De combinatie van variabele hoogte, in elkaar grijpende stapelmogelijkheden en compatibiliteit met SafetyTech-stempelplaten geeft machinisten de veiligheid, stabiliteit en veelzijdigheid die nodig zijn bij het werken in oneffen omgevingen", aldus Koberg.
De kribbeblokken zijn doelbewust gemaakt van een combinatie van post-consumer en post-industrieel gerecycled materiaal. Deze materiaalmix biedt gebruikers een duurzame en milieuvriendelijke oplossing die niet splintert, barst of rot.
NJC.© Info DICA
-------------------------------------------------------------------------------------------------------------------
Date de dernière mise à jour : 07/08/2023