Dingli introduces large wheel scissors
08/12/22-FR-English-NL-footer
Dingli présente les ciseaux à grande roue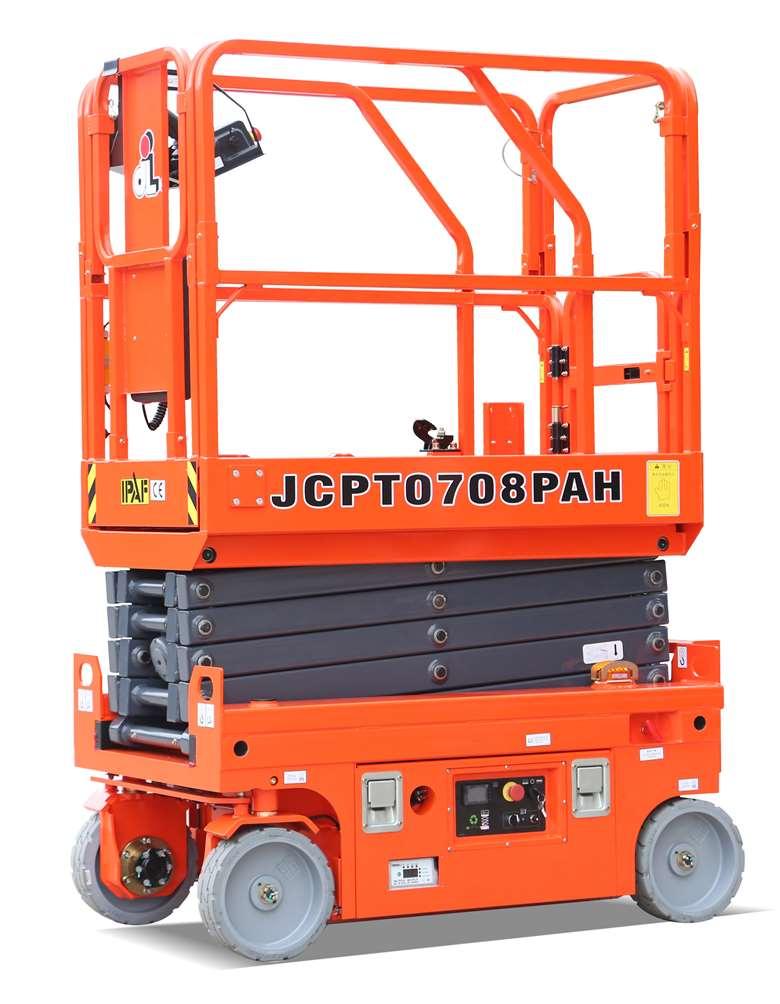 Image-Large wheel Dingli JCPT0708DCH mini slab scissor lift.
Dingli's étend encore sa série Oil Free avec une série de mini nacelles à ciseaux, dotées de grandes roues.
Les nouveaux JCPT0607PAH et JCPT0708PAH à grandes roues s'ajoutent à la série de mini-ciseaux de Dingli, incorporant neuf modèles avec des hauteurs de travail allant de 5 m à 10 m, avec leurs avantages, notamment une faible consommation d'énergie, une utilisation plus sûre, un entretien facile, un plus grand confort et le respect de l'environnement, explique le fabricant. . Les options de roues plus grandes offrent une plus grande capacité à franchir les obstacles
La gamme sans huile à entraînement électrique direct alimenté par batterie, dont font partie les mini-ciseaux, couvre les PEMP d'une hauteur de travail de 5 m à 16 m et des charges maximales de 230 kg à 450 kg. Il n'y a pas de système hydraulique, utilisant des actionneurs électriques pour le levage, l'abaissement et la direction, au lieu des vérins hydrauliques traditionnels.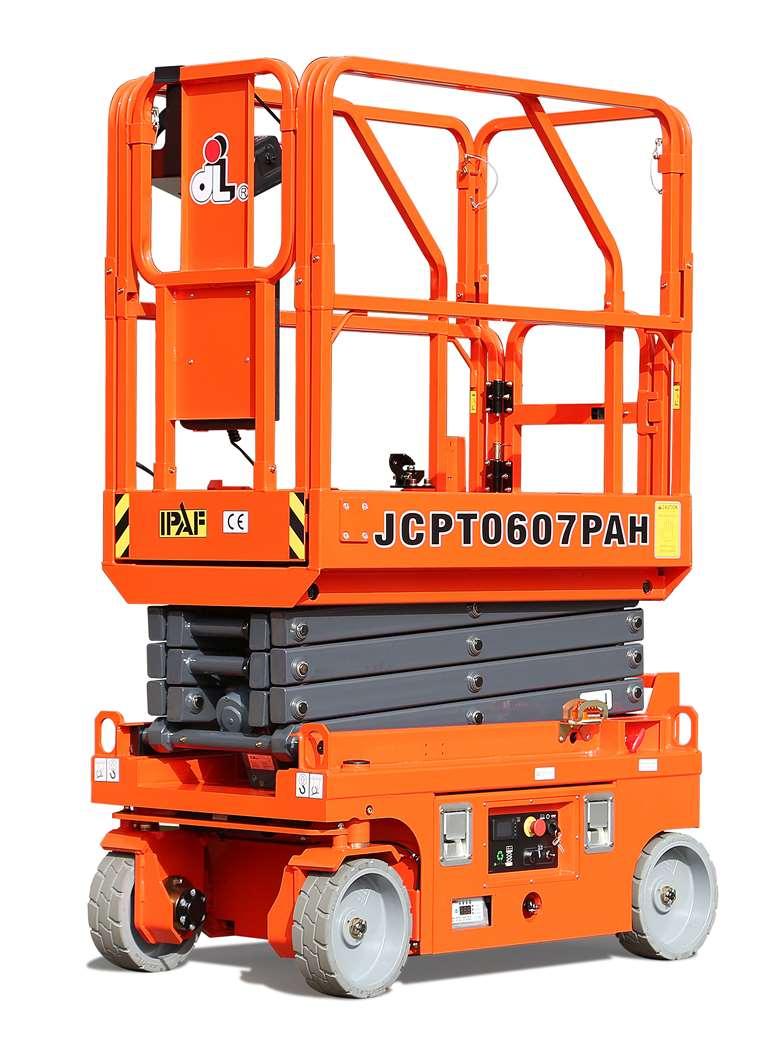 Image-Dingli JCPT0607PAH
La série offre une faible consommation d'énergie, dit Dingli, avec une économie de 30% par rapport au système hydraulique traditionnel. Les grandes unités à roues peuvent également entrer et sortir des ascenseurs standard.
Des capteurs de position intégrés, avec surveillance des données de course complète en temps réel, complètent un système d'entraînement qui permet un contrôle de la température, de la charge et du couple variable, offrant une plus grande sécurité.
Dingli accélère maintenant le lancement de sa série complète de ciseaux sans huile et entièrement électriques, avec l'introduction de la version à grande roue de ses mini ciseaux qui représente la prochaine étape.
NJC.© Info DINGLI
------------------------------------------------------------------------------------------------------------------
08/12/22-English
Dingli introduces large wheel scissors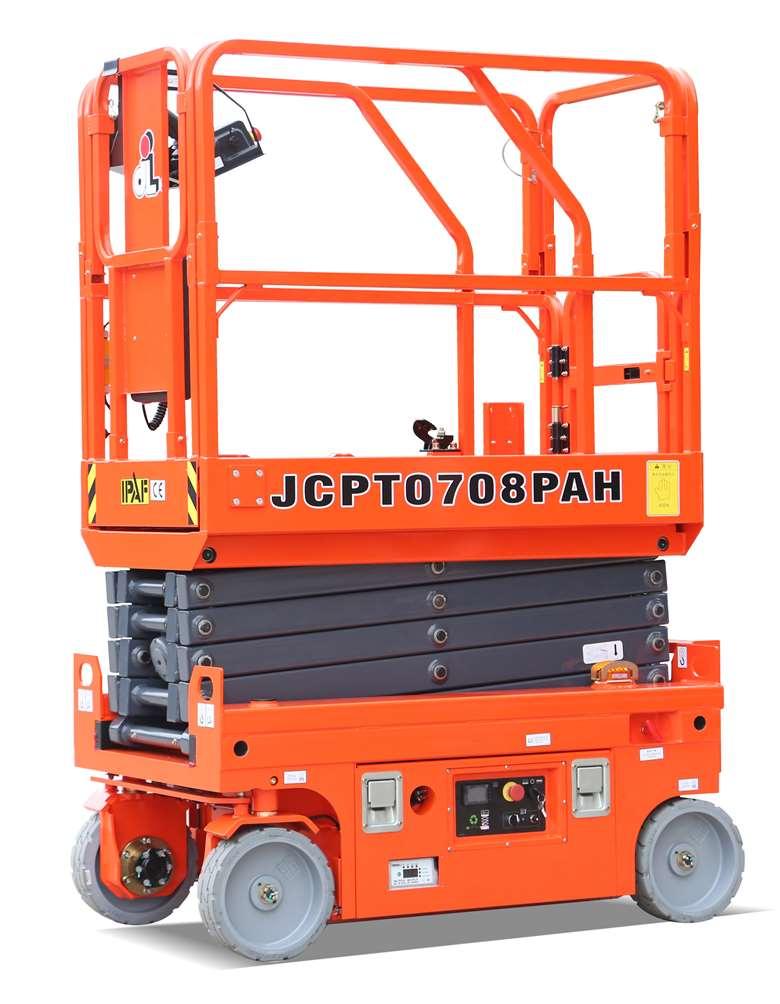 Image-Large wheel Dingli JCPT0708DCH mini slab scissor lift.
Dingli's is expanding its Oil Free series further with a series of mini scissor lifts, featuring large wheels.
The new large-wheeled JCPT0607PAH and JCPT0708PAH add to Dingli's mini scissor series, incorporating nine models with working heights ranging from 5m - 10m, with their advantages including low energy consumption, safer use, easy maintenance, greater comfort and environmentally friendliness, says the manufacturer. The larger wheel options provide greater ability to drive over obstacles
The battery-powered direct electric drive oil-free range, which the mini scissors are a part of, covers MEWPs from 5m-16m working height and maximum loads of 230kg-450kg. There is no hydraulic system, using electric actuators for lifting, lowering and steering, instead of traditional hydraulic oil cylinders.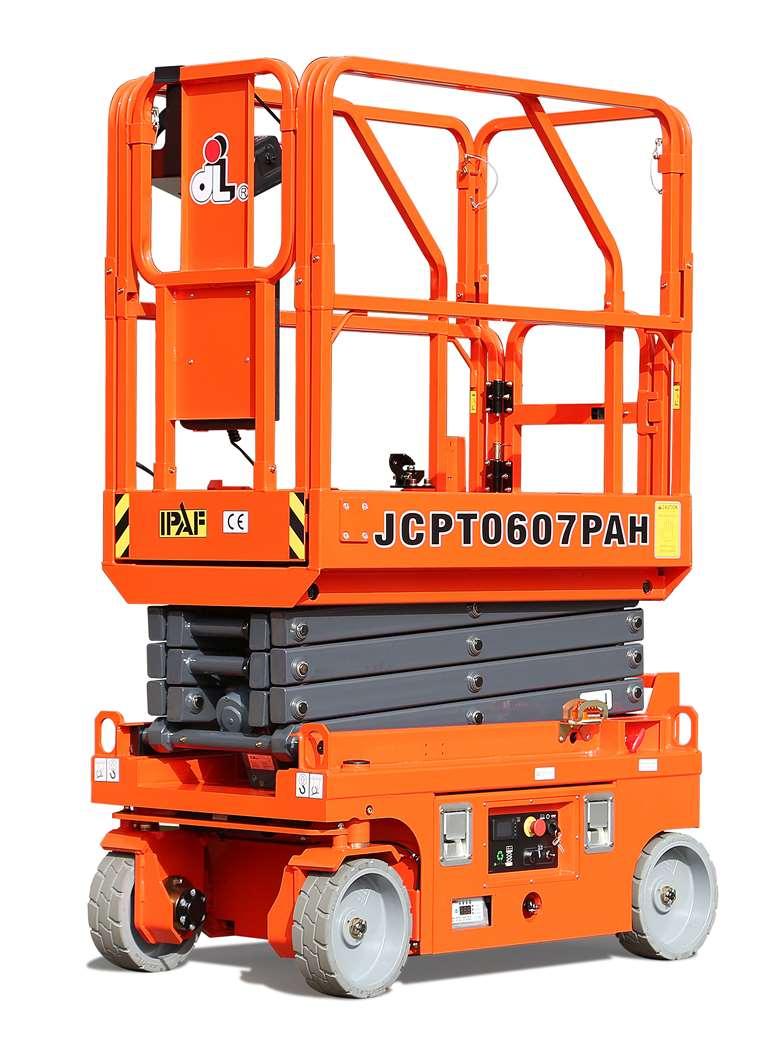 Image-Dingli JCPT0607PAH
The series offers low energy consumption, says Dingli, with a 30% saving compared with the traditional hydraulic system. The large wheeled units can also still enter and exit standard elevators.
Built-in position sensors, with real-time full stroke data monitoring complements a drive system that enables temperature, load, and variable torque control, offering greater safety.
Dingli is now accelerating the launch of its full series of oil-free & all-electric scissors, with the introduction of the large wheel version of its mini scissors representing the next step.
NJC.© Info DINGLI
------------------------------------------------------------------------------------------------------------------
08/12/22-NL
Dingli introduceert een grote wielschaar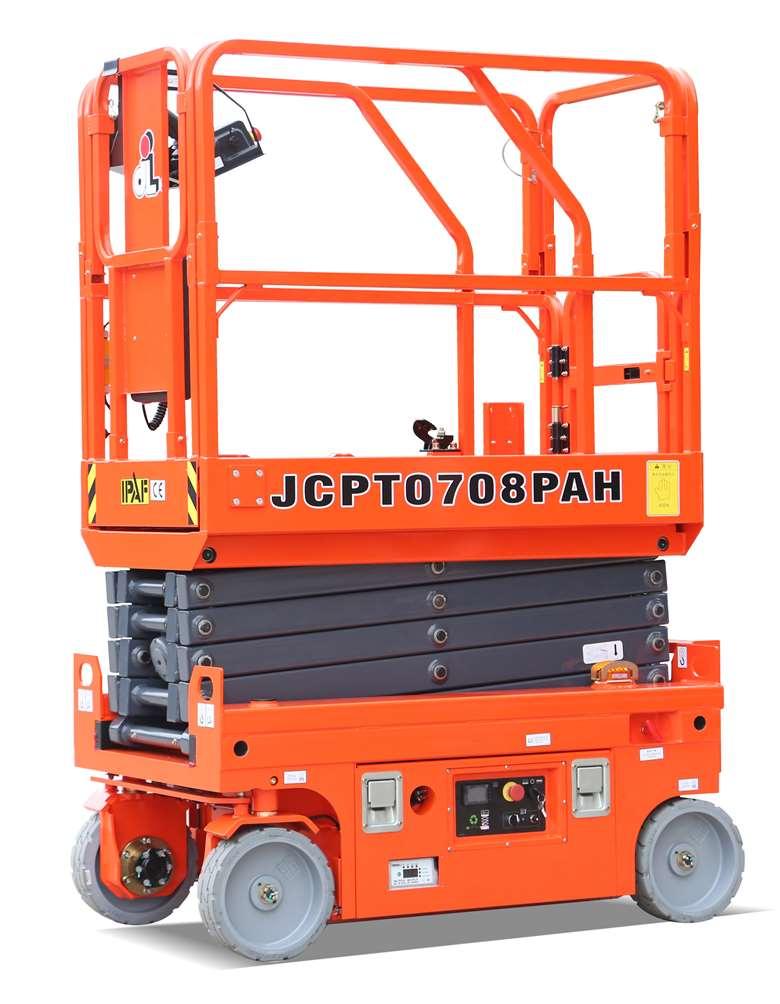 Image-Large wheel Dingli JCPT0708DCH mini slab scissor lift.
Dingli's breidt haar Oil Free-serie verder uit met een serie mini-schaarliften met grote wielen.
De nieuwe grote wielen JCPT0607PAH en JCPT0708PAH voegen toe aan Dingli's mini-schaarserie, met negen modellen met werkhoogtes variërend van 5m - 10m, met als voordelen een laag energieverbruik, veiliger gebruik, eenvoudig onderhoud, meer comfort en milieuvriendelijkheid, zegt de fabrikant . De grotere wielopties bieden meer vermogen om over obstakels te rijden
Het olievrije assortiment met directe elektrische aandrijving op batterijen, waar de minischaar deel van uitmaakt, is geschikt voor hoogwerkers met een werkhoogte van 5 tot 16 meter en een maximale belasting van 230 kg tot 450 kg. Er is geen hydraulisch systeem, met behulp van elektrische actuatoren voor heffen, dalen en sturen, in plaats van traditionele hydraulische oliecilinders.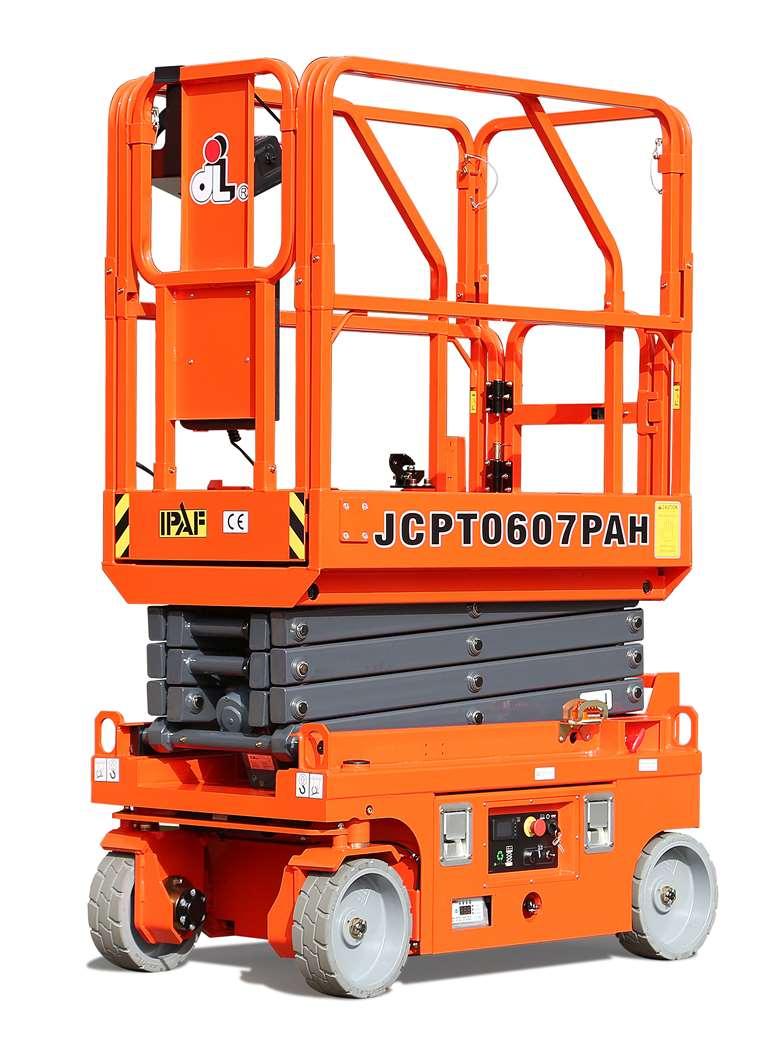 Image-Dingli JCPT0607PAH
De serie biedt een laag energieverbruik, zegt Dingli, met een besparing van 30% in vergelijking met het traditionele hydraulische systeem. De grote verrijdbare units kunnen ook nog steeds standaard liften in- en uitstappen.
Ingebouwde positiesensoren, met real-time volledige slaggegevensbewaking vormen een aanvulling op een aandrijfsysteem dat temperatuur-, belasting- en variabele koppelregeling mogelijk maakt, wat meer veiligheid biedt.
Dingli versnelt nu de lancering van zijn volledige serie olievrije en volledig elektrische scharen, met de introductie van de grote wielversie van zijn minischaar als volgende stap.
NJC.© Info DINGLI
---------------------------------------------------------------------------------------------------------------