Doka demonstrating its expertise in Dam Construction at Swiss Spitallamm Dam
22/09/22-FR-English-NL-footer
Doka démontre son savoir-faire dans la construction de barrages sur le barrage suisse de Spitallamm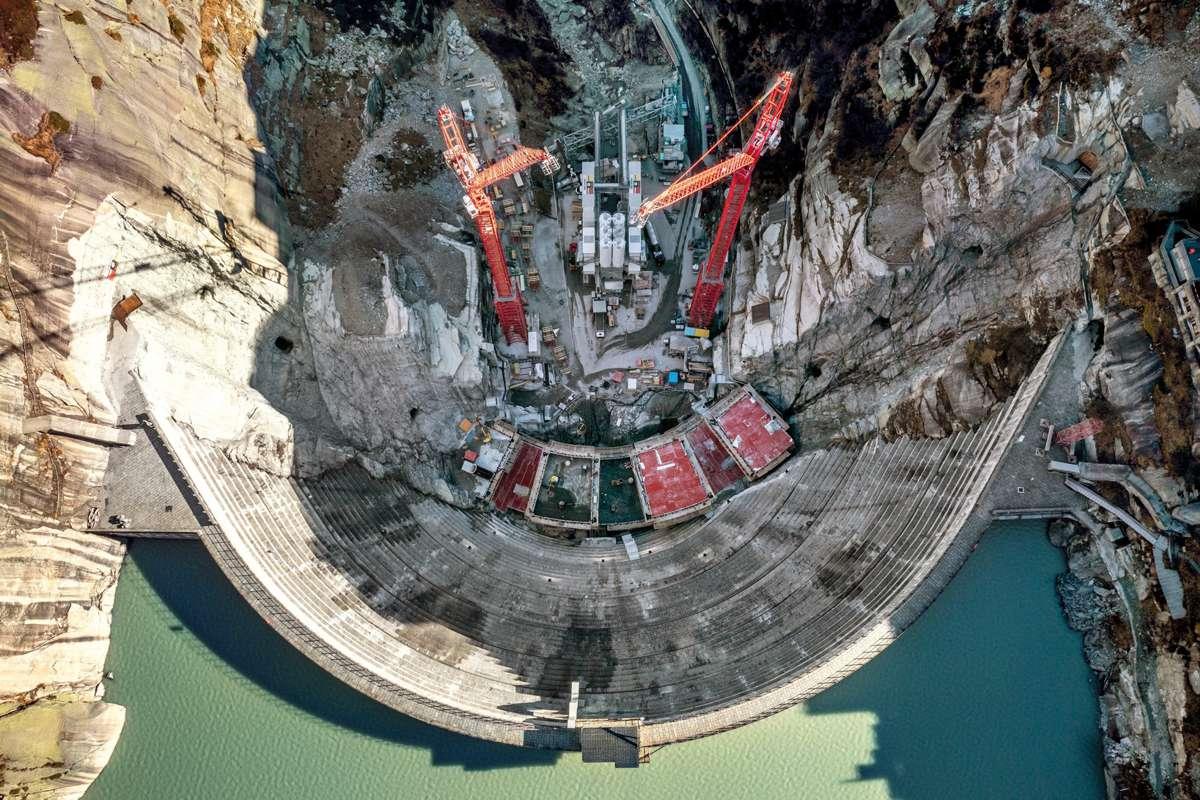 Doka, l'expert international des coffrages et des échafaudages, démontre son savoir-faire dans la construction de barrages en tant que fournisseur principal du nouveau projet de barrage de Spitallamm sur le lac de Grimsel dans les Alpes suisses.
Le projet nécessite la supervision de travaux de construction exceptionnels et la création de composants personnalisés dans des conditions difficiles. Le nouveau barrage à double courbure nécessitera le coulage de plus de 220 000 mètres cubes de béton, soutenu par des coffrages Doka.
Une fois achevées en 2025, les solutions personnalisées de Doka auront contribué à l'approvisionnement en énergie durable de plus d'un million de personnes par des sources d'énergie renouvelables.
Robert Hauser, PDG de Doka, déclare : « Les centrales hydroélectriques permettent une production d'énergie en grande partie sans CO2. Avec la construction du nouveau barrage de Spitallamm, nous travaillons sur un projet qui garantira à long terme l'électricité verte en Suisse. Notre savoir-faire complet dans la construction de centrales électriques, nos solutions de coffrage et numériques, ainsi que notre expérience en haute montagne font de nous le partenaire idéal.
Il s'agit du cinquième projet de barrage suisse de Doka après Nant de Drance, Muttsee, Vieux Emosson et la centrale de pompage-turbinage de Linth-Limmern.
Sécuriser l'énergie verte pour les prochaines générations
Doka est particulièrement fière de faire partie de cet important projet énergétique. Avec une capacité d'environ 94 millions de mètres cubes, le lac de Grimsel est le réservoir le plus connu, le plus grand et le plus important de Kraftwerke Oberhasli AG. Deux cent soixante-trois millions de kilowattheures d'hydroélectricité écologique sont produits chaque année.
Lorsque le barrage de remplacement de Spitallamm sera achevé en 2025, il continuera à fournir une énergie hydroélectrique durable à plus d'un million de personnes à l'avenir. La construction du barrage de Spitallamm montre comment Doka exploite les services numériques et les connaissances héritées pour aider les clients à améliorer l'efficacité et la sécurité, et l'importance qu'elle accorde à l'intégration de la durabilité dans chaque projet.
Les solutions numériques assurent la longévité
Le consortium Grimsel utilise les solutions de coffrage et le système d'information numérique Concremote de Doka pour surveiller en temps réel les températures à l'intérieur des énormes blocs de béton. Dans le cas des composants en béton de masse, la chaleur dégagée par la réaction du ciment entraîne une élévation de température qui peut entraîner des contraintes thermiques critiques, des fissures de température et finalement une réduction de la durabilité du béton.
La surveillance des températures et la mise en œuvre de mesures de refroidissement et de durcissement des blocs sur site atténuent les dommages potentiels et garantissent la longue durée de vie du barrage.
Pour augmenter encore la sécurité, les systèmes de mesure de la pression du béton de Doka fournissent également des données en temps réel sur la pression du béton frais. Cela permet une meilleure gestion du coffrage et de la structure et confirme et documente que le coffrage n'est pas surchargé.
La première saison des travaux de bétonnage à Spitallamm a débuté en mai 2021.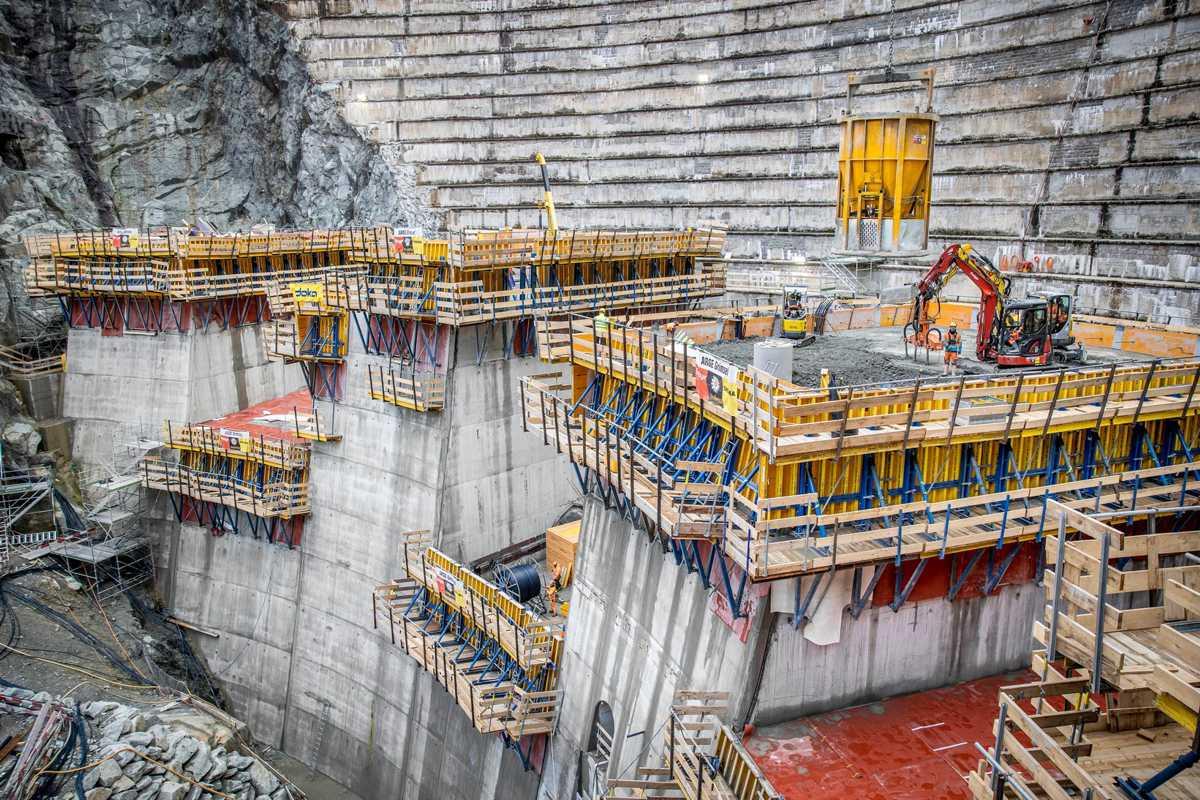 Le chantier alpin de 1 900 mètres d'altitude présente un environnement de travail exigeant, principalement en raison de conditions météorologiques difficiles et de défis logistiques.
« Doka était responsable de toute la planification et de l'optimisation du projet. Avec le soutien de notre siège social en Autriche, nous avons investi 1 500 heures de planification de pré-construction, créé un modèle d'ingénierie 3D complet, organisé le pré-assemblage et déployé nos superviseurs expérimentés pour assurer le bon fonctionnement du site », explique Klaus Mirna, Chef de projet Ingénierie Zurich chez Doka.
"Un point culminant est sans aucun doute le coffrage robuste du barrage, y compris les plates-formes de sécurité et le coffrage de galerie préassemblé, qui formait le réseau complexe de passerelles de contrôle à l'intérieur du barrage. Notre capacité à prendre en charge l'ensemble du projet, du coffrage et de la planification aux services numériques, est un réel avantage pour le client car tout est fourni à partir d'une seule source », résume Mirna.
Le nouveau barrage de Spitallamm est construit devant le barrage existant, qui sera conservé et inondé plus tard. Exploité par le fournisseur d'énergie Kraftwerke Oberhasli AG, le nouveau barrage a la même hauteur de crête de 113 mètres que le mur existant et offre la possibilité d'être surélevé dans une phase ultérieure pour agrandir le lac de Grimsel.
NJC.© info Doka GmbH
--------------------------------------------------------------------------------------------------------------------
22/09/22-English
Doka demonstrating its expertise in Dam Construction at Swiss Spitallamm Dam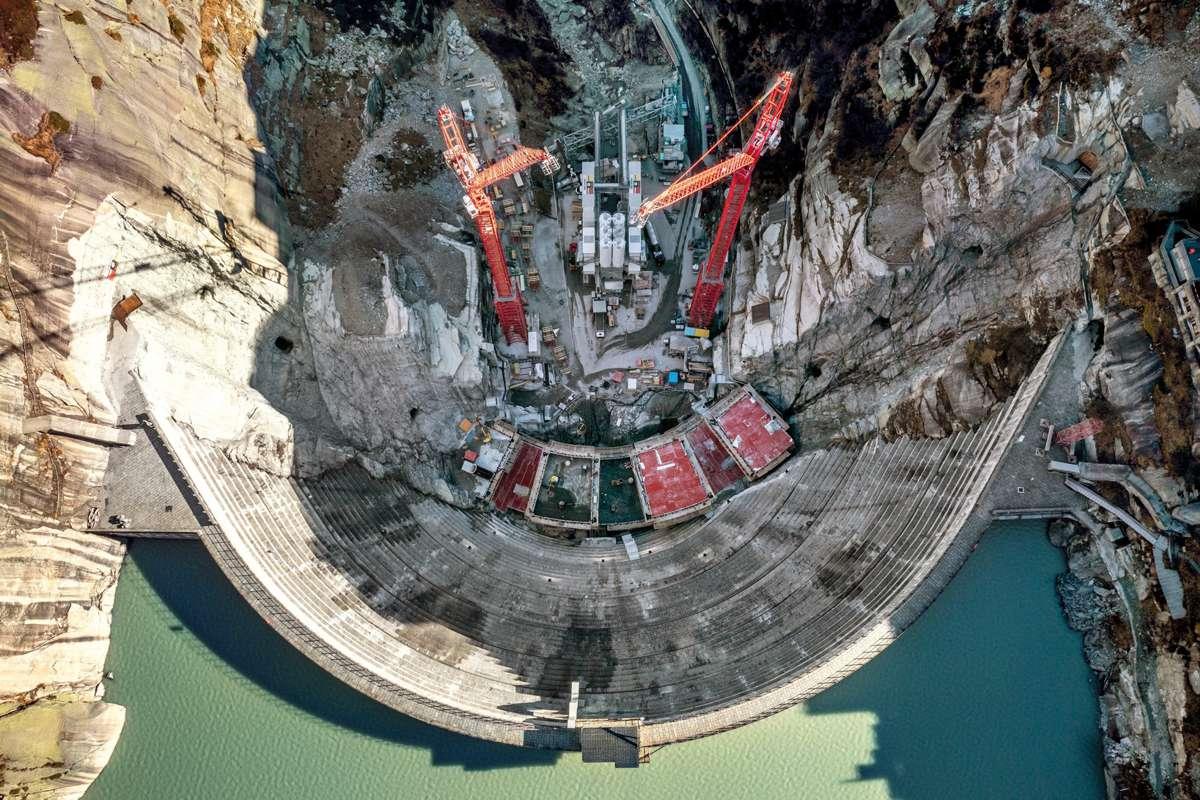 Doka, the international formwork and scaffolding expert, is demonstrating its expertise in dam construction as the principal supplier to the new Spitallamm dam project at Lake Grimsel in the Swiss Alps.
The project necessitates oversight of exceptional construction work and the creation of customized components under challenging conditions. The new double curvature dam will require pouring more than 220,000 cubic meters of concrete, supported by Doka formwork.
On completion in 2025, Doka's customized solutions will have contributed to renewable energy sources supplying more than one million people with sustainable energy.
Robert Hauser, CEO of Doka, says: "Hydropower plants enable largely CO2-free energy generation. With the construction of the new Spitallamm dam, we are working on a project that will secure green electricity in Switzerland in the long term. Our comprehensive know-how in power plant construction, our formwork, and digital solutions, as well as our experience in high alpine terrain, make us the ideal partner."
This is Doka's fifth Swiss dam project after Nant de Drance, Muttsee, Vieux Emosson, and the Linth-Limmern pumped storage plant.
Securing green energy for the next generations
Doka is exceptionally proud to be part of this important energy project. With a capacity of around 94 million cubic meters, Lake Grimsel is the best known, largest, and most important reservoir of Kraftwerke Oberhasli AG. Two hundred and sixty-three million kilowatt hours of ecological hydropower are generated annually.
When the Spitallamm replacement dam is completed in 2025, it will continue to provide sustainable hydroelectric power for more than one million people in the future. The Spitallamm Dam construction showcases how Doka is harnessing digital services and legacy knowledge to help customers improve efficiency and safety, and the importance it gives to incorporating sustainability into each project.
Digital solutions provide longevity
The Grimsel consortium is using Doka's formwork solutions and digital information system Concremote for real-time monitoring of the temperatures inside the enormous concrete blocks. In the case of mass concrete components, the heat released from the cement reaction leads to a temperature rise which can result in critical thermal stresses, temperature cracks and ultimately reduced durability of the concrete.
Monitoring the temperatures and implementing block cooling and curing measures on-site mitigates the potential damage, and ensures the long service life of the dam.
To further increase safety, Doka's concrete pressure measuring systems also deliver real-time data about the fresh concrete pressure. This enables improved management of the formwork and structure and confirms and documents, that the formwork is not overloaded.
The first season of concreting work at Spitallamm began in May 2021.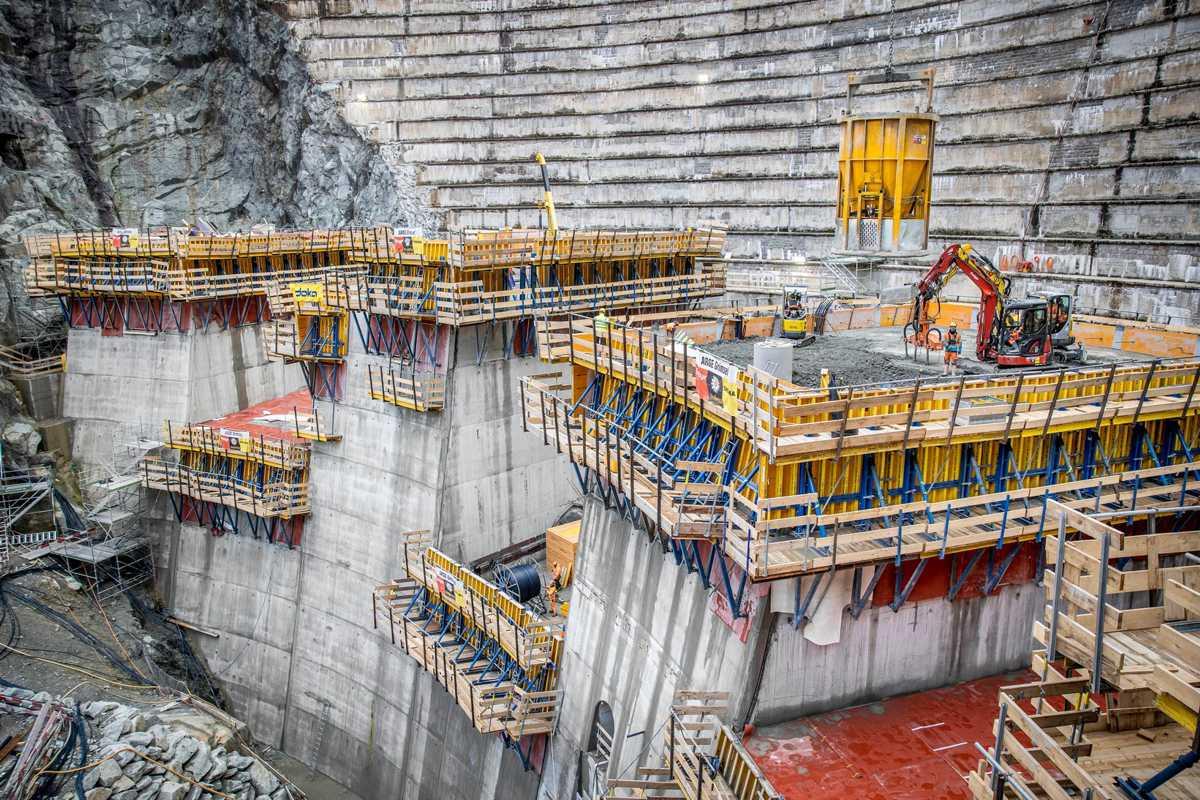 The 1,900-metre-high alpine construction site presents a demanding work environment, primarily because of difficult weather conditions and logistical challenges.
"Doka was responsible for all planning and optimization of the project. With the support of our headquarters in Austria, we invested 1,500 hours of pre-construction planning, created a full 3D engineering model, organized the pre-assembly, and deployed our experienced supervisors to ensure smooth operations at the site," explains Klaus Mirna, Project Manager Engineering Zurich at Doka.
"A highlight is undoubtedly the sturdy dam formwork, including safety platforms and the preassembled gallery formwork, which formed the complex network of control walkways inside the dam. Our ability to support the entire project from formwork and planning to digital services is a real benefit for the customer as everything is supplied from a single source," Mirna summarizes.
The new Spitallamm dam is being constructed in front of the existing dam, which will be retained and flooded later. Operated by energy provider Kraftwerke Oberhasli AG, the new dam has the same crest height of 113 meters as the existing wall, and offers the possibility of being raised in a later phase to enlarge Lake Grimsel.
NJC.© info Doka GmbH
-----------------------------------------------------------------------------------------------------------------
22/09/22-NL
Doka demonstreert zijn expertise in dambouw bij het Zwitserse Spitalamm Dam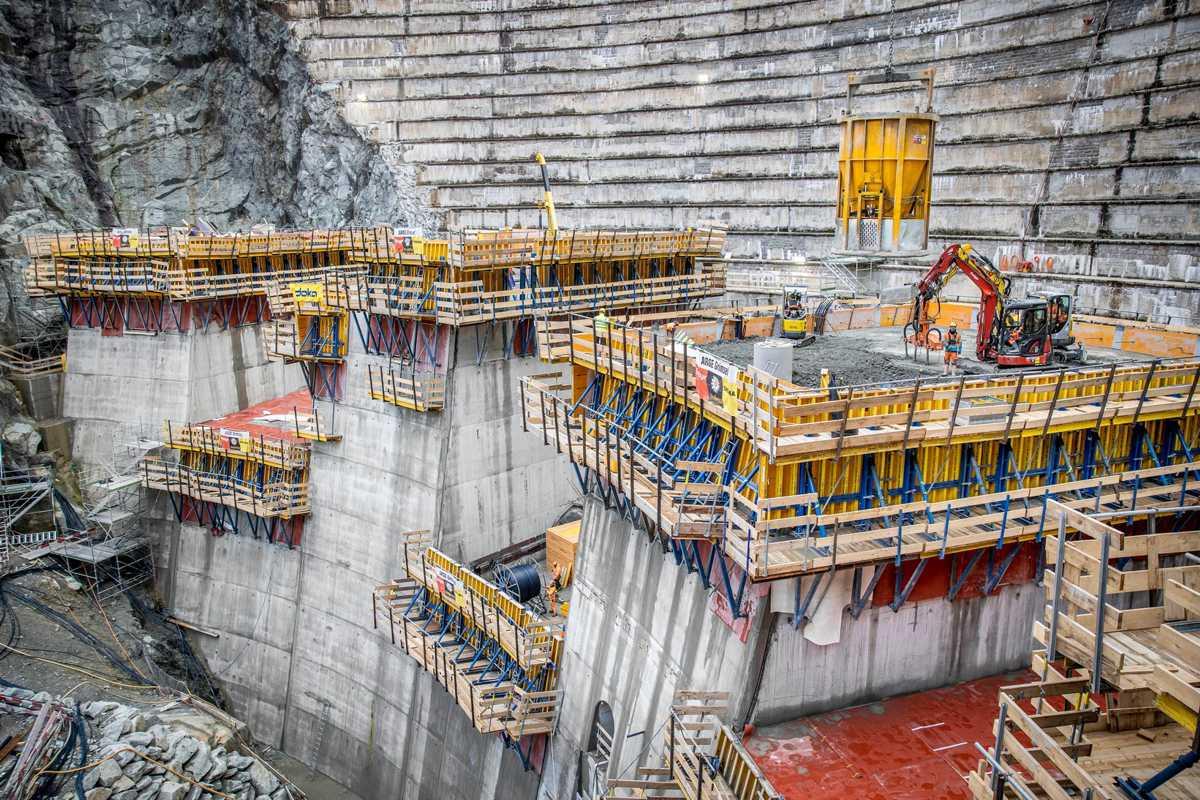 Doka, de internationale expert op het gebied van bekisting en steigers, demonstreert zijn expertise in dambouw als hoofdleverancier van het nieuwe Spitallam-damproject aan het Grimselmeer in de Zwitserse Alpen.
Het project vereist toezicht op uitzonderlijke constructiewerkzaamheden en het creëren van op maat gemaakte componenten onder uitdagende omstandigheden. De nieuwe dam met dubbele kromming vereist het storten van meer dan 220.000 kubieke meter beton, ondersteund door Doka-bekisting.
Na voltooiing in 2025 zullen de maatwerkoplossingen van Doka hebben bijgedragen aan hernieuwbare energiebronnen die meer dan een miljoen mensen van duurzame energie zullen voorzien.
Robert Hauser, CEO van Doka, zegt: "Waterkrachtcentrales maken grotendeels CO2-vrije energieopwekking mogelijk. Met de bouw van de nieuwe Spitalamm-dam werken we aan een project dat op lange termijn zal zorgen voor groene stroom in Zwitserland. Onze uitgebreide knowhow in de bouw van energiecentrales, onze bekisting en digitale oplossingen, evenals onze ervaring in het hoogalpiene terrein, maken ons de ideale partner."
Dit is het vijfde Zwitserse stuwdamproject van Doka, na Nant de Drance, Muttsee, Vieux Emosson en de pompcentrale van Linth-Limmern.
Groene energie veiligstellen voor de volgende generaties
Doka is buitengewoon trots om deel uit te maken van dit belangrijke energieproject. Met een capaciteit van ongeveer 94 miljoen kubieke meter is het Grimselmeer het bekendste, grootste en belangrijkste stuwmeer van Kraftwerke Oberhasli AG. Jaarlijks wordt tweehonderddrieënzestig miljoen kilowattuur ecologische waterkracht opgewekt.
Als de vervangingsdam van Spitallamm in 2025 klaar is, zal deze in de toekomst meer dan een miljoen mensen van duurzame waterkracht kunnen voorzien. De constructie van de Spitalamm Dam laat zien hoe Doka digitale diensten en legacy-kennis gebruikt om klanten te helpen de efficiëntie en veiligheid te verbeteren, en hoe belangrijk het is om duurzaamheid in elk project op te nemen.
Digitale oplossingen zorgen voor een lange levensduur
Het Grimsel-consortium gebruikt Doka's bekistingsoplossingen en het digitale informatiesysteem Concremote voor realtime monitoring van de temperaturen in de enorme betonblokken. In het geval van massabetoncomponenten leidt de warmte die vrijkomt bij de cementreactie tot een temperatuurstijging die kan leiden tot kritische thermische spanningen, temperatuurscheuren en uiteindelijk verminderde duurzaamheid van het beton.
Door de temperaturen te bewaken en ter plaatse maatregelen voor blokkoeling en uitharding te implementeren, wordt de potentiële schade beperkt en wordt de lange levensduur van de dam gegarandeerd.
Om de veiligheid verder te vergroten, leveren Doka's betondrukmeetsystemen ook realtime gegevens over de verse betondruk. Dit maakt een beter beheer van de bekisting en structuur mogelijk en bevestigt en documenteert dat de bekisting niet overbelast wordt.
Het eerste seizoen van betonwerkzaamheden bij Spitalamm begon in mei 2021.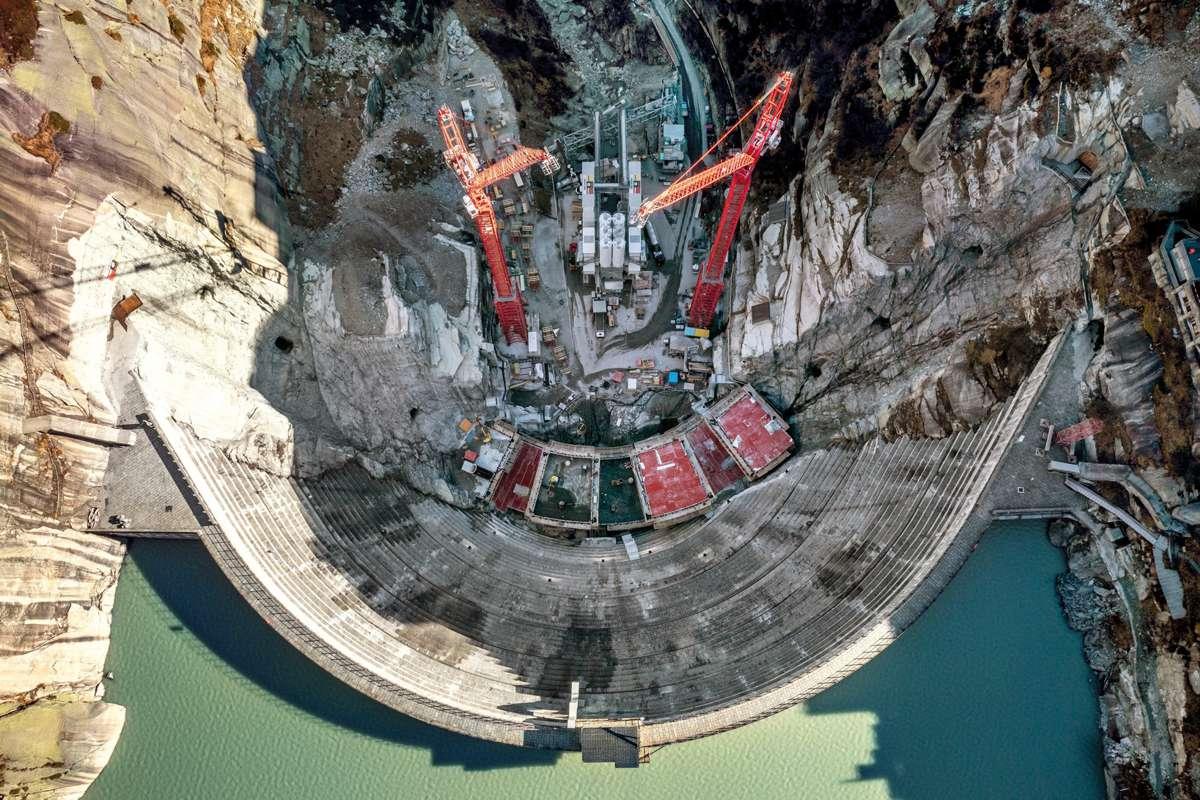 De 1.900 meter hoge alpine bouwplaats biedt een veeleisende werkomgeving, voornamelijk vanwege moeilijke weersomstandigheden en logistieke uitdagingen.
"Doka was verantwoordelijk voor de planning en optimalisatie van het project. Met de steun van ons hoofdkantoor in Oostenrijk hebben we 1.500 uur aan pre-constructieplanning geïnvesteerd, een volledig 3D-engineeringmodel gemaakt, de pre-assemblage georganiseerd en onze ervaren supervisors ingezet om een ​​soepele werking op de locatie te garanderen", legt Klaus Mirna uit, Projectmanager Engineering Zürich bij Doka.
"Een hoogtepunt is ongetwijfeld de stevige dambekisting, inclusief veiligheidsplatforms en de voorgemonteerde galerijbekisting, die het complexe netwerk van controlegangen in de dam vormden. Ons vermogen om het hele project te ondersteunen, van bekisting en planning tot digitale diensten, is een echt voordeel voor de klant, aangezien alles uit één bron wordt geleverd", vat Mirna samen.
Voor de bestaande dam wordt de nieuwe Spitalamm-dam gebouwd, die wordt behouden en later onder water gezet. De nieuwe dam, geëxploiteerd door energieleverancier Kraftwerke Oberhasli AG, heeft dezelfde kruinhoogte van 113 meter als de bestaande muur en biedt de mogelijkheid om in een latere fase te worden verhoogd om het Grimselmeer te vergroten.
NJC.© info Doka GmbH
-------------------------------------------------------------------------------------------------------------------