Doosan Portable Power HP1600/VHP1400 Portable Air Compressor Aims to Reduce Transport Costs
01/06/22-FR-English-NL-footer
Le compresseur d'air portable Doosan Portable Power HP1600/VHP1400 vise à réduire les coûts de transport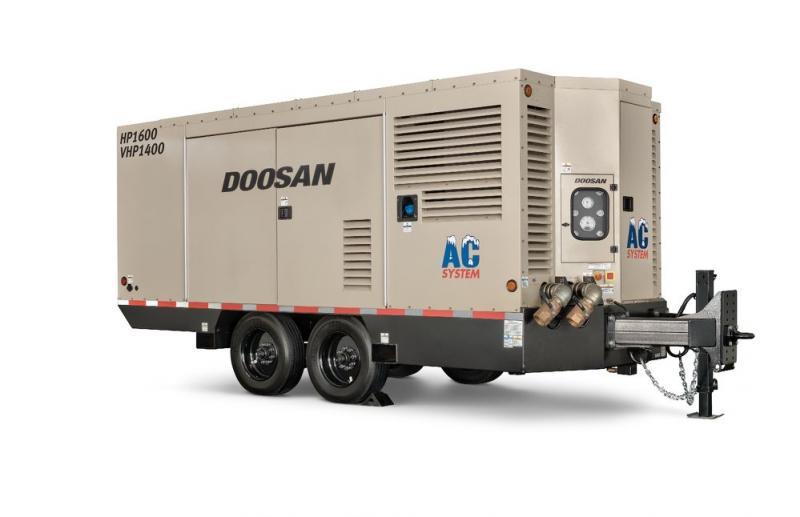 Image-he HP1600/VHP1400 is 5 ft. shorter than its predecessor. With this reduced length, two of these machines can fit on many traveling axle trailers.
Les clients de location à la recherche d'une solution de compresseur d'air portable pour les gros travaux de sablage à l'abrasif apprécieront la facilité de transport, la facilité d'entretien et la polyvalence des performances du nouveau compresseur d'air portable Doosan Portable Power HP1600/VHP1400.
Le HP1600/VHP1400 est plus court de 5 pieds que son prédécesseur. Avec cette longueur réduite, deux de ces machines peuvent équiper de nombreuses remorques à essieux mobiles (aussi appelées remorques à essieux coulissants ou remorques à essieux hydrauliques). Les passages de fourche surdimensionnés de chaque côté des essieux facilitent le chargement et le déchargement de la remorque.
« Lors de la conception des nouveaux HP1600/VHP1400, nous avons envisagé tous les moyens de réduire les dépenses et d'augmenter la disponibilité de nos clients », a déclaré Cody Blythe, spécialiste principal des produits Doosan Portable Power, compresseurs d'air. "En maximisant l'espace des remorques, les utilisateurs finaux et les maisons de location peuvent obtenir ces compresseurs d'air là où ils sont nécessaires avec moins de camions ou de trajets."
Pour une facilité d'entretien pratique, le HP1600/VHP1400 est doté de larges portes assistées par ressort à gaz avec le meilleur accès de sa catégorie aux composants internes. Les opérateurs peuvent atteindre tous les fluides, filtres et autres éléments d'entretien courants depuis le sol. Un panneau de commande simple avec des jauges analogiques fournit des diagnostics de machine faciles à comprendre pour les clients de tous niveaux d'expérience, selon le fabricant.
Les maisons de location et autres propriétaires de grandes flottes peuvent ajouter la télématique aux machines pour une surveillance accrue des besoins de maintenance.
Les avantages de performance du HP1600/VHP1400 incluent le système Doosan Portable Power IQ. Cette fonction élimine l'humidité et les autres contaminants de l'air pour répondre aux normes ISO pour le sablage abrasif et d'autres applications.
Le nouveau bloc compresseur à haut volume Doosan Portable Power DSN1414 du HP1600/VHP1400 peut fournir jusqu'à 1 600 cfm à 150 psi ou 1 400 cfm à 200 psi. Cette gamme le rend bien adapté à diverses applications, notamment le sablage abrasif pour les grands projets d'infrastructure et l'alimentation de foreuses à grappes pour les puits d'eau et l'exploitation minière. Les boutons du panneau de commande permettent aux propriétaires de basculer simplement entre deux pressions prédéfinies.
NJC.© Infos
---------------------------------------------------------------------------------------------------------------------
01/07/22-English
Doosan Portable Power HP1600/VHP1400 Portable Air Compressor Aims to Reduce Transport Costs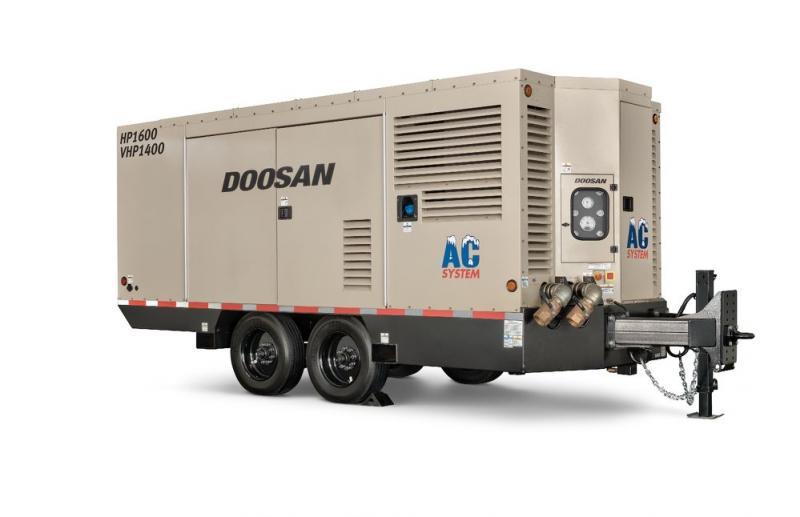 Image-he HP1600/VHP1400 is 5 ft. shorter than its predecessor. With this reduced length, two of these machines can fit on many traveling axle trailers.
Rental customers seeking a portable air compressor solution for large abrasive blasting jobs will appreciate the convenient transportability, easy maintenance and performance versatility of the new Doosan Portable Power HP1600/VHP1400 portable air compressor.
The HP1600/VHP1400 is 5 ft. shorter than its predecessor. With this reduced length, two of these machines can fit on many traveling axle trailers (also called sliding axle trailers or hydraulic axle trailers). Oversized fork pockets on either side of the axles enhance ease of trailer loading and unloading.
"We considered all the ways we could reduce expenses and increase uptime for our customers when designing the new HP1600/VHP1400," said Cody Blythe, Doosan Portable Power senior product specialist, air compressors. "By maximizing trailer space, end users and rental houses can get these air compressors where they're needed with fewer trucks or trips."
For convenient serviceability, the HP1600/VHP1400 has wide, gas-spring-assisted doors with best-in-class access to internal components. Operators can reach all fluids, filters and other common maintenance items from the ground. A simple control panel with analog gauges provides machine diagnostics that are easy to understand for customers of all experience levels, according to the manufacturer.
Rental houses and other large fleet owners can add telematics to the machines for increased monitoring of maintenance needs.
Performance advantages of the HP1600/VHP1400 include the Doosan Portable Power IQ System. This feature strips moisture and other contaminants from the air to meet ISO standards for abrasive blasting and other applications.
The new Doosan Portable Power DSN1414 High Volume Airend in the HP1600/VHP1400 can deliver up to 1600 cfm at 150 psi or 1400 cfm at 200 psi. This range makes it well-suited for diverse applications that include abrasive sandblasting for large infrastructure projects and powering cluster drills for water wells and mining. Buttons on the control panel allow owners to simply switch between two preset pressures.
NJC.© Info
-------------------------------------------------------------------------------------------------------------
01/07/22-NL
Doosan Portable Power HP1600/VHP1400 draagbare luchtcompressor heeft tot doel de transportkosten te verlagen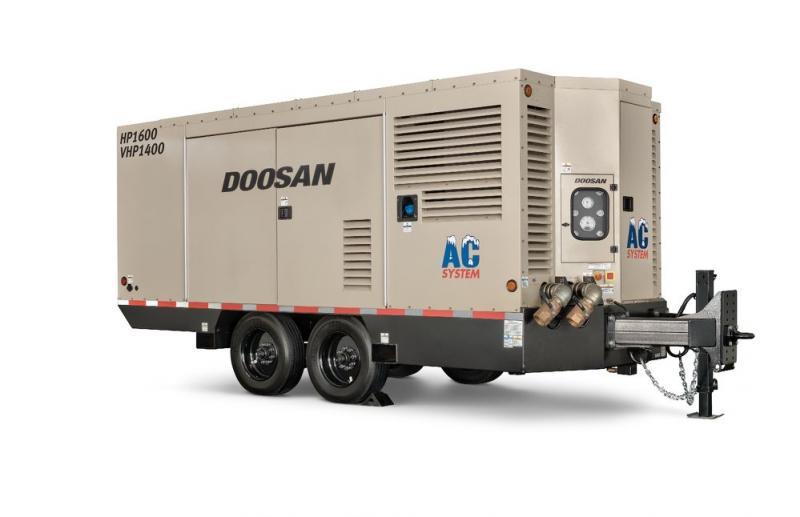 Image-he HP1600/VHP1400 is 5 ft. shorter than its predecessor. With this reduced length, two of these machines can fit on many traveling axle trailers.
Huurklanten die op zoek zijn naar een draagbare luchtcompressoroplossing voor grote straalwerkzaamheden, zullen de gemakkelijke transporteerbaarheid, het eenvoudige onderhoud en de veelzijdige prestaties van de nieuwe Doosan Portable Power HP1600/VHP1400 draagbare luchtcompressor waarderen.
De HP1600/VHP1400 is 1,5 meter korter dan zijn voorganger. Met deze kortere lengte passen twee van deze machines op veel voortloopasaanhangwagens (ook wel schuifasaanhangwagens of hydraulische asaanhangwagens genoemd). Extra grote vorkzakken aan weerszijden van de assen vergroten het gemak van het laden en lossen van de trailer.
"Bij het ontwerpen van de nieuwe HP1600/VHP1400 hebben we alle manieren overwogen om de kosten te verlagen en de uptime voor onze klanten te verhogen", zegt Cody Blythe, senior productspecialist luchtcompressoren van Doosan Portable Power. "Door de trailerruimte te maximaliseren, kunnen eindgebruikers en verhuurbedrijven deze luchtcompressoren krijgen waar ze nodig zijn met minder vrachtwagens of ritten."
Voor gemakkelijk onderhoud heeft de HP1600/VHP1400 brede, gasgeveerde deuren met de beste toegang tot interne componenten in zijn klasse. Operators kunnen alle vloeistoffen, filters en andere veelvoorkomende onderhoudsitems vanaf de grond bereiken. Een eenvoudig bedieningspaneel met analoge meters biedt machinediagnose die volgens de fabrikant gemakkelijk te begrijpen is voor klanten van alle ervaringsniveaus.
Verhuurbedrijven en andere eigenaren van grote wagenparken kunnen telematica aan de machines toevoegen voor een betere bewaking van onderhoudsbehoeften.
Prestatievoordelen van de HP1600/VHP1400 zijn onder meer het Doosan Portable Power IQ-systeem. Deze functie verwijdert vocht en andere verontreinigingen uit de lucht om te voldoen aan de ISO-normen voor stralen en andere toepassingen.
Het nieuwe Doosan Portable Power DSN1414 Airend met hoog volume in de HP1600/VHP1400 kan tot 1600 cfm bij 150 psi of 1400 cfm bij 200 psi leveren. Dit assortiment maakt het zeer geschikt voor diverse toepassingen, waaronder schurend zandstralen voor grote infrastructuurprojecten en het aandrijven van clusterboren voor waterbronnen en mijnbouw. Met knoppen op het bedieningspaneel kunnen eigenaren eenvoudig schakelen tussen twee vooraf ingestelde drukken.
NJC.© Info
---------------------------------------------------------------------------------------------------------------------