Doosan ups power on 8t excavator

17/01/22-FR-English-NL-footer
Doosan augmente la puissance d'une excavatrice de 8 t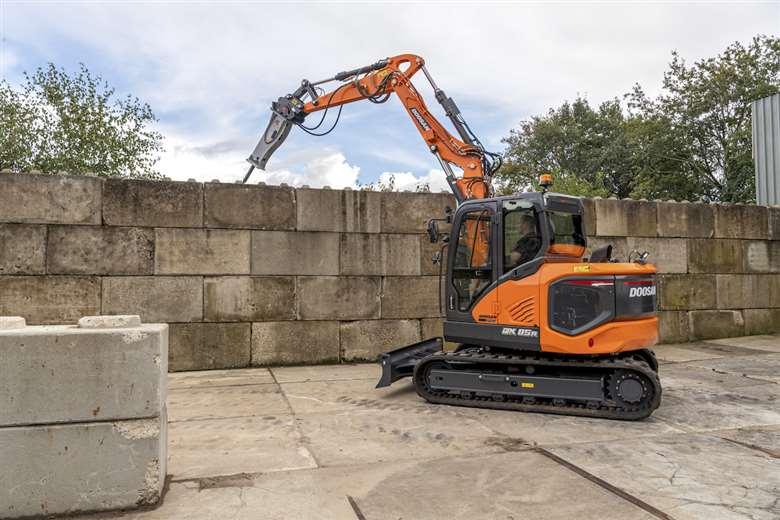 The new DX85R-7 mini excavator from Doosan. Photo: Doosan
Doosan Infracore a lancé une nouvelle mini-pelle sur le marché européen, la DX85R-7.
La machine de 8 tonnes avec un moteur diesel Stage V est conçue pour les opérations dans des espaces confinés, avec un déport arrière réduit et un angle de déport de flèche accru de 60o.
Dans le même temps, la pelle offre une durabilité accrue, ainsi qu'une force d'excavation au godet de 6,7 tonnes et une force de traction de 6,6 tonnes.
Le DX85R-7 est propulsé par le moteur Doosan D24, avec une puissance de 48,5 kW à 2 100 tr/min. Selon Doosan, cela permet une augmentation de plus de 9 % du couple de la machine à bas régime, par rapport au modèle précédent, le DX85R-3.
Le DPF (filtre à particules diesel) du nouveau modèle promet également un intervalle de nettoyage des cendres de 5 000 heures, soit une augmentation de 25 % par rapport au DX85R-3.
Avantages pour l'opérateur
Pour les opérateurs, Doosan affirme avoir augmenté à la fois la hauteur et la largeur de la cabine pour plus de confort, tandis qu'une porte d'entrée entièrement vitrée améliore la visibilité latérale.
Les autres fonctionnalités clés pour les opérateurs incluent :
-un système amélioré de chauffage et de climatisation (CVC)
-Clavier du panneau de commande A/C
-Écran tactile de 203 mm
- essuie-glace panto avec surface d'essuyage accrue
-Audio DAB
-siège à suspension pneumatique avec chauffage
-joystick à molette
-contrôle de débit auxiliaire dans la cabine
-Chargeur USB et prise 12V
-pédales pliables
La pelle est équipée de série du dernier système de gestion télématique DoosanCONNECT.
NJC.© Info DOOSAN
------------------------------------------------------------------------------------------------------------------

17/01/23-English
Doosan ups power on 8t excavator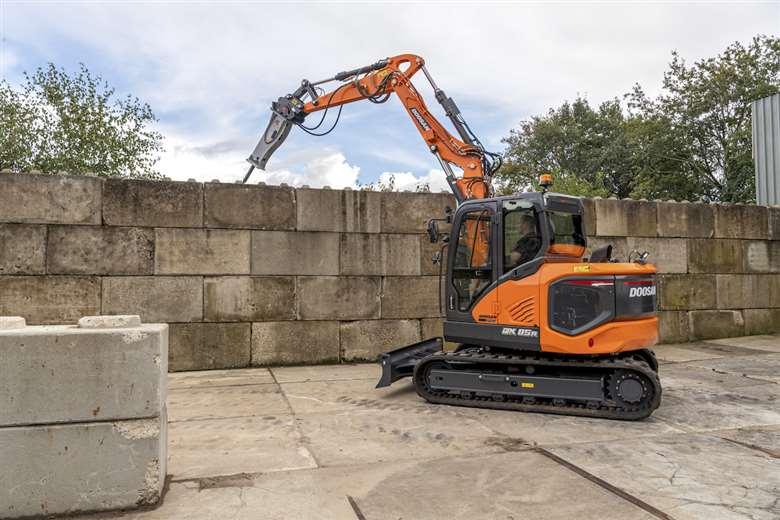 The new DX85R-7 mini excavator from Doosan. Photo: Doosan
Doosan Infracore has launched a new mini excavator onto the European market, the DX85R-7.
The 8 tonne machine with a Stage V diesel engine is designed for operations in confined spaces, with reduced tail swing and an increased boom swing angle of 60o.
At the same time, the excavator offers increased durability, along with a bucket digging force of 6.7 tonnes and traction force of 6.6 tonnes.
The DX85R-7 is powered by the Doosan D24 engine, with 48.5kW of power at 2100 RPM. According to Doosan, this provides an increase of more than 9% in the machine's torque at low RPM, compared with the predecessor model, the DX85R-3.
The new model's DPF (diesel particulate filter) also promises an ash cleaning interval of 5,000 hours – a 25% increase on the DX85R-3.
Operator benefits
For operators, Doosan says it has increased both the height and width of the cab for extra comfort, while a full-glass entry door enhances visibility to the side.
Other key features for operators include:
-an enhanced heating and air conditioning (HVAC) system
-A/C control panel keypad
-203mm touch-screen display
-panto wiper with increased wiping area
-DAB Audio
-air suspension seat with heating
-thumbwheel joystick
-auxiliary flow control in the cab
-USB charger & 12V socket
-foldable pedals
The excavator has the latest DoosanCONNECT telematics management system installed as standard.
NJC.© Info DOOSAN
------------------------------------------------------------------------------------------------------------------

17/03/23-NL
Doosan verhoogt vermogen op graafmachine van 8 ton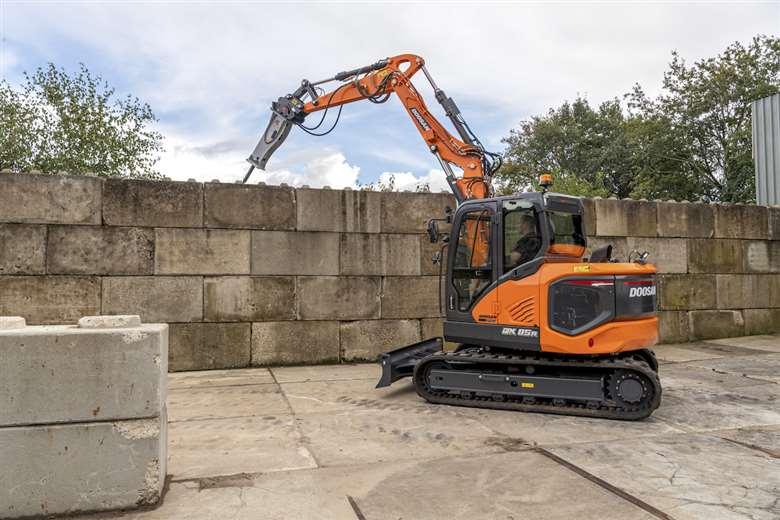 The new DX85R-7 mini excavator from Doosan. Photo: Doosan
Doosan Infracore heeft een nieuwe minigraafmachine op de Europese markt gebracht, de DX85R-7.
De machine van 8 ton met een Stage V-dieselmotor is ontworpen voor werkzaamheden in krappe ruimtes, met minder zwenken aan de achterkant en een grotere zwenkhoek van de giek van 60o.
Tegelijkertijd biedt de graafmachine meer duurzaamheid, samen met een graafkracht van 6,7 ton en een trekkracht van 6,6 ton.
De DX85R-7 wordt aangedreven door de Doosan D24-motor, met een vermogen van 48,5 kW bij 2100 tpm. Volgens Doosan zorgt dit voor een toename van meer dan 9% in het koppel van de machine bij een laag toerental, in vergelijking met het voorgaande model, de DX85R-3.
Het DPF (roetfilter) van het nieuwe model belooft ook een asreinigingsinterval van 5.000 uur – een stijging van 25% ten opzichte van de DX85R-3.
Voordelen voor de operator
Voor machinisten zegt Doosan dat het zowel de hoogte als de breedte van de cabine heeft vergroot voor extra comfort, terwijl een volledig glazen toegangsdeur het zicht naar de zijkant verbetert.
Andere belangrijke kenmerken voor operators zijn:
- een verbeterd verwarmings- en airconditioningsysteem (HVAC).
-A/C bedieningspaneel toetsenbord
-203 mm touchscreen-display
-panto-wisser met groter wisoppervlak
-DAB-audio
-luchtgeveerde stoel met verwarming
-joystick met duimwiel
-hulpstroomregeling in de cabine
-USB-oplader & 12V-aansluiting
-opvouwbare pedalen
De graafmachine is standaard uitgerust met het nieuwste DoosanCONNECT telematicabeheersysteem.
NJC.© Info DOOSAN
---------------------------------------------------------------------------------------------------------------------
Date de dernière mise à jour : 17/01/2023