Dutch firm pioneers diesel-to-hydrogen conversion

05/01/23-FR-English-NL-footer
Une entreprise néerlandaise pionnière dans la conversion du diesel à l'hydrogène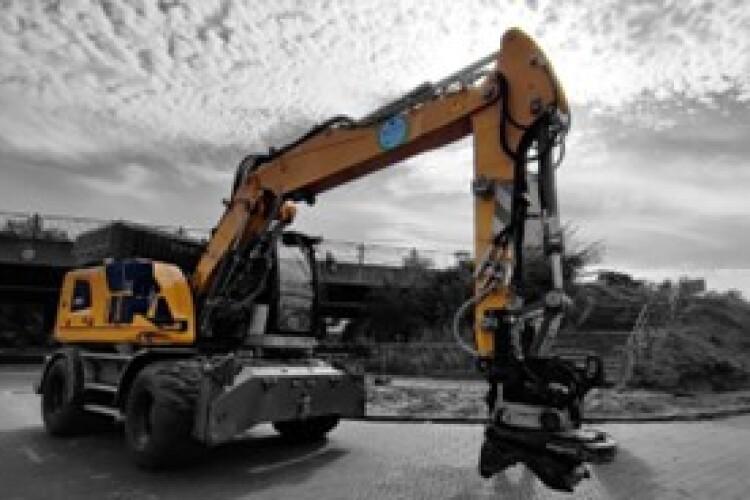 Image- Zepp Dutch firm pioneers diesel-to-hydrogen conversion
Terberg Techniek, un spécialiste néerlandais des modifications de véhicules, a converti une paire de pelles Liebherr de l'alimentation diesel à l'hydrogène-électrique.
Les deux excavatrices Liebherr testent depuis six mois sur place.
Les deux pelles sur pneus Liebherr 916 appartenant à l'entrepreneur Jos Scholman sont désormais alimentées par des piles à hydrogène fabriquées par Zepp Solutions basée à Delft.
Après six mois d'essais opérationnels, les excavatrices se sont avérées fiables et performantes. La pile à combustible Zepp Y50 et le système de stockage d'hydrogène offrent une alternative écologique au diesel, ne produisant aucune émission autre que de l'eau.
Terberg Techniek a utilisé le système à hydrogène Zepp pour développer un kit de conversion qu'il espère maintenant utiliser pour convertir d'autres équipements de construction diesel en un groupe motopropulseur électrique à hydrogène.
L'hydrogène gagne en popularité dans l'industrie des équipements de construction en raison de réglementations de plus en plus restrictives sur les émissions locales, telles que le CO2, le bruit, les particules et surtout l'oxyde nitreux (NOx).
L'utilisation de machines à zéro émission permet aux entrepreneurs de soumissionner sur des projets dans des zones urbaines ou écologiquement sensibles qui auraient pu être auparavant hors de portée avec des équipements traditionnels, explique Zepp Solutions.
Informations connexes
Zepp affirme également que les piles à combustible à hydrogène permettent des périodes de fonctionnement plus longues et moins d'interruptions pour le ravitaillement ou la recharge par rapport aux alternatives alimentées par batterie.
Les piles à combustible Zepp' Y50 ont déjà été adoptées dans les secteurs de la manutention et de la marine. Un exemple récent est le Water-taxi à Rotterdam qui a commencé à fonctionner en mai 2022. Le projet de conversion Liebherr de Terberg Techniek marque la première application des systèmes de pile à combustible de Zepp dans le secteur des équipements de construction.
Kevin Schreiber, co-fondateur de Zepp Solutions, a déclaré : « Nous sommes ravis de voir nos systèmes de pile à combustible utilisés dans la conversion de ces pelles Liebherr et de jouer un rôle pour aider le secteur des équipements de construction à réduire ses émissions de carbone.
"Chez Zepp Solutions, nous nous engageons à fournir une technologie de pile à combustible innovante, fiable et rentable à un large éventail d'industries, et nous sommes impatients de poursuivre notre partenariat avec Terberg Techniek sur de futurs projets."
NJC.© Solutions Info Zepp
-----------------------------------------------------------------------------------------------------------------

05/01/23-English
Dutch firm pioneers diesel-to-hydrogen conversion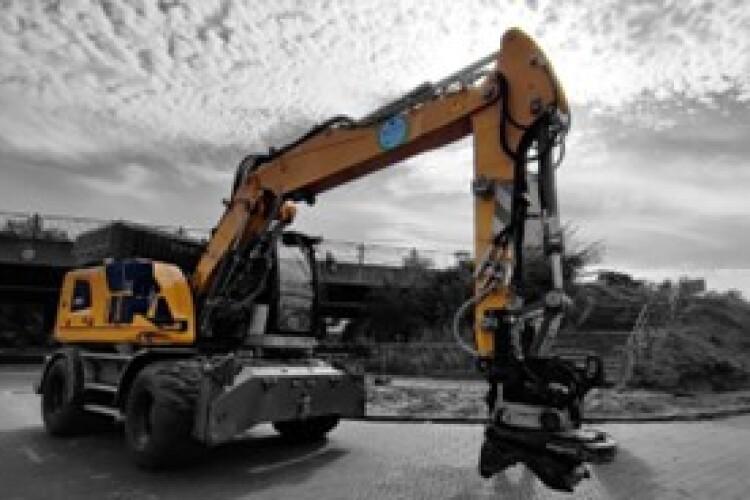 Image- Zepp Dutch firm pioneers diesel-to-hydrogen conversion
Terberg Techniek, a Dutch specialist in vehicle modifications, has converted a pair of Liebherr excavators from diesel power to hydrogen-electric.
The two Liebherr diggers have been testing for six months on-site.
The two Liebherr 916 wheeled excavators belonging to contractor Jos Scholman are now powered by hydrogen fuel cells manufactured by Zepp Solutions based in Delft.
Over six months of operational testing, the excavators have proven to be reliable and performing well. The Zepp Y50 fuel cell and hydrogen storage system offers an environmentally friendly alternative to diesel, producing no emissions other than water.
Terberg Techniek used the Zepp hydrogen system to develop a conversion kit which it now hopes to use to convert other construction equipment from diesel to a hydrogen-electric powertrain.
Hydrogen is gaining popularity in the construction equipment industry due to increasingly restrictive regulations on local emissions, such as CO2, noise, particulate matter, and especially nitrous oxide (NOx).
Using zero-emission machinery allows contractors to bid on projects in urban or environmentally sensitive areas that may have previously been out of reach with traditional equipment, says Zepp Solutions.
Related Information
Zepp also claims that hydrogen fuel cells allow for longer periods of operation and fewer interruptions for refuelling or recharging compared to battery-powered alternatives.
Zepp' Y50 fuel cells have already been adopted in the materials-handling and maritime sectors. A recent example is the Water-taxi in Rotterdam which started operating in May 2022. The Liebherr conversion project by Terberg Techniek marks the first application of Zepp's fuel cell systems in the construction equipment sector.
Kevin Schreiber, co-founder of Zepp Solutions, said: "We are thrilled to see our fuel cell systems being used in the conversion of these Liebherr excavators, and to play a role in helping the construction equipment sector reduce its carbon emissions.
"At Zepp Solutions we are committed to providing innovative, reliable, and cost-effective fuel cell technology to a wide range of industries, and we look forward to continuing our partnership with Terberg Techniek on future projects."
NJC.© Info Zepp solutions
-----------------------------------------------------------------------------------------------------------------

05/01/23-NL
Nederlands bedrijf pioniert in conversie van diesel naar waterstof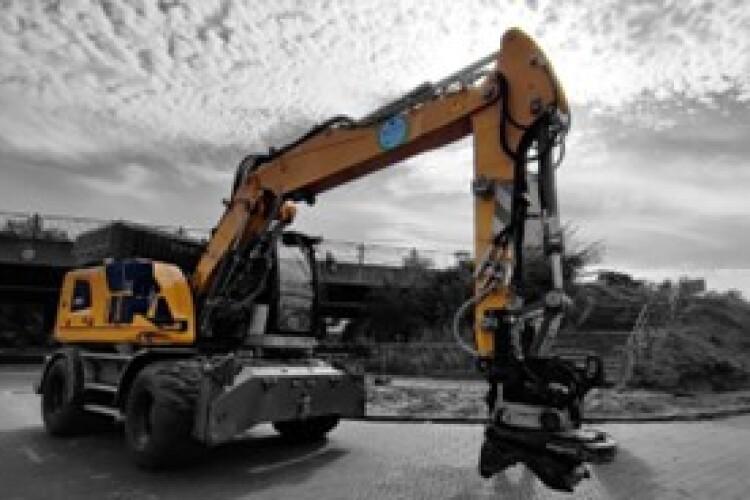 Image-Zepp The two Liebherr diggers have been testing for six months on-site
Terberg Techniek, een Nederlandse specialist in voertuigaanpassingen, heeft een paar Liebherr-graafmachines omgebouwd van diesel naar waterstof-elektrisch.
De twee graafmachines van Liebherr zijn zes maanden op locatie aan het testen geweest.
De twee Liebherr 916 mobiele graafmachines van aannemer Jos Scholman worden nu aangedreven door waterstofbrandstofcellen van Zepp Solutions uit Delft.
Gedurende zes maanden van operationele tests hebben de graafmachines bewezen betrouwbaar te zijn en goed te presteren. Het Zepp Y50 brandstofcel- en waterstofopslagsysteem biedt een milieuvriendelijk alternatief voor diesel en produceert geen andere uitstoot dan water.
Terberg Techniek gebruikte het Zepp-waterstofsysteem om een ombouwset te ontwikkelen waarmee het nu ander bouwmaterieel wil ombouwen van diesel naar een waterstof-elektrische aandrijflijn.
Waterstof wint aan populariteit in de bouwmachinesindustrie vanwege de steeds strenger wordende voorschriften voor lokale emissies, zoals CO2, geluid, fijnstof en vooral lachgas (NOx).
Door gebruik te maken van emissievrije machines kunnen aannemers bieden op projecten in stedelijke of milieugevoelige gebieden die voorheen onbereikbaar waren met traditionele apparatuur, zegt Zepp Solutions.
Gerelateerde informatie
Zepp beweert ook dat waterstof-brandstofcellen zorgen voor langere gebruiksperioden en minder onderbrekingen voor het tanken of opladen in vergelijking met alternatieven op batterijen.
Zepp' Y50-brandstofcellen zijn al toegepast in de sectoren goederenbehandeling en maritieme toepassingen. Een recent voorbeeld is de Watertaxi in Rotterdam die in mei 2022 in gebruik is genomen. Het Liebherr-ombouwproject van Terberg Techniek markeert de eerste toepassing van Zepp's brandstofcelsystemen in de sector bouwmaterieel.
Kevin Schreiber, mede-oprichter van Zepp Solutions, zei: "We zijn verheugd om te zien dat onze brandstofcelsystemen worden gebruikt bij de ombouw van deze Liebherr-graafmachines, en om een rol te spelen bij het helpen van de sector bouwmachines om de CO2-uitstoot te verminderen.
"Bij Zepp Solutions zijn we toegewijd aan het leveren van innovatieve, betrouwbare en kosteneffectieve brandstofceltechnologie aan een breed scala van industrieën, en we kijken ernaar uit om onze samenwerking met Terberg Techniek voort te zetten voor toekomstige projecten."
NJC.© Info Zepp oplossingen
--------------------------------------------------------------------------------------------------------------------