Dynapac North America has added two new rollers — the CC1300VI (4.3 ton) and CC1400VI (4.75 ton) — to its VI generation compact asphalt roller range.
13/04/22-FR-English-NL-footer
Dynapac North America a ajouté deux nouveaux rouleaux — le CC1300VI (4,3 tonnes) et le CC1400VI (4,75 tonnes) — à sa gamme de rouleaux compacts pour asphalte de génération VI.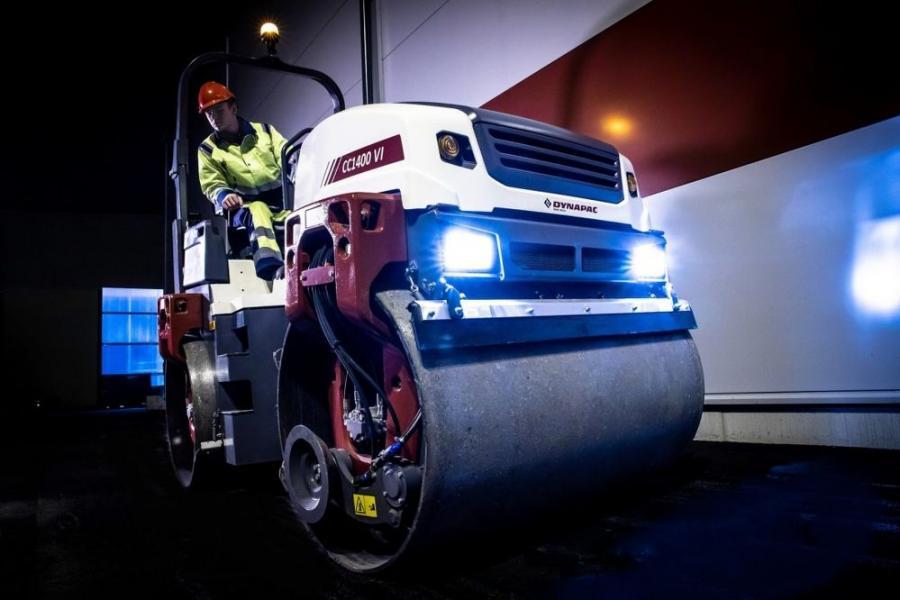 L'ajout des versions double tambour et combinées nouvellement développées des CC1300VI et CC1400VI aux modèles CC1100VI et CC1200VI déjà commercialisés fait de la gamme de compacteurs d'asphalte compacts de 2,46 à 4,75 tonnes une offre de rouleaux très demandée par la communauté nord-américaine de pavage d'asphalte.
"Suite au succès que nous avons eu avec nos petits compacteurs d'asphalte de génération VI, nous avons maintenant conçu les CC1300VI et CC1400VI avec le même état d'esprit, pour répondre aux conditions difficiles de l'industrie du pavage commercial et routier. En gardant l'opérateur à l'esprit, il en résulte une machine robuste, confortable et moderne produisant le meilleur résultat de compactage », a déclaré le fabricant.
Les machines VI de nouvelle génération ont un design unique avec leur moteur en croix. Ceci en combinaison avec une visibilité améliorée et des fourches moulées massives avec des possibilités de levage, de remorquage et d'arrimage flexibles intégrées.
Les rouleaux CC1300VI et CC1400VI ouvrent également de nouvelles possibilités pour sélectionner des caractéristiques de compactage appropriées avec des amplitudes doubles et des presseurs à double tranchant en option. Ces rouleaux de génération VI intègrent des excentriques efficaces garantissant des performances optimales et puissantes dans le processus de démarrage des vibrations. La machine dispose d'un compactage à haute fréquence avec la possibilité de choisir entre deux fréquences (3 240/2 940 vpm) en fonction des différentes conditions et applications.
La fonction double amplitude (0,02 po/0,007 po) est également disponible en option pour encore plus de flexibilité pour compacter différentes épaisseurs de couche. Équipé d'un compteur de température d'asphalte (en option) pour s'assurer que le compactage est effectué au bon intervalle de température.
Les autres équipements en option comprennent un presseur/coupe-bordures monté à l'avant droit, un double presseur/coupe-bordures avant droit et gauche et un épandeur de copeaux monté à l'arrière en option. Ces modèles de machines sont également disponibles en version combinée avec quatre roues statiques en caoutchouc à l'arrière.
Efficacité de l'opérateur, confort
La conception des nouveaux rouleaux en pensant à l'opérateur s'est traduite par un environnement confortable et moderne pour l'opérateur. La plate-forme de conduite spacieuse et amortie des vibrations permet un bon confort de l'opérateur même pendant les longues journées de travail, ce qui augmente la qualité du travail.
Un nouveau siège confort est disponible avec réglage du poids, accoudoirs et chauffage de siège en option. Le levier de marche avant et arrière suit le siège coulissant en option pour une ergonomie encore meilleure et un meilleur contrôle. Un double levier avant et arrière en option permet une meilleure ergonomie et un meilleur contrôle du processus de compactage.
Le nouveau tableau de bord avec des touches de clavier et un écran affichant les fonctions les plus importantes aide l'opérateur à utiliser le rouleau de manière contrôlée. Un auvent en option protégeant le conducteur des différentes conditions météorologiques améliore l'efficacité de l'opérateur. L'auvent est pliable pour un transport facile.
Performances de compactage optimales sans compromis
La durabilité est l'une des pierres angulaires de Dynapac. La prise en compte de la durabilité et de l'environnement de travail pendant le processus de développement a abouti à la dernière technologie de réduction des émissions pour répondre aux réglementations nord-américaines sur les émissions. La gamme est propulsée par des moteurs diesel Kubota durables et économes en carburant qui atteignent des performances imbattables avec une disponibilité maximale.
Pour le marché nord-américain, Dynapac propose un moteur Kubota T4f de 37 kW/50 ch avec mode ECO. Un système d'excentriques efficace optimise les performances de compactage sans tirer trop de puissance de la centrale électrique, même dans les conditions de pente les plus difficiles, ce qui réduit la consommation de carburant et l'empreinte carbone.
Facilité d'entretien
La conception des machines contribue à une grande facilité d'entretien. Des points d'entretien quotidien facilement accessibles et la contribution à une grande facilité d'entretien ont également été une cible dans le travail de conception.
Le capot moteur est grand et il est possible de l'ouvrir complètement à près de 90 degrés pour une accessibilité totale. Il est équipé d'un balancier à ressort à gaz pour une ouverture et une fermeture faciles. Le moteur monté en croix est unique pour une facilité d'entretien optimale. Les principaux points d'entretien quotidien sous le capot sont très faciles d'accès. Tous les tuyaux hydrauliques, les buses d'arrosage, les pompes à eau et les filtres du système d'arrosage sont accessibles rapidement et efficacement. La pompe d'arrosage et le filtre sont facilement accessibles derrière un couvercle au-dessus du tambour arrière.
NJC.© Info DYNAPAC
--------------------------------------------------------------------------------------------------------------------
13/04/22-English
Dynapac North America has added two new rollers — the CC1300VI (4.3 ton) and CC1400VI (4.75 ton) — to its VI generation compact asphalt roller range.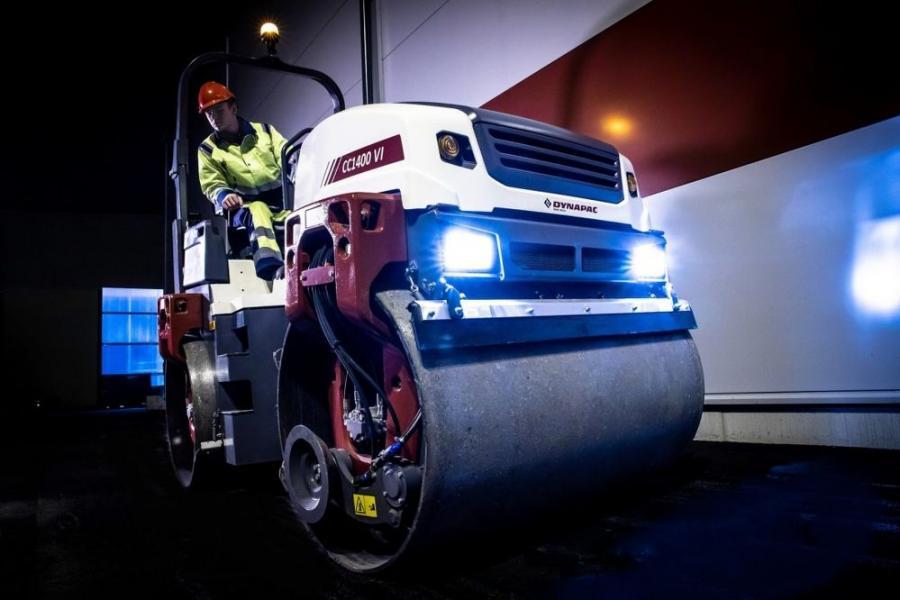 Adding newly developed double drum and combi versions of CC1300VI and CC1400VI to the already released CC1100VI and CC1200VI makes the compact asphalt roller range of 2.46 to 4.75 ton a highly demanded roller offering from the North American asphalt paving community.
"Following the success, we have had with our generation VI small asphalt rollers, we have now designed the CC1300VI and CC1400VI with the same mindset, to meet the commercial and highway paving industry's tough conditions. By keeping the operator in mind, it results in a robust, comfortable and modern machine producing the best compaction result," the manufacturer said.
The new generation VI machines have a unique design with their cross-mounted engine. This in combination with an enhanced visibility and massive casted forks with built-in flexible lifting, towing and tie down possibilities.
The CC1300VI and CC1400VI rollers also open new possibilities to select suitable compaction characteristics with optional dual amplitudes and dual edge presses. These generation VI rollers include efficient eccentrics guaranteeing optimum powerful performance in the vibration start-up process. The machine features high frequency compaction with the possibility to choose between dual frequencies (3,240/2,940 vpm's) depending on different conditions and applications.
Dual amplitude (0.02 in. /0.007 in.) function also is available as an option for even more flexibility to compact different layer thickness. Equipped with an asphalt temperature meter (optional) to make sure compaction is done at the right temperature interval.
Other optional equipment includes front right mounted edge presser/edge cutter, dual front right and left edge presser/edge cutter and an optional rear mounted chip spreader. These machine models also are available in a combi-version with four static rubber wheels at the rear.
Operator Efficiency, Comfort
Designing the new rollers with the operator in mind has resulted in a comfortable and modern operator's environment. The spacious and vibration damped operator platform enables good operator comfort even during long working days, increasing the quality of the job.
A new comfort seat is available with weight adjustment, armrests and optional seat-heating. The forward and reverse lever follows the optional sliding seat for even better ergonomics and better control. An optional dual forward and reverse lever enables even better ergonomics and control over the compaction process.
The new instrument panel with keypad buttons and a display showing the most important functions helps the operator operate the roller in a controlled way. An optional canopy protecting the driver from different weather conditions enhances the operator's efficiency. The canopy is foldable for easy transportation.
Optimal Compaction Performance Without Compromise
Sustainability is one of Dynapac's cornerstones. Having sustainability and the working environment in mind during the development process resulted in the latest emission reduction technology to fulfill North American emission regulations. The range is powered by durable, fuel-efficient Kubota diesel engines which reach unbeatable performance with maximum up-time.
For the North American market, Dynapac offers a 37 kW/50 hp T4f Kubota engine with ECO mode. Efficient eccentrics system optimize compaction performance without drawing too much power from power plant even in the toughest slope conditions resulting in reduced fuel consumption and carbon footprint.
Serviceability
The design of the machines contributes to great serviceability. Easily accessible daily service points and contribution to great serviceability also have been a target in the design work.
The engine hood is large, and it is possible to fully open almost 90 degrees for full accessibility. It is equipped with a gas spring balance for easy opening and closing. The cross-mounted engine is unique for optimal serviceability. The major daily service-points under the hood are very easy to reach. All hydraulic hoses, sprinkler nozzles, water-pumps and filters for the watering system can be accessed quickly and efficiently. The sprinkler pump and filter are easily accessible behind a cover above the rear drum.
NJC.© Info DYNAPAC
------------------------------------------------------------------------------------------------------------------
13/04/22-NL
Dynapac North America heeft twee nieuwe walsen toegevoegd — de CC1300VI (4,3 ton) en CC1400VI (4,75 ton) — aan haar assortiment compacte asfaltwalsen van de VI-generatie.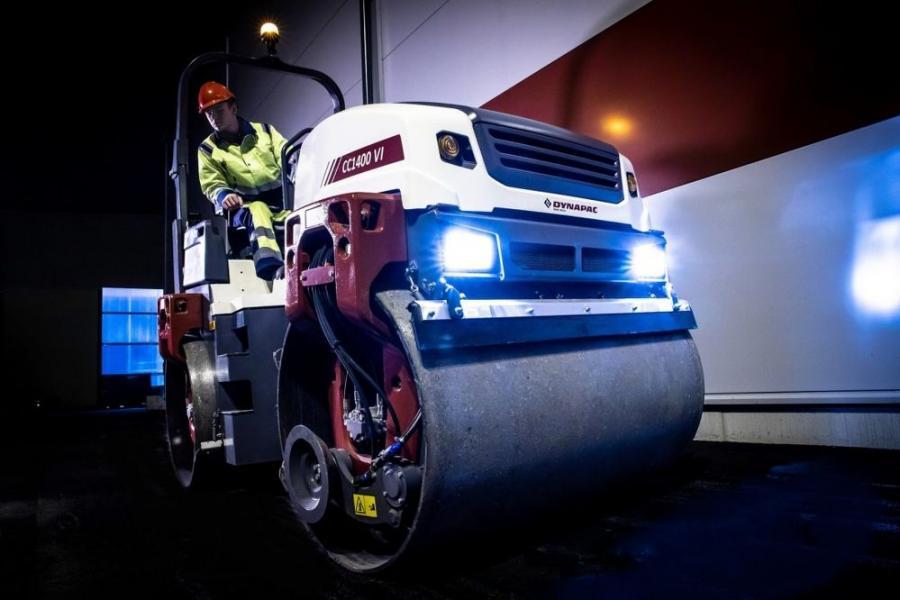 Door nieuw ontwikkelde dubbele trommel- en combiversies van CC1300VI en CC1400VI toe te voegen aan de reeds uitgebrachte CC1100VI en CC1200VI, wordt de serie compacte asfaltwalsen van 2,46 tot 4,75 ton een veelgevraagd walsenaanbod van de Noord-Amerikaanse asfaltbestratingsgemeenschap.
"Na het succes dat we hebben gehad met onze generatie VI kleine asfaltwalsen, hebben we nu de CC1300VI en CC1400VI met dezelfde mentaliteit ontworpen om te voldoen aan de zware omstandigheden van de commerciële en snelwegbestratingsindustrie. Door de bestuurder in gedachten te houden, resulteert dit in een robuuste, comfortabele en moderne machine die het beste verdichtingsresultaat levert", aldus de fabrikant.
De nieuwe generatie VI-machines hebben een uniek ontwerp met hun kruislings gemonteerde motor. Dit in combinatie met een verbeterd zicht en massief gegoten vorken met ingebouwde flexibele hef-, sleep- en vastsjormogelijkheden.
De CC1300VI- en CC1400VI-rollen openen ook nieuwe mogelijkheden om geschikte verdichtingskenmerken te selecteren met optionele dubbele amplitudes en dubbele randpersen. Deze generatie VI-rollen bevatten efficiënte excentrieken die optimale krachtige prestaties garanderen bij het opstarten van trillingen. De machine beschikt over hoogfrequente verdichting met de mogelijkheid om te kiezen tussen dubbele frequenties (3.240/2.940 vpm's), afhankelijk van verschillende omstandigheden en toepassingen.
De functie met dubbele amplitude (0,02 inch/0,007 inch) is ook beschikbaar als optie voor nog meer flexibiliteit om verschillende laagdiktes te verdichten. Uitgerust met een asfalttemperatuurmeter (optioneel) om ervoor te zorgen dat de verdichting met het juiste temperatuurinterval wordt uitgevoerd.
Andere optionele uitrustingen zijn onder meer een rechtsvoor gemonteerde randaandrukker/kantensnijder, dubbele vooraan rechts en linkse randaandrukker/kantensnijder en een optionele achteraan gemonteerde spaanspreider. Deze machinemodellen zijn ook verkrijgbaar in een combi-uitvoering met vier statische rubberen wielen aan de achterzijde.
Efficiëntie van de machinist, comfort
Het ontwerpen van de nieuwe rollen met de bestuurder in gedachten heeft geresulteerd in een comfortabele en moderne bestuurdersomgeving. Het ruime en trillingsgedempte bestuurdersplatform zorgt voor een goed bestuurderscomfort, zelfs tijdens lange werkdagen, wat de kwaliteit van het werk verhoogt.
Er is een nieuwe comfortstoel leverbaar met gewichtsverstelling, armleuningen en optionele stoelverwarming. De vooruit- en achteruithendel volgt de optionele verschuifbare stoel voor een nog betere ergonomie en betere controle. Een optionele dubbele vooruit- en achteruithendel zorgt voor een nog betere ergonomie en controle over het verdichtingsproces.
Het nieuwe instrumentenpaneel met toetsen op het toetsenbord en een display waarop de belangrijkste functies worden weergegeven, helpt de machinist de wals op een gecontroleerde manier te bedienen. Een optionele overkapping die de bestuurder tegen verschillende weersomstandigheden beschermt, verhoogt de efficiëntie van de bestuurder. De luifel is opvouwbaar voor eenvoudig transport.
Optimale verdichtingsprestaties zonder compromis
Duurzaamheid is een van de hoekstenen van Dynapac. Met duurzaamheid en de werkomgeving in het achterhoofd tijdens het ontwikkelingsproces resulteerde dit in de nieuwste emissiereductietechnologie om te voldoen aan de Noord-Amerikaanse emissievoorschriften. De serie wordt aangedreven door duurzame, zuinige Kubota-dieselmotoren die onverslaanbare prestaties leveren met een maximale inzetbaarheid.
Voor de Noord-Amerikaanse markt biedt Dynapac een 37 kW/50 pk T4f Kubota-motor met ECO-modus aan. Efficiënt excentrisch systeem optimaliseert de verdichtingsprestaties zonder al te veel stroom uit de krachtcentrale te halen, zelfs in de zwaarste hellingen, wat resulteert in een lager brandstofverbruik en een lagere ecologische voetafdruk.
Onderhoudsgemak
Het ontwerp van de machines draagt ​​bij aan een groot onderhoudsgemak. Gemakkelijk toegankelijke dagelijkse servicepunten en bijdrage aan een grote onderhoudsgemak zijn ook een doelwit geweest in het ontwerpwerk.
De motorkap is groot en het is mogelijk om bijna 90 graden volledig te openen voor volledige toegankelijkheid. Het is uitgerust met een gasveerbalans voor eenvoudig openen en sluiten. De kruislings gemonteerde motor is uniek voor optimaal onderhoudsgemak. De belangrijkste dagelijkse servicepunten onder de motorkap zijn zeer goed te bereiken. Alle hydraulische slangen, sproeiers, waterpompen en filters voor het bewateringssysteem zijn snel en efficiënt toegankelijk. De sprinklerpomp en filter zijn gemakkelijk bereikbaar achter een deksel boven de achterste trommel.
NJC.© Info DYNAPAC
----------------------------------------------------------------------------------------------------------------------