Electrifying appearance: MAN eTruck wins Red Dot Design Award 2023

26/06/23-FR-English-NL-footer
Apparence électrisante : le MAN eTruck remporte le Red Dot Design Award 2023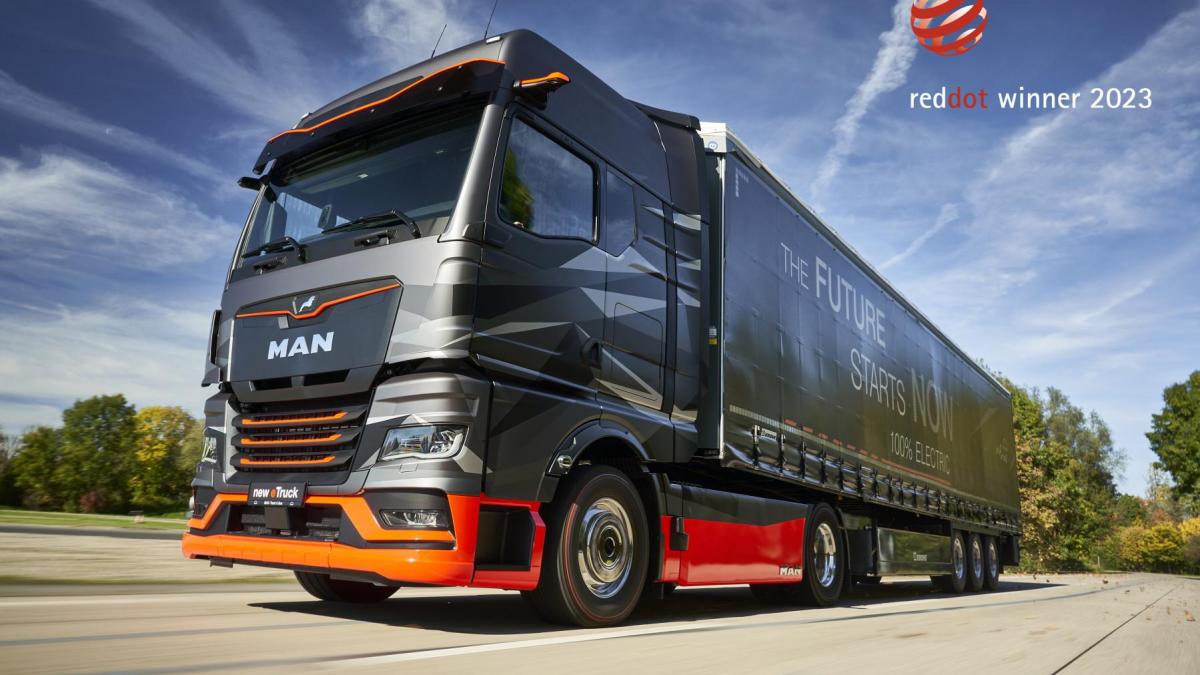 Image- MAN Trucks
Le jury international du Red Dot Design Award 2023, avec ses 43 experts internationaux reconnus et indépendants pour la qualité du design, est unanime : le nouveau MAN eTruck, qui roulera aux premiers clients à partir de 2024, se distingue déjà par son design de produit exceptionnel sur la voie d'un transport routier sans CO2. Le lion électrique tourné vers l'avenir, adapté au transport longue distance, pose donc déjà un fort point d'exclamation avant son lancement officiel sur le marché ! La cérémonie officielle de remise des prix du concours renommé avec des candidatures de plus de 60 pays a eu lieu le 19 juin lors d'un gala à Essen.
Le nouveau eTruck de grande série de MAN reçoit le Red Dot Design Award 2023 dans la catégorie "Product Design"
La qualité et les détails tels que le décor extérieur polygonal - inspiré du panorama des Alpes bavaroises - ont convaincu le jury
Connecté à la tradition et progressiste : l'extérieur du MAN eTruck rend visible la combinaison de la tradition et de l'innovation
"Ce prix de design convoité pour notre nouveau eTruck, qui électrifiera le transport longue distance à partir de 2024, donne à notre équipe un coup de pouce supplémentaire sur la dernière ligne droite jusqu'au lancement sur le marché. Le nouveau MAN eTruck est une déclaration forte pour le passage de nos clients à l'électromobilité - techniquement, mais aussi visuellement », déclare Friedrich Baumann, membre de la direction des ventes et des solutions client chez MAN Truck & Bus.
"Des entreprises et des studios de design du monde entier ont été confrontés au jugement professionnel du jury Red Dot, des experts internationaux qui ont examiné un nombre considérable de produits pendant le concours. Le fait que vous soyez sorti vainqueur d'un si grand nombre de participants en est le témoignage. à la qualité exceptionnelle de votre produit », a souligné le professeur Dr Peter Zec, fondateur et PDG de Red Dot, lors de la cérémonie de remise des prix. Cette année, les quelque 20 000 produits soumis chaque année provenaient de 60 pays et ont été jugés dans 51 catégories de concours.
« À une époque où le monde évolue rapidement et où les nouvelles technologies sont présentes, il est important de rester vrai et authentique. Nous avons également suivi cette devise dans notre travail sur la conception du MAN eTruck et nous nous sommes concentrés sur notre ADN et nos origines : D'où venons-nous ? Que représente notre marque ? Comment nos clients nous perçoivent-ils ? En collaboration avec de nombreux collègues d'autres départements, nous avons intégré les réponses à ces questions dans le développement de la conception du MAN eTruck », explique Carolin Schütt, responsable des couleurs et des matériaux. conception dans le département de conception de MAN Truck & Bus.
Par exemple, les experts en conception de MAN Truck & Bus ont abstrait le paysage du siège social de MAN et visualisé les contreforts des montagnes entre la Zugspitze et Munich dans un motif polygonal qui orne la cabine du conducteur. Dans le même temps, la surface à décor géométrique est une analogie avec le travail en cours d'un sculpteur - le design a donc également un fort pouvoir symbolique pour la dynamique de développement du MAN eTruck.
La peinture gris neutre et mat est délibérément choisie en contraste avec le rouge "haute tension" de la calandre et, avec le pare-brise éclairé indirectement, s'intègre harmonieusement dans le concept global : le résultat est une impression imposante, comme si le véhicule respiraient l'énergie qui l'alimente. Une combinaison qui a également convaincu le jury du Red Dot Award 2023.
NJC.© Info MAN Trucks
-------------------------------------------------------------------------------------------------------------------

26/06/23-English
Electrifying appearance: MAN eTruck wins Red Dot Design Award 2023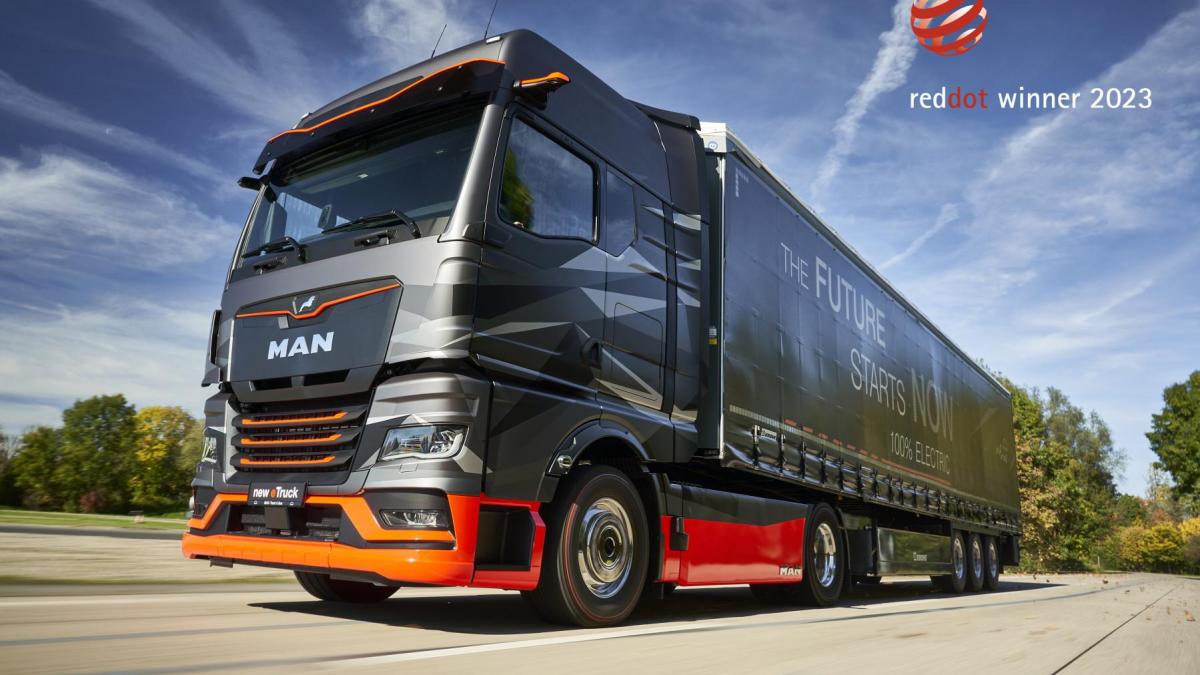 Image- MAN Trucks
The international jury of the Red Dot Design Award 2023, with its 43 internationally recognised and independent experts for design quality, is unanimous: the new MAN eTruck, which will be rolling to the first customers from 2024, already stands out with its exceptional product design on the way to CO2-free road haulage. The forward-looking electric lion, which is suitable for long-distance transport, is thus already setting a strong exclamation mark before its official market launch! The official award ceremony of the renowned competition with entries from over 60 countries took place on 19 June at a gala in Essen.
New large-series eTruck from MAN receives the Red Dot Design Award 2023 in the "Product Design" category
Quality and details such as the polygonal exterior décor - inspired by the panorama of the Bavarian Alps - convinced the jury
Connected to tradition & progressive: the exterior of the MAN eTruck makes the combination of tradition and innovation visible
"This coveted design award for our new eTruck, which will electrify long-distance transport from 2024, gives our team an extra boost on the home stretch to market launch. The new MAN eTruck is a strong statement for our customers' shift to electromobility - technically, but also visually," says Friedrich Baumann, Executive Board Member for Sales & Customer Solutions at MAN Truck & Bus.
"Companies and design studios from all over the world faced the professional judgement of the Red Dot jury, international experts who scrutinised a considerable number of products during the competition. The fact that you emerged as the winner from such a strong field of participants is testimony to the exceptional quality of your product," emphasised Professor Dr. Peter Zec, founder and CEO of Red Dot, at the award ceremony. This year, the approximately 20,000 products submitted each year came from 60 countries and were judged in 51 competition categories.
"In times of a rapidly changing world and new technologies, it is important to remain true and authentic. We also followed this motto in our work on the design of the MAN eTruck and focused on our DNA and origins: Where do we come from? What does our brand stand for? How do our customers perceive us? Together with many colleagues from other departments, we incorporated the answers to these questions into the design development of the MAN eTruck," reports Carolin Schütt, who is responsible for colour and material design in the MAN Truck & Bus design department.
For example, the design experts at MAN Truck & Bus have abstracted the landscape at MAN's headquarters and visualised the mountain foothills between the Zugspitze and Munich in a polygonal pattern that adorns the driver's cab. At the same time, the surface with geometric decoration is an analogy for a sculptor's work in progress - so the design also has strong symbolic power for the development dynamics of the MAN eTruck.
The neutral, matt grey paintwork is deliberately chosen as a contrast to the "high-voltage" red in the radiator grille and, together with the indirectly illuminated windscreen, fits harmoniously into the overall concept: the result is an imposing impression, as if the vehicle were breathing in the energy that powers it. A combination that also convinced the jury of the Red Dot Award 2023.
NJC.© Info MAN Trucks
--------------------------------------------------------------------------------------------------------------------

26/06/23-NL
Elektrisch uiterlijk: MAN eTruck wint Red Dot Design Award 2023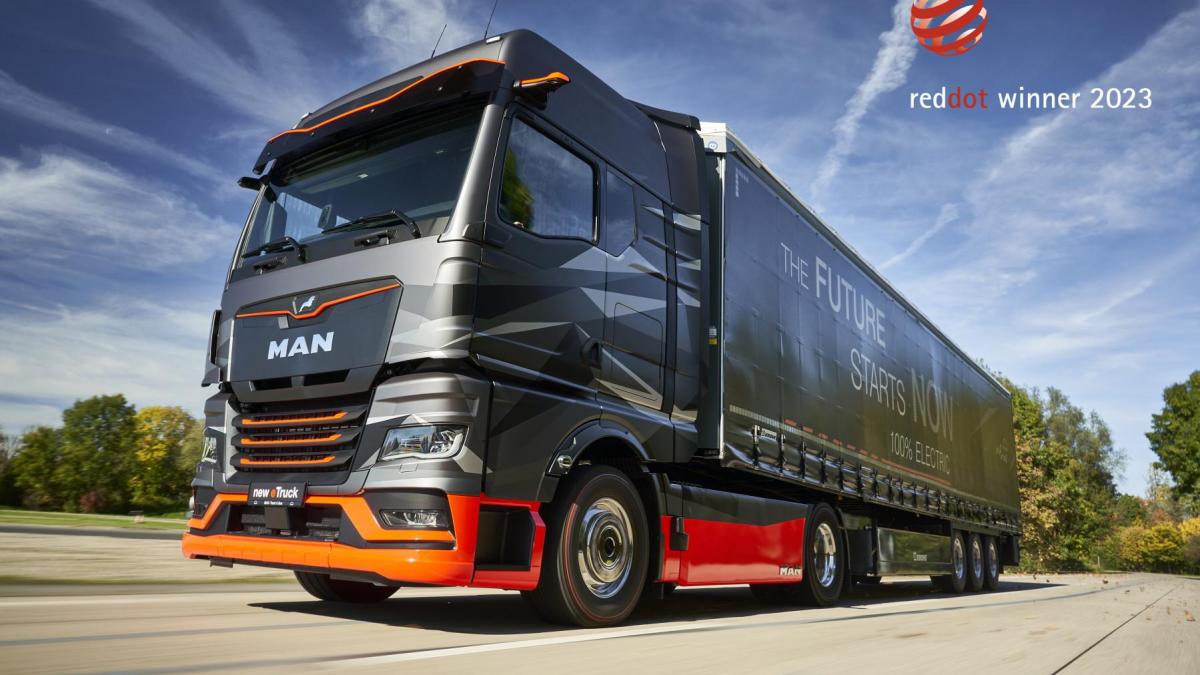 Image- MAN Truks
De internationale jury van de Red Dot Design Award 2023, met zijn 43 internationaal erkende en onafhankelijke experts op het gebied van designkwaliteit, is unaniem: de nieuwe MAN eTruck, die vanaf 2024 naar de eerste klanten rolt, valt nu al op door zijn uitzonderlijke productdesign op weg naar CO2-vrij wegtransport. De toekomstgerichte elektrische leeuw, die geschikt is voor transport over lange afstanden, zet dus al een sterk uitroepteken voor zijn officiële marktintroductie! De officiële prijsuitreiking van de gerenommeerde wedstrijd met inzendingen uit meer dan 60 landen vond op 19 juni plaats tijdens een gala in Essen.
Nieuwe eTruck uit grote serie van MAN ontvangt de Red Dot Design Award 2023 in de categorie "Product Design"
Kwaliteit en details zoals het veelhoekige exterieurdecor - geïnspireerd op het panorama van de Beierse Alpen - overtuigden de jury
Verbonden met traditie & vooruitstrevend: het exterieur van de MAN eTruck maakt de combinatie van traditie en innovatie zichtbaar
"Deze felbegeerde designprijs voor onze nieuwe eTruck, die vanaf 2024 het vervoer over lange afstanden zal elektrificeren, geeft ons team een extra boost op weg naar de marktintroductie. De nieuwe MAN eTruck is een sterk statement voor de verschuiving van onze klanten naar elektromobiliteit - technisch, maar ook visueel", zegt Friedrich Baumann, lid van de raad van bestuur voor Sales & Customer Solutions bij MAN Truck & Bus.
"Bedrijven en ontwerpstudio's van over de hele wereld werden geconfronteerd met het professionele oordeel van de Red Dot-jury, internationale experts die tijdens de wedstrijd een aanzienlijk aantal producten onder de loep hebben genomen. Dat jij als winnaar uit zo'n sterk deelnemersveld naar voren kwam, getuigt ervan aan de uitzonderlijke kwaliteit van uw product", benadrukte professor dr. Peter Zec, oprichter en CEO van Red Dot, tijdens de prijsuitreiking. Dit jaar kwamen de ongeveer 20.000 ingezonden producten uit 60 landen en werden ze beoordeeld in 51 wedstrijdcategorieën.
"In tijden van een snel veranderende wereld en nieuwe technologieën is het belangrijk om waar en authentiek te blijven. We volgden dit motto ook bij ons werk aan het ontwerp van de MAN eTruck en concentreerden ons op ons DNA en onze oorsprong: Waar komen we vandaan? Waar staat ons merk voor? Hoe zien onze klanten ons? Samen met vele collega's van andere afdelingen hebben we de antwoorden op deze vragen verwerkt in de ontwerpontwikkeling van de MAN eTruck", meldt Carolin Schütt, verantwoordelijk voor kleur en materiaal ontwerp op de ontwerpafdeling van MAN Truck & Bus.
Zo hebben de designexperts van MAN Truck & Bus het landschap van het hoofdkantoor van MAN geabstraheerd en de uitlopers van de bergen tussen de Zugspitze en München gevisualiseerd in een veelhoekig patroon dat de bestuurderscabine siert. Tegelijkertijd is het oppervlak met geometrische decoratie een analogie met het werk van een beeldhouwer - dus het ontwerp heeft ook een sterke symbolische kracht voor de ontwikkelingsdynamiek van de MAN eTruck.
Het neutrale, matgrijze lakwerk is bewust gekozen als contrast met het "high-voltage" rood in de radiatorgrille en past samen met de indirect verlichte voorruit harmonieus in het totaalconcept: het resultaat is een imposante indruk, alsof de voertuig ademde de energie in die het aandrijft. Een combinatie die ook de jury van de Red Dot Award 2023 overtuigde.
NJC.© Info MAN Trucks
--------------------------------------------------------------------------------------------------------------------