Emission-free growth within the Duvenbeck fleet

27/10/23-FR-English-NL-footer
Croissance sans émissions au sein de la flotte Duvenbeck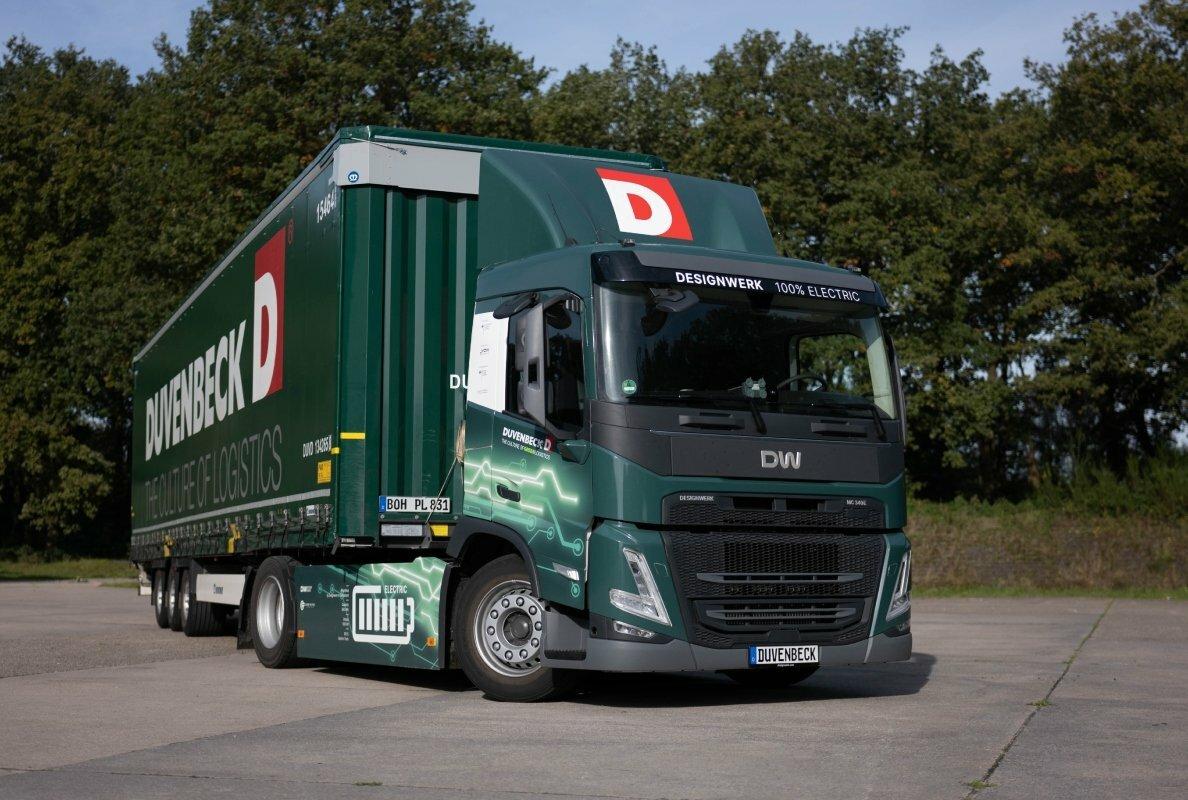 In long-distance service for Duvenbeck for the first time: a battery powered low-deck tractor unit based on the MID CAB model in Volvo's FM range of vehicles. IMAGE SOURCE: Duvenbeck
Le spécialiste de la logistique automobile utilise pour la première fois un camion surbaissé alimenté par batterie pour les services longue distance
Un châssis plus bas et également alimenté par batterie – ce sont les principales caractéristiques d'une nouvelle génération de tracteurs sans émissions que l'entreprise de transport et de logistique Duvenbeck a accueillie dans sa flotte. Le nouveau véhicule est un tracteur dit « à pont bas ». « Low deck » signifie qu'il ne peut transporter que des remorques avec une hauteur de chargement intérieure de trois mètres en raison de la faible hauteur de son châssis. Ces remorques, appelées méga-remorques, sont particulièrement efficaces et adaptées aux services de l'industrie automobile, car elles permettent d'utiliser pleinement l'espace de la meilleure façon possible. Le tracteur surbaissé est basé sur le modèle MID CAB de la gamme de véhicules FM de Volvo. Il a été électrifié par la filiale Volvo, Designwerk Technologies, dont le siège est en Suisse.
Duvenbeck utilise le véhicule pour des services de navette très productifs pour des clients sélectionnés de l'industrie automobile – par exemple entre Herne en Allemagne et Gand en Belgique. La version alimentée par batterie est le premier tracteur surbaissé que Duvenbeck utilise pour les services longue distance en Allemagne.
« Nous franchissons une nouvelle étape vers l'électrification de notre flotte en utilisant le tracteur électrique alimenté par batterie. En tant que partenaire logistique de l'industrie automobile, nous soutiendrons le processus de transformation de nos clients vers l'e-mobilité en proposant à l'avenir des services de transport de marchandises encore plus électriques et plus respectueux de l'environnement », déclare Bernd Reining, directeur de flotte chez Duvenbeck, expliquant les derniers développements.
« Le nouveau camion électrique surbaissé a déjà démontré au cours des dernières semaines son aptitude aux transports longue distance. Si la batterie est chargée à 340 kilowattheures, le véhicule peut parcourir jusqu'à 275 kilomètres, même à pleine charge. Lorsqu'il est utilisé en conjonction avec une infrastructure de recharge appropriée, ce camion électrique apporte une contribution à long terme et prête à être commercialisée à la réduction des émissions nocives pour l'environnement dans les réseaux de transport de nos clients », déclare Robert Frehen, chef de cabinet chez Duvenbeck. ses commentaires.
NJC.© Info Duvenbeck
------------------------------------------------------------------------------------------------------------------

27/10/23-English
Emission-free growth within the Duvenbeck fleet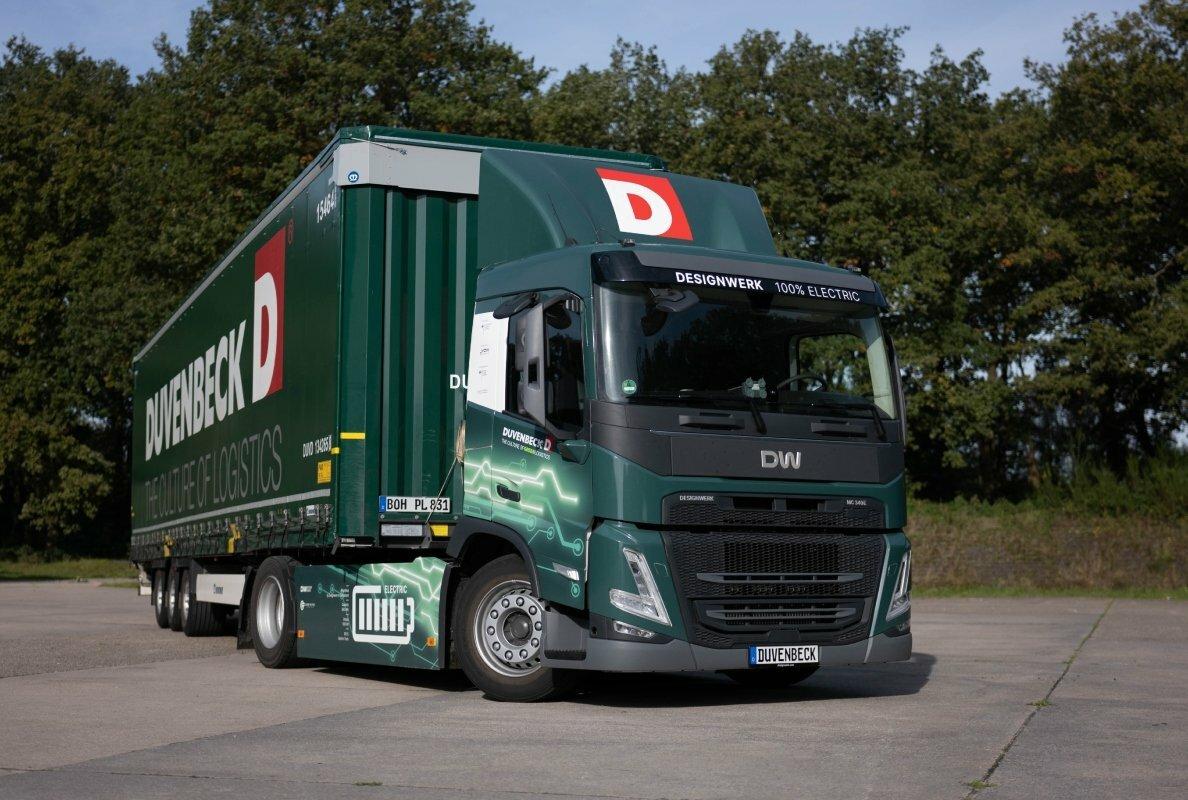 In long-distance service for Duvenbeck for the first time: a battery powered low-deck tractor unit based on the MID CAB model in Volvo's FM range of vehicles.
IMAGE SOURCE: Duvenbeck
The automobile logistics specialist uses a battery-powered low-deck truck for long-distance services for the first time
A lower chassis and battery-powered too – they are the main features of a new generation of emission-free tractor units that the freight forwarding and logistics company, Duvenbeck, has welcomed into its fleet. The new vehicle is a so-called "low deck" tractor unit. "Low deck" means that it can only haul trailers with an interior loading height of three metres due to its low chassis height. These trailers, which are described as mega trailers, are particularly efficient and suitable for services in the automobile industry, because they enable the space to be fully used in the best possible way. The low-deck tractor unit is based on the MID CAB model in Volvo's FM range of vehicles. It has been electrified by the Volvo subsidiary, Designwerk Technologies, which has its headquarters in Switzerland.
Duvenbeck is using the vehicle for highly productive shuttle services for selected customers in the automobile industry – for example, between Herne in Germany and Ghent in Belgium. The battery-powered version is the first low-deck tractor unit that Duvenbeck is using for long-distance services in Germany.
"We're taking another step towards electrifying our fleet by using the battery-powered electric tractor unit. In our role as a logistics partner for the automobile industry, we'll support our customers' transformation process towards e-mobility by providing even more electrical and eco-friendly transport services for goods in future," says Bernd Reining, the Fleet Manager at Duvenbeck, explaining the latest development.
"The new low-deck electric truck has already demonstrated its suitability for long-distance services during the last few weeks. If the battery is charged to a level of 340 kilowatt hours, the vehicle is able to travel up to 275 kilometres – even when fully loaded. When used in conjunction with the suitable charging infrastructure, this electric truck is making a market-ready and long-term contribution to reducing environmentally-damaging emissions in our customers' transport networks," says Robert Frehen, the Chief of Staff at Duvenbeck, adding his comments.
NJC.© Info Duvenbeck
-------------------------------------------------------------------------------------------------------------------

27/10/23-NL
Emissievrije groei binnen de vloot van Duvenbeck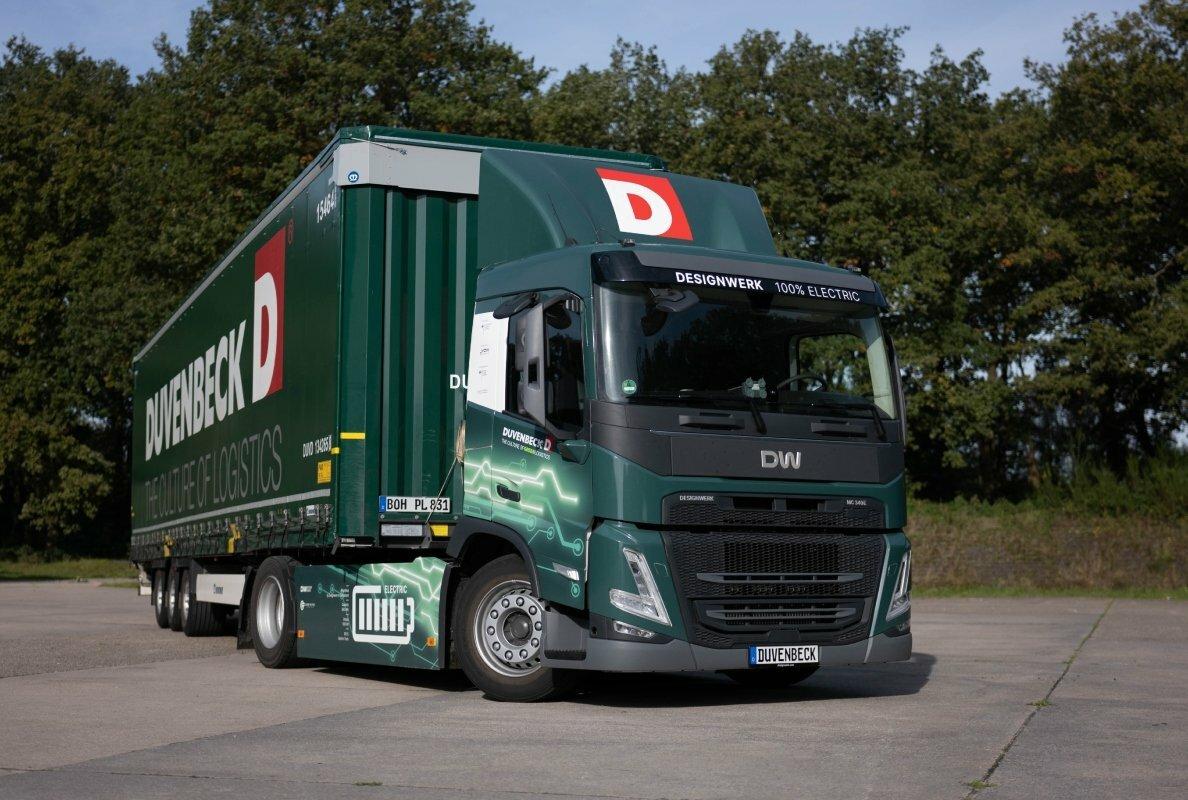 In long-distance service for Duvenbeck for the first time: a battery powered low-deck tractor unit based on the MID CAB model in Volvo's FM range of vehicles. IMAGE SOURCE: Duvenbeck
De autologistiekspecialist gebruikt voor het eerst een laagdektruck op batterijen voor langeafstandsdiensten
Een lager chassis en bovendien batterijaangedreven – het zijn de belangrijkste kenmerken van een nieuwe generatie emissievrije trekkers die het expeditie- en logistieke bedrijf Duvenbeck in zijn vloot heeft verwelkomd. Het nieuwe voertuig is een zogenaamde "low deck" trekker. 'Low deck' houdt in dat zij vanwege de lage chassishoogte alleen trailers kan vervoeren met een binnenlaadhoogte van drie meter. Deze trailers, die worden omschreven als megatrailers, zijn bijzonder efficiënt en geschikt voor dienstverlening in de automobielindustrie, omdat ze ervoor zorgen dat de ruimte optimaal benut kan worden. De laagdektrekker is gebaseerd op het MID CAB-model uit de FM-voertuigenreeks van Volvo. Het is geëlektrificeerd door de Volvo-dochteronderneming Designwerk Technologies, die zijn hoofdkantoor in Zwitserland heeft.
Duvenbeck gebruikt het voertuig voor zeer productieve shuttlediensten voor geselecteerde klanten in de auto-industrie – bijvoorbeeld tussen Herne in Duitsland en Gent in België. De batterijaangedreven versie is de eerste laagdektrekker die Duvenbeck inzet voor langeafstandsdiensten in Duitsland.
"We zetten een nieuwe stap in de richting van het elektrificeren van ons wagenpark door gebruik te maken van de door batterijen aangedreven elektrische trekker. In onze rol als logistieke partner voor de auto-industrie zullen we het transformatieproces van onze klanten naar e-mobiliteit ondersteunen door in de toekomst nog meer elektrische en milieuvriendelijke transportdiensten voor goederen aan te bieden", zegt Bernd Reining, de Fleet Manager bij Duvenbeck, waarin de nieuwste ontwikkeling wordt uitgelegd.
"De nieuwe elektrische vrachtwagen met laag dek heeft de afgelopen weken zijn geschiktheid voor langeafstandsvervoer al bewezen. Als de batterij is opgeladen tot een niveau van 340 kilowattuur, kan het voertuig tot 275 kilometer rijden – zelfs wanneer het volledig beladen is. Bij gebruik in combinatie met de geschikte laadinfrastructuur levert deze elektrische vrachtwagen een marktklare en langetermijnbijdrage aan het terugdringen van de milieuschadelijke emissies in de transportnetwerken van onze klanten", zegt Robert Frehen, stafchef bij Duvenbeck, en voegt eraan toe zijn opmerkingen.
NJC.© Info Duvenbeck
-----------------------------------------------------------------------------------------------------------------
Date de dernière mise à jour : 26/10/2023