ERA downgrades rental market forecasts
20/06/22-FR-English-NL-footer
L'ERA abaisse ses prévisions du marché locatif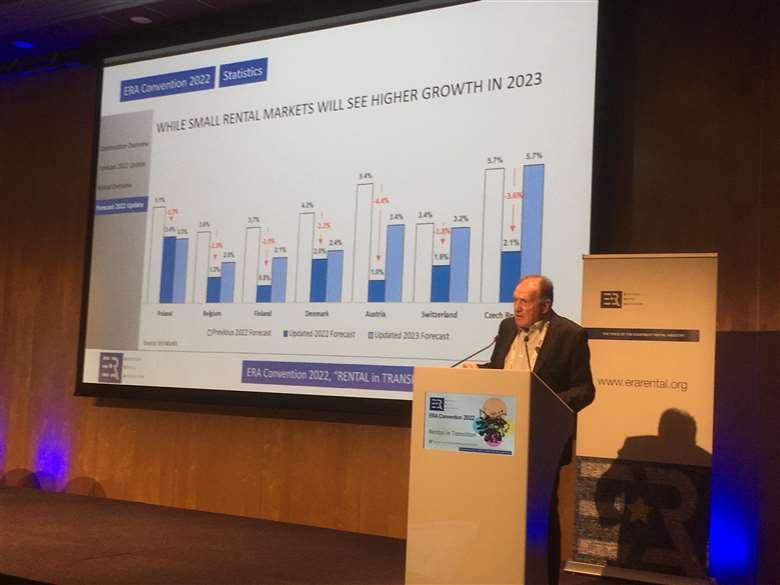 Image-ERA's Michel Petitjean speaking at the association's Riga convention.
L'Association européenne de location a revu à la baisse ses prévisions pour le marché de la location en 2022-23 en raison de vents contraires économiques, notamment la guerre en Ukraine qui, selon elle, "a eu un impact profond sur tout".
Le secrétaire général de l'ERA, Michel Petitjean, s'exprimant à Riga, en Lettonie, le deuxième jour de la convention annuelle de l'association, a déclaré que la hausse des prix des matières premières, la perturbation des chaînes d'approvisionnement en provenance de Chine et la hausse de l'inflation se combineraient pour réduire la croissance de la construction dans la région cette année de 3,5 % à 1,5%
L'effet d'entraînement sur la location sera important, malgré le fait que la location devrait surperformer la construction.
L'ERA avait fait ses précédentes prévisions en novembre 2021, mais celles-ci ont maintenant été considérablement réduites. Le Royaume-Uni devrait connaître une croissance de 2,8 % cette année, en baisse par rapport aux prévisions précédentes de 6,0 %, tandis que la croissance de l'Allemagne a été ramenée de 7,0 % à 2,1 %.
la France passe de 5,2 % à 4,0 % de croissance en 2022 ; la Suède de 2,9% à 1,6% et l'Italie de 8,3% à 3,4%. Les prévisions de croissance pour l'Espagne sont plus que divisées par deux à 3,4 % et les Pays-Bas de 2,9 % à 1,5 %.
ERA et son partenaire de recherche IHS Markit prévoient désormais des taux de croissance modestes également pour 2023, généralement compris entre 1,5 % et 4,0 %. Le Royaume-Uni, la Suède, l'Italie, l'Espagne et les Pays-Bas devraient tous enregistrer une croissance comprise entre 1,9 et 2,5 %, tandis que l'Allemagne (+6,0 %) et la Norvège (+3,9 %) devraient mieux performer.
Parmi les plus petits pays, la Pologne, l'Autriche, la Suisse et la République tchèque devraient tous dépasser la croissance de 3,0 %, menés par la République tchèque avec une expansion de 5,7 %.
Petitjean a déclaré que les changements apportés aux prévisions n'étaient "pas un changement de tendance [depuis novembre 2021], mais un changement de paradigme, car nous ne vivons pas dans le même monde".
L'ERA fait également des estimations des dépenses en capital des sociétés de location, mais Petitjean a déclaré qu'il était trop tôt pour faire des prévisions pour 2022 et 2023.
Plus de 340 délégués ont assisté à la convention en Lettonie.
NJC.© Info ERA
-------------------------------------------------------------------------------------------------------------------
20/06/22-English
ERA downgrades rental market forecasts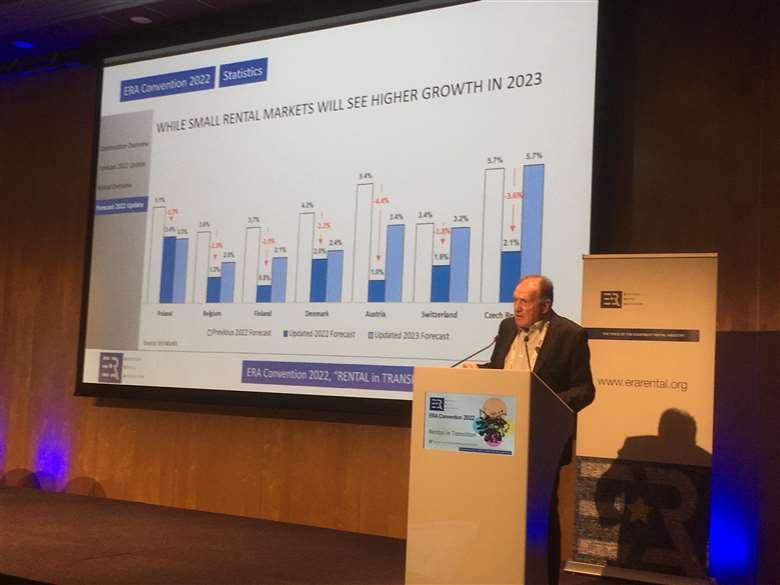 Image-ERA's Michel Petitjean speaking at the association's Riga convention.
The European Rental Association has downgraded its forecasts for the rental market in 2022-23 as a result economic headwinds, including the war in Ukraine which it said "had a deep impact on everything."
The ERA's Secretary General, Michel Petitjean, speaking in Riga, Latvia on the second day of the association's annual convention, said rising commodity prices, disrupted supply chains from China and higher inflation would combine to cut construction growth in the region this year from 3.5% to 1.5%
The knock-on impact on rental will be significant, despite the fact that rental is expected to outperform construction.
ERA made its previous forecasts in November 2021, but these have now been significantly reduced. The UK is expected to grow by 2.8% this year, down from the previous forecast of 6.0%, while Germany's growth has been downshifted from 7.0% to 2.1%.
France moves from 5.2% to 4.0% growthin 2022; Sweden from 2.9% to 1.6% and Italy from 8.3% to 3.4%. The growth forecast for Spain more than halves to 3.4% and the Netherlands from 2.9% to 1.5%.
ERA and its research partner IHS Markit are now forecasting modest growth rates also for 2023, typically in the 1.5% to 4.0% range. The UK, Sweden, Italy, Spain and the Netherlands are all expected to grow by between 1.9 and 2.5%., while Germany (+6.0%) and Norway (+3.9%) are likely to perform better.
Among the smaller countries, Poland, Austria, Switzerland and the Czech Republic are all expected to exceed 3.0% growth, led by Czech Republic with a 5.7% expansion.
Petitjean said the changes to the forecasts were "not a change to the trend [since November 2021], but a change in paradigm, because we do not live in the same world."
The ERA also makes estimates for rental company capital expenditure, but Petitjean said it was too soon to make forecasts for 2022 and 2023.
More than 340 delegates attended the convention in Latvia.
NJC.© Info ERA
-----------------------------------------------------------------------------------------------------------------------
20/06/22-NL
ERA verlaagt prognoses huurmarkt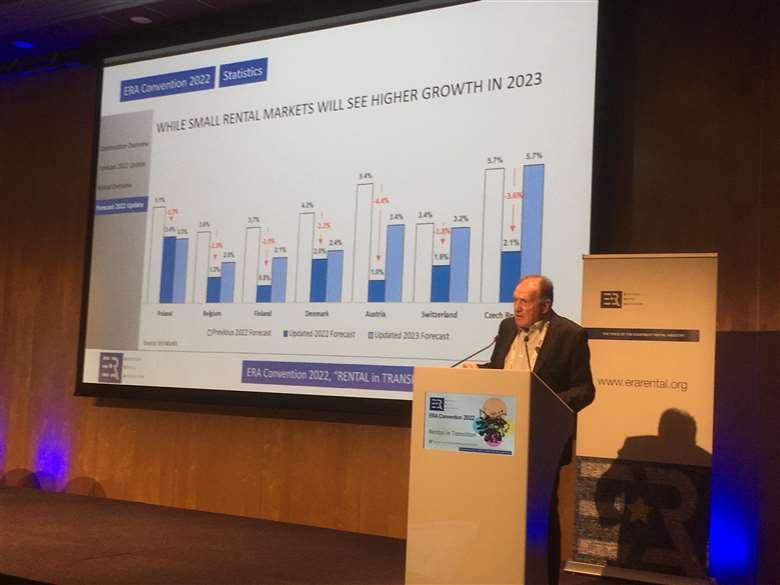 Image-ERA's Michel Petitjean speaking at the association's Riga convention.
De European Rental Association heeft haar prognoses voor de huurmarkt in 2022-23 naar beneden bijgesteld als gevolg van economische tegenwind, waaronder de oorlog in Oekraïne die naar eigen zeggen "een grote impact had op alles".
De secretaris-generaal van de ERA, Michel Petitjean, zei tijdens een toespraak in Riga, Letland op de tweede dag van de jaarlijkse conventie van de vereniging, dat stijgende grondstofprijzen, verstoorde toeleveringsketens uit China en hogere inflatie zouden leiden tot een verlaging van de bouwgroei in de regio dit jaar van 3,5% tot 1,5%
Het domino-effect op de verhuur zal aanzienlijk zijn, ondanks het feit dat naar verwachting de verhuur beter zal presteren dan de bouw.
De ERA maakte haar eerdere prognoses in november 2021, maar deze zijn nu aanzienlijk verlaagd. Het VK zal dit jaar naar verwachting met 2,8% groeien, een daling ten opzichte van de eerdere voorspelling van 6,0%, terwijl de groei in Duitsland is teruggeschroefd van 7,0% naar 2,1%.
Frankrijk beweegt van 5,2% naar 4,0% groei in 2022; Zweden van 2,9% naar 1,6% en Italië van 8,3% naar 3,4%. De groeiprognose voor Spanje wordt meer dan gehalveerd naar 3,4% en voor Nederland van 2,9% naar 1,5%.
ERA en haar onderzoekspartner IHS Markit voorspellen nu ook voor 2023 bescheiden groeipercentages, doorgaans tussen de 1,5% en 4,0%. Het VK, Zweden, Italië, Spanje en Nederland zullen allemaal naar verwachting met 1,9 tot 2,5% groeien, terwijl Duitsland (+6,0%) en Noorwegen (+3,9%) waarschijnlijk beter zullen presteren.
Van de kleinere landen wordt verwacht dat Polen, Oostenrijk, Zwitserland en Tsjechië allemaal meer dan 3,0% zullen groeien, met als aanvoerder Tsjechië met een groei van 5,7%.
Petitjean zei dat de veranderingen in de voorspellingen "geen verandering in de trend [sinds november 2021] waren, maar een verandering in paradigma, omdat we niet in dezelfde wereld leven."
De ERA maakt ook schattingen voor de kapitaaluitgaven van verhuurbedrijven, maar Petitjean zei dat het te vroeg was om prognoses te maken voor 2022 en 2023.
Meer dan 340 afgevaardigden woonden het congres in Letland bij.
NJC.© Info ERA
-------------------------------------------------------------------------------------------------------------------
Date de dernière mise à jour : 17/06/2022