ESCO MaxDRP™ Plus Replacement Teeth
09/08/22-FR-English-NL-footer
Dents de rechange ESCO MaxDRP™ Plus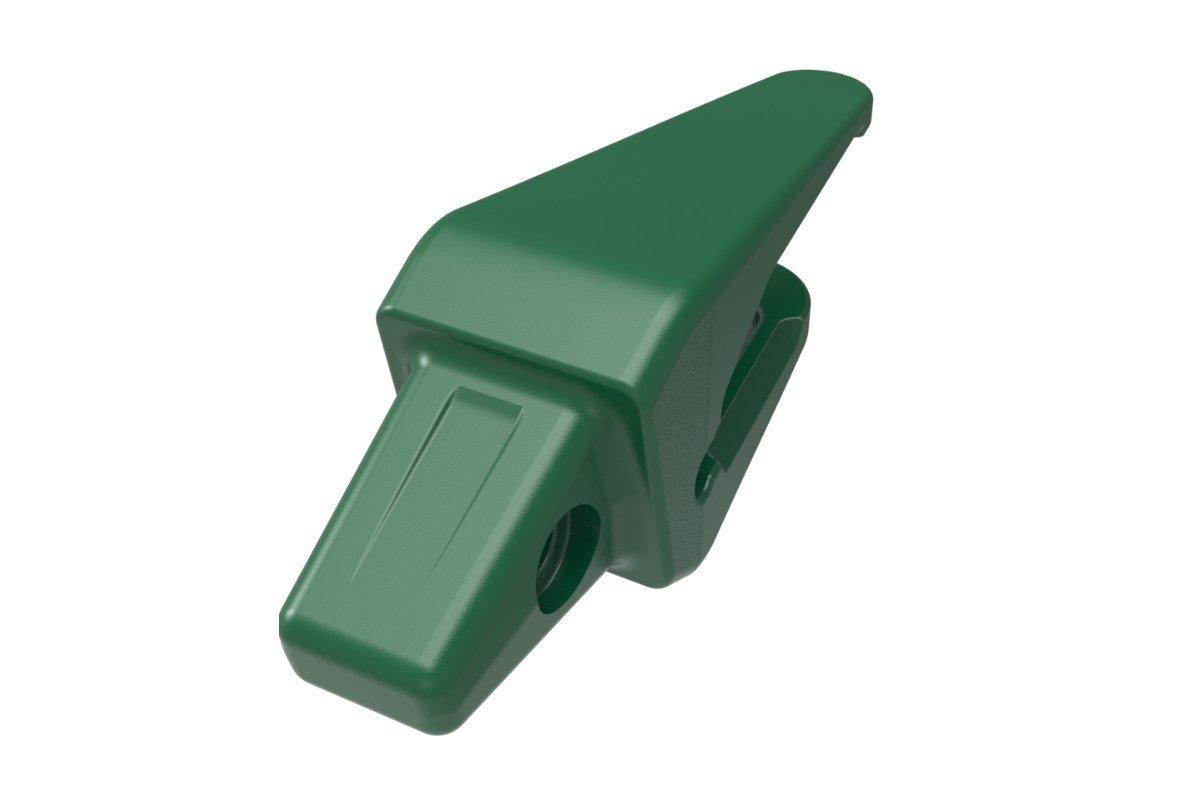 Botom Strap
IMAGE SOURCE: ESCO Group LLC
ESCO a récemment augmenté l'offre de dents de remplacement MaxDRP haut de gamme avec le système MaxDRP Plus pour les dents de la série J et les rippers de la série R.
Les assemblages Caterpillar sont facilement convertis en dents de remplacement MaxDRP Plus sans aucune modification du nez existant. Les dents MaxDRP d'ESCO ont des profils améliorés par rapport aux dents conventionnelles des séries J et R qui offrent une plus grande résistance, une production améliorée et une durée de vie plus longue.
Conçu pour la sécurité et la facilité d'utilisation, le système MaxDRP Plus utilise un système de verrouillage unique à goupille et collier. Le système sans marteau ne nécessite aucun outil spécial, ce qui augmente la sécurité du site et permet un remplacement plus rapide des dents.
De plus, l'alliage supérieur ESCO a une dureté moyenne de 525 Brinell sans sacrifier la résistance aux chocs. Le concurrent le plus proche se situe dans la plage de dureté 470 Brinell.
Le résultat : les alliages ESCO et les profils raffinés offrent une durée de vie jusqu'à 25 % plus longue, ce qui réduit considérablement les coûts de maintenance et les temps d'arrêt imprévus.
Les dents de remplacement MaxDRP Plus J-Series sont actuellement disponibles en profils d'abrasion, de burin et pointus dans les tailles 450 à 800. Les dents de remplacement de la série R sont proposées dans les profils d'abrasion et de pénétration populaires dans les tailles R450 à R550.
NJC.© Info ESCO Group LLC
-----------------------------------------------------------------------------------------------------------------
09/08/22-English
ESCO MaxDRP™ Plus Replacement Teeth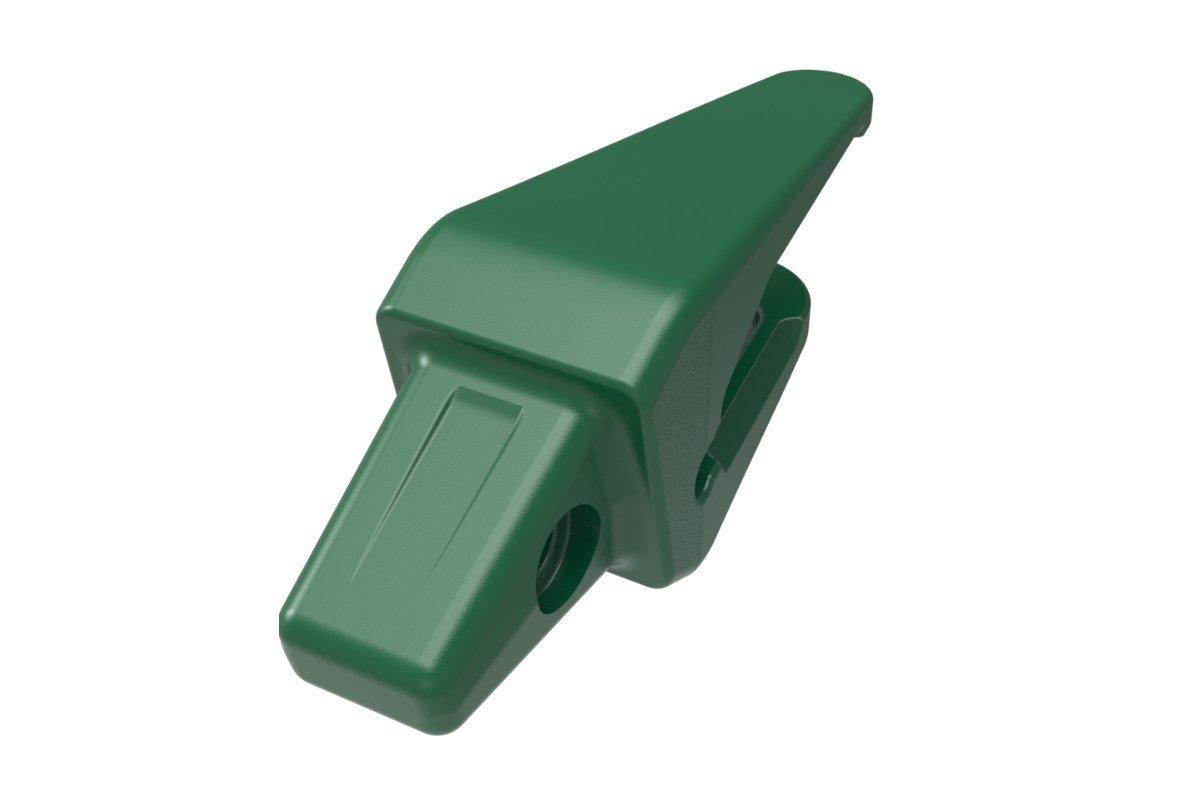 Botom Strap
IMAGE SOURCE: ESCO Group LLC
ESCO recently increased the offering of the premium MaxDRP Replacement Teeth with the MaxDRP Plus System for J-Series Teeth and R-Series Rippers.
Caterpillar assemblies are easily converted to MaxDRP Plus replacement teeth with no modification to the existing nose. ESCO's MaxDRP teeth have enhanced profiles over conventional J-Series and R-Series teeth that provide greater strength, improved production and longer wear life.
Designed for safety and ease-of-use, the MaxDRP Plus system utilizes a unique pin and collar locking system. The hammerless system does not require any special tools which increases site safety and allows faster tooth replacement.
In addition, ESCO superior point alloy has an average hardness of 525 Brinell without sacrificing impact toughness. The closest competitor is in the 470 Brinell hardness range.
The result: ESCO alloys and refined profiles deliver up to 25% longer wear life - significantly reducing maintenance costs and unplanned downtime.
The MaxDRP Plus J-Series replacement teeth are currently available in abrasion, chisel and sharp profiles in 450 through 800 sizes. R-Series replacement teeth are offered in popular abrasion and penetration profiles in R450 through R550 sizes.
NJC.© Info ESCO Group LLC
--------------------------------------------------------------------------------------------------------------------
09/08/22-NL
ESCO MaxDRP™ Plus vervangende tanden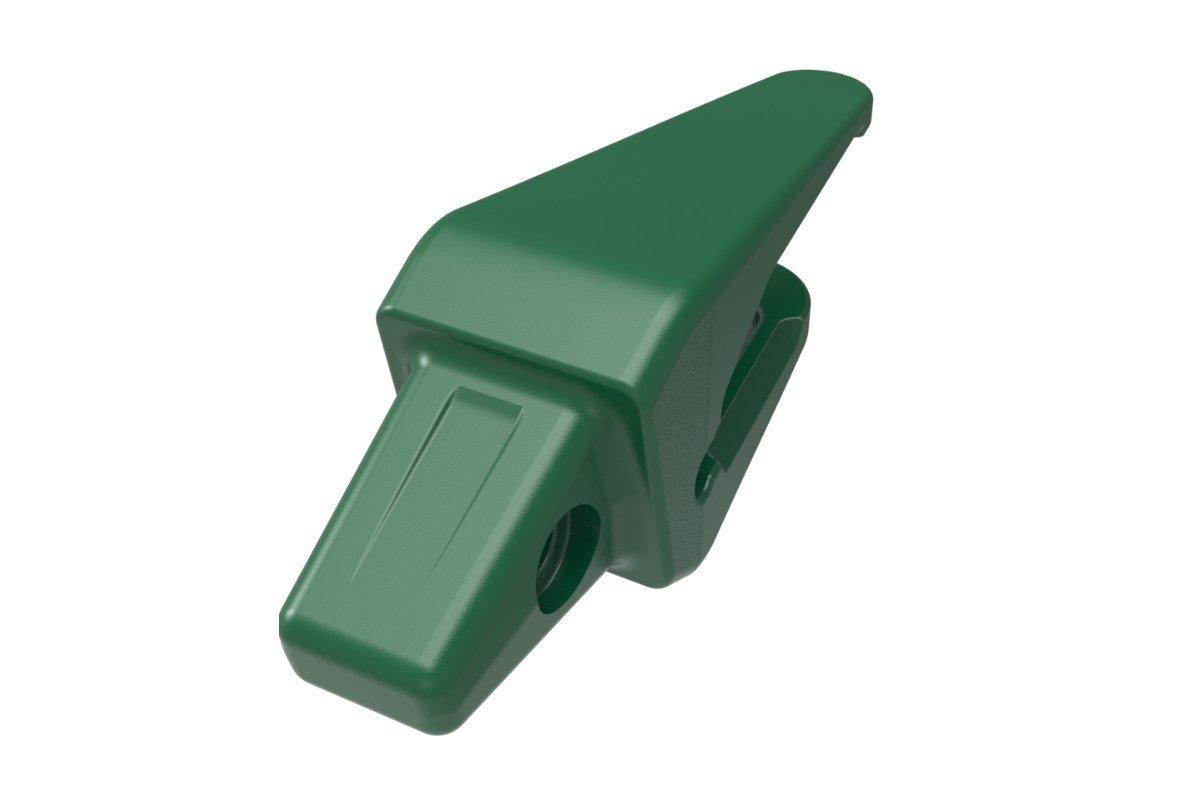 Botom Strap
IMAGE SOURCE: ESCO Group LLC
ESCO heeft onlangs het aanbod van de premium MaxDRP-vervangende tanden uitgebreid met het MaxDRP Plus-systeem voor tanden uit de J-serie en R-serie rippers.
Caterpillar-assemblages kunnen eenvoudig worden omgezet in MaxDRP Plus-vervangende tanden zonder wijziging van de bestaande neus. De MaxDRP-tanden van ESCO hebben verbeterde profielen ten opzichte van conventionele J-serie en R-serie tanden die zorgen voor meer sterkte, verbeterde productie en een langere levensduur.
Het MaxDRP Plus-systeem is ontworpen voor veiligheid en gebruiksgemak en maakt gebruik van een uniek pin- en kraagvergrendelingssysteem. Het hamerloze systeem vereist geen speciaal gereedschap, wat de veiligheid op de locatie verhoogt en een snellere tandvervanging mogelijk maakt.
Bovendien heeft de superieure puntlegering van ESCO een gemiddelde hardheid van 525 Brinell zonder in te boeten aan slagvastheid. De naaste concurrent bevindt zich in het hardheidsbereik van 470 Brinell.
Het resultaat: ESCO-legeringen en verfijnde profielen zorgen voor een tot 25% langere levensduur, waardoor de onderhoudskosten en ongeplande uitvaltijd aanzienlijk worden verminderd.
De MaxDRP Plus J-Series vervangende tanden zijn momenteel verkrijgbaar in schuur-, beitel- en scherpe profielen in 450 tot en met 800 maten. Vervangende tanden uit de R-serie worden aangeboden in populaire schuur- en penetratieprofielen in de maten R450 tot en met R550.
NJC.© Info ESCO Group LLC
-------------------------------------------------------------------------------------------------------------------