ESCO® Mining Buckets – The Top Choice for Tough Applications: Reliable custom engineered buckets reduce maintenance and increase production
08/08/22-FR-English-NL-footer
Godets miniers ESCO® – Le meilleur choix pour les applications difficiles : Des godets fiables conçus sur mesure réduisent la maintenance et augmentent la production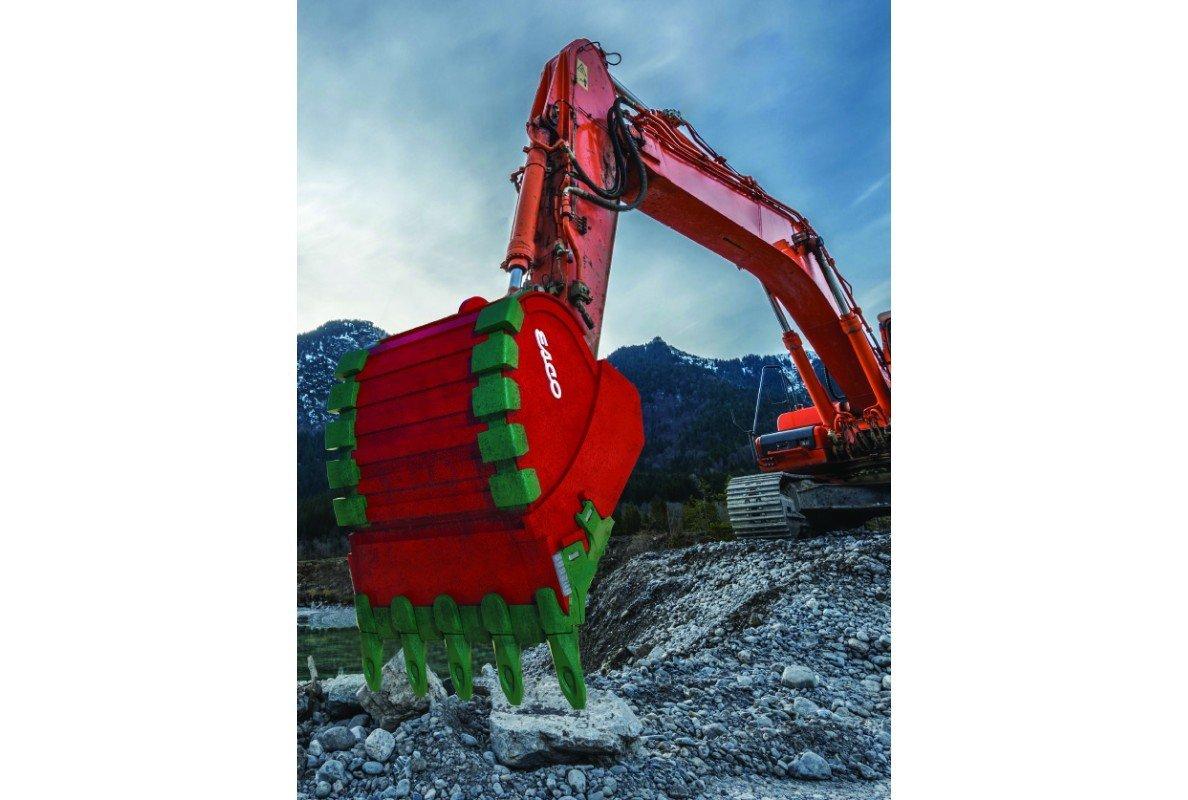 Excavator with ESCO bucket IMAGE SOURCE: ESCO Group LLC
ESCO propose une gamme complète de godets miniers développés pour répondre aux besoins les plus exigeants et aux applications les plus difficiles. En plus d'offrir une gamme complète d'accessoires à valeur ajoutée, le personnel dévoué d'ESCO s'assurera que votre équipement fonctionne efficacement pour maximiser la productivité et réduire le coût total de possession.
L'offre complète de godets comprend une gamme d'options personnalisées pour répondre aux exigences spécifiques des sites miniers avec une protection complète contre l'usure pour les conditions d'abrasion et d'impact sévères. Tous les godets à dents sont livrés en standard avec le système de dents Nemisys® leader du marché d'ESCO pour des performances exceptionnelles.
Nouveau godet à dragline
Les godets de dragline ESCO ProFill® sont construits à l'aide d'une construction exclusive en alliage coulé, développée depuis plus de 100 ans en tant que fabricant de pièces moulées en acier de qualité supérieure. Tous les godets ProFill sont conçus pour offrir une productivité supérieure et une durabilité maximale dans les conditions d'excavation les plus difficiles. Le nouveau seau ProFill Delta perpétue cette tradition. Les godets ProFill Delta offrent une productivité accrue et des économies de coûts que les clients attendent d'ESCO avec l'avantage supplémentaire d'une complexité de montage réduite. L'élimination de la barre d'écartement inférieure et des composants associés réduit le poids du gréement jusqu'à 15 %.
Caractéristiques avancées de la pelle à câbles
Les lèvres de godet ESCO® Production Master® sont des pièces moulées monobloc coulées dans des alliages de première qualité pour une excellente ténacité et soudabilité. La large gamme de profils de lèvre peut répondre aux exigences des clients et optimiser les performances du balancier. La porte et le point de pivot innovants de Production Master entraînent un chargement de camion à faible impact et une probabilité réduite de choc dans la cabine du camion. La porte à course courte fournit une zone de décharge cible élargie dans la carrosserie du camion. Cela permet aux opérateurs de charger efficacement le camion pour des temps de cycle plus rapides.
Godets de houe de classe minière
Les godets de houe minière ESCO fonctionnent sur des centaines d'emplacements sur 6 continents. L'utilisation d'acier à haute résistance fabriqué selon des spécifications rigoureuses permet aux machines de fonctionner avec une excellente fiabilité et beaucoup moins d'entretien. Les formes, la configuration et la conception des joints de soudure améliorées à l'aide d'outils avancés d'analyse par éléments finis (FEA) répartissent les contraintes opérationnelles pour une durabilité accrue.
Godets de pelle frontale hydrauliques
ESCO produit des panneaux avant et arrière de pelle frontale fiables et performants pour les sites miniers les plus exigeants au monde. Disponible pour les classes de machines de 120 à 800 tonnes, dimensionnées pour correspondre aux spécifications de charge utile du site. Les façades des pelles frontales ESCO sont dotées de cols de charnière coulés fiables fabriqués à partir d'un alliage ESCO durable 12T offrant un rapport résistance / poids faible par rapport aux charnières fabriquées.
Godets de chargeuse sur pneus
ESCO produit des godets de chargeuse sur pneus fiables et performants, conçus pour les sites miniers les plus exigeants au monde. Conçus pour fournir des charges utiles répondant aux exigences de production du site, les godets sont disponibles dans les classes de service extra-lourd (XHD), intensif (HD) et à usage général (GP). Les pattes de fixation s'enroulent sous le godet pour répartir uniformément les charges de contrainte. Les faisceaux HD à faisceau unique ou XHD à triple formation sont conçus pour répondre aux exigences des applications.
Matériaux d'usure ESCO
Des ensembles d'usure personnalisés sont disponibles pour les godets neufs ou pour la modernisation des godets existants des clients. La grande variété de produits d'usure moulés et plats à choisir garantit la bonne protection au bon endroit pour correspondre à l'application. Les options de matériaux d'usure ESCO comprennent le bouton et les blocs en fer blanc chromé Infinity®, les plaques ESCO AR 400 et 500, la plaque de revêtement en carbure de chrome Infinity, les glissières d'usure en acier moulé Kwik-Lok® II, ainsi que les sabots d'usure d'angle moulés et les Nemisys et Toplok® moulés haubans d'ailes.
NJC.© Info ESCO Group LLC
-------------------------------------------------------------------------------------------------------------------
08/08/22-English
ESCO® Mining Buckets – The Top Choice for Tough Applications: Reliable custom engineered buckets reduce maintenance and increase production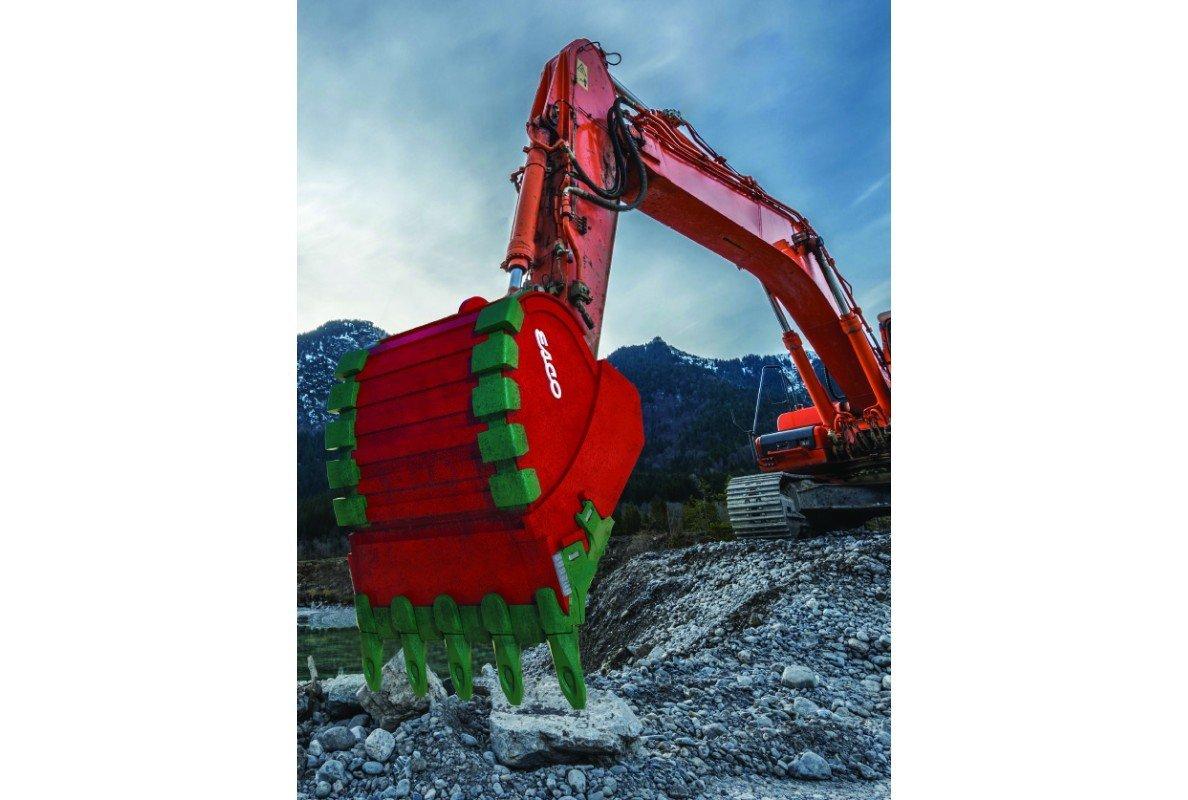 Excavator with ESCO bucket IMAGE SOURCE: ESCO Group LLC
ESCO delivers a full line of mining buckets developed to meet the demanding needs and toughest applications. In addition to offering a complete line of value-added attachments, ESCO's dedicated staff will ensure your equipment operates efficiently to maximize productivity and lower total cost of ownership.
The comprehensive bucket offering includes a range of custom options to meet specific mine site requirements with full wear protection for severe abrasion and impact conditions. All tooth style buckets come standard with ESCO's market leading Nemisys® tooth system for exceptional performance.
New Dragline Bucket
ESCO ProFill® dragline buckets are built using proprietary cast alloy construction, developed from over 100 years as a manufacturer of premium steel castings. All ProFill buckets are built to deliver superior productivity and maximum durability under the toughest digging conditions. The new ProFill Delta bucket continues that tradition. ProFill Delta buckets provide increased productivity and cost savings that customers have come to expect from ESCO with the added benefit of reduced rigging complexity. Eliminating the lower spreader bar and associated components reduces rigging weight by up to 15%.
Advanced Cable Shovel Dipper Features
ESCO® Production Master® dipper lips are single-piece castings poured in premium alloys for excellent toughness and weldability. The wide range of lip profiles can match customer requirements and optimize dipper performance. Production Master's innovative door and pivot point results in lower impact truck loading and reduced likelihood of truck cabin shock. The short travel door provides an expanded target dump zone in the truck body. This allows operators to efficiently load the truck for faster cycle times.
Mining Class Hoe Buckets
ESCO mining hoe buckets are performing at hundreds of locations on 6 continents. Using high-strength steel fabricated to exacting specifications keeps machines operating with excellent reliability and significantly less maintenance. Enhanced beam shapes, configuration and weld-joint design using advanced finite element analysis (FEA) tools distributes operational stresses for increased durability.
Hydraulic Face Shovel Buckets
ESCO produces reliable, performance-driven face shovel fronts and backboards for the world's most demanding mine sites. Available for 120 to 800-ton machine classes, sized to match site payload specifications. ESCO face shovel fronts feature reliable cast hinge necks made from durable ESCO alloy 12T provides high strength to low weight ratio compared to fabricated hinges.
Wheel Loader Buckets
ESCO produces reliable, performance-driven wheel loader buckets built for the world's most demanding mine sites. Engineered to deliver payloads meeting site production requirements, buckets are available in extra heavy-duty (XHD), heavy-duty (HD) and general purpose (GP) duty classes. Attachment lugs wrap under the bucket to spread stress loads evenly. Single-beam HD or triple-formed XHD beams are engineered to meet application demands.
ESCO Wear Materials
Custom wear packages are available for new buckets or for retrofit to existing customer buckets. The wide variety of cast and plate wear products to choose from ensures the right protection in the right location to match the application. ESCO wear material options include Infinity® chrome white iron button and blocks, ESCO AR 400 and 500 plate, Infinity chromium carbide overlay plate, Kwik-Lok® II cast steel wear runners, as well as cast corner wear shoes and cast Nemisys and Toplok® wing shrouds.
NJC.© Info ESCO Group LLC
----------------------------------------------------------------------------------------------------------------------
08/08/22-NL
ESCO® mijnbouwbakken – de beste keuze voor zware toepassingen: Betrouwbare, op maat gemaakte bakken verminderen het onderhoud en verhogen de productie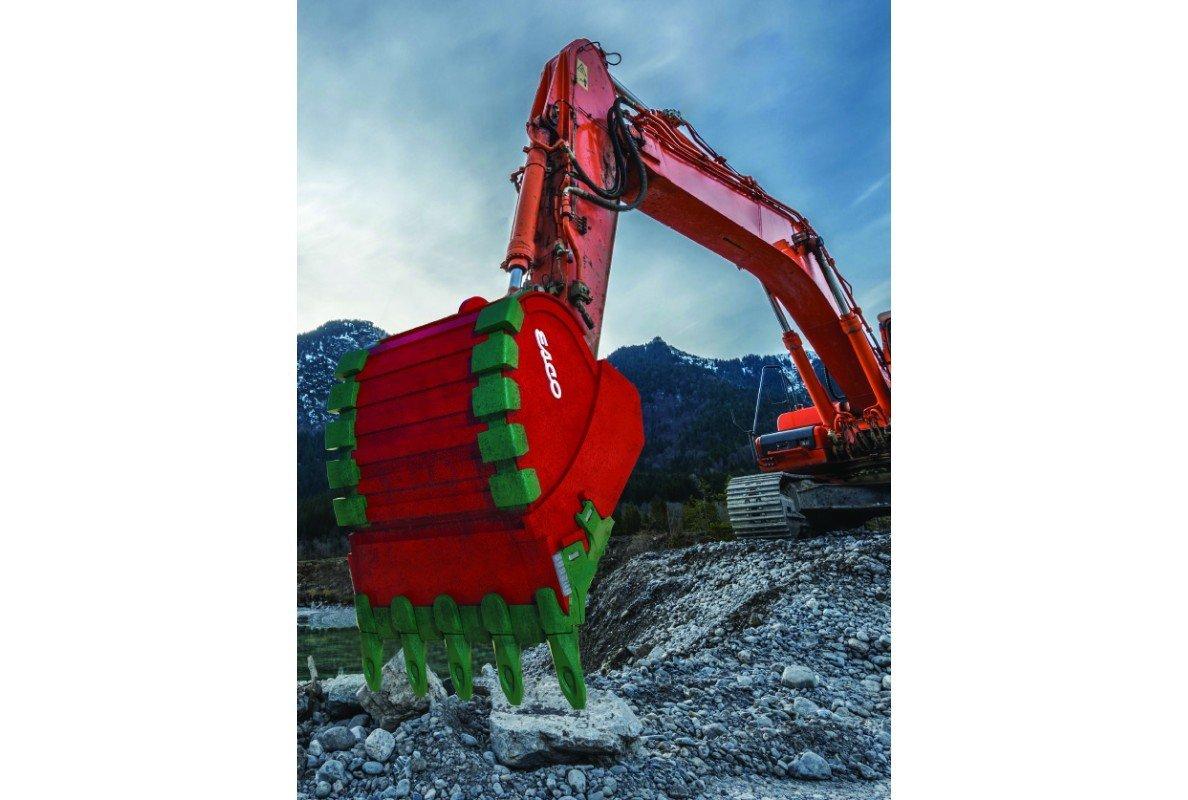 Excavator with ESCO bucket IMAGE SOURCE: ESCO Group LLC
ESCO levert een volledige lijn mijnbouwbakken die zijn ontwikkeld om te voldoen aan de veeleisende behoeften en zwaarste toepassingen. Naast het aanbieden van een complete lijn aanbouwdelen met toegevoegde waarde, zal het toegewijde personeel van ESCO ervoor zorgen dat uw apparatuur efficiënt werkt om de productiviteit te maximaliseren en de totale eigendomskosten te verlagen.
Het uitgebreide aanbod van bakken omvat een reeks aangepaste opties om te voldoen aan de specifieke vereisten van mijnsites met volledige bescherming tegen slijtage bij zware slijtage en impact. Alle emmers in tandstijl worden standaard geleverd met ESCO's marktleidende Nemisys®-tandsysteem voor uitzonderlijke prestaties.
Nieuwe Dragline-emmer
ESCO ProFill® dragline-bakken zijn gebouwd met behulp van een gepatenteerde constructie van gegoten legering, ontwikkeld gedurende meer dan 100 jaar als fabrikant van eersteklas stalen gietstukken. Alle ProFill-bakken zijn gebouwd om superieure productiviteit en maximale duurzaamheid te leveren onder de zwaarste graafomstandigheden. De nieuwe ProFill Delta-emmer zet die traditie voort. ProFill Delta-bakken zorgen voor een hogere productiviteit en kostenbesparingen die klanten van ESCO gewend zijn, met als bijkomend voordeel dat de tuigage minder complex is. Door het weglaten van het onderste tiljuk en de bijbehorende componenten wordt het tuiggewicht met tot wel 15% verminderd.
Geavanceerde functies van de Dipper voor kabelschoppen
ESCO® Production Master® dipper lippen zijn gegoten uit één stuk gegoten in premium legeringen voor uitstekende taaiheid en lasbaarheid. Het brede scala aan lipprofielen kan voldoen aan de eisen van de klant en de prestaties van de lepelaar optimaliseren. De innovatieve deur en het draaipunt van Production Master resulteren in een lagere impact op het laden van vrachtwagens en minder kans op schokken in de cabine. De korte reisdeur biedt een uitgebreide stortzone in de laadbak van de vrachtwagen. Hierdoor kunnen bestuurders de truck efficiënt laden voor kortere cyclustijden.
Schoffelemmers voor mijnbouwklasse
ESCO mijnbouwschoffelemmers presteren op honderden locaties op 6 continenten. Door gebruik te maken van hoogwaardig staal dat is vervaardigd volgens veeleisende specificaties, blijven de machines uitstekend betrouwbaar en aanzienlijk minder onderhoud nodig. Verbeterde balkvormen, configuratie en lasnaadontwerp met behulp van geavanceerde eindige-elementenanalyse (FEA)-tools verdeelt operationele spanningen voor verhoogde duurzaamheid.
Hydraulische shovel-emmers
ESCO produceert betrouwbare, prestatiegerichte fronten en achterborden voor 's werelds meest veeleisende mijnsites. Beschikbaar voor machineklassen van 120 tot 800 ton, met afmetingen die passen bij de specificaties van het laadvermogen op de locatie. De fronten van de ESCO-shovel zijn voorzien van betrouwbare gegoten scharnierhalzen gemaakt van duurzame ESCO-legering 12T en bieden een hoge sterkte / lage gewichtsverhouding in vergelijking met gefabriceerde scharnieren.
Wielladerbakken
ESCO produceert betrouwbare, prestatiegedreven wielladerbakken die zijn gebouwd voor 's werelds meest veeleisende mijnsites. De bakken zijn ontworpen om ladingen te leveren die voldoen aan de productievereisten op de locatie en zijn verkrijgbaar in extra zware (XHD), zware (HD) en algemene (GP) gebruiksklassen. Bevestigingsnokken wikkelen zich onder de bak om de belasting gelijkmatig te verdelen. Enkelvoudige HD- of drievoudig gevormde XHD-balken zijn ontworpen om aan de toepassingseisen te voldoen.
ESCO-slijtagematerialen
Aangepaste slijtagepakketten zijn beschikbaar voor nieuwe bakken of voor aanpassing aan bestaande bakken van klanten. De grote verscheidenheid aan giet- en plaatslijtageproducten om uit te kiezen, zorgt voor de juiste bescherming op de juiste locatie voor de toepassing. ESCO-slijtmateriaalopties omvatten Infinity® chromen witte ijzeren knop en blokken, ESCO AR 400 en 500 plaat, Infinity chroomcarbide overlay-plaat, Kwik-Lok® II gietstalen slijtgeleiders, evenals gegoten hoekslijtageschoenen en gegoten Nemisys en Toplok® vleugelkappen.
NJC.© Info ESCO Group LLC
-------------------------------------------------------------------------------------------------------------
Date de dernière mise à jour : 05/08/2022