Everyday work" for a Goldhofer »MPA« low loader semitraile
16/06/22-FR-English-NL-footer
Travail quotidien » pour une semi-remorque surbaissée Goldhofer »MPA«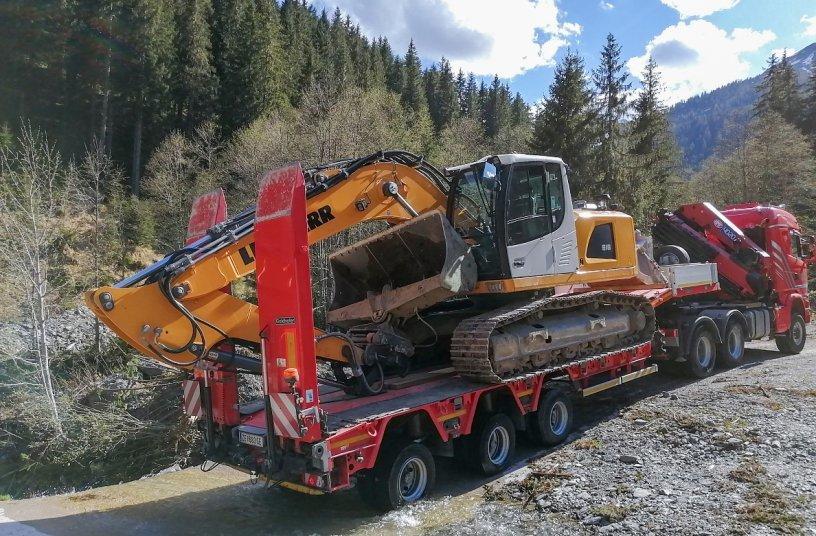 Thanks to the 350 mm hydraulic axle compensation, fording the streams was not a problem. IMAGE SOURCE: Goldhofer Aktiengesellschaft
Il est toujours impressionnant de voir ce que le « travail quotidien » peut signifier pour les véhicules Goldhofer. Pour enlever les débris d'avalanche, y compris les troncs d'arbres et les rochers, l'équipe de Neureiter a dû atteindre le Marxtenalm à 1 200 mètres d'altitude dans le Pinzgau autrichien. L'opération impliquait une semi-remorque surbaissée à 3 essieux «MPA» transportant une pelle sur chenilles Liebherr R918.
Josef Neureiter GmbH & Co KG, une entreprise de transport et de terrassement du Pinzgau fondée à Saalbach-Hinterglemm en 1989, possède une longue expérience des services de terrassement en montagne. Outre le transport et les travaux de terrassement, l'entreprise jouit également d'une excellente réputation en tant que partenaire fiable pour les services de conteneurs et la construction de routes d'accès dans la région de Pinzgau à Salzbourg.
Le Marxtenalm - un alpage et une auberge idéalement situé entre le pic moyen du Schattberg et le Stemmerkogel dans la région du Pinzgau - est accessible à pied ou par une route forestière étroite et non goudronnée. Cependant, en raison d'une avalanche dans la gorge du Löhnersbach, l'alpage n'était plus accessible et l'entreprise de transport et de terrassement Neureiter a été appelée pour déblayer la gorge de la neige et des débris jusqu'à 5 mètres de profondeur. Ce n'est pas aussi simple qu'il y paraît : conduire une semi-surbaissée jusqu'au Marxtenalm avec une pelle de 20 t est un défi pour tous les professionnels du transport. Mais Michael Neureiter ne perd pas son calme ; pour lui c'est « le travail de tous les jours ». Comme la route d'accès n'est pas goudronnée, des capacités tout-terrain exceptionnelles étaient requises du tracteur Scania et de la semi-remorque surbaissée Goldhofer, qui devaient également traverser des ruisseaux de montagne et gravir des pentes allant jusqu'à 15 %. « Avec une compensation d'essieu hydraulique de 350 mm, nous pouvions littéralement soulever le nouveau »MPA« 3 à travers les ruisseaux aux gués », déclare Michael Neureiter et il poursuit : « Cela nous rend si rapides et flexibles en montagne.
Le »MPA« 3 intègre le système d'essieu MacPherson éprouvé et possède une stabilité latérale impressionnante. L'utilisation de si peu de composants fait de l'essieu une solution nécessitant très peu d'entretien. De plus, le »MPA« 3 est conçu pour des charges par essieu élevées de 15,6 t à 20 km/h, un angle de braquage extrêmement large de 60° et une hauteur de chargement très faible de seulement 785 mm. La conception robuste et la haute résistance à la flexion du châssis du véhicule garantissent une fiabilité maximale et une longue durée de vie. En plus, le système de direction "MPA" à succès a été installé sur les trois lignes d'essieux du véhicule Neureiter pour une maniabilité encore plus grande dans les virages serrés des pistes et des routes de montagne. « Le nouveau »MPA« 3 facilite grandement notre « travail quotidien » et sa flexibilité nous rend encore plus polyvalents », se réjouit Michael Neureiter.
NJC.© Info Goldhofer Aktiengesellschaft
--------------------------------------------------------------------------------------------------------
16/06/22-English
Everyday work" for a Goldhofer »MPA« low loader semitraile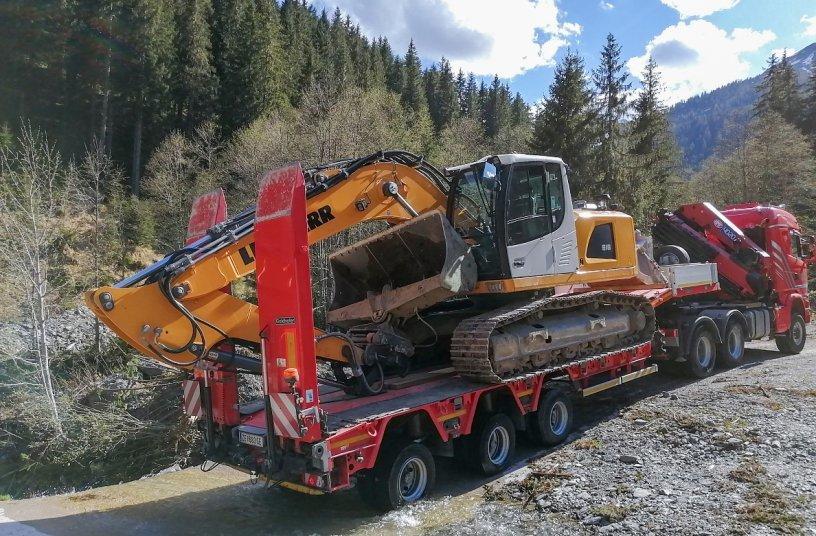 Thanks to the 350 mm hydraulic axle compensation, fording the streams was not a problem. IMAGE SOURCE: Goldhofer Aktiengesellschaft
It is always impressive to see what "everyday work" can mean for Goldhofer vehicles. To remove avalanche debris, including tree trunks and rocks, the Neureiter team had to reach the Marxtenalm at 1,200 meters above sea-level in the Austrian Pinzgau. The operation involved a 3-axle »MPA« semi lowloader carrying a Liebherr R918 crawler excavator.
Josef Neureiter GmbH & Co KG, a Pinzgau-based transport and earthworks company founded in Saalbach-Hinterglemm in 1989, has long years of experience with earthworks services in the mountain environment. In addition to transport and earthworks, the company also has a fine reputation as a reliable partner for container services and access road construction in Salzburg's Pinzgau region.
The Marxtenalm – a mountain pasture and inn idyllically located between the middle peak of the Schattberg and the Stemmerkogel in the Pinzgau region – can be reached either on foot or on a narrow and unsurfaced forestry road. Due to an avalanche in the gorge of the Löhnersbach, however, the alpine pasture was no longer accessible, and the Neureiter transport and earthworks company was called out to clear the gorge of snow and debris up to 5 meters in depth. That is not as easy as it sounds: driving a semi lowloader up to the Marxtenalm with a 20 t excavator is a challenge for all transport professionals. But Michael Neureiter does not lose his calm; for him it is "everyday work". As the access road is unpaved, outstanding off-road capabilities were required of the Scania tractor unit and the Goldhofer low loader semitrailer, which also had to ford mountain streams and climb gradients of up to 15%. "With a hydraulic axle compensation of 350 mm, we could literally lift the new »MPA« 3 across the streams at the fords," says Michael Neureiter and he continues: "That makes us so fast and flexible in the mountains."
The »MPA« 3 incorporates the proven MacPherson axle system and has impressive lateral stability. The use of so few components makes the axle an extremely low-maintenance solution. Plus the »MPA« 3 is designed for high axle loads of 15.6 t at 20 km/h, an extremely wide steering angle of 60° and a very low loading height of only 785 mm. The robust design and high bending resistance of the vehicle frame ensure maximum reliability and long service life. As an extra, the successful »MPA« steering system was fitted on all three axle lines of the Neureiter vehicle for still greater maneuverability in the tight curves of the mountain tracks and roads. "The new »MPA« 3 greatly facilitates our 'day-to-day business', and its flexibility makes us even more versatile," says a delighted Michael Neureiter.
NJC.© Info Goldhofer Aktiengesellschaft
----------------------------------------------------------------------------------------------------
16/06/22-NL
Dagelijks werk" voor een Goldhofer »MPA« dieplader oplegger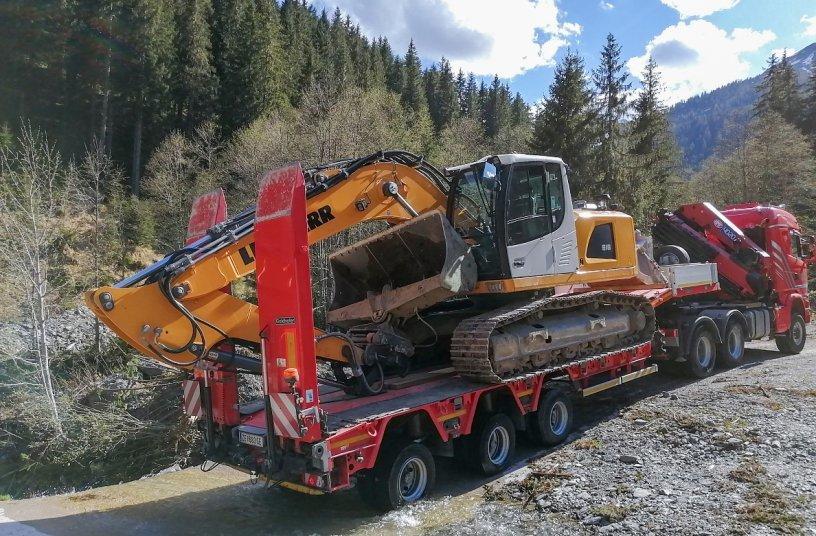 Thanks to the 350 mm hydraulic axle compensation, fording the streams was not a problem. IMAGE SOURCE: Goldhofer Aktiengesellschaft
Het is altijd indrukwekkend om te zien wat het "dagelijkse werk" voor Goldhofer voertuigen kan betekenen. Om lawineafval, waaronder boomstammen en rotsen, te verwijderen, moest het team van Neureiter de Marxtenalm op 1.200 meter boven zeeniveau in de Oostenrijkse Pinzgau bereiken. De operatie betrof een 3-assige »MPA« semidieplader met daarop een Liebherr R918 rupsgraafmachine.
Josef Neureiter GmbH & Co KG, een transport- en grondwerkbedrijf uit Pinzgau, opgericht in Saalbach-Hinterglemm in 1989, heeft jarenlange ervaring met grondverzetwerkzaamheden in de bergomgeving. Naast transport en grondwerken heeft het bedrijf ook een goede reputatie als betrouwbare partner voor containerdiensten en toegangswegen in de regio Pinzgau in Salzburg.
De Marxtenalm – een idyllisch gelegen bergweide en herberg tussen de middelste top van de Schattberg en de Stemmerkogel in de Pinzgau – is zowel te voet als via een smalle onverharde bosweg te bereiken. Door een lawine in de kloof van de Löhnersbach was de alpenweide echter niet meer toegankelijk en werd het transport- en grondwerkenbedrijf Neureiter opgeroepen om de kloof tot 5 meter diep sneeuw en puin te ruimen. Dat is niet zo eenvoudig als het klinkt: een semidieplader tot aan de Marxtenalm rijden met een graafmachine van 20 ton is een uitdaging voor alle transportprofessionals. Maar Michael Neureiter verliest zijn kalmte niet; voor hem is het "alledaags werk". Omdat de toegangsweg onverhard is, waren uitstekende offroad-capaciteiten vereist van de Scania-trekker en de Goldhofer-diepladeroplegger, die ook bergbeekjes moesten doorwaden en hellingen tot 15% moesten beklimmen. "Met een hydraulische ascompensatie van 350 mm konden we de nieuwe »MPA« 3 letterlijk over de beken bij de doorwaadbare plaatsen tillen", zegt Michael Neureiter en hij vervolgt: "Dat maakt ons zo snel en flexibel in de bergen."
De »MPA« 3 bevat het beproefde MacPherson-assysteem en heeft een indrukwekkende zijdelingse stabiliteit. Door het gebruik van zo weinig componenten is de as een uiterst onderhoudsarme oplossing. Bovendien is de »MPA« 3 ontworpen voor hoge aslasten van 15,6 t bij 20 km/u, een extreem grote stuuruitslag van 60° en een zeer lage laadhoogte van slechts 785 mm. Het robuuste ontwerp en de hoge buigweerstand van het voertuigframe zorgen voor maximale betrouwbaarheid en een lange levensduur. Als extraatje werd het succesvolle stuursysteem »MPA« op alle drie de aslijnen van het Neureiter-voertuig gemonteerd voor nog meer wendbaarheid in de krappe bochten van de bergpaden en wegen. "De nieuwe »MPA« 3 vereenvoudigt onze 'dagelijkse bedrijfsvoering' aanzienlijk en zijn flexibiliteit maakt ons nog veelzijdiger", zegt een opgetogen Michael Neureiter.
NJC.© Info Goldhofer Aktiengesellschaft
---------------------------------------------------------------------------------------------------
Date de dernière mise à jour : 15/06/2022