Faresin reveals its trade show line-up

25/04/23-FR-English-NL-footer
Faresin dévoile son programme de salons
Faresin's 6.26 Full Electric MY 2023 telehandler. (PHOTO: Faresin)
Faresin Industries a révélé qu'il présentera une version mise à jour de son modèle de chariot télescopique 6.26 Full Electric, la machine devant être l'exposition phare du fabricant lors des principaux salons de l'équipement de cette saison.
Le nouveau modèle 6.26 Full Electric MY 2023 est une version repensée du modèle original 6.26 Full Electric introduit en 2018 avec une production complète à partir de 2020.
Il devrait être présenté lors du prochain événement commercial APEX 2023 à Maastricht, aux Pays-Bas, en juin, ainsi que dans d'autres salons européens tels que Samoter en Italie et Vertikal Days au Royaume-Uni.
Comme son nom l'indique, il a une portée maximale de 5,9 m et une capacité de charge de 2,6 tonnes. Il ne produit aucune émission de CO2 et offre des niveaux de bruit réduits, et est équipé d'un nouveau pack de batteries hautes performances de 80 volts qui bénéficie d'une durée de vie accrue et offre des temps de charge réduits.
Les acheteurs d'équipement peuvent choisir entre la batterie standard de 24 kW/h ou les options de 32 et 43 kW/h, qui offrent des temps de travail de 6, 8 et 11 heures respectivement.
Le moteur du chariot télescopique Faresin 6.26 Full Electric MY 2023 Le nouveau chariot télescopique 6.26 est équipé d'un pack batterie 80V.
Le chargeur télescopique est livré avec un chargeur embarqué monophasé repensé en standard qui peut charger la machine en deux fois moins de temps que le modèle 2018 de l'entreprise.
Il est également disponible avec un chargeur triphasé externe qui charge la batterie en un peu plus de 3 heures, un chargeur externe FAST triphasé avec un temps de charge d'un peu plus d'une heure et un chargeur FAST embarqué qui peut charger le modèle de machine en seulement plus de deux heures.
"Par rapport à la version présentée il y a cinq ans, le 6.26 Full Electric MY 2023 peut être configuré avec quatre systèmes de charge, en fonction de la fréquence d'utilisation et de l'intensité des cycles de travail", a déclaré Faresin.
"Cette large gamme de chargeurs permet de répondre aux besoins des clients de toutes les régions du monde, qui peuvent alors avoir des tensions d'entrée différentes tout en offrant la même capacité de charge finale."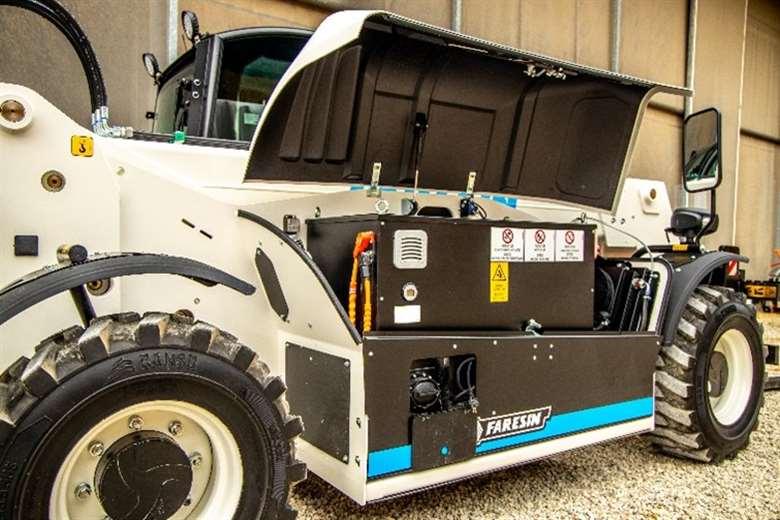 he new 6.26 telehandler features an 80V battery pack. (PHOTO: Faresin)
Parmi les autres caractéristiques remarquables du modèle, citons un moteur hydraulique de flèche S3 de 18 kW dédié, un système de récupération d'énergie et une cabine repensée.
La cabine est équipée d'un nouvel écran couleur avec un panneau à boutons-poussoirs pour une navigation aisée dans les menus et un joystick plus réactif. La climatisation est également disponible en option.
Le 6.26 mis à jour sera présenté lors des salons professionnels de cette saison avec des machines plus grandes de sa gamme Big Range Full Electric.
Les modèles 14.42, 17.40 et 17.45, qui offrent respectivement des capacités de levage maximales de 4,2, 4,0 et 4,5 tonnes, ont fait leurs débuts à Bauma 2022 en Allemagne et démontrent la volonté de l'entreprise d'« innover durablement ».
Sante Faresin, président de Faresin, a déclaré : « Nous vivons actuellement une saison extraordinaire de succès sur les marchés internationaux grâce à une vision de développement durable, où les machines utilisent des technologies intelligentes qui augmentent la rentabilité de l'activité des clients et réduisent la consommation et les émissions de CO2. en même temps.
« La durabilité est devenue une valeur ajoutée de plus en plus importante de nos nouveaux produits. Par conséquent, nous prévoyons de faire des investissements importants pour doubler la production avec un produit de plus en plus respectueux de l'environnement.
NJC.© Info Faresin
---------------------------------------------------------------------------------------------------------------------

25/04/23-English
Faresin reveals its trade show line-up
Faresin's 6.26 Full Electric MY 2023 telehandler. (PHOTO: Faresin)
Faresin Industries has revealed that it is to present an updated version of its 6.26 Full Electric telehandler model, with the machine set to be the manufacturer's standout exhibit at this season's major equipment trade shows.
The new 6.26 Full Electric MY 2023 model is a redesigned version of the original 6.26 Full Electric model introduced in 2018 with full production starting in 2020.
It is set to be shown at the upcoming APEX 2023 trade event in Maastricht, the Netherlands, in June, as well as at other European trade fairs such as Samoter in Italy and Vertikal Days in the UK.
As its name suggests, it has a maximum reach of 5.9m and a load capacity 2.6 tonnes. It produces zero CO2 emissions and offers reduced noise levels, and is fitted with a new 80-Volt high-performance battery pack that benefits from an increased life and offers reduced charging times.
Equipment buyers can choose from the standard 24kW/h battery or the 32 and 43kW/h options, which provide working times of 6, 8 and 11 hours respectively.
The engine of the Faresin 6.26 Full Electric MY 2023 telehandler The new 6.26 telehandler features an 80V battery pack.
The telehandler comes with a redesigned single-phase on-board charger as standard that can charge the machine in half the time as company's 2018 model.
It is also available with an external three-phase charger that charges the battery in just over 3 hours, a three-phase FAST external charger with a charging time of just over an hour and an onboard FAST charger that can charge the machine model in just over two hours.
"Compared to the version that was presented five years ago, the 6.26 Full Electric MY 2023 can be configured with four charging systems, depending on frequency of use and intensity of work cycles," said Faresin.
"This broad range of chargers allows to meet the needs of customers from all parts of the world, who can then have different input voltages while offering the same final charging capacity."
Other standout features of the model include a dedicated 18kW S3 boom hydraulics motor, an energy recovery system and a redesigned cab.
The cab is equipped with a new colour display with a push-button panel for easy menu navigation and a more responsive joystick. Air conditioning is also available as an optional extra.
The updated 6.26 will be showcased at this seasons trade shows along with larger machines from its Big Range Full Electric line-up.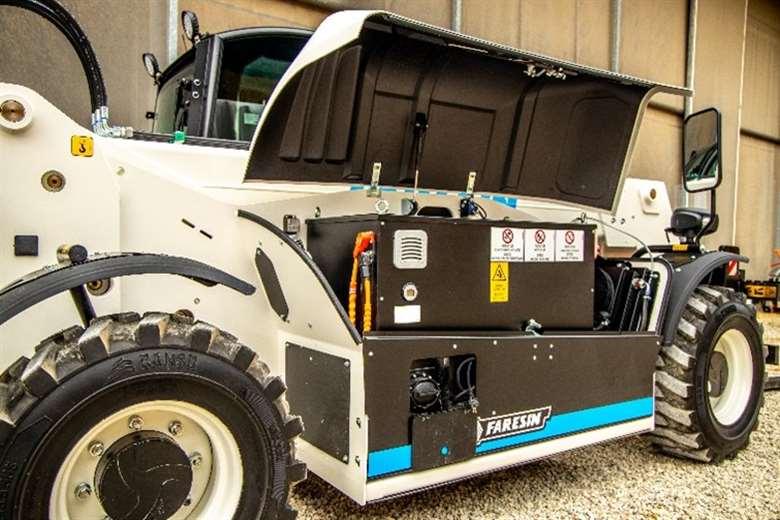 he new 6.26 telehandler features an 80V battery pack. (PHOTO: Faresin)
The 14.42, 17.40 and 17.45 models, which offer maximum lifting capacities of 4.2, 4.0 and 4.5 tonnes respectively, made their debut at Bauma 2022 in Germany, and demonstrate the company's drive towards "sustainable innovation".
Sante Faresin, Faresin President, said, "We are currently experiencing an extraordinary season of success in the international markets thanks to a vision of sustainable development, where machines use smart technologies that increase the profitability of the customers' business and reduce consumption and CO2 emissions at the same time.
"Sustainability has become an increasingly important added value of our new products. Therefore, we plan to make major investments to double production with an increasingly eco-friendly product."
NJC.© Info Faresin
------------------------------------------------------------------------------------------------------------

25/04/23-NL
Faresin onthult haar line-up voor de beurs
Faresin's 6.26 Full Electric MY 2023 telehandler. (PHOTO: Faresin)
Faresin Industries heeft onthuld dat het een geüpdatete versie van zijn 6.26 volledig elektrische verreikermodel zal presenteren, waarbij de machine de opvallende tentoonstelling van de fabrikant zal worden op de belangrijkste materiaalbeurzen van dit seizoen.
Het nieuwe 6.26 Full Electric MY 2023-model is een opnieuw ontworpen versie van het originele 6.26 Full Electric-model dat in 2018 werd geïntroduceerd en waarvan de volledige productie in 2020 begint.
Het zal worden getoond op het komende APEX 2023-handelsevenement in Maastricht, Nederland, in juni, evenals op andere Europese beurzen zoals Samoter in Italië en Vertikal Days in het VK.
Zoals de naam al doet vermoeden, heeft hij een maximale reikwijdte van 5,9 m en een laadvermogen van 2,6 ton. Hij produceert geen CO2-uitstoot en biedt lagere geluidsniveaus, en is uitgerust met een nieuw 80-volt high-performance batterijpakket dat profiteert van een langere levensduur en kortere oplaadtijden.
Kopers van apparatuur kunnen kiezen uit de standaard 24kW/h-batterij of de 32- en 43kW/h-opties, die een werktijd van respectievelijk 6, 8 en 11 uur bieden.
De motor van de Faresin 6.26 Full Electric MY 2023 verreiker De nieuwe 6.26 verreiker is voorzien van een 80V accupakket.
De verreiker wordt standaard geleverd met een herontworpen enkelfasige ingebouwde lader die de machine in de helft van de tijd kan opladen als het 2018-model van het bedrijf.
Hij is ook verkrijgbaar met een externe driefasige lader die de batterij in iets meer dan 3 uur oplaadt, een driefasige externe FAST-lader met een oplaadtijd van iets meer dan een uur en een ingebouwde FAST-lader die het machinemodel in slechts ruim twee uur.
"Vergeleken met de versie die vijf jaar geleden werd gepresenteerd, kan de 6.26 Full Electric MY 2023 worden geconfigureerd met vier laadsystemen, afhankelijk van de gebruiksfrequentie en de intensiteit van de werkcycli", aldus Faresin.
"Dit brede assortiment laders maakt het mogelijk om te voldoen aan de behoeften van klanten uit alle delen van de wereld, die dan verschillende ingangsspanningen kunnen hebben terwijl ze dezelfde uiteindelijke laadcapaciteit bieden."
Andere opvallende kenmerken van het model zijn een speciale S3-giekhydraulische motor van 18 kW, een energieterugwinningssysteem en een opnieuw ontworpen cabine.
De cabine is uitgerust met een nieuw kleurendisplay met een drukknoppaneel voor eenvoudige menunavigatie en een sneller reagerende joystick. Airconditioning is ook beschikbaar als een optionele extra.
De bijgewerkte 6.26 zal op de beurzen van dit seizoen worden tentoongesteld, samen met grotere machines uit de Big Range Full Electric-reeks.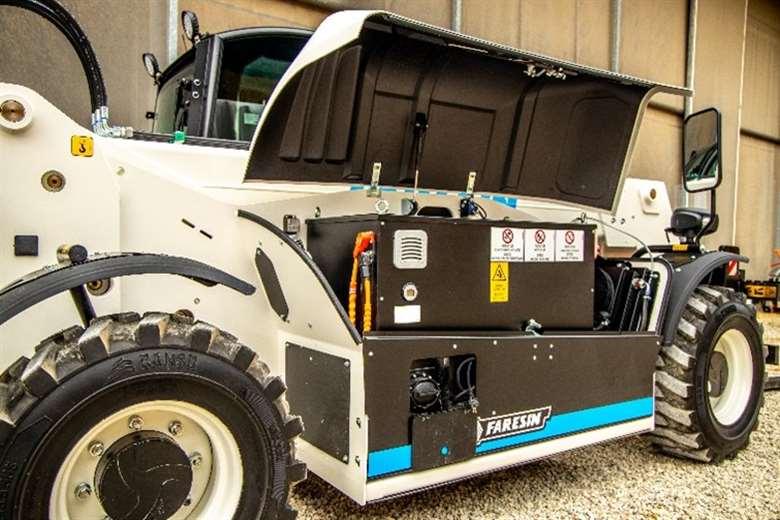 he new 6.26 telehandler features an 80V battery pack. (PHOTO: Faresin)
De modellen 14.42, 17.40 en 17.45, die een maximaal hefvermogen bieden van respectievelijk 4,2, 4,0 en 4,5 ton, maakten hun debuut op de Bauma 2022 in Duitsland en demonstreren het streven van het bedrijf naar "duurzame innovatie".
Sante Faresin, president van Faresin, zei: "We beleven momenteel een buitengewoon seizoen van succes op de internationale markten dankzij een visie op duurzame ontwikkeling, waarbij machines slimme technologieën gebruiken die de winstgevendheid van het bedrijf van de klant vergroten en het verbruik en de CO2-uitstoot verminderen. tegelijkertijd.
"Duurzaamheid is een steeds belangrijkere toegevoegde waarde geworden van onze nieuwe producten. Daarom zijn we van plan grote investeringen te doen om de productie te verdubbelen met een steeds milieuvriendelijker product."
NJC.© Info Faresin
-------------------------------------------------------------------------------------------------------------------