First Hitachi ZX130LCN-7 in Finland impresses with Zaxis-7 updates
04/08/22-FR-English-NL-footer
Le premier Hitachi ZX130LCN-7 en Finlande impressionne avec les mises à jour Zaxis-7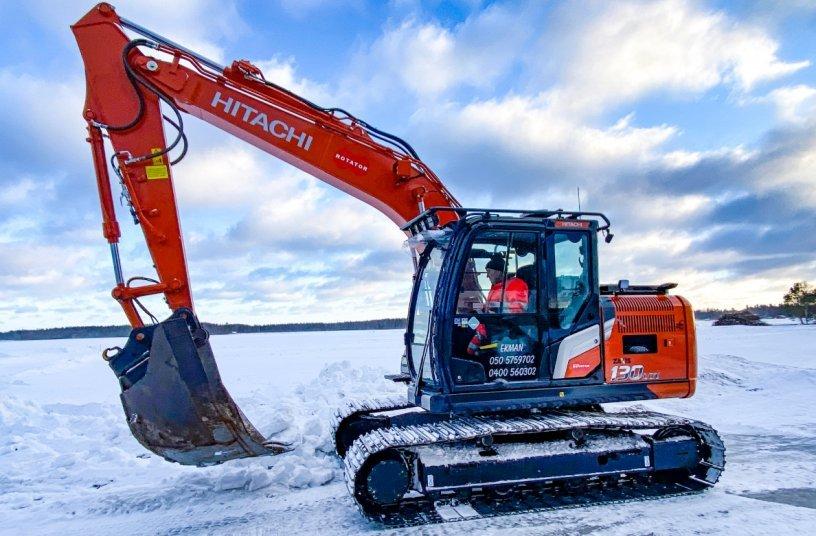 Hitachi excavator
IMAGE SOURCE: Hitachi Construction Machinery (Europe) NV
La première pelle moyenne finlandaise Hitachi Zaxis-7 ZX130LCN-7 a été livrée à Ekman Ostrobotnie en novembre par le concessionnaire finlandais Hitachi Construction Machinery (Europe) Rotator Oy, et les opérateurs ont été impressionnés par les capacités de la pelle moyenne.
Basée à Pirttikylä, près de Närpiö en Ostrobotnie, l'entreprise familiale Ekman est spécialisée dans les travaux agricoles, forestiers et de génie civil. Börje Ekman travaille sous contrat avec des machines de construction Hitachi depuis plus de 40 ans, et cette dernière machine Zaxis-7 était la cinquième machine Hitachi consécutive de l'entreprise.
« Hitachi nous a impressionnés par sa fiabilité et ses faibles coûts de maintenance », déclare Börje Ekman, le père de l'entreprise familiale. « Nous avions l'ancienne machine Zaxis-5 pendant sept ans et nous n'avions à remplacer qu'un tuyau en plus de l'entretien normal, nous pouvons donc parler d'une machine durable », déclarent ensemble le père Börje et son fils Thomas.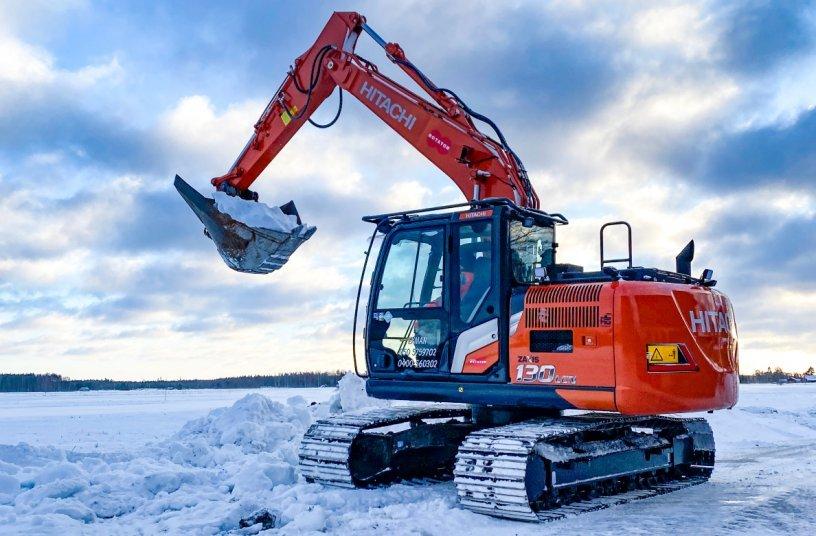 Hitachi excavator
IMAGE SOURCE: Hitachi Construction Machinery (Europe) NV
Les services Hitachi d'Ekman sont depuis longtemps gérés par le point de service sous contrat du concessionnaire Hitachi finlandais Rotator Oy, Östec Machine à Maalahti. "Avec eux, la maintenance a été sans faille, vous obtenez toujours un service quand vous en avez besoin - même 24 heures sur 24", se félicite Thomas Ekman.
La machine effectue une gamme de travaux, notamment "l'excavation de fossés de terrain, le nettoyage de bordures forestières et des travaux d'infrastructure", explique Börje Ekman, "ainsi que des fondations de maisons et des travaux de terrassement traditionnels pour les municipalités et les particuliers".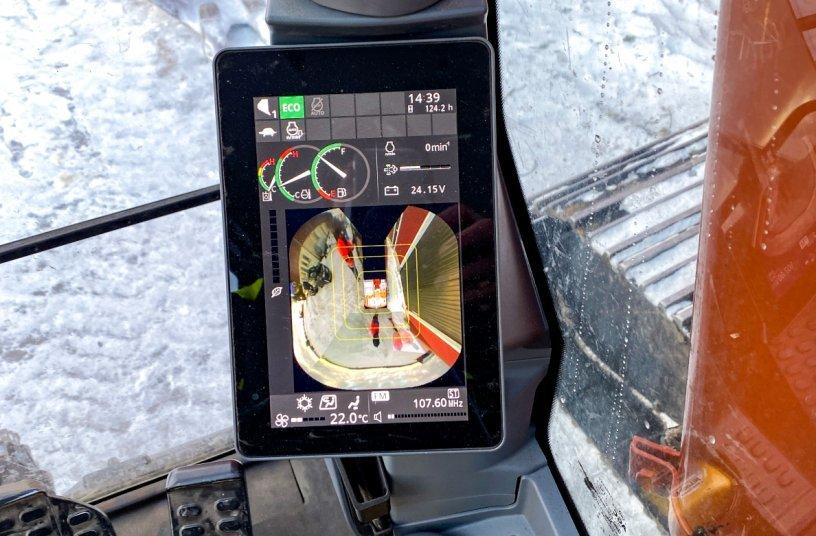 Hitachi excavator - camera
IMAGE SOURCE: Hitachi Construction Machinery (Europe) NV
Le principal avantage pour l'entreprise est que "le Hitachi ZX130LCN-7 est suffisamment agile et puissant pour tous nos besoins", déclare Thomas, mais une autre caractéristique qui l'a impressionné est qu'"il n'y a pas de dispositif SCR [réduction catalytique sélective] dans le ZX130 et les modèles ZX135 du tout. Sans qu'il soit nécessaire de convertir les émissions d'échappement nocives en composés plus sûrs et plus écologiques, les machines Zaxis-7 éliminent les coûts de maintenance ou de remplacement des systèmes SCR et améliorent considérablement la sécurité et la durabilité de ces machines.
Cabine spacieuse et silencieuse
Au cours des deux premiers mois, Börje s'est familiarisé avec les commandes de la ZX130LCN-7. « La machine est tellement bonne que papa s'est chargé de la faire fonctionner », s'amuse Thomas. « J'ai été le premier à prêter attention au silence du taxi lorsqu'il est arrivé avec nous. J'ai conduit l'ancienne machine et sauté directement dans la nouvelle, donc la différence était vraiment claire pour moi », poursuit Thomas.
« La visibilité sur le chantier est toujours excellente grâce à la caméra à angle aérien de 270 degrés et au nouvel affichage haute précision. Les caméras augmentent à la fois la vitesse de travail et la sécurité au travail », conclut Börje.
NJC.© Info Hitachi Construction Machinery (Europe) NV
---------------------------------------------------------------------------------------------------------------------
04/08/22-English
First Hitachi ZX130LCN-7 in Finland impresses with Zaxis-7 updates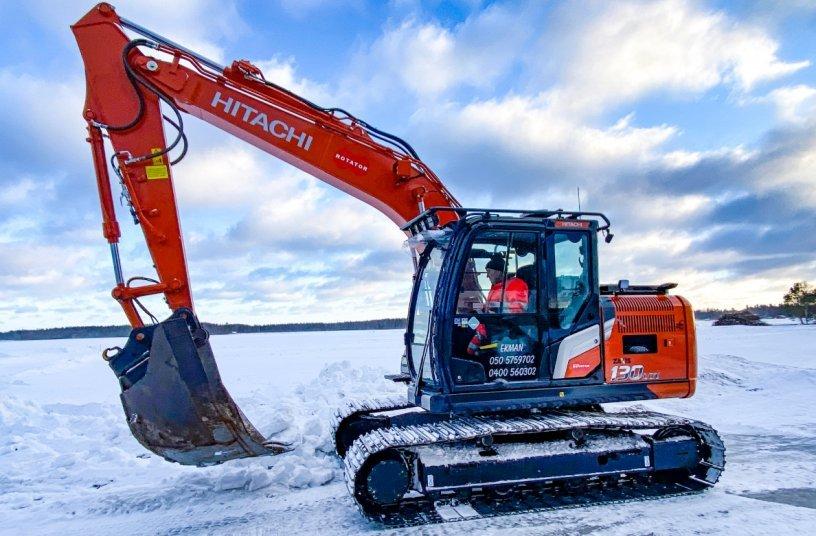 Hitachi excavator
IMAGE SOURCE: Hitachi Construction Machinery (Europe) NV
Finland's first Hitachi Zaxis-7 ZX130LCN-7 medium excavator was delivered to Ekman Ostrobothnia in November by Finnish Hitachi Construction Machinery (Europe) dealer Rotator Oy, and operators have been impressed with the medium excavator's capabilities.
Based in Pirttikylä, near Närpiö in Ostrobothnia, the Ekman family business specialises in agricultural, forestry and civil engineering work. Börje Ekman has been contracting Hitachi construction machinery for more than 40 years, and this latest Zaxis-7 machine was the company's fifth consecutive Hitachi machine.
"Hitachi has impressed us with its reliability and low maintenance costs," says Börje Ekman, the father of the family business. "We had the previous Zaxis-5 machine for seven years and we only had to replace one hose in addition to normal maintenance, so we can talk about a durable machine," say Father Börje and son Thomas together.
Ekman's Hitachi services have long been handled by Finnish Hitachi dealer Rotator Oy's contract service point, Östec Machine in Maalahti. "With them, maintenance has been flawless, you always get service when you need it - even around the clock," praises Thomas Ekman.
The machine does a range of work including "excavation of field ditches, cleaning of forestry border and infrastructure work" says Börje Ekman, "as well as foundations for houses and traditional earthworks for municipalities and private individuals."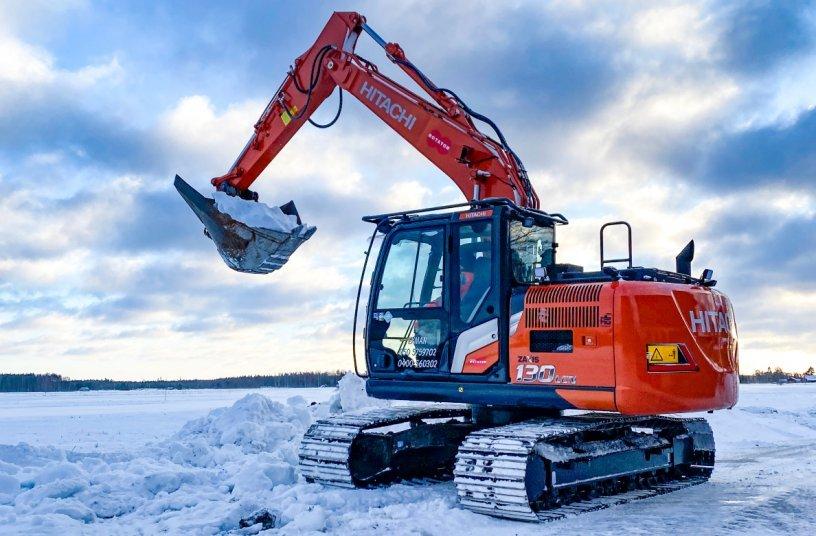 Hitachi excavator
IMAGE SOURCE: Hitachi Construction Machinery (Europe) NV
The key benefit to the company is that "the Hitachi ZX130LCN-7 is agile and powerful enough for all our needs," says Thomas, but another feature that impressed him is that "there is no SCR [selective catalytic reduction] device in the ZX130 and ZX135 models at all." Without the need to convert harmful exhaust emissions into safer, more ecologically friendly compounds, the Zaxis-7 machines eliminate the cost of maintaining or replacing SCR systems and dramatically improve the safety and sustainability of these machines.
Spacious and quiet cab
For the first two months, Börje has been becoming more comfortable with the controls of the ZX130LCN-7. "The machine is so good that Dad has taken it upon himself to operate it," laughs Thomas. "I was the first to pay attention to the silence of the cab when it arrived with us. I drove the old machine and jumped straight into this new one, so the difference was really clear to me," Thomas continues.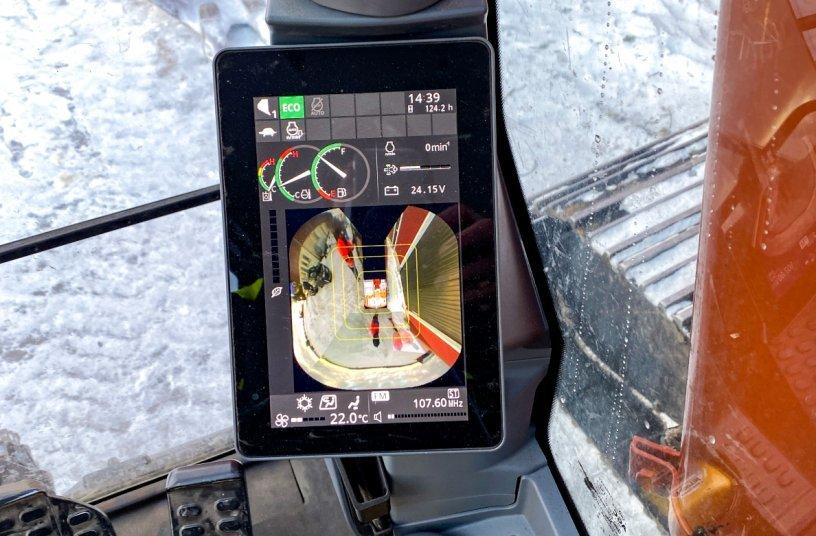 Hitachi excavator - camera
IMAGE SOURCE: Hitachi Construction Machinery (Europe) NV
"Visibility to the job site is always excellent thanks to the 270-degree Aerial Angle camera and new high-precision display. The cameras increase both work speed and occupational safety," Börje concludes.
NJC.© Info Hitachi Construction Machinery (Europe) NV
-----------------------------------------------------------------------------------------------------------------------
04/08/22-NL
Eerste Hitachi ZX130LCN-7 in Finland maakt indruk met Zaxis-7-updates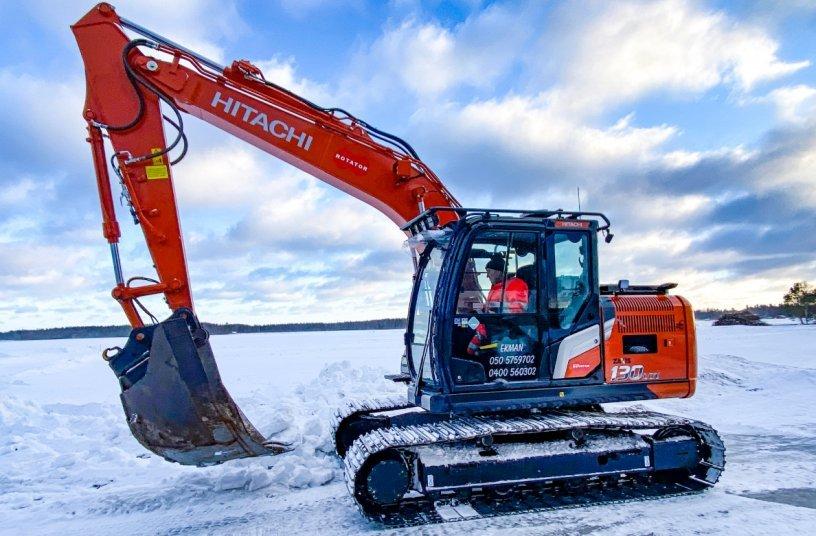 Hitachi excavator
IMAGE SOURCE: Hitachi Construction Machinery (Europe) NV
De eerste Hitachi Zaxis-7 ZX130LCN-7 middelgrote graafmachine in Finland werd in november geleverd aan Ekman Ostrobothnia door de Finse Hitachi Construction Machinery (Europe)-dealer Rotator Oy, en machinisten waren onder de indruk van de capaciteiten van de middelgrote graafmachine.
Het familiebedrijf Ekman, gevestigd in Pirttikylä, in de buurt van Närpiö in Ostrobothnia, is gespecialiseerd in landbouw-, bosbouw- en civieltechnische werkzaamheden. Börje Ekman contracteert al meer dan 40 jaar grondverzetmachines van Hitachi en deze nieuwste Zaxis-7-machine was de vijfde opeenvolgende Hitachi-machine van het bedrijf.
"Hitachi heeft indruk op ons gemaakt met zijn betrouwbaarheid en lage onderhoudskosten", zegt Börje Ekman, de vader van het familiebedrijf. "We hadden de vorige Zaxis-5-machine zeven jaar en we hoefden naast het normale onderhoud maar één slang te vervangen, dus we kunnen spreken van een duurzame machine", zeggen vader Börje en zoon Thomas samen.
De Hitachi-services van Ekman worden al lang verzorgd door het contractservicepunt van de Finse Hitachi-dealer Rotator Oy, Östec Machine in Maalahti. "Bij hen is het onderhoud vlekkeloos verlopen, je krijgt altijd service wanneer je het nodig hebt - zelfs de klok rond", prijst Thomas Ekman.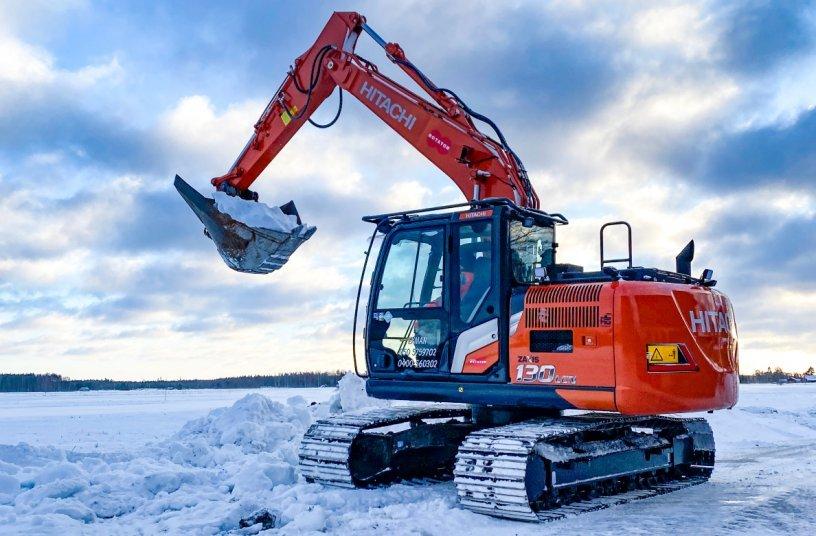 Hitachi excavator
IMAGE SOURCE: Hitachi Construction Machinery (Europe) NV
De machine doet een scala aan werkzaamheden, waaronder "uitgraven van veldsloten, schoonmaken van bosranden en infrastructuurwerken", zegt Börje Ekman, "evenals funderingen voor huizen en traditionele grondwerken voor gemeenten en particulieren."
Het belangrijkste voordeel voor het bedrijf is dat "de Hitachi ZX130LCN-7 wendbaar en krachtig genoeg is voor al onze behoeften", zegt Thomas, maar een ander kenmerk dat indruk op hem maakte, is dat "er geen SCR-apparaat [selectieve katalytische reductie] in de ZX130 is en ZX135-modellen helemaal niet." Zonder de noodzaak om schadelijke uitlaatemissies om te zetten in veiligere, milieuvriendelijkere verbindingen, elimineren de Zaxis-7-machines de kosten van onderhoud of vervanging van SCR-systemen en verbeteren ze de veiligheid en duurzaamheid van deze machines aanzienlijk.
Ruime en stille cabine
De eerste twee maanden is Börje steeds comfortabeler geworden met de bedieningselementen van de ZX130LCN-7. "De machine is zo goed dat papa het op zich heeft genomen om hem te bedienen", lacht Thomas. "Ik was de eerste die op de stilte van de taxi lette toen deze bij ons aankwam. Ik reed met de oude machine en sprong meteen in deze nieuwe, dus het verschil was voor mij echt duidelijk", vervolgt Thomas.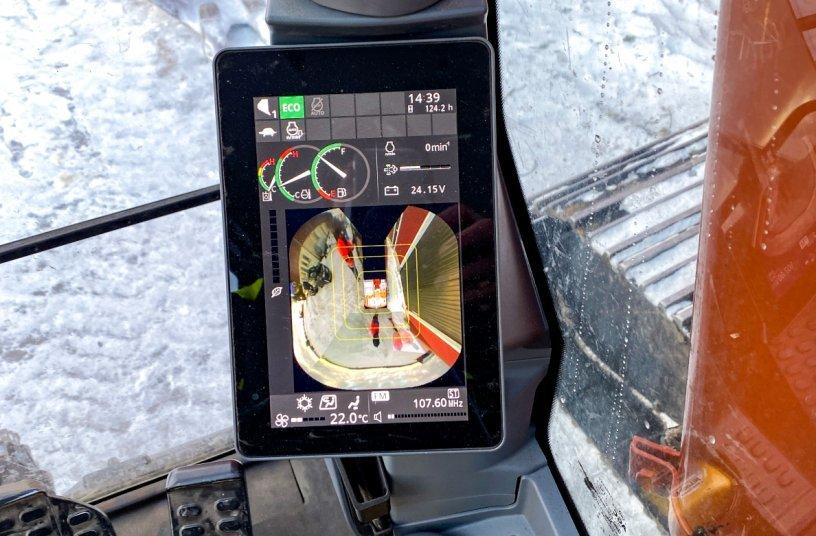 Hitachi excavator - camera
IMAGE SOURCE: Hitachi Construction Machinery (Europe) NV
"Het zicht op de bouwplaats is altijd uitstekend dankzij de 270-graden antennehoekcamera en het nieuwe, uiterst nauwkeurige display. De camera's verhogen zowel de werksnelheid als de arbeidsveiligheid", besluit Börje.
NJC.© Info Hitachi Construction Machinery (Europe) NV
---------------------------------------------------------------------------------------------------------------------
Date de dernière mise à jour : 04/08/2022