Galaxy MFS 101 SDS: Yokohama Off-Highway Tires (YOHT) präsentiert eine neue Generation von Vollgummireifen

03/02/23-FR-English-NL-footer
Galaxy MFS 101 SDS : Yokohama Off-Highway Tires (YOHT) présente une nouvelle génération de pneus en caoutchouc plein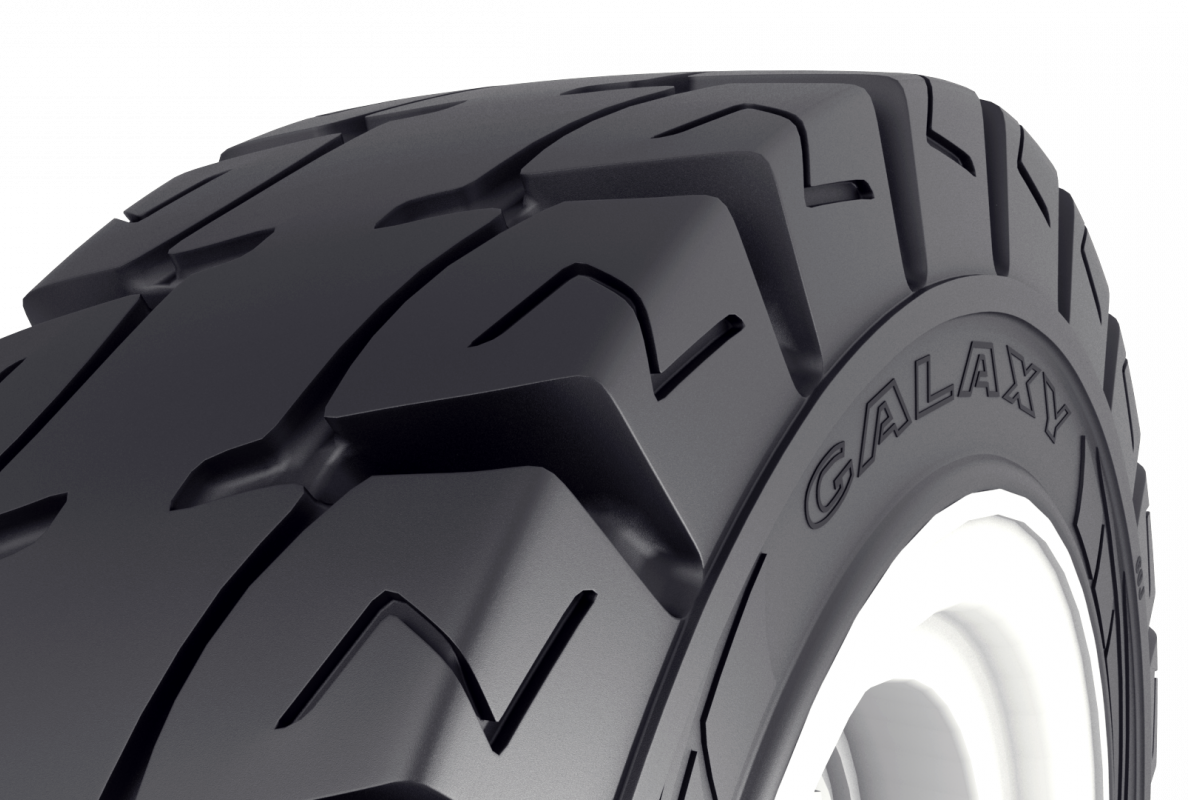 Galaxy MFS 101 SDS IMAGE SOURCE: Yokohama Off-Highway Tires
Nouveau pneu en caoutchouc plein hautes performances pour les applications de chariots élévateurs exigeantes / Réduction des vibrations, amortissement amélioré, stabilité élevée - idéal pour une utilisation en intérieur et en extérieur / Pour chariots élévateurs électriques et diesel en fonctionnement en 3 équipes / Construction en 3 étapes pour un confort durable, une résistance élevée à l'usure , Maniabilité améliorée et longue durée de vie / Garantie 5 ans /
Les chariots élévateurs sont indispensables pour la manutention et tous les types de travaux de levage et de convoyage industriels. Par conséquent, les pneus de ces machines méritent également une attention particulière. Avec le nouveau Galaxy MFS 101 SDS, Yokohama Off-Highway Tires présente un nouveau pneu en caoutchouc plein qui a été développé pour les travaux industriels et d'entrepôt les plus exigeants. Le Galaxy MFS 101 SDS a été spécialement conçu pour les exigences modernes d'une utilisation intérieure et extérieure. C'est le choix idéal pour les chariots élévateurs électriques et diesel qui, en plus d'un confort de conduite élevé, doivent également avoir une longue durée de vie.
La conception moderne et innovante du Galaxy MFS 101 SDS, complétée par une structure à 3 étages, garantit un minimum de vibrations et une faible accumulation de chaleur avec un meilleur amorti, maniabilité et stabilité. Cela garantit un fonctionnement en douceur sur une grande variété de surfaces pavées, asphaltées et en béton. De plus, la profondeur de sculpture plus élevée et la ligne 60J assurent une durée de vie plus longue des pneus, qui sont garantis 5 ans.
L'excellente performance est basée sur divers facteurs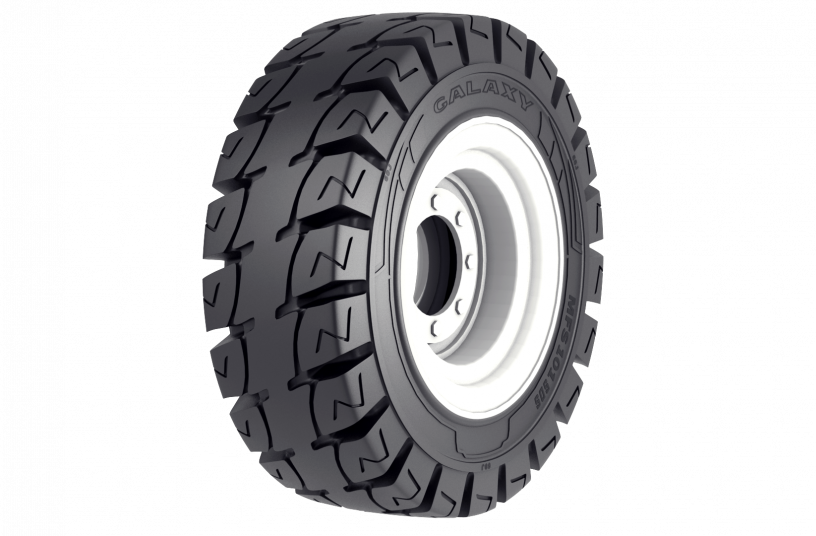 Galaxy MFS 101 SDS IMAGE SOURCE: Yokohama Off-Highway Tires
Le Galaxy MFS 101 SDS a été développé pour une utilisation intensive en 3 équipes et est de haute qualité et a une structure à 3 étages. Cela comprend un composé de caoutchouc sélectionné avec des composants résistants à l'usure et aux coupures. La couche externe donne au pneu une durée de vie optimale. La couche d'amorti intermédiaire aide à minimiser les vibrations, offrant un confort pour le cycliste. La couche inférieure assure une stabilité maximale et permet un transfert de charge efficace sur les jantes du chariot élévateur. Les talons en acier antidérapants assurent un meilleur ajustement et empêchent les pneus de glisser sur la jante.
Le profil se caractérise par une conception innovante avec une patte centrale continue et des pattes d'épaulement optimisées. Cela permet de faibles vibrations et un grand confort pour les conducteurs, même pendant de longues journées de travail. Les rainures circonférentielles assurent une meilleure capacité de direction, tandis que les longues rainures de la bande de roulement assurent une meilleure traction.
Le profil large et bas du Galaxy MFS 101 SDS et l'interaction des couches internes assurent une bonne répartition de la charge, une usure uniforme tout au long de la durée de vie et une stabilité idéale et élevée requise pour les travaux de levage critiques et les virages.
Galaxy MFS 101 FDS
Les pneus Galaxy MFS 101 SDS offrent des performances optimales en matière de confort de conduite, de stabilité, de durabilité et de traction. Ils sont disponibles avec Quick Heel (QH) et Standard Heel (SH) et couvrent presque tous les besoins avec différentes combinaisons de jantes. Alors que 31 SKU dans 18 tailles de ce nouveau pneu sont déjà disponibles en versions QH et/ou SH, 11 autres tailles sont actuellement en développement ; ils devraient être lancés au troisième trimestre de 2023.
NJC.© Infos Yokohama
--------------------------------------------------------------------------------------------------------------

03/02/23-English
Galaxy MFS 101 SDS: Yokohama Off-Highway Tires (YOHT) presents a new generation of solid rubber tires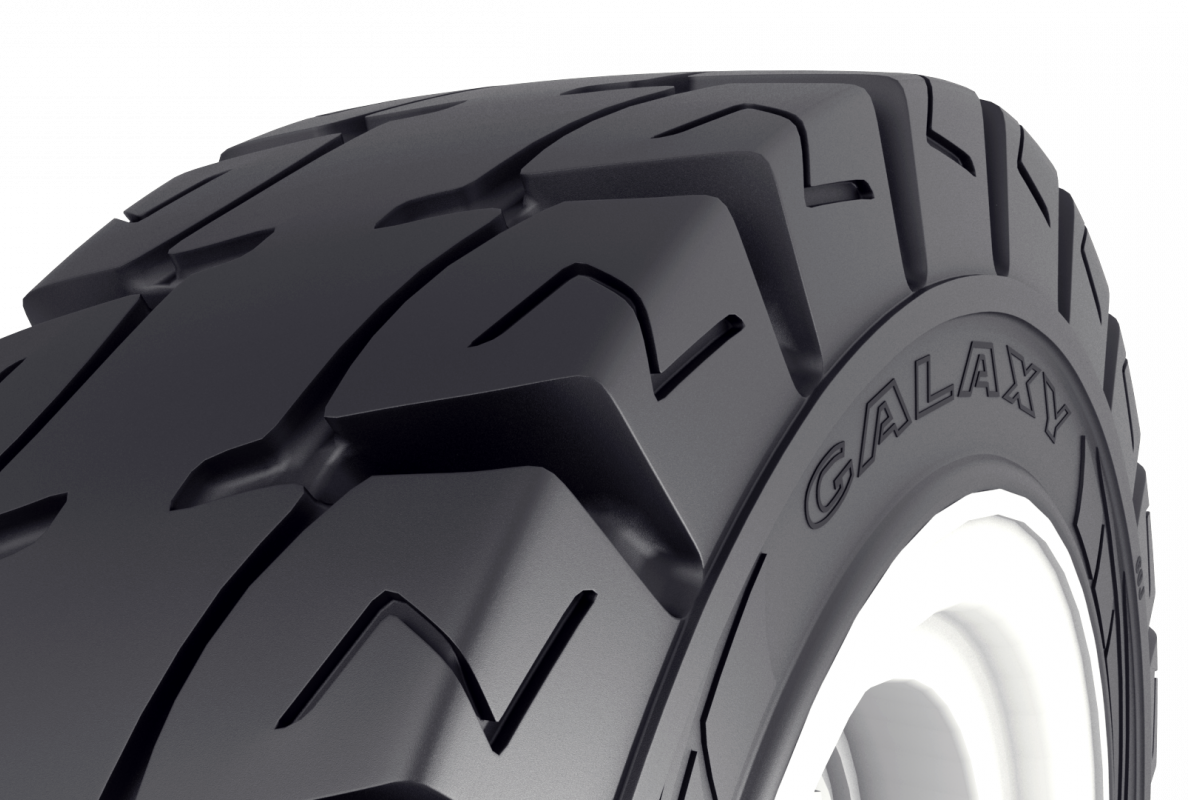 Galaxy MFS 101 SDS IMAGE SOURCE: Yokohama Off-Highway Tires
New high-performance solid rubber tire for demanding forklift applications / Lower vibration, improved damping, high stability - ideal for indoor and outdoor use / For electric and diesel forklifts in 3-shift operation / 3-stage construction for lasting comfort, high wear resistance, improved Maneuverability and long life / 5 year guarantee /
Forklifts are essential for material handling and all types of industrial lifting and conveying work. Therefore, the tires on these machines also deserve special attention. With the new Galaxy MFS 101 SDS, Yokohama Off-Highway Tires introduces a new solid rubber tire that was developed for the most demanding industrial and warehouse work. The Galaxy MFS 101 SDS was specially designed for the modern requirements of indoor and outdoor use. It is the ideal choice for electric and diesel forklift trucks, which, in addition to high driving comfort, are also expected to have a long service life.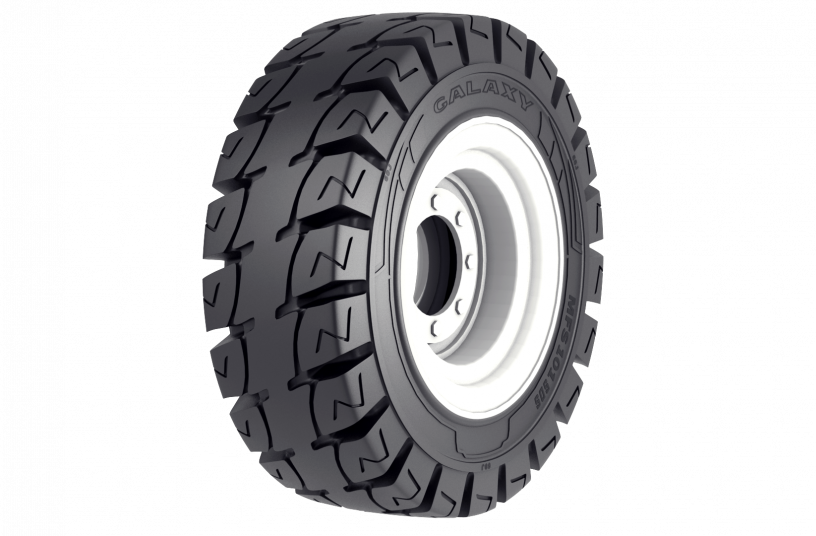 Galaxy MFS 101 SDS IMAGE SOURCE: Yokohama Off-Highway Tires
The modern and innovative design of the Galaxy MFS 101 SDS, complemented by a 3-stage structure, ensures minimal vibration and low heat build-up with better cushioning, maneuverability and stability. This ensures smooth operation on a wide variety of paved, asphalt and concrete surfaces. In addition, the higher tread depth and the 60J line ensure a longer service life for the tyres, which come with a 5-year guarantee.
The excellent performance is based on various factors
The Galaxy MFS 101 SDS was developed for intensive use in 3-shift operation and is of high quality and has a 3-stage structure. This includes a selected rubber compound with wear and cut-resistant components. The outer layer gives the tire an optimal service life. The middle cushioning layer helps to minimize vibrations, providing comfort for the rider. The bottom layer ensures maximum stability and allows efficient load transfer to the forklift rims. The anti-slip steel beads ensure a better fit and prevent the tires from slipping on the rim.
The profile is characterized by an innovative design with a continuous central lug and optimized shoulder lugs. This enables low vibrations and high comfort for drivers even over long working days. The circumferential grooves ensure improved steering ability, while the long tread grooves ensure better traction.
The wide, low profile of the Galaxy MFS 101 SDS and the interaction of the inner layers ensure good load distribution, even wear throughout the service life and ideal, high stability required for critical lifting work and cornering.
Galaxy MFS 101 SDS
The Galaxy MFS 101 SDS tires offer top performance in driving comfort, stability, durability and traction. They are available with both Quick Heel (QH) and Standard Heel (SH) and cover almost every need with different rim combinations. While 31 SKUs in 18 sizes of this new tire are already available in QH and/or SH versions, a further 11 sizes are currently in development; they are expected to be launched in the third quarter of 2023.
NJC.© Info Yokohama
-----------------------------------------------------------------------------------------------------------------

03/02/23-NL
Galaxy MFS 101 SDS: Yokohama Off-Highway Tyres (YOHT) presenteert een nieuwe generatie massief rubberen banden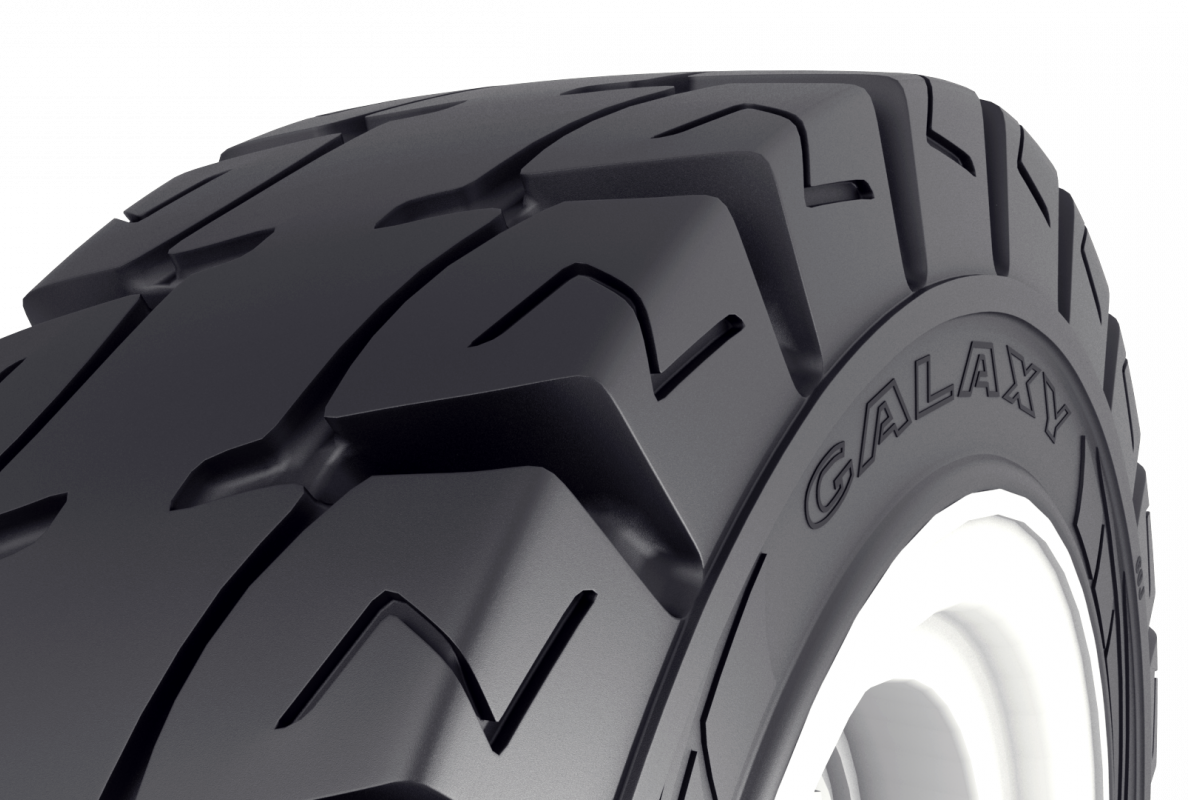 Galaxy MFS 101 SDS IMAGE SOURCE: Yokohama Off-Highway Tires
Nieuwe hoogwaardige massief rubberen band voor veeleisende vorkheftrucktoepassingen / Minder trillingen, verbeterde demping, hoge stabiliteit - ideaal voor gebruik binnen en buiten / Voor elektrische en dieselvorkheftrucks in 3-ploegendienst / 3-traps constructie voor langdurig comfort, hoge slijtvastheid , verbeterde wendbaarheid en lange levensduur / 5 jaar garantie /
Vorkheftrucks zijn essentieel voor materiaaloverslag en alle soorten industriële hef- en transportwerkzaamheden. Daarom verdienen ook de banden op deze machines speciale aandacht. Met de nieuwe Galaxy MFS 101 SDS introduceert Yokohama Off-Highway Tyres een nieuwe massief rubberen band die is ontwikkeld voor het meest veeleisende industriële en magazijnwerk. De Galaxy MFS 101 SDS is speciaal ontworpen voor de moderne eisen van binnen- en buitengebruik. Het is de ideale keuze voor elektrische en dieselvorkheftrucks, die naast een hoog rijcomfort ook een lange levensduur moeten hebben.
Het moderne en innovatieve ontwerp van de Galaxy MFS 101 SDS, aangevuld met een 3-traps structuur, zorgt voor minimale trillingen en lage warmteontwikkeling met betere demping, wendbaarheid en stabiliteit. Dit zorgt voor een soepele werking op een grote verscheidenheid aan verharde, asfalt- en betonnen ondergronden. Daarnaast zorgen de hogere profieldiepte en de 60J-lijn voor een langere levensduur van de banden, waarop 5 jaar garantie zit.
De uitstekende prestaties zijn gebaseerd op verschillende factoren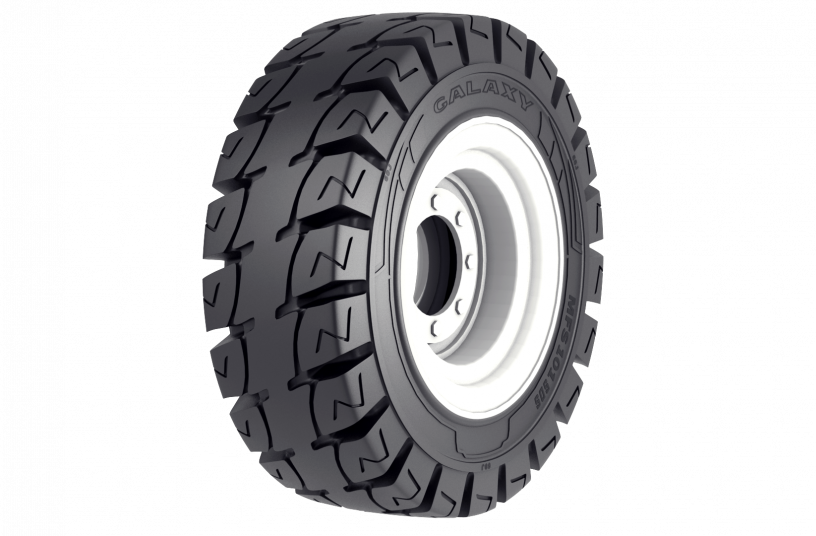 Galaxy MFS 101 SDS IMAGE SOURCE: Yokohama Off-Highway Tires
De Galaxy MFS 101 SDS is ontwikkeld voor intensief gebruik in 3-ploegendienst en is van hoge kwaliteit en heeft een 3-traps opbouw. Dit omvat een geselecteerde rubbersamenstelling met slijtvaste en snijbestendige componenten. De buitenste laag geeft de band een optimale levensduur. De middelste dempingslaag helpt trillingen te minimaliseren en biedt comfort voor de rijder. De onderste laag zorgt voor maximale stabiliteit en maakt een efficiënte lastoverdracht naar de vorkheftruckvelgen mogelijk. De antislip stalen hielen zorgen voor een betere pasvorm en voorkomen dat de banden over de velg glijden.
Het profiel wordt gekenmerkt door een innovatief design met een doorlopende centrale nok en geoptimaliseerde schoudernokken. Dit zorgt voor lage trillingen en een hoog comfort voor chauffeurs, zelfs tijdens lange werkdagen. De groeven in de omtrek zorgen voor een beter stuurvermogen, terwijl de lange groeven in het loopvlak zorgen voor een betere tractie.
Het brede, lage profiel van de Galaxy MFS 101 SDS en de interactie van de binnenste lagen zorgen voor een goede verdeling van de last, gelijkmatige slijtage gedurende de levensduur en de ideale, hoge stabiliteit die vereist is voor kritieke hefwerkzaamheden en het nemen van bochten.
Galaxy MFS 101 SDS
De Galaxy MFS 101 SDS-banden bieden topprestaties op het gebied van rijcomfort, stabiliteit, duurzaamheid en tractie. Ze zijn verkrijgbaar met zowel Quick Heel (QH) als Standard Heel (SH) en voorzien in bijna elke behoefte met verschillende velgcombinaties. Terwijl 31 SKU's in 18 maten van deze nieuwe band al beschikbaar zijn in QH- en/of SH-versies, zijn er momenteel nog 11 maten in ontwikkeling; ze zullen naar verwachting in het derde kwartaal van 2023 worden gelanceerd.
NJC.© Info Yokohama
---------------------------------------------------------------------------------------------------------------