Genie Introduces GTH-1256 Telehandler
11/01/23-FR-English-NL-footer
Genie présente le chargeur télescopique GTH-1256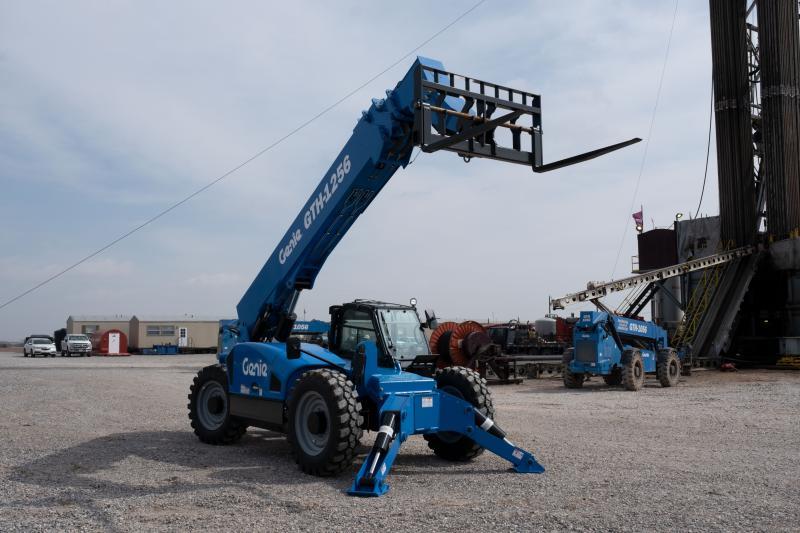 Image- The GTH-1256 delivers more capacity at maximum lift height than any other telehandler in its class, according to the manufacturer. That's 6,000 lb. (2.721 kg) at a max height of 56 ft. 3 in. (17.15 m) and 3,500 lb. (1,588 kg) at max outreach of 42 ft. (12.8 m).
Le nouveau chariot télescopique Genie GTH-1256 s'appuie sur la conception robuste des chariots télescopiques Genie 6K, 8K et 10K, élargissant ainsi la famille des chariots télescopiques Genie.
Le nouveau chargeur télescopique d'une capacité de 12 000 lb est spécialement conçu pour améliorer la durabilité, réduire le coût total de possession et fournir une productivité maximale sur le chantier. Axé sur la simplification de la propriété et de l'entretien de la flotte, le nouveau GTH-1256 partage de nombreuses fonctionnalités et pièces avec l'autre gamme de produits GTH.
Genie présentera son nouveau chariot télescopique GTH-1256 du 13 au 15 février 2023 sur le stand Genie (#4247) au salon ARA.
Un tableau de charge à la pointe de l'industrie signifie que le GTH-1256 offre plus de capacité à la hauteur de levage maximale que tout autre chariot télescopique de sa catégorie, selon le fabricant. Cela représente 6 000 lb (2,721 kg) à une hauteur maximale de 56 pi 3 po (17,15 m) et 3 500 lb (1 588 kg) à une portée maximale de 42 pi (12,8 m).
Propulsé par un moteur Deutz de 120 ch monté sur le côté avec une transmission Powershift à quatre vitesses, le GTH-1256 offre 15 % d'efficacité en plus dans le transfert de puissance pour les activités de prélèvement et de placement. Les nouveaux différentiels à glissement limité sur les deux essieux et les 4 roues motrices permanentes fournissent le couple et la traction nécessaires pour n'importe quel chantier, tandis que les lignes à simple réduction, planétaires, spécialisées et à boîte-pont offrent la fiabilité, la puissance et les performances pour les terrains accidentés.
Les pneus Enduro A/T exclusifs à longue durée de vie de Genie sont de série. Ces pneus hybrides tout-terrain combinent les meilleures caractéristiques des pneus à crampons et des pneus tout-terrain conventionnels. Une large barre centrale offre une meilleure usure sur les surfaces dures et les pattes extérieures autonettoyantes traversent les sols mous et boueux sans se boucher.
Les pneus Enduro A / T offrent également une usure plus longue d'un tiers avant qu'un remplacement ne soit nécessaire, ce qui réduit les coûts de possession, selon Genie.
Une nouvelle conception de cabine offre une visibilité améliorée des quatre pneus, un 7-in. écran, caméra de recul, alarme de proximité arrière et système de climatisation complet.
« Il s'agit d'un chariot télescopique de grande capacité conçu, construit et largement testé pour les réalités des travaux lourds », a déclaré Amalija Kopac, chef de produit senior chez Genie.
"Lorsque nous avons conçu et testé cette machine, nous avons donné la priorité à la durabilité et à la fiabilité, ainsi qu'à un coût total de possession et à une productivité réduits, en veillant à ce que notre chariot télescopique 12k offre les performances et la longévité requises par les opérateurs et les propriétaires d'équipement - maintenant et bien dans le C'est la prochaine étape alors que Genie développe et élargit sa famille de chariots télescopiques, et nous sommes ravis de vous présenter le nouveau GTH-1256.
Le système Genie Quick Attach permet d'échanger facilement et rapidement les accessoires, et le GTH-1256 partage les accessoires avec le chariot télescopique GTH-1056 10k de Genie, y compris trois tailles de chariot (48, 60 et 72 pouces), un chariot rotatif et un chariot pivotant. . Cette facilité d'utilisation et la communité des accessoires offrent aux propriétaires de flotte la possibilité d'augmenter la polyvalence de leur flotte de manière rentable, contribuant à réduire les coûts et à améliorer le retour sur investissement.
NJC.© info www.genielift.com.
----------------------------------------------------------------------------------------------------------------------
11/01/23-English
Genie Introduces GTH-1256 Telehandler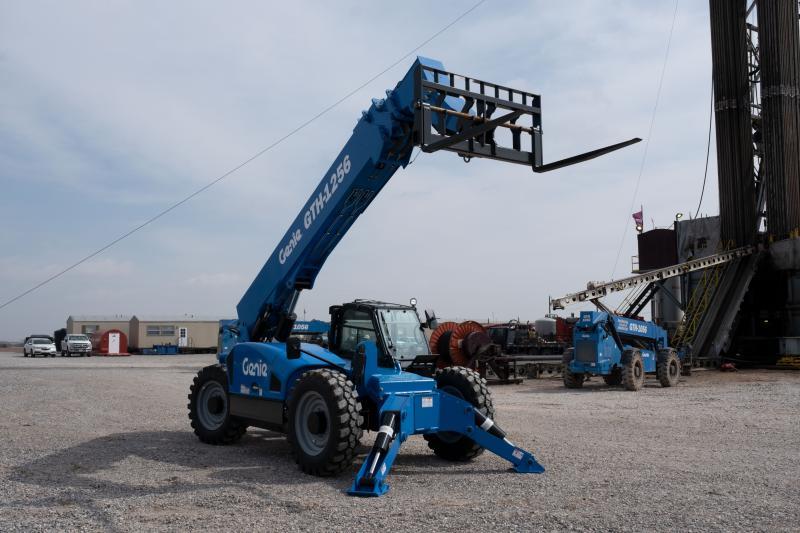 Image- The GTH-1256 delivers more capacity at maximum lift height than any other telehandler in its class, according to the manufacturer. That's 6,000 lb. (2.721 kg) at a max height of 56 ft. 3 in. (17.15 m) and 3,500 lb. (1,588 kg) at max outreach of 42 ft. (12.8 m).
The new Genie GTH-1256 telescopic handler builds on the robust design of the Genie 6K, 8K and 10K telehandlers, expanding Genie's telehandler family.
The new 12,000 lb. capacity telehandler is purposefully designed to improve durability, lower total cost of ownership and provide maximum productivity on the job site. Focused on simplifying fleet ownership and maintenance, the new GTH-1256 shares many features and parts across the other GTH product line.
Genie will debut its new GTH-1256 telehandler Feb. 13 to 15, 2023, in the Genie booth (#4247) at The ARA Show.
An industry-leading load chart means the GTH-1256 delivers more capacity at maximum lift height than any other telehandler in its class, according to the manufacturer. That's 6,000 lb. (2.721 kg) at a max height of 56 ft. 3 in. (17.15 m) and 3,500 lb. (1,588 kg) at max outreach of 42 ft. (12.8 m).
Powered by a side-mounted 120 hp Deutz engine with four-speed powershift transmission, the GTH-1256 delivers 15 percent more efficiency in power transfer for picking and placing activities. New limited slip differentials on both axles and full-time 4-wheel drive provide the torque and traction needed for any job site, while single-reduction, planetary, specialty and transaxle lines deliver the reliability, power and performance for rough terrain.
Genie's proprietary, long-life Enduro A/T tires are standard. These hybrid, all-terrain tires combine the best characteristics of rock lug tires and conventional rough terrain tires. A wide center bar delivers better wear on hard surfaces and self-cleaning outer lugs power through soft, muddy ground without becoming clogged.
Enduro A/T tires also provide one-third longer wear before replacement is needed, reducing ownership costs, according to Genie.
A new cab design features enhanced visibility of all four tires, a 7-in. display, reverse back up camera, rear proximity alarm and full A/C system.
"This is a high-capacity telehandler designed, built and extensively tested for the realities of heavy-duty jobs," said Genie Senior Product Manager Amalija Kopac.
"When we were designing and testing this machine, we prioritized durability and reliability, along with a reduced total cost of ownership and productivity, ensuring our 12k telehandler will deliver the performance and longevity needed by equipment operators and owners — now, and well into the future. This is the next step as Genie develops and expands our telehandler family, and we're excited to introduce you to the new GTH-1256."
The Genie Quick Attach system makes it easy and fast to swap attachments, and the GTH-1256 shares attachments with Genie's GTH-1056 10k telehandler, including three carriage sizes (48, 60 and 72 in.), a rotating carriage and a swing carriage. This ease-of-use and commonality of attachments gives fleet owners an opportunity to increase the versatility of their fleet in a cost-effective manner, contributing to lower costs and a better rROIC
NJC.© info www.genielift.com.
------------------------------------------------------------------------------------------------------------------
11/01/23-NL
Genie introduceert GTH-1256 verreiker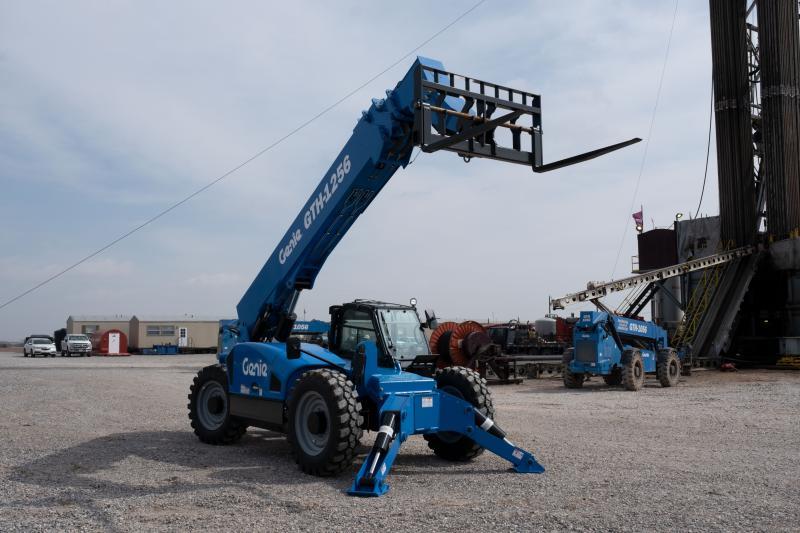 Image- The GTH-1256 delivers more capacity at maximum lift height than any other telehandler in its class, according to the manufacturer. That's 6,000 lb. (2.721 kg) at a max height of 56 ft. 3 in. (17.15 m) and 3,500 lb. (1,588 kg) at max outreach of 42 ft. (12.8 m).
De nieuwe Genie GTH-1256 verreiker bouwt voort op het robuuste ontwerp van de Genie 6K, 8K en 10K verreikers en breidt Genie's verreikerfamilie uit.
De nieuwe verreiker met een capaciteit van 12.000 lb. is speciaal ontworpen om de duurzaamheid te verbeteren, de totale eigendomskosten te verlagen en maximale productiviteit op het werkterrein te bieden. De nieuwe GTH-1256 is gericht op het vereenvoudigen van eigendom en onderhoud van het wagenpark en heeft veel functies en onderdelen gemeen met de andere GTH-productlijn.
Genie zal zijn nieuwe GTH-1256 verreiker debuteren van 13 tot 15 februari 2023 in de Genie-stand (#4247) op The ARA Show.
Volgens de fabrikant levert de GTH-1256 volgens een toonaangevend lastdiagram meer capaciteit bij maximale hefhoogte dan enige andere verreiker in zijn klasse. Dat is 6.000 lb. (2.721 kg) bij een maximale hoogte van 56 ft. 3 in. (17,15 m) en 3.500 lb. (1.588 kg) bij een maximale reikwijdte van 42 ft. (12,8 m).
Aangedreven door een aan de zijkant gemonteerde Deutz-motor van 120 pk met powershift-transmissie met vier versnellingen, levert de GTH-1256 15 procent meer efficiëntie in de krachtoverbrenging voor verzamel- en plaatsingsactiviteiten. Nieuwe differentiëlen met beperkte slip op beide assen en permanente vierwielaandrijving zorgen voor het koppel en de tractie die nodig zijn voor elke werklocatie, terwijl enkele reductie-, planetaire, speciale en transaxle-lijnen de betrouwbaarheid, het vermogen en de prestaties voor ruw terrein leveren.
Genie's gepatenteerde Enduro A/T-banden met een lange levensduur zijn standaard. Deze hybride all-terrain banden combineren de beste eigenschappen van rock lug banden en conventionele ruw terrein banden. Een brede middenbalk zorgt voor betere slijtage op harde oppervlakken en zelfreinigende buitenste nokken werken door zachte, modderige grond zonder verstopt te raken.
Enduro A / T-banden zorgen ook voor een derde langere slijtage voordat vervanging nodig is, waardoor de eigendomskosten worden verlaagd, aldus Genie.
Een nieuw ontwerp van de cabine zorgt voor beter zicht op alle vier de banden, een 7-in. display, achteruitrijcamera, naderingsalarm achteraan en volledig airconditioningsysteem.
"Dit is een verreiker met hoge capaciteit die is ontworpen, gebouwd en uitgebreid getest voor de realiteit van zware taken", aldus Genie Senior Product Manager Amalija Kopac.
"Toen we deze machine aan het ontwerpen en testen waren, gaven we prioriteit aan duurzaamheid en betrouwbaarheid, samen met lagere totale eigendomskosten en productiviteit, om ervoor te zorgen dat onze 12k verreiker de prestaties en levensduur levert die machinisten en eigenaren nodig hebben - nu, en tot ver in de toekomst. Dit is de volgende stap nu Genie onze verreikerfamilie ontwikkelt en uitbreidt, en we zijn verheugd u kennis te laten maken met de nieuwe GTH-1256."
Het Genie Quick Attach-systeem maakt het gemakkelijk en snel om aanbouwdelen te verwisselen, en de GTH-1256 deelt aanbouwdelen met Genie's GTH-1056 10k verreiker, inclusief drie vorkenbordmaten (48, 60 en 72 inch), een roterende wagen en een zwenkwagen . Dit gebruiksgemak en de gemeenschappelijkheid van uitrustingsstukken geeft wagenparkeigenaren de mogelijkheid om de veelzijdigheid van hun wagenpark op een kosteneffectieve manier te vergroten, wat bijdraagt aan lagere kosten en een betere RROIC
NJC.© info www.genielift.com.
-----------------------------------------------------------------------------------------------------------------