GOMACO Introduces GP460 Slipform Paver

23/03/23-FR-English-NL-footer
GOMACO présente la machine à coffrage glissant GP460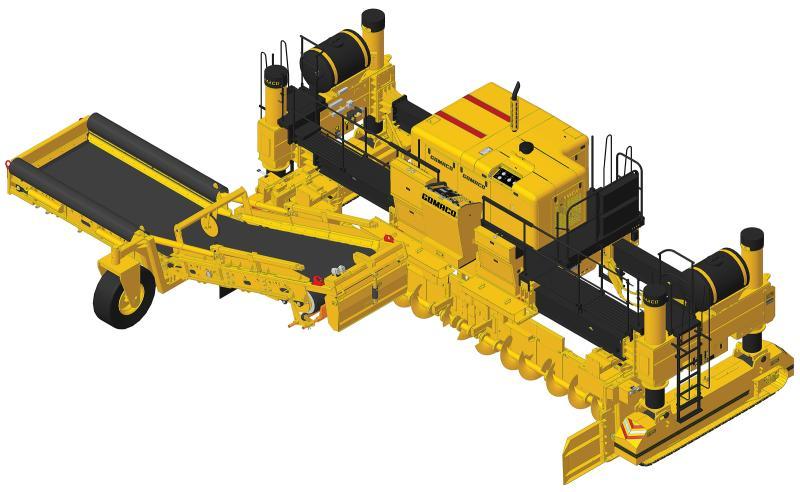 Image- The new GOMACO GP460 is an up to 50 ft. wide placer/spreader and up to a 40 ft. wide slipform paver.
GOMACO s'appuie sur le succès du GP360, une machine à coffrages glissants combinés et un placer/épandeur sur deux voies avec l'introduction du GP460 pour les opérations de plus grande largeur.
En tant que placer/épandeur avec une courroie de 60 pouces, le GP460 s'adaptera à des largeurs allant jusqu'à 50 pieds de large. En tant que finisseur de béton à coffrage glissant, le GP460 pave des largeurs allant jusqu'à 40 pieds de large.
Il est construit sur le cadre du finisseur à coffrage glissant GP4 à deux voies GOMACO avec la possibilité de convertir le moteur principal en un placeur/épandeur de béton. Le moteur principal est équipé de circuits de vibration pour le pavage et de circuits d'entraînement de tarière pour la mise en place.
Le contrôle de la nouvelle technologie est rendu possible grâce au système de contrôle numérique G+ exclusif à GOMACO. G+ gère de manière transparente la conversion des commandes nécessaires pour chaque application tout en intégrant la communication machine à machine (M2M), les capteurs soniques, le guidage machine 3D et bien plus encore.
Le GOMACO GP460 est propulsé par un moteur diesel turbocompressé Caterpillar C7.1 pour entraîner efficacement la bande transporteuse et distribuer le béton sur toute la pente. La bande transporteuse à grand volume de 60 po peut être montée sur le côté gauche ou droit, selon les conditions du chantier et l'emplacement de la route de transport. Il a une vitesse de décharge allant jusqu'à 492,5 pieds par minute pour un placement rapide et efficace du béton.
Un déflecteur de matériau contrôlable dirige le flux de béton à l'extrémité de décharge du convoyeur pour une mise en place précise. Un système de vis sans fin à double entraînement déplace le matériau vers le centre ou les zones extérieures et à travers la butée.
Le GP460 est disponible avec un système de capteur sonique en option pour surveiller la profondeur du béton lors de sa mise en place. Les informations des capteurs soniques sont utilisées par le système de contrôle G+ sur le finisseur à l'aide de la communication M2M pour fournir une tête de béton optimale et constante devant le finisseur.
La machine à coffrage glissant placer/épandeur GP460 a fait ses débuts mondiaux à ConExpo-Con/AGG 2023.
NJC.© Info www.gomaco.com.
-------------------------------------------------------------------------------------------------------------------

23/03/23-English
GOMACO Introduces GP460 Slipform Paver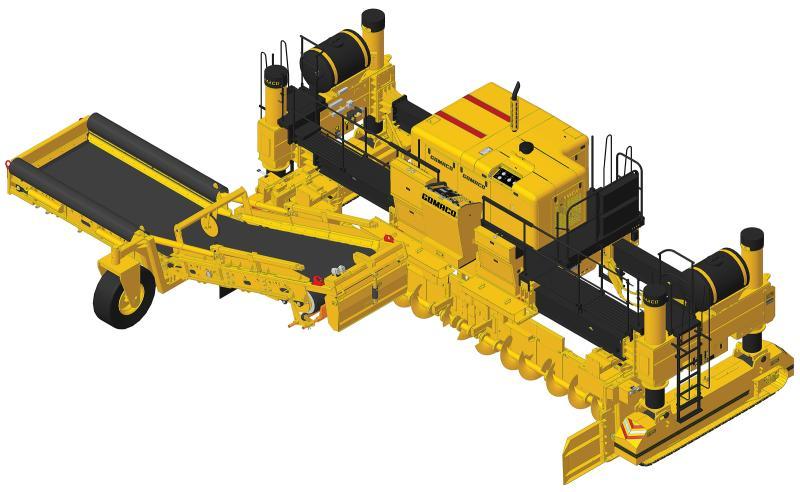 Image- The new GOMACO GP460 is an up to 50 ft. wide placer/spreader and up to a 40 ft. wide slipform paver.
GOMACO is building on the success of the GP360, a combination concrete slipform paver and placer/spreader on two tracks with the introduction of the GP460 for wider width operations.
As a placer/spreader with a 60 in. belt, the GP460 will accommodate widths up to 50 ft. wide. As a concrete slipform paver, the GP460 will pave widths up to 40 ft. wide.
It's built on the framework of the GOMACO two-track GP4 slipform paver with the ability to convert the prime mover into a concrete placer/spreader. The prime mover is equipped with vibrator circuits for paving and auger drive circuits for placing.
Controlling the new technology is made possible with the GOMACO-exclusive G+ digital control system. G+ seamlessly handles the controls conversion needed for each application while also bringing onboard Machine to Machine (M2M) communication, sonic sensors, 3D machine guidance and more.
The GOMACO GP460 is powered by a Caterpillar C7.1 turbocharged diesel engine to efficiently drive the conveyor belt and distribute concrete across the grade. The high-volume, 60 in. conveyor belt can be mounted on either the left or right side, depending on job-site conditions and the location of the haul road. It has a discharge speed of up to 492.5 ft. per minute for fast and efficient concrete placement.
A controllable material deflector directs the flow of concrete at the discharge end of the conveyor for placement accuracy. A dual-drive auger system moves the material to the center or outer areas and across the strike-off.
The GP460 is available with an optional sonic sensor system to monitor the concrete depth as it is placed. Information from the sonic sensors is utilized by the G+ control system on the paver using M2M communication to provide an optimum and consistent head of concrete in front of the paver.
The GP460 placer/spreader slipform paver made its world debut at ConExpo-Con/AGG 2023.
NJC.© Info www.gomaco.com.
-----------------------------------------------------------------------------------------------------------------

23/03/23-NL
GOMACO introduceert GP460 Slipform Paver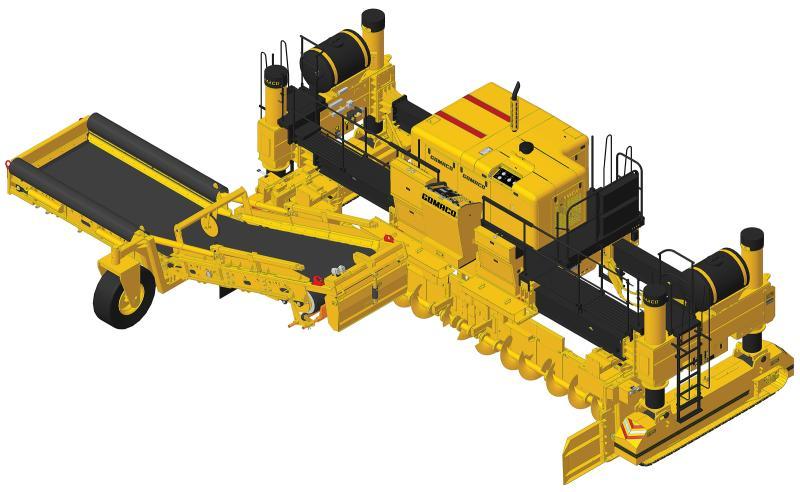 Image- The new GOMACO GP460 is an up to 50 ft. wide placer/spreader and up to a 40 ft. wide slipform paver.
GOMACO bouwt voort op het succes van de GP360, een combinatie van een betonbekistingsmachine en een plaatser/spreider op twee sporen met de introductie van de GP460 voor bewerkingen op grotere breedte.
De GP460 is een placer/spreader met een riem van 60 inch en is geschikt voor breedtes tot 15 meter breed. Als een betonnen glijbekistingsmachine zal de GP460 breedtes tot 12 meter breed asfalteren.
Het is gebouwd op het frame van de GOMACO tweesporige GP4 slipform paver met de mogelijkheid om de prime mover om te bouwen tot een betonplaatser/spreider. De trekker is uitgerust met trilcircuits voor bestrating en vijzelaandrijfcircuits voor het plaatsen.
De besturing van de nieuwe technologie wordt mogelijk gemaakt met het GOMACO-exclusieve digitale besturingssysteem G+. G+ verwerkt naadloos de besturingsconversie die nodig is voor elke toepassing, terwijl het ook machine-naar-machine (M2M)-communicatie, sonische sensoren, 3D-machinegeleiding en meer aan boord brengt.
De GOMACO GP460 wordt aangedreven door een Caterpillar C7.1 dieselmotor met turbocompressor om de transportband efficiënt aan te drijven en beton over de helling te verdelen. De 60 inch transportband voor grote volumes kan aan de linker- of rechterkant worden gemonteerd, afhankelijk van de omstandigheden op de werklocatie en de locatie van de transportweg. Het heeft een afvoersnelheid tot 150 meter per minuut voor een snelle en efficiënte plaatsing van beton.
Een regelbare materiaaldeflector leidt de betonstroom naar het afvoereinde van de transportband voor nauwkeurige plaatsing. Een dubbel aangedreven vijzelsysteem verplaatst het materiaal naar het midden of de buitenste gebieden en over de afstrijkplaats.
De GP460 is verkrijgbaar met een optioneel sonisch sensorsysteem om de betondiepte te bewaken terwijl deze wordt geplaatst. Informatie van de sonische sensoren wordt gebruikt door het G+ besturingssysteem op de asfalteermachine met behulp van M2M-communicatie om een optimale en consistente betonkop voor de asfalteermachine te leveren.
De GP460 placer/spreader slipform paver beleefde zijn werelddebuut op ConExpo-Con/AGG 2023.
NJC.© Info www.gomaco.com.
-----------------------------------------------------------------------------------------------------------------